This wild spicy artichoke dip is a delicious spin on the party classic. Filled with fresh veggies and creamy cheese, watch it disappear at your next event.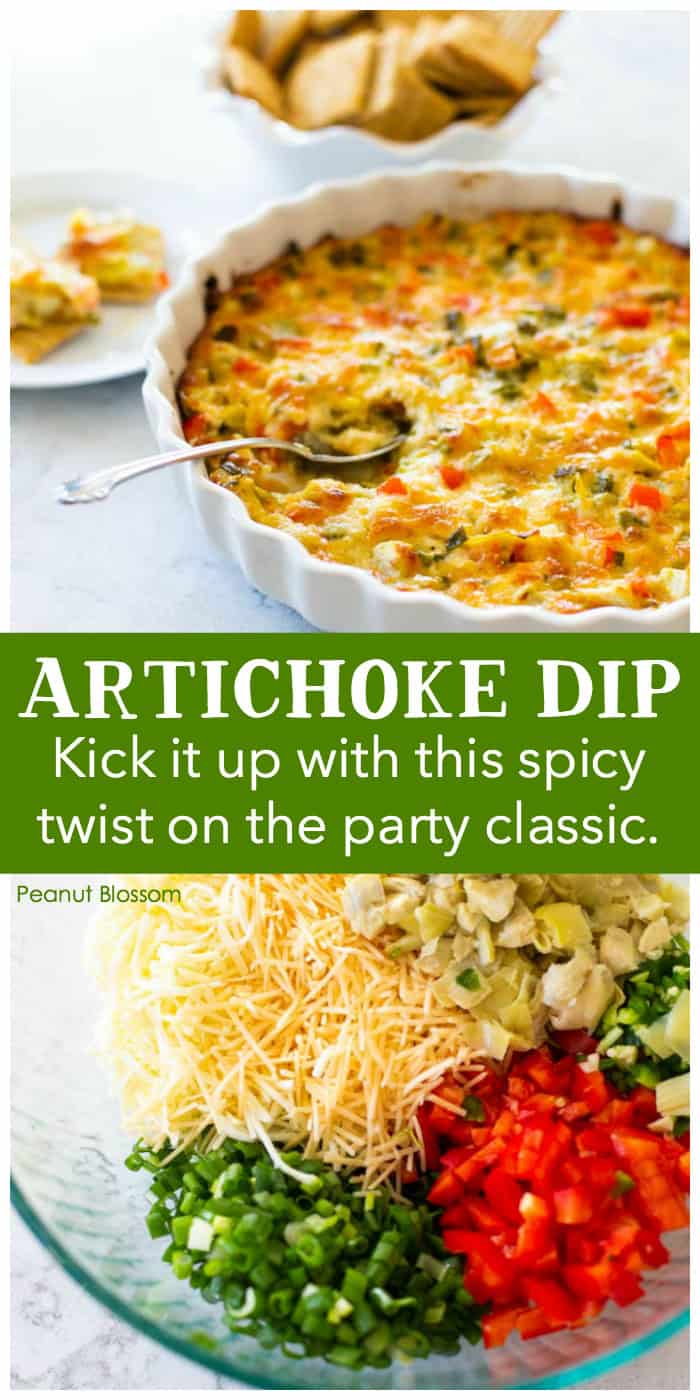 How do you know you work in an awesome environment? When your company hosts frequent cook-offs over the lunch hour and your boss brings in one of the very best recipes.
Long before I had the kids, I was lucky enough to work for a guy that encouraged kitchen experiments. His famous dish was a "wild ass artichoke dip" he would bring to every party. I fell so in love with the artichoke dip that I started making it for my parents on Christmas eve. We thought the red and green color palette with the peppers and onions made for such a festive appetizer.
I've been making this delicious spicy artichoke dip for the last 16 years! I've done it so many times, I've got the recipe memorized and yet somehow it never made it up onto the site. With all the entertaining we're all about to do this month, I decided now was the time to change that!
Why This Recipe Works
There are a lot of reasons to LOVE this spicy artichoke dip, here are just a few of mine:
It's a make-ahead recipe: You can assemble the artichoke dip earlier in the day (or even the day before) and just cover it in plastic wrap. Store it in the fridge until you're ready to bake it and serve.
It's filled with fresh veggies: The fresh peppers and onions completely brighten the dip. The artichokes are canned, but the peppers still give the dip a great texture.
It can be super spicy or totally mild: You can vary the heat of the dish by adjusting how much of the jalapeño pepper ribs and seeds you use.
It is insanely popular at parties: There is almost never a single bite left when I serve it. Watch it disappear!
You can adjust it to be low-carb as needed: Over the last 16 years, varying family members have dabbled with a low-carb lifestyle. This spicy artichoke dip always worked, we would just serve it with celery sticks for scooping instead of the Triscuit crackers.
Instructions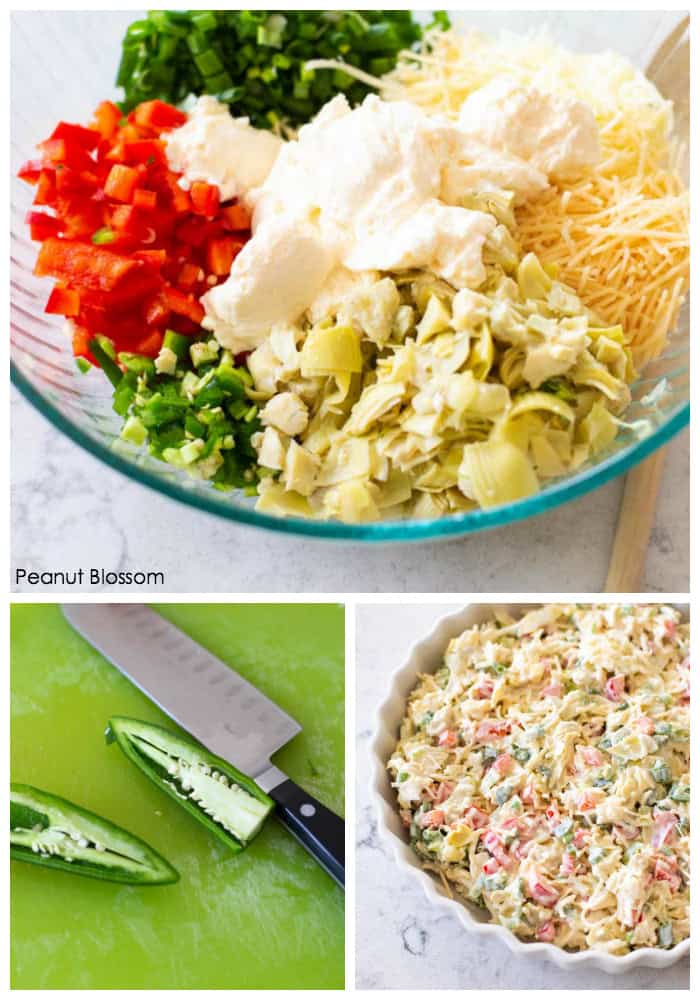 This spicy artichoke dip is super chunky because of all the fresh vegetables. All you have to do is be able to chop up a few veggies and stir and you'll be in charge of this dip!
Step 1: Chop the veggies
Red bell pepper: Remove the seeds and ribs and discard them. Finely chop the pepper.
Green onions: Remove the tips from both ends, but keep both the white and green parts of the onions. Chop finely.
Artichoke hearts: I used canned. Just drain them well and then run your knife through them to roughly chop.
Jalapeño pepper: All the spice from the jalapeño is stored in the ribs and seeds. If you want to keep it mild, just use a spoon to scoop them out and discard. If you want it blazing hot, leave them in. Our family cuts it in the middle and uses half the seeds and ribs.
Step 2: Add the cheeses and mayo
This is always easy to remember - 1 cup, 1 cup, 1 cup. Just add 1 cup each of shredded parmesan, shredded mozzarella, and mayonnaise.
NOTE: Be sure to use shredded parmesan, NOT the grated kind. That substitution will not work.
Step 3: Stir and Bake
Stir everything together until evenly combined. Pour it into a pie plate or quiche dish if you have one. A quiche pan is slightly shallower and wider than a pie plate which gives you more crunchy golden brown top and edges. Our family loves it. A pie plate will give you a deeper dip with more creamy filling. You can't go wrong either way.
Bake for 20 - 25 minutes or until everything is bubbling hot and slightly toasted.
Serve it with a really hearty cracker like a Triscuit. Everything else will simply crumble under the chunkiness of this awesome veggie dip.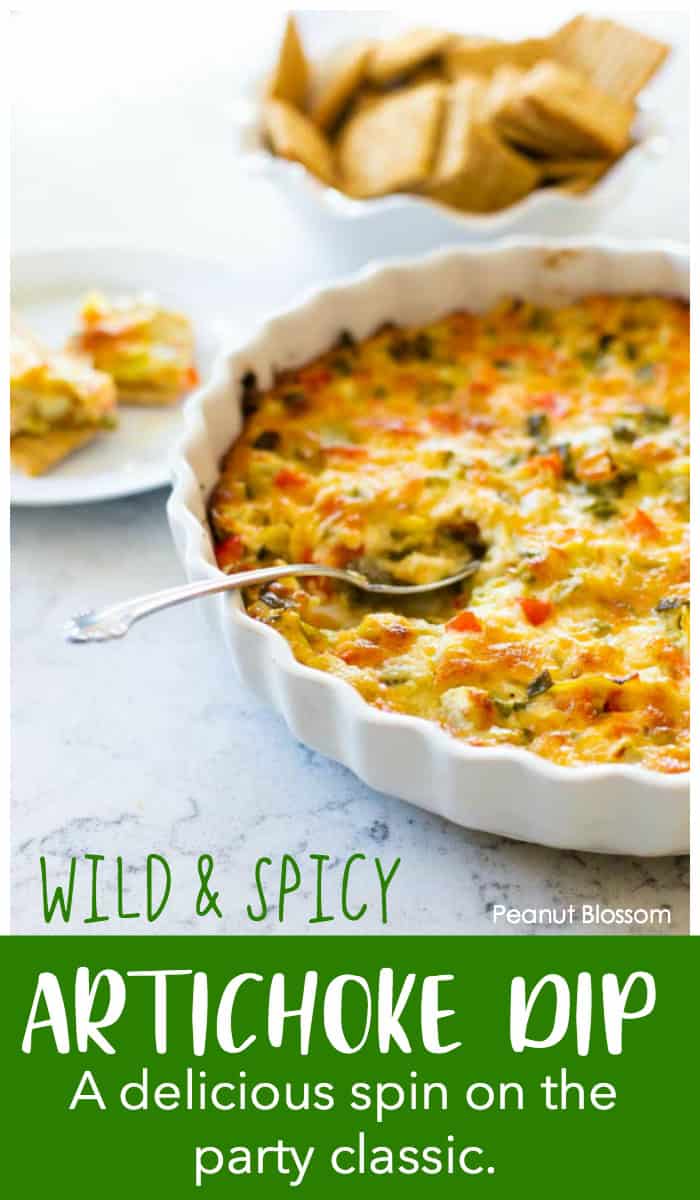 More Easy Party Snacks:
Looking for more delicious appetizers to serve for your party?