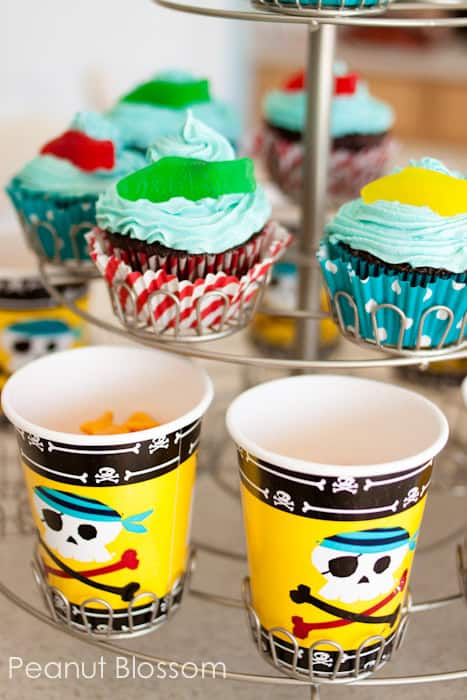 The Peanut had her first birthday party with friends in our backyard last weekend. She requested a pirate theme which presented just a small challenge. I know many of her friends from school are not nearly as interested in pirates as she is so I had to carefully plan our activities. You can see the very popular games we came up with over on the Melissa & Doug blog today. The party was a hit with all the girls!
I learned from our Valentine's party that kids at parties are far more interested in playing & crafts than they are the food. They are very simple snackers so I knew to keep this party under control with easy kid-friendly treats. But to keep the party fun for Tim and myself, I made sure to invite our good friends to stay along with their daughters so we'd have another pair of adults to chat with. Having another couple join us for the backyard party meant I could play with a little fancier food than I'd ever think to serve the kids.
We went with a tropical themed menu to play off the pirates theme:
For the kids:
Under the sea cupcakes
Goldfish crackers in pirate cups
Fruit "swords" (fresh strawberry and pineapple served on skewers)
Juice boxes
For the adults:
Pina colada dip with fruit swords & coconut crisp cookies
Cilantro lime ranch dip with sweet potato chips
Roasted shrimp cocktail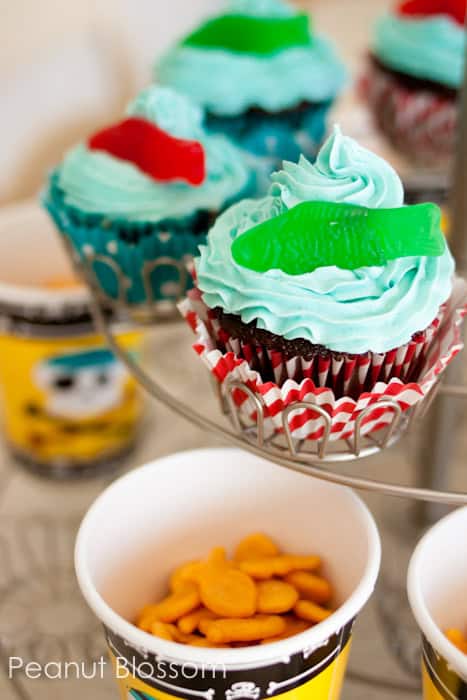 The cupcakes had a chocolate cake base with vanilla whipped buttercream frosting. I tinted it ocean blue and placed a swimming Swedish Fish atop each little treat. Using a mix of blue with white polka dot wrappers and red striped wrappers gave it the perfect festive flair.
I served the goldfish in pirate cups from the party store and placed both treats on our cupcake tower for easy serving.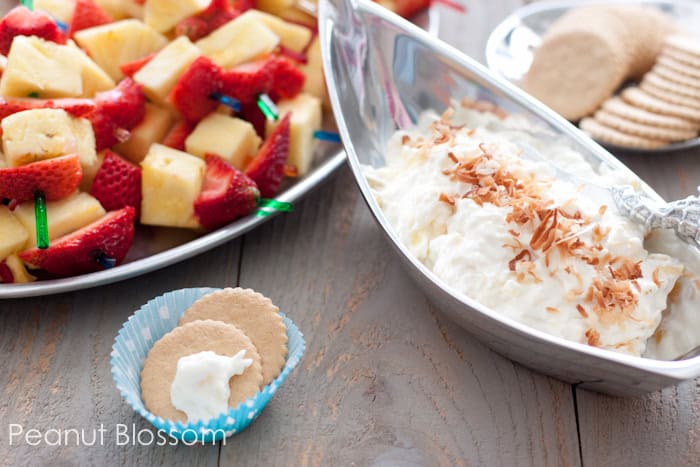 Pina Colada Dip

Ingredients:
1 8oz package of cream cheese, softened
1 7oz container of marshmallow fluff
1 8oz can of crushed pineapple, drained
1/2 cup of shredded coconut + toasted coconut for garnish
Method:
In a large mixing bowl beat the cream cheese and marshmallow fluff until it is combined and becomes light and fluffy. Gently stir in the pineapple & coconut. Can be served as is or chilled. Also can be made in advance. To be a little fancy, I toasted a handful of coconut at 350 degrees. Watch it though, I almost burned my batch. It can happen fast! Just sprinkle across the top for added crunch.
Serve with fruit swords and coconut crisp cookies. (I found them at Trader Joe's. YUM.)
(Recipe inspired by ValSoCal)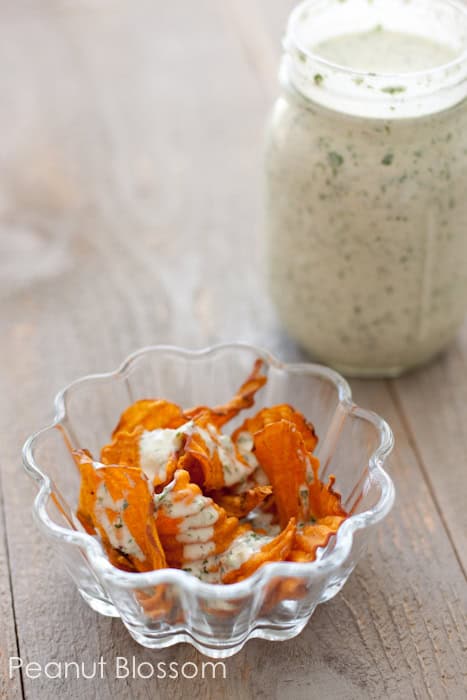 Cilantro Lime Ranch Dip
Ingredients:
1 packet Hidden Valley Ranch Buttermilk Recipe
1 cup buttermilk
1 cup mayo
2 large or 4 small tomatillos, chopped and roasted for 15 min. at 400 degrees
1 small bunch of cilantro, stems removed
1/2 tsp minced garlic
2 tbsp fresh squeezed lime juice
1 jalapeno pepper, seeds & ribs removed, cut into large chunks
Method:
Prepare the ranch dressing according by combining the packet, buttermilk, & mayo. Chill in the fridge while you roast the tomatillos.
In a food processor: briefly pulse the cilantro. Add the tomatillos, garlic, lime, and jalapeno chunks. Pulse until everything is minced. Add the prepared ranch dressing and pulse to combine.
Can be made in advance, I just stored mine in a mason jar.
Serve with sweet potato chips or fresh veggies. This recipe will be making a serious comeback all summer as a pairing with produce from our garden!
(Recipe inspired by Kalyn's Kitchen)
Roasted Shrimp Cocktail
Ingredients:
2 pounds raw shrimp, peeled and deveined with tails in tact
1 tbsp olive oil
1/2 lime
salt & freshly ground pepper
Cocktail sauce of choice for serving
Method:
To keep this appetizer super easy, I purchased a large bag of frozen raw peeled & deveined shrimp from Costco. I thawed in my refrigerator overnight. The morning of the party I rinsed the shrimp in cold water and then patted dry on paper towels. In a large Ziploc bag, add the shrimp, olive oil, healthy squeeze of the lime juice, and salt & pepper to taste. Seal the bag and toss to coat. Let marinate in the fridge until 20 minutes before you're ready to serve.
Preheat the oven to 400 degrees. Spread the shrimp in a single layer on a large cookie sheet. Roast for 8-10 minutes until pink and firm.
We love to eat them warm out of the oven or chilled if they last long enough for leftovers!
(Recipe adapted from Barefoot Contessa)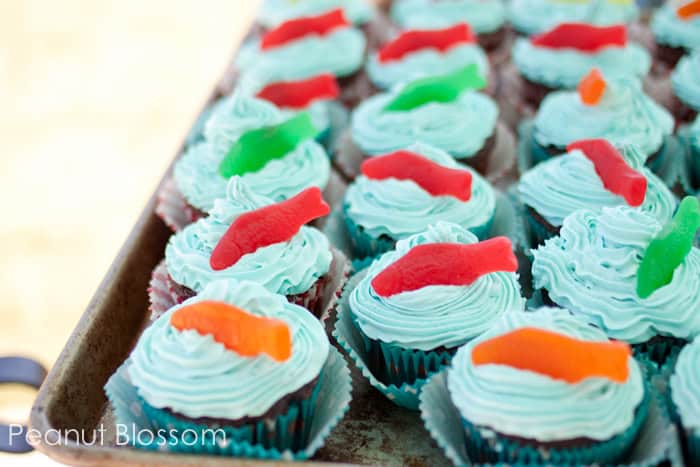 Looking for more great birthday party inspiration? Click here to see all the great birthday resources and tips on Melissa & Doug's Playtime Press and to enter their special Birthday Bash Giveaway, where you could win $500 to throw the Ultimate Birthday Bash from Melissa & Doug.

_____________________________________________________
I am proud to partner with Melissa & Doug to bring you this sponsored post. I was compensated for sharing these recipes and ideas with you, all thoughts and opinions are my own. You may view my full disclosure here.