Sweet mojito salsa made with mint, lime juice, and yellow tomatoes makes the perfect topping for spicy grilled fish for a light and healthy dinner.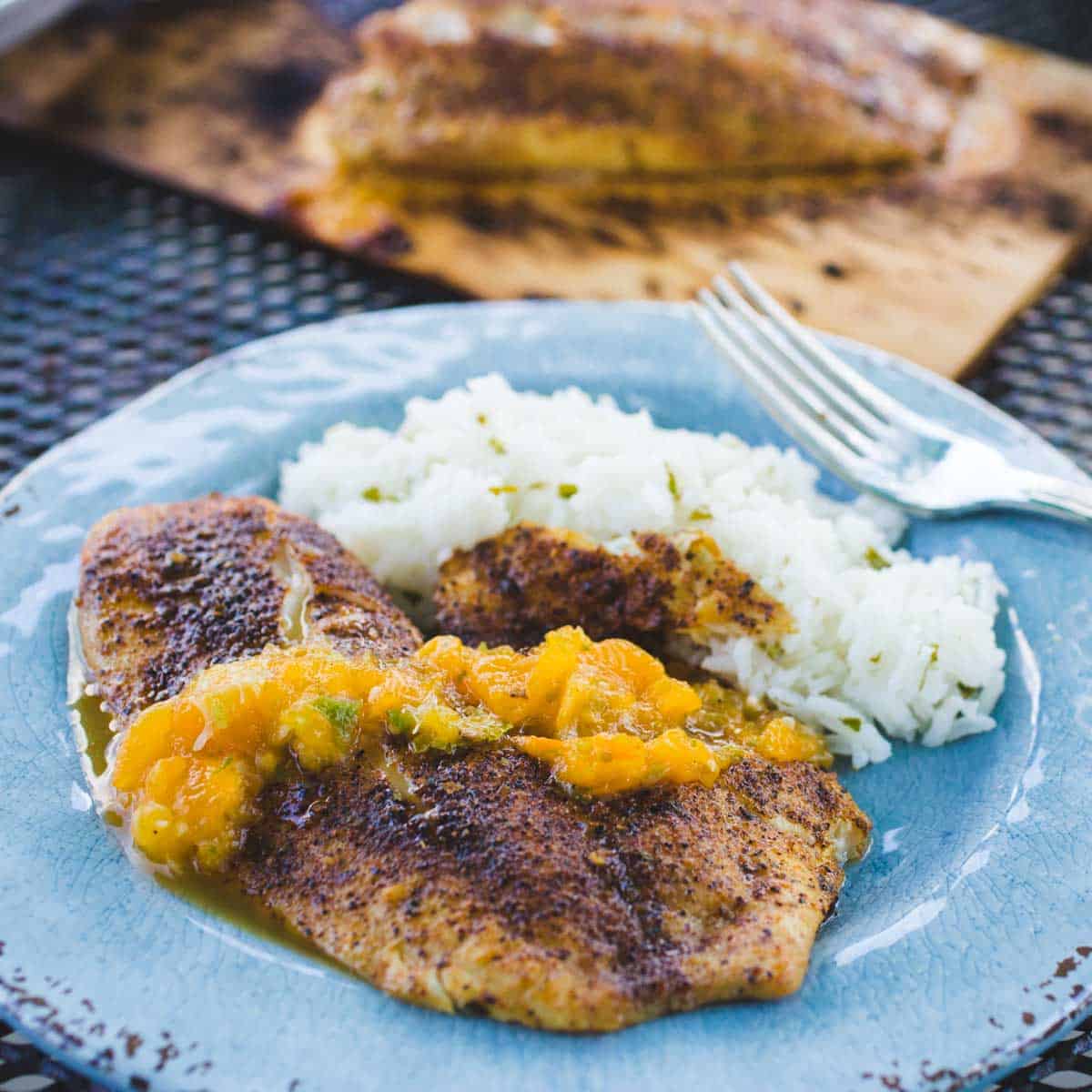 Last summer, we perfected grilled fish on cedar planks and it has become a whole family favorite.
The Peanut reacts to the news we're having grilled fish for dinner as though I've told her we just won the lottery.
The first question out of her mouth is always: "Wait, it's the fresh stuff, right?? Not the frozen?"
This year, I wanted to take our favorited grilled fish one step farther. I decided to make a homemade mojito style salsa to use as a topping on our fish and for the salsa-obsessed kids to enjoy as a side dish with chips.
The light and zippy flavors of the salsa come from a squeeze of lime juice, fresh mint, and roasted yellow tomatoes.
It would pair well with any spicy fish, chicken, or pork that comes from your grill this summer!
Jump to:
Ingredients
This fresh salsa recipe is very easy to make and only requires a few fresh ingredients:
Yellow tomatoes
Shallot: This has a milder taste than a regular onion, but you could use a yellow onion if you prefer.
Limes
Fresh mint
Jalapeño
Minced garlic
Olive oil
Sugar or Splenda substitute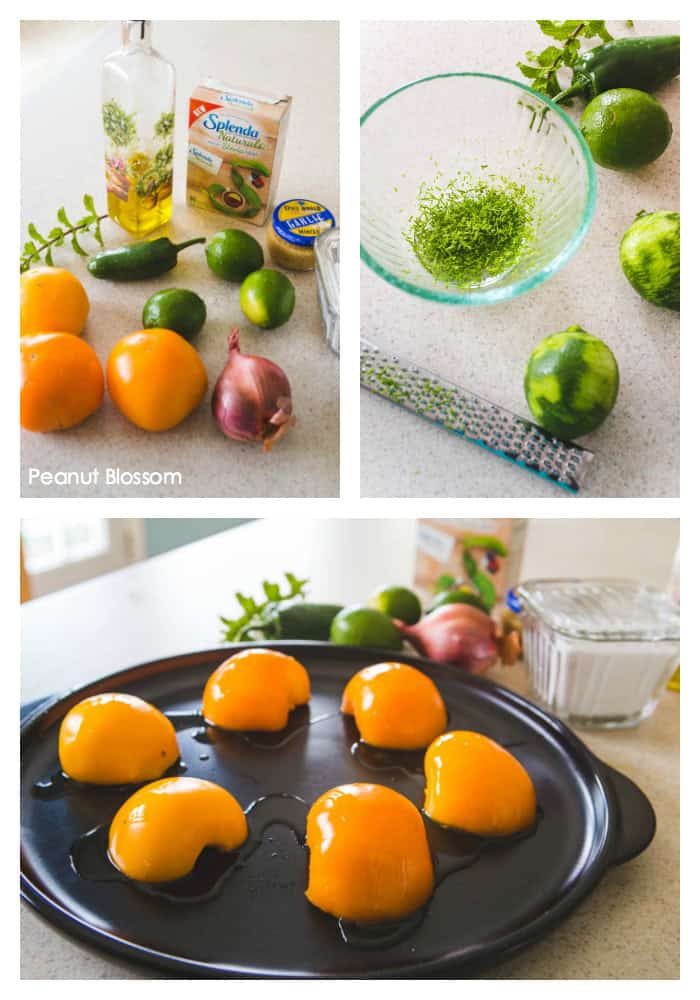 Prep the Veggies
The mojito salsa starts with a base of roasted yellow tomatoes I found at the farmer's market.
Roasting the tomatoes softens them and makes them even sweeter in the final salsa.
Pureed limes, lime zest and fresh mint are sweetened with single packet of SPLENDA® Naturals Stevia Sweetener or a teaspoon of sugar and then mixed with garlic and jalapeño for a kick.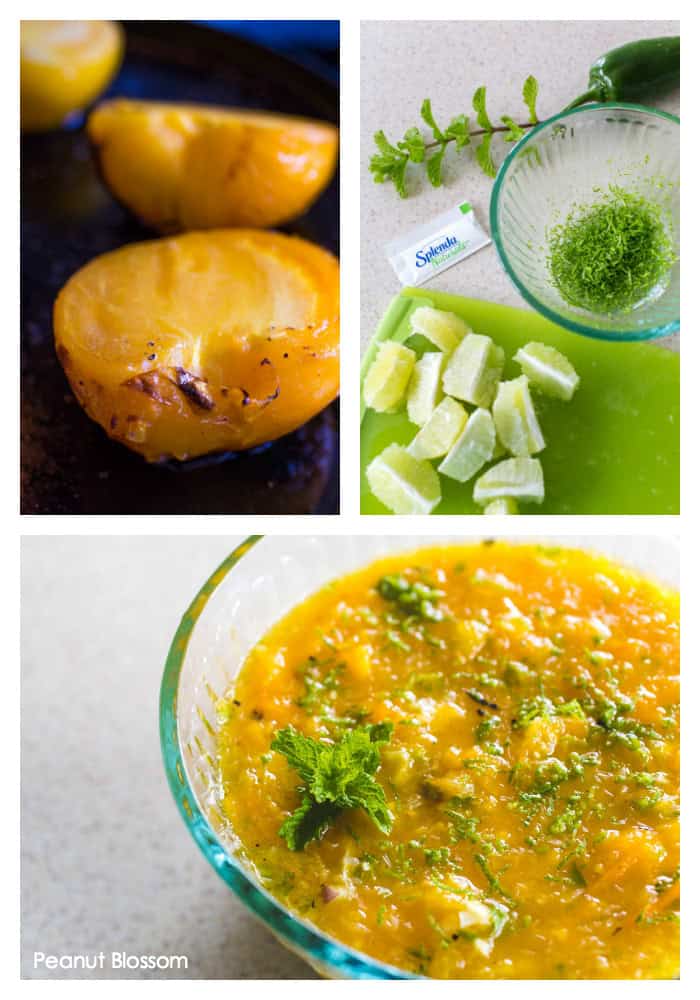 The salsa is tangy and refreshing with just a mild level of spice. It turns out a gorgeous yellow color with flecks of charred tomato from the roasting process.
Grill the Fish
To make the fish, we soak wood cedar planks in water for 3-4 hours.
Lay the fish out in a single layer on the planks and brush the tops with just a touch of olive oil.
I used a heavy sprinkle of a spicy Mexican-inspired seasoning blend that has cumin, pepper, onion, oregano, and cayenne in it.
You could use whatever fish rub seasoning you love the best. Honestly, the spicier the better because the sweet mojito salsa will be the perfect complement to the heat.
Tim grilled the fish until slightly charred around the edges and flaky to the touch. Time will depend on the thickness of your fish fillets.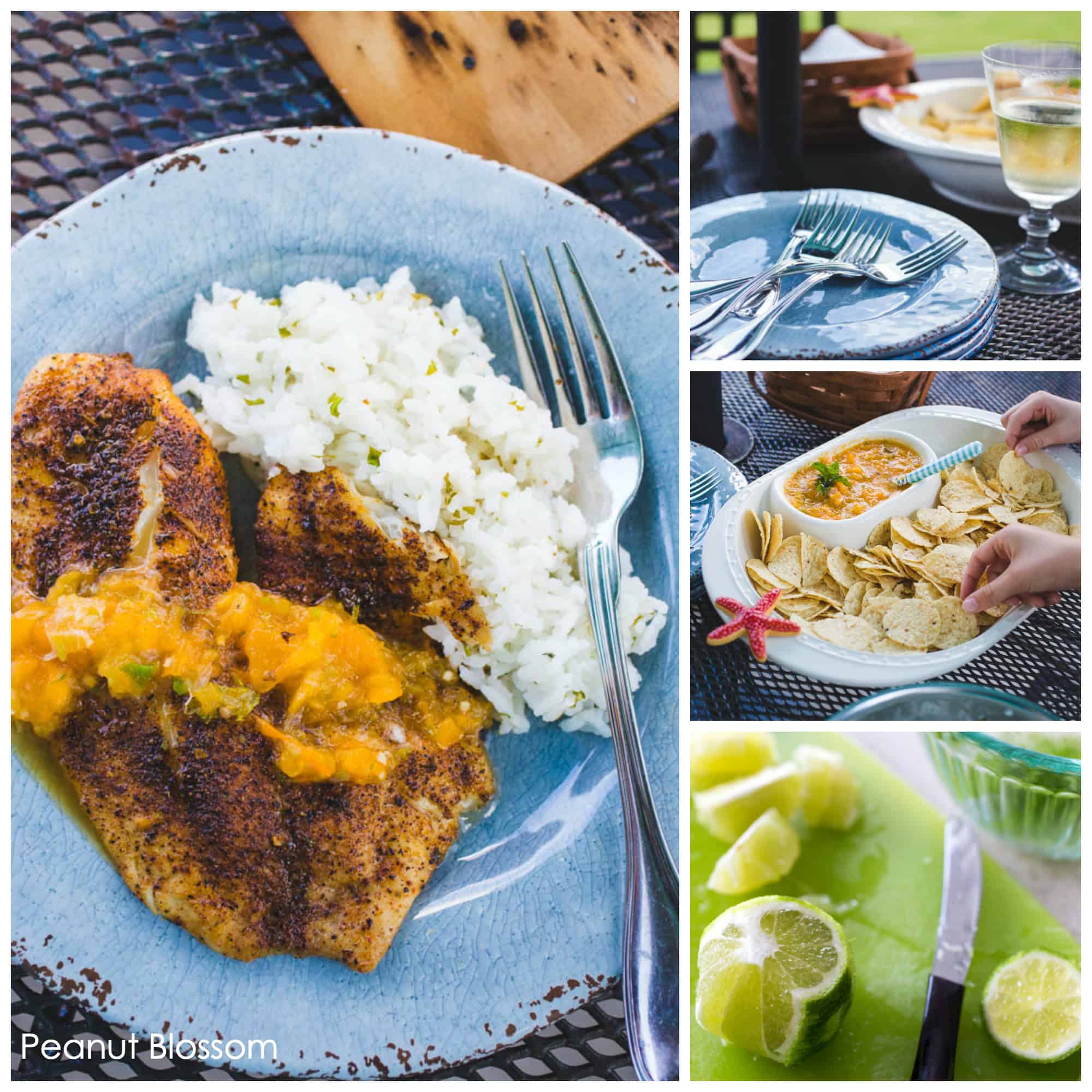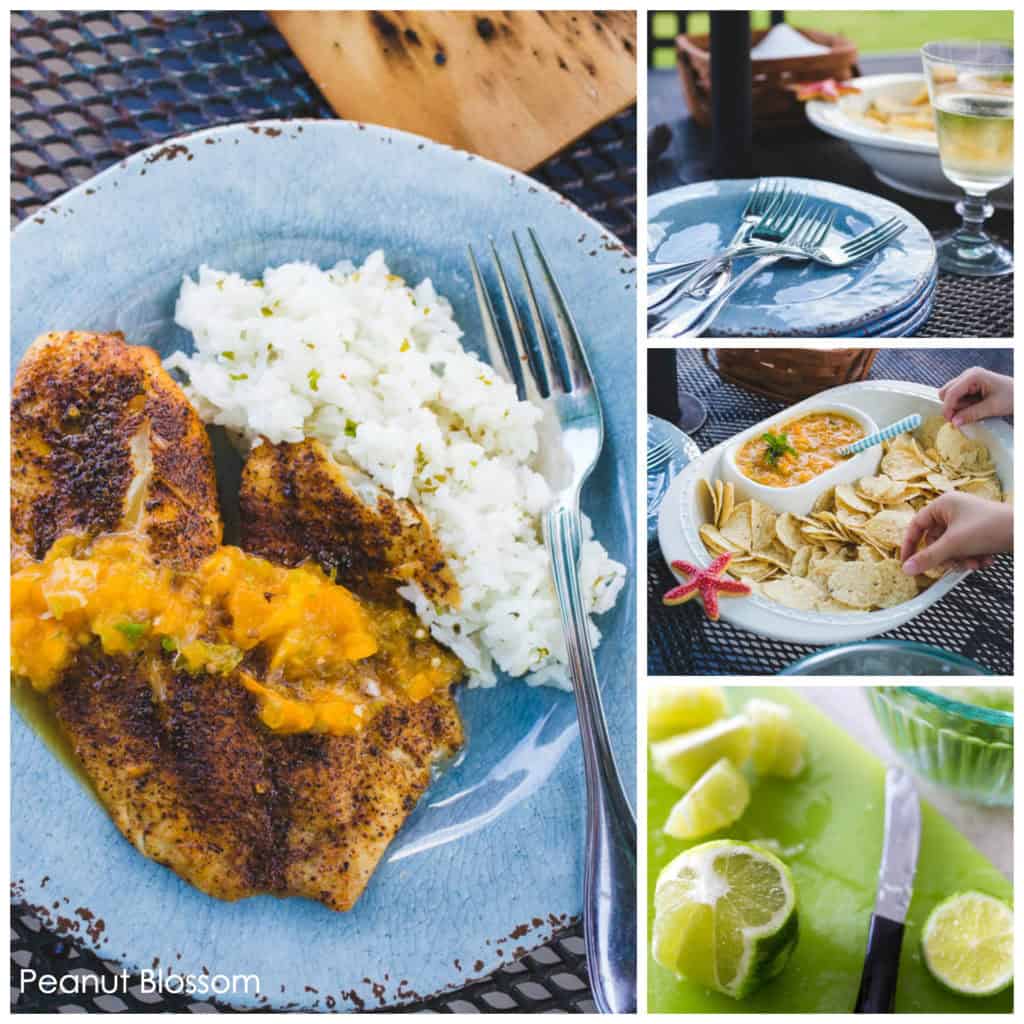 Serving Suggestions
For the adults, we served the grilled fish with mojito salsa alongside a batch of cilantro lime rice (jasmine rice with minced cilantro and a squeeze of lime juice!)
For the kids, we let them enjoy the chips and salsa with the fish on the side. Kids love things that don't touch on their plates!
The mojito salsa would be an amazing and unique side dish to bring to your next potluck party.
If you're the hostess, pairing it with grilled fish for your main entree makes for an awesome and unique BBQ party meal alongside rice, roasted potatoes or vegetables.
📖 Recipe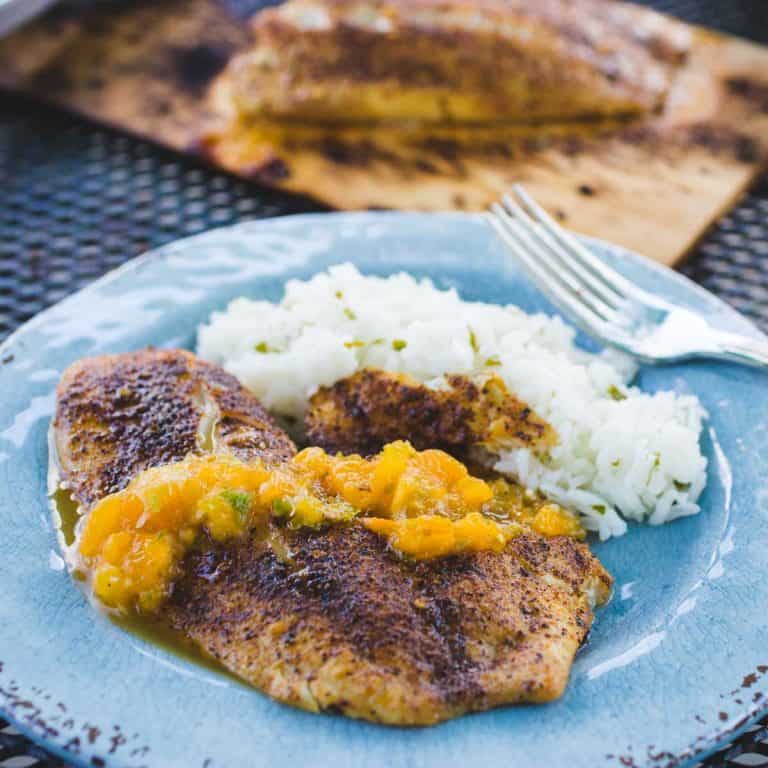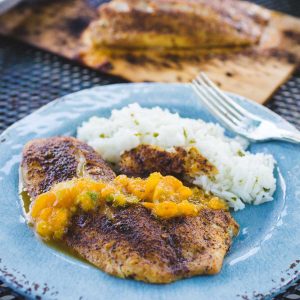 Mojito Salsa
This refreshing mojito salsa is a fun twist on traditional salsa. Made with roasted yellow tomatoes and plenty of lime and a touch of fresh mint, it is delicious on top of spicy grilled fish. Perfect for dunking tortilla chips, too.
Ingredients
3

large yellow tomatoes

halved

1

tablespoon

olive oil

kosher salt & fresh cracked pepper

1

teaspoon

chopped shallot

3

medium limes

1

packet SPLENDA® Naturals Stevia Sweetener OR 1 teaspoon of sugar

12

fresh mint leaves

1

jalapeño

ribs and seeds removed, minced
Instructions
Place the tomato halves cut side down on a broiler-safe cooking pan. Brush olive oil over the tops of the tomatoes and sprinkle with salt & pepper. Broil for 2 minutes and then turn the tomatoes cut side up. Brush with a little more olive oil and salt & pepper. Broil for an additional 2-3 minutes. Watch carefully so they don't burn, it happens quickly. Remove pan from broiler and set tomatoes aside to cool.

Meanwhile, zest the limes. Then, using a paring knife, carefully peel away the outer peel of each lime and cut into wedges. Puree the lime wedges with the SPLENDA® Naturals Stevia Sweetener or sugar, mint, and a sprinkle of salt in a food processor until smooth. Scrape the puree into a medium-sized bowl.

Pulse the cooled tomatoes in the food processor until a chunky salsa texture is achieved. Add the tomatoes to the lime puree. Add remaining garlic and chopped shallot to the mixture and stir to combine. Season with salt to taste.

Refrigerate the salsa for at least one hour before serving.

Makes excellent topping for grilled fish or alongside tortilla chips.
Save This Recipe to Your Recipe Box
Find this delicious recipe next time you visit by saving it to your very own recipe box on my site. All your favorites stored in one easy place!