These Barbie party ideas will help you throw a Barbie birthday party your daughter will never forget. Everything you need from where to find Barbie party supplies, the cutest pink and purple party treats, and fun Barbie-themed games.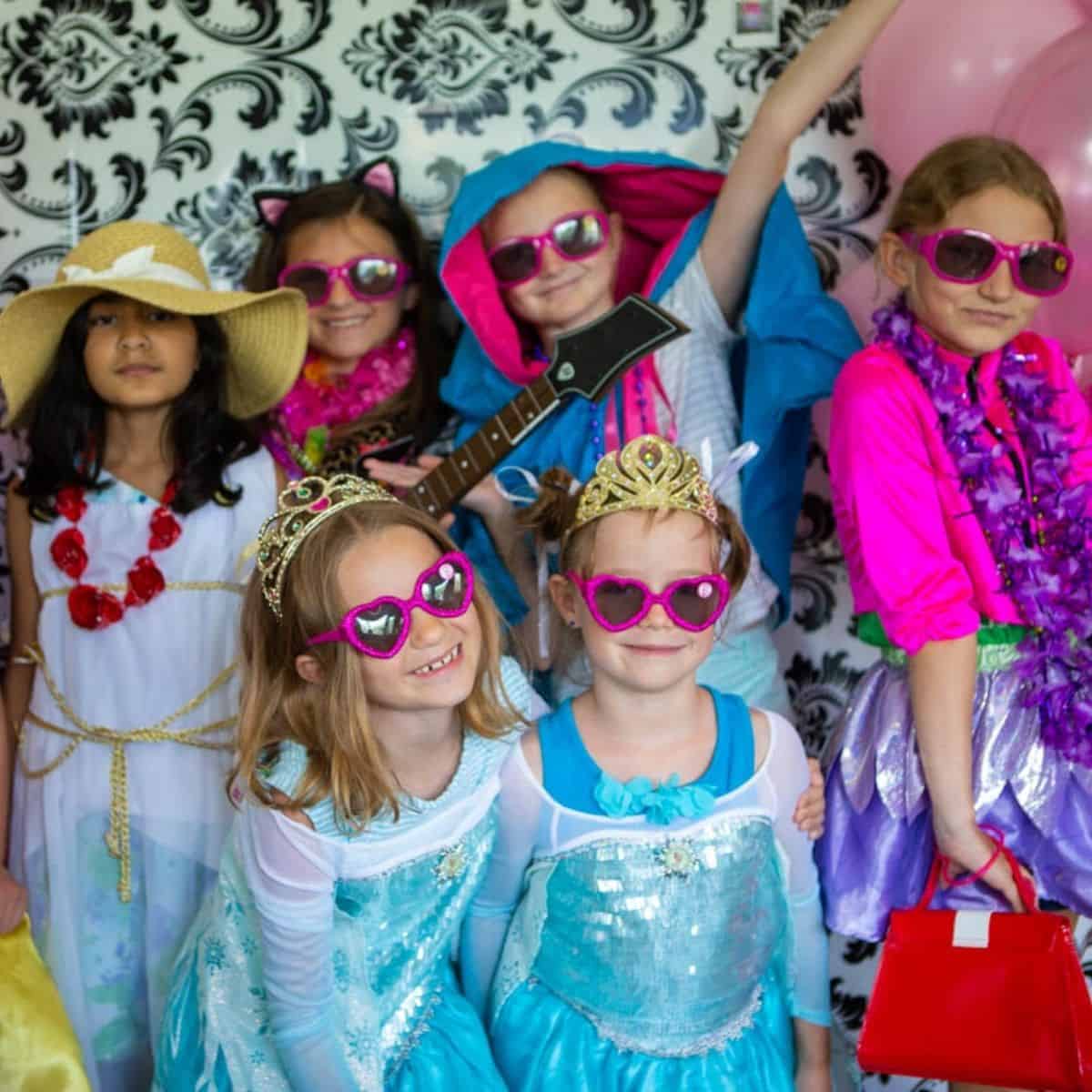 Do you have a little fashion lover? We have long joked that our Little Pea is The Ultimate Fashionista: she adores playing dress-up, loves trying on clothes, gravitates towards outlandish styles with oodles of accessories, and loves to dress her Barbie dolls for hours.
Her birthday falls in the final few weeks of school when every family is booked solid with recitals, championship games, award ceremonies, and Mother's Day plans. For the last couple of years, we held off throwing her a birthday party with her friends until summer vacation is in full swing.
This year's theme might be my all time favorite. It was just perfect for her at this awesome age.
The Best Barbie Party Ideas Ever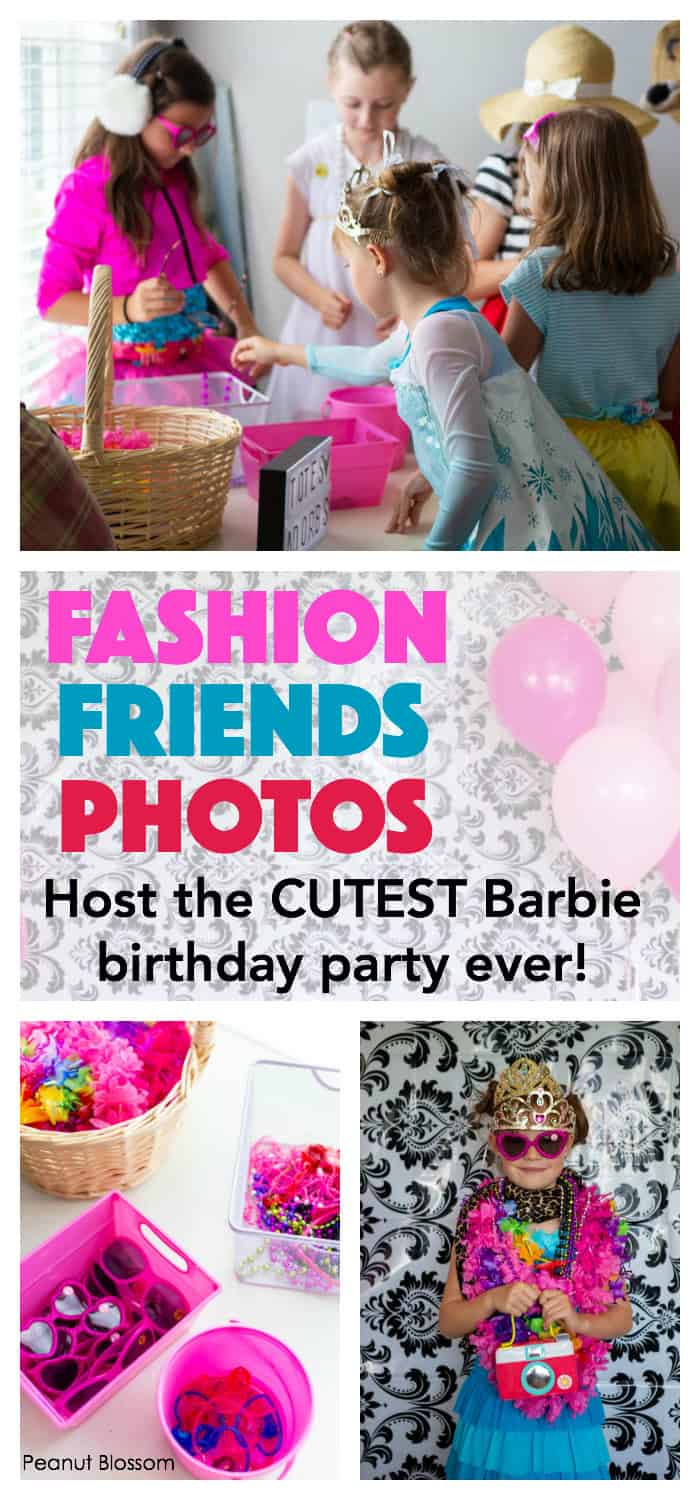 Barbie was such a natural fit for the party theme because Little Pea is obsessed with the Barbie Fashionista line of dolls. I love that they come in all shapes, sizes, and colors while she loves their fun, modern outfits and variety of hair styles.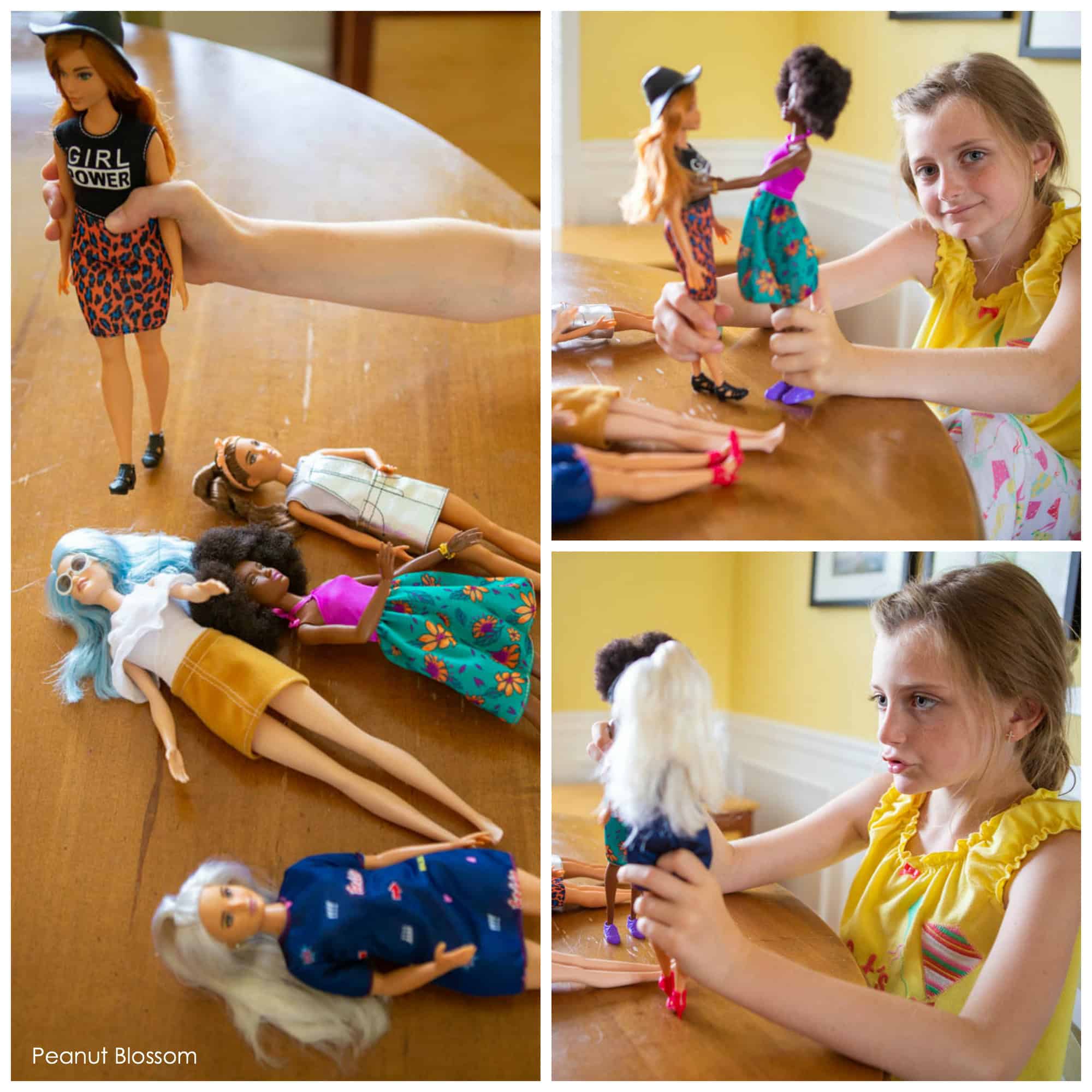 Based on the "fashionista" theme, we thought it would be fun to host a party completely dedicated to playing dress-up with her friends. My inner 8-year old thought it would be a great idea, but even I was surprised at just how much fun everyone ended up having!!
How to Set Up a Fashion Show Barbie Party
We completely rearranged our entire living room to host the party.
Clothing display prep: I placed two chairs back to back and hung 2 $7 shower curtain rods over the tops to serve as a "closet" for all the clothes.
What to wear: We neatly hung every single dress-up outfit from Little Pea's collection along with all the hand-me-down Christmas, Easter, and fancy dresses from the Peanut's closet (since they were sized a little bigger for everyone to fit into more easily.) We added funky jackets from the coat closet, sun hats and Easter bonnets, and every scarf I could scrounge up from the back of my own closet.
Accessorize: I set up an accessory station where we filled in our offerings with dozens of super cheap beaded necklaces and $2 flower leis that I scored at Party City. We also found pink glitter Barbie sunglasses, Barbie plastic bracelets, and Barbie rings in the Barbie section of Party City.
Don't forget props: We had a toy versions of a microphone, a pair of guitars, and a camera-purse to mix in with all the outfits.
Add a mirror: I relocated a full-length mirror to the accessory station so the girls could check out their outfits while they were getting dressed up.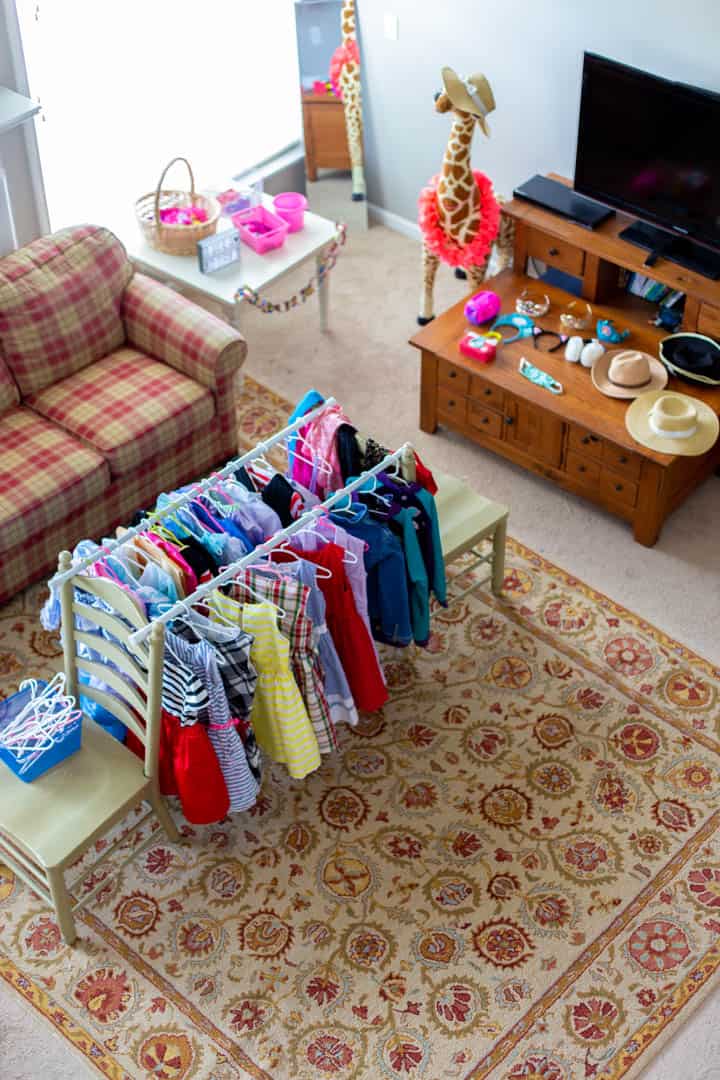 With all this dress-up cuteness, it had to be documented. What is a fashion show party without an awesome photo booth to go with it??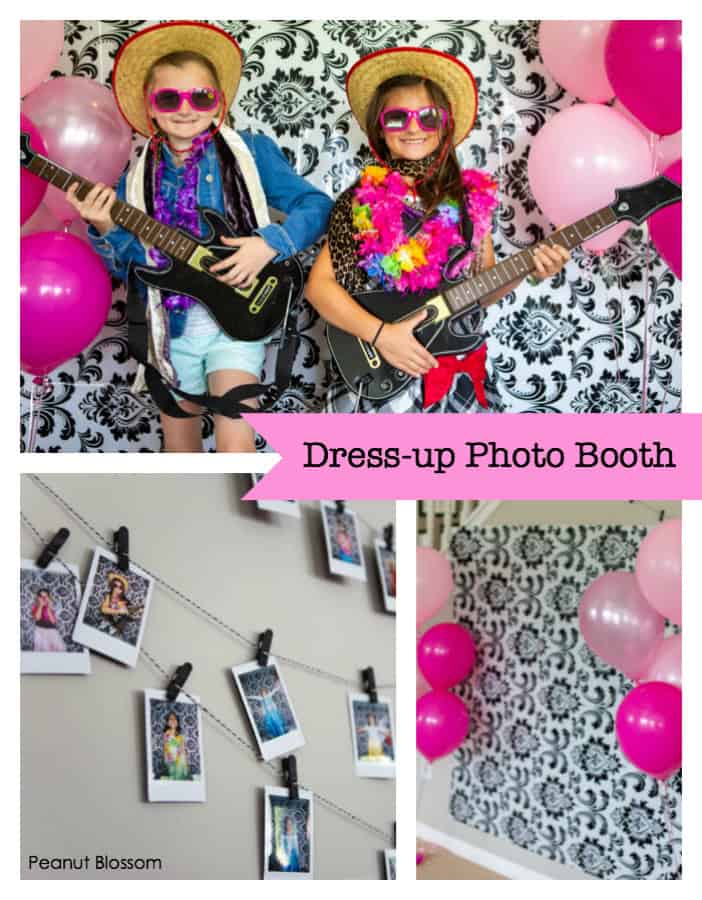 How to Set up Barbie Party Photo Booth
Backdrop: Did you know that Party City has an entire photo booth section?? I was thrilled to find that gorgeous black and white patterned plastic drop cloth in an enormous size right there. They had a ton of photo booth props too, but we already had plenty ready to go at home.
Add balloons: Kids have no sense of how a photo booth works. They tend to stand wherever they feel like it, backdrop edges be darned. If you want to get really great photo booth pictures, add a dozen helium balloons -- six for a cluster on each side -- and they will serve both as border and pop of color. The kids easily knew to stand between the balloons and when the hot pink balloons would peek into the photos, it only added to the fun. We pre-ordered our balloons in three shades of pink at Party City so we could just pick them up at the last minute the morning of the party.
Display the pictures: While I was picking out the backdrop, I noticed they also carried that simple black and white picture clips display for just a couple dollars. We had an Instax camera at home that made perfect party picture favors for the girls to bring home to their moms. As we shot the pics, I displayed the photos in the clips while they continued to develop. Perfect to avoid the pictures getting lost or over-touched by tiny fingers. Plus, the girls LOVED watching the photo collection grow as the party went on.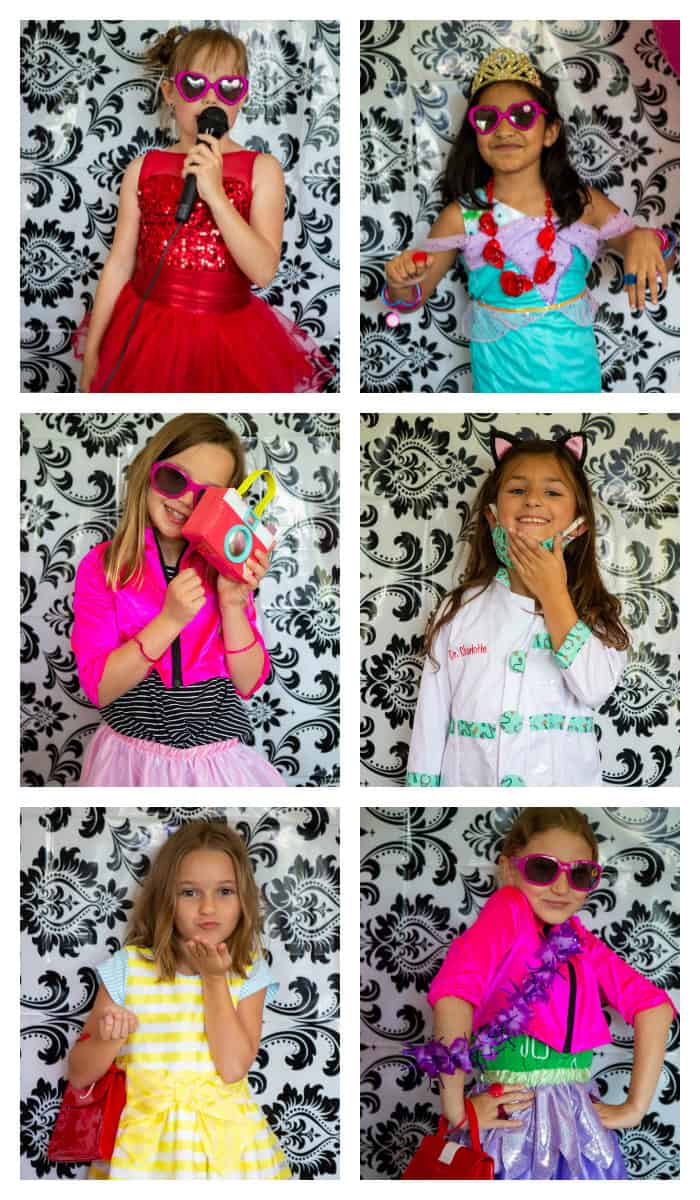 How to Encourage Dress-up Play for a Barbie Party
The girls naturally enjoyed playing dress-up but if you want to ensure that the activity lasts more than 15 minutes, it is best to have a plan! After they had some time to explore the "closet" of options, I could tell they were starting to feel a little overwhelmed. So I started calling out Fashion Challenges for them to find outfits to match:
Dress like you're about to fly off to Paris for a vacation!
What would you wear to a fancy dinner with your parents?
You are about to perform on stage: are you a rock star, in a girl band, or an opera singer?
You just won the lottery and are about to buy a mansion for your whole family.
You are a famous celebrity and the paparazzi want to take your picture. How would you DISGUISE yourself so they can't see you?
And my personal favorite: You're about to win a MAJOR award that you get to choose! As they finished their outfits, each girl told me what their award was for and then I would call out: "Congratulations to Alysse! She saved the most animals this year!" as she walked up to the photo booth to accept her prize and have her photo taken. I presented awards for fashion, dancing, music, and veterinary skills. I think Barbie would definitely be proud!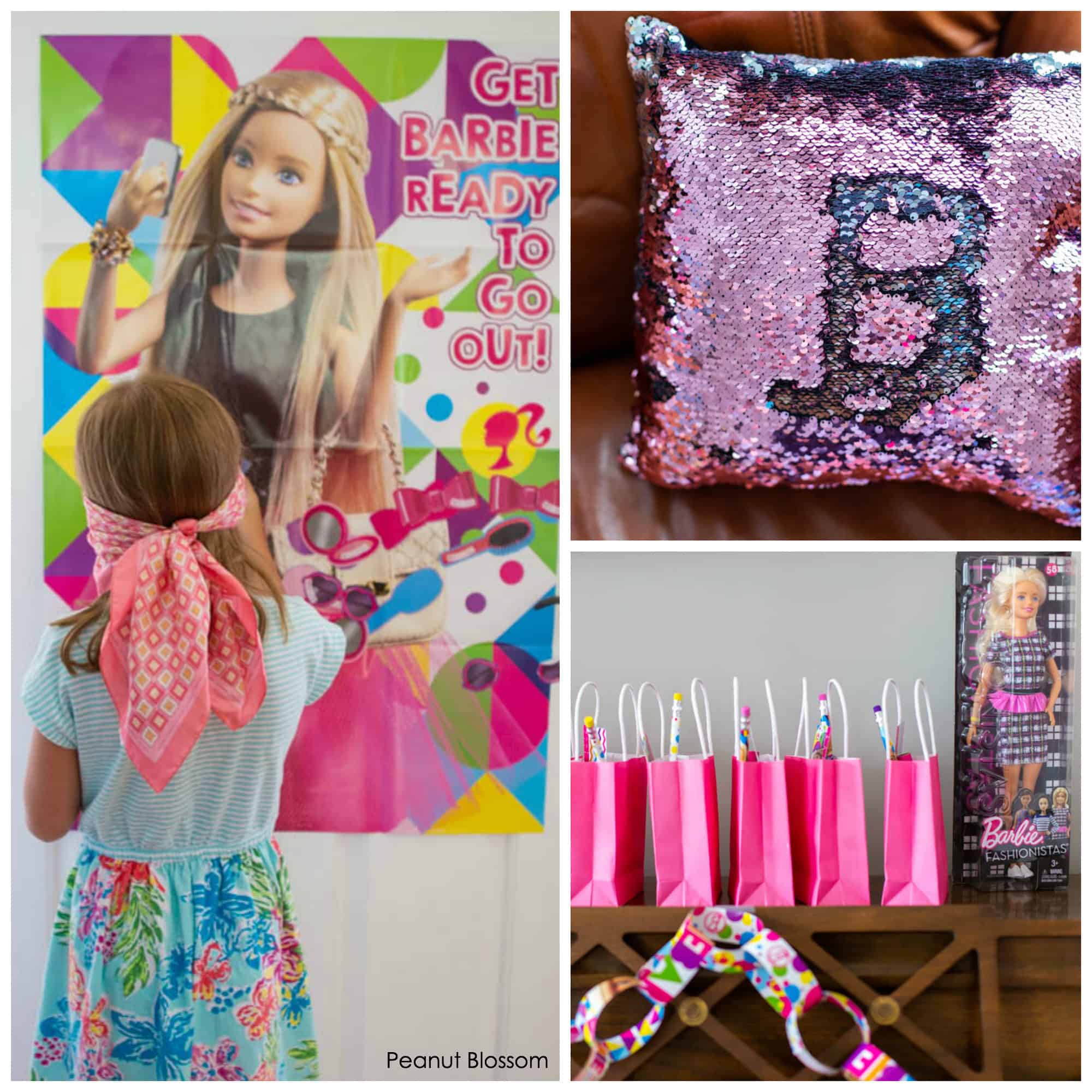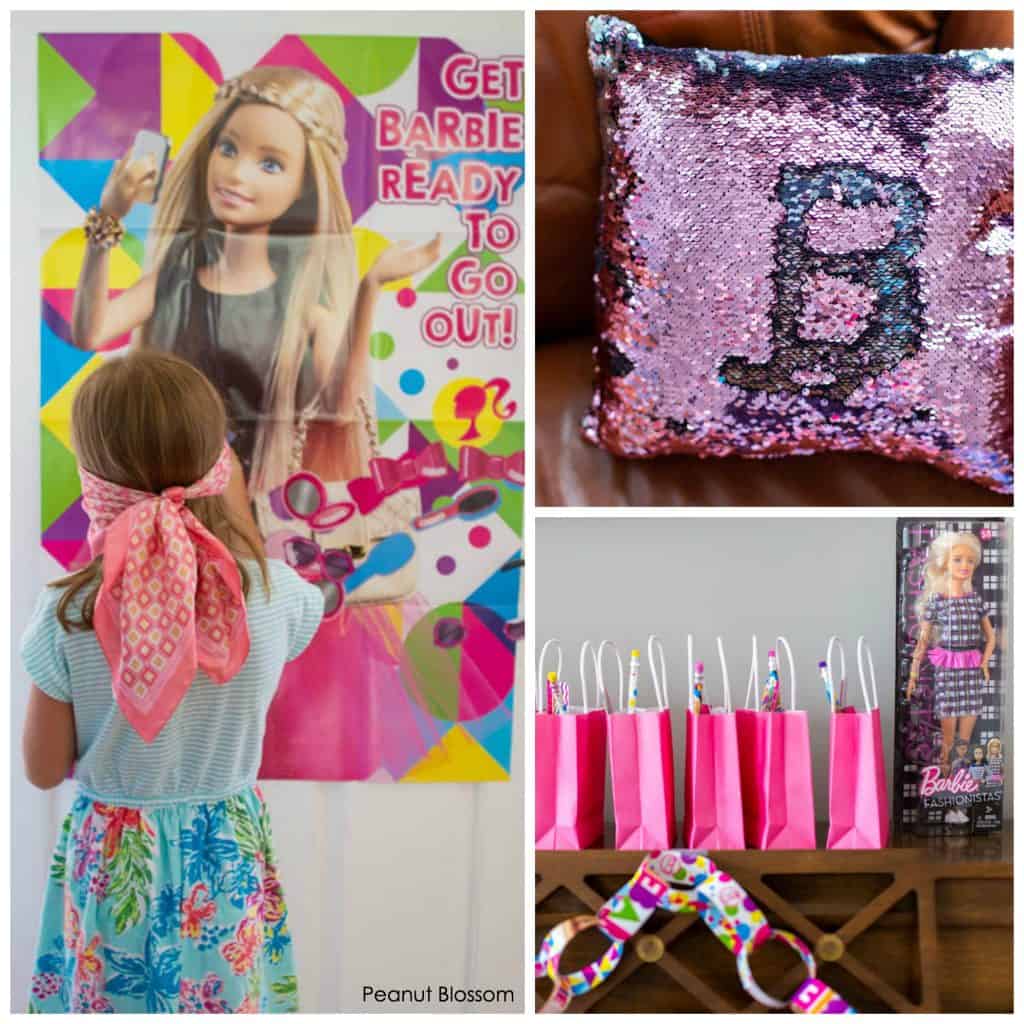 We rounded out the party with some simple Barbie party accessories.
A Pin the Tail on the Donkey style Barbie game from Party City
A round of dice-rolling dress-up racing with a Barbie doll as the coveted prize
And little pink shopping bags filled with Barbie themed goodies served as the thank you gifts for guests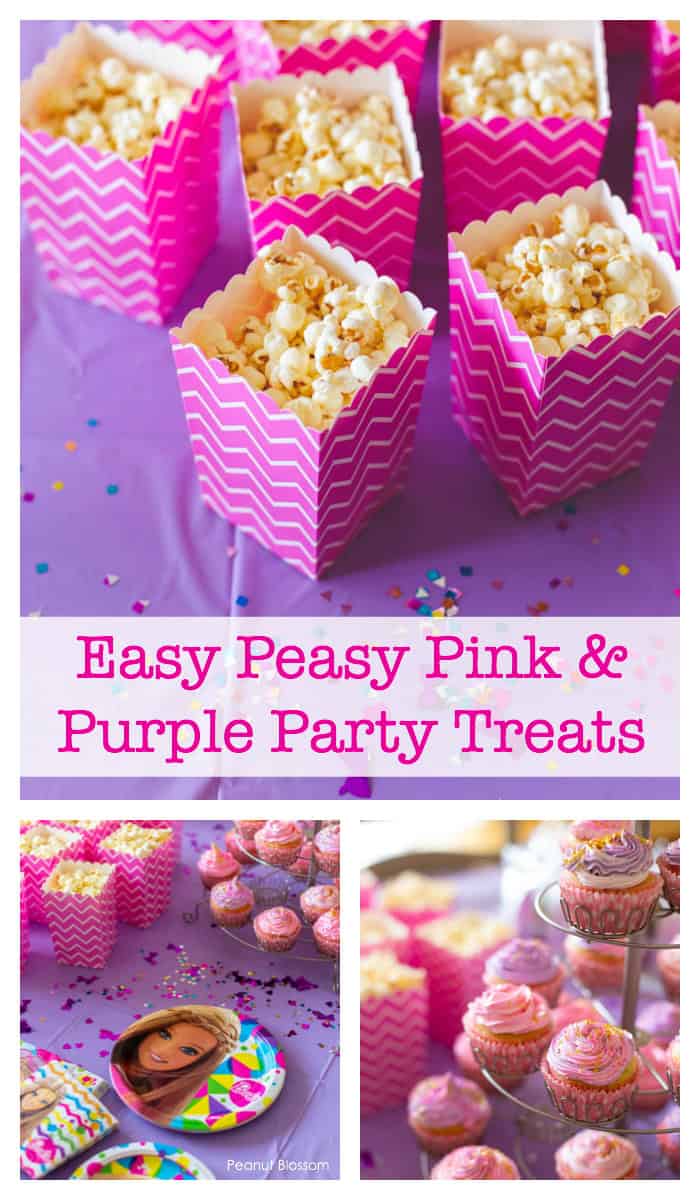 Barbie Party Recipes
For once I kept the menu for our party SUPER SIMPLE:
White Cheddar Popcorn--from the party sized bag at the grocery store served in cute popcorn boxes from Party City
Pink and purple swirled cupcakes with golden star sprinkles--box cake mix with homemade cream cheese frosting from my favorite recipe. The adorable pink polka dot wrappers, frosting gel dye, and sprinkles all came from the Wilton section at Party City.
Strawberry yogurt covered pretzels
Pink lemonade juice packets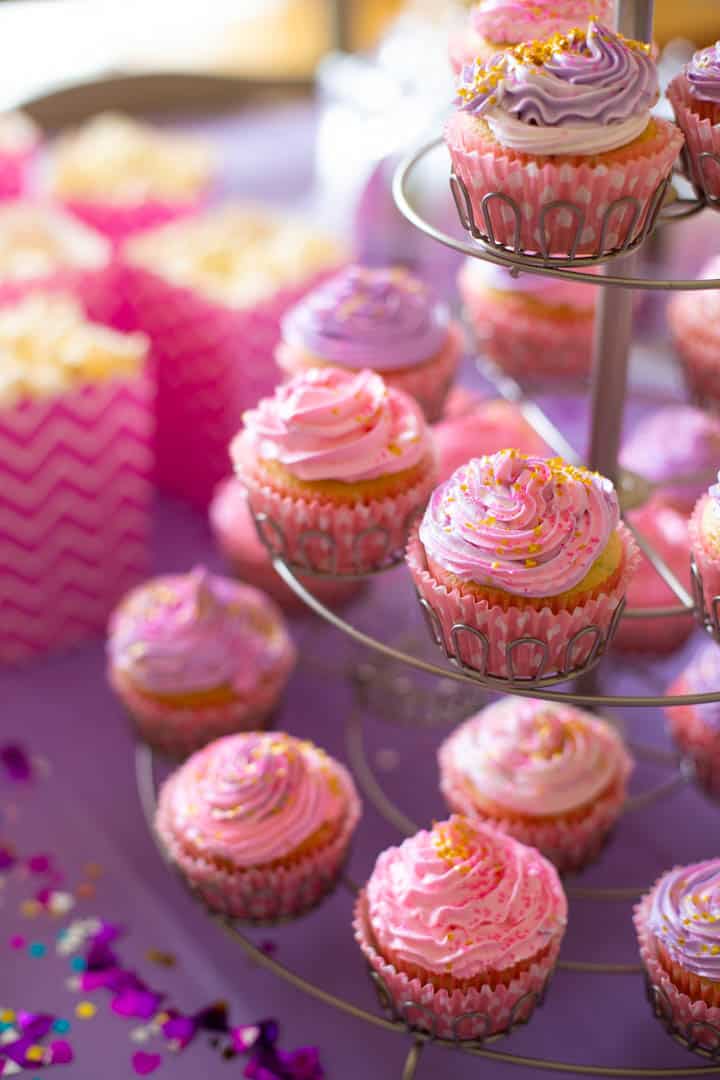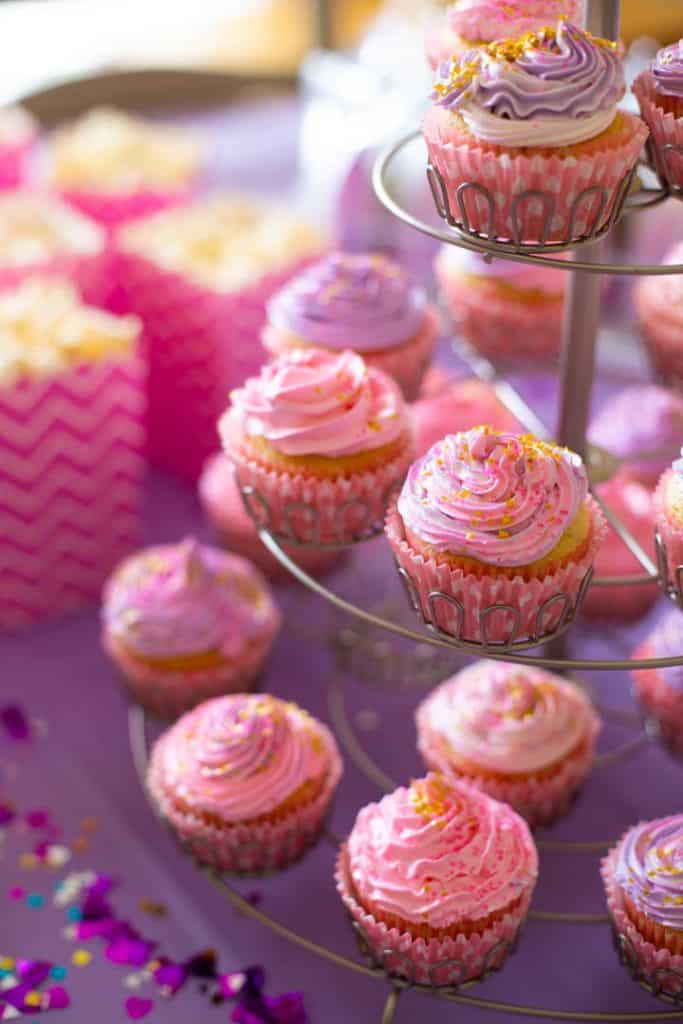 Other than a few items from the grocery store, I LOVED being able to grab absolutely everything I needed in just one visit to Party City. You can mix and match the cute Barbie-specific party supplies along with some of their plain colored party plates and napkins so the event feels more personalized and custom to you and your child.
We've always loved planning our birthday parties around a color scheme so I've spent more than my fair share of time in the rainbow aisles for supplies.
Our sweet guests had the time of their lives at the Barbie Fashion Show Party. Many of the moms texted me after to say their daughters couldn't stop talking about it. It was one of the most playful and fun parties we've ever hosted.