This sweet and easy strawberry mango salsa is the perfect party appetizer for summer. Serve it with cinnamon pita chips for a snack kids will love.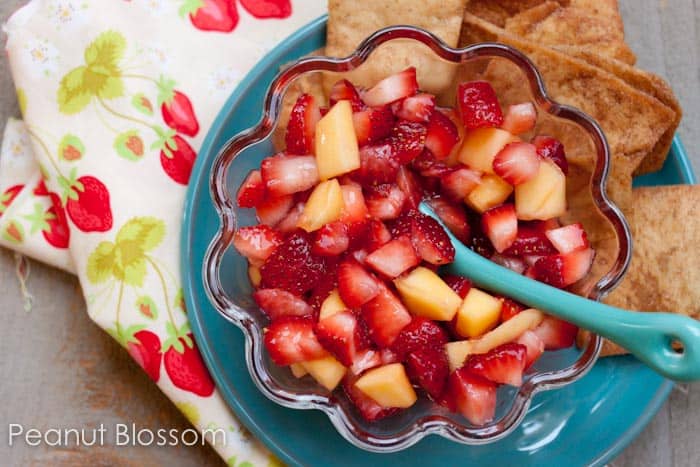 My Little Pea is going through a very difficult food phase right now. Her diet consists almost solely of goldfish crackers. Getting her to ingest anything with even a trace amount of nutrition has proven to be quite the challenge.
The one thing I have going in my favor is that she does seem to be enthralled with the dipping stage. In an attempt to sneak in a little fruit, I decided to make this strawberry mango salsa with cinnamon pita chips. We just happened to be going to a family barbecue so I brought it along as my contribution.
Little Pea was more enthralled with the pita chips than the salsa, but my older daughter enjoyed it. We served this as an appetizer at our barbecue but when I remade it for this post I served it as a dessert. It really works either way! Refreshing and summery and a perfect way to use up some fresh berries you may have laying around.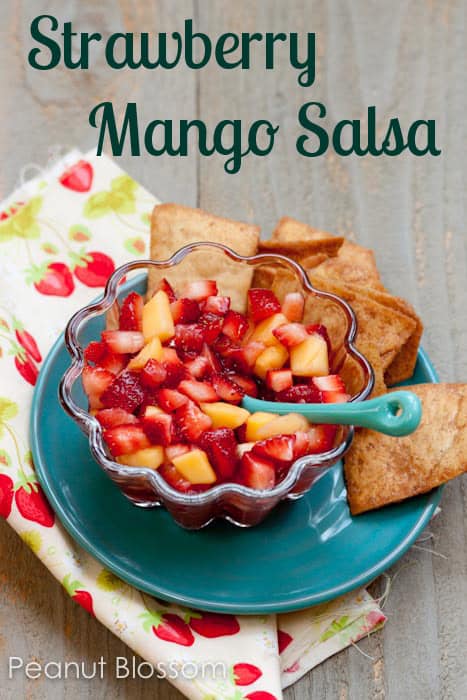 Strawberry Mango Salsa
Recipe shared with me by my friend Renee--it is her special concoction made in honor of one of the best book club parties ever. Thanks, Renee!
Don't miss our favorite Cinco de Mayo party recipes here!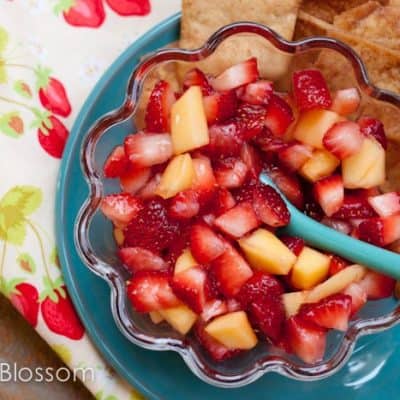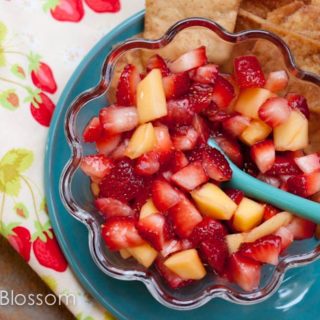 Strawberry Mango Salsa
This sweet and simple strawberry mango salsa will be the hit of the party! Serve it with cinnamon pita chips for an easy appetizer to bring to the next celebration.
Ingredients
2 quarts fresh strawberries, hulled and diced
1 fresh mango, diced
2 tbsp brown sugar
2 tbsp orange juice
2 tbsp strawberry jam (the homemade freezer variety is best but use what you've got!)
Instructions
Wash and carefully small dice the fruit. Toss together in a bowl and set aside.
In a smaller bowl, whisk together the sugar, juice, and jam until it is smooth. Pour over the fruit mixture and toss to combine.
It can be eaten immediately but I prefer to let the sugars marinate together in the refrigerator a bit first. If serving to children, be sure to have a full extra bag of the cinnamon chips, they were very popular.