This sweet and easy strawberry mango salsa is the perfect party appetizer for summer. Serve it with cinnamon pita chips for a snack kids will love.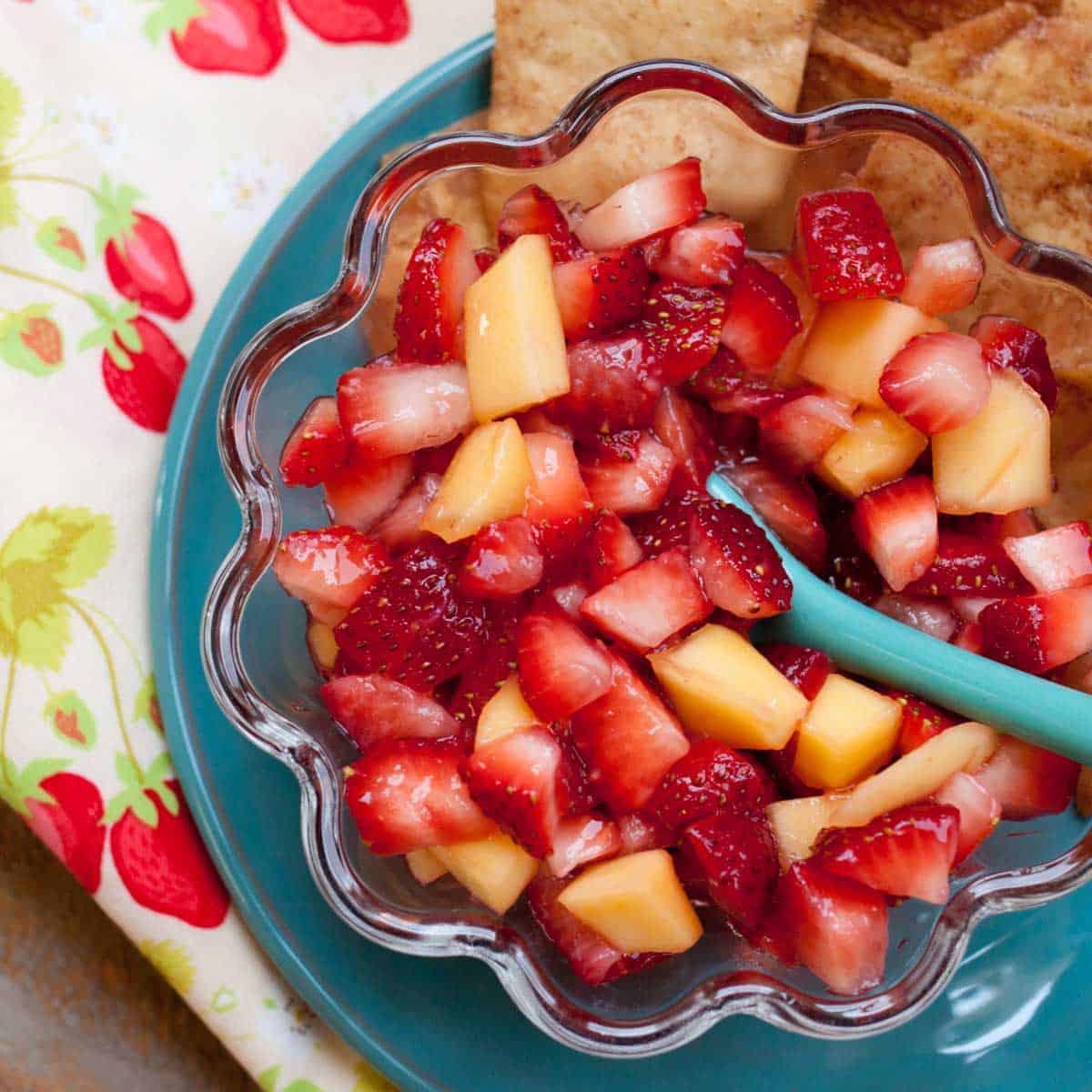 One of the easiest appetizers to set out at a party is fresh salsa. Guests love to dunk chips into that fresh dip.
One of my favorite book club party hostesses once served this amazingly delicious fresh strawberry mango salsa with cinnamon pita chips. The bowl disappeared in a flash and everyone begged for the recipe.
It is such an easy recipe to make with just a few easy ingredients. Serve it as traditional chips and salsa or on top of a crispy bread crostini like bruschetta!
Jump to:
Ingredients
This simple fruit salsa is made with a very short list of ingredients:
Fresh strawberries
Fresh mango
Brown sugar
Orange juice
Strawberry jam: I always use our homemade strawberry freezer jam, but you can use whichever brand you prefer.
Serving Suggestions
This fresh strawberry mango salsa tastes wonderful whether it is served at room temperature or cold straight from the fridge.
You can make it a few hours in advance, but be sure to keep it stored in an airtight container. The strawberries will begin to lose their texture once the salsa sits for longer than 6 hours.
Serve it in a large bowl with crispy cinnamon pita chips or over homemade crostini.
More Fresh Strawberry Recipes
If you are looking for more great recipes to use up fresh strawberries when they are in season, here are a few more of my favorite strawberry recipes.
More Salsa Recipes
Looking for more salsa recipes for your party? These unique salsa ideas focus on fresh produce and bright flavors.