This easy sausage lasagna is the perfect holiday dinner idea for feeding a crowd. This step-by-step guide will help you make a sausage and peppers lasagna your whole family will love. It can be made ahead and frozen to save time in the kitchen on Christmas!
Our family loves baking an easy sausage lasagna for either the Christmas Eve dinner or Christmas Day feast.
My mom always makes it ahead of time so we just have to pop it in the oven alongside delicious garlic bread. Add a simple green salad or a Caesar salad to round out the meal.
It makes such a festive dinner but takes so little time to heat up and serve during the holiday celebrations.
Jump to:
Ingredients
If you've never made a homemade lasagna before, it may seem intimidating but wait till you see how easy it is.
The ingredients list is very simple but there are a few things to keep in mind: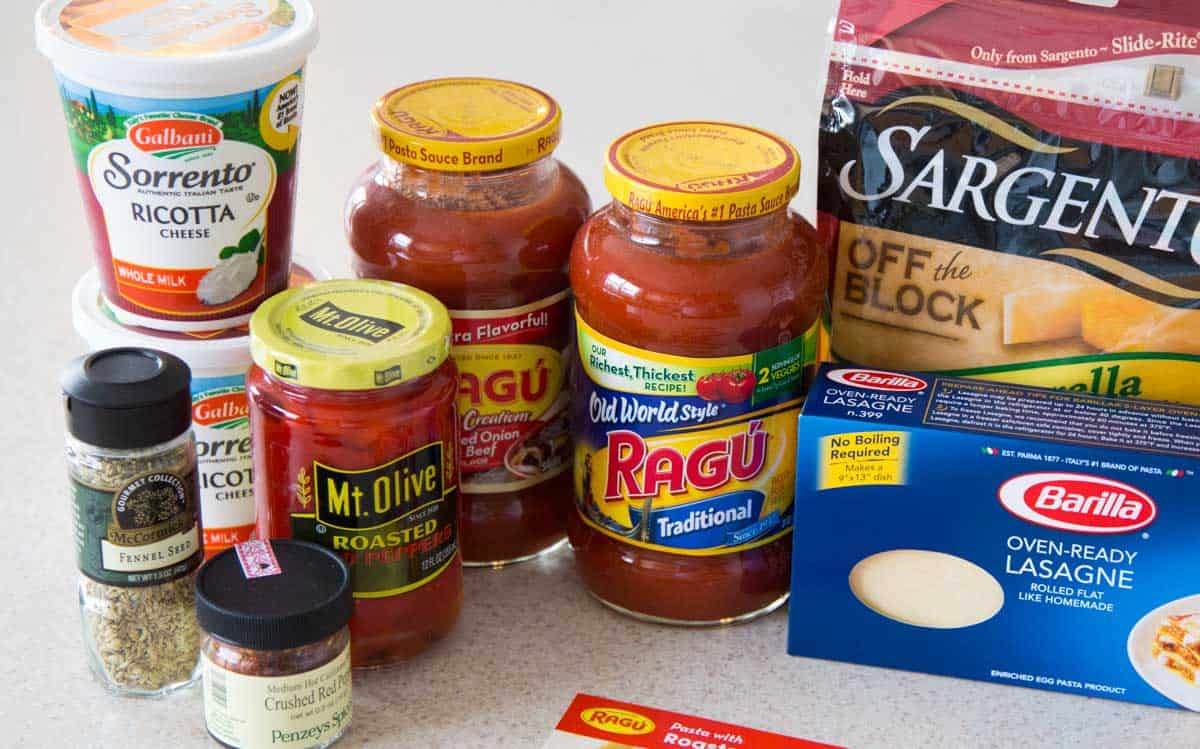 Lasagne Noodles: This recipe calls for oven-ready lasagne pasta that doesn't require boiling. It makes the lasagna fast and easy to assemble. If you prefer the ruffled-edge boiled lasagna noodles, just plan to add a step to the assembly. Boil, drain, and rinse the pasta in cold water to stop the cooking before using in this recipe.
Jarred Tomato Sauce: The brand you use doesn't matter, just pick the flavor your family loves the most. Marinara, classic tomato, roasted garlic, or basil tomato sauce would all be absolutely delicious.
Jarred Roasted Red Peppers: I love the fire-roasted flavor of jarred red peppers. They are already soft and tender and taste delicious mixed in with the sausage. You could substitute with a red bell pepper and simply saute it with the sausage to soften it before using.
Bulk Sausage: I used a spicy hot sausage to add some heat to our finished lasagna. If your family prefers things mild, substitute that with an Italian sausage or sweet sausage.
Ricotta Cheese: This is a classic lasagna filling. I always buy the whole milk ricotta because it stands up better to baking. The low-fat ricotta may separate and make your lasagna watery.
Shredded Mozzarella: Mixing in mozzarella cheese with the ricotta helps give the lasagna that deliciously stringy melted cheese pull.
Fennel Seed: I love adding a bit of dried fennel seed to anything that uses sausage. It's not essential because most sausage has fennel already mixed in, but we love to boost that flavor a little bit.
Prepare the Fillings
Making a lasagna is actually very easy, all the effort really comes from just preparing the fillings. Once they're ready, the final assembly will be very quick.
Brown the Sausage:
First, brown and crumble the sausage in a large skillet set over medium-high heat.
As the sausage cooks, break it up with a cooking spoon. You want to cook the sausage until it is a toasted brown color or it will be rubbery to chew.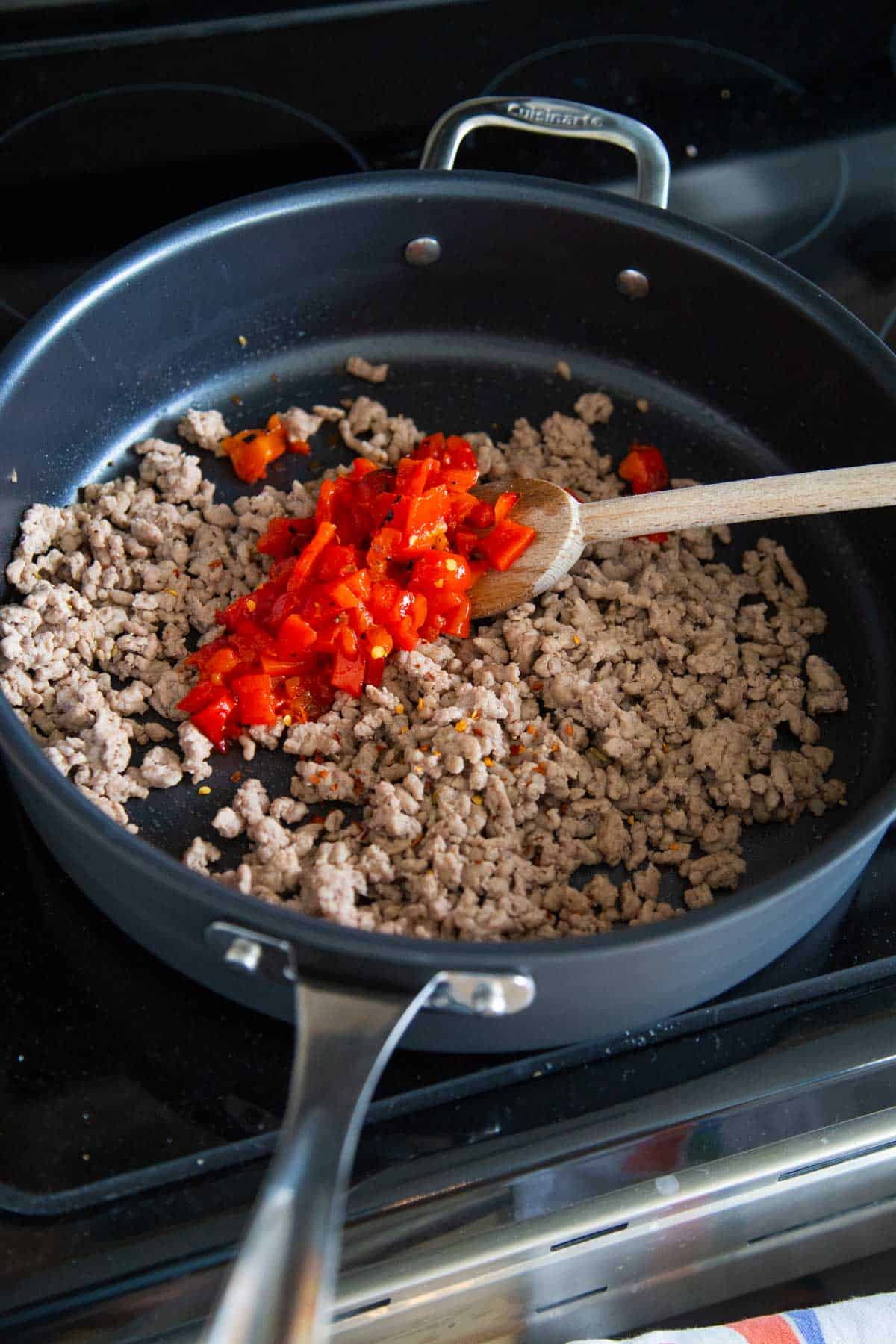 Once the sausage has browned, drain off any excess fat and return the skillet to the burner.
Add diced roasted red peppers, fennel seed, and roasted red pepper flakes (if using) to the skillet and stir them all together. Cook for 2 minutes to heat through the peppers.
Remove from the heat and set aside.
Prepare the Ricotta Filling:
In a large mixing bowl, combine the ricotta cheese, just 1 cup of the shredded mozarella, and ¼ cup of grated parmesan cheese.
Add the eggs and stir to combine.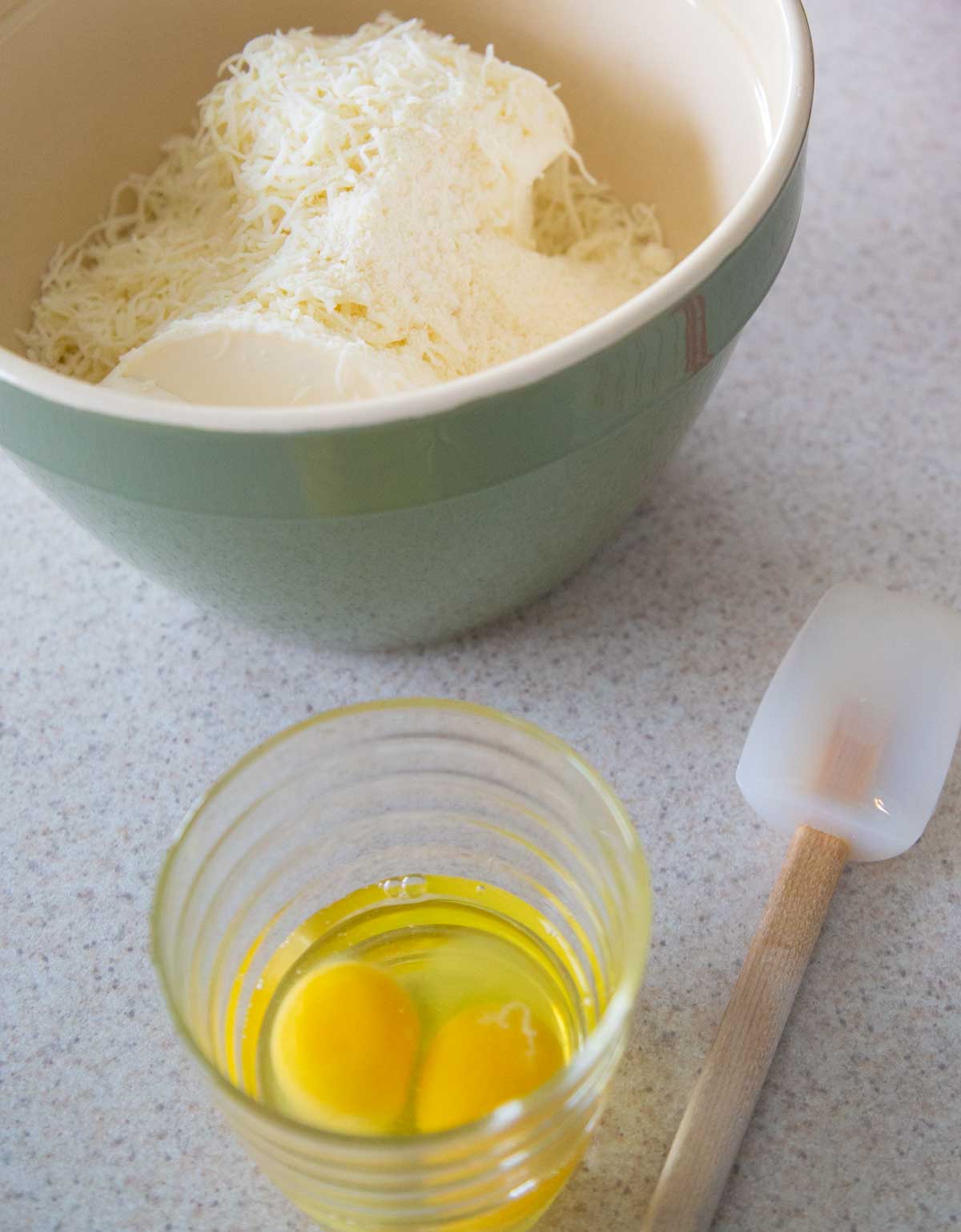 Assemble the Lasagna
With your fillings prepared and ready to go, assembling the lasagna is so easy.
Set a 9 x 13-inch baking dish on the counter next to an assembly line of your fillings. You can spray the dish with cooking spray if you prefer, but we've never had trouble lifting the final lasagna servings out of the pan. Spread about 1 cup of jarred tomato sauce evenly along the bottom of the baking dish.
Layer the first single, even layer of lasagna noodles. It is ok to break a piece in half to make it fit if you need.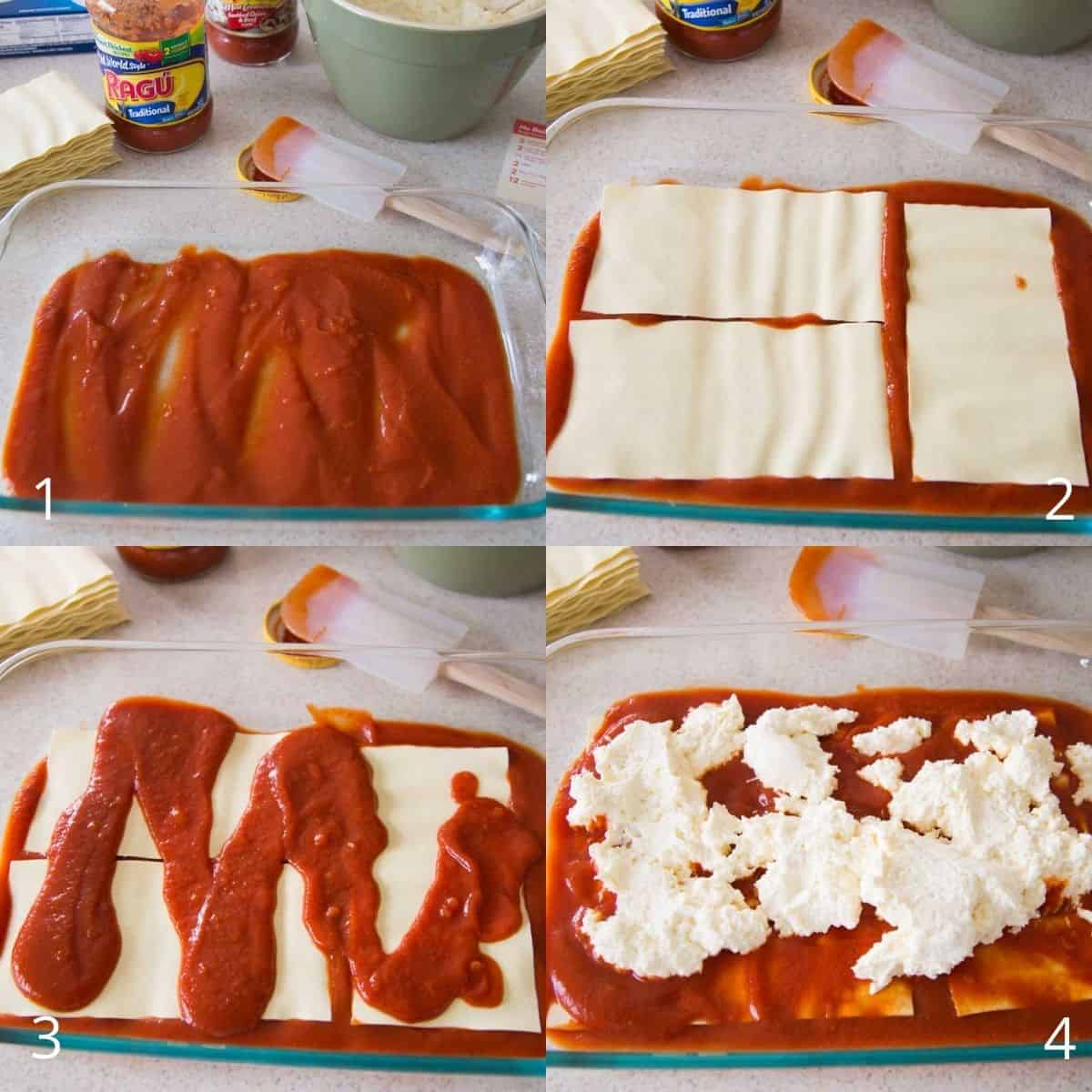 3. Spread ½ cup of tomato sauce over the top of the pasta.
4. Spoon dollops of the ricotta filling over the tomato sauce and use a spatula to spread it out evenly: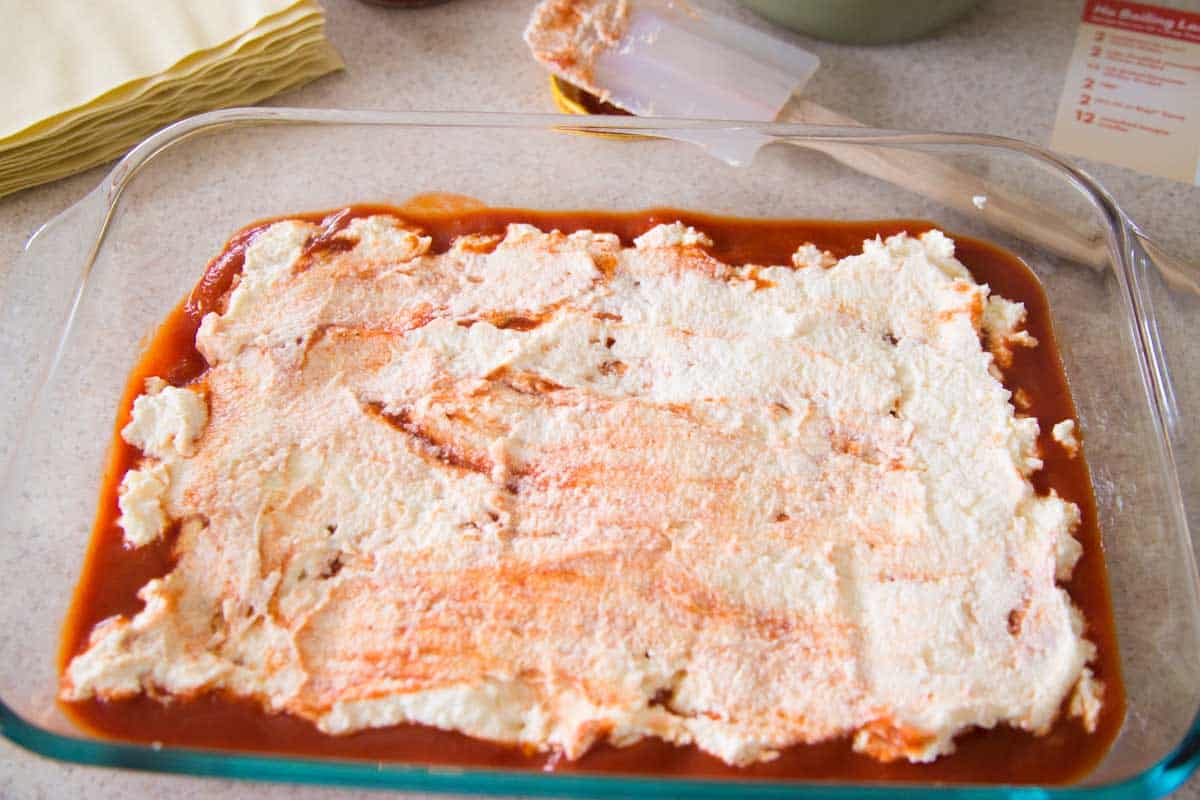 Next, we'll add the sausage and repeat the layers: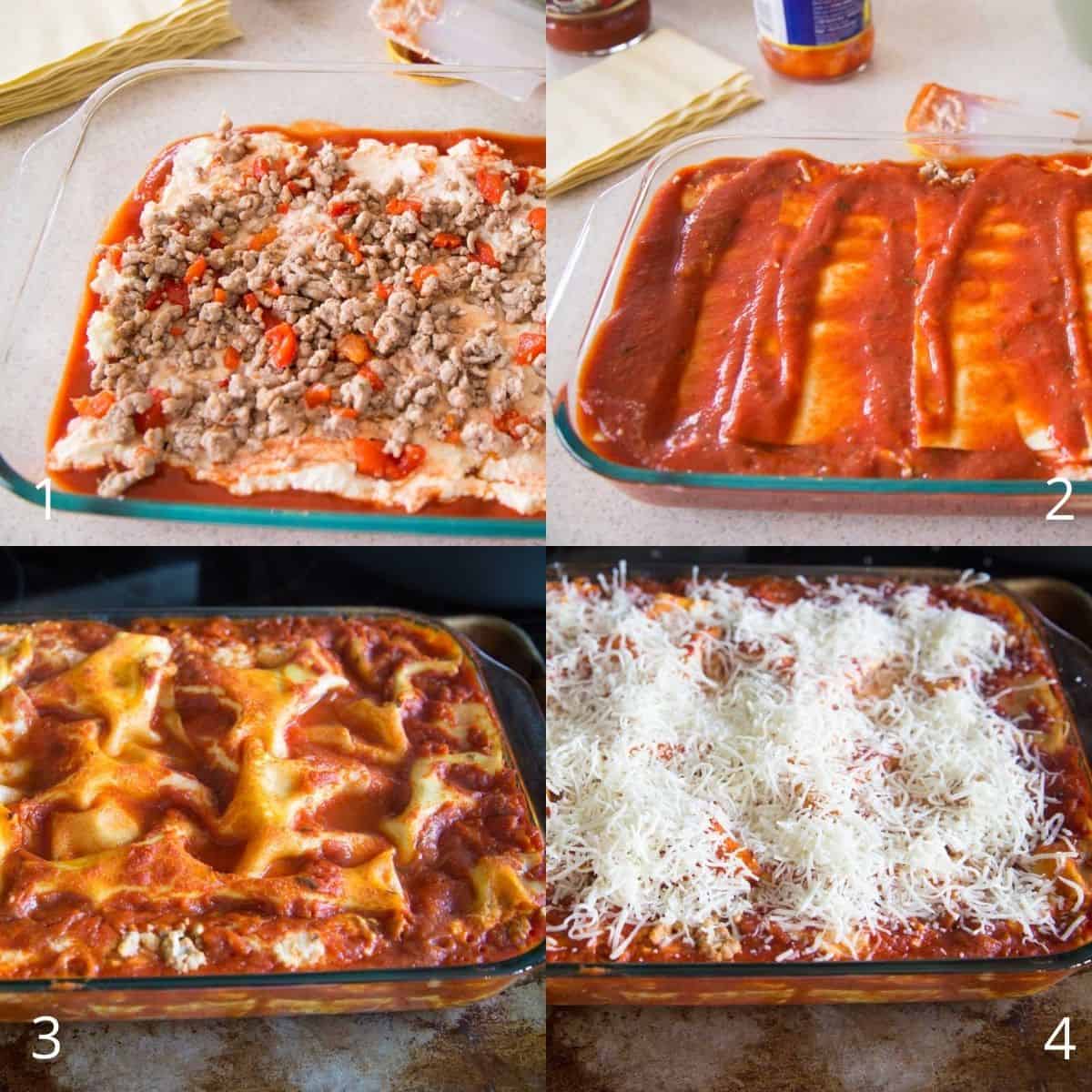 1. Add just half of the sausage and peppers mixture over the ricotta filling.
2. Then finish the lasagna assembly by following this pattern:
the next layer of pasta
another layer of sauce
the remaining ricotta
the remaining sausage
one last layer of pasta
finally the remaining tomato sauce
3. You'll want to do the majority of the baking of the lasagna without the top layer of shredded cheese or the cheese may get overcooked, separated, or even burn.
4. Sprinkle the last layer of shredded cheese over the top and bake for 10 more minutes to melt it.
Make Ahead or Freeze?
If you want to use this lasagna as a make ahead recipe, you have two options:
Assemble and Bake within 24 hours:
Cover the lasagna with foil and store in the fridge for up to 24 hours.
Set the lasagna on your counter for an hour before baking to let it come closer to room temperature. This will help ensure the cheese doesn't overbake.
Freeze For Later:
Wrap the lasagna in a double layer of aluminum foil and freeze for up to 6 months.
Thaw in the fridge the overnight and set the casserole on the counter an hour before you plan to bake it.
Baking Instructions
Preheat the oven to 375°F. Bake for one hour or until it is hot and bubbling.
Sprinkle the top layer of shredded mozzarella evenly and bake for an additional 10 minutes or until melted.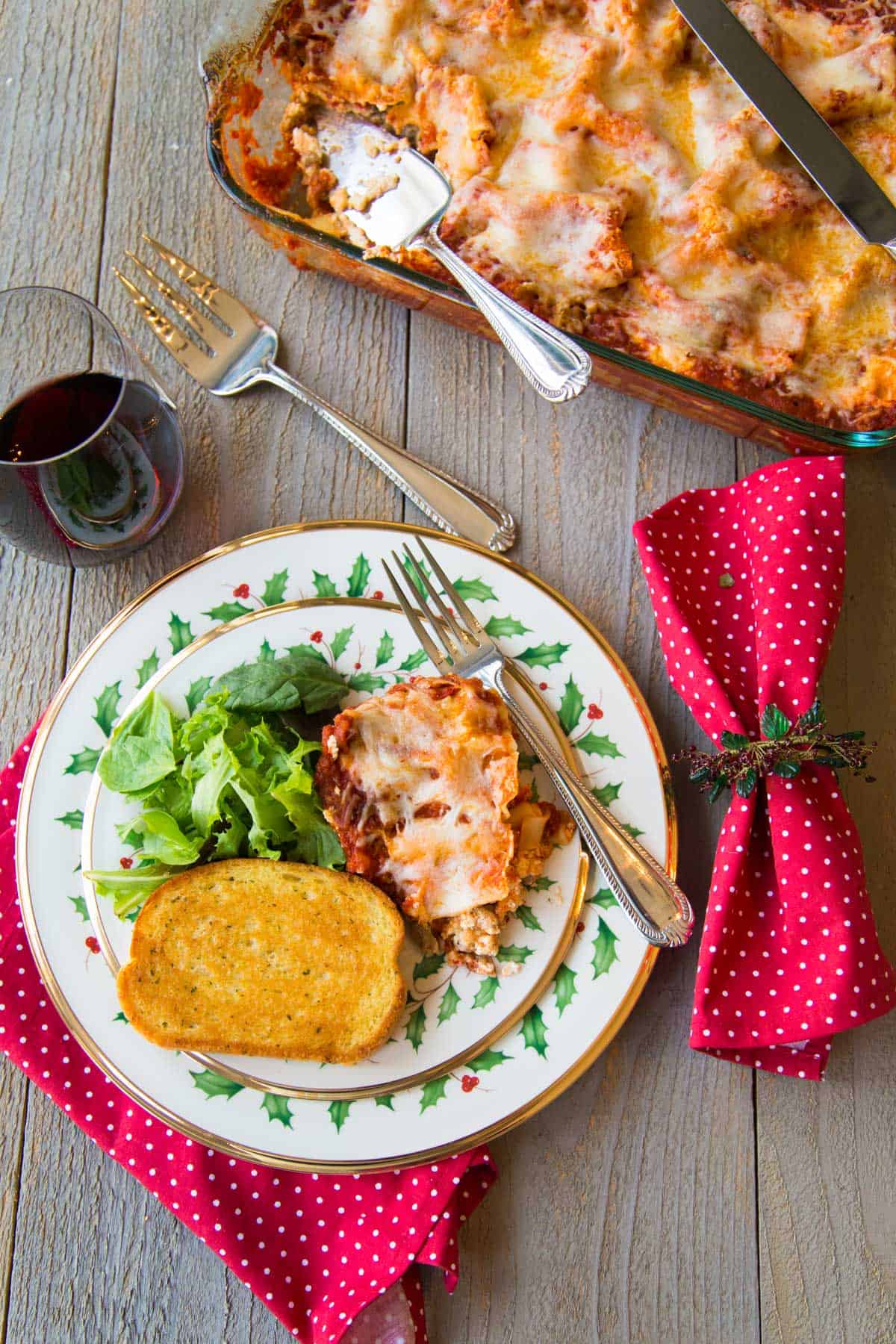 Variations
There are so many ways to customize a lasagna for your family. Here are some of my favorite twists:
Veggie Lasagna: Add chopped baby spinach to the ricotta filling, soften diced onion with the sausage, and add some fresh garlic for 30 seconds before pulling the sausage from the heat.
Beef Lasagna: You can substitute ground beef for the bulk sausage if you prefer.
Turkey Lasagna: If you want to lighten the lasagna a little, you can swap ground turkey or chicken instead of the beef. Definitely add the dried fennel seed to add flavor.
Low Carb Lasagna: You could swap the layers of pasta with thin slices of zucchini if you prefer. I would not recommend freezing it this way, simply bake and serve immediately.
Serving Suggestions
We love to serve this with homemade garlic bread and a Caesar salad. Homemade Italian bread served with a dish of seasoned olive oil for dipping would also be an amazing treat.
More Make Ahead Holiday Dinner Ideas
If you want to get out of the kitchen and spend more time with your family this holiday season, I recommend prepping ahead any of these delicious holiday dinner ideas:
If you've tried this easy sausage lasagna or any other recipe on PeanutBlossom.com please don't forget to rate the recipe and let me know where you found it in the comments below. I love hearing from you!
FOLLOW along on Instagram @peanut.blossom as well as on Pinterest and Facebook.
📖 Recipe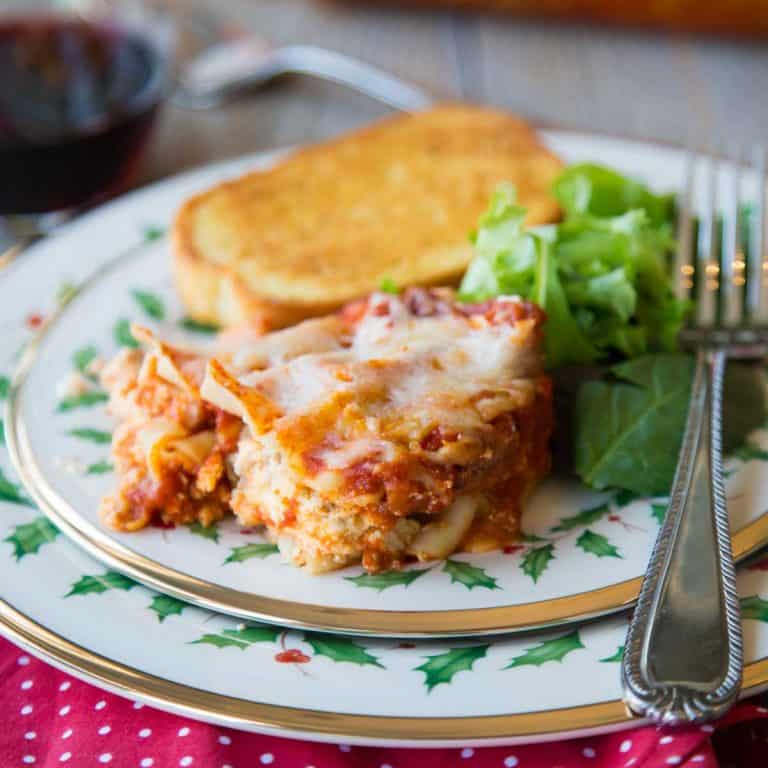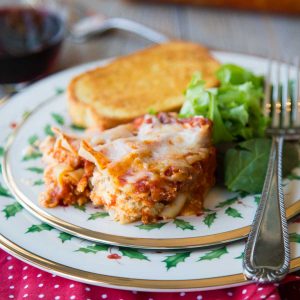 Easy Sausage Lasagna
This delicious and easy lasagna is perfect for beginners to bake for the holiday. Several easy shortcuts make this classic dish easy to make.
Ingredients
1

pound

bulk sausage

hot, Italian, or sweet

½

jar of roasted red peppers

drained and diced

1

tablespoon

dried fennel

Sprinkle of roasted red pepper flakes

optional

2

(15 oz) containers of ricotta cheese

2

cups

shredded mozzarella cheese

divided

½

cup

grated Parmesan cheese

2

eggs

2

(24 oz) jars prepared tomato sauce

12

no boil lasagna noodles
Instructions
Prepare the Fillings
In a large skillet, brown and crumble the sausage until cooked through and toasted to a golden brown. Stir in the diced red peppers and cook for 2 more minutes. Add fennel and roasted red pepper flakes if using and stir to combine. Remove from heat and set aside.

In a large mixing bowl, stir together the ricotta cheese with 1 cup mozzarella cheese, ¼ cup grated parmesan, and 2 eggs.
Assemble the Lasagna:
In a 9x13-inch casserole dish: spread 1 cup of tomato sauce across bottom of the dish. Spread one layer of 3 - 4 noodles evenly across the dish.

Spread another cup of tomato sauce across the pasta. Top with half of the ricotta cheese mixture and spread evenly.

Sprinkle half the sausage mixture evenly across the next layer.

To finish assembly, follow this pattern for the next layers: pasta, sauce, remaining ricotta, remaining sausage, pasta, remaining tomato sauce.
Baking Instructions:
Preheat the oven to 375°F.

Cover the lasagna with aluminum foil tightly and place on a baking sheet. Bake for 1 hour.

Uncover the lasagna and sprinkle remaining mozzarella and parmesan across the top. Bake for an additional 10 minutes.

Let sit for a few minutes before serving to let the layers set.
Recipe Notes
Make-Ahead & Freezing Instructions:
The lasagna can be assembled and then stored in the fridge if you plan to bake it within 24 hours. Be sure to let the dish stand on the counter to remove the chill for one hour before baking.
Frozen lasagna should be frozen without the top layer of shredded cheese. Thaw in the fridge overnight and then bake as directed.
Save This Recipe to Your Recipe Box
Find this delicious recipe next time you visit by saving it to your very own recipe box on my site. All your favorites stored in one easy place!