Healthy vegetable lasagna cups are a fun recipe to cook with kids. Filled with fresh zucchini, spinach, corn, and tomato sauce and topped with deliciously hot and bubbling cheese with layers of crispy wontons make this a fun twist on dinner.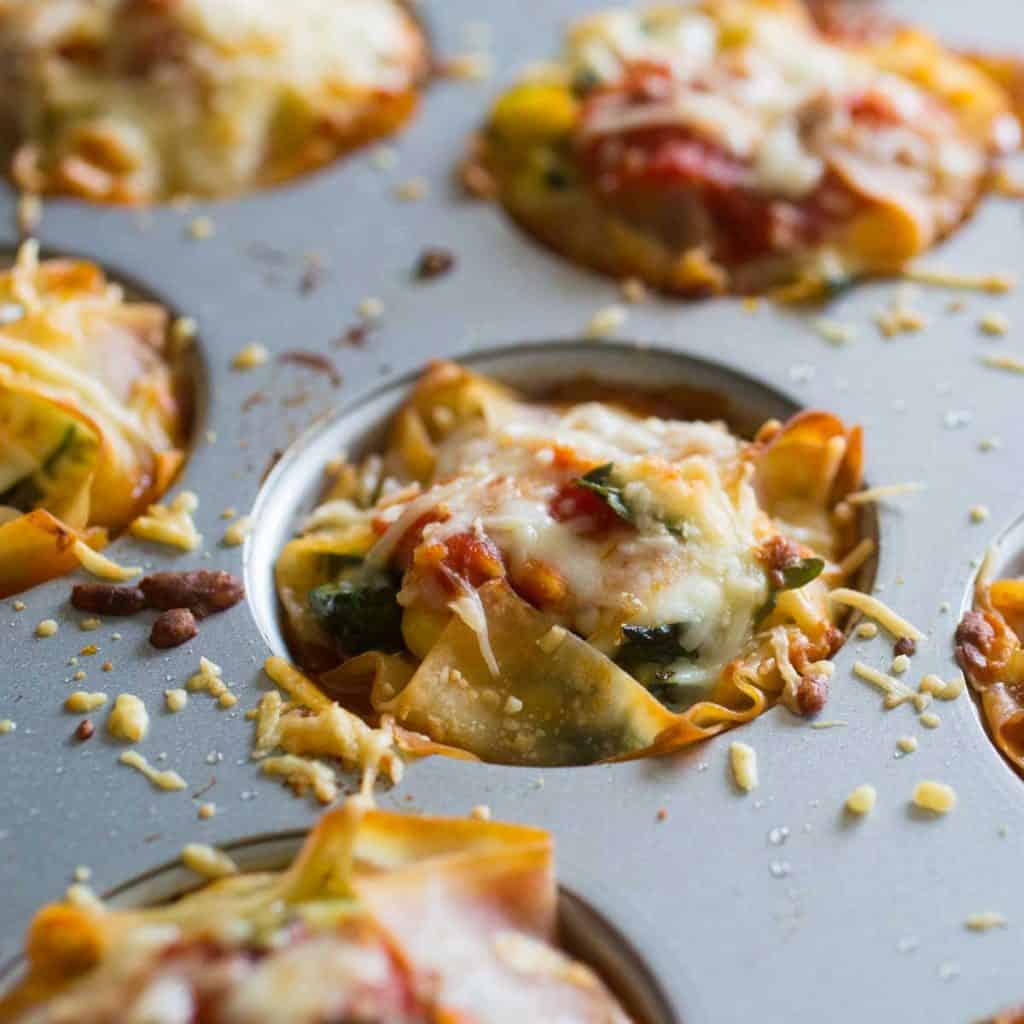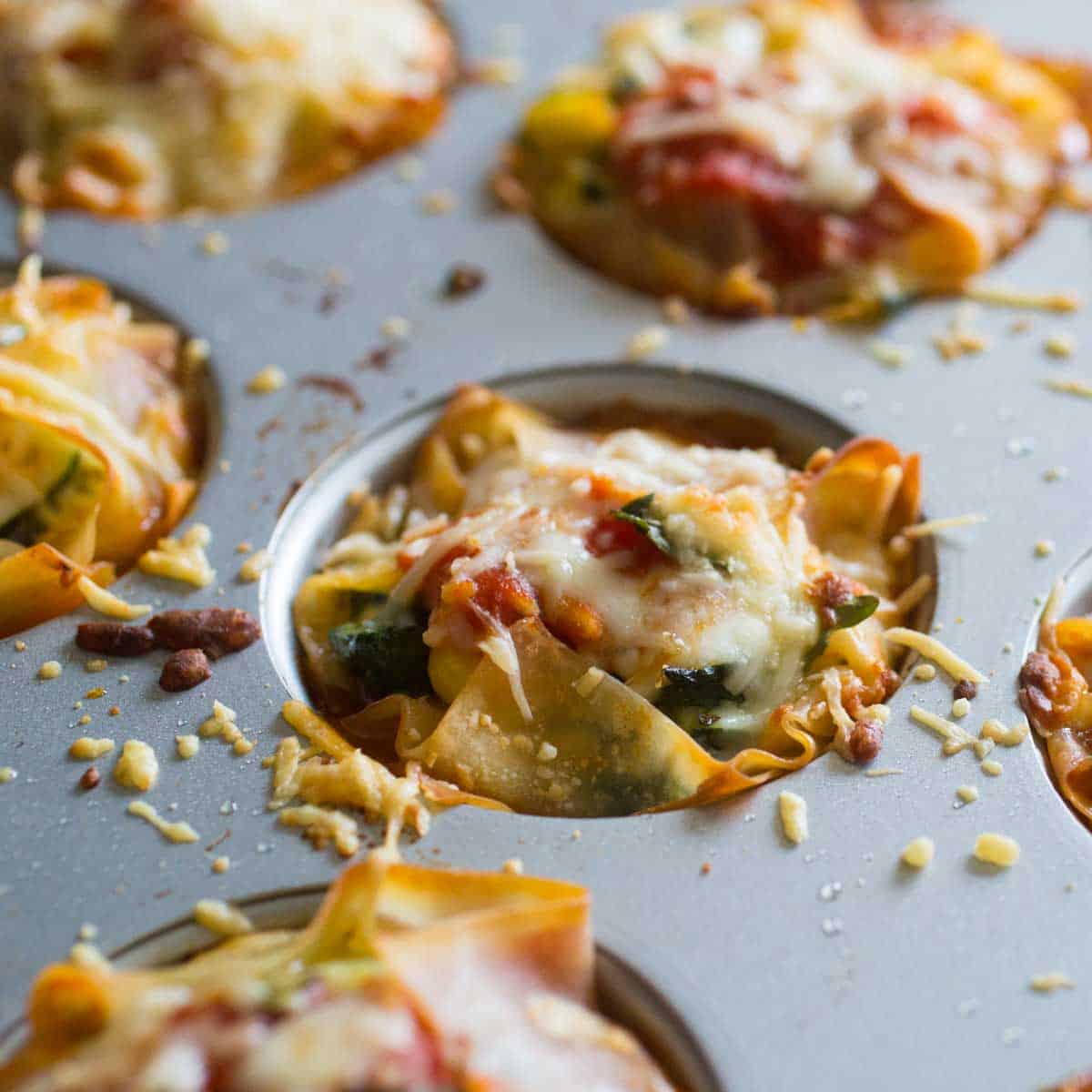 This kid-friendly garden lasagna recipe is baked right inside a muffin tin so that individual lasagna cups can be served for dinner.
The easy recipe for kids was part of a cooking kit from Raddish Kids that we received several years ago for review.
We've loved this dish so much, my kids get super excited to cook it for an easy dinner during the summer when the vegetables are perfectly fresh.
I love how healthy the ingredients are and how perfectly the lasagna cups reheat for easy lunches in the following days.
Jump to:
Ingredients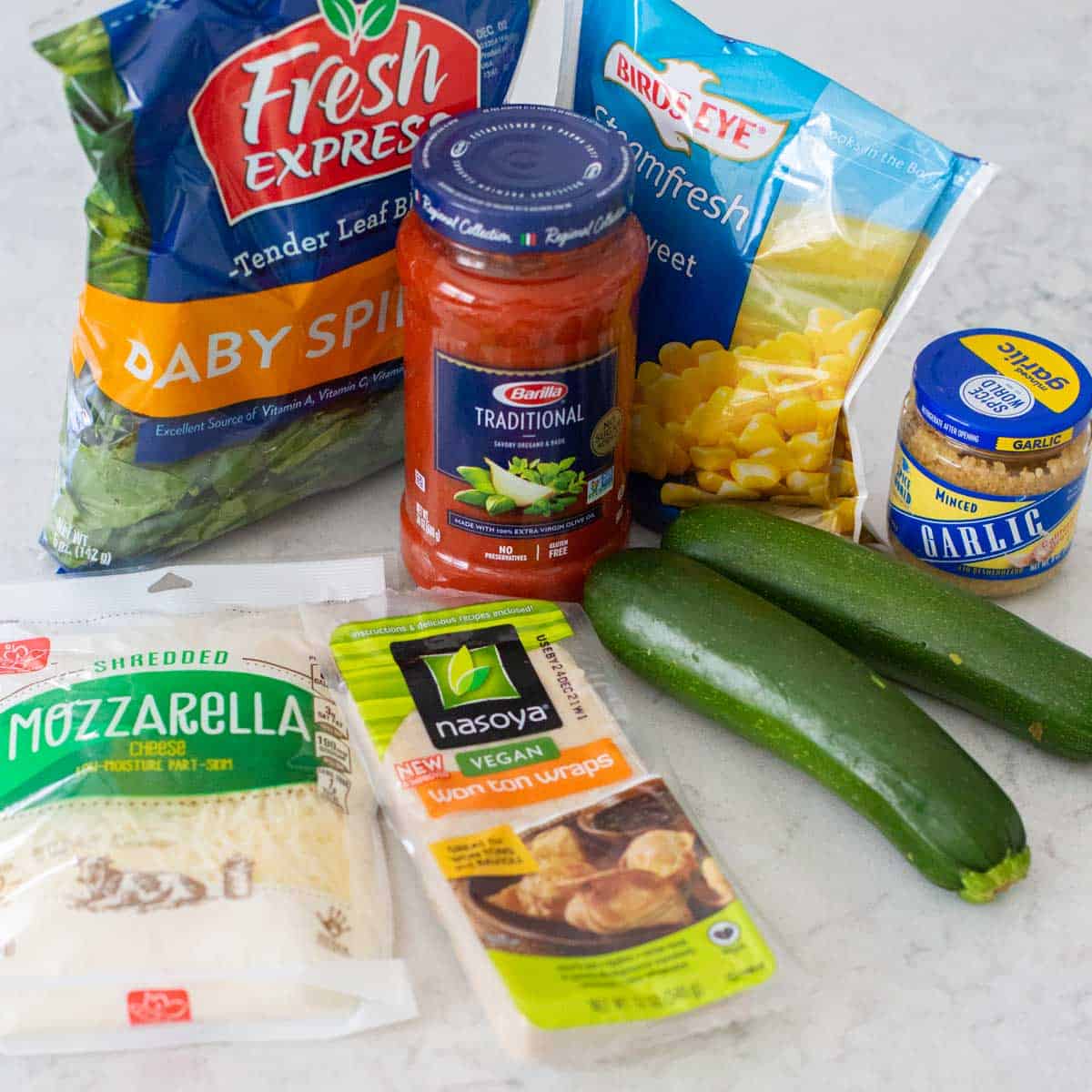 This recipe uses very easy and wholesome ingredients with just a couple important things to note:
Wonton Wrappers: Instead of traditional pasta, this dish is made with layers of thin wonton wraps. We found them in the refrigerated section of the grocery store and they have an awesome texture once baked.
Fresh zucchini
Fresh baby spinach
Frozen corn
Minced garlic
Jarred marinara sauce
Ricotta cheese
Shredded mozzarella
Italian herb blend + Dried (or fresh) basil
Olive oil
Salt & pepper
Tips for Cooking with Kids
I did most of the initial prep of the veggies because it involved my big knife to cut the zucchini but I had the kids tear up the basil and peel the garlic.
Little Pea was very jealous of my knife, so I got out one of our dull kid butter knives and let her practice cutting a few small pieces of zucchini.
She was content to just work with those materials while the Peanut and I did a few of the more complicated things.
If you plan to cook this with your kids, be on the look out for smaller tasks you can hand off to them, they want to feel like an important part of the process.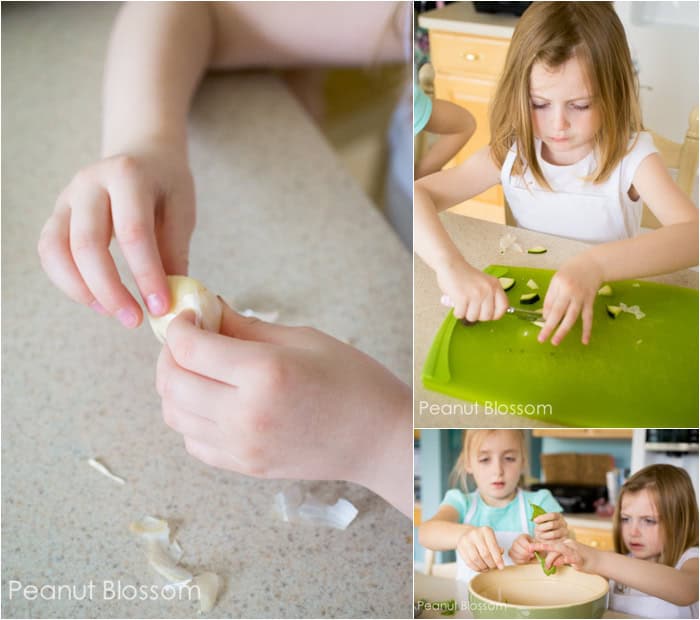 Prep the Vegetables
The first step was to sauté the garlic and zucchini and then mix in spinach and corn.
Kids will always be anxious about the sheer quantity of spinach that goes into the pan, be sure to reassure them that it will cook and wilt down!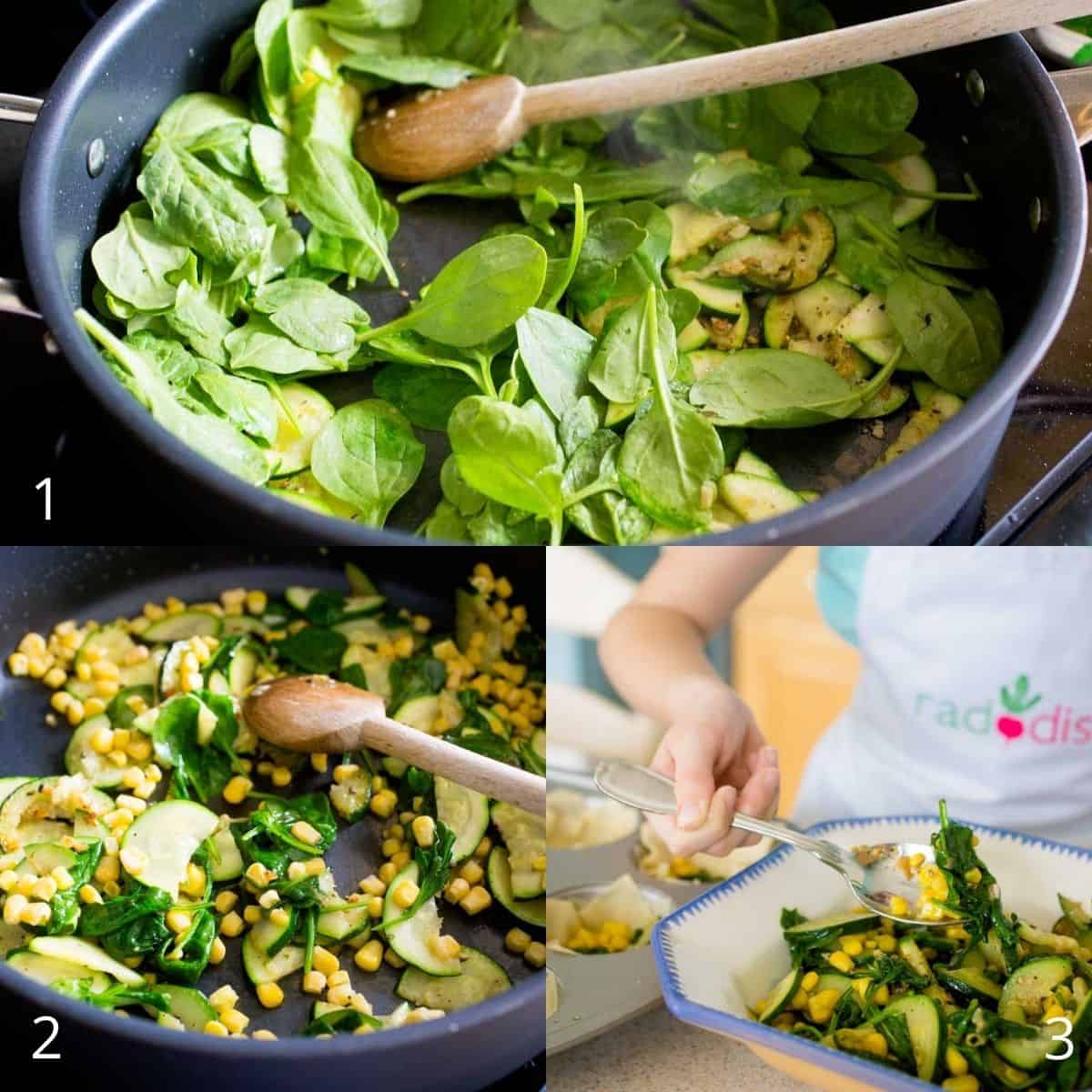 Since the garlic hit the pan first, I got quite a few, "Mom, that smells really good!" but their jaws dropped when I brought the big bowl of filling over for the assembly line.
I love how the zucchini tastes in these garden lasagna cups but don't miss more ways to use zucchini here.
Prep the Cheese Filling
Mix the ricotta cheese and mozarella together to form the cheesy filling for the lasagna.
You can place the bowl of cheese near your assembly station for easy use.
Assemble the Lasagna
The recipe requires working with wonton wrappers, which was a new thing for the Peanut.
I showed her how to do the first one and then she did the rest:
Just like traditional lasagna, the filling gets layered into the muffin tin cups.
Place two wonton wraps at the bottom of each well.
Top them with a spoon full of the veggie mixture and a dollop of tomato sauce.
Add a dollop of the cheese mixture.
Place two more wonton wraps over the top and gently press.
Repeat the veggie, tomato, cheese layers.
Pull the corners of the wraps over the top of each well and sprinkle some reserved mozzarella over the top.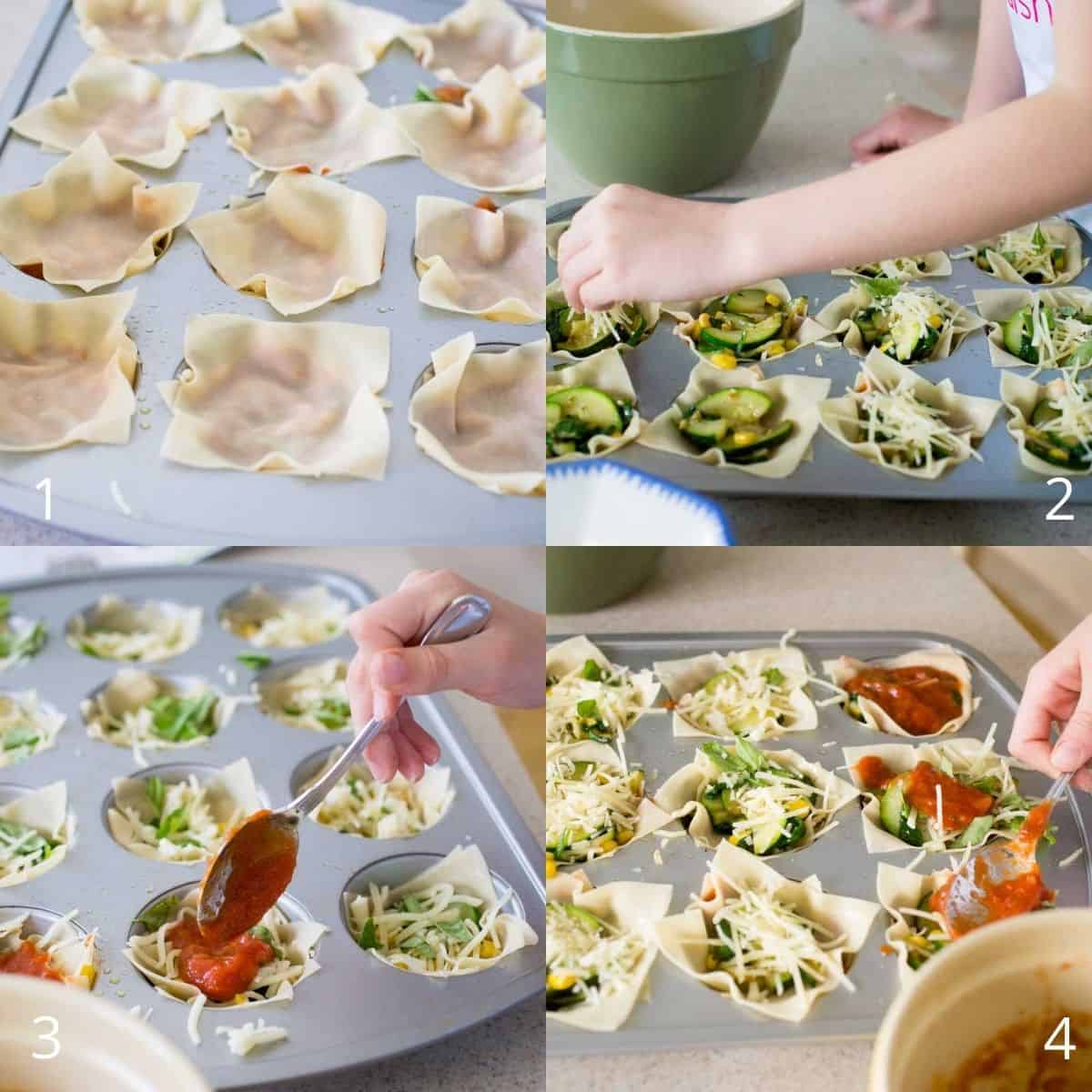 It was really hard for me to not be too involved with the assembly and to step back and let her manage it, but she did great! And just look at that proud smile on her face.
Little Pea's attention span was limited and she joined us when she wanted, it left me with more time to spend with just the Peanut.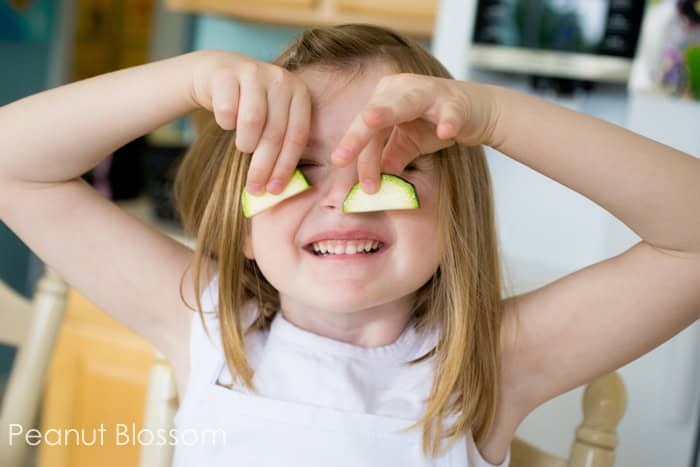 Bake the Lasagna Cups
Preheat the oven to 375°F and bake the lasagna cups for 20 minutes or until they are golden brown.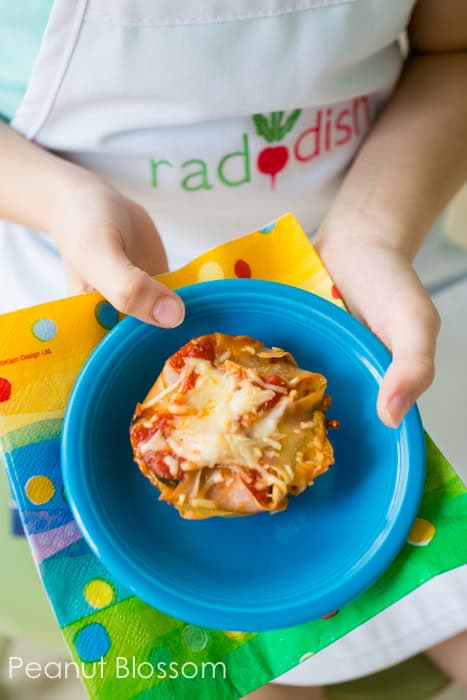 When the "veggie cupcakes" came out of the oven, the Peanut was very nervous to give them a try. Having just spent the last 30 minutes prepping them, she couldn't resist. They were pretty hot in the center so I cut it up into smaller bites for her.
She finished the first cup quietly and then I heard:
Mom, can I please have a second one?
These are the best vegetables I've ever tasted.
Do you hear the angels singing? I do. And even better was the "Can we make this again? These are so good. I didn't think I would like them because of all the vegetables, but I can't even taste the zucchini."
Make Ahead Tips
These lasagna cupcakes make an excellent make-ahead recipe. They reheat really well in the microwave or oven.
You can also freeze them for 3 - 6 months in an airtight container. Just be sure they are completely cooled before freezing.
More Recipes for Kids
Looking for more easy and delicious recipes for kids to help cook? Don't miss these family favorites:
📖 Recipe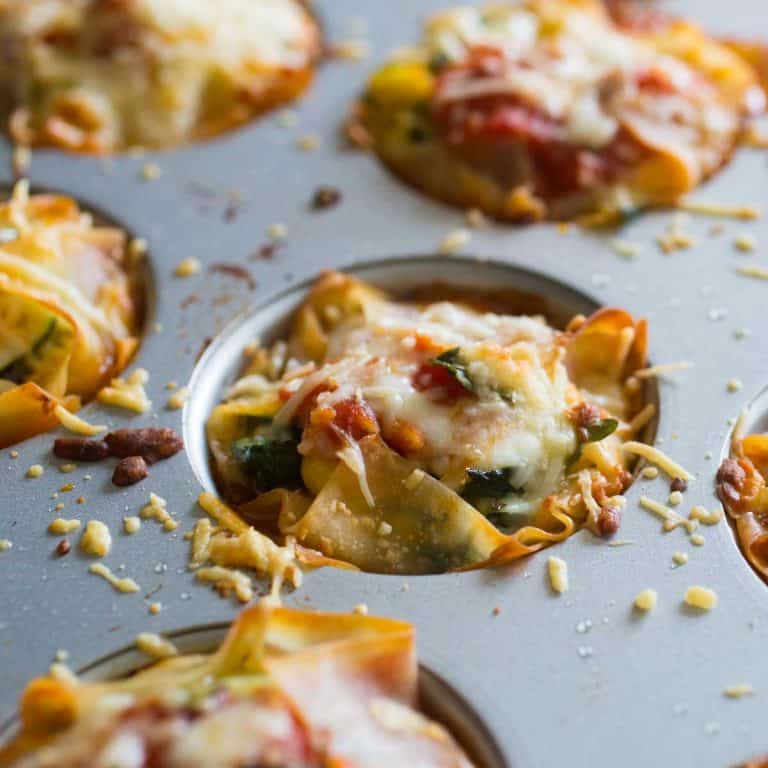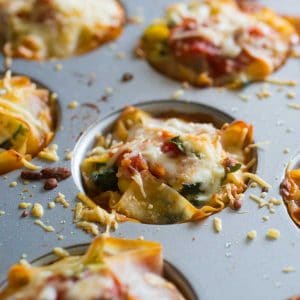 Garden Lasagna Cups
Deliciously cheesy vegetable lasagna cups are a fun recipe to cook with kids. Set up all the fillings in an assembly line at the counter and let your young chefs prepare these homemade lasagana cups featuring fresh zucchini, spinach, corn, and tomato sauce with plenty of bubbling hot cheese.
Ingredients
1

zucchini

2

tablespoons

olive oil

2

teaspoon

minced garlic

1

teaspoon

dried Italian herb blend

½

teaspoon

salt

Sprinkle of fresh cracked pepper

4

cups

fresh baby spinach

1

cup

frozen corn

1

cup

ricotta cheese

1

cup

shredded mozzarella

divided

1

teaspoon

dried basil

1

package of square wonton wrappers

2

cups

marinara sauce
Instructions
Preheat the oven to 375°F and spray a muffin tin with cooking spray.

Cut the zucchini into half lengthwise. Then cut in half again to form four long strips. Cut the zucchini into small quarter half moon shaped chunks.

Heat the olive oil in a large skillet over medium-high heat. Add the zucchini and garlic and stir to combine. Sprinkle with Italian herbs, salt, and pepper and continue to cook until softened, about 6 minutes.

Add the spinach and corn to the skillet and stir to combine. Continue to cook until the corn is warmed through and the spinach has wilted, about 4 minutes. Remove from the heat and set aside.

In a medium-sized mixing bowl, combine the ricotta cheese with just ¼ cup of the mozzarella and the dried basil.

Place one wonton wrapper sheet in each muffin tin well and gently press so that it coats the bottom of the well with the edges coming up the sides. Place a second wonton sheet in each well, turning it a 90° angle from the first sheet in the well, press into place.

Add 1 tablespoon of vegetable filling to each well. Top with ½ tablespoon of the ricotta mixture. Then add 1 tablespoon of marinara. Top each well with one more wonton sheet and gently press it into place.

Repeat with another layer of vegetable filling, the remaining ricotta mixture, another tablespoon of marinara.

Pull the wonton wrapper tips towards the center-top of each well and sprinkle the remaining mozzarella over each cup.

Bake for 20 minutes or until tops are golden brown and the cups are bubbling hot.
Recipe Notes
Leftover lasagna cups reheat very well in the microwave and will last 2 - 3 days in the fridge. Freezing is not recommended as the vegetables may become overly watery once thawed.
Save This Recipe to Your Recipe Box
Find this delicious recipe next time you visit by saving it to your very own recipe box on my site. All your favorites stored in one easy place!