Easy recipes for kids to cook for dinner come in handy when you want to teach your kids to cook or let them be in charge for dinner for an evening. These delicious kid-friendly dinner ideas are perfect any night of the week.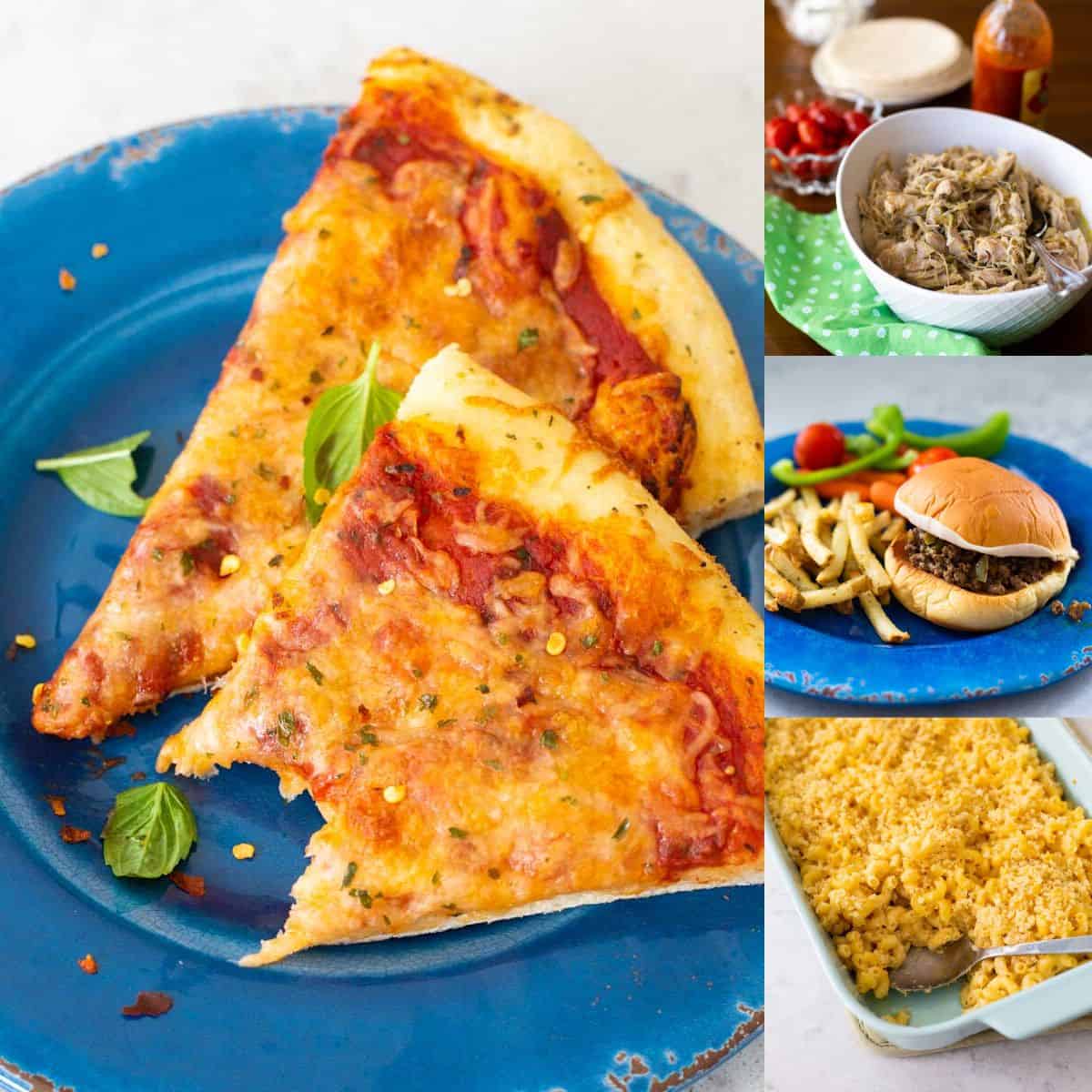 If you haven't taught your kids some easy recipes to make for dinner yet, what are you waiting for?
The BEST THING in the entire world is when my kids bring a delicious dinner to the table that they made all by themselves or with just a little bit of help.
Whether you just want some help or to take the night off completely, it is such an incredible relief for busy families to have more people on the "I Can Make Dinner" team.
And kids love this, too. My girls are always so proud of the food they've prepared and thrilled when we ooh and ahh over how delicious it is.
Jump to:
Why These Are The Best Recipes for Kids
I'm always surprised at some of the recipes that are labeled "for kids" because they tend to be things no one in my family would actually want to eat.
They may look cute and playful, but are they delicious??
The recipes on this list are the best for kids because:
Real Food: They are mostly from-scratch real food dishes that are easy for kids to prepare.
Delicious: The entire family is happy to eat anything on this list.
Simple: Just because it looks grown up, doesn't mean it is complicated. I teach my kids to cook the same food I'd make if they weren't in the kitchen. I just pick the easiest recipes in my routine.
Two Kinds of Recipes
Recipes for kids fall into two main categories:
Recipes for Kids to Cook ALL BY THEMSELVES
Recipes for Kids to Cook for Family Dinner
The answer to each of those problems looks a little bit different.
So just in case you're wanting one or the other, I've provided answers for both!
Meals to Cook for Themselves
If you're looking for truly simple foods that kids can cook all by themselves and eat on their own, what you really want is a Yo-Yo Night dinner idea.
Yo-Yo Night is a brilliant nickname for "You're on your own."
These easy dinner ideas for kids are as basic as they come. My list even includes a free printable "menu" you can hang on your fridge so the kids know what they can find inside the fridge and pantry.
Recipes for Kids to Cook for Family Dinner
If you're looking for recipes the kids can cook with you assisting (or mostly on their own) and are meant to be part of a real family dinner, then the rest of this post is definitely for you!
I've gathered together my best family-friendly recipes for kids to cook from my site along with the easy tips you need to help your kid have fun in the kitchen.
Kitchen Tools They Need
From Day 1, I let my kids use the regular kitchen tools I use myself when they wanted to cook for the family.
That said, I naturally stocked up on easy kid-friendly kitchen tools.
Take a look through your kitchen supplies and have a chat with your kids about which tools they are allowed to use before they dig in.
Essential Skills for Teaching Kids to Cook
Most parents feel overwhelmed with where to start when it comes to teaching kids to cook.
When I wrote my best selling cookbook for kids, the first thing I did was outline the essential kitchen skills kids need to learn to make easy meals.
The recipes in the book build off those basics. As the kids' skills grow, the recipes become more deliciously complex.
The good news is, you can use that format and my printable lesson plans to guide your kids through learning all the kitchen skills they need to have success!
The Best Recipes to Start With
If you want to get your kids excited to cook, let them start with something they love to eat!
Let them page through a cookbook for kids and make their own selection!
But if you want to start with a kid-friendly recipe that MY kids have loved, I've gathered together some of our very favorites in the lists below.
Sandwiches for Kids to Make
Sandwiches are a brilliant easy recipe for kids to make for dinner because they can focus on the sandwich filling, have fun with the easy assembly, and pair just a couple simple side dishes like chips and fresh fruit.
Some of my kids' all-time favorite sandwich recipes include:
Ham and Cheese Sliders: These are so tasty, my husband begs for them! The kids can make an entire tray of easy sliders using deli ham, Hawaiian buns, and cheese.
BBQ Chicken Sliders: If you have leftover shredded chicken or even shredded pork, put the kids to work making great use of the leftovers for a delicious dinner!
Grilled Turkey Reuben Sandwiches: My oldest daughter took great pride making me a grilled turkey reuben for my lunch as a special treat. This would be an easy family dinner with some baby carrots and dip.
Crock Pot Sloppy Joes: Sloppy joes are a great kid recipe because they can focus completely on the ground beef filling. The kids could even make this earlier in the day and just keep everything warm in the slowcooker until dinner time.
BLT Sandwich: Keep a batch of my easy peppered bacon in the fridge and the kids will be ready to assemble these easy sandwiches in a pinch!
Deviled Egg Salad: This is one of our favorite ways to use up all the hard boiled eggs after Easter. The kids love cracking and peeling the eggs!
Easy Baked Meatball Subs: Start with frozen meatballs and a jar of your favorite tomato sauce and the kids can make these easy meatball subs in minutes.
Philly Cheesesteak Sloppy Joes: My girls love philly cheesesteaks so much that they don't even mind that there's chopped up peppers and onions in this mix!
Bacon Ranch Cheesy Chicken Roll-Ups: If your kids love crescent rolls, they will love these easy roll-up sandwiches.
Creamy Chicken Pesto Sandwich: These could be served open face or assembled into a full sandwich. Warm and toasty and so delicious.
Easy Pasta Recipes for Kids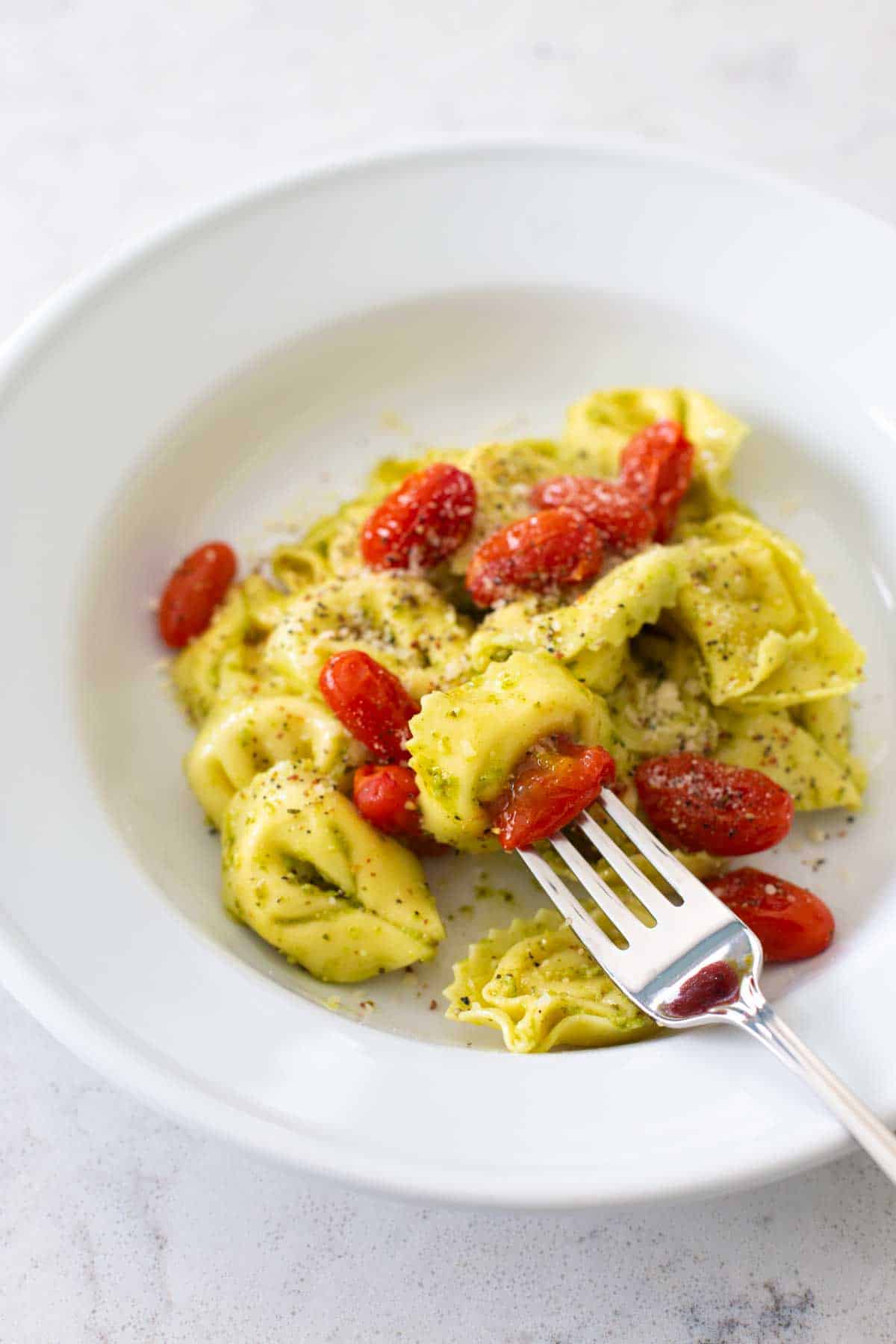 My kids could eat pasta every night. Unless tacos were an option, of course. I've tested out dozens of pasta recipes over the years in an attempt to keep things fresh and new.
Here are some of my kids' favorites:
Garden Lasagna Cupcakes: This was one of the first recipes my kids helped me with in the kitchen so many years ago. We had so much fun building little lasagna cupcakes in a muffin tin.
Creamy Alfredo with Ham and Peas: I use up leftover spiral ham after a holiday feast and my kids will turn it into this easy alfredo pasta dinner. You could also just pick up thick-cut deli ham in a pinch.
Make Ahead Mac and Cheese: Stovetop or baked? My kids gobble it up either way. But this baked mac and cheese with crispy breadcrumb topping is a HUGE hit.
Copycat Olive Garden Chicken Scampi: This dish is slightly more advanced for kids, but my girls both love the chicken and bell peppers with angel hair pasta.
Fresh Tomato Pasta Toss: For a simpler option, this pasta toss uses fresh, uncooked tomatoes and garden-fresh basil that kids can rip with their hands.
Cheese Tortelloni with Pesto: Just 3 ingredients that you can always find in our fridge! The whole recipe can be made in under 5 minutes once the water has come to a boil.
Pasta Rosa with Sausage: My kids worked together and made this dish for my husband and I to enjoy on an at home date night for our anniversary. It was restaurant quality and we were so impressed.
Ground Beef Stir Fry with Noodles: Budget-friendly and a huge hit with kids. They will love the curly ramen noodles here.
Easy Chicken Bolognese: A little heartier than regular spaghetti. Every kid should learn how to make this dish before they leave home!
Lemon Butter Pasta: When spring rolls around, I practically beg my kids to make this.
Kid-Friendly Dinner Ideas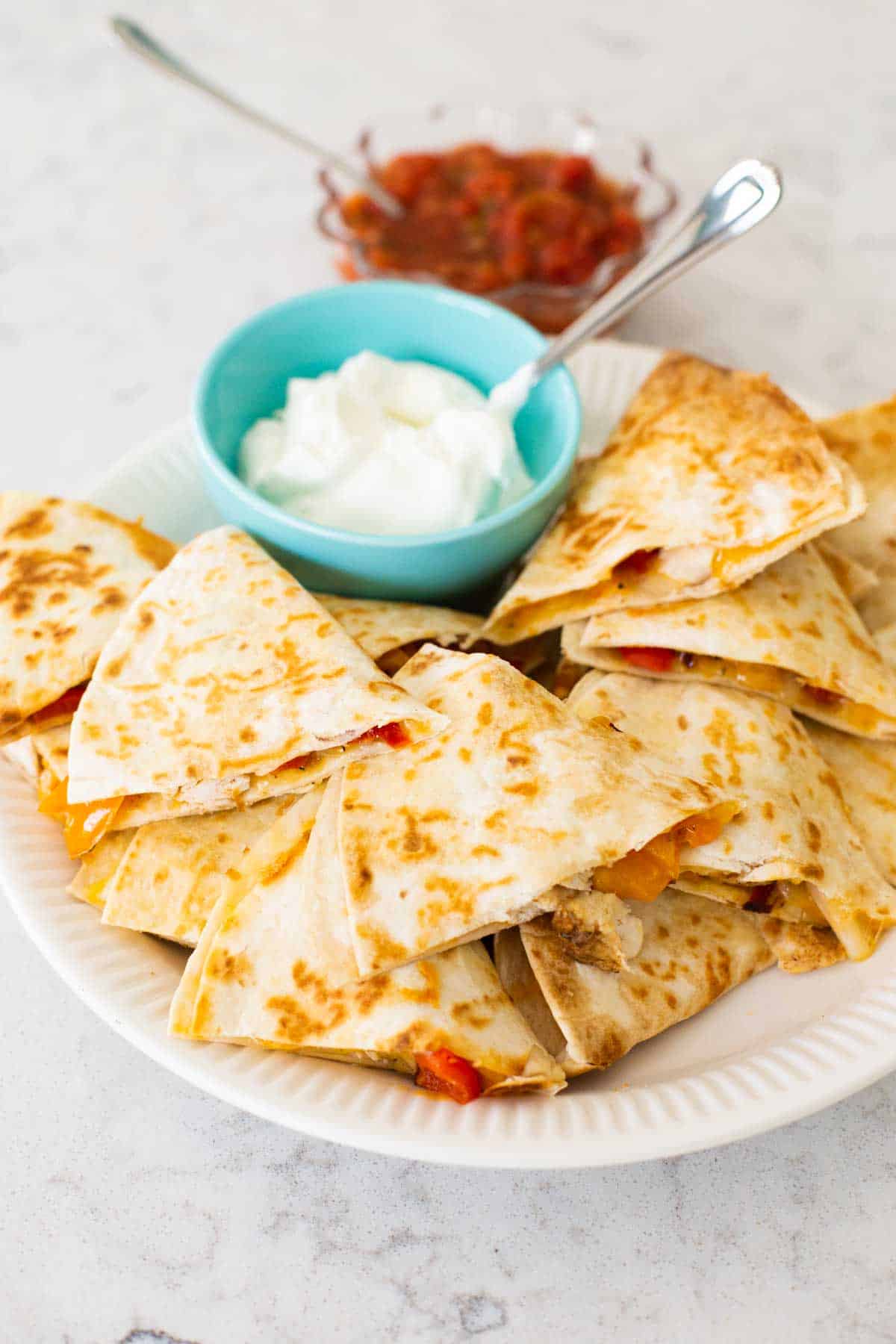 If it's not pasta, it's tacos! Or maybe it's pizza, or burgers, or chicken. My kids are actually pretty great eaters but some recipes are more kid-friendly than others.
Easy Taco Bites: Sometimes all you need is a little nibble for a dinner. Kids will love making these fun tiny taco bites to share as a football or party snack, too.
Quick Chicken Taco Soup: Get your kids on the soup train by taking their favorite dinner flavors and making it in soup form! We serve it with tortilla chips for dipping instead of bread.
Easy Chicken Fried Rice: Round up a bunch of leftovers from the fridge and turn them into your own Chinese take out dish at home.
Honey Garlic Chicken Thighs: It's a great idea to teach kids how to cook a simple chicken recipe. My honey garlic chicken is baked in the oven and can be used with rice or pasta.
Easy Side Dishes
Sometimes your kids just want to be in the kitchen with you helping but not totally responsible for the whole meal.
In those instances, welcome your kids in as your cooking buddy and let them be in charge of a simple side dish!
Homemade Garlic Bread: My kids would gladly prep this bread if it meant they got to eat it with dinner! This is a great choice for pasta night.
Herb Butter Rice: This dish is easy enough even my husband can make it! This is a great chance for kids to learn about dry and liquid measuring.
Homemade Salsa with Chips: If you have a food processor, this classic homemade salsa actually uses canned tomatoes and my kids love to make it.
Caesar Salad: My kids will always ask for a Caesar salad out at restaurants so they gladly help make it at home.
The Best Cookbooks for Kids
Online recipes are an excellent source of information and help, but sometimes you just want your kids to be screen free for once!
If you're looking for a fun gift idea with plenty of inspiration tucked inside, check out one of these fantastic cookbooks for kids.
They'll get your kids running to the kitchen to whip up some tasty dishes for you and there won't be a single screen to get in the way.
My list includes options for kids of all ages from toddlers and preschoolers to older kids and even teens and young adults.