Deviled egg salad sandwiches are a great lunch to make ahead for the week. You can skip the bread and serve a scoop over a bed of lettuce for a low-carb, chilled lunch, too!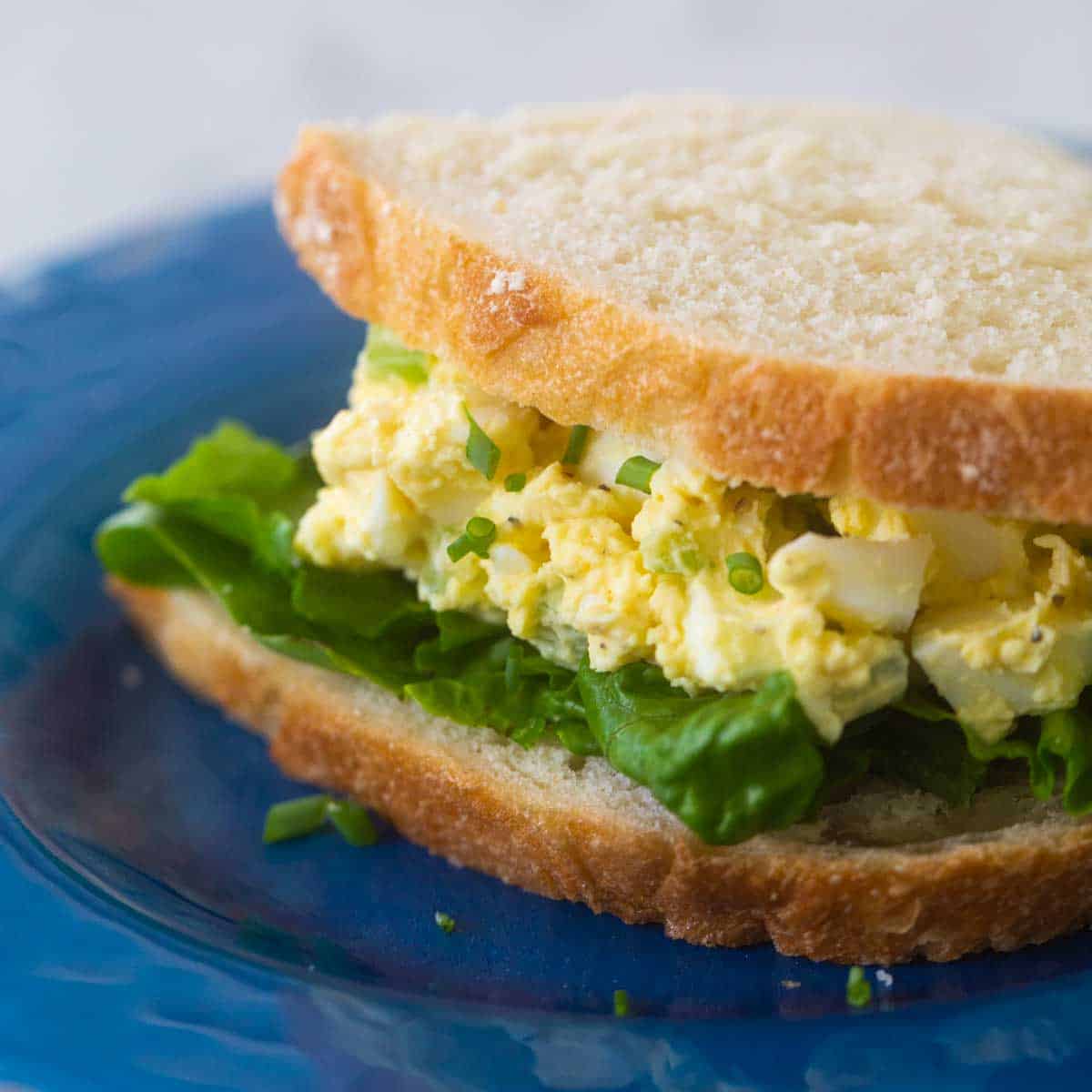 I am a latecomer to the classic egg salad bandwagon.
I'm not a huge fan of mayonnaise, so I generally avoid prepared egg salads available at deli shops or grocery stores.
But when made from scratch with hardboiled eggs and traditional deviled egg ingredients, I've learned this is an amazing lunch recipe to keep on hand for busy weeks.
I often turn my egg salad into a sandwich with fresh bread but I've also enjoyed a scoop over a bed of lettuce with chopped cherry tomatoes.
Either way, I love how easy it is to prep ahead and grab when my days get busy.
But if you're serving egg salad for a brunch? Don't miss my easy Chicken Salad Chick grape salad recipe, it's the perfect side dish for an egg salad on a bed of lettuce.
Jump to:
Why This is the Best Recipe
This was the very first egg salad recipe I ever enjoyed because:
Perfect Amount of Mayo: When you make it from scratch, you can add "just enough" mayo and avoid making it too goopy.
Delicious Texture: The minced fresh celery gives the salad a bit of crunch and avoids a mushy sandwich.
Zippy Flavor: Fresh lemon and hot sauce plus a heavy dose of Dijon mustard give a lovely depth of flavor that regular egg salad just doesn't have.
Ingredients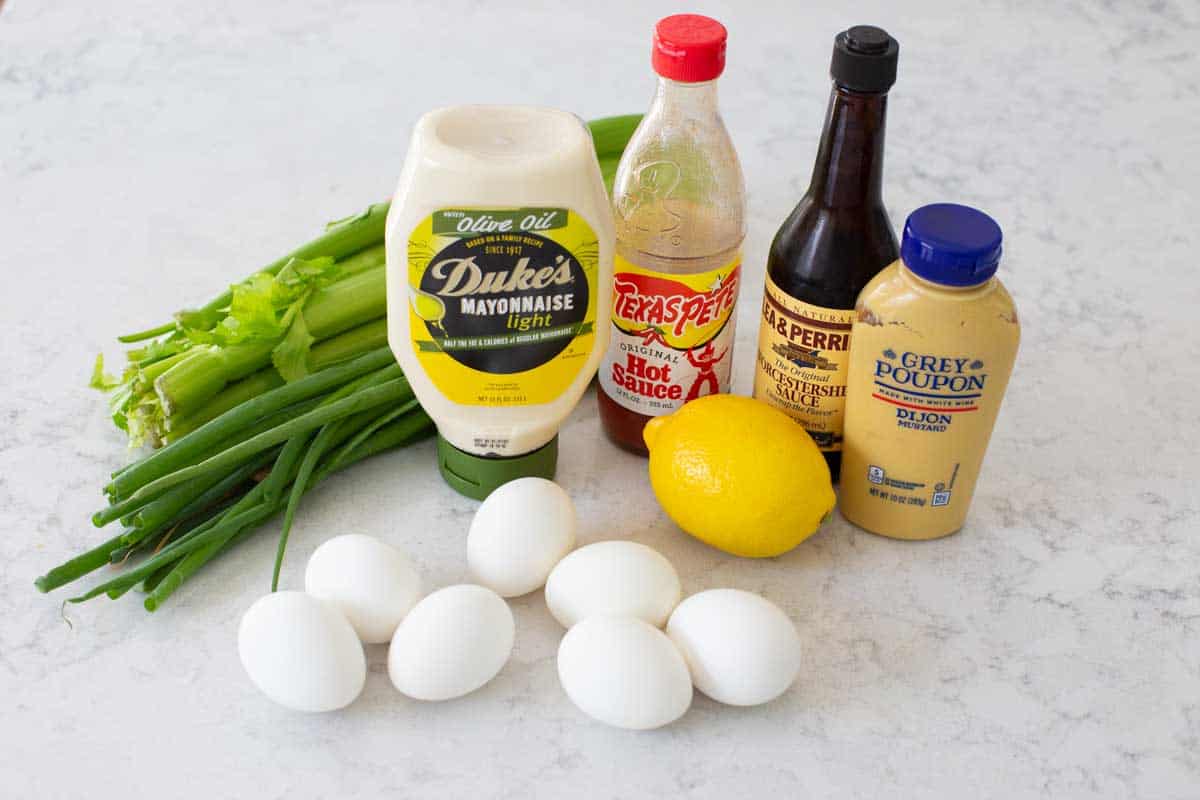 The ingredients for this classic egg salad recipe are very easy:
Hard boiled eggs
Light mayonnaise
Dijon mustard
Worcestershire sauce
Hot sauce
Fresh lemon
Celery
Green onions (optional)
If you prefer to make most things from scratch, you could use this recipe for homemade salad cream in place of the mayo! It would bring even more flavor to the recipe.
Hardboil the Eggs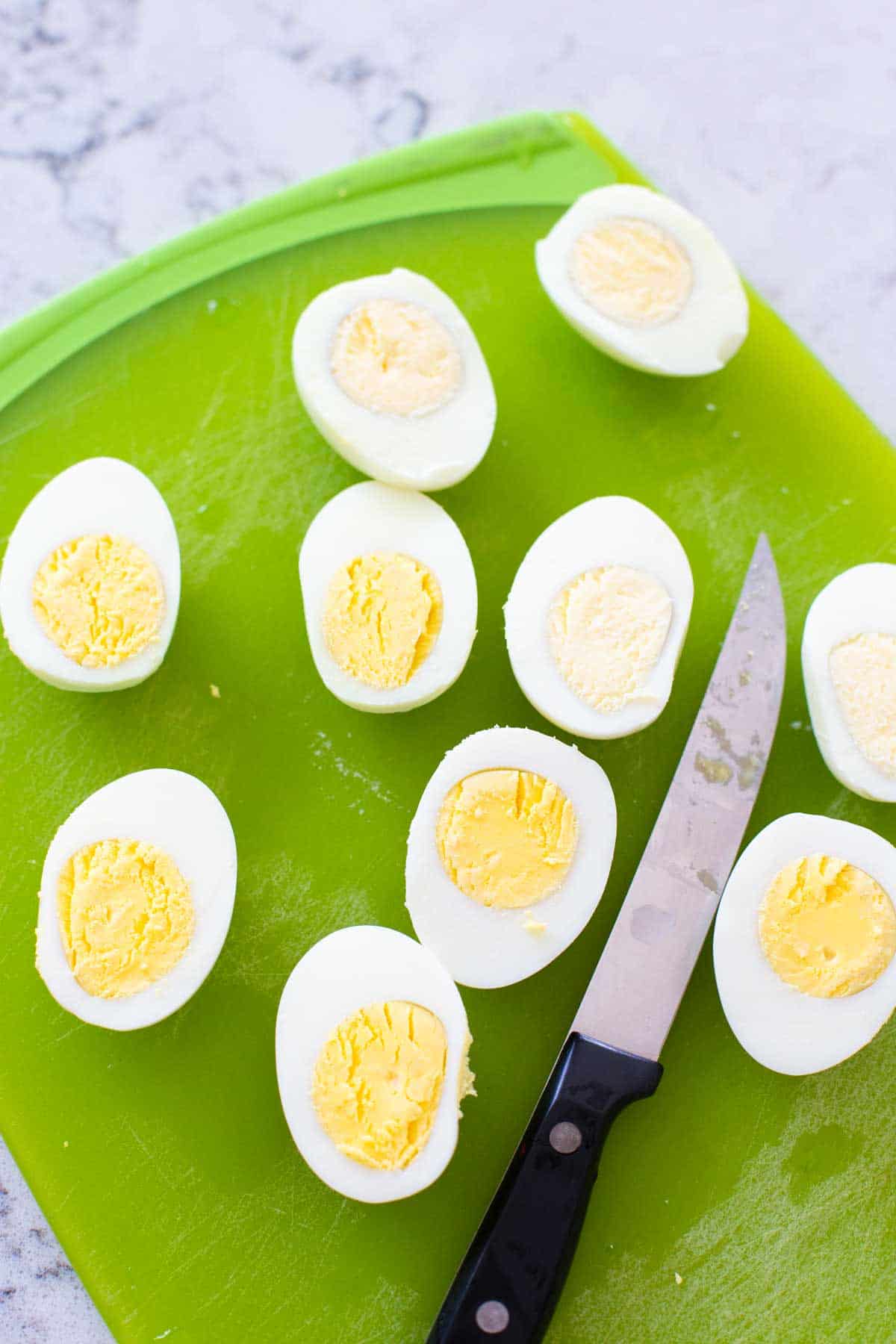 First, start with perfectly cooked hard boiled eggs.
If you've ever struggled to get perfect yolks, I recommend pausing for a moment to go read my tips for how to make hard boiled eggs in the Instant Pot or on your stove top.
Peel the eggs and discard the shells.
Slice the eggs in half with a paring knife and separate the yolks from the egg whites.
You should be able to simply pop out the egg yolk with your fingers into a clean mixing bowl.
Chop the egg whites into small pieces and place them in a separate bowl.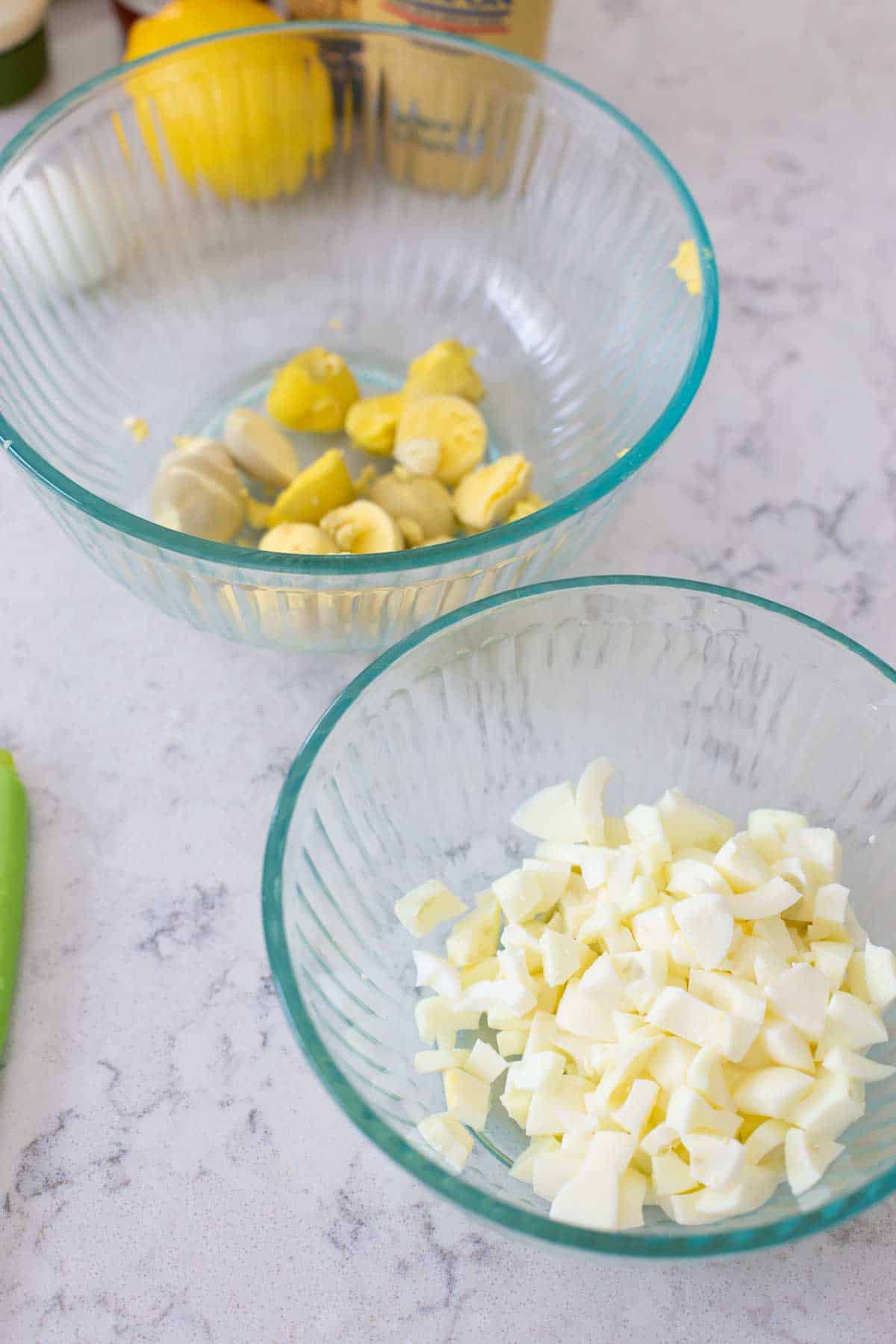 How to Make Egg Salad
Once you've separated the whites from the yolks, add the mayonnaise to the bowl of yolks and mash them together with a fork until smooth.
Add the mustard, lemon juice, hot sauce, and Worcestershire sauce to the bowl and stir them in.
If the mixture is still too thick to your liking, add a tablespoon of mayo at a time until your desired consistency is reached.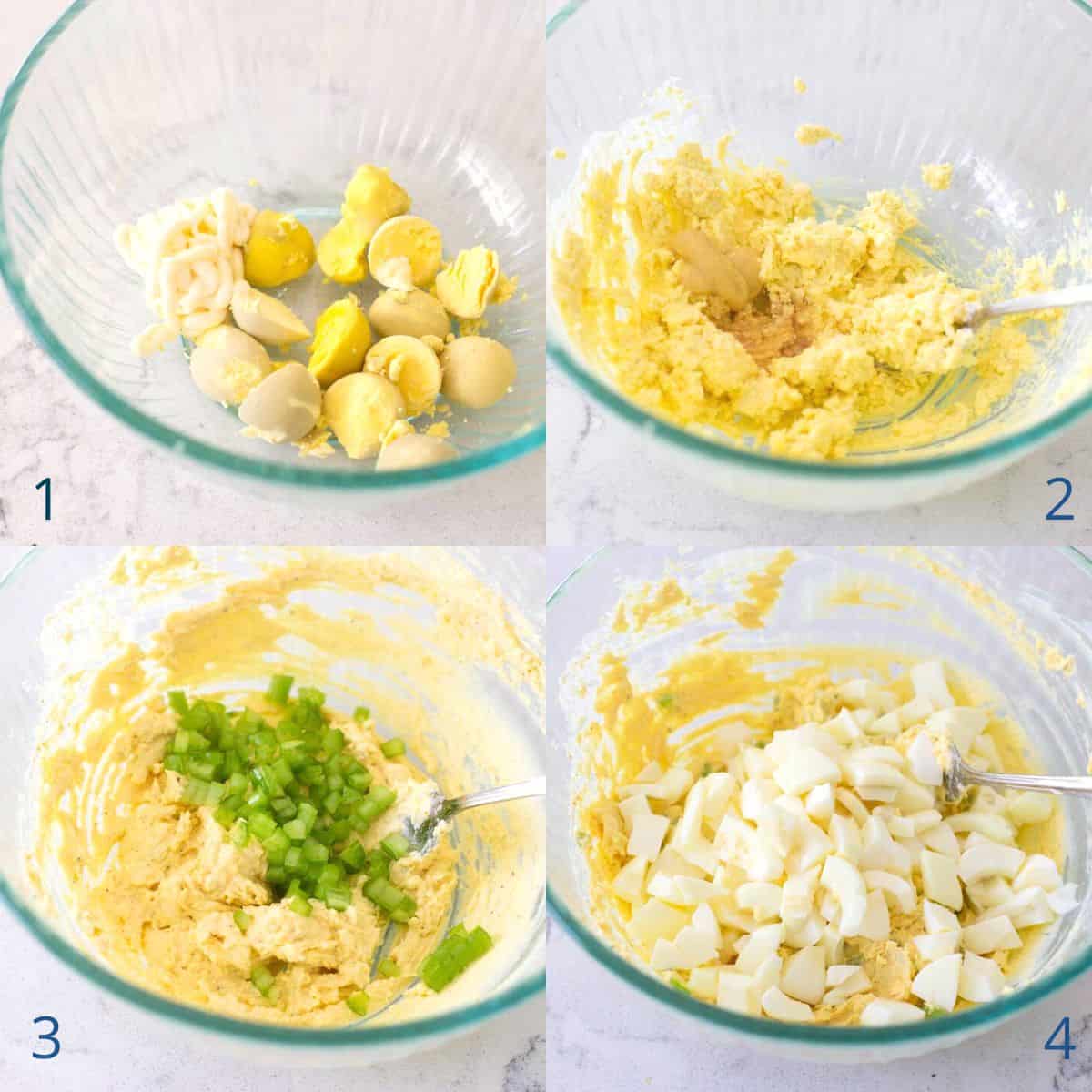 Add the minced celery to the bowl and stir it in.
Lastly, add the chopped egg whites and gently fold them into the sauce.
You can serve it immediately or cover and chill if you prefer cold egg salad.
How Long Does Egg Salad Last
Egg salad will keep, covered in an airtight container in the fridge, for 5 days.
Keep your egg salad sandwich chilled, it will not keep at room temperature.
Serving Suggestions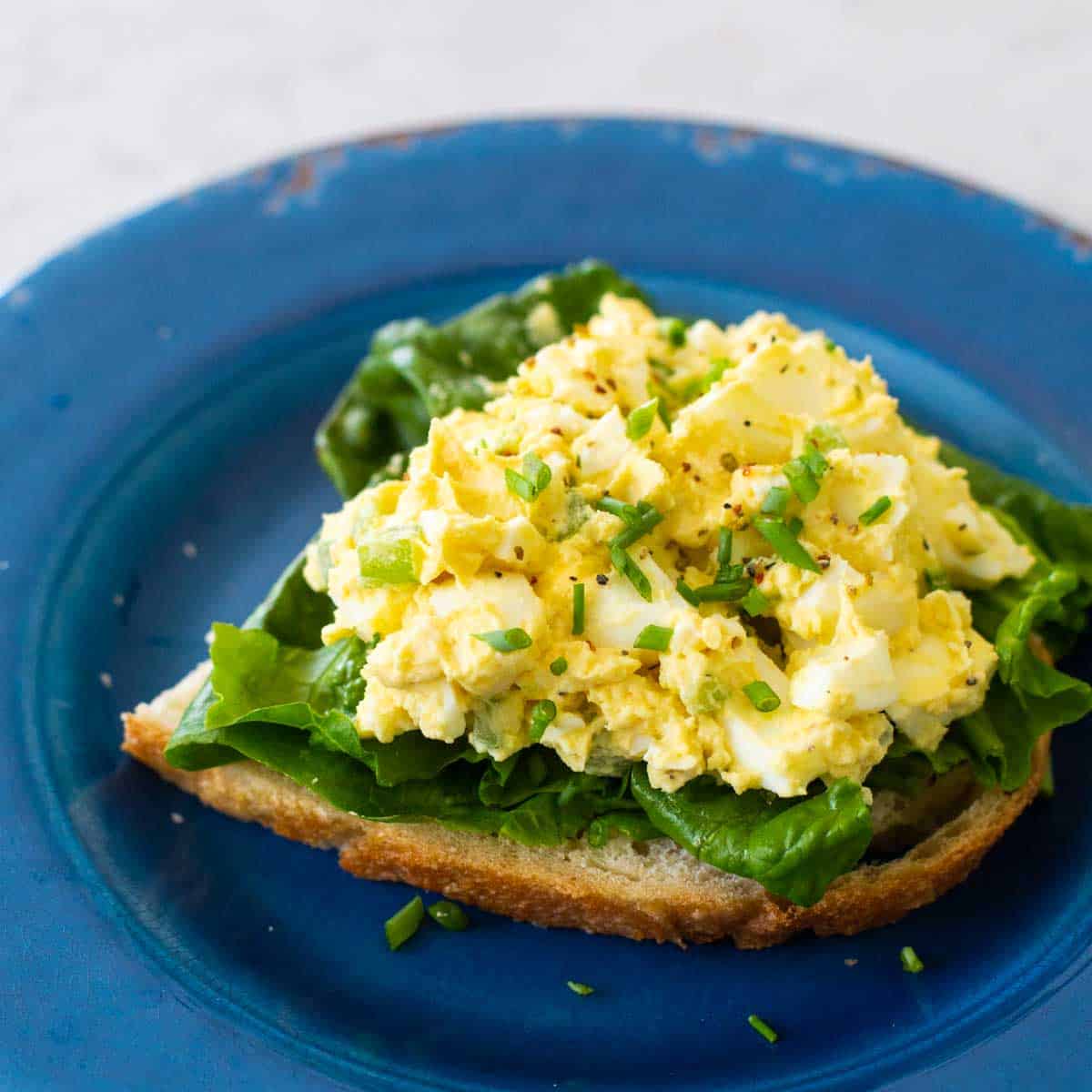 The best egg salad sandwiches start with the best bread.
I personally think a light and fluffy white bread like an Italian bread or butter white bread are the perfect match.
Whole wheat bread or even this steakhouse brown bread or everything but the bagel bread would also be an amazing choice.
I always toast my bread slices before building my sandwich.
Then, mix and match your favorite toppings for the sandwich. I love fresh tomato and salt and pepper, but any of these would be delicious:
Crispy lettuce leaves
Fresh tomato slices
Bacon bits
Salt & pepper
Fresh chives or green onions
Hot sauce: We love Texas Pete on almost everything. You can read why it's the best hot sauce here.
Variations
This is a simple egg salad recipe based on traditional deviled egg flavors but you could definitely play with the mixture and try something new:
Extra zing: Try adding more mustard or stirring in a little pickle relish.
Extra heat: Add a pinch of cayenne to the mix or a hotter pepper sauce.
Extra creamy: Add more mayo or swap the mayo and use sour cream. Even half of each would be tasty.
Extra crunch: Add chopped green onions or red bell peppers to the mix.
📖 Recipe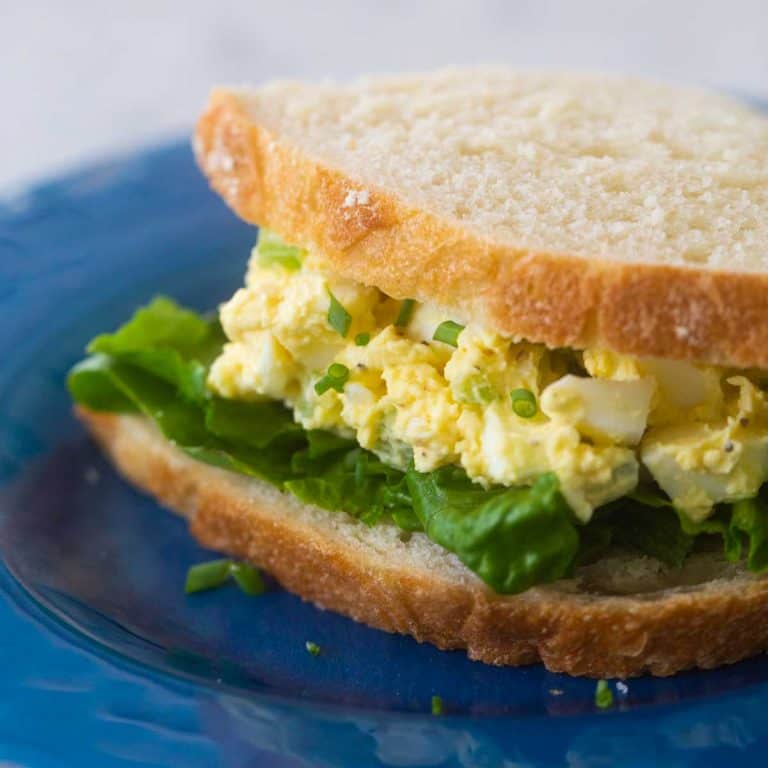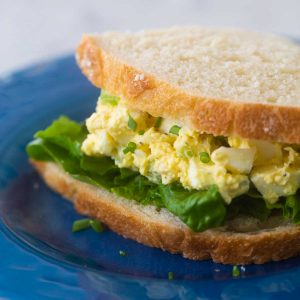 Deviled Egg Salad
Classic egg salad combines all the best flavors from deviled eggs into a delicious sandwich spread. You could also serve a scoop over a bed of salad greens.
Ingredients
6

hard boiled eggs

peeled

¼

cup

light mayonnaise

1

tablespoon

Dijon mustard

½

teaspoon

Worcestershire sauce

2 - 3

shakes of hot sauce

2

teaspoons

fresh lemon juice

½

teaspoon

sugar

1

stalk fresh celery

minced

Salt and pepper to taste
Instructions
Separate the yolks from the whites. Chop the whites into small pieces and set aside.

In a mixing bowl, mash together the yolks and mayo until evenly combined. Add the mustard, Worcestershire sauce, hot sauce, and lemon juice and stir to combine. If the mixture is still too thick, add more mayo, 1 tablespoon at a time, until desired consistency is reached.

Add the sugar and minced celery and stir them in.

Add the reserved chopped egg whites and gently fold them in.

Serve immediately or cover and chill until serving.
Recipe Notes
Egg salad will keep for up to 5 days in an airtight container in the fridge.
Do not freeze.
Save This Recipe to Your Recipe Box
Find this delicious recipe next time you visit by saving it to your very own recipe box on my site. All your favorites stored in one easy place!