Looking for a new bread machine recipe to try in your bread maker? This creative Everything Bagel Bread, from The Ultimate Bread Machine Cookbook, bakes right in the bread pan of your machine. Layers of soft dough are combined with melted butter and "everything but the bagel" seasoning for a delicious, sliceable loaf.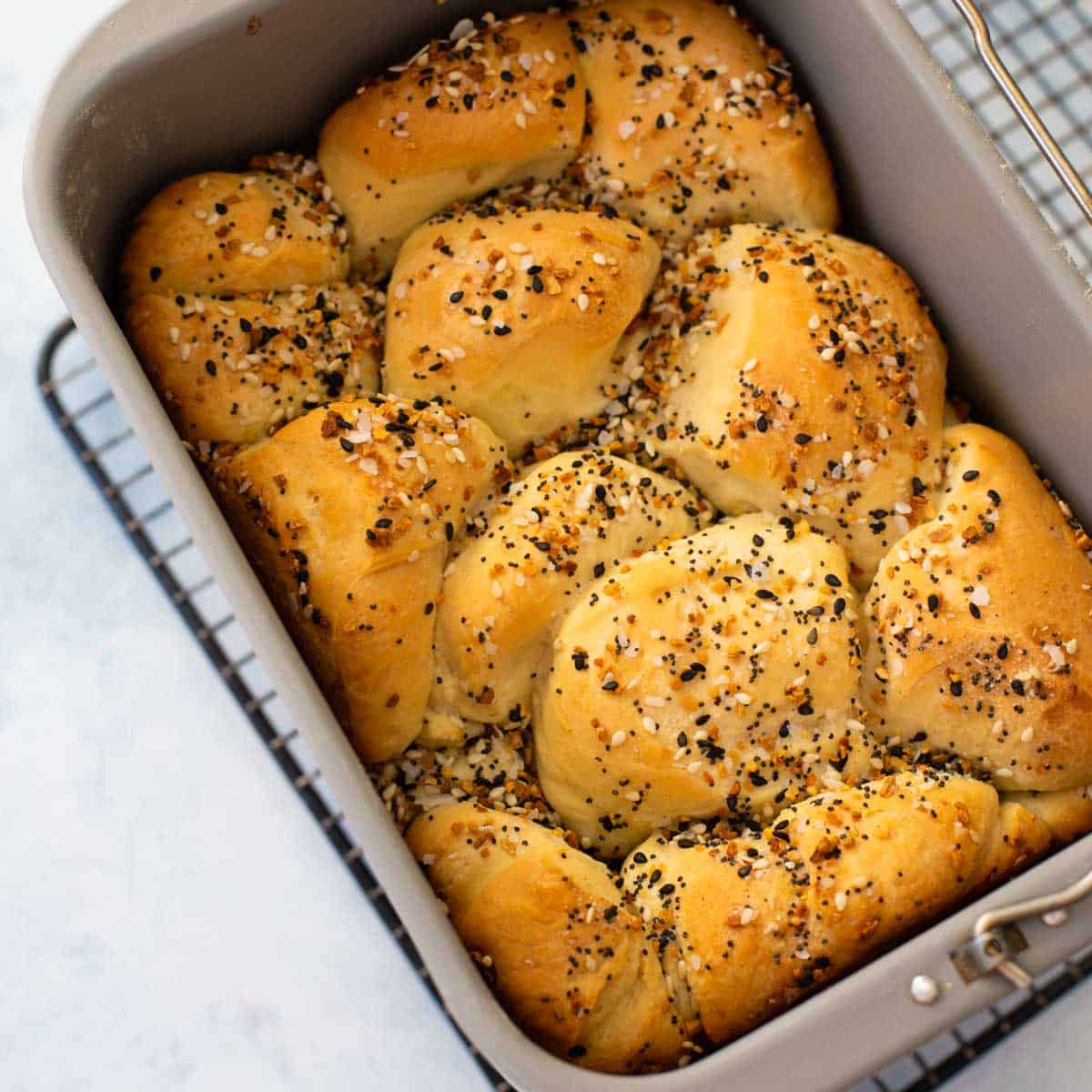 Once you've made a few traditional bread loaves with your bread maker, you'll get the itch to try something a little more interesting.
As much as I love my classic white Italian bread machine recipe, in order to come up with 50 bread machine recipes for my new cookbook I had to get a little more creative!
I know most home bakers turn to bread makers because they are an all-in-one appliance that manages the entire bread baking process.
This Everything Bagel Bread bakes completely in your bread machine but is the perfect introduction to shaping bread dough for beginners!
By adding just one very simple step to the process, you will have a layered bread that can be cooled and sliced for sandwiches or served warm and pulled apart like a bubble bread!
This is one of my daughters' very favorite recipes from The Ultimate Bread Machine Cookbook and we're so excited to share it with you.
Jump to:
Why This is the Best Recipe
I love each and every one of these delicious bread machine recipes, but I think this Everything Bagel Bread is the best because:
Fun and Different: If you've been baking in a bread machine for a while, you might be looking for something a little new. This bread has such a fun method and exciting new flavor.
Pull Apart or Slice: Whether you want a buttery pull apart bread or you prefer to let it cool and slice it for sandwiches, you'll find lots of ways to use this recipe.
Easy Seasonings: Just grab a jar of Everything bagel seasoning or you can mix your own!
Ingredients
This simple bread machine recipe has just a few easy ingredients: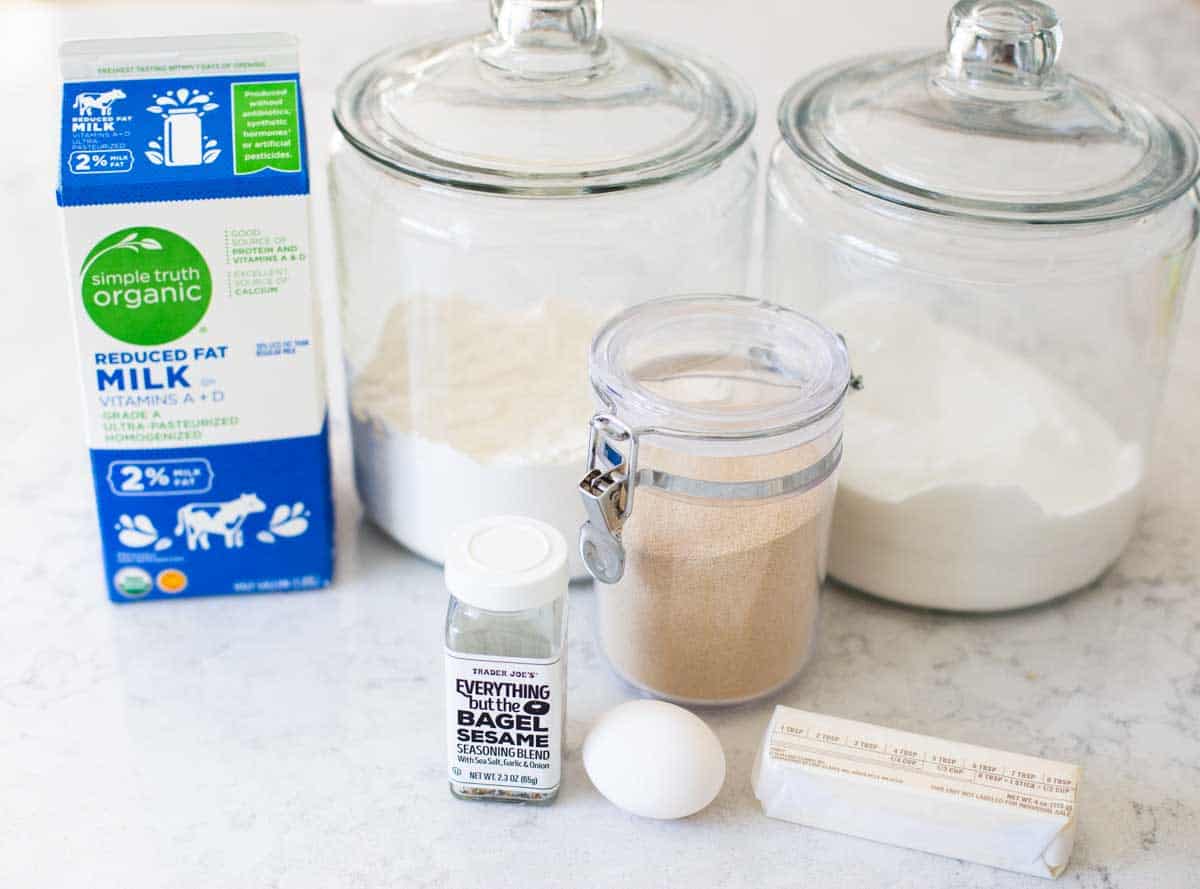 All-purpose flour
Sugar
Milk
Butter
Egg
Yeast: Instant or Bread Machine Yeast
Everything But the Bagel Seasoning: We grab ours from Trader Joe's but most grocery chains carry some variety of it. See the recipe card for notes on how to mix your own if you can't find it.
See recipe card for quantities.
Instructions
The everything bagel bread starts just like all other bread machine recipes:
First, decide which size bread loaf you want to make based on the size of your bread machine. I've included both a 1 ½-pound and a 2-pound version of this recipe.
Follow the ingredient quantities in the recipe card according to the loaf size you chose.
Then, add the liquid ingredients to your bread pan fitted with the paddle attachment.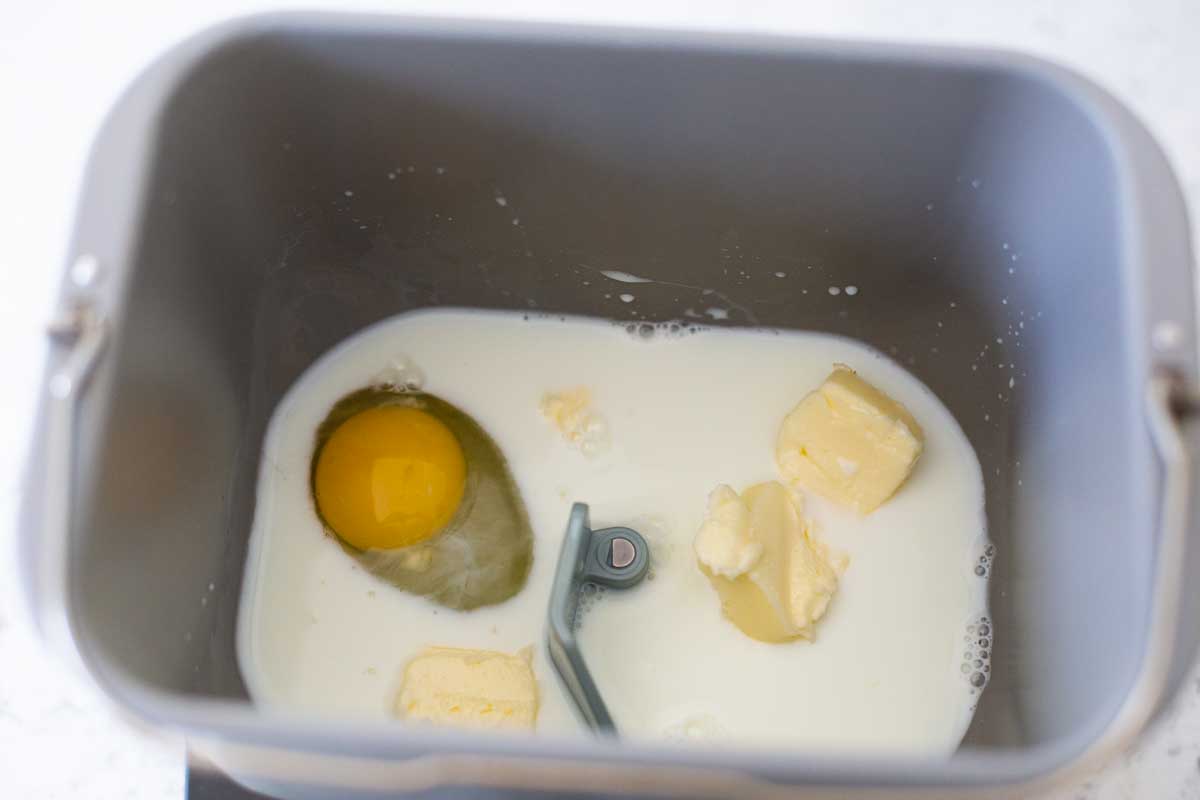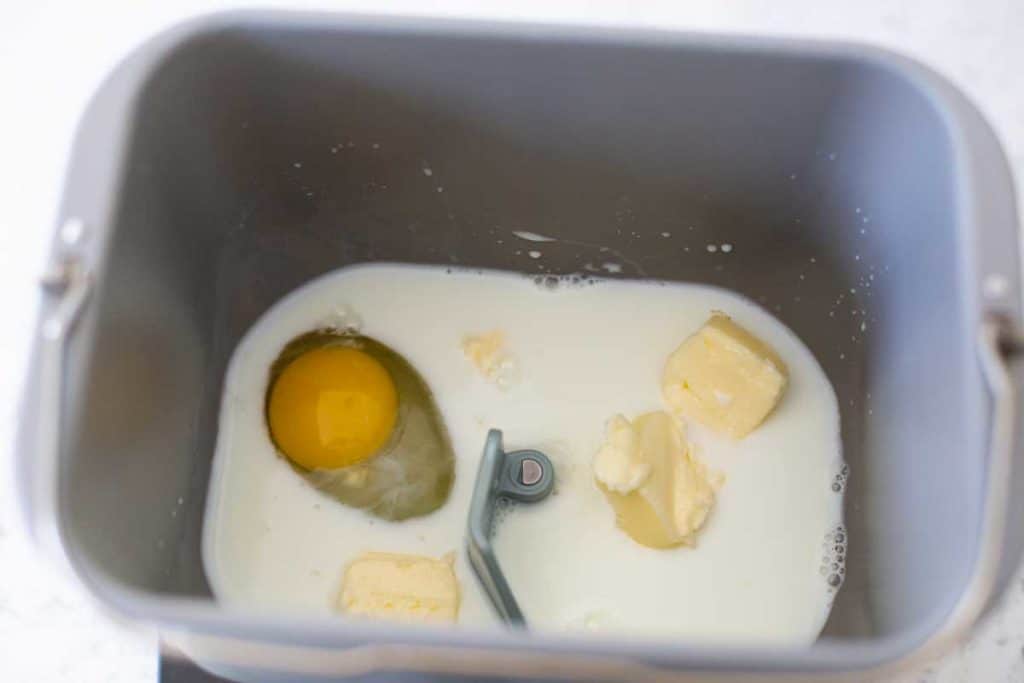 Pour in the milk, add the egg, and butter.
Be sure to cut your softened butter into at least 3 pieces. You don't want your machine to to have to try to knead a big chunk of butter into the dough.
Next, add the dry ingredients to your bread pan: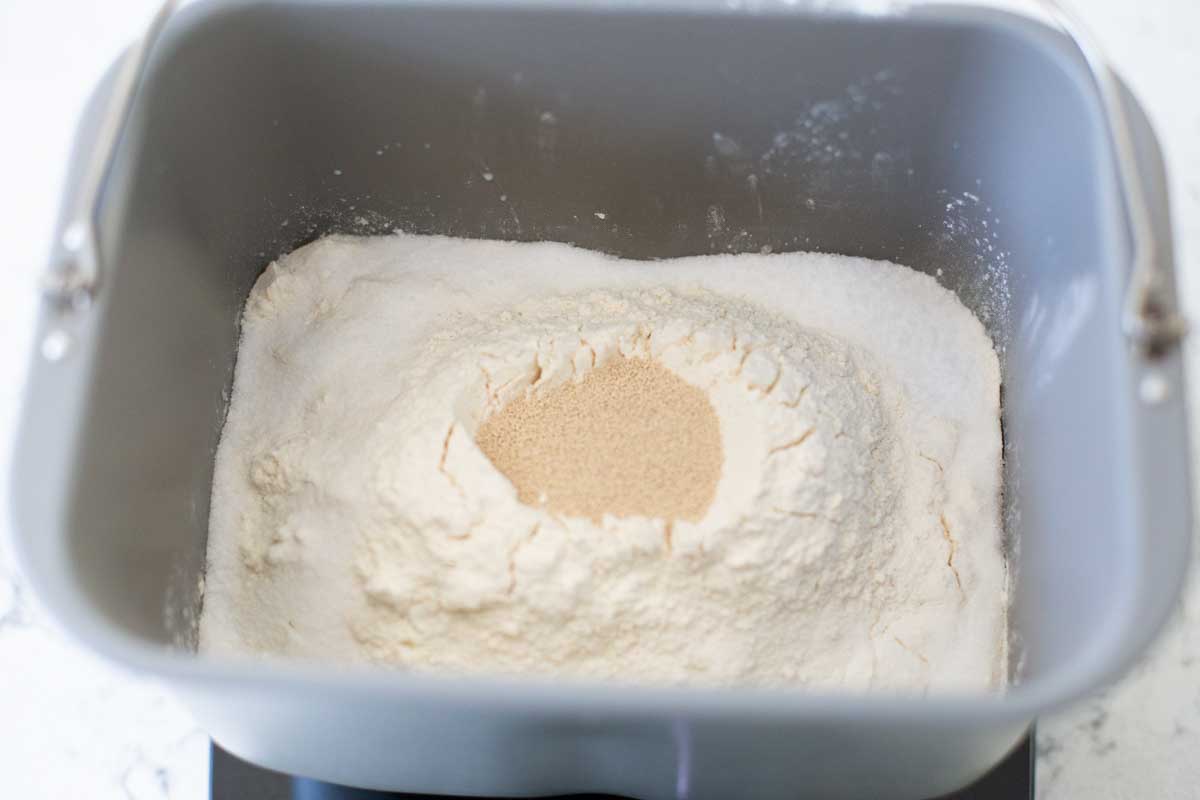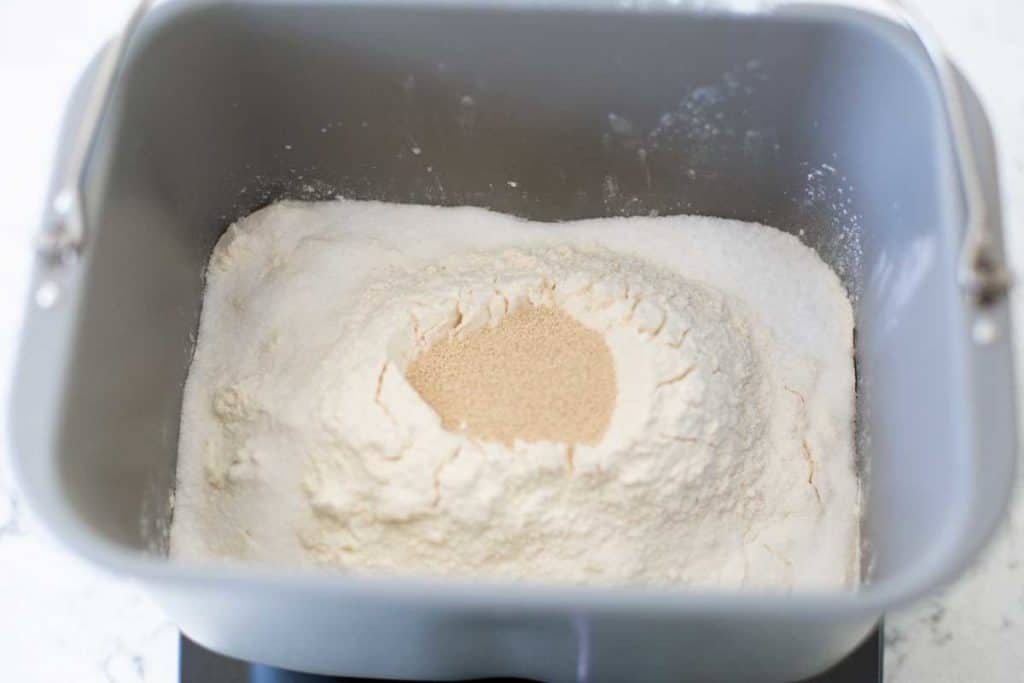 Add the flour, sugar, and salt right on top of the wet ingredients.
It is a best practice to sprinkle the sugar and salt around the perimeter of the bread pan so you can keep it away from the yeast until just the right time.
Use a spoon to make a well in the center of the flour, place the yeast in the well.
Place the bread pan back inside the bread machine and then:
Select the WHITE or BASIC program (depending on your machine's settings.)
Select the coordinating loaf size (1 ½-pound or 2-pound)
Press START
Note: Some machines also have a Crust Color setting, I usually use Light or Medium. You'll want to select this before hitting START.
The machine will knead together the ingredients to form a firm ball of dough.
Let the machine progress through:
the kneading phase
the first rise
the brief second kneading
While the machine works, melt the butter for the topping and have your everything but the bagel spice blend ready to go.
When the machine reaches the start of the second rise, remove the bread pan from the machine and place the dough on a baking mat on your counter along with the butter and spices.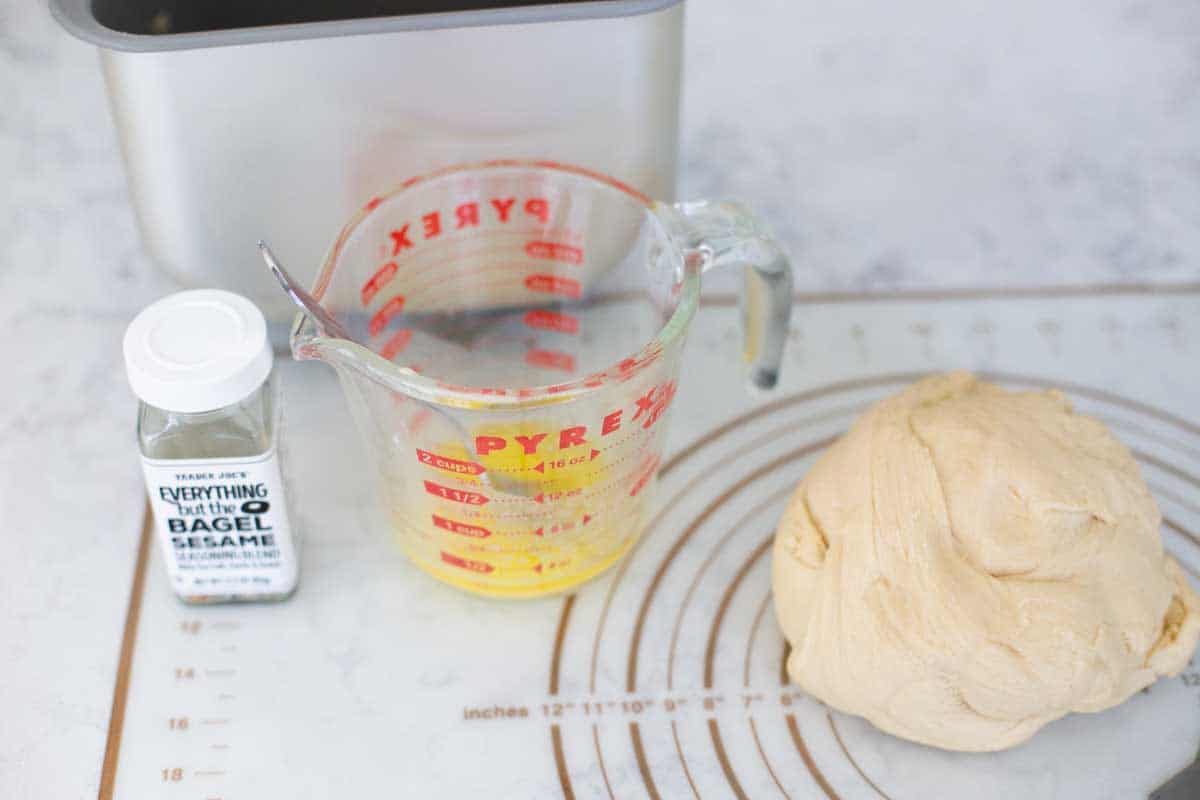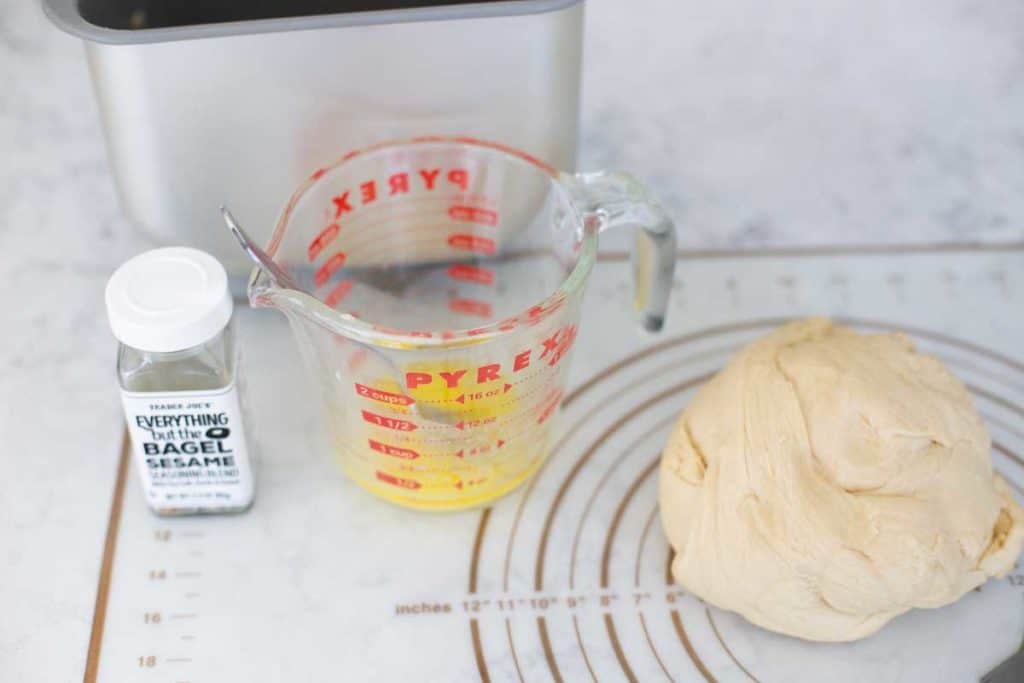 Working quickly and not overthinking this too much, simply cut the dough ball into 14 - 16 smaller portions of dough using a pastry scraper or pizza wheel.
Place a single layer of dough balls in an even layer on the bottom of your bread pan.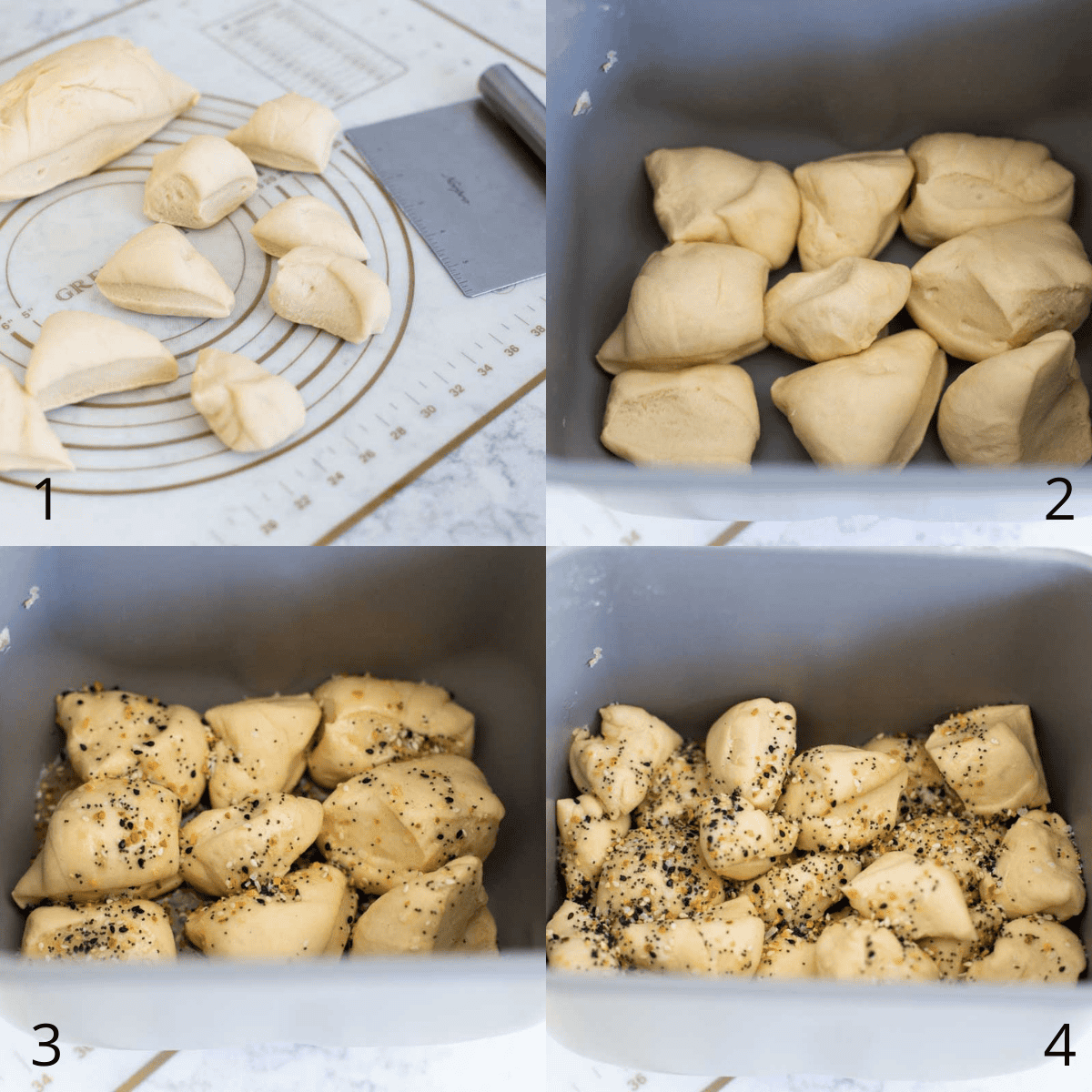 Drizzle half the butter over the dough and sprinkle the everything bagel seasoning over the top.
Top with another layer of the remaining dough balls, drizzle the remaining butter, and sprinkle more seasoning over the top.
Hint: This whole step takes me about 2 minutes total. Nothing here has to be perfect. The dough will rise some more in the bread machine before baking and the shape will smooth out.
Just be sure the dough is evenly distributed throughout the pan for an even rise.
Place the bread pan back into your bread maker and close the lid.
There is no need to pause the machine for this step, if you work quickly and return the pan to the machine within 5 minutes, it will proceed to rise and bake just perfectly.
Most of the bread makers we tested took another 2 hours or so to complete the final rise and bake cycles.
Equipment
This is a bread machine recipe and will require a bread maker to make it. If you don't have one, read our thoughts on whether a bread maker is worth it here.
Want to get a bread machine? Here are the reviews we did of the bread machines we tested while writing the best bread machine cookbook:
Storage
This bread is best served the day it has been baked, warm out of the bread machine.
However, it will keep for 2 - 3 days in a bread box or plastic bag at room temperature.
You can also freeze the bread, just be sure to cool it completely before freezing and thaw it with the bag open to let moisture escape and prevent soggy bread.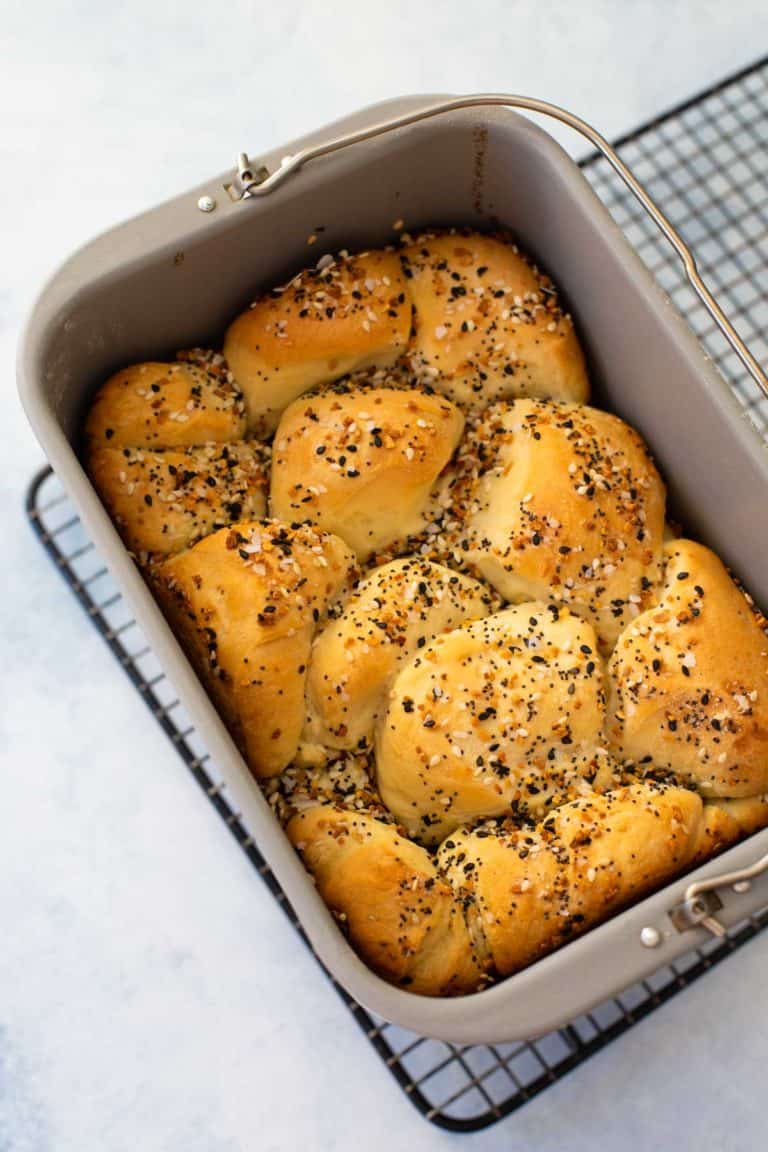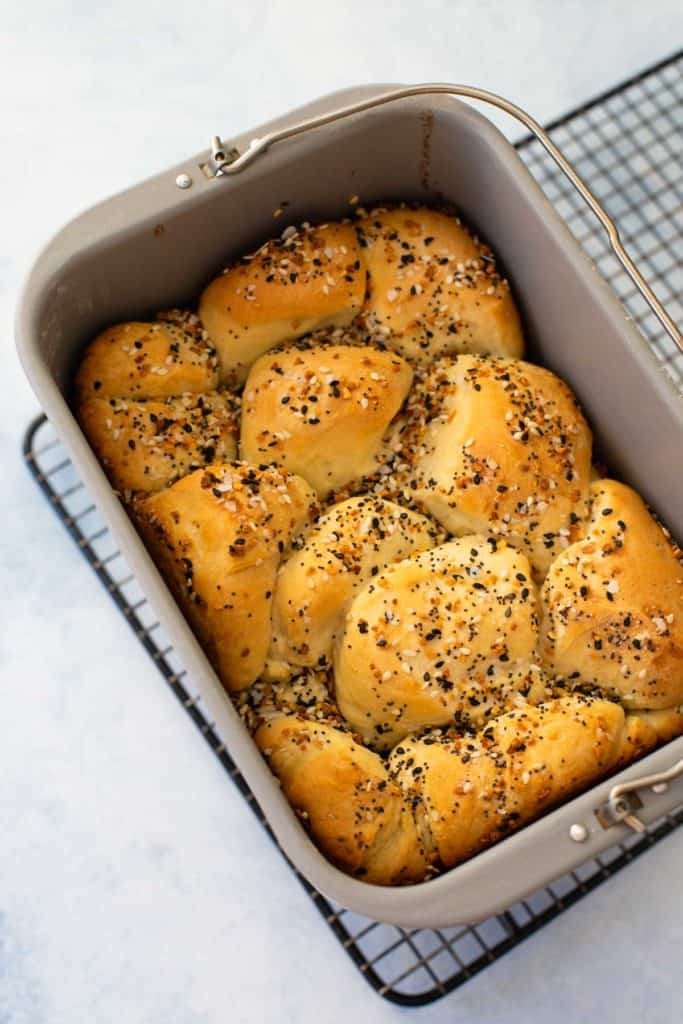 Serving Tips
For a Sliceable Loaf: Cool the bread completely before attempting to cut it with a bread knife into slices. It makes amazing toast or sandwiches.
For a Pull-apart Bread: My kids love to eat this warm from the bread pan, pulled apart by the portions of dough. This is a great way to serve it with a big bowl of soup.
📖 Recipe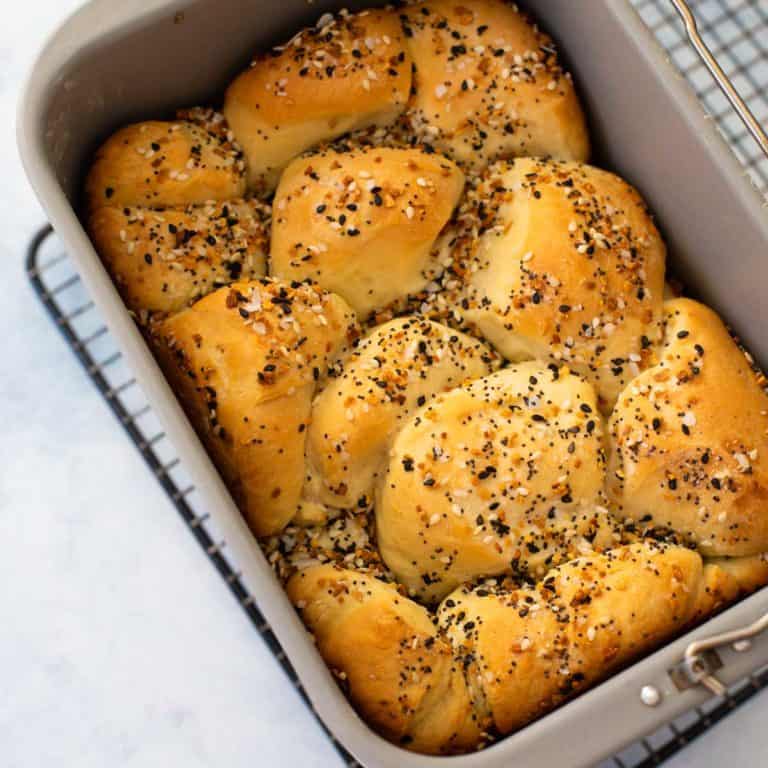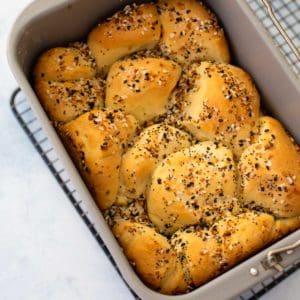 Everything Bagel Bread
This easy, savory bubble bread has layers of melted butter and everything bagel seasoning sprinkled throughout. It bakes into a solid, sliceable loaf for serving once completely cooled or can be served warm as a pull-apart bread. Featured in The Ultimate Bread Machine Cookbook by Tiffany Dahle.
Ingredients
For a 1 ½-pound Loaf
¾

cup

milk

3

tablespoons

butter

softened

1

large egg

3

cups

(411 g) all-purpose flour

1

tablespoon

sugar

1

teaspoon

kosher salt

2

teaspoons

yeast
For a 2-pound Loaf
1

cup

milk

4

tablespoon

butter

softened

1

large egg

4

cups

(548 g) all-purpose flour

1 ½

tablespoons

sugar

1 ½

teaspoons

kosher salt

2 ½

teaspoons

yeast
Everything Bagel Topping
3

tablespoons

butter

melted

1 - 2

tablespoons

Everything but the Bagel seasoning blend
Instructions
Add the ingredients to your bread machine's baking pan in the order listed, from milk to yeast.

Choose the BASIC/WHITE program setting based on your machine's options.

Select the coordinating loaf size option (1 ½-pound or 2-pound) on your machine.

Press START.

After the last knead cycle and before the third rise, transfer the dough to a baking mat. Remove the paddle and divide the dough into 14 - 16 pieces.

Lightly nestle the dough balls back into the machine and avoid packing them in too tightly. Drizzle the melted butter and sprinkle the Everything but the Bagel seasoning over each layer of dough balls as you fill the pan.

Return the pan to the machine and let it finish the last rise and bake cycle.

When the loaf is done, let the bread cool in the pan for 5 - 10 minutes before removing it.

Transfer the bread to a wire rack to cool for 30 minutes before slicing.
Recipe Notes
To Mix Your Own Everything Bagel Spice Blend:
1 tablespoon poppy seeds
1 tablespoon sesame seeds
1 teaspoon dried minced onion
1 teaspoon dried garlic flakes
2 teaspoon sea salt
Save This Recipe to Your Recipe Box
Find this delicious recipe next time you visit by saving it to your very own recipe box on my site. All your favorites stored in one easy place!