Easy chicken fried rice is a great recipe for beginner cooks. Toss in your favorite vegetables, some leftover cooked chicken, and you have an easy dinner in minutes.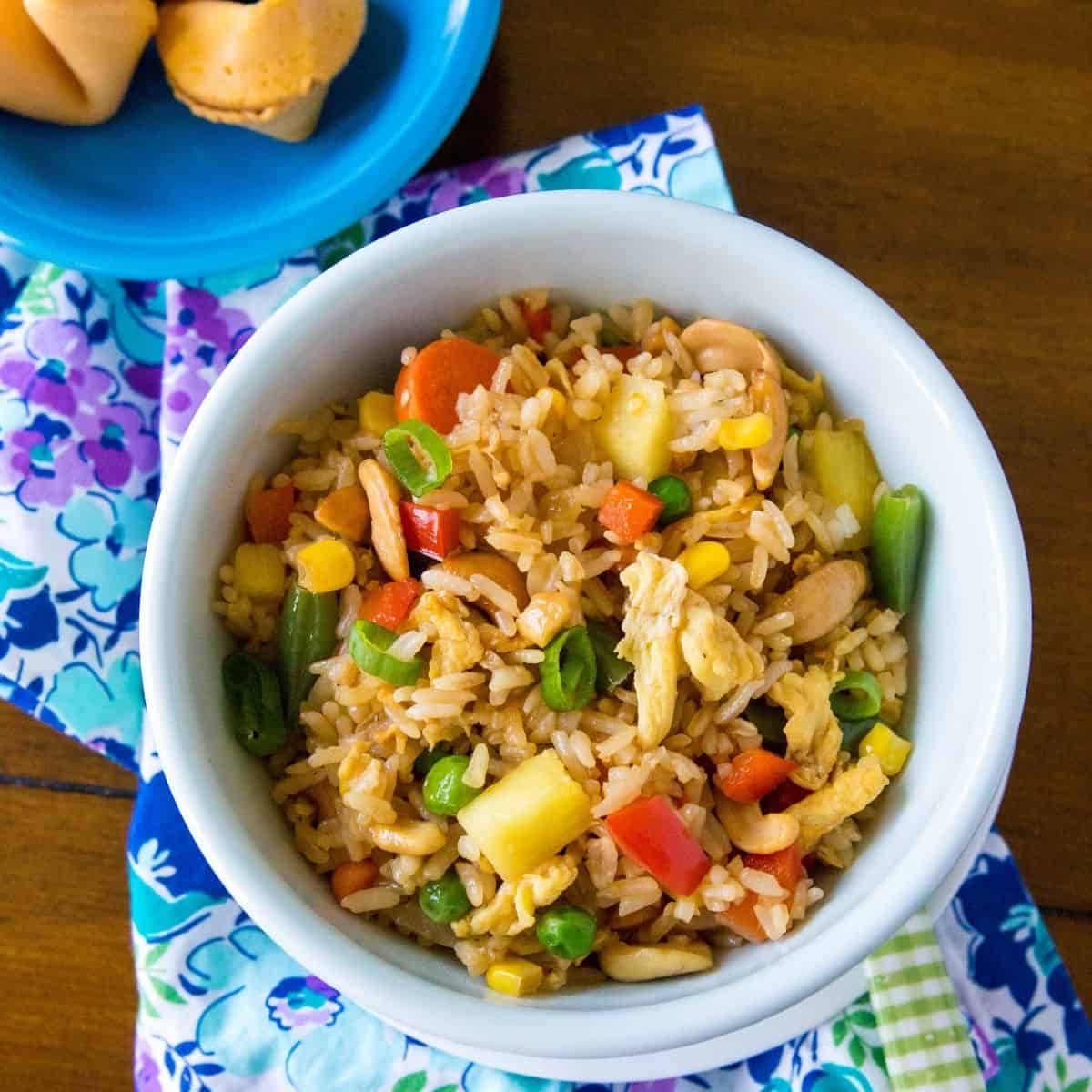 One of the easiest and most tempting recipes to encourage young kids to try veggies is to chop them up tiny and stir them into a deliciously easy homemade chicken fried rice.
The savory rice dish filled with tender cooked chicken and whatever mix of veggies your family enjoys is quick enough to make on a busy night.
I love how you can mix and match the ingredients to make easy take-out at home using whatever items you need to use up in the fridge!
Jump to:
Ingredients
This basic chicken fried rice has a very simple list of ingredients but don't miss my suggestions for easy swaps and variations below!
Cooked White Rice: You can make this 3-minute jasmine rice in your Instant Pot.
Rotisserie Chicken: My favorite kitchen shortcut! I always have a couple bags of pre-shredded rotisserie chicken meat in my freezer ready to go. You can use whatever leftover roasted chicken meat you have.
Frozen Vegetables: I love a mix that has peas, carrots, green beans, and corn. But you can use whatever vegetable blend you love.
Onion
Eggs
Tamari or Soy sauce
Canola oil
Minced garlic
Dried ginger
Red pepper flakes
Variations
You can make so many different variations on this recipe just by swapping the protein and veggies:
Pork Fried Rice: Use leftover pork that has been cut into a small dice.
Shrimp Fried Rice: You could use cook frozen shrimp for this easy recipe.
Vegetable Fried Rice: You can drop all the animal proteins and make this a vegetarian recipe. This version also makes a great side dish.
Pineapple Cashew Fried Rice: Another one of my favorite recipes, this variation is written just for kids in The Ultimate Kids' Cookbook.
Serving Suggestions
For an easy dinner, this chicken fried rice can hold up all on it's own.
You could add frozen egg rolls or potstickers for more of a take-out feel.
Or you could dress it up with an even more flavorful protein topping. I love these honey garlic chicken thighs with fried rice but this orange pork stir fry or spicy shrimp would work great, too.