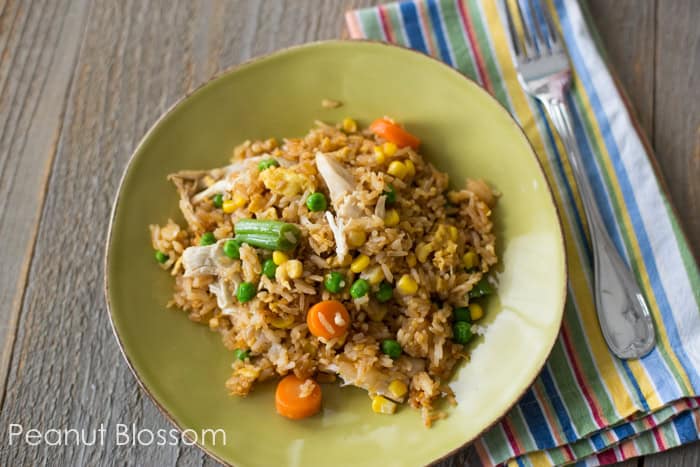 I love Chinese take-out. Handyman Tim and I have become pseudo-conneiseurs of Mongolian Beef and potstickers. But when I'm on my own, it is fried rice that really makes me happy.
I went through a very heavy Rachael Ray recipe phase when I was first starting to cook for my family. I love her "make your own takeout" approach and it really stuck with me over the years.
Homemade fried rice was one of my first attempts at making Chinese food at home. It quickly became one of my girls' favorite ways to eat veggies. We love it so much, an even kid-friendlier version of this recipe appears in my cookbook The Ultimate Kids' Cookbook.
Homemade fried rice is absolutely a pantry/freezer meal. Keep a bag of frozen veggies on hand and shred a rotisserie chicken and keep the meat in the freezer. Then you can whip it up whenever you want without needing a special trip to the store.
This recipe is meant to be played with, feel free to toss in whatever vegetable or protein combination makes your family happy!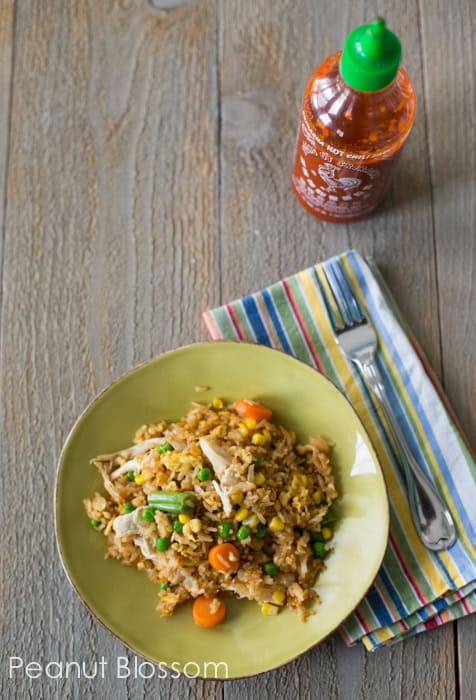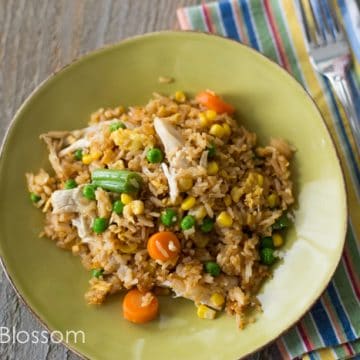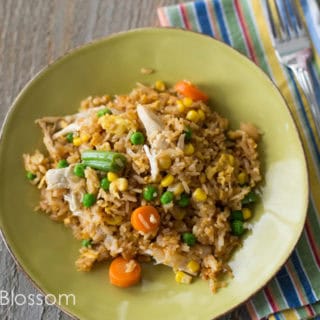 Easy Chicken and Veggie Fried Rice
This easy stove-top fried rice recipe is perfect for using up leftover chicken with a bag of frozen veggies. Quick enough for a busy weeknight dinner, kids will gobble it right up!
Ingredients
3 cups leftover white rice
3 tablespoons vegetable or wok oil
2 eggs, beaten
2 cloves garlic, chopped
Healthy sprinkle of dried ginger
Sprinkle of red pepper flakes
1 chopped onion
½ cup frozen vegetables;  I love a mix that includes: peas, corn, carrots, and green beans but use whatever blend your family prefers!
1 chopped red pepper (optional)
⅓ cup Tamari, dark aged soy sauce
1 cup shredded rotisserie chicken (optional)
Instructions
Heat a wok or large nonstick skillet over high heat. Add oil to the pan. Add egg to hot oil and break into small bits as it scrambles. When eggs are scrambled, add garlic, ginger, and red pepper flakes to the pan and stir.

Add bell pepper and onions to the pan and quick stir-fry veggies until heated through and just barely starting to char. Add remaining veggies and saute till heated through.

Add rice to the pan and combine with mixture. Fry rice with veggies 2 or 3 minutes. Add soy sauce to the rice and stir fry 1 minute more. Add chicken if using, toss to combine and heat through.

This dish can be turned down to low and let to saute longer while you make additional portions of your meal.