Today I'm sharing a quick and easy stir fry that was a huge hit with my family thanks to the North Carolina Pork Council.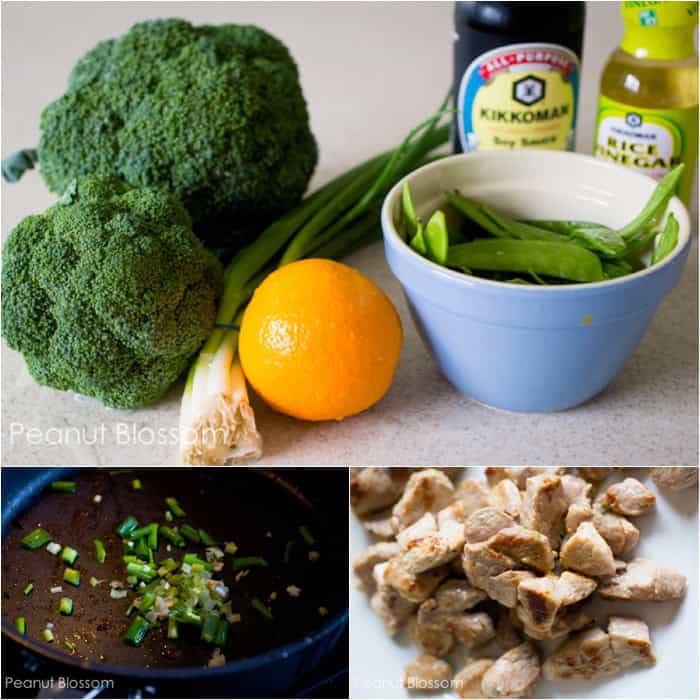 I looooooove Chinese take out. When we are splurging on delivery food, the rest of my family would pick pizza, but I always cheer when they let me win with those yummy little white cartons from my favorite local spot.
Since pizza usually wins the battle, I love to add homemade versions of my takeout favorites to the dinner rotation so I can get my fix. The best part about that is a stir fry is a quick and easy 30 minute meal so it isn't too tricky to work this recipe into a busy week night.
The trick is to use a tender pork tenderloin cut into bite sized chunks so that everything cooks evenly and quickly. The orange sauce for this is sweet and spicy but not overly bitter like I find many orange-flavored Chinese dishes.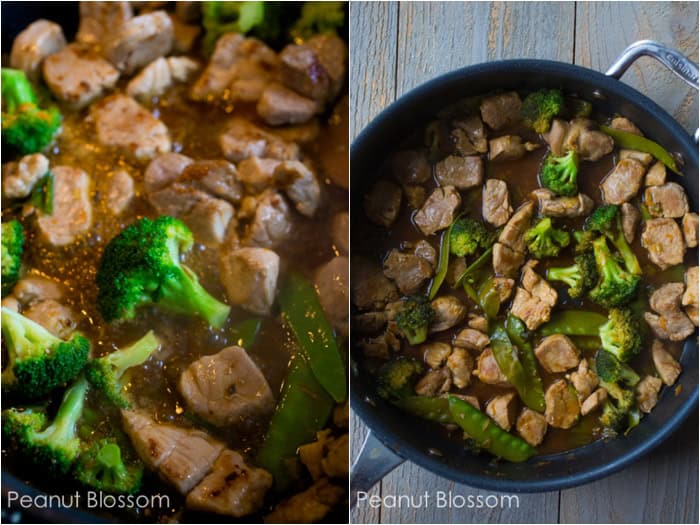 For most of our family meals, chicken tends to be the default protein. Despite the large quantity of "scary green vegetables" in this dish, I can win Handyman Tim over because there is pork involved. It has always been his favorite meat, he's even been known to pick a pork tenderloin recipe over steak!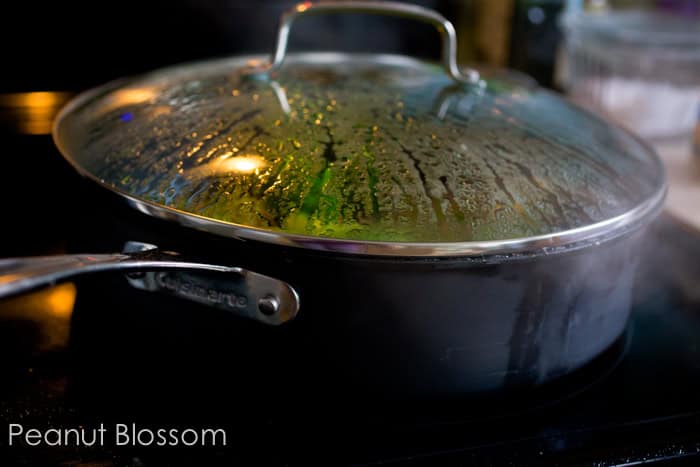 The kids were a little suspicious of the mix, it went over much better when I served each element separately on their plates. Pork over here, broccoli over there, no touching please and thank you. If that sounds like your kids, you can easily scoop up all the green with a slotted spoon for serving.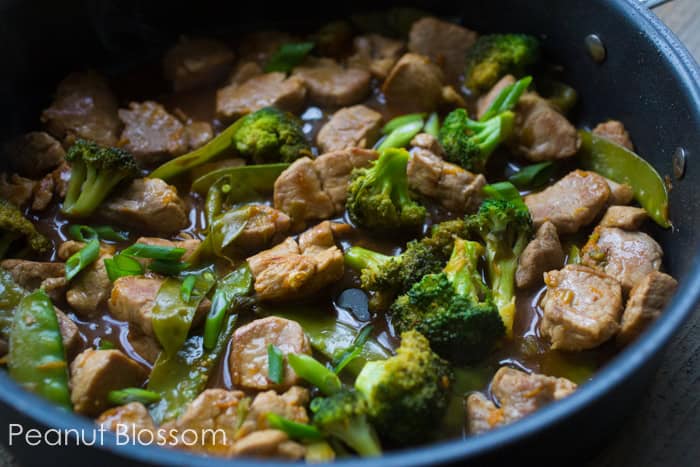 30 minute pork tenderloin recipe featuring orange sauce, broccoli, and pea pods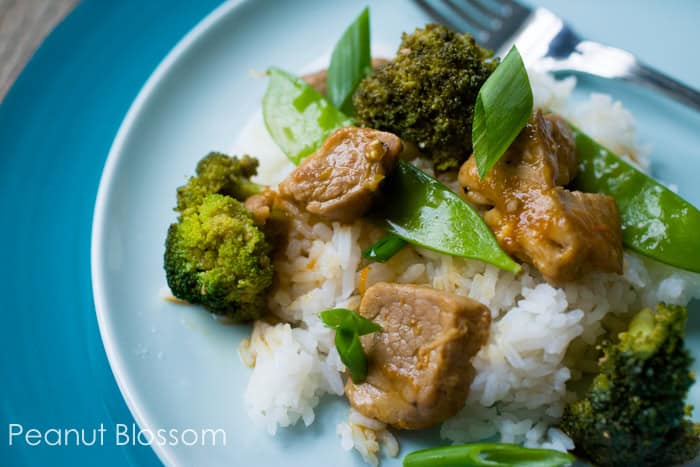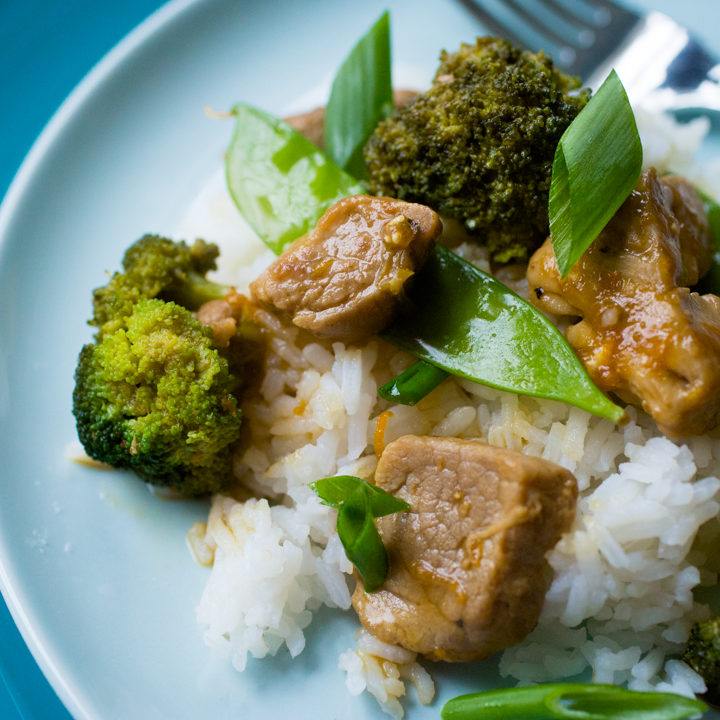 orange pork tenderloin stir fry with broccoli and pea pods
Ingredients
1 tsp grated orange zest, plus ¼ fresh squeezed orange juice from 1 large orange
¼ cup soy sauce
¼ cup rice vinegar (unseasoned)
1 tbsp cornstarch (optional)
2 tsp vegetable oil,
1 pork tenderloin (about 1 pound), cut into bite sized chunks
2 garlic cloves, minced
4 scallions, chopped
1 head broccoli cut into florets
1 cup fresh pea pods
⅓ cup water
Instructions
Combine orange zest and juice, soy sauce, vinegar, and cornstarch (if using) in a large measuring cup or bowl.
In a large skillet, heat 1 tsp oil over medium. Working in batches so it doesn't steam rather than brown, sauté the pork until golden brown on one side. Remove with a slotted spoon to a separate plate. This should take about 2 minutes, the pork will continue to cook later.
Add remaining tsp of oil to the pan and then sauté the garlic and scallions until fragrant. Add the broccoli and water and steam the veggies covered for 2 minutes. Be careful to not over do them at this point, they will still continue to cook.
Return the pork to the pan along with any juices from the plate. Combine with the sauce. Cook, stirring until pork is cooked through and sauce has thickened. Add the pea pods for 1-2 minutes for a quick heating, they will go limp quickly so should be added for just the very last minute.