Sweet and spicy orange pork stir-fry with fresh broccoli and pea pods is delicious over a bed of white jasmine rice. This quick and easy weeknight dinner can be made in 30 minutes or less.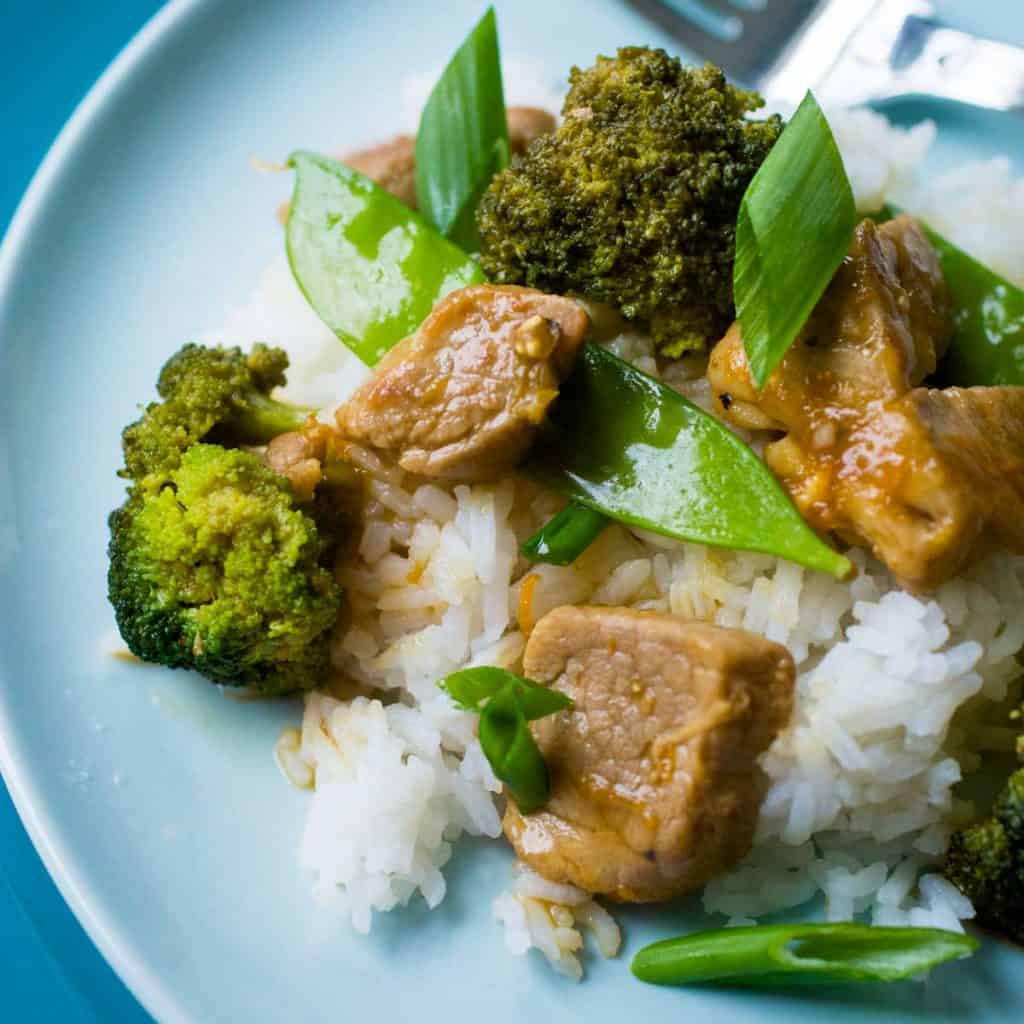 I love Chinese take out. When we are splurging on delivery food, the rest of my family would pick pizza, but I always cheer when they let me win with those yummy little white cartons from my favorite local spot.
Since pizza usually wins the take out battle, I love to add homemade versions of my takeout favorites to the dinner rotation so I can get my fix.
The best part about making a homemade stir fry is that it is a quick and easy 30 minute meal. This makes it very easy to squeeze into a busy weeknight.
The trick to a fast-cooking dinner is to use a tender pork tenderloin cut into bite sized chunks so that everything cooks evenly and quickly.
The orange sauce for this is sweet and spicy but not overly bitter like I find many orange-flavored Chinese dishes.
Jump to:
Ingredients
This easy stir fry has just a few key ingredients:
Pork tenderloin
Soy sauce
Rice vinegar
Vegetable oil
Minced garlic
A fresh orange
Green onions
Broccoli
Fresh pea pods
Cornstarch (optional)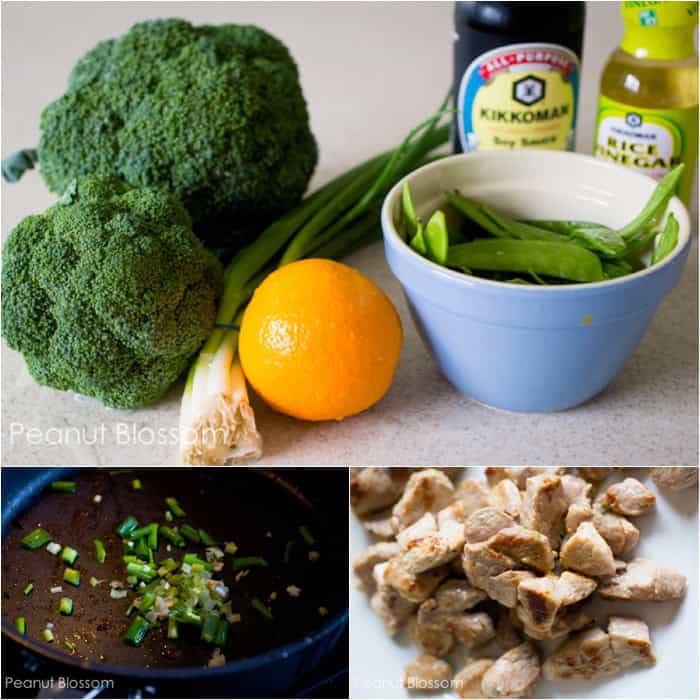 Brown the Pork
In a large skillet, heat 1 teaspoon oil over medium.
Working in batches so it doesn't steam rather than brown, sauté the cut cubes of pork until they are golden brown on one side.
Remove the cooked pork with a slotted spoon and reserve it on a separate plate. This should take about 2 minutes, the pork will continue to cook later when you finish the stir fry.
Sauté the Vegetables
Add the remaining teaspoon of oil to the pan and then sauté the garlic and scallions until fragrant.
Add the broccoli and water and steam the veggies covered for 2 minutes.
Be careful to not over do them at this point, they will still continue to cook.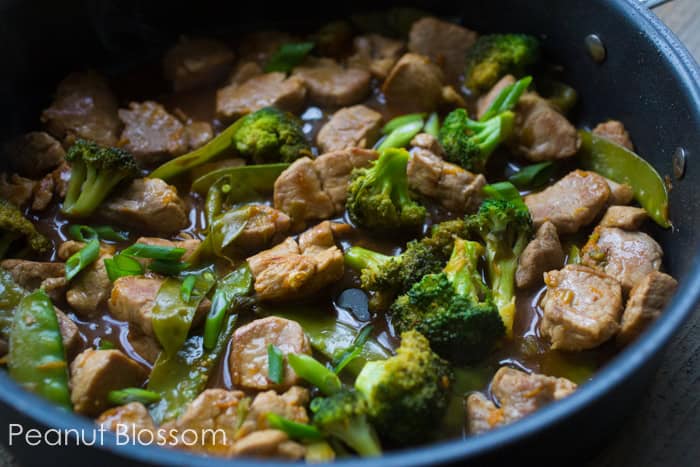 Finish the Stir Fry
Return the pork to the pan along with any juices from the plate. Combine with the sauce.
Cook, stirring until pork is cooked through and sauce has thickened. Add the pea pods for 1-2 minutes for a quick heating, they will go limp quickly so should be added for just the very last minute.
Serving Suggestions
For a low carb dinner, the stir fry stands on its own as a delicious meal.
If you want to stretch it farther, you can serve it over a bed of jasmine rice or brown rice.
More Pork Tenderloin Recipes
Looking for more ways to use pork tenderloin? These are some of our favorite pork recipes to make for the family: