Weeknight dinner recipes don't get any better than this easy beef stir fry with noodles. You can swap up the 6 simple ingredients for an easy one pot meal your family will love. It's perfect for the nights you want Chinese stir fry noodles for take out but your budget says you need to stay home.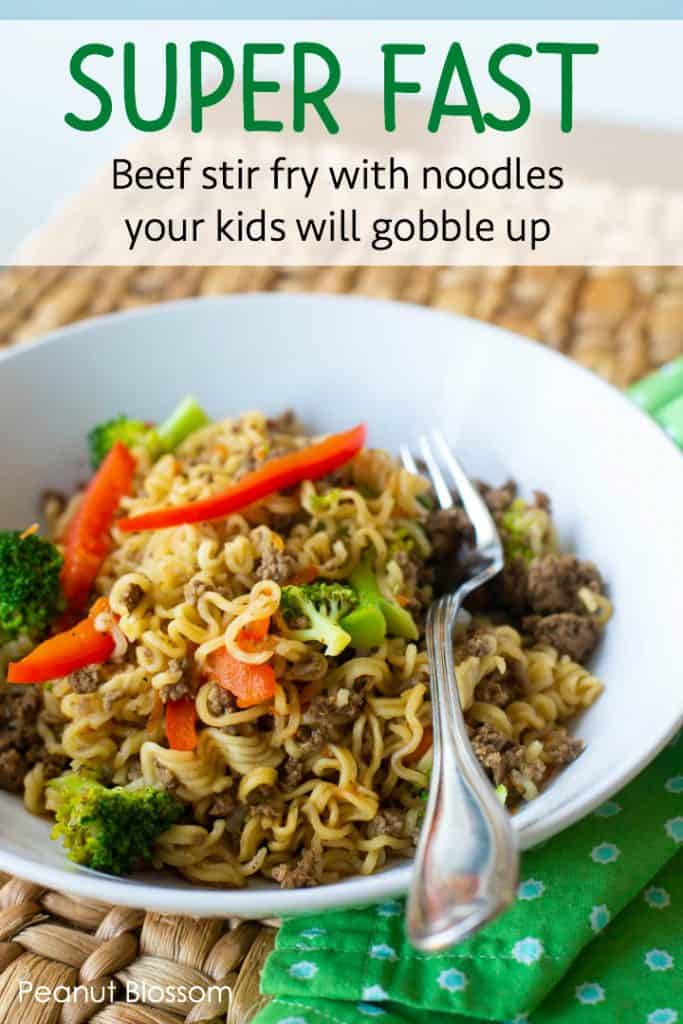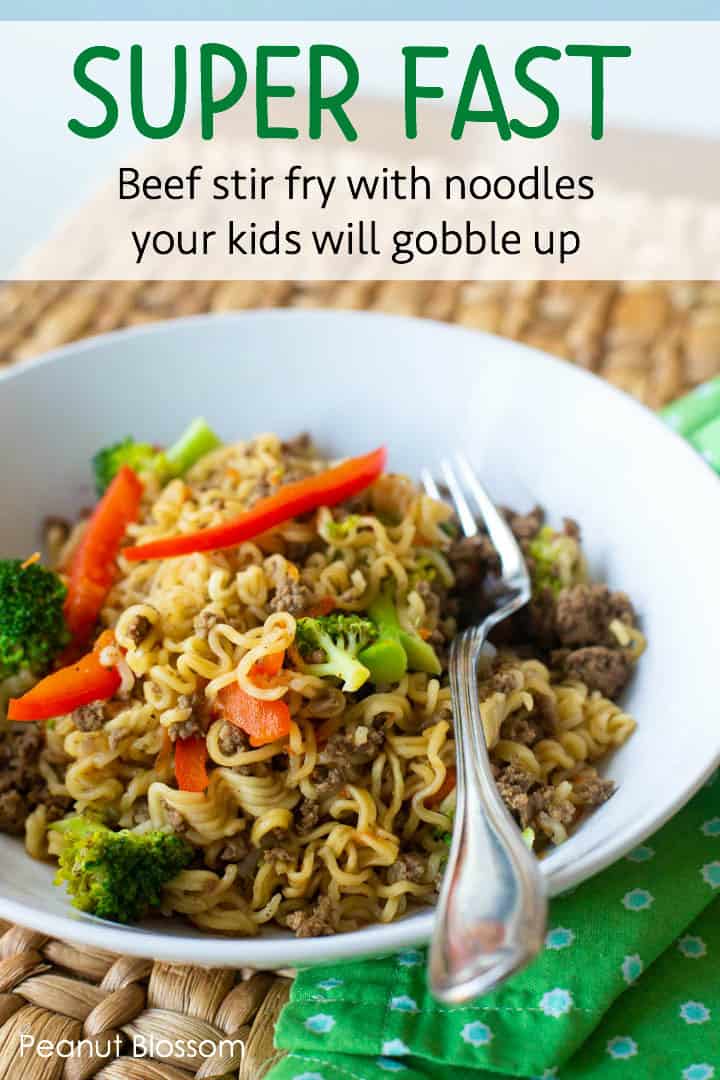 I am always looking for budget-friendly fast weeknight dinners for my family. As much as I love to cook elaborate things from scratch, sometimes you just need a quick and easy dinner on the table. Since I know my kids will eat just about anything if pasta is involved, I decided to play with this easy beef stir fry with noodles and see if I could make it even more quickly after Little Pea's dance class one night.
The recipe was a huge hit with my entire family. I had the whole thing done in less than 20 minutes and that was with chopping up some fresh veggies. If you had a bag of frozen ones ready to go, the dinner would more likely be in the 15 minute range.

What are the best noodles for stir fry?
I know I sound like an old lady here, but has anyone else noticed that the price of a box of pasta has really gone up over the last few years? Maybe I'm sensitive since it makes up such a big portion of our diet. Traditional pasta can be a little tricky to use in a one pot meal, so I decided to play with everyone's favorite college stand-by: Ramen!
Ramen is so cheap but if you discard the sodium fueled flavor packets they come with, you're left with the best noodles for stir fry! Ramen cooks quickly from the steam of the dish so your veggies don't get overdone.
I spent $1 on a 6-pack of ramen noodles at our grocery store that looked just like this. (But, don't buy it on Amazon, you can get it cheaper locally!) We ended up using 3 of the 6 packages to stretch this dish a little farther than the recipe calls for, but at 50 cents per dinner vs. $1.80 for a single box of traditional pasta it was a nice little break for the dinner budget.
The kids were fascinated by the ramen noodle bricks and they LOVED that the individual noodles were slightly curly. They made the dish even easier for the kids to eat with their forks. Another small benefit only a mom could appreciate! For some reason they seem to struggle with most long noodles used for stir fry but had no problems here.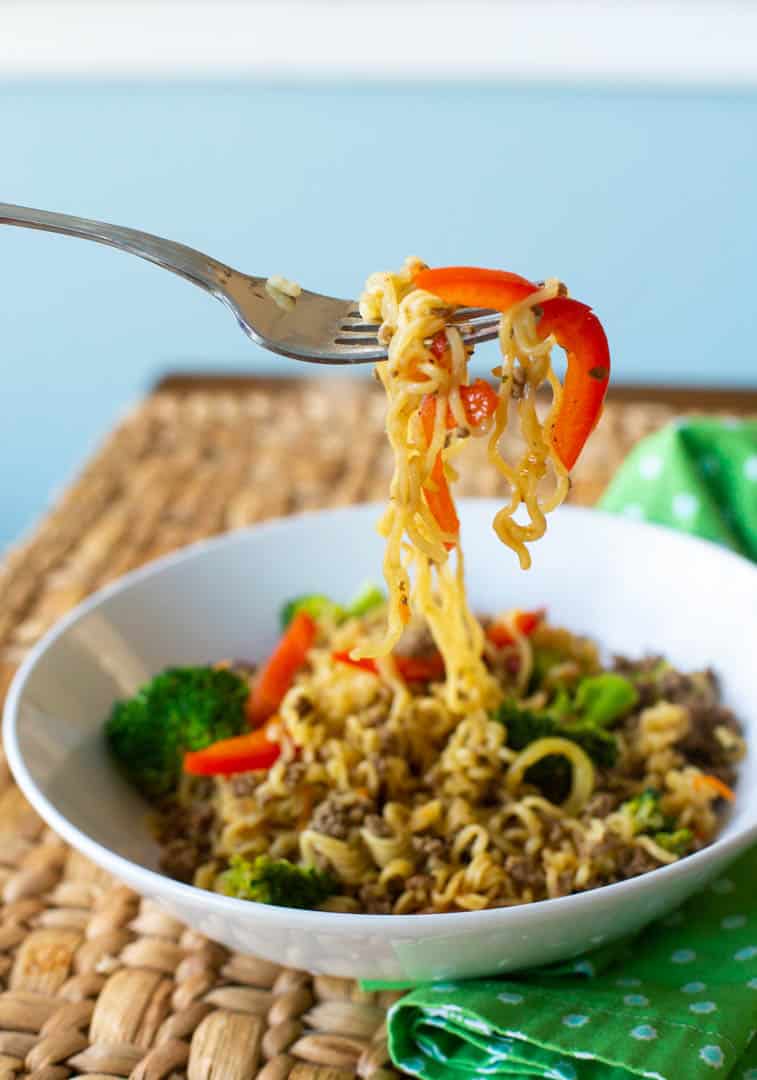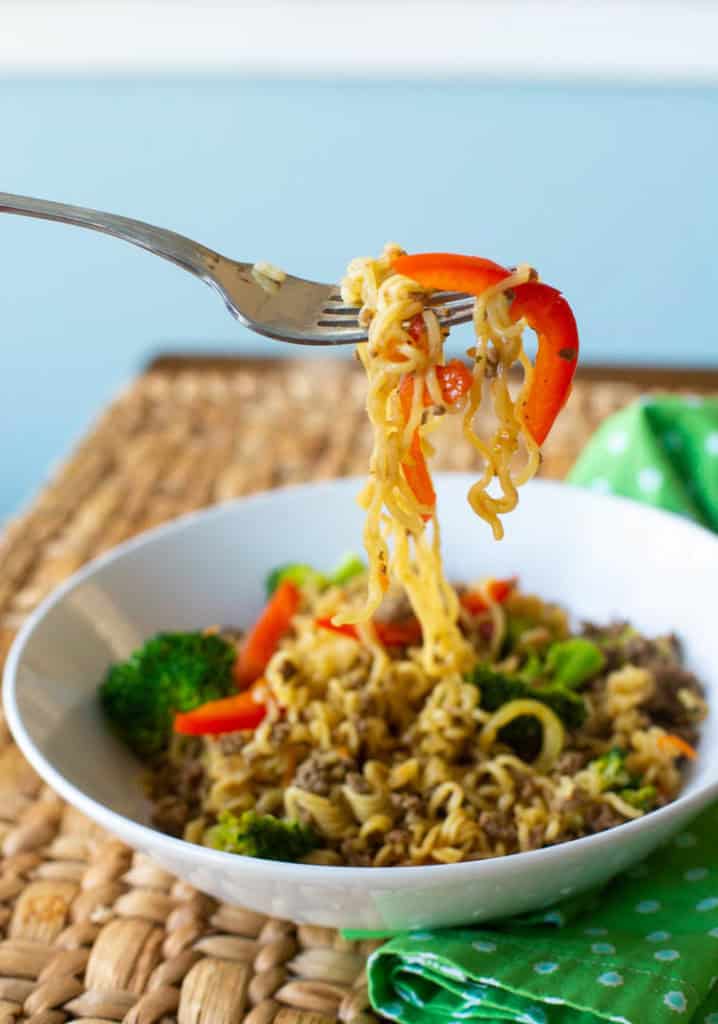 What are the best stir fry veggies?
My favorite part about this easy beef and noodles recipe is that you can mix and match the stir fry veggies that go into it. You can either use what vegetables you have on hand in the fridge or you can buy a pre-mixed stir fry veggie packet from the frozen section at the grocery store.
I sliced up an onion, red pepper, and fresh broccoli and shredded some carrot for our dinner since I had them all on hand in the fridge.
Great stir fry veggies that are popular with kids include:
pea pods
celery
bell peppers
broccoli
water chestnuts
shredded carrots
onions
baby corn
asparagus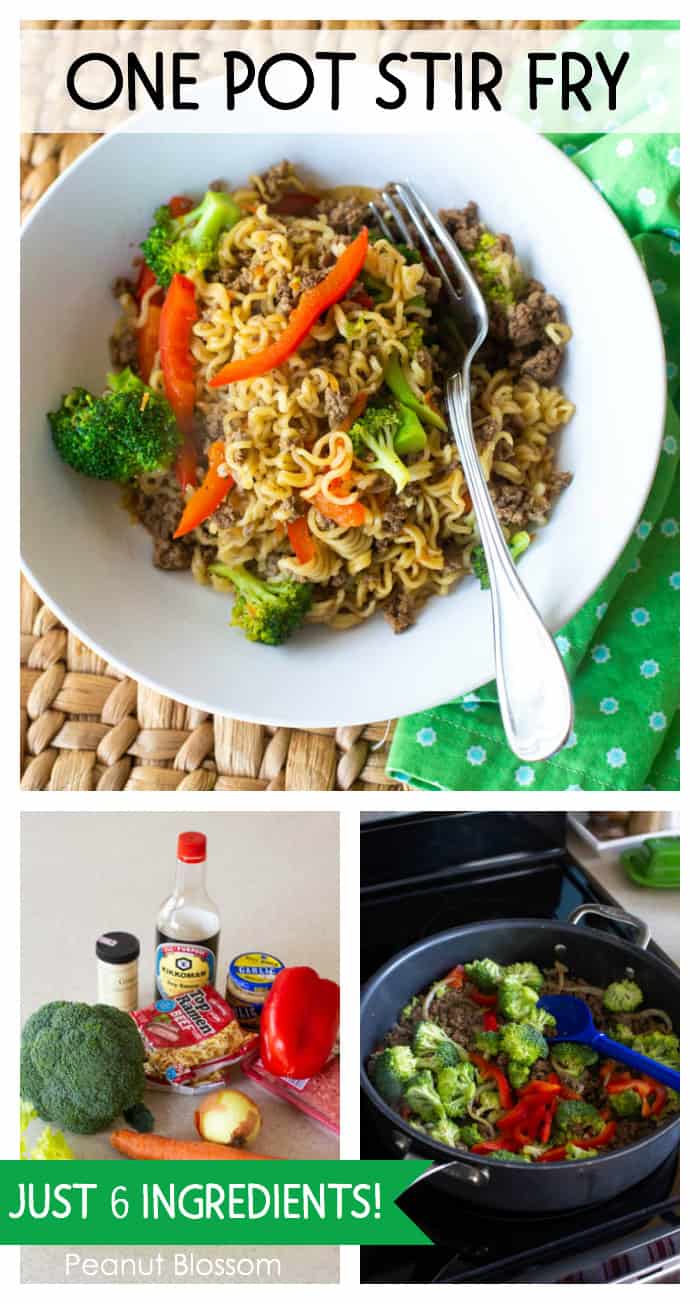 Can I use ground beef for stir fry?:
This was the biggest surprise for me about this easy beef stir fry with noodles. Normally, I imagine beef stir fry with sliced flank steak but that always requires some time at the cutting board. This stir fry recipe calls for using ground beef instead of steak! You brown up the ground beef in the pan first and then add the veggies to sauté together.
A ground beef stir fry comes together so much more quickly than a steak version does and is a lot more budget friendly for families. I also feel like the ground beef is easier to stretch to feed a bunch of hungry kids than slices of steak would have been.
📖 Recipe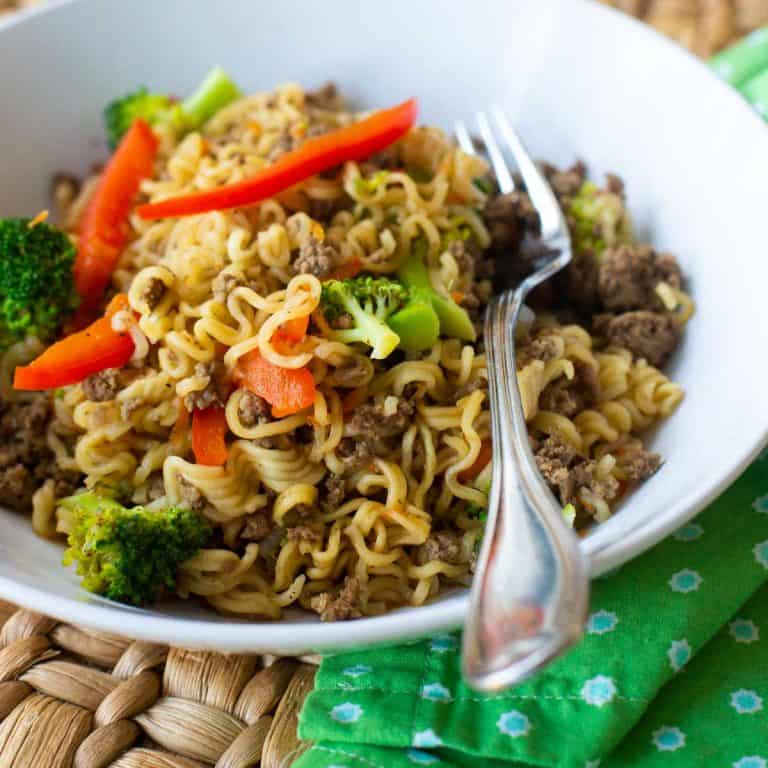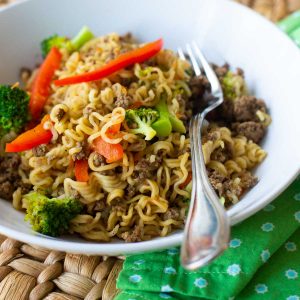 Easy Beef Stir Fry with Noodles
Easy weeknight dinner recipe for busy families. This 6-ingredient beef stir fry with noodles is always a hit with kids. Swap the veggies for a custom dish they'll love.
Ingredients
1

pound

lean ground beef

1

tablespoon

Asian seasoning blend

Most major spice brands have a blend made for stir frys.

1

teaspoon

minced garlic

2

cups

mixed stir fry vegetables

fresh or frozen

2

packages Oriental ramen noodles

broken into chunks (Discard the seasoning packet.)

2

cups

water

2

tablespoon

soy sauce

OPTIONAL: Chopped green onions for garnish
Instructions
In a large skillet, brown the ground beef over medium-high heat until no longer pink and cooked through. Break it up into crumbles with the back of a spoon as it browns. Drain the fat and return the skillet to the stovetop.

Add the Asian seasoning and minced garlic to the beef, stir them to combine with the beef over the heat until fragrant. About 30 seconds.

Add the veggie mix to the pan and stir fry for 3-4 minutes, mixing the veggies into the beef as they cook. 

Add the broken up chunks of ramen noodles to the pan and pour the water over the top. Stir to combine and cover the pan with a lid. Let the stir fry simmer and steam until the noodles are tender. After a minute or two, stir the softening noodles into the liquid in the bottom of the pan so they can absorb the water faster.

When the noodles are softened through, toss the noodles, beef, and veggies together and pour the soy sauce over the top.

OPTIONAL: Serve with chopped green onions for garnish.
Recipe Notes
This is the perfect dish for cleaning out your fridge. You can toss in any veggies that you have on hand including: grated carrots, chopped celery, onions, bell peppers, mushrooms, broccoli, pea pods, etc. Otherwise, grab a bag of stir fry veggies from the frozen section of the store.
Got an extra hungry family? Prepare extra packages of ramen noodles in a separate pot, drain them and add to the stir fry pot and toss. Add an extra dash of soy sauce for flavor.
Save This Recipe to Your Recipe Box
Find this delicious recipe next time you visit by saving it to your very own recipe box on my site. All your favorites stored in one easy place!