Crock Pot Sloppy Joes are the perfect freezer-friendly weeknight meal for busy nights. You can keep the sandwich filling warm and ready to serve in the slowcooker or freeze portions for a quick meal another day.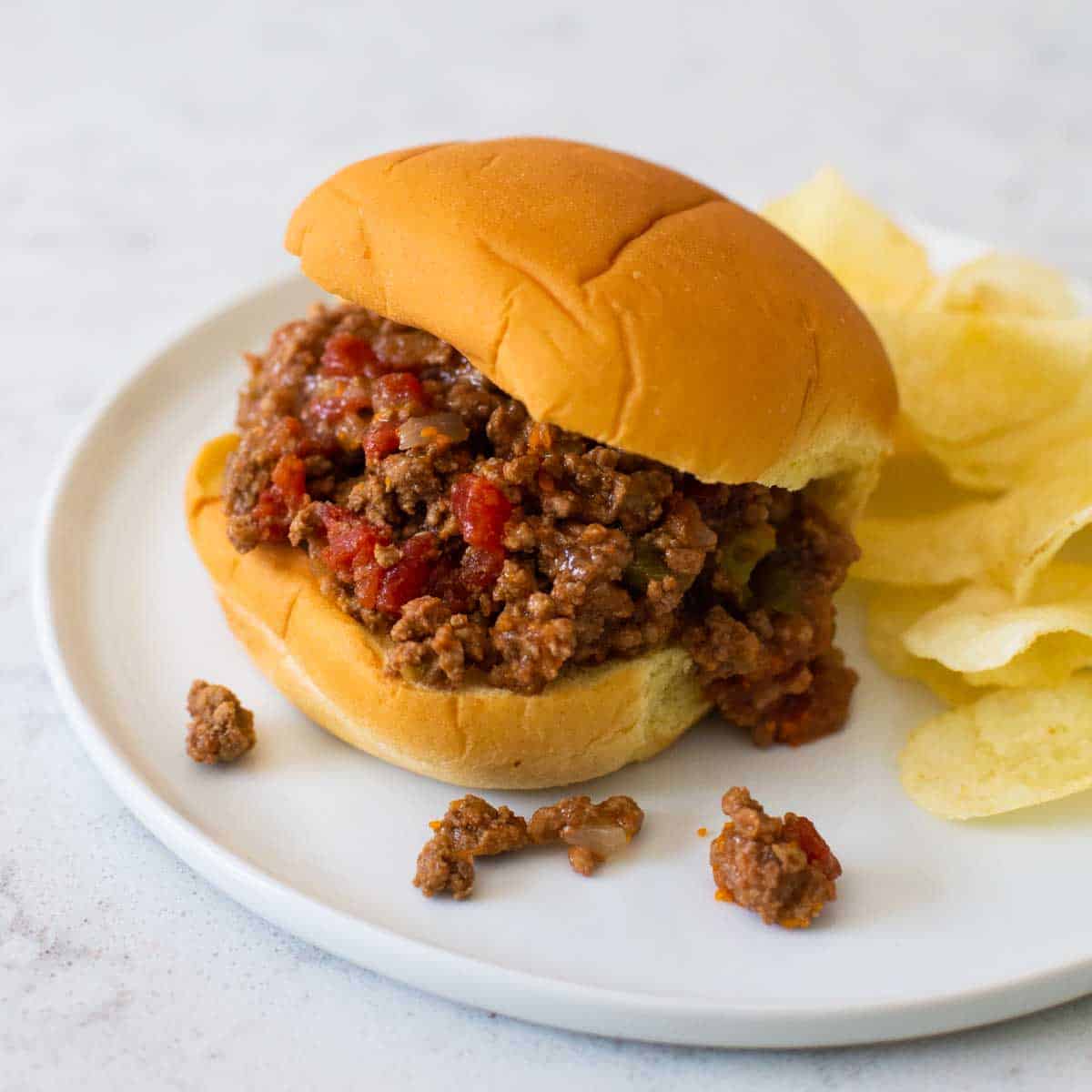 With kids running in separate directions for after-school activities, family dinner is feeling a lot crazier these days.
I've been desperate for easy dinners I can have warm and ready to serve for the 15 minutes we might get at the dinner table all together.
I've loved these Crock Pot Sloppy Joes sandwiches because I can prep the sandwich filling when I have time and just set the slowcooker to the "Keep Warm" setting.
Then I simply scoop and serve dinner in minutes before we're off on the go again.
The recipe makes more than we can eat in a single night, so I love to freeze the extras for an even easier dinner another time.
One week, I even sent the kids to school with sloppy joe filling in their lunchbox thermos. I packed a baggie of potato chips for scooping instead of a messy bun and a spoon to catch the rest. It was a huge hit!
Jump to:
Ingredients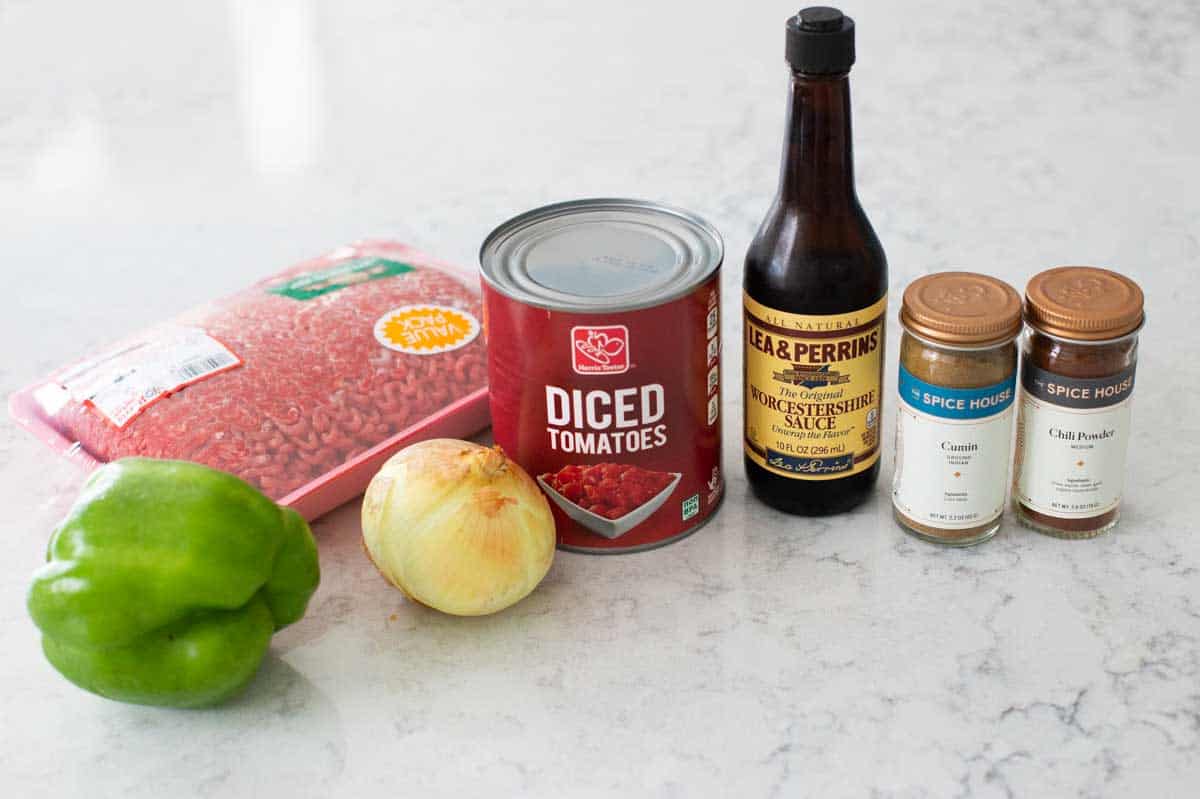 If you've never made from-scratch sloppy joes before, you're going to be pleasantly surprised just how easy it really is.
All you need to make this recipe is:
Ground Beef: You could substitute ground pork or ground turkey if you prefer.
Canned Tomatoes: You could use regular diced tomatoes or fire roasted tomatoes if you want extra heat.
Green Pepper
Onion
Worcestershire Sauce
Dijon Mustard
Brown Sugar
Cumin
Chili Powder
Traditionally, you'd serve the sandwich filling on a sandwich bun, but be sure to check out my serving suggestions for other ideas, too!
Brown the Ground Beef
The trick to making amazing sloppy joe filling in the slowcooker is to brown the ground beef and saute the veggies in a skillet first.
This may feel like an extra step, but this lets you drain the fat from the beef and gives the peppers and onions a more delicious flavor in the final dish.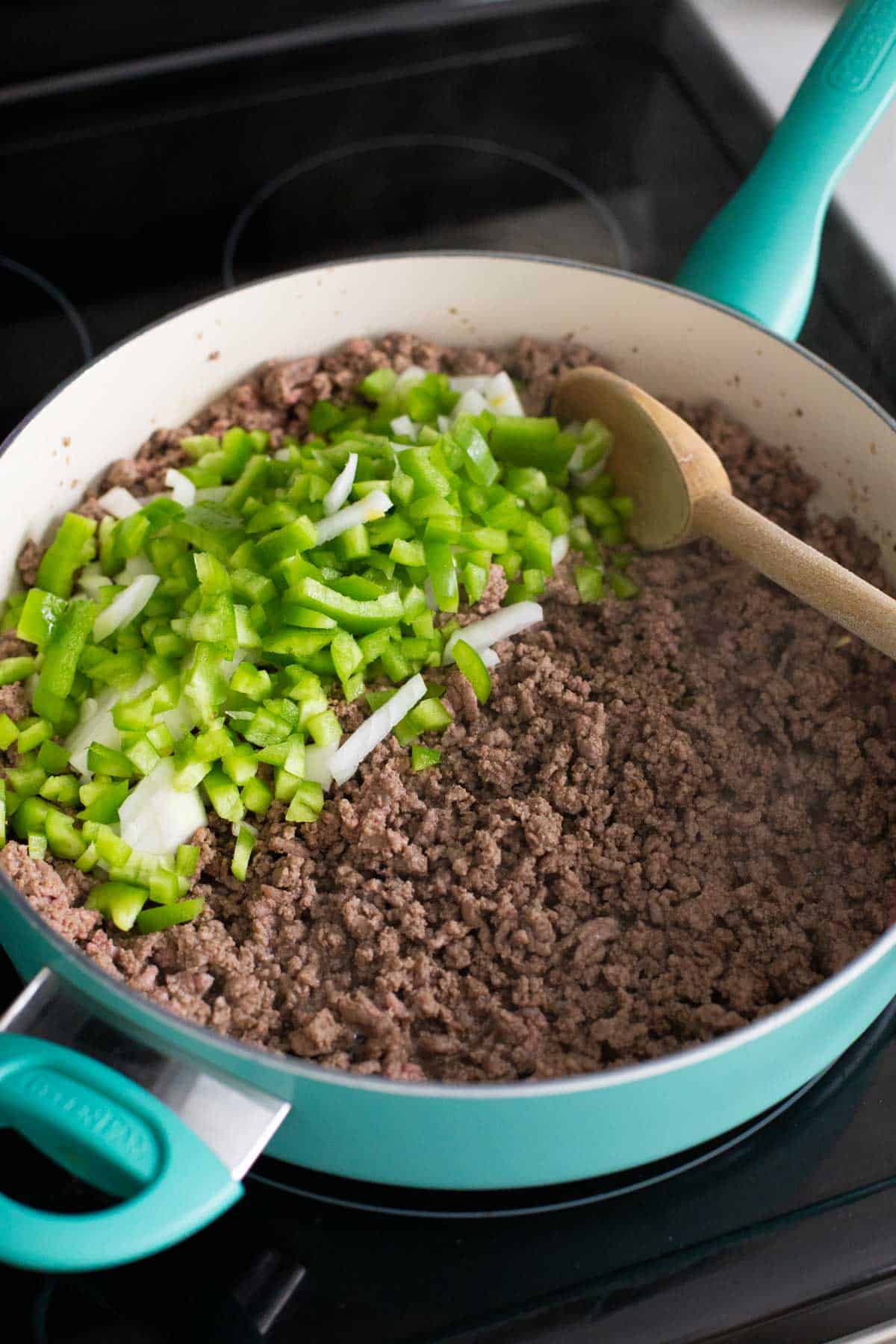 Simply brown and crumble the beef in the skillet over medium-high heat until it is no longer pink. Drain the fat and return the skillet to the stovetop.
Add the chopped onion and pepper and stir. Cook until the onions have softened, about 3 minutes.
Scrape all the contents into your slowcooker.
Cook the Sloppy Joes in the Slowcooker
The real Sloppy Joe Magic happens in the Crockpot. At this point, your ground beef is still probably a little tough and not very flavorful.
Stir in the diced tomatoes, cumin, chili powder, Worcestershire Sauce, Dijon mustard, and brown sugar.
Cover the slowcooker and cook on HIGH for 2 hours and on LOW for 6 hours.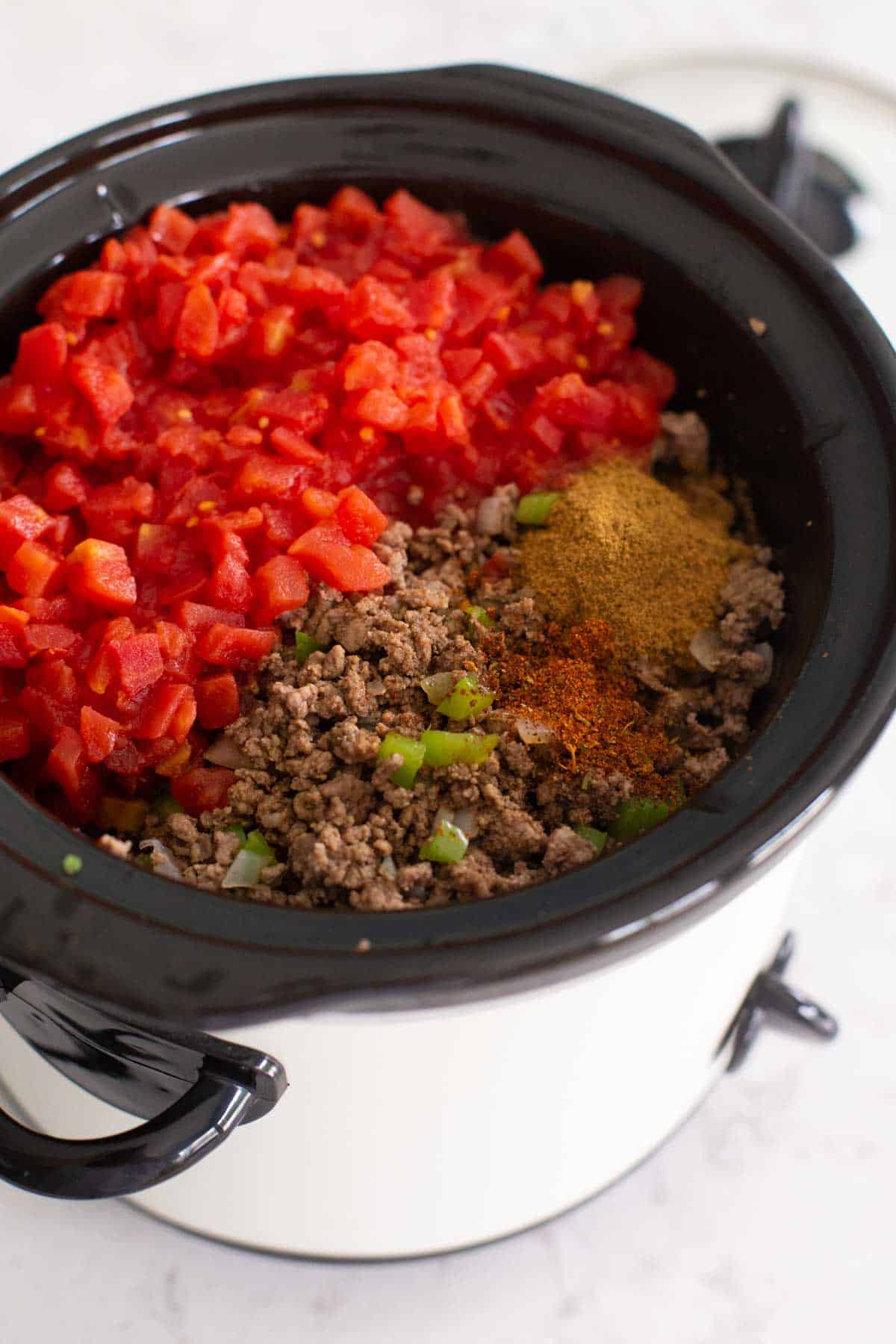 As the mixture cooks, the seasonings will give so much more flavor to your beef sandwich filling!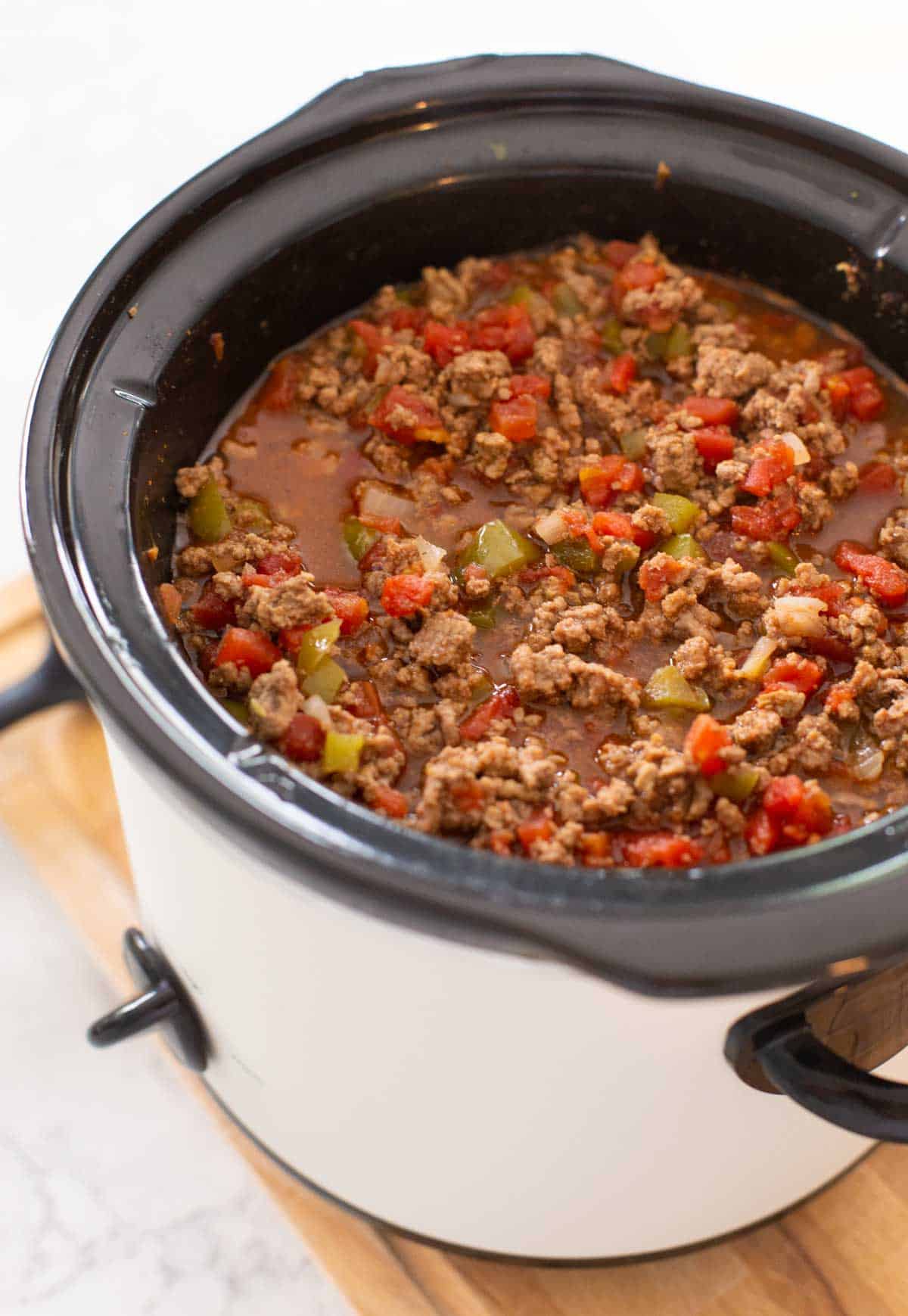 At this point you could serve the Crock Pot Sloppy Joes or you could turn the slowcooker setting to KEEP WARM and let it sit for a couple of hours.
This buys you time to run kids where they need to be or pick them up and get them home.
The sandwiches will be ready whenever you are!
Serving Suggestions
We love to eat Sloppy Joe sandwiches on soft potato sandwich buns with a side of salty potato chips and fresh fruit or veggies. For an even tastier side dish, you could try making these air fryer onion rings.
But the sloppy joe filling is also totally delicious served:
Stuffed Potato: Top a baked potato with sloppy joe filling and sour cream or shredded cheese like my Crockpot Chicken Taco Chili
Mashed Potatoes: Serve the sloppy joe filling on top of a scoop of mashed potatoes for a gluten-free sloppy joe dinner.
Sloppy Joe "Nachos": Top a plate of potato chips with sloppy joe mix and eat it like the Buffalo Blue Cheese Potato Chips with sausages.
Make Ahead & Freezer Tips
You can make the sloppy joe filling up to 3 days in advance.
Store it in an airtight container in the fridge and just add it to the slowcooker to warm through before serving.
You can freeze the fully cooked sloppy joe mix in a freezer friendly container for up to 12 months. Thaw the filling in the fridge overnight and warm it up in the slowcooker or in a saucepan on the stovetop.
Variations
This is a very classic Sloppy Joe sandwich recipe. The filling isn't too spicy and it's not too sweet.
You could easily make several fun variations on this recipe:
Spicy Sloppy Joes: Use fire roasted tomatoes instead of regular. Add a dash or two of cayenne pepper to the mix. Top your sandwich with pickled jalapenos.
Philly Cheesesteak Sloppy Joes: We love the extra peppers and provolone cheese from this Cheesesteak Sloppy Joes recipe. Don't miss the tips on toasting the buns!
Buffalo Sloppy Joes: Swap ground chicken for the ground beef and top your sloppy joes with a drizzle of this easy buffalo sauce and some crumbled blue cheese.
📖 Recipe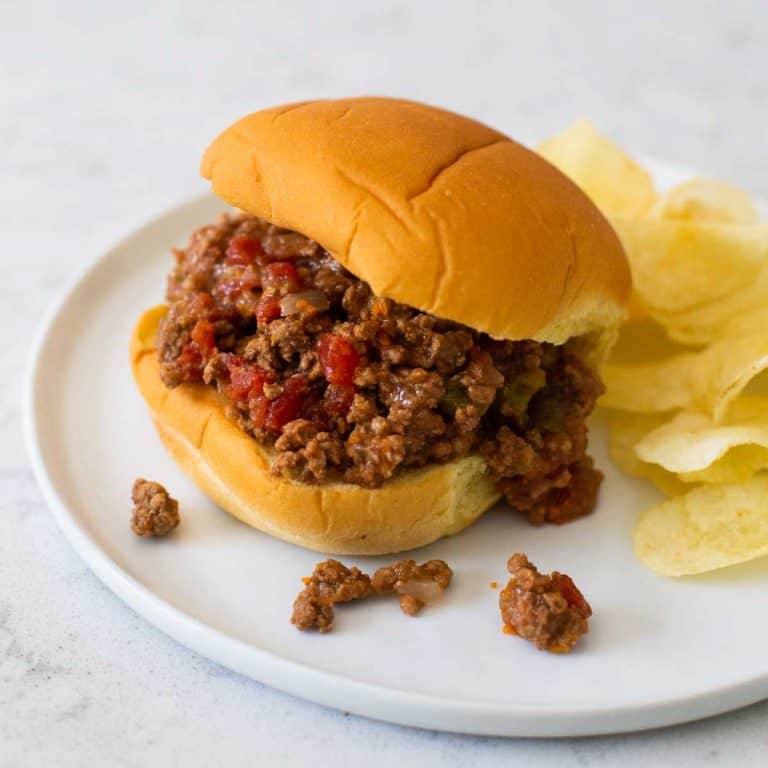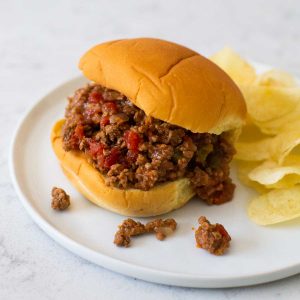 Crock Pot Sloppy Joes
Prepare this Crock Pot Sloppy Joes recipe for a make ahead dinner on a busy night or freezer meal for dinner down the road. Serve it on hamburger buns, over a baked potato, or with tater tots for a family-friendly dinner.
Ingredients
2

lbs

ground beef

1

onion

chopped

1

green bell pepper

chopped

1

28 oz can diced tomatoes

¼

cup

brown sugar

2

tablespoons

Dijon Mustard

4

teaspoons

Worcestershire sauce

1

tablespoon

ground cumin

2

teaspoons

chili powder

1

teaspoon

salt
Instructions
Brown the beef in a large skillet over medium-high heat. Crumble it as it cooks. Drain the fat and return the skillet to the heat.

Add the chopped onion and pepper to the pan and stir them into the beef. Cook for 3 minutes or until the onion has softened.

Scrape the beef mixture into the bowl of a slowcooker. Add the diced tomatoes, brown sugar, mustard, Worcestershire sauce, cumin, chili powder, and salt. Stir everything to combine.

Cover and cook on HIGH for 2 hours or on LOW for 6 hours. Stir the mixture occasionally so it doesn't stick to the bottom of the Crockpot.
Recipe Notes
Make Ahead and Freezing Instructions:
You can prepare the Sloppy Joe sandwich filling up to 3 days in advance and keep it stored in the fridge. Simply reheat in the microwave, in a saucepan on the stovetop, or in a slowcooker.
You can freeze the Sloppy Joes sandwich filling in a freezer safe container for up to 12 months. Thaw in the fridge overnight or defrost in the microwave.
Save This Recipe to Your Recipe Box
Find this delicious recipe next time you visit by saving it to your very own recipe box on my site. All your favorites stored in one easy place!