Spicy buffalo blue cheese potato chips with Lit'l Smokies sausages is the football party appetizer you didn't even know you needed! This is a great alternative to cheesy nachos and way more delicious.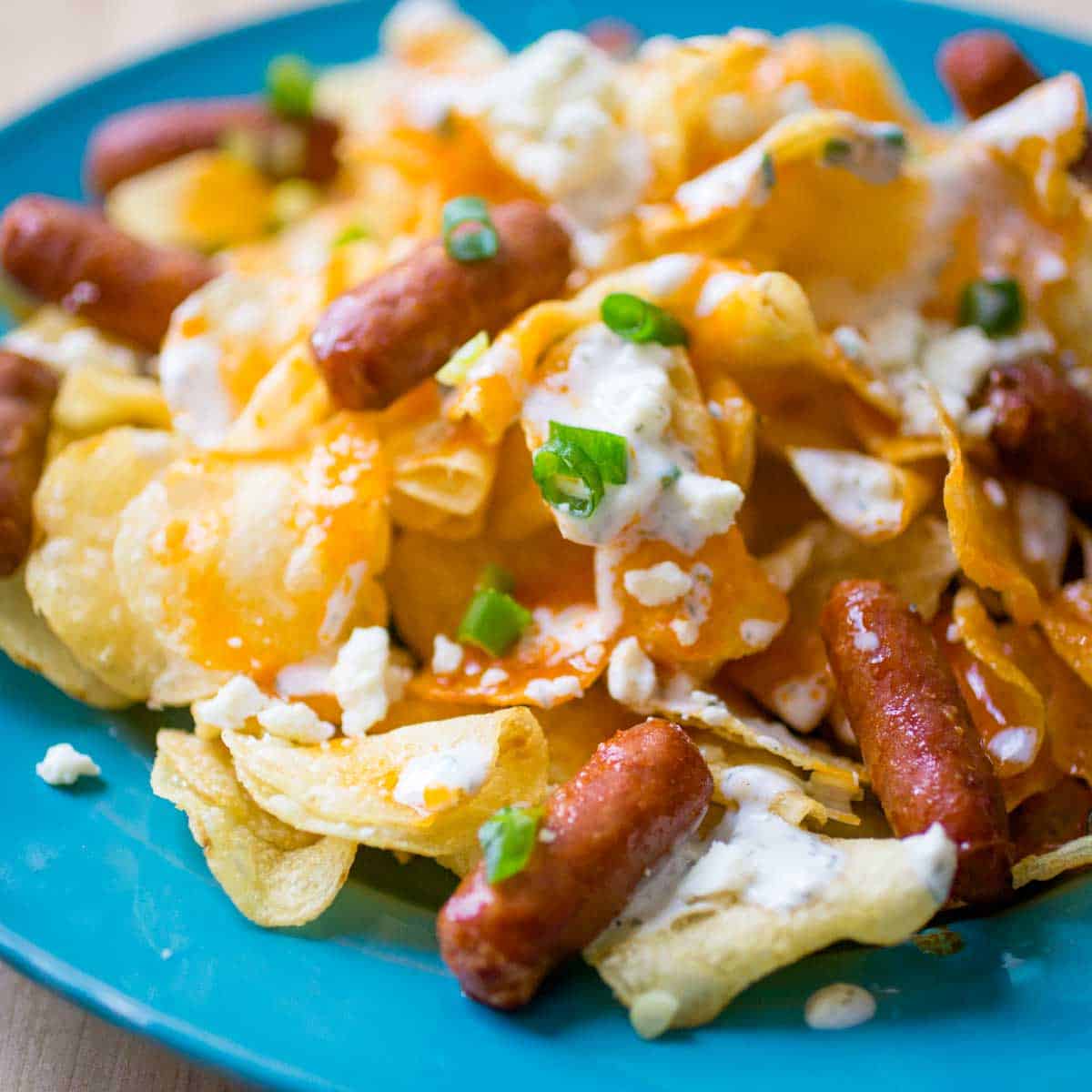 Our family could not be more excited that our city's team is going to be playing in the final game of this exciting football season!
A mainstay of football food is buffalo wings but as much as Tim and I love buffalo sauce, we prefer our wings dry seasoned vs. saucy and we often use buffalo sauce as a dip instead.
One of our favorite local restaurants here in Charlotte serves up an amazing appetizer called buffalo blue cheese chips -- hot and fresh hand cut potato chips smothered in buffalo and warm blue cheese sauce. We cannot go there without getting it each and every time.
For the last game of the football season, I tried my hand at a homemade version and Tim swears that this is the Best Football Snack I have ever served up.
Jump to:
Ingredients
This is almost a no-cook recipe, you're basically assembling a short list of ingredients:
Lit'l Smokies® sausages
Party-sized bag of potato chips
Buffalo Sauce
Blue Cheese Dressing
Green Onions
Cook the Sausages
Make the buffalo sauce recipe in a large enough saucepan and then simply simmer the smoked sausages right in the same pot: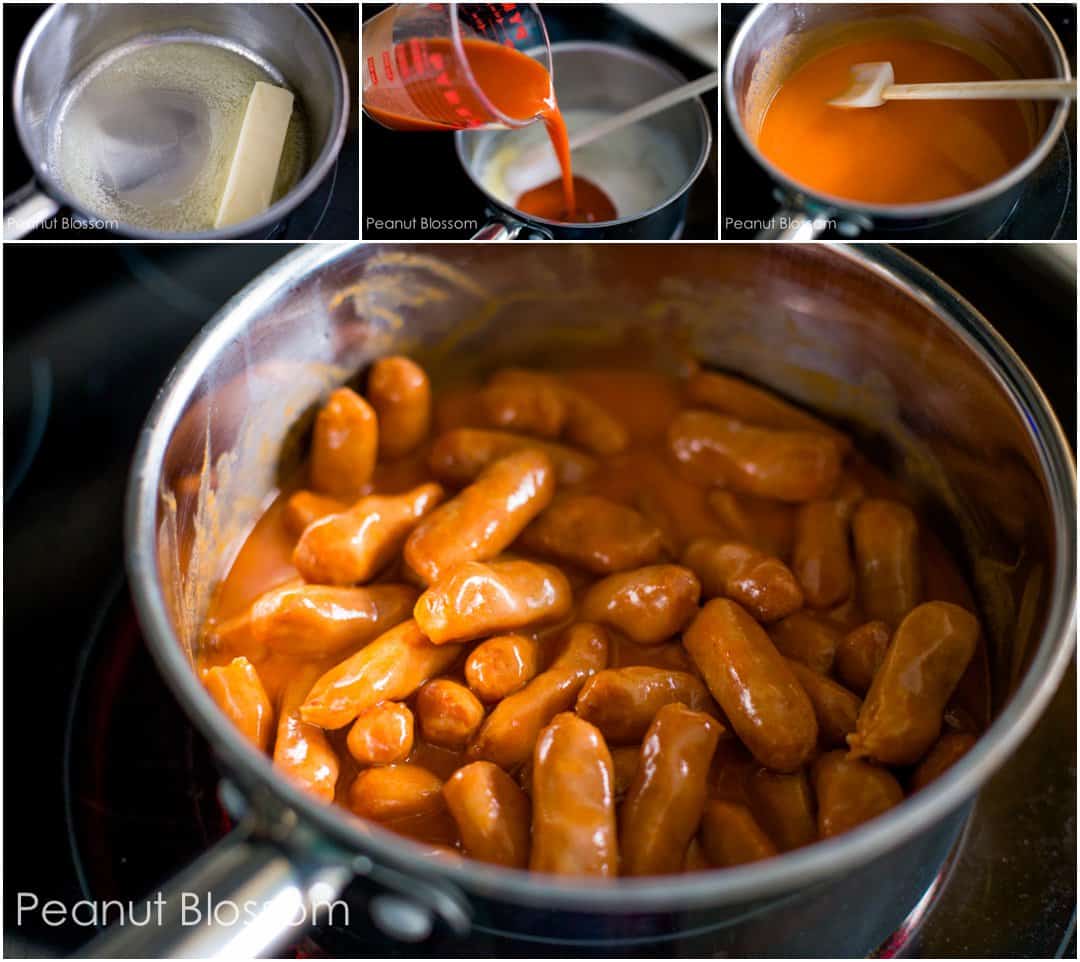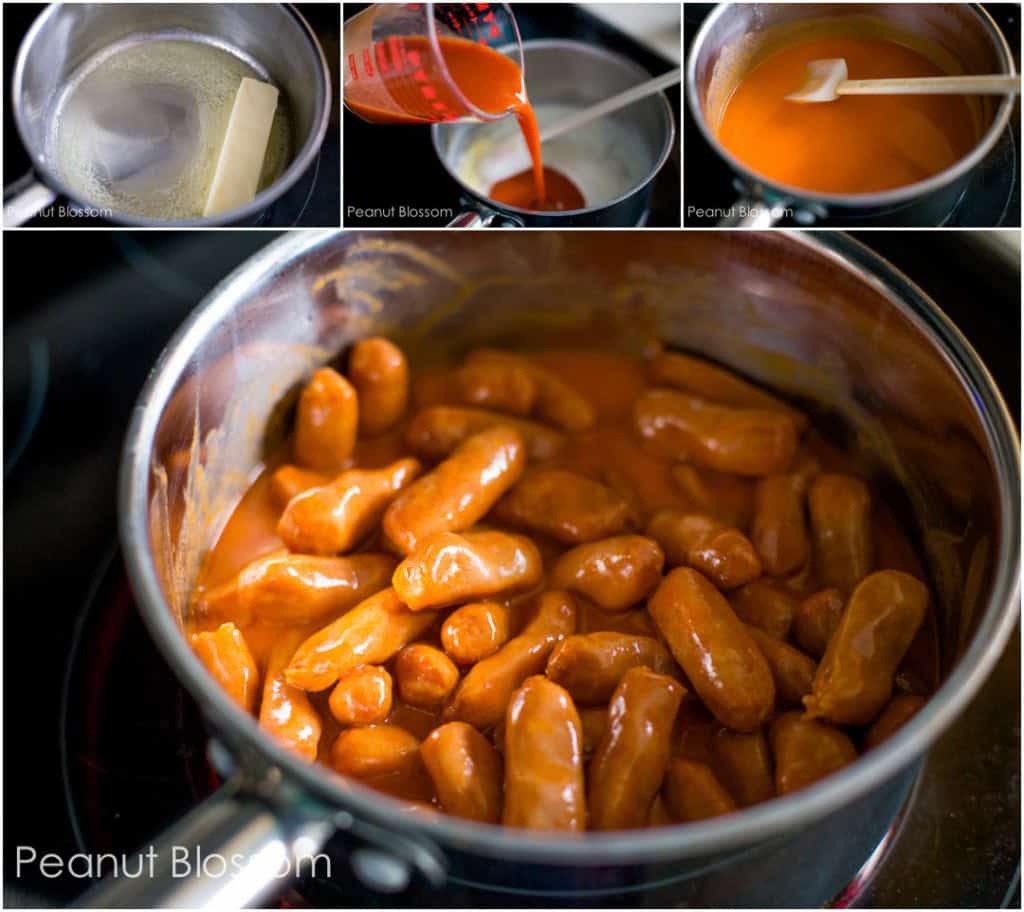 They're already cooked so you're simply heating them through. It should only take about 5 - 10 minutes.
Make the Blue Cheese Dressing
The homemade blue cheese dressing is just a matter of stirring the ingredients together. It is super easy to do in just a minute or so.
Assemble and Serve
You can serve this one of two ways:
1. Snack Board Style
Serve the coated Lit'l Smokies sausages on a platter with the blue cheese sauce in a dipping cup for guests to assemble their own snack plates.
This is a great option for serving a low carb appetizer for guests who prefer that.
2. Nacho Style
Pile up a huge plate of potato chips nacho-style and drizzle the two sauces over the top.
Garnish with the Lit'l Smokies sausages, chopped green onions, and more crumbled blue cheese.
If you want to really go the extra mile, warm the potato chips in your oven on a big baking sheet for 2 - 3 minutes at 350°F before assembling the chip platter with sauces.
We tested it both ways for our family snack buffet: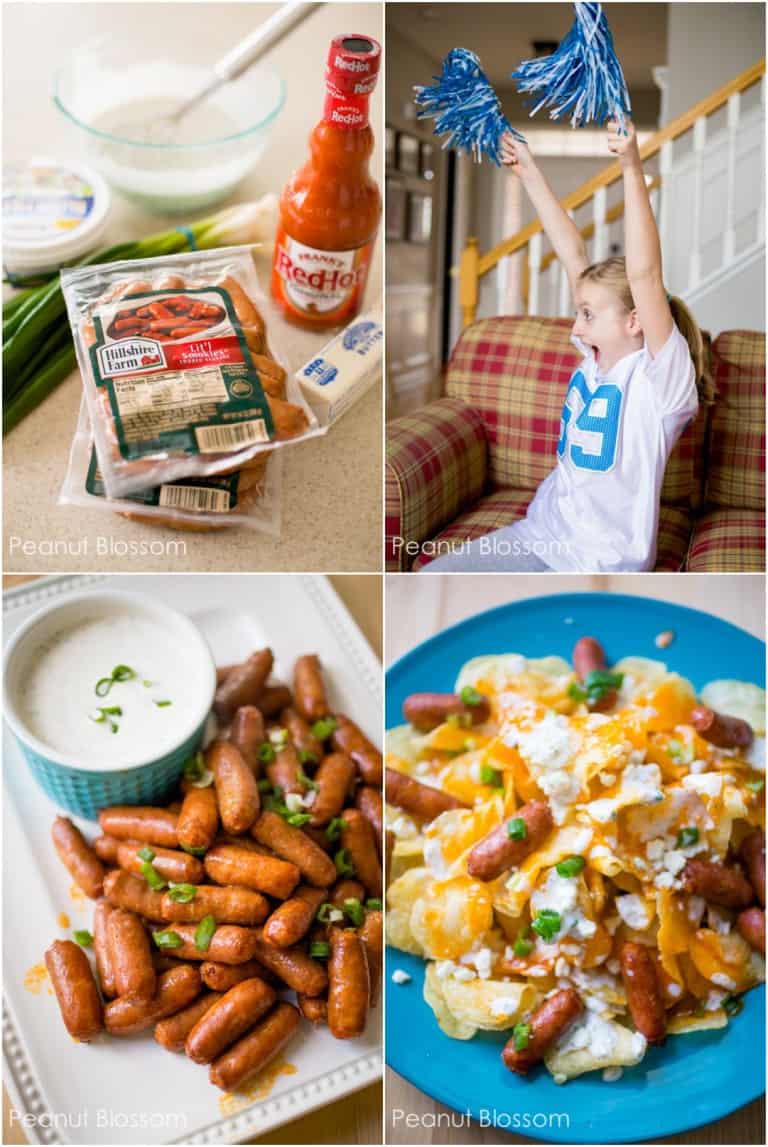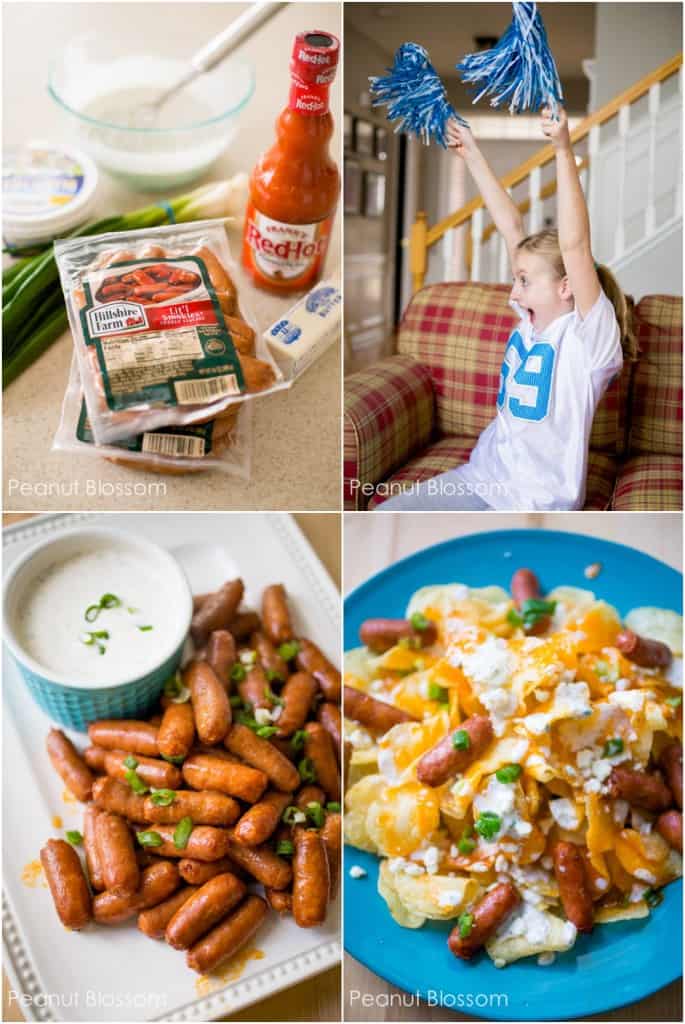 My mom preferred the Lit'l Smokies sausages separate from the chips and dipped her chips in just the sauce she liked best.
Tim and the kids preferred the nacho style presentation.
At the end of the game? Both serving platters were cleared.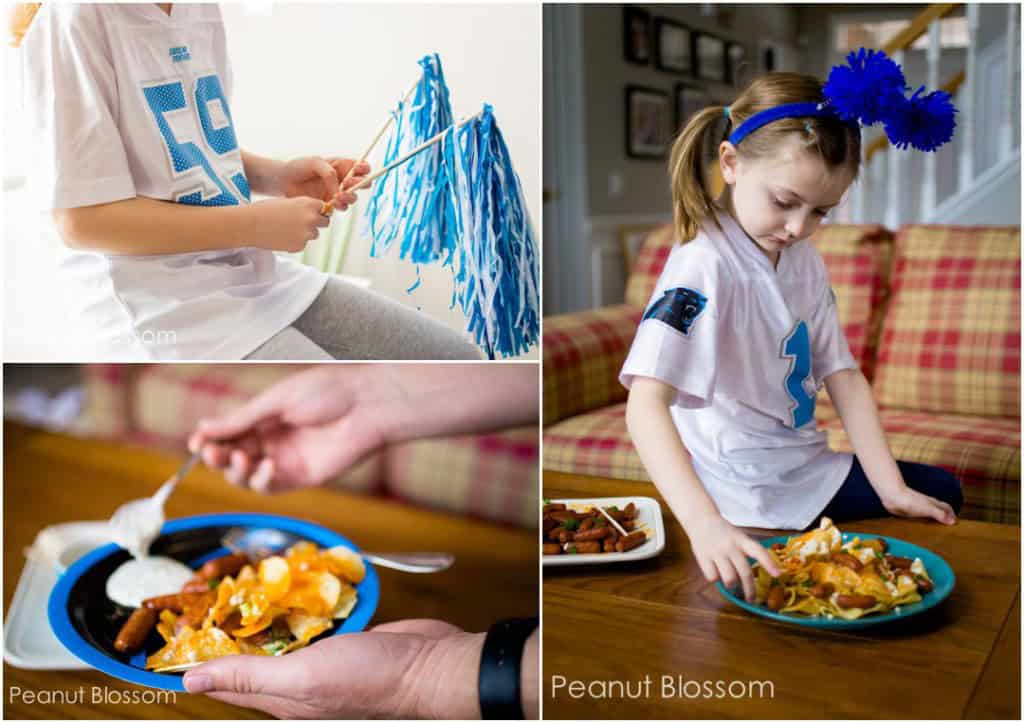 Tim has been requesting that this become a staple of our football watching. High praise from someone who isn't very forthcoming with his compliments!
More Easy Appetizers
If you're hosting a football party, you may want to add a few more options to your snack table.
My easy taco bites recipe is perfectly pop-able to eat and almost completely mess free!
Make a batch of seasoned pretzels in one of the fun 15 flavors.
Or for a meatier dish, my monte cristo pinwheels and ham and cheese sliders are always a hit.