Buffalo chicken sliders are a great 10-minute party snack to bake for a hungry crowd. Perfectly crispy buttery tops with a tender chicken and melted cheese filling will be a huge hit at your next event.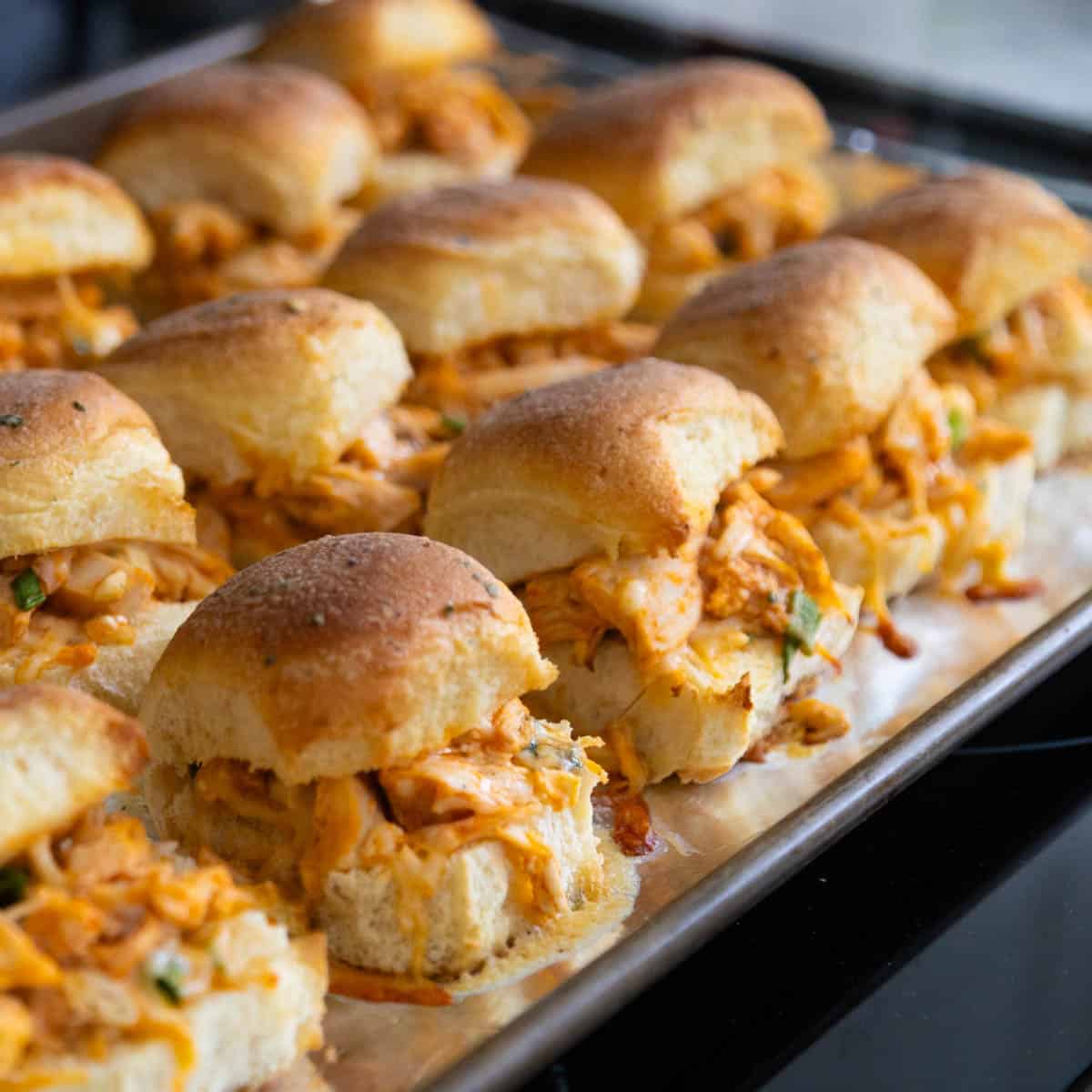 When family is home on the weekend, it is so fun to bake up a quick batch of sliders for movie night, game night, or just a special surprise for lunch or a lazy dinner.
These buffalo chicken sliders were a huge hit when I baked them for my family.
Probably because I adjusted the filling just for our tastes. It has the perfect ratio of buffalo sauce to chicken, the right amount of blue cheese crumbles, and I stirred the shredded cheese right into the mix so it would melt and hold everything together.
Combine that with those buttery, crispy Hawaiian rolls? Score. This is for sure a "winner, winner, chicken dinner" if ever there was one.
Jump to:
Why This is the Best Recipe
We love sliders. We love buffalo chicken. So of course we think this is the best buffalo chicken sliders recipe because:
Easy Prep: This is one of the easiest slider recipes on my site because you just mix the filling together and you don't even need to top it with cheese because the cheese is already in the mix.
Holds Together Well: The cheese IN the filling serves almost like glue, it holds the entire sandwich together as it cools so they are perfect to pick up and eat.
Spicy and Creamy: The filling has that perfect blend of spicy buffalo sauce and creamy cheese with a zesty ranch seasoning on top. YUM.
Ingredients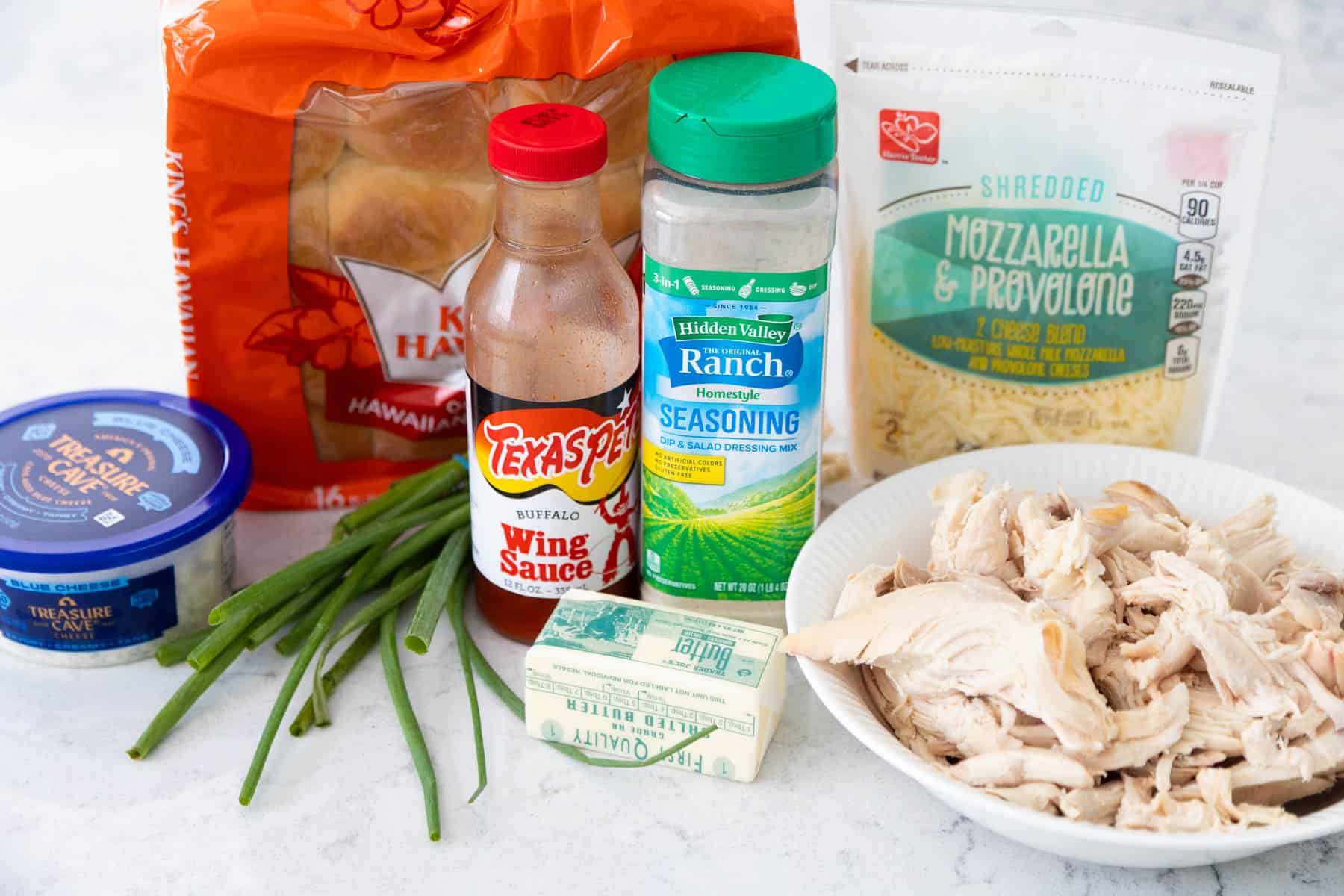 This easy slider recipe only needs a few savory ingredients:
Shredded Chicken: I grabbed a big rotisserie chicken at Costco but any pre-cooked chicken will work great.
Hawaiian Buns: Costco sells bigger packages of Hawaiian rolls than regular grocery stores do. The recipe calls for 12 buns but you can easily stretch the filling across the package of 16 buns that come in the Costco package.
Buffalo Sauce: You can make homemade buffalo sauce with just 3 ingredients in a few minutes or you can grab a prepared bottle at the grocery store.
Shredded Mozzarella: I used a blend of mozzarella and provolone, it adds flavor and melts so well. But plain mozzarella will work great if you can't find the mix.
Blue Cheese Crumbles: A little goes a long way with this pungent cheese. You can skip it if you prefer.
Green Onions: Add a bit of freshness. You could use fresh chives instead if you have them.
Butter
Ranch Seasoning: Any dry ranch seasoning will work. You can use bulk seasoning from a jar or open a ranch dressing packet.
Prep the Chicken Filling
Cooked chicken is a very delicate meat. You want to have nice firm chunks of chicken in the sliders so use a gentle hand when preparing this filling or it will break apart too much.
In a large bowl, combine the chicken, buffalo sauce, shredded cheese, green onions, and blue cheese crumbles: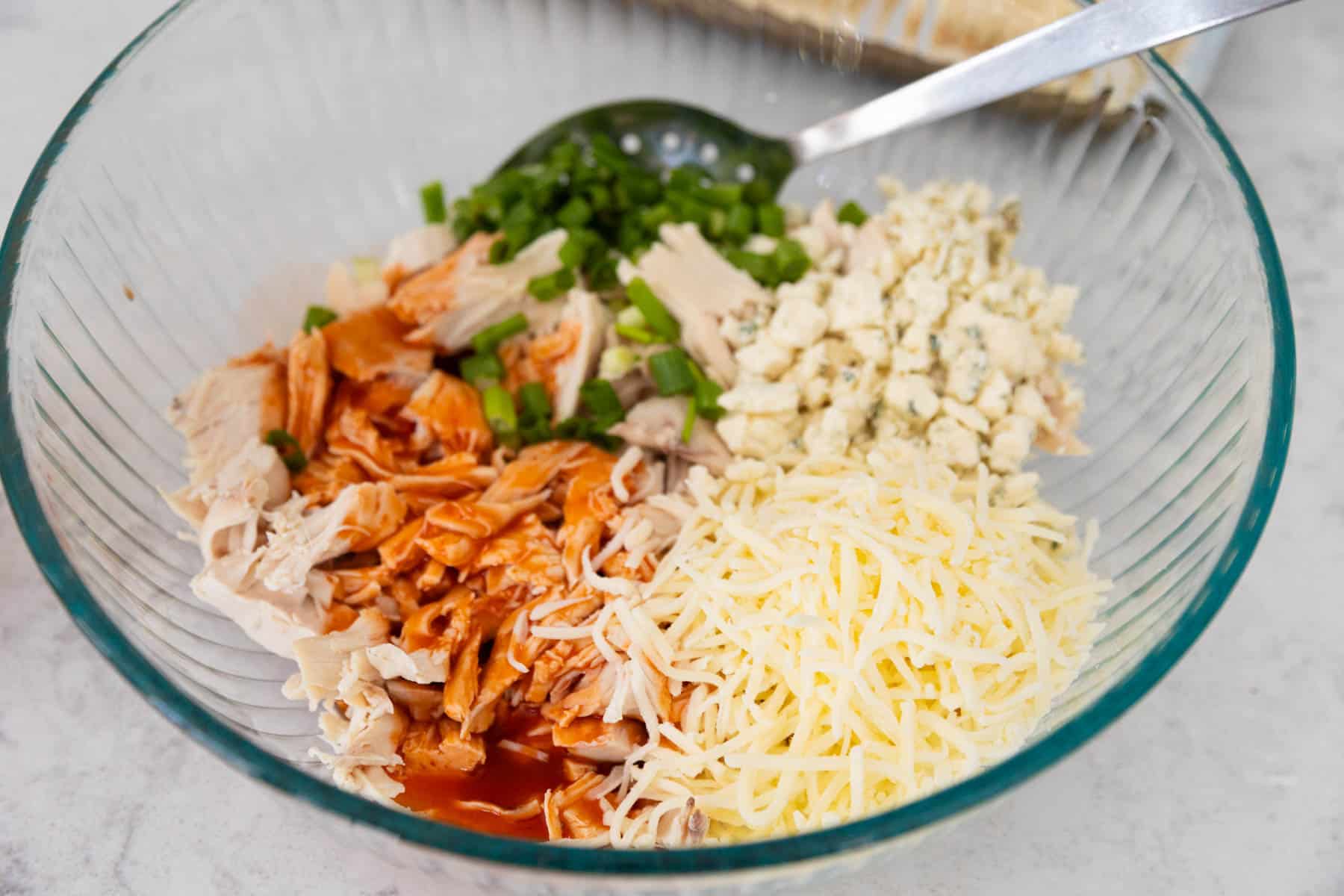 A Special Note on Hawaiian Buns
The price of Hawaiian buns has soared over the last year. I've found that they are much more affordable at Costco where I can also grab a rotisserie chicken for the filling.
I tested this recipe based on the 16-count package of Hawaiian rolls and a rotisserie chicken from Costco but wrote the recipe card for a 12-count package of buns since that is what is most commonly available at regular grocery stores.
If you end up with more chicken filling than will fit in the number of rolls you have, this chicken mixture keeps very well in the fridge for up to 5 days and can be used to make whole sandwiches on larger ciabatta rolls or hamburger buns for a quick lunch or dinner just like I did for these pesto chicken sandwiches. Or, you could even bake them open face like my crab melts.
I had just enough for a single sandwich left after making the sliders and loved having it as a sandwich a few days later.
Assemble the Sliders
Line a large baking pan with foil. Cut the Hawaiian buns in half like a mini burger bun but leave a connecting hinge piece so they open like a book.
Spoon the prepared chicken filling into the buns.
Melt the butter in the microwave and stir in the dry ranch seasoning.
Brush the tops of the sliders with the butter.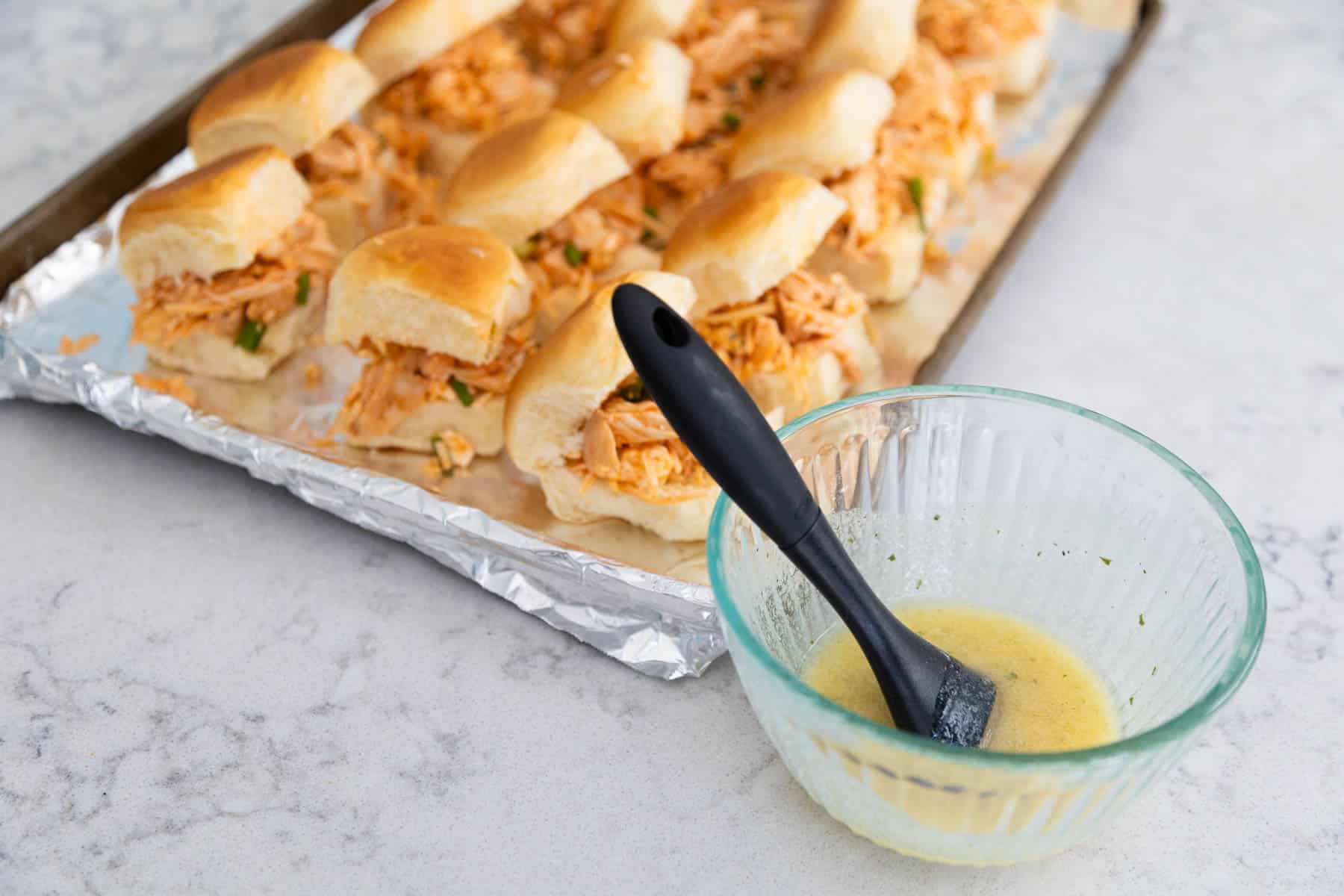 Baking Instructions
Preheat the oven to 375°F.
Bake the buffalo chicken sliders for 8 - 10 minutes or until the cheese has melted and the tops are golden brown.
You can always lightly cover the sliders with aluminum foil if they are browning too quickly and the cheese needs more time to melt.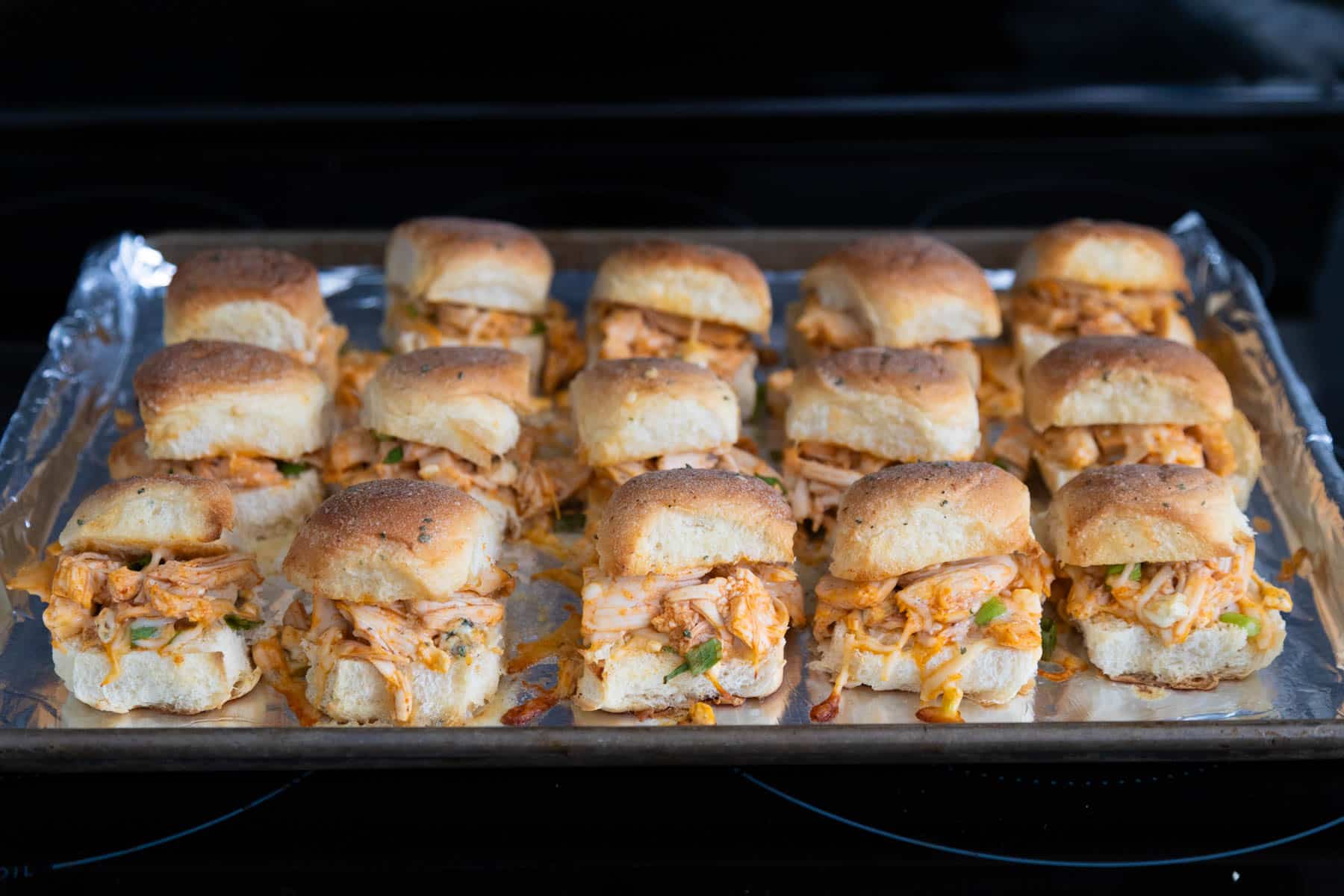 Variations
As much as I love this recipe as is, you have a few easy variations you could make:
Spicy Ranch Buffalo Chicken Sliders: Substitute a spicy ranch seasoning or add a pinch of cayenne or a drizzle of hot honey to the butter if you like things extra hot.
Cheddar Buffalo Chicken Sliders: Substitute a shredded cheddar for the mozzarella.
Blue Cheese Buffalo Chicken Sliders: I used a light hand with the blue cheese for my family but if you really love this ingredient, go ahead and double it!
Make Ahead Tips
If you want to serve this appetizer for a party and need to save some prep time, you can mix together the chicken filling up to 5 days in advance and store it in the fridge in an airtight container.
Then you can just slice the buns, fill them with filling, and bake before serving.
I wouldn't recommend filling the buns until you're about to bake the sliders because the bread could get soggy as it absorbs the juices from the buffalo sauce.
Alternatively, you could bake the sliders the day before and keep them in the fridge overnight.
Reheat them in the oven before serving. They don't taste quite as fresh as when they are first baked but if you're feeding a really big crowd and need all the time-saving tips you can get, this would be a solid option. Just be sure to cover them in foil so they don't over brown on the top.
Serving Suggestions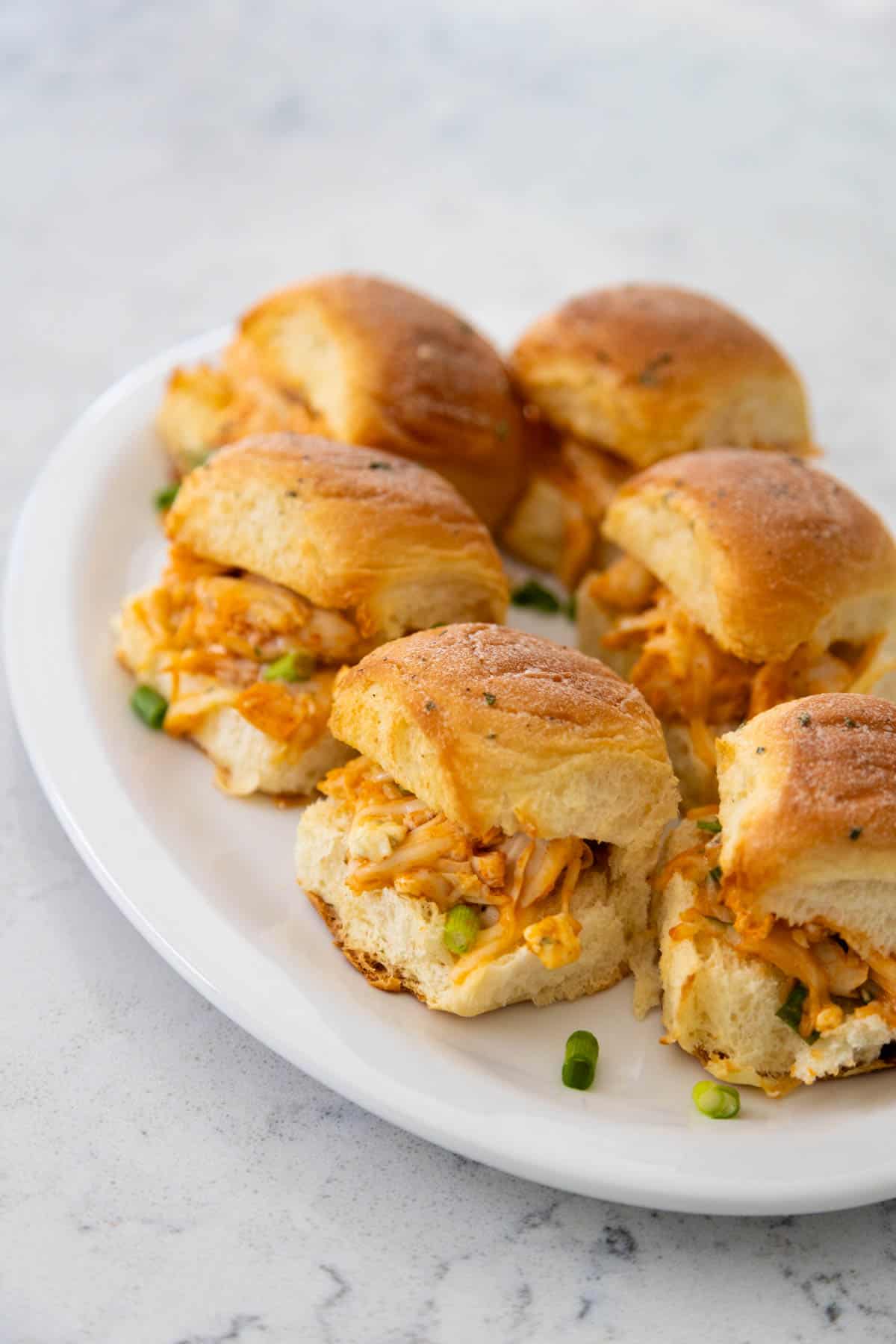 These ooey gooey buffalo chicken sliders make the perfect party snack for a football party or even a pre-Trick or Treat Halloween party.
You could make a batch when the family will be all together like on Christmas Eve or New Year's Eve or even family game night.
And honestly, we enjoyed the leftover sliders just as much the next day. They would be a neat surprise for the kids to find in a lunchbox or to pack for a picnic.
More Slider Recipes
If your family loves mini sandwiches as much as we do, you won't want to miss these other easy slider recipes:
📖 Recipe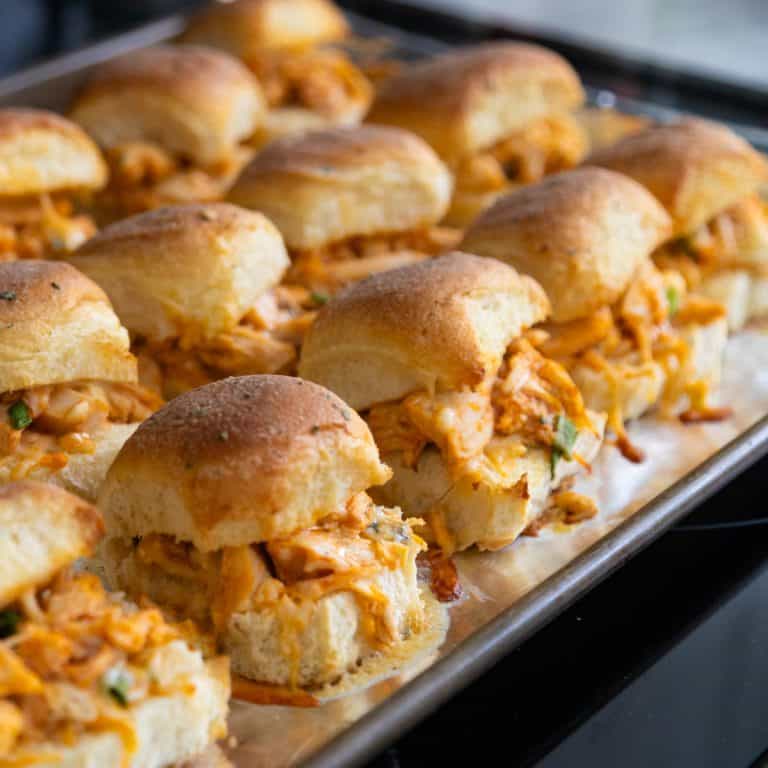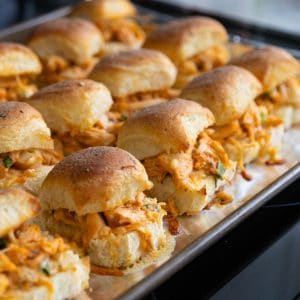 Buffalo Chicken Sliders
Bake a pan of easy buffalo chicken sliders as a fun party appetizer or a delicious family dinner. Shredded chicken mixed with spicy buffalo sauce has melted cheese and a hint of ranch all tucked in a sweet Hawaiian bun.
Ingredients
1

(12-count) package of Hawaiian buns

or other slider rolls

3

cups

shredded chicken

a rotisserie chicken works great for this

⅓

cup

buffalo sauce

homemade or store bought

1

cup

shredded mozzarella

3 - 4

green onions

chopped

¼

cup

blue cheese crumbles

4

tablespoon

butter

2

teaspoon

ranch seasoning
Instructions
Preheat the oven to 375°F. Line a large baking sheet with aluminum foil.

Slice the Hawaiian buns like a hamburger bun leaving a connecting piece so they open like a book. Line them up in neat rows on the baking sheet.

In a large mixing bowl, gently stir together the cooked chicken, buffalo sauce, shredded cheese, chopped green onions, and blue cheese crumbles. Spoon the mixture evenly into the prepared buns.

In a small microwave-safe mixing bowl, melt the butter in the microwave on HIGH. Stir in the ranch seasoning. Brush the butter mixture over the sliders.

Bake the chicken sliders for 10 minutes or until the cheese has melted and the tops are toasted.
Save This Recipe to Your Recipe Box
Find this delicious recipe next time you visit by saving it to your very own recipe box on my site. All your favorites stored in one easy place!