These easy chicken parm sliders start with frozen chicken tenders and a few simple ingredients to make delicious bite-sized sandwiches for a party appetizer or light family dinner. Crispy, buttery topped buns filled with breaded chicken and savory tomato sauce with melted cheese holding it all together. YUM!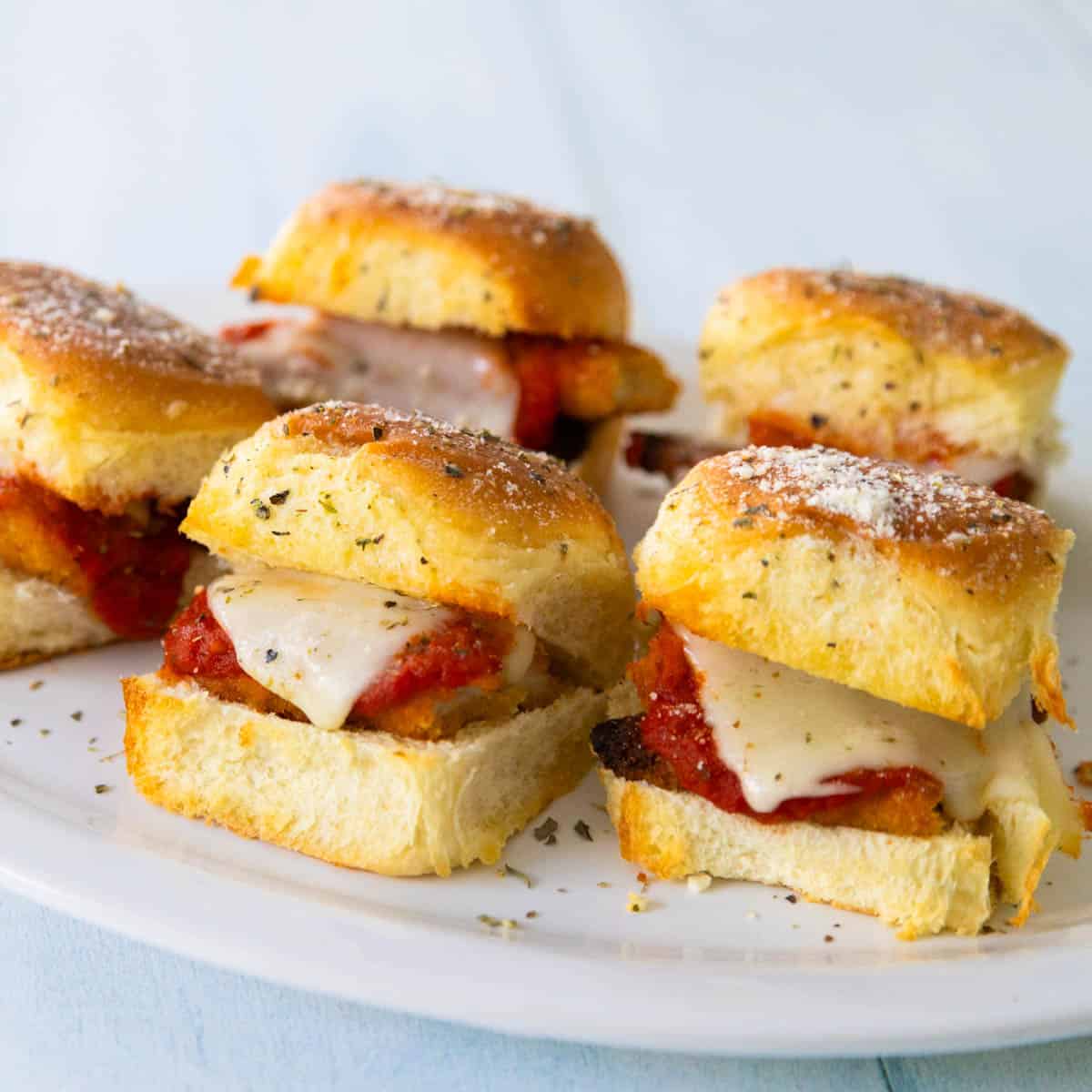 When it comes to football party food or movie night snacks, you just can't beat a hot pan of sliders coming out of the oven.
These delicious chicken parm sliders start with breaded chicken tenders and have all the same flavors as your favorite chicken parmesan dinner.
I served these over the weekend and they were a huge hit with my family. They'll for sure be making the rounds again as the holiday season approaches and we need something extra delicious for a family gathering.
Jump to:
Why This is the Best Recipe
My family gets so excited when I pull out a pan of baked sliders from the oven. I think this is the best chicken parm sliders recipe because:
Easy Ingredients: You start with frozen chicken tenders, everything else is pantry-friendly!
Quick Prep: Once the chicken is baked, the sliders only need 5 minutes to prep and 10 minutes to bake.
Super Tasty: We love my crispy baked chicken parmesan, but this recipe has all the same flavors in a bite-sized sandwich!
Ingredients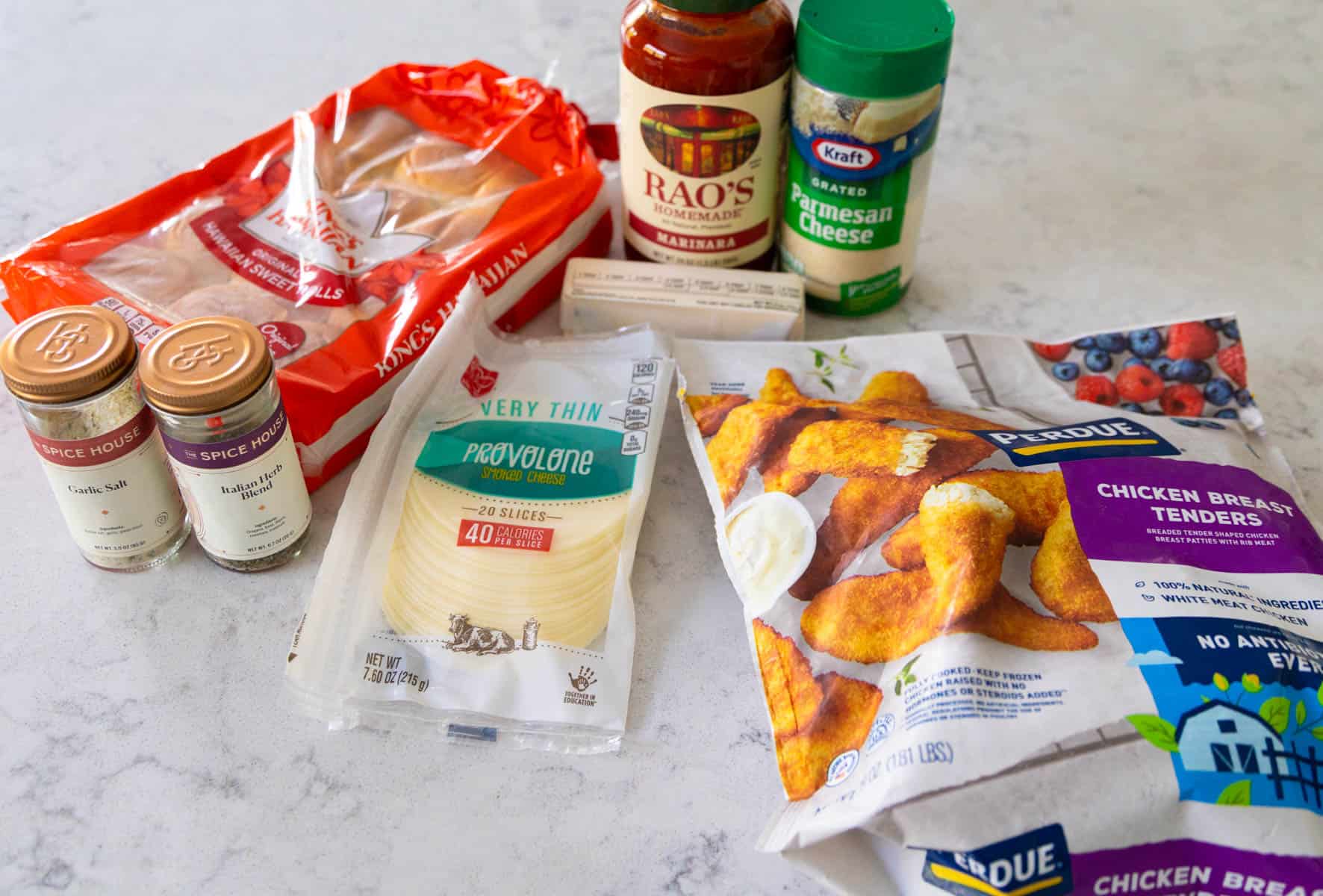 You're going to just love how easy this recipe is to make, look at the short list of ingredients you'll need:
Frozen Chicken Tenders: You can use breaded chicken or grilled chicken tenders, either one will great. You could even use chicken nuggets if you prefer. I just liked that the chicken tenders are more flat than a nugget, they fit a little better in the buns.
Hawaiian Rolls: These are my favorite pick for sliders but you can use any small dinner roll you love.
Jarred Tomato Sauce: I used a jarred marinara sauce but arrabiata sauce or caramelized onion tomato or even just a simple tomato basil sauce would work, too. You could even use canned tomato sauce and make my simple 1-minute marinara pizza sauce recipe if you want.
Sliced Cheese: We love sliced provolone because it has so much flavor and it melts perfectly. You could use sliced mozzarella if you prefer.
Butter
Grated Parmesan
Italian Herb Blend
Garlic Salt
Bake the Chicken
The first step is to just bake the frozen chicken according to the package directions.
I baked mine on a baking pan in the oven since the temperature required was very close to what I needed for the final sliders. It was a nice way to get the oven preheated and ready to go.
You could also pop them in the air fryer if you prefer.
Assemble the Sliders
Once the chicken is cooked, you're ready to go.
Line a baking pan with aluminum foil. Slice the slider buns like a hamburger bun but leave a small connecting piece so they open like a book.
Line them up on the pan in neat rows.
Cut each chicken tender in half and layer it inside the bun.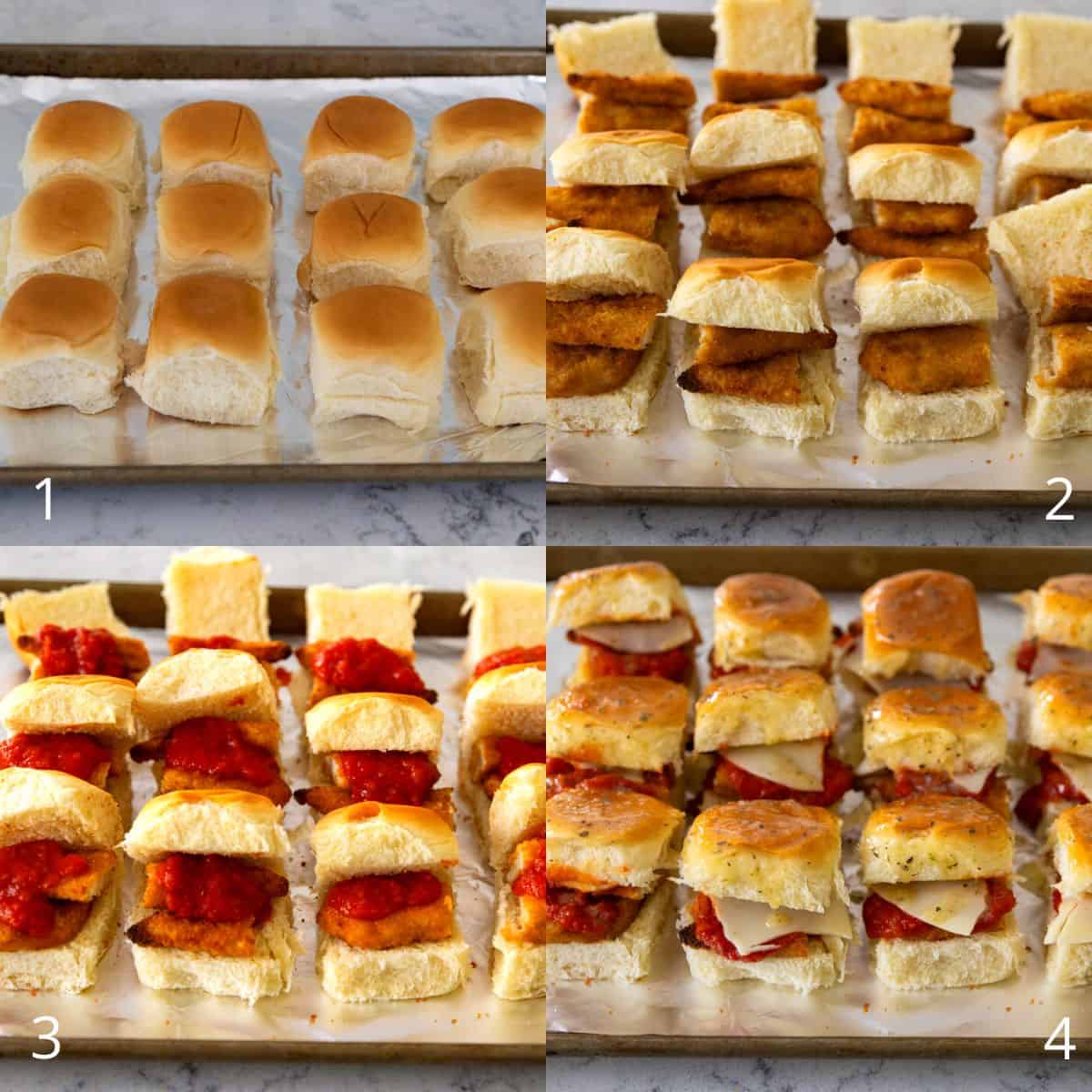 Top the chicken with a spoonful of tomato sauce and then ¼ piece of the slice of cheese.
We think this is the perfect amount of cheese but if you're a total cheese-lover, you could use more if you like.
Melt the butter in the microwave and stir in the Italian herb seasoning and garlic salt.
Shut each sandwich closed and then brush the tops with the melted butter.
Baking Instructions
Preheat the oven to 375°F.
Bake the chicken parm sliders for 10 minutes or until the buns are toasted and the cheese has melted.
Sprinkle with the grated parmesan cheese and serve immediately.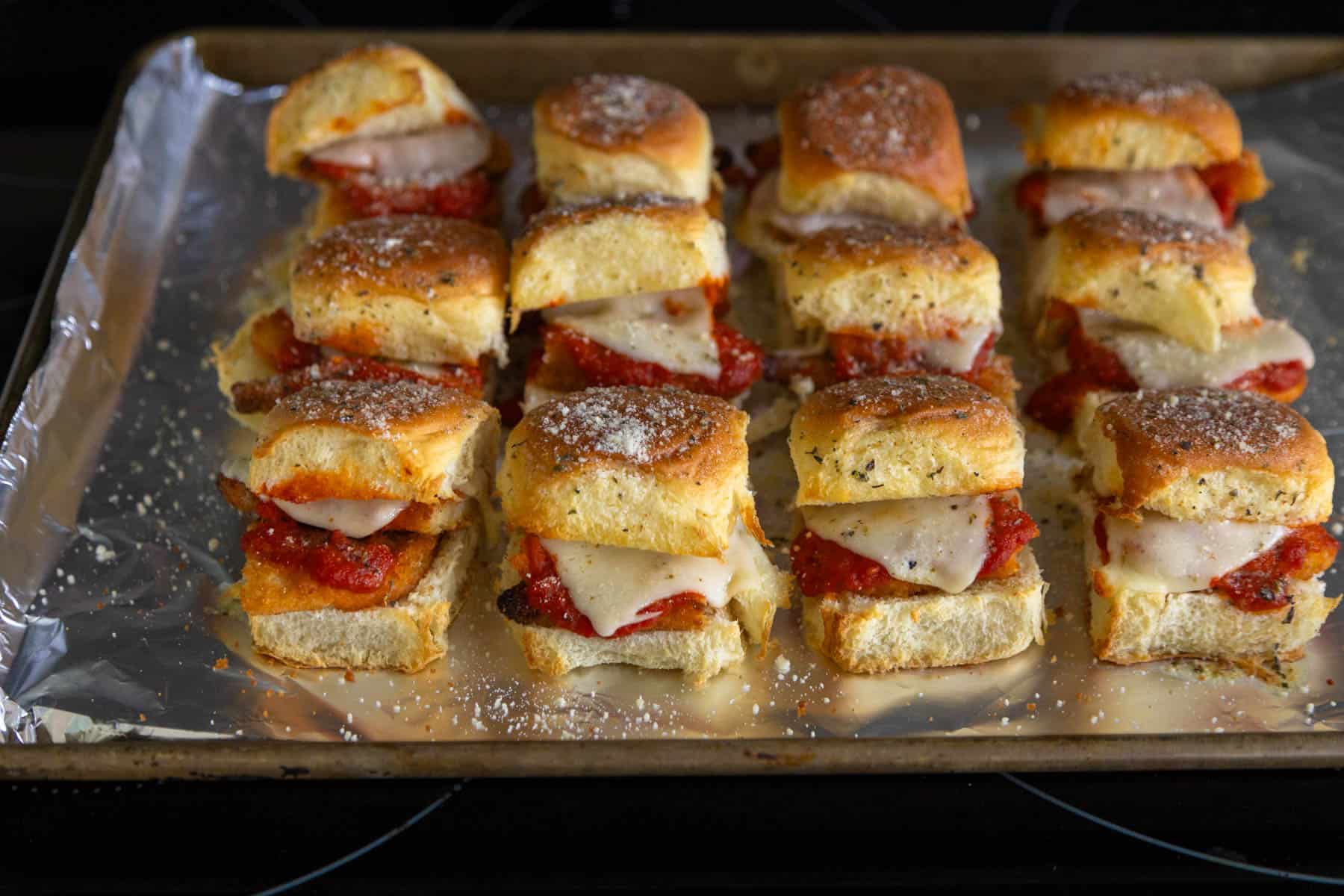 NOTE: Watch the buns, they can burn quickly. I nearly over toasted mine but those crispy golden brown edges were super delicious. One moment more and they would have burned.
If you need more time for the filling to warm through but the buns are getting too dark, you can loosely cover the pan with aluminum foil to finish baking.
Variations
I think these chicken parm sliders are nearly perfect just as is but there are a few ways you could make fun variations:
Spicy Chicken Parm Sliders: Use arrabiata sauce or add crushed red pepper flakes to the marinara.
Chicken Parm Sliders with Roasted Red Peppers: You could add chopped up roasted red peppers to the tomato sauce for more flavor.
Turkey Parm Sliders: You could use leftover slices of your holiday turkey instead of breaded chicken. This would be a great Thanksgiving leftovers idea.
Full Sized Chicken Parm Sandwich: Use leftover baked chicken parmesan and full-sized hamburger buns to make a dinner-sized version of this recipe. If you use just a regular fried chicken patty, you'll want to use more tomato sauce and a full slice of cheese for each sandwich.
Meatball Parm Sliders: You can make a slider sized version of my baked meatball subs using the Hawaiian buns and melted butter in the recipe card. This would work great with either frozen meatballs or my from scratch Italian meatballs!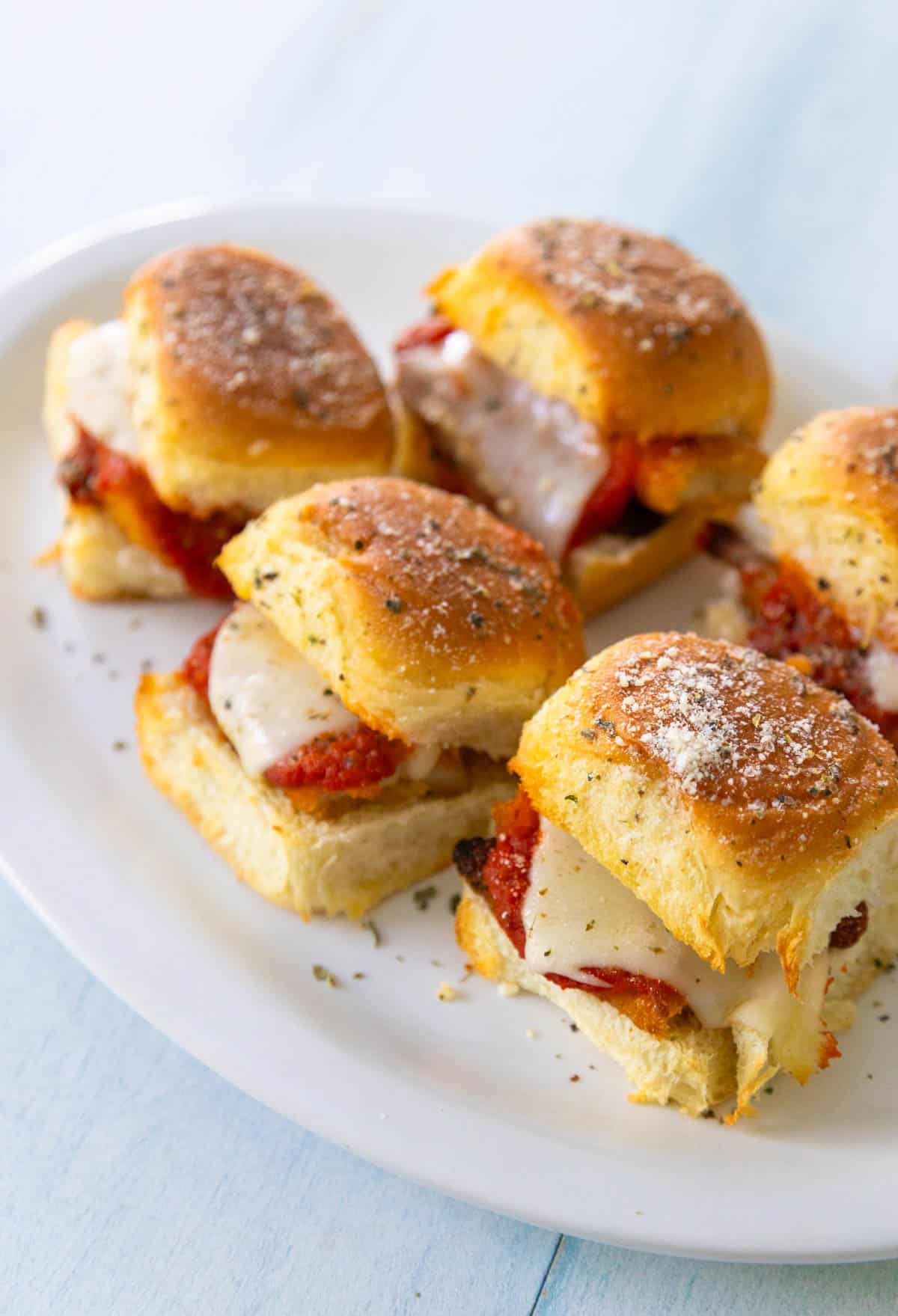 Serving Suggestions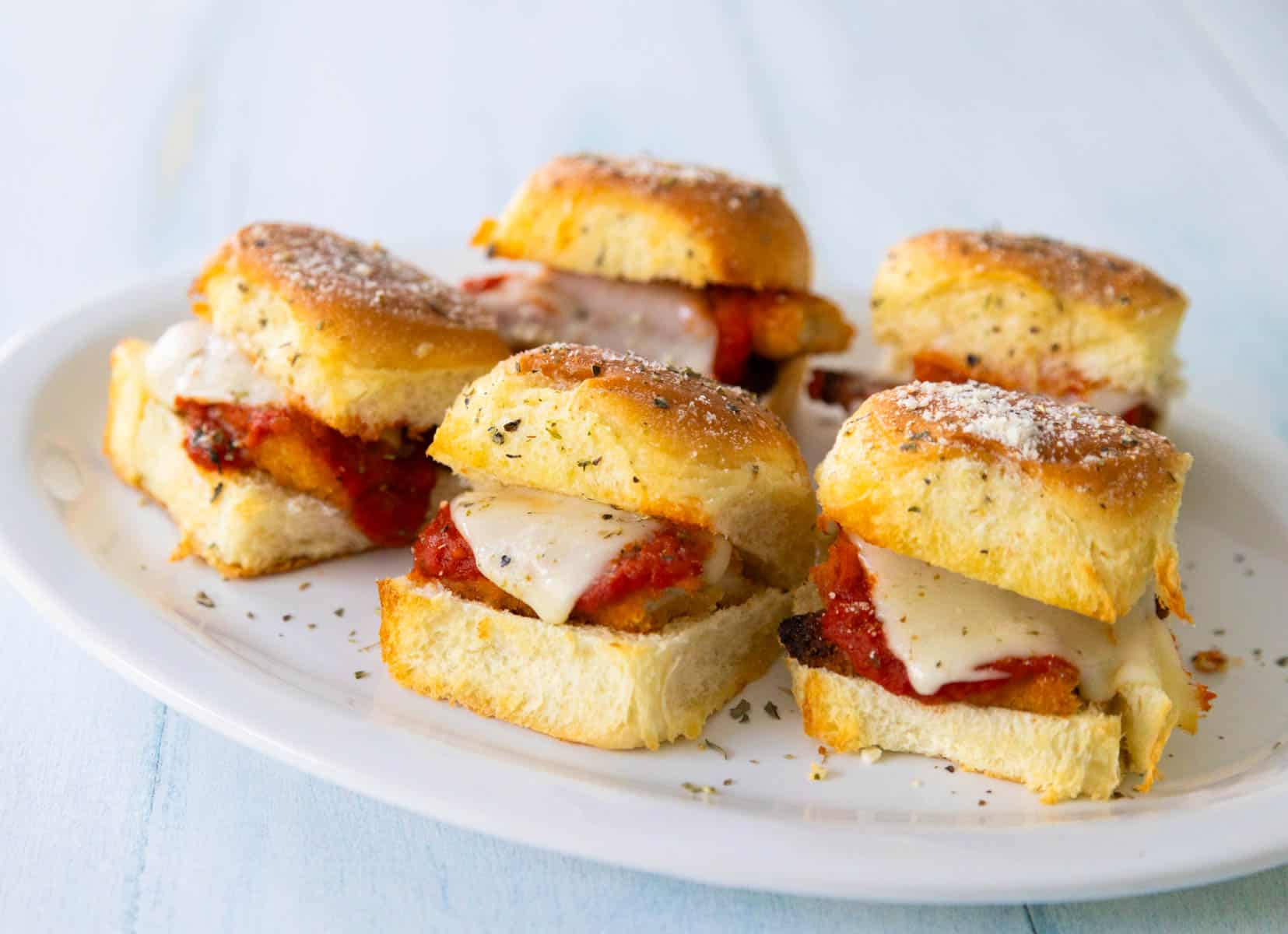 These easy chicken parm sliders are such a fun party appetizer or light dinner with other fun munchies. They'd be a great family movie party or game night snack.
You could serve them for a football party, an easy Father's Day dinner, or even for a stay at home New Year's Eve party.
What to Serve with Chicken Sliders
To fill out your party menu or dinner sides, you could pair a raw veggie platter with my homemade dill dip or even a caprese salad platter.
My cheese tortelloni with pesto could be served as a party snack if you set out a container of food picks for people to enjoy nibbling just a bite or two.
More Slider Recipes
If you love baking pans of sliders like I do, you'll also love these delicious and easy slider recipes:
📖 Recipe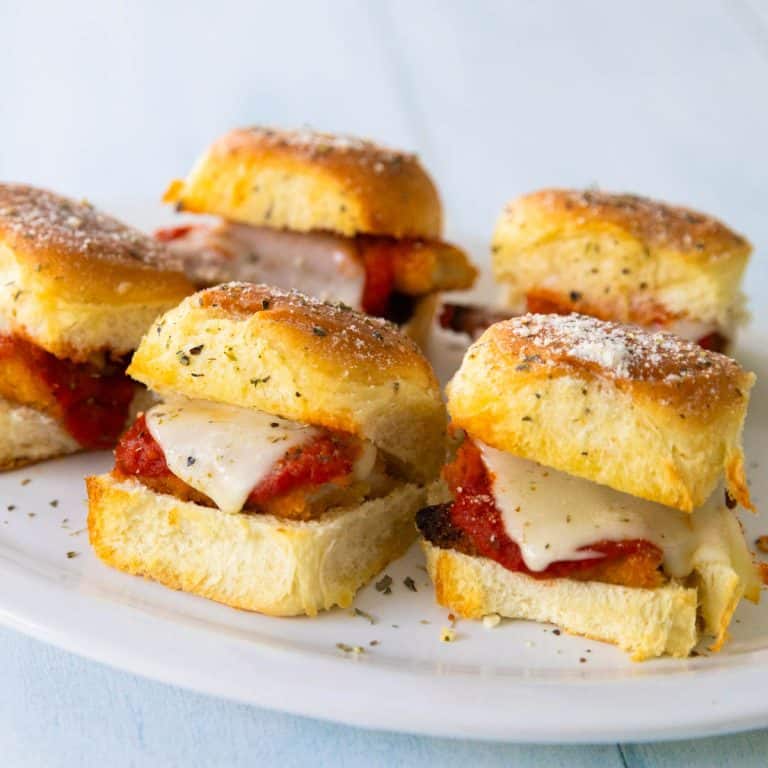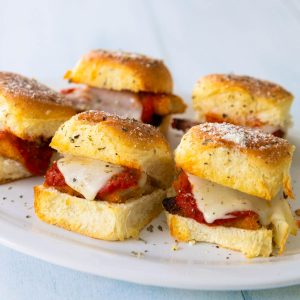 Chicken Parm Sliders
Easy baked chicken parm sliders use frozen chicken tenders and slider buns to make a delicious party sandwich that tastes just like your favorite Italian restaurant entree. The recipe makes enough for 6 appetizer servings or 3 - 4 heartier portions.
Ingredients
12

frozen breaded chicken tenders or 24 frozen chicken nuggets

baked according to package directions

1

(12 count) package Hawaiian slider buns

4

tablespoon

butter

1

teaspoon

dried Italian herb blend

½

teaspoon

garlic salt

1

cup

marinara sauce

3

slices

provolone cheese

2

tablespoon

grated parmesan cheese
Instructions
Bake the frozen chicken tenders according to the directions on the package. They can be baking while you prepare the buns. When the chicken finishes, adjust your oven temperature to 375°F.

Line a large baking sheet with aluminum foil. Slice the Hawaiian buns in half like a hamburger bun leaving a connecting piece so they open like a book. Line the buns up on the baking sheet.

Melt the butter in a microwave safe bowl in the microwave on HIGH. Stir in the Italian herb blend and garlic salt.

When the chicken is finished baking, add one tender to each slider bun. You may want to cut them in half to nestle more chicken into each bun and avoid having the tips hang out the sides.

Top the chicken with a spoonful of marinara sauce and ¼ piece of a provolone cheese slice and close each sandwich.

Brush the tops of the sliders with the melted butter mixture.

Bake the pan of sliders for 10 minutes or until the cheese has melted and the tops are toasted. Sprinkle the grated parmesan over the top and serve immediately.
Recipe Notes
Baked Chicken Parmesan Sandwich Variation:
You can make a dinner-sized version of this party sandwich by using leftover baked chicken parmesan or frozen breaded chicken patties.
Use a hamburger bun sized roll and one chicken parmesan patty, brush with the melted butter and bake as directed.
If you use a frozen chicken patty, you'll need to first bake it according to package directions. Then layer it with tomato sauce and a full slice of provolone. Then finish the chicken parm slider recipe as directed.
Save This Recipe to Your Recipe Box
Find this delicious recipe next time you visit by saving it to your very own recipe box on my site. All your favorites stored in one easy place!