Easy baked chicken parmesan is a perfect make-ahead holiday dinner. Assemble the chicken early and bake it fresh before serving.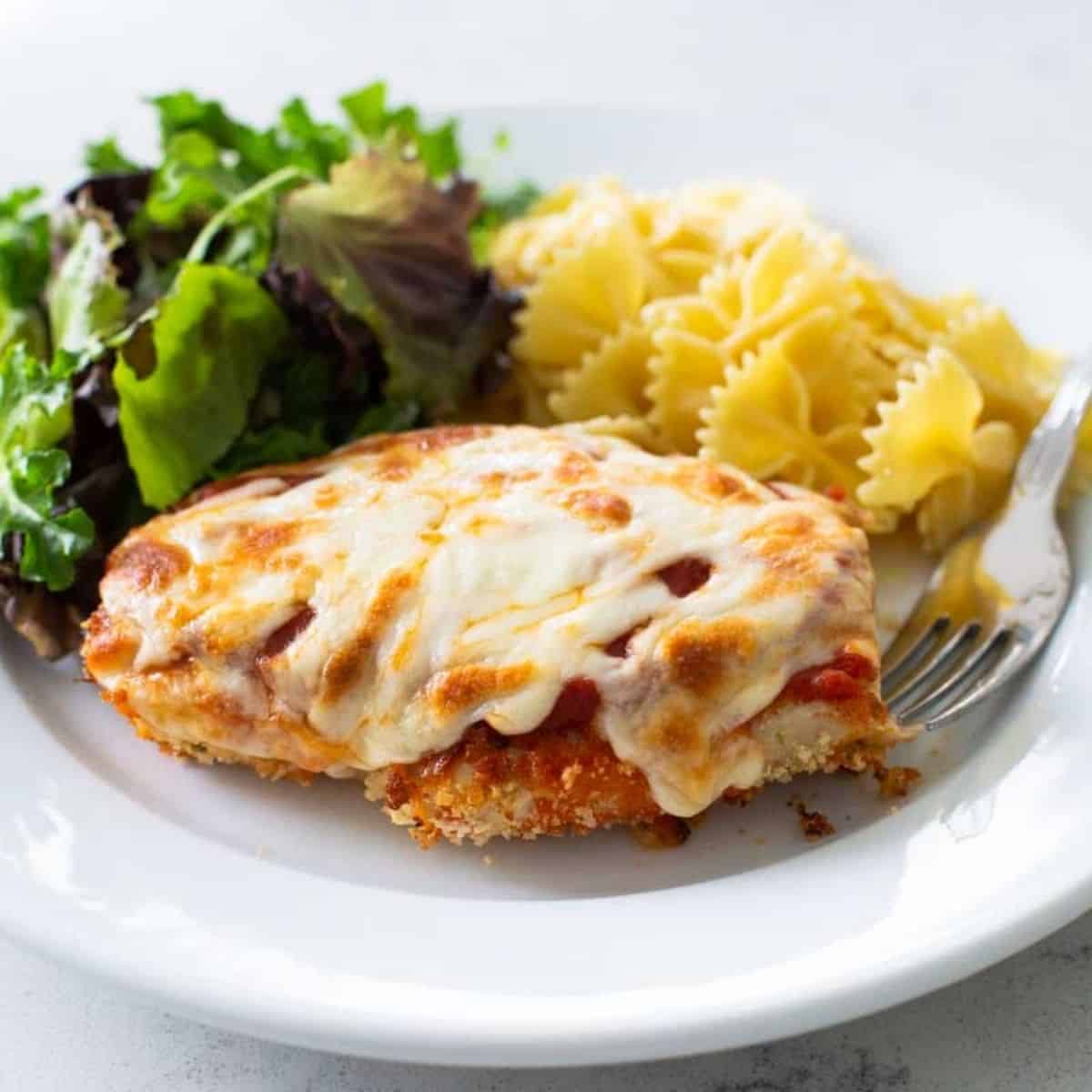 One of the things we've missed most this year is our favorite local Italian restaurant that has remained closed since March. They make the BEST chicken parmesan I've had in ages and we were craving it so hard.
What makes chicken parm so delicious is a super-crispy coating. I can't stand it when it is mushy or soft. The bread coating needs to be crunchy and the chicken moist and juicy, with just the right ratio of cheese to sauce.
With demanding criteria like this, it's no wonder there are so few restaurants that serve it the way we like. We had no choice but to attempt to make it at home.
However, I suspect our favorite restaurant fries their chicken parmesan to get that crunch and I definitely didn't want to do it at home. The challenge became: How do I make a baked chicken parmesan that is still crunchy??
We nailed it and the whole family swooned. This is actually a great assemble-ahead dinner to serve for the holiday, so be sure to check out all the prep tips to ensure it comes out perfectly crispy for you, too.
How to Make Crispy Baked Chicken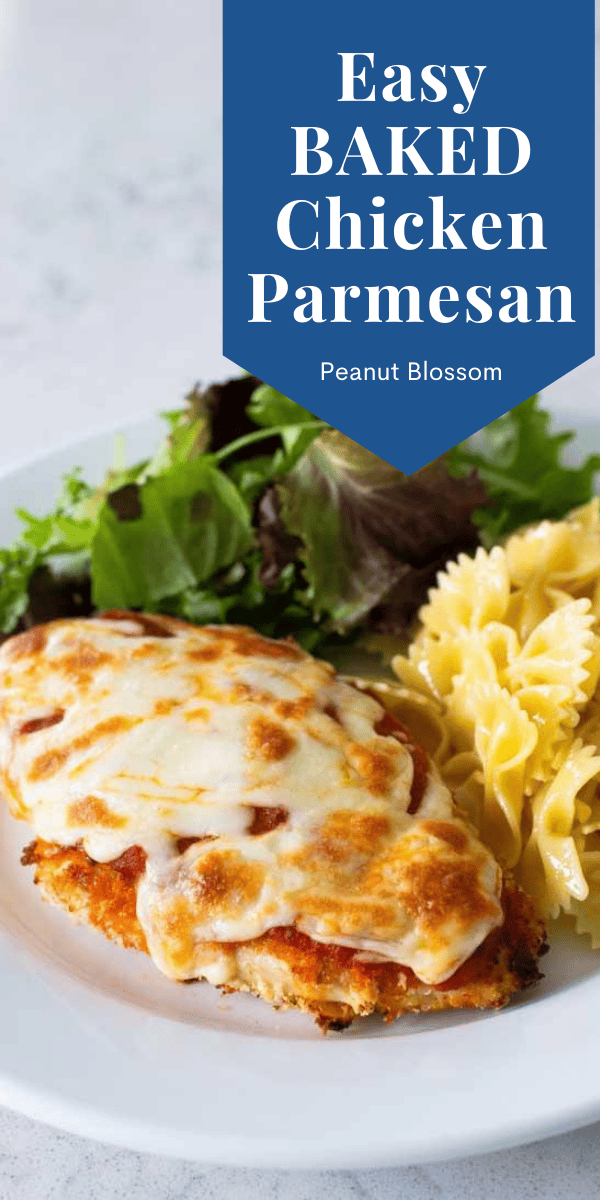 Step 1: Get your oven super hot
Preheat the oven to 425 degrees. This higher temp will help add crunch to the breadcrumb coating.
Step 2: Pound your chicken thin and even
Regular boneless, skinless chicken breasts often have a really thick end and a thinner end. This makes chicken especially difficult to bake evenly.
By the time the thick end is done through, the thin end is overcooked.
Add your chicken breasts to a plastic ziptop bag and use a meat mallet or rolling pin to pound them to an even thickness.
We like to go one step further and pound them out much more thinly. They cook faster and you end up with a higher chicken-to-breadcrumb ratio which we love.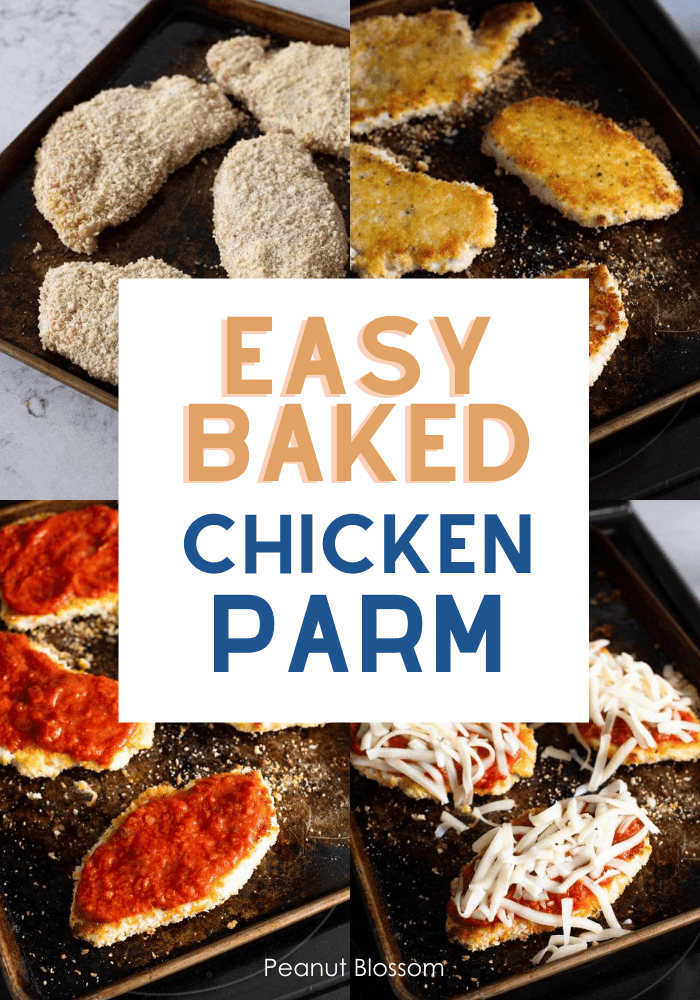 Step 3: Coat your baking pan with oil
While we aren't "frying" our chicken, the oil-coated baking pan gives a very similar affect to the baked chicken parmesan. The oil helps to crisp up the underside of the chicken as it cooks.
This is where most baked breaded chicken recipes go wrong -- without the high heat and extra oil, the underside of the chicken is often mushy while the top gets nice and crispy.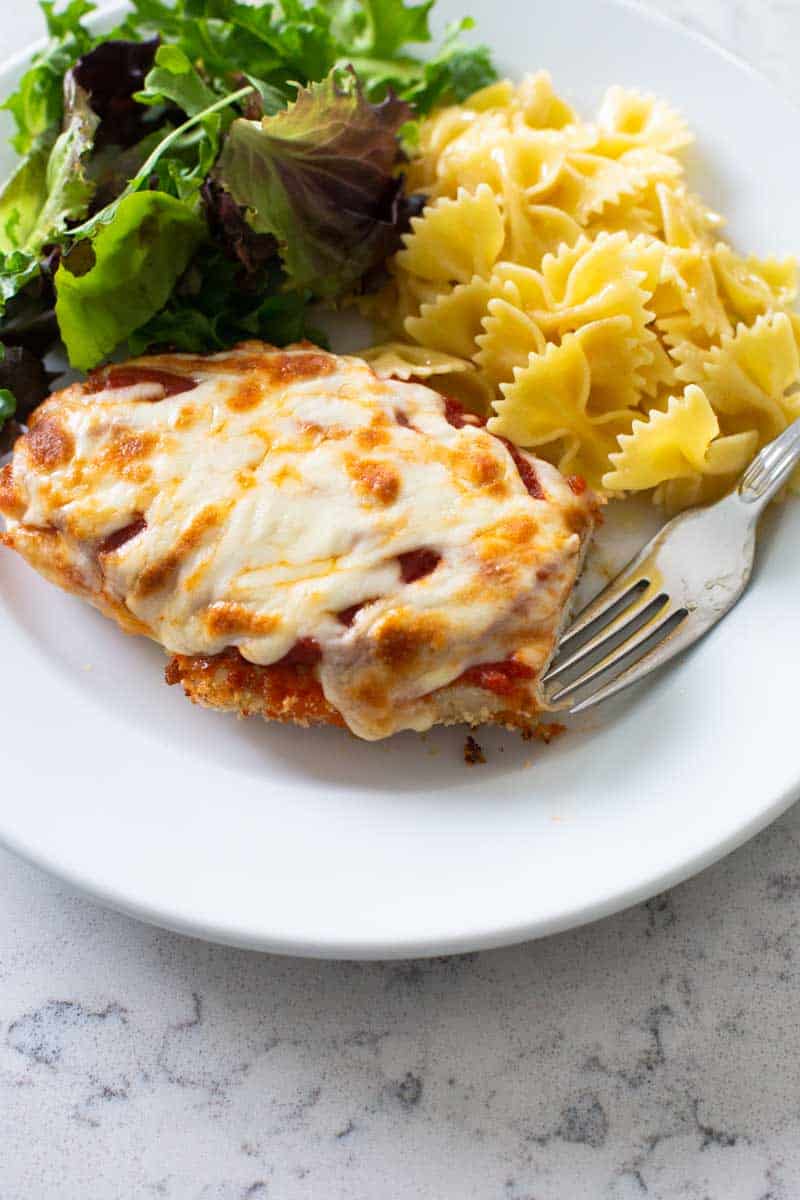 Step 4: Coat the chicken in egg and breadcrumbs
To give the chicken parm extra flavor, I mixed the breadcrumbs with seasonings and a little grated parmesan cheese. You can add whatever Italian spice blend your family prefers. If you like it a little spicy, some crushed red pepperflakes would be awesome.
In a separate dish, whisk an egg until lightly beaten.
Dip each chicken first into the egg, then into the breadcrumb mixture and place on your prepared oiled pan.
Step 5: Bake the chicken parmesan
In order to have the crispiest chicken parmesan ever, flip the chicken over halfway through baking. This allows the oiled pan to work on both sides of the chicken and get it crispy all over.
Once it has been flipped, add the tomato sauce and cheese to finish the dish.
Make-Ahead Tips
This recipe is a lot easier than the steps may make it seem. The most putzy steps are pounding the chicken and finishing the breadcrumb coating.
If you'd like to prepare the chicken ahead of time, follow these tips for perfectly crunchy chicken:
Pound the chicken.
Assemble the breadcrumb topping and coat each chicken breast.
Simply store the prepared chicken on a plain pan (not oiled) in a single layer. Don't stack the chicken or the breadcrumbs will stick to one another and come off the chicken. Keep covered with foil or plastic wrap in your fridge until ready to bake, up to 24 hours.
IMPORTANT: To avoid mushy breadcrumbs it is essential that you transfer the chicken from the cold storage pan to a room-temperature baking sheet before putting it into the oven. The chilled pan will steam the underside of the chicken as it warms up. An oiled room-temperature pan will keep it crispy as intended.