Easy baked chicken parmesan is a perfect make ahead recipe. Assemble the breaded chicken breasts early and then bake them fresh before serving with tomato sauce and melted mozzarella cheese.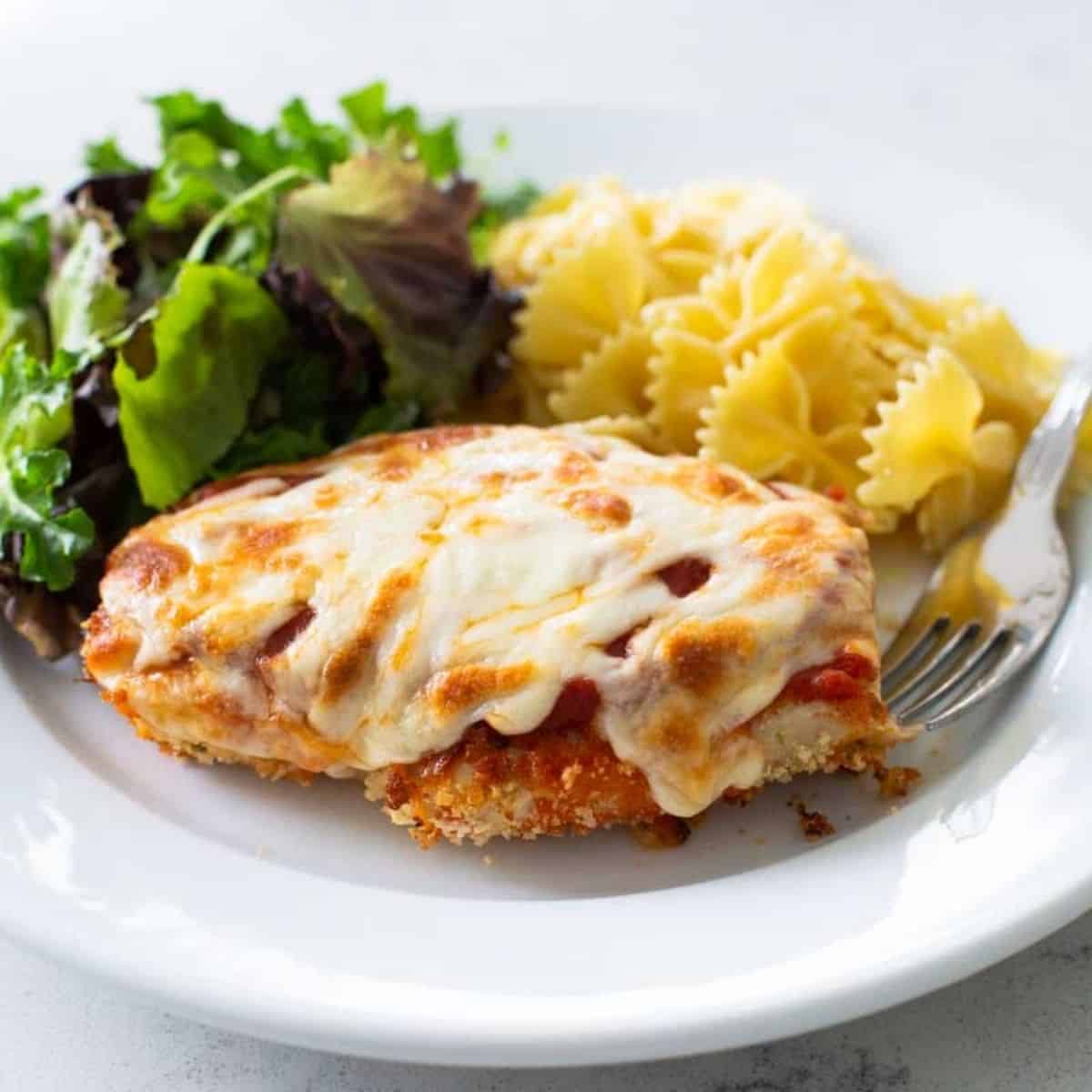 One of the things we've missed most this year is our favorite local Italian restaurant that has remained closed since March. They make the BEST chicken parmesan I've had in ages and we were craving it so much.
What makes chicken parmesan so delicious is a super-crispy breadcrumb coating.
I can't stand it when the breadcrumbs are mushy. I think the bread coating needs to be crunchy and the chicken moist and juicy with just the right ratio of cheese to tomato sauce.
The challenge for a home cook is to make baked chicken parmesan with a crispy breadcrumb coating right in a regular oven.
I have the best make ahead prep tips that will help ensure your chicken parmesan has the BEST crispy coating ever.
This is actually a great assemble-ahead dinner to serve for a holiday meal, so be sure to check out all the prep tips to ensure it comes out perfectly crispy for you, too.
Jump to:
Why This is the Best Recipe
We make a lot of chicken breast recipes in our home but I think this is the best chicken parmesan recipe because:
Crispy Breadcrumb Coating: Follow my easy tips and you'll have perfectly crispy chicken.
Make Ahead Recipe: You can prep the chicken up to 24 hours in advance.
Tender Chicken: The meat will stay tender and juicy and bake perfectly.
Leftovers Heat Well: Don't miss my tips for heating up your leftovers so they stay crispy, too.
Ingredients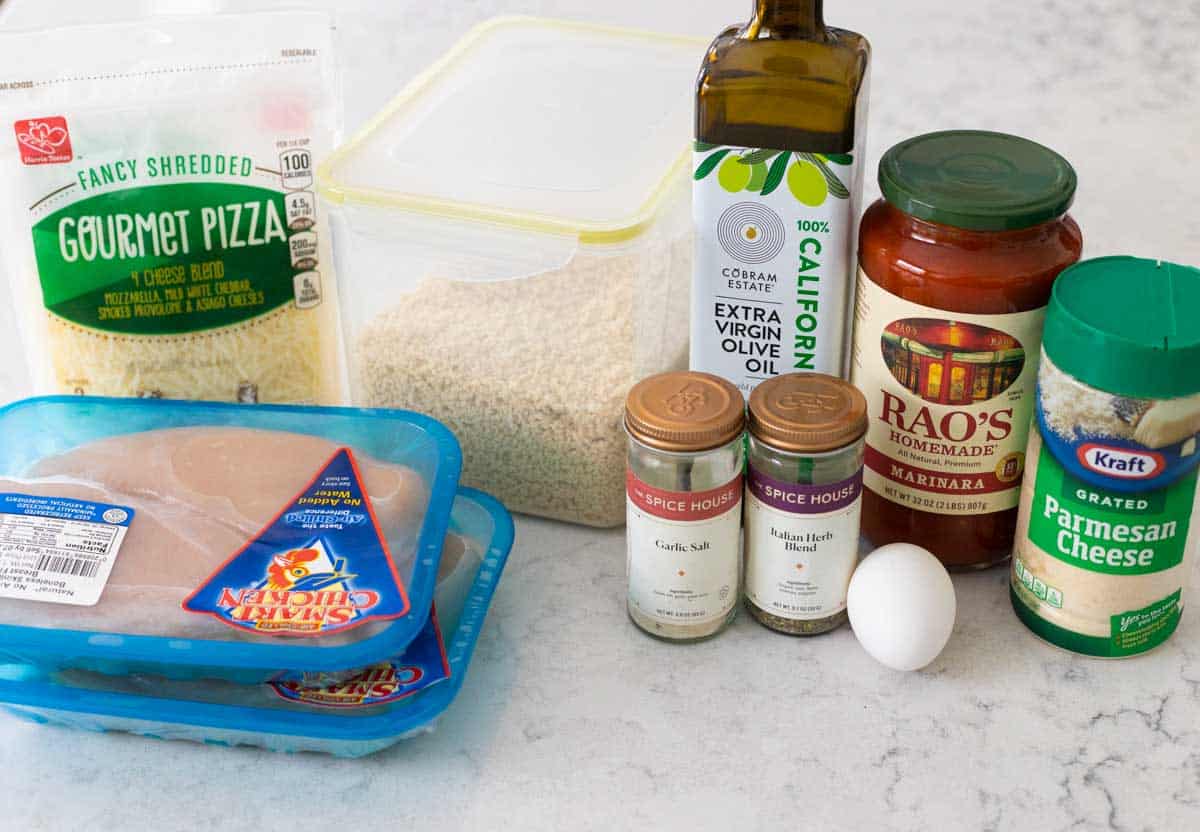 Most of the easy ingredients you need to make this recipe can be found right in your pantry. All you'll need is:
Chicken Breasts: I use boneless, skinless chicken breasts for this recipe. You could use chicken tenderloins if you want to make parmesan chicken tenders, but to mimic your favorite restaurant dish you'll need chicken breasts.
Panko Bread Crumbs: Panko crumbs bake up crispier than regular Italian-style bread crumbs. I strongly recommend them but you could use whatever you prefer.
Grated Parmesan Cheese
Egg
Jarred Marinara Sauce: You can use any tomato sauce you prefer. If you want to use canned tomato sauce, I recommend my easy marinara pizza sauce recipe. It takes just a minute to stir together.
Shredded Mozzarella Cheese: Sometimes I grab a bag of Italian cheese blend or Pizza cheese blend. They offer mozzarella, parmesan, and sometimes provolone which helps improve the melting factor of the cheese. Any of these options will work.
Garlic Salt
Dried Oregano: If you don't have just oregano in your pantry, you could also use an Italian herb blend which usually has oregano in it.
Kosher Salt
Pound the Chicken Breasts
Regular boneless, skinless chicken breasts often have a really thick end and a thinner end. This makes chicken especially difficult to bake evenly.
By the time the thick end is done through, the thin end is overcooked.
With the price of chicken going up these days, I wanted to stretch the meal a little farther. I decided to cut the breasts in half before pounding them.
This doubled the number of pieces of baked chicken parmesan so I could stretch it across two meals for my family.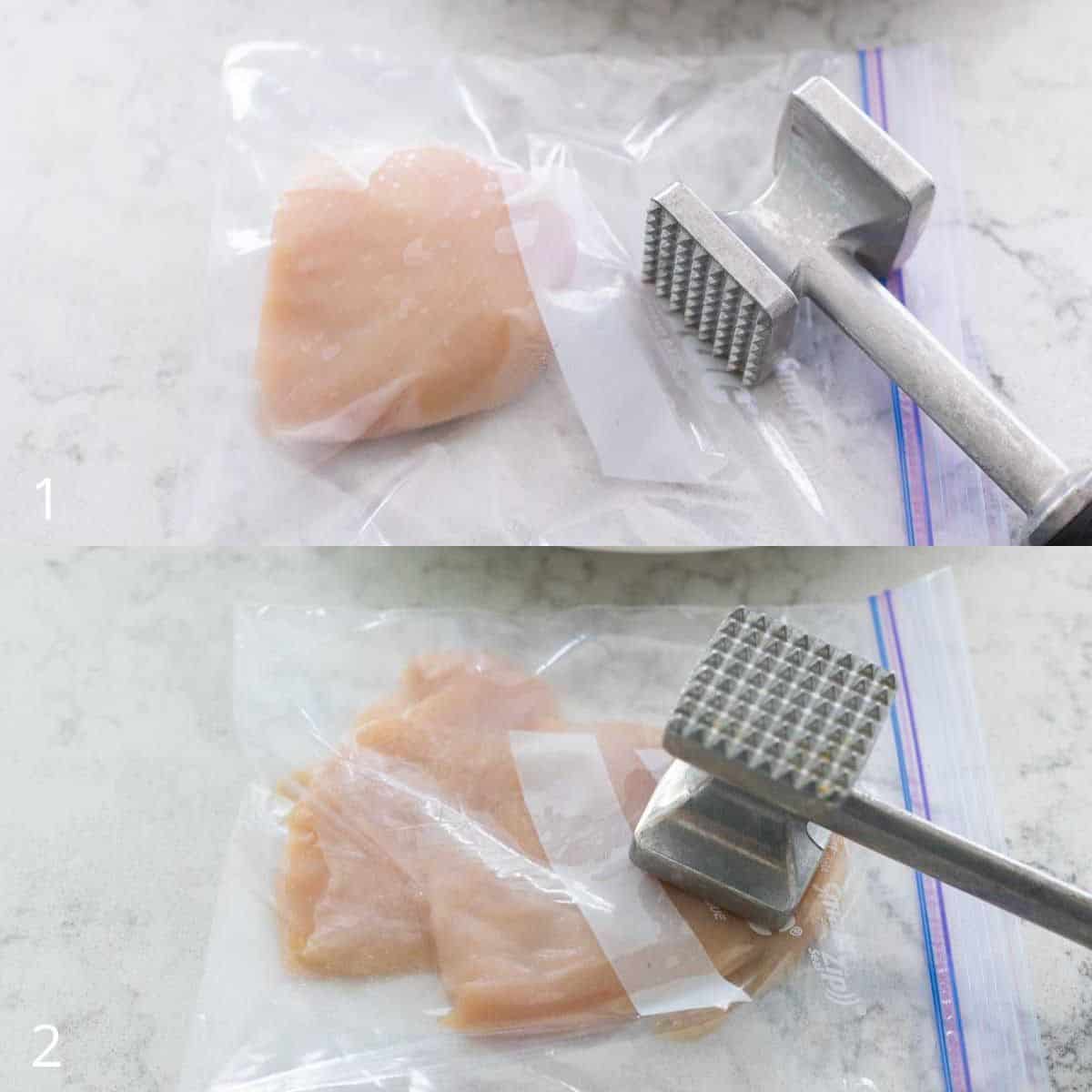 Add your chicken breasts to a plastic ziptop bag and use a meat mallet or rolling pin to pound them to an even thickness, about ½-inch thick.
The thinner pieces of chicken will cook faster and you end up with a higher chicken-to-breadcrumb ratio which we love.
Prep the Bread Crumb Coating
To give the chicken parm extra flavor, I mixed the breadcrumbs with seasonings and a little grated parmesan cheese.
You can add whatever Italian spice blend your family prefers. If you like it a little spicy, some crushed red pepper flakes would be awesome.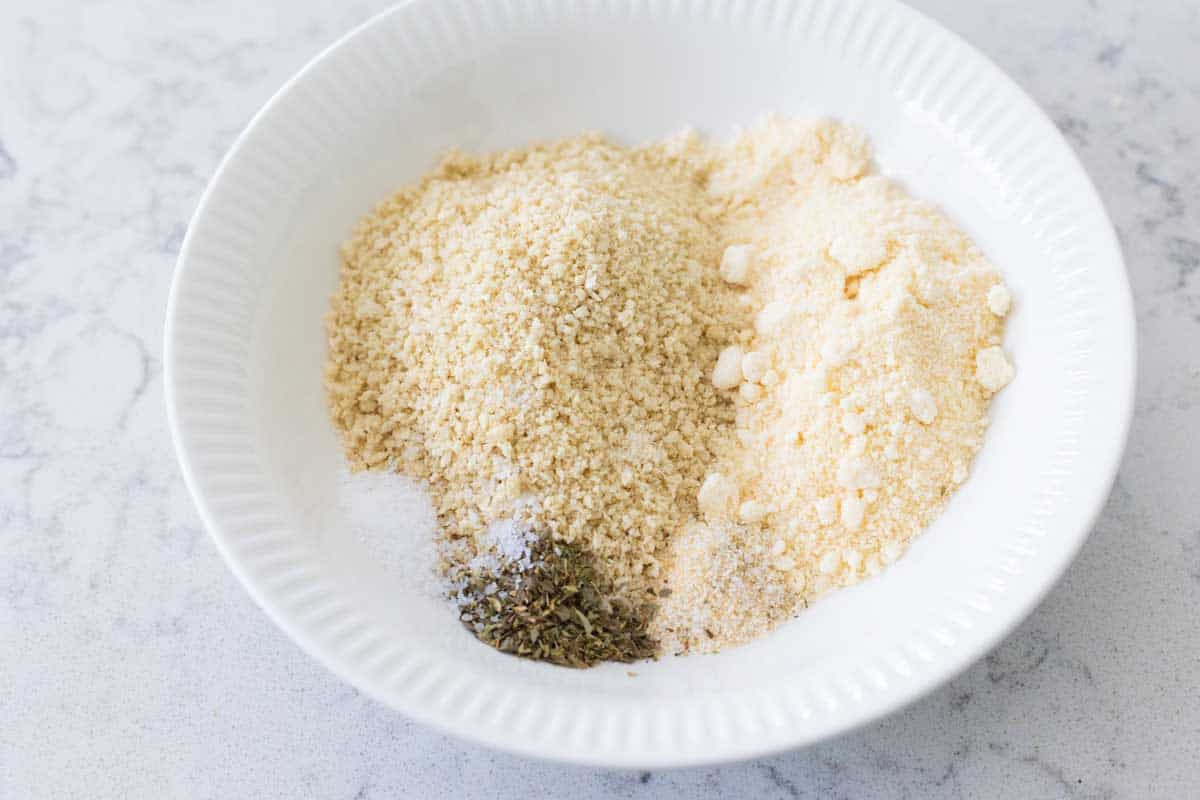 Assembly Line Prep
Before you assemble your breaded chicken, you need to decide whether you are baking the chicken right now or if you are making it ahead for later.
Baking Right Now: Pour olive oil onto your baking sheet and use a pastry brush to coat the pan. This is where you'll place your assembled chicken before putting immediately into the oven.
Prepping Ahead for Later: Do NOT oil the baking sheet yet. You can prep the chicken and store it in a single layer on clean plates or a large cookie sheet. You'll need to transfer it to a room-temperature baking sheet before baking, see my Make Ahead notes below for more instructions.
Set a baking pan out to collect your chicken once it is prepped.
Whisk an egg until lightly beaten in a separate bowl.
Then, set up your assembly station to make the final prep go easily. I pounded each chicken breast piece as I worked but you could do that step first.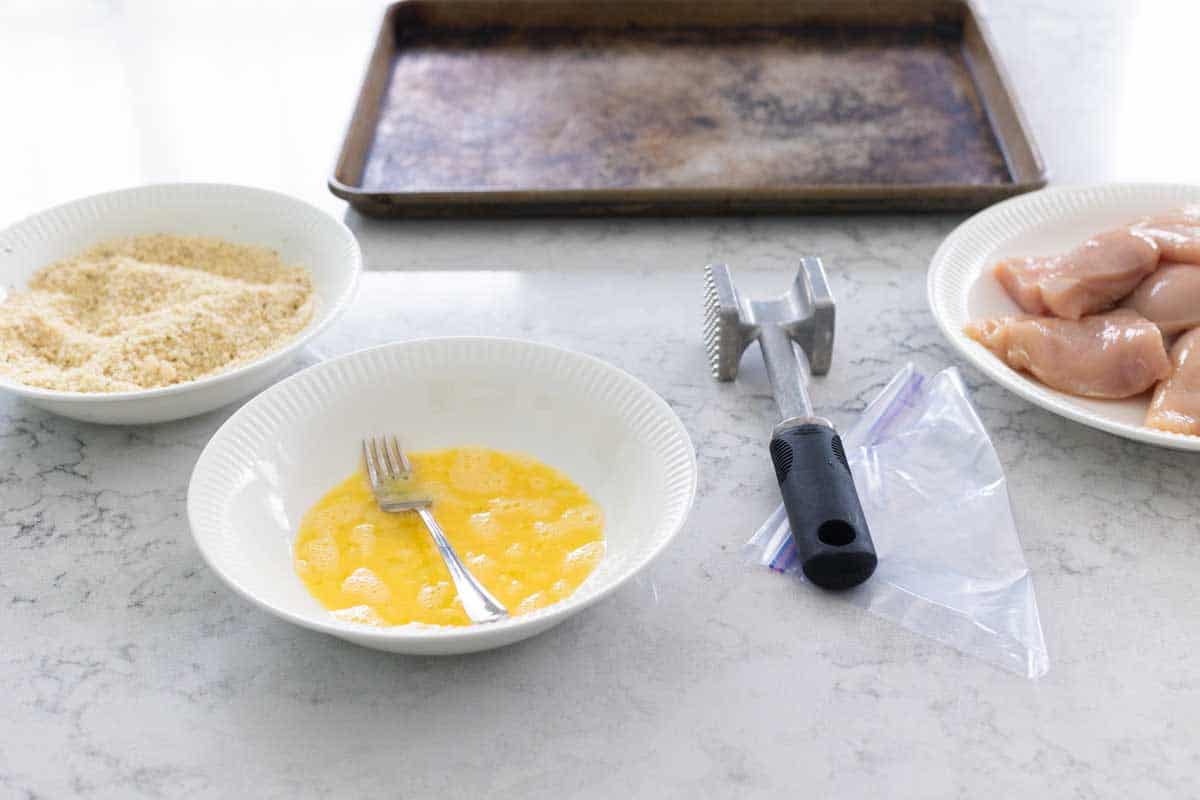 Dip each piece of chicken into the egg and coat both sides. Let the excess egg drip off back into the bowl.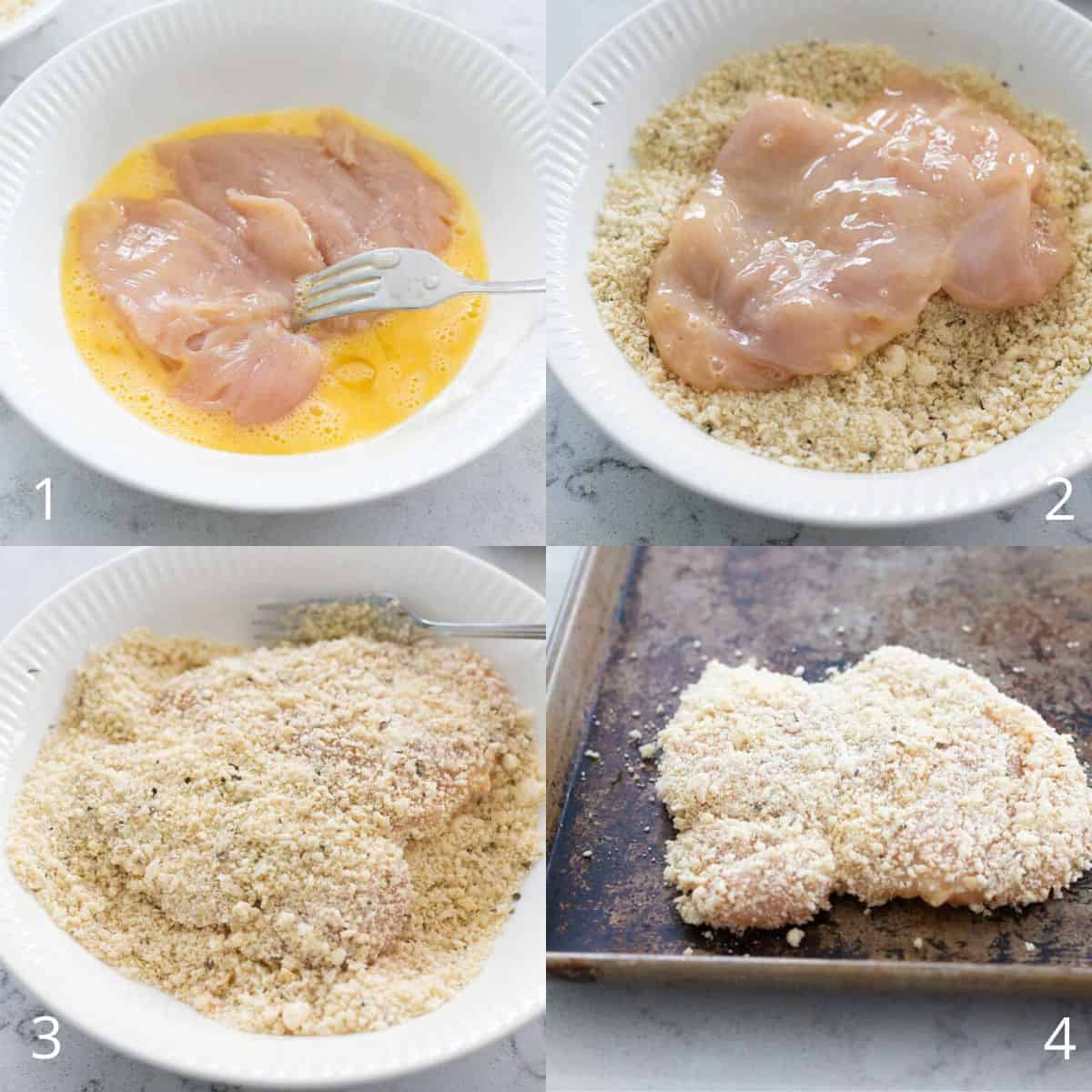 Transfer the chicken to the bowl of bread crumbs and coat both sides. Then place it on your pan.
Repeat with the remaining chicken pieces.
Why You Should Oil Your Baking Sheet
While we aren't "frying" our chicken, spreading olive oil over the baking pan before baking the chicken gives a very similar affect to the baked chicken parmesan.
The oil helps to crisp up the underside of the chicken as it cooks.
This is where most baked breaded chicken recipes go wrong -- without a high oven heat and extra oil, the underside of the chicken is often mushy while the top gets nice and crispy.
Baking Instructions
Preheat the oven to 425°F. This higher temp will help add crunch to the breadcrumb coating.
Make sure there is a little bit of breathing room between each pieces of chicken on the baking sheet so the air can flow around the sides and crisp up the chicken.
Bake the chicken breasts for 15 minutes.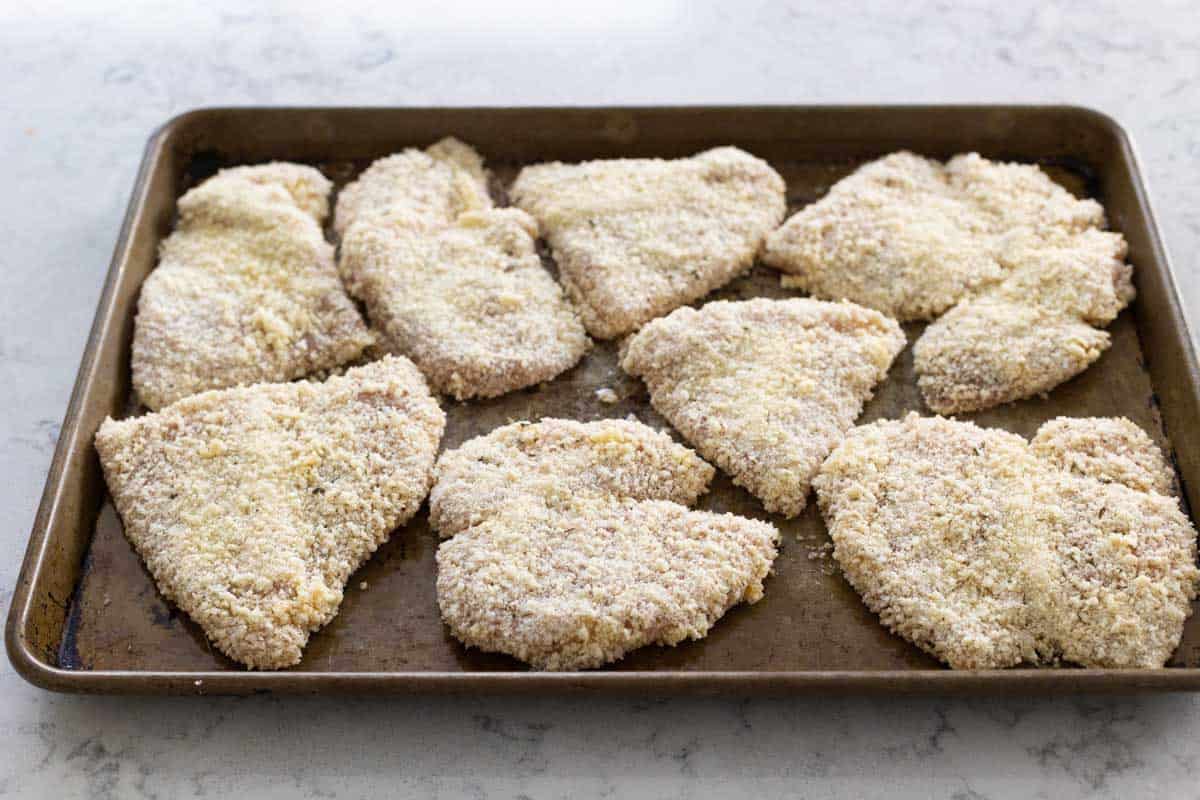 Use a spatula to carefully flip each piece of chicken so both sides get a chance to crisp up in the oiled surface.
Once the chicken has been flipped, spoon the tomato sauce and sprinkle the shredded cheese over the top of each cutlet.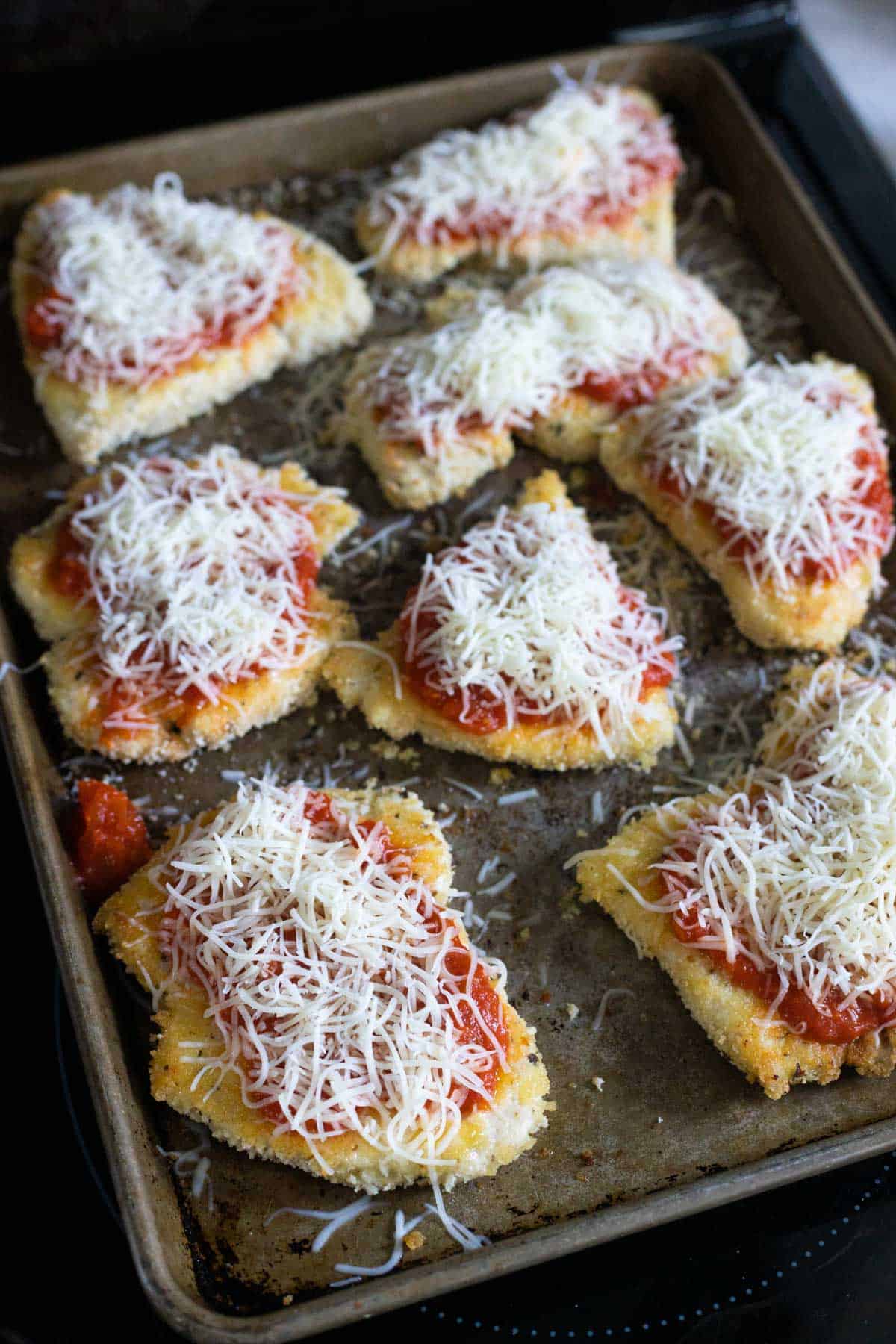 Bake for another 5 - 7 minutes or until the chicken registers 180°F with an instant-read thermometer probe and the cheese is starting to turn golden brown.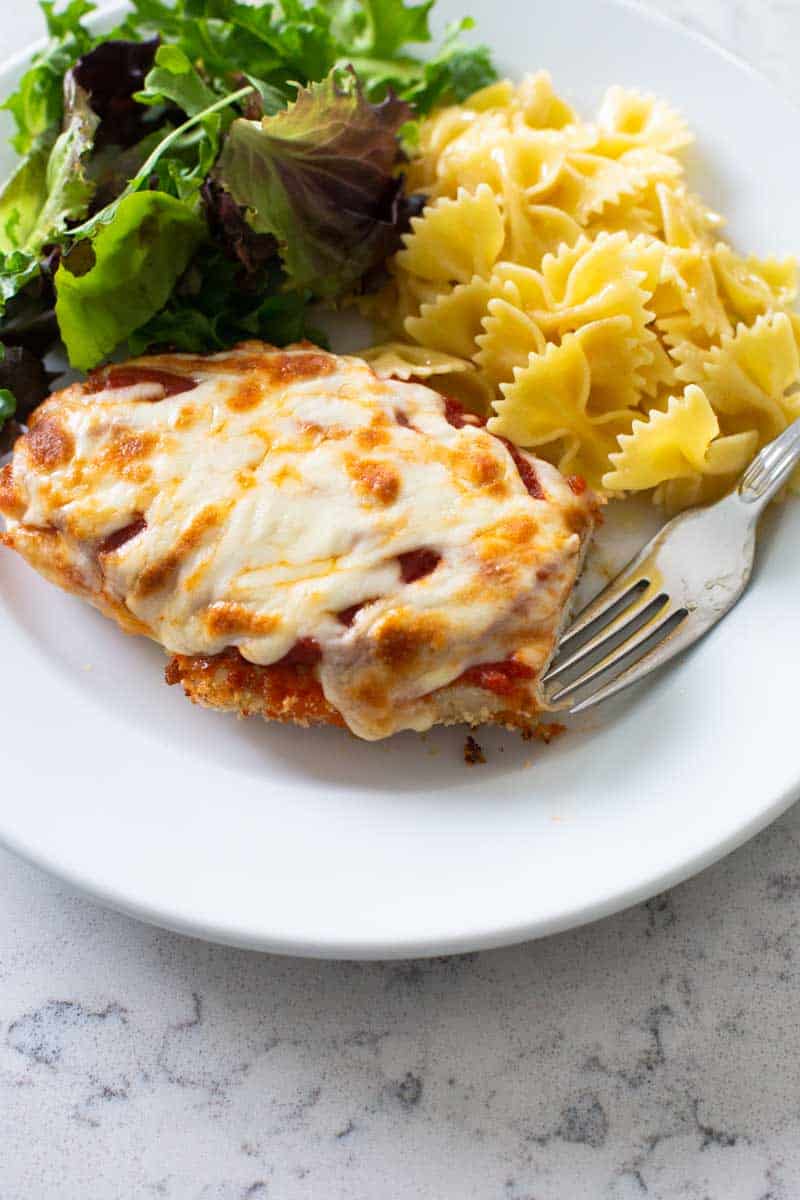 Make Ahead Chicken Parmesan Tips
You can prepare the chicken in the bread crumbs up to 24 hours ahead of time and store in an even single-layer in the fridge until baking.
Assemble the breadcrumb topping and coat each chicken breast.
Simply store the prepared chicken on a plain pan (not oiled) in a single layer.
Don't stack the chicken or the breadcrumbs will stick to one another and come off the chicken.
Keep covered with foil or plastic wrap in your fridge until ready to bake, up to 24 hours.
Essential Make Ahead Tip:
To avoid mushy breadcrumbs it is essential that you transfer the chicken from the cold storage pan to a room-temperature baking sheet before putting it into the oven.
If you use a chilled pan, it will steam the underside of the chicken as the pan warms up in the oven.
An oiled room-temperature pan will keep your chicken crispy as intended.
Storage Tips & Reheating Instructions
If you have leftover chicken parmesan, you can store it in the fridge for 2 - 3 days.
Place the chicken on a clean plate and loosely cover with aluminum foil so the cheese doesn't stick to the foil.
Do not stack the chicken parmesan or the bread crumbs and cheese will all stick together and you won't have nice neat pieces to reheat. It is best to store them in a single layer on a plate or pan.
Do not try to freeze the leftover chicken, the thawing process will make the bread crumbs soggy.
To reheat the leftover chicken, place the chicken parmesan on a room temperature baking sheet and heat it in the oven at 375°F until warmed through.
Watch so that the cheese doesn't burn before the chicken is heated through. You may need to loosely cover the chicken with foil to prevent further browning.
Serving Suggestions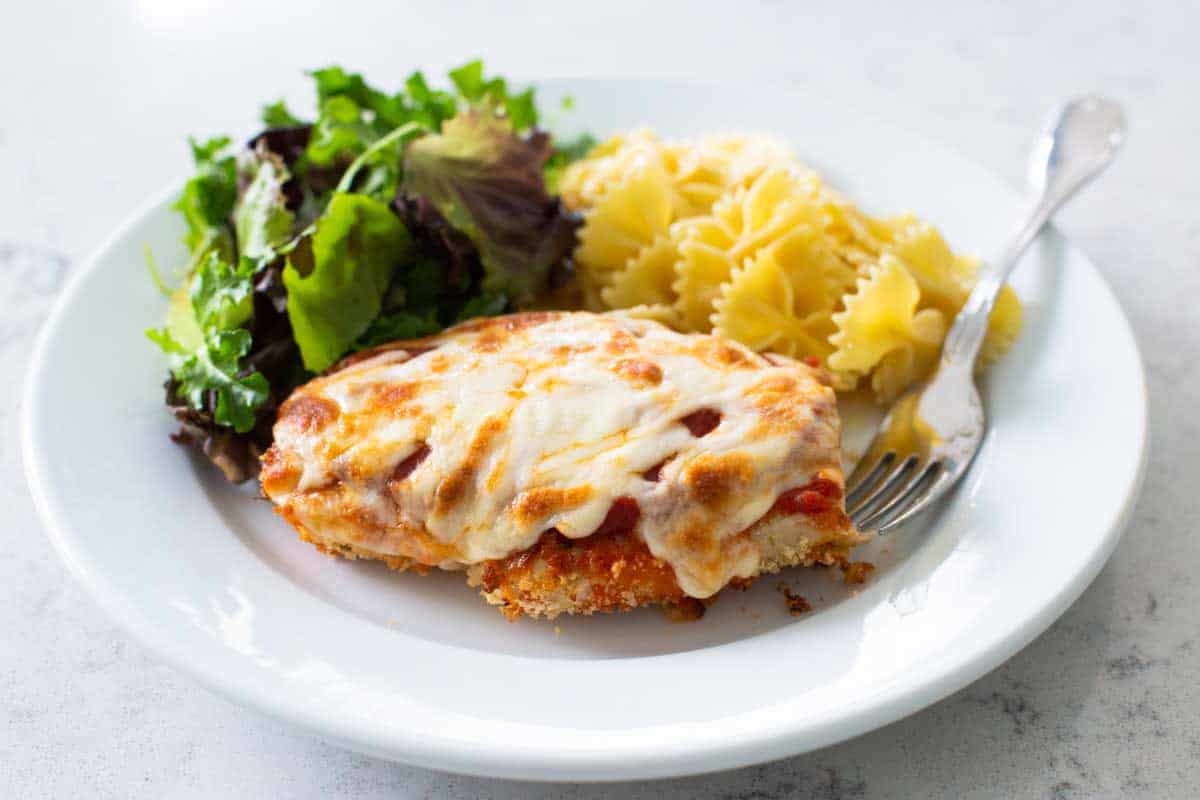 My daughter would tell you that the best side dishes for chicken parmesan include homemade garlic bread and pasta with alfredo sauce.
As a mom, I'll tell you to add a light green salad like my homemade Caesar salad or some green veggies like my roasted broccoli and carrots.
You could also serve the chicken parm over a bowl of my fresh tomato pasta toss.
If you have just a couple cutlets leftover and need to stretch the meat farther the next night for dinner, chop them up and sprinkle them over the bowls of pasta.
More Chicken Recipes
If you're looking for more easy ways to cook chicken for delicious family dinners, don't miss these basic tips:
📖 Recipe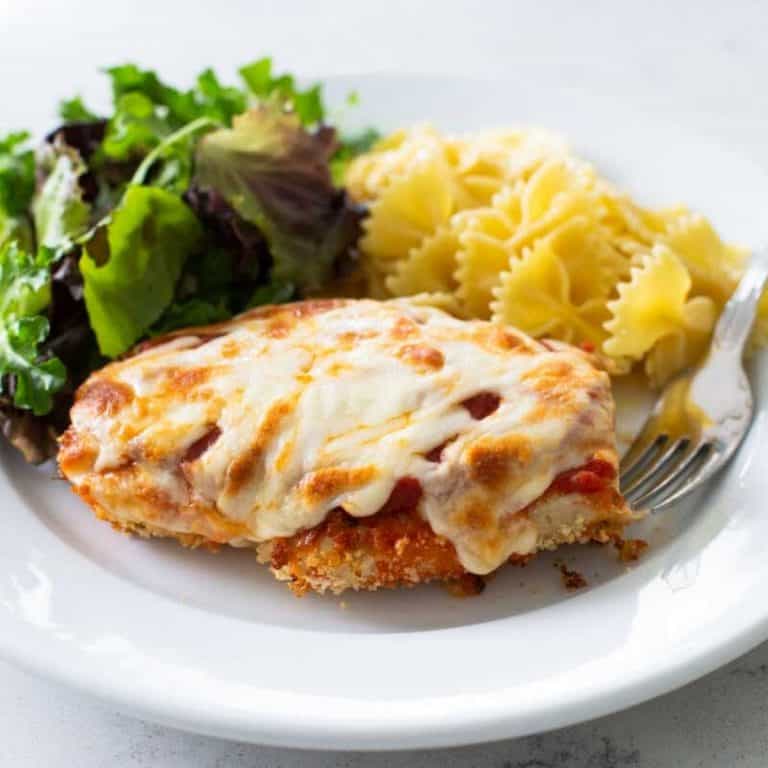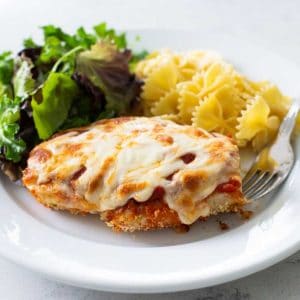 Baked Chicken Parmesan
Baked chicken parmesan is a comfort food classic made easy in the oven. Coated in savory bread crumbs, the chicken bakes up moist and juicy with delicious tomato sauce and melted cheese on top.
Ingredients
4

boneless skinless chicken breast halves

2

tablespoon

olive oil

1

cup

panko bread crumbs

½

cup

grated parmesan cheese

1

teaspoon

garlic powder

1

teaspoon

dried oregano

1

teaspoon

salt

1

egg

1

cup

jarred marinara sauce

1

cup

shredded mozarella cheese
Instructions
Preheat the oven to 425°F. Brush the olive oil over a large baking sheet and set aside.

Add the chicken breast halves to a zip-top plastic bag, one at a time, and pound with a meat mallet until they are an evenly ¾ - 1-inch thick.

In a pie plate, mix together the panko, parmesan, garlic powder, oregano, salt, and pepper.

In a second pie plate or shallow dish, whisk the egg until lightly beaten.

Using a fork, dip both sides of one chicken breast a time into the egg mixture. Let the excess egg drain off before placing it in the bread crumb mixture. Coat both sides of the chicken and place it on the prepared baking sheet. Repeat with remaining chicken breasts.

Bake the chicken for 15 minutes. Remove the pan from the oven, flip each chicken over. Top with 3 - 4 tablespoon of tomato sauce and a heavy sprinkle of mozzarella cheese.

Return the pan to the oven and bake for 5 - 7 minutes or until the chicken is at 180°F and the cheese has melted.

OPTIONAL: Turn on the oven broiler and give the chicken a 2 - 3 minute toast to give the cheese a little color.
Recipe Notes
Make Ahead Instructions
You can prepare the chicken in the bread crumbs up to 24 hours ahead of time and store in an even single-layer in the fridge until baking.
CRUCIAL: Be sure to transfer the chicken to a room-temperature oiled baking sheet before baking.
Cold chicken on a cold baking sheet will cause the bottom of the chicken to have soggy breadcrumbs because they will steam rather than roast.
Save This Recipe to Your Recipe Box
Find this delicious recipe next time you visit by saving it to your very own recipe box on my site. All your favorites stored in one easy place!