This easy marinara pizza sauce made with canned tomato sauce and Italian seasonings is more budget-friendly than jarred tomato sauce. Use it to top a homemade pizza or stir into easy pasta dinner recipes.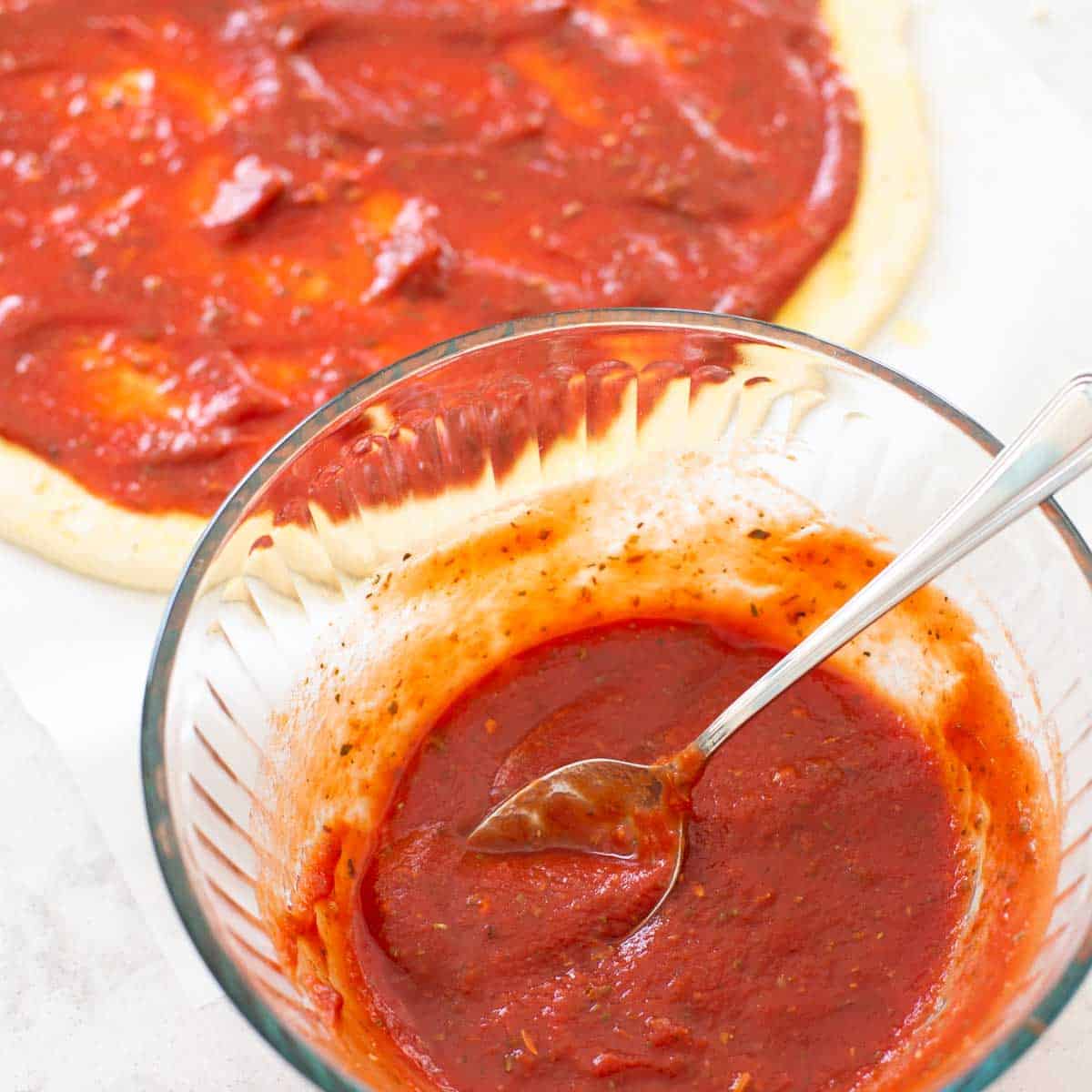 When we started making homemade pizzas as part of a fun family weekend tradition, I needed a tasty red pizza sauce for building classic pizzas like pepperoni and sausage.
The key to the best marinara pizza sauce is all in the texture. You want a sauce that is thick enough to spread over the pizza crust and won't be runny when you slice into your baked pizza.
The pizza sauce should have plenty of herbs and seasonings without taking away from the flavors of the other pizza toppings.
This pizza sauce recipe is the perfect solution and is budget-friendly and easy to keep ready to go in the pantry!
Jump to:
Why This is the Best Recipe
After testing several methods, I discovered that the best pizza sauce starts with super budget-friendly canned tomato sauce which is a lot cheaper than many brands of jarred tomato sauces.
I'm not talking about the canned pizza sauce that is already seasoned, but a plain can of tomato sauce that you season yourself in just a minute with these easy tips.
I think this is the best recipe because:
The texture of the sauce is perfect.
You don't need to cook it before you use it on your pizza.
You can freeze leftovers so there's no waste.
You can use it as a substitute for jarred tomato sauce for other recipes.
You can adjust the seasonings to suit your family or the pizza recipe as needed.
Ingredients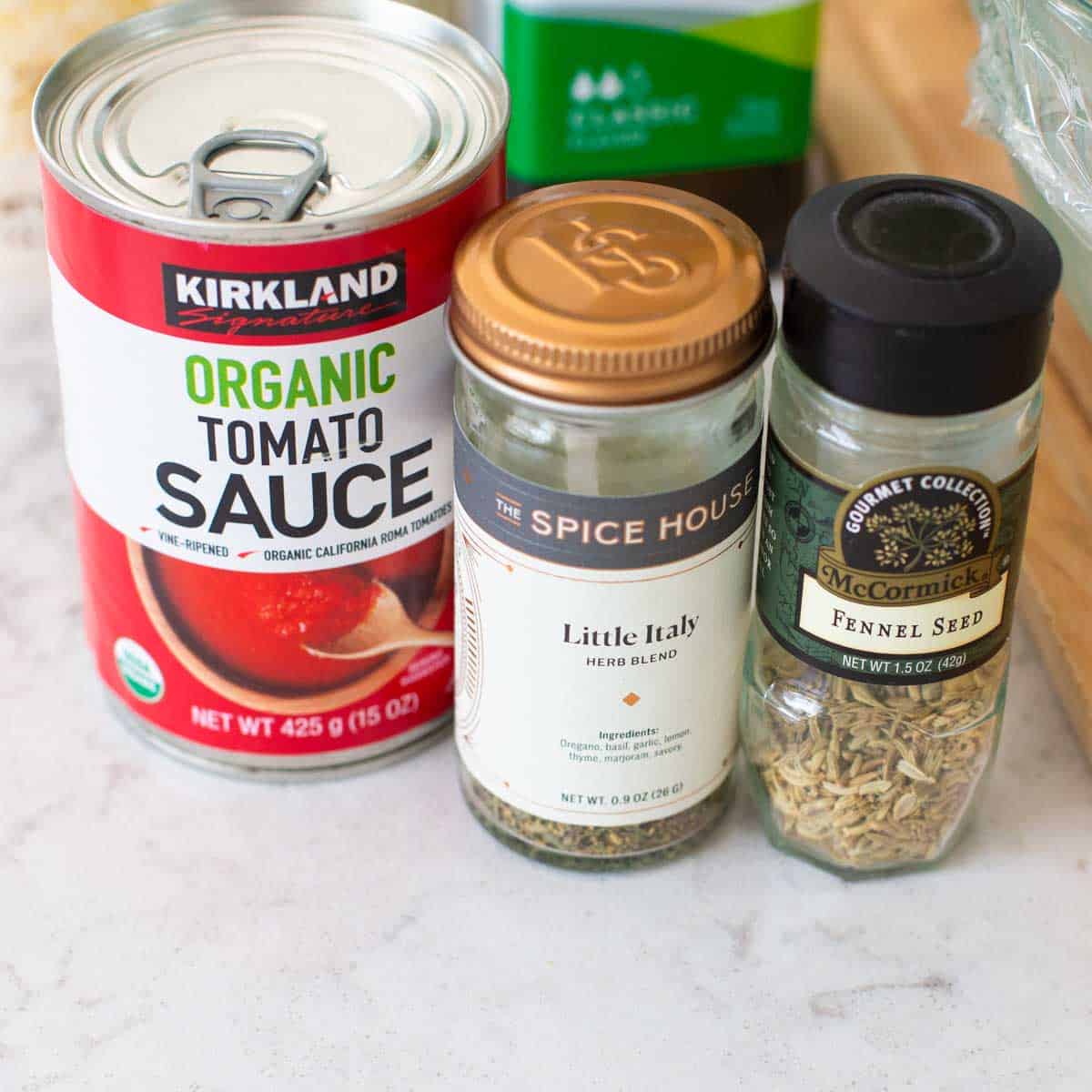 The ingredients for this pizza sauce couldn't be easier:
A PLAIN Can of Tomato Sauce: Do not buy the ones that are already seasoned.
Italian Herb Blend: I have several suggestions for which blend to buy below.
Fennel Seed: This is what gives the sauce a pizza flavor. It is essential.
Garlic Salt
Sugar: This only needs to be added to some tomato sauces and depends on the brand. See the notes in the recipe card for clarification.
The Best Italian Herb Blend for Pizza
I've tried lots of different Italian herb blends from various brands over the years.
When making a homemade marinara pizza sauce, you want a blend that has:
In addition, if you can find a blend that also has these ingredients, your sauce will have an even better flavor:
Don't worry about whether or not your Italian herb blend has garlic in it, we'll be adding garlic salt on the side.
Budget Friendly Tips
To save money on your homemade pizza night, make this budget-friendly pizza sauce because it is so much cheaper than prepared options or jarred sauce from the store.
I like to buy a large case of organic canned tomato sauce during trips to Costco and use them for months.
But at the regular grocery store, I can often find canned tomato sauce for $2 or less per can. Especially when I shop the sales and buy them in bulk.
There are so many ways to use the marinara sauce, that I appreciate having a stash of cans ready to go in a pinch.
Mix the Sauce Together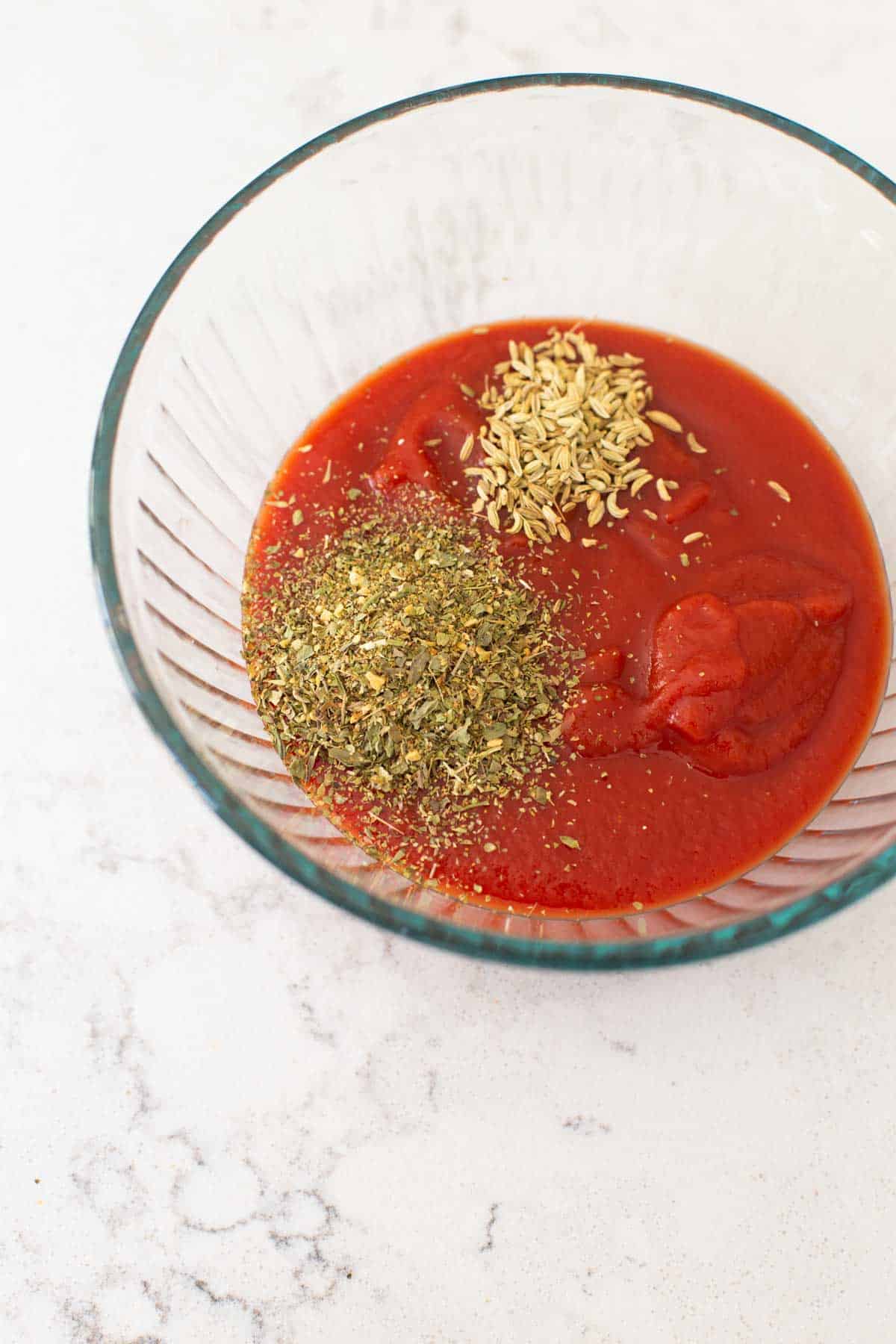 Making the marinara pizza sauce is super easy.
Simply open the can of tomato sauce and pour it into a mixing bowl.
Add all the seasonings and stir.
That's it! You don't need to cook it before spreading it on a pizza crust, it will cook plenty while it is in the oven.
How to Use Marinara Pizza Sauce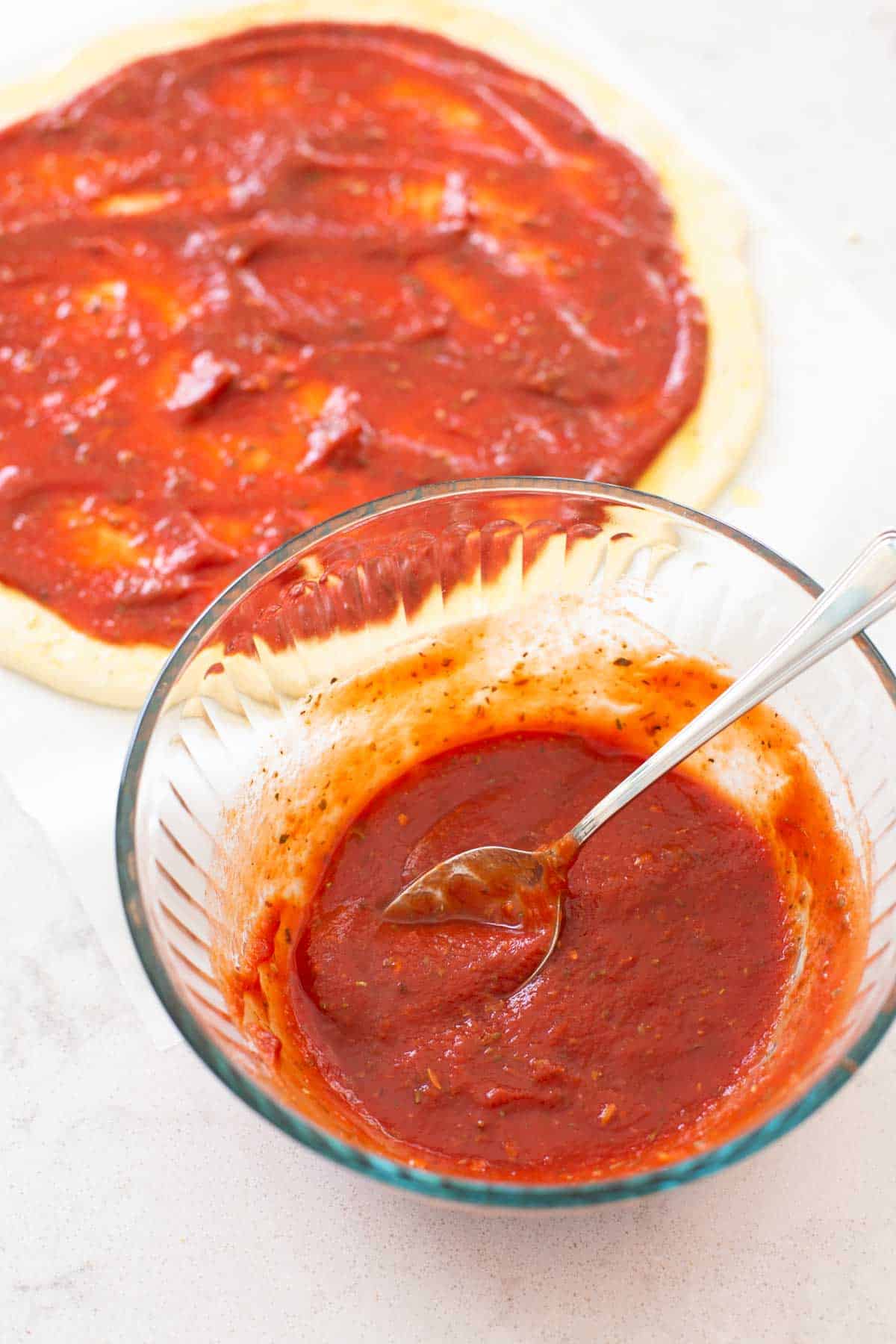 Make Ahead & Freezer Tips
I usually use about half of the recipe on a single pizza crust.
If we're only making one pizza, I transfer the remaining pizza sauce to a freezer-friendly container and save it for later.
You can freeze the marinara pizza sauce for up to one year.
Simply thaw in the fridge overnight or defrost it in the microwave before using in your recipe.
If you know you'll be making another recipe in the next few days, you could also store leftovers in an airtight container in the fridge for up to 5 days.
Breads to Dip in Marinara
This pizza sauce also makes a wonderful pizza sauce dip for dunking bread and other appetizers like baked mozzarella sticks.
If you plan to use it as a dip, you will want to pour the canned tomato sauce into a sauce pan, add the seasonings and stir them together right in the pan.
Then cook the sauce over medium heat until it bubbles.
Cook for an additional 5 minutes on medium-low to let the flavors mingle and serve warm.
Our garlicky homemade pokey sticks, crispy garlic bread, or seasoned bread machine focaccia would all be super delicious with this marinara sauce as a dip.