Easy baked meatball sub sandwiches are a perfect quick dinner idea for a busy weeknight. Start with frozen Italian meatballs and add a jar of marinara. Once they're baked in the oven, the sub rolls get nice and crispy and you can make a big batch for a family-style dinner.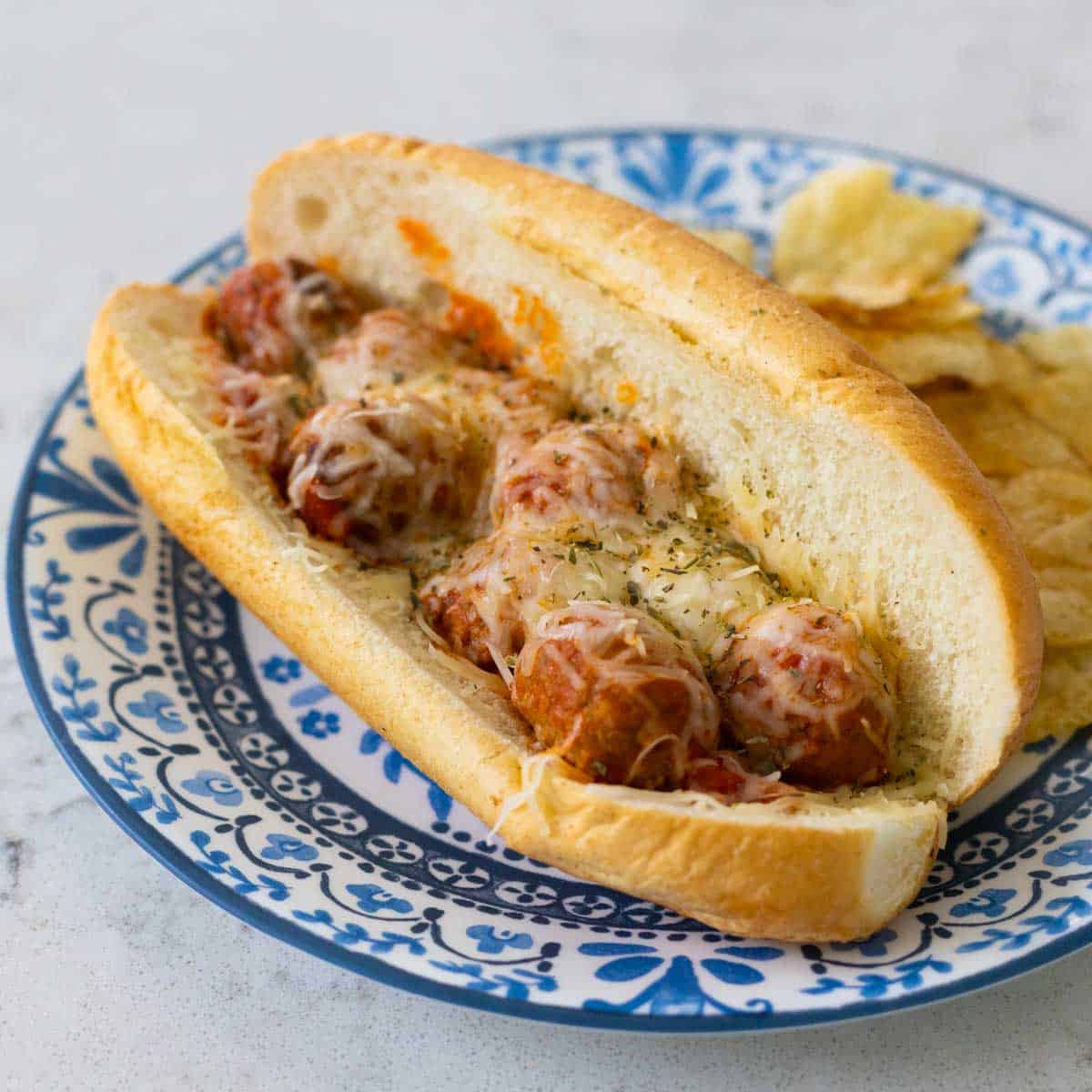 Do you make your own homemade meatballs?
I have a few different meatball recipes I love, but I still keep several bags of frozen meatballs in the freezer. They are such an easy dinner solution when you're caught in a pinch and need to get food ready fast.
One of our family's favorite ways to enjoy them is to toss them in a jar of tomato sauce and pop them into a delicious roll to make down-and-dirty meatball subs.
Fun Fact: This is one of the easy dinners I make during our annual family trip to the beach. Get all the details on the week of beach house recipes here.
Jump to:
Why This is the Best Recipe
A warm sandwich is such a cozy family dinner idea but I think this is the best baked meatball sub recipe because:
Fresh or Frozen Meatballs: You can use whichever you prefer! Beef, pork, or turkey meatballs all work great.
Jarred Sauce or Homemade: You can use prepared marinara or mix up your own easy homemade marinara from a can of tomato sauce in seconds.
Crispy Rolls: I love the texture of the sub rolls once they've been baked.
Family Style Dinner: No fussing around with single sandwiches, bake an entire sheet pan of sub sandwiches all at once!
Ingredients
There's lots of room to play with this recipe, the ingredients list is very simple but could be tweaked for your family quite easily:
Meatballs: You can use fresh or frozen. Beef, Turkey, Pork, Italian style or plain.
Tomato Sauce: I think marinara works great here. I love a good jarred sauce. You could use any flavor or brand your family loves or mix up a homemade marinara from canned tomato sauce in seconds.
Shredded Mozzarella: You could use shredded parmesan, a pizza cheese blend, Italian style blend, or even provolone slices.
Sub Sandwich Rolls: The BEST buns come from the bakery department and are 6 - 8 inches long. Can't find them? Use packaged hot dog buns or long rolls from the bread aisle.
Olive Oil
Frozen Meatballs or Homemade Meatballs?
When I'm in a hurry, I love to use a bag of frozen meatballs from the grocery store.
They make this meal something that is perfect to cook with so little effort.
However, if I'm feeling a little fancy and want the best tasting meatball sub, I'll start with my favorite homemade Italian meatballs in tomato sauce recipe.
They don't take that long to roll together and could be prepped ahead of time and frozen for your own homemade frozen meatballs, too.
How to Bake Meatball Sandwiches
Preheat the oven to 400°F.
The secret to the BEST meatball sub sandwich is to start with browning the meatballs in a skillet.
It may seem like a fussy extra step but if you use the frozen meatballs straight from the freezer, the centers will not get hot enough fast enough and your sandwich buns will burn.
If you want to heat the meatballs even faster, you can defrost the frozen meatballs in your fridge earlier in the morning so they take less time to brown up in the skillet.
Heat the olive oil over medium-high heat. Add the meatballs and let them cook and brown on all sides.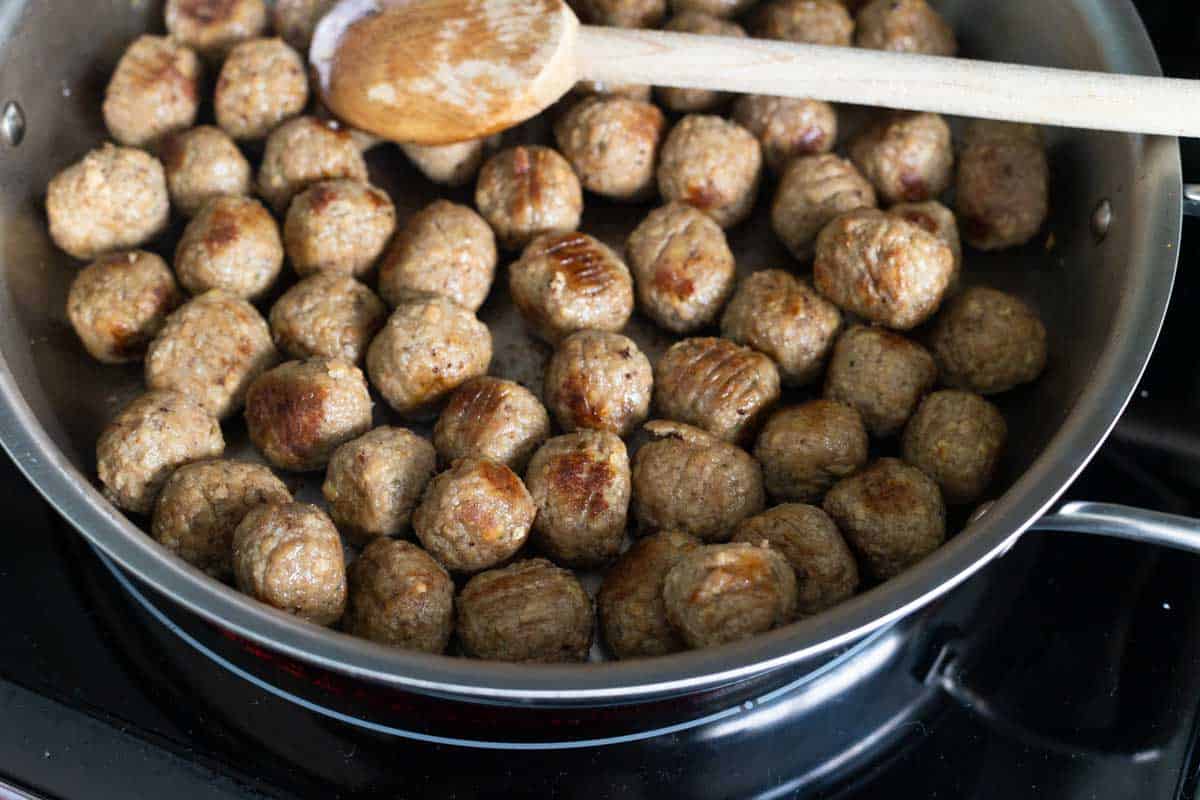 Add the marinara sauce and about 1 cup of water. Stir it all together and let it simmer until the sauce gets nice and bubbly and starts to thicken back up.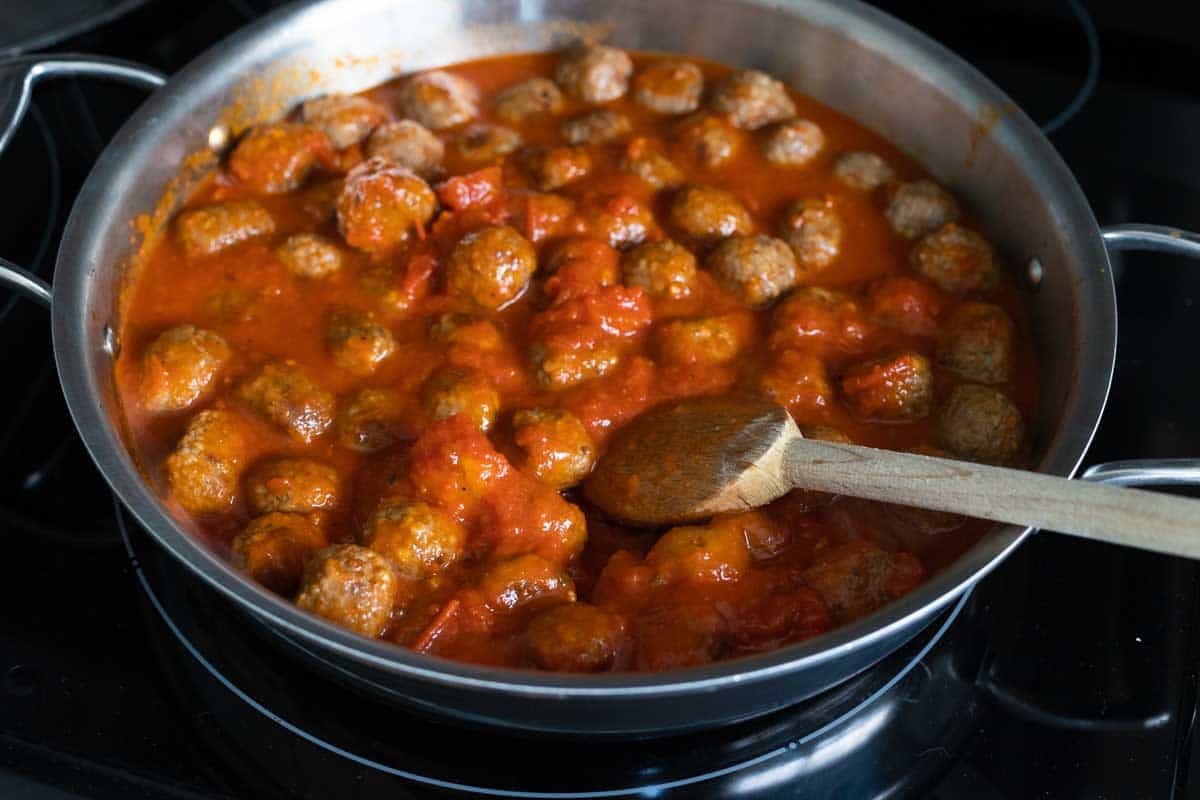 Slice the long rolls and place them open face on a large baking sheet.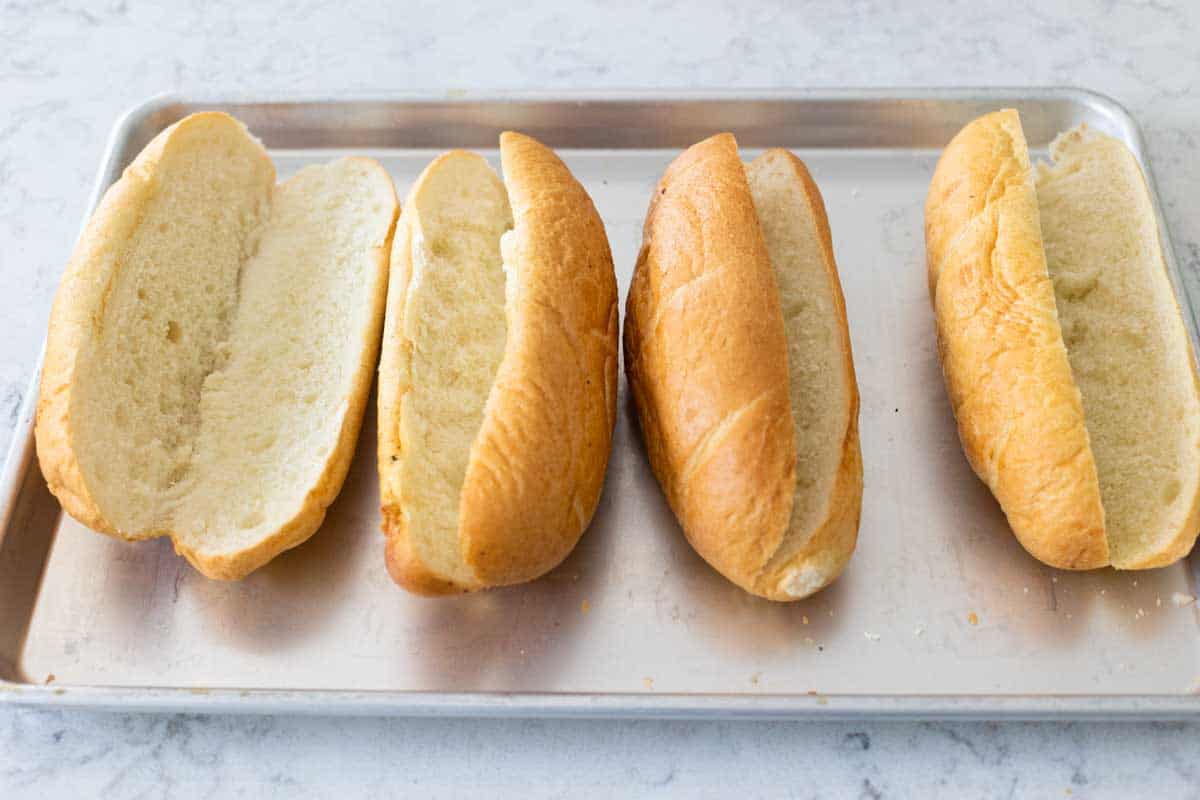 Once the meatballs are warmed through, spoon them into the open sandwich rolls.
How many you can fit in each roll will depend on the kind you purchased.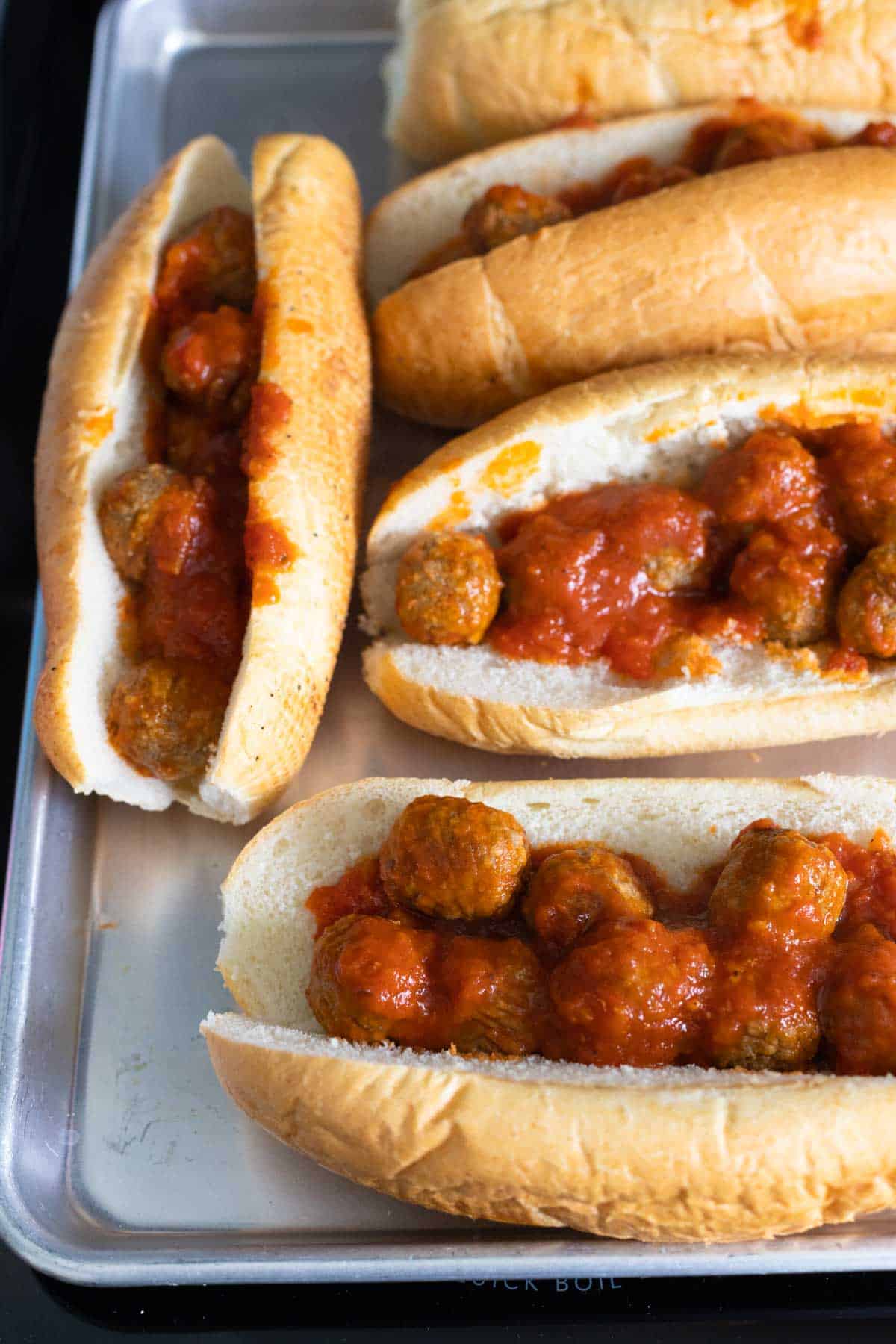 Sprinkle the shredded cheese over the top and bake the sandwiches for 8 - 10 minutes or until the bread is crispy and the cheese has melted completely.
Make Ahead Tips
This is already a really quick recipe but if you wanted to shave off even more time from your diner prep you could consider:
Browning the meatballs and tossing with sauce in advance. Store in a covered dish in the fridge for up to 24 hours.
Simply reheat the mix in the microwave before spooning into the rolls.
OR you could brown the meatballs in advance and add them with the sauce to a Crockpot.
Put them on a keep warm setting for several hours. Then they'll be ready to add to the rolls and baked when you're ready to make dinner.
Variations
As I mentioned, there are so many easy ways to tweak this recipe for your family:
Spicy Meatball Subs: Use a spicy arrabiata sauce instead of marinara or add crushed red pepper flakes to the marinara.
Meatball Subs with Onions and Peppers: Add a chopped onion and bell pepper to the skillet and saute them before you add the tomato sauce.
Creamy Meatball Subs: Use a creamy tomato sauce like a rosa sauce instead of plain tomato.
Meatball Parm Sliders: You could make a bite-sized version of this sub recipe by using meatballs instead of chicken tenders in my chicken parm sliders recipe.
Serving Suggestions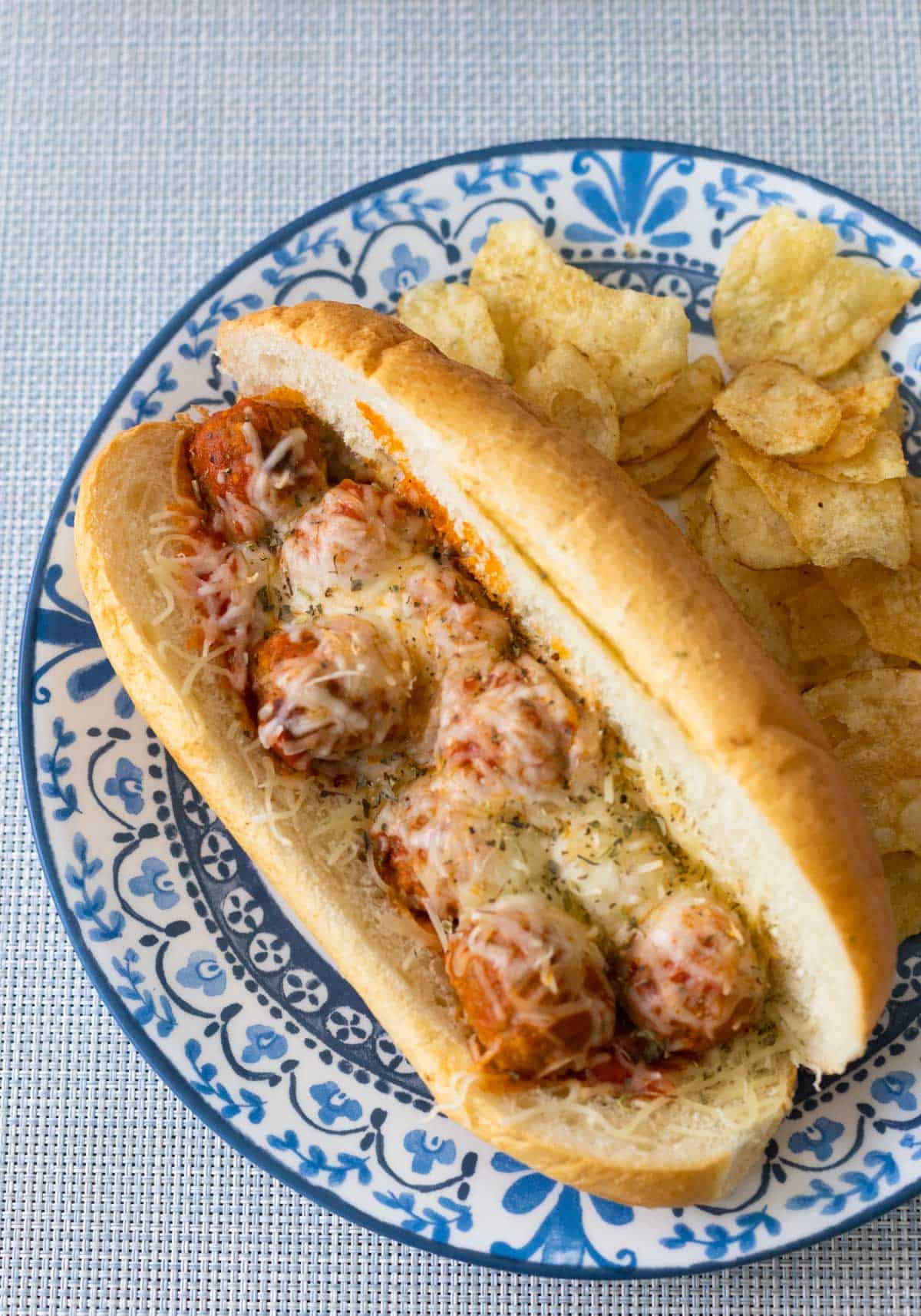 These easy sandwiches are such a big hit with my family. Every time I make them, I hear: "Why don't you make them MORE OFTEN??"
We use them for simple family dinners with easy sides on busy nights.
I recommend serving them with potato chips and dip. You could add some raw veggies and my dill dip, too.
Or you could do a simple Caesar salad or Air Fryer green beans for a healthy side.
Want an easy dessert that keeps with the Italian theme?? Don't miss my 10-minute cannoli dip with butter cookies for dipping.
More Baked Sandwiches
If you love hot sandwiches as much as I do, don't miss these other easy oven baked sandwich recipes:
📖 Recipe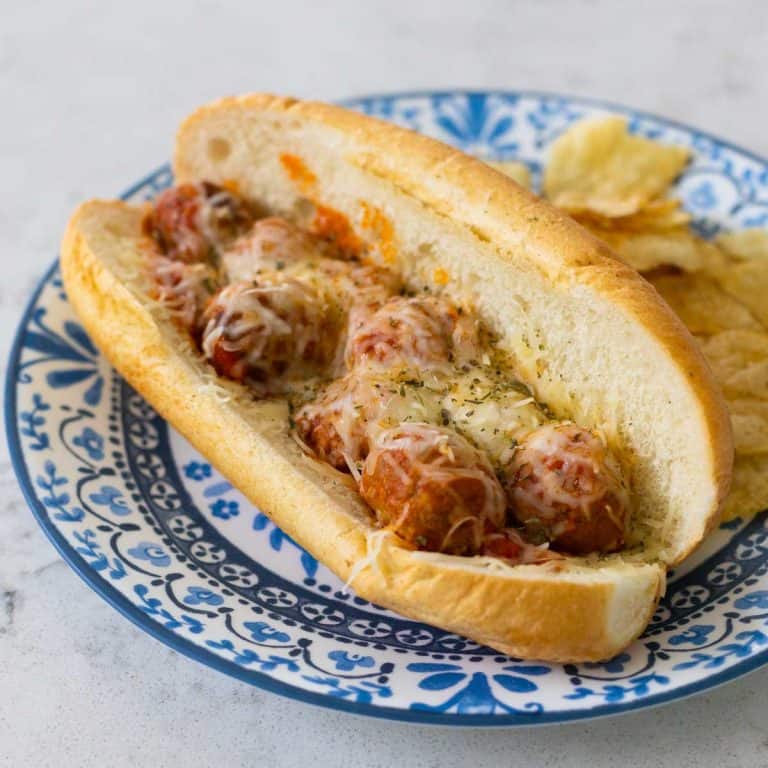 Baked Meatball Subs
This delicious and heart meatball sub recipe is perfect for a busy weeknight. You can have a hearty meal on the table in just minutes.
Ingredients
1

(18 oz) pkg frozen Italian-style meatballs

1

tablespoon

olive oil

1

(24 oz) jar prepared tomato sauce

8

long sandwich rolls

sliced in half only partway

1

(8 oz) pkg shredded mozzarella
Instructions
Preheat the oven to 400°F.

In a large skillet, heat the meatballs and olive oil over medium-high heat until they are toasted and heated through. Stir and toss the meatballs so they brown on all sides. About 10 minutes.

Pour the jar of tomato sauce in with the meatballs and stir until just heated through.

Add 3-4 meatballs to each long roll and place them on a large cookie sheet. Top each roll with 1 - 2 tablespoon shredded mozzarella.

Bake for 10 minutes or until the cheese is melted and the bread is warm.
Save This Recipe to Your Recipe Box
Find this delicious recipe next time you visit by saving it to your very own recipe box on my site. All your favorites stored in one easy place!