Italian meatballs in tomato sauce are perfect for spooning over a bed of pasta, tucking into a baked meatball sub, or serving with fresh bread. The easy meatball recipe can be frozen for later.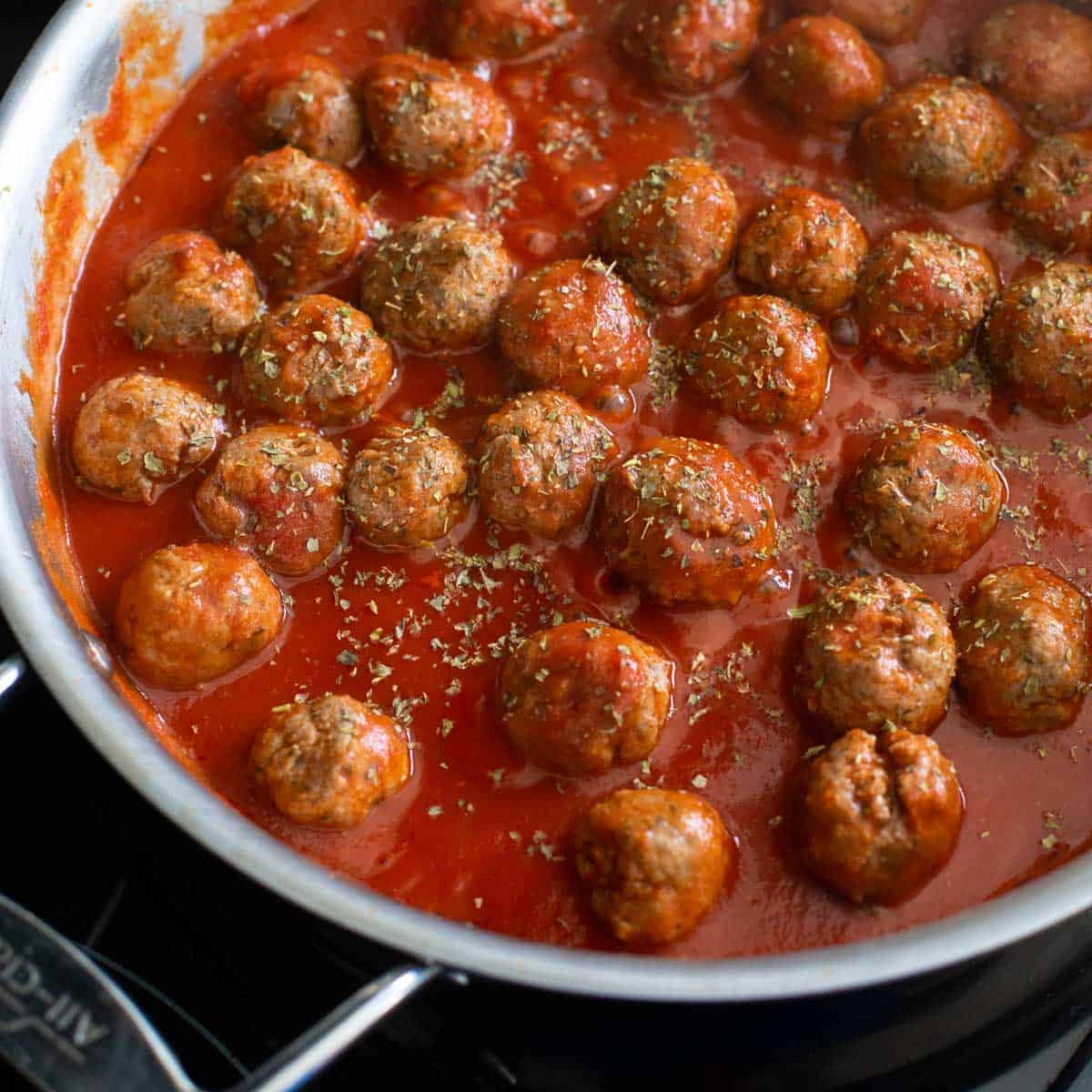 These Italian meatballs in tomato sauce are my favorite meatballs to add to homemade Italian wedding soup.
We love them so much, we started to make the meatballs on their own for adding to tomato sauce for pasta or meatball subs.
You can prep the meatballs and keep them in the fridge for up to 3 days. I love to make them on a Sunday afternoon for dinner later in the week.
You can also flash freeze them before transferring to a freezer bag for longer storage. It's a great prep ahead shortcut if you want homemade meatballs for a party or holiday gathering.
Jump to:
Ingredients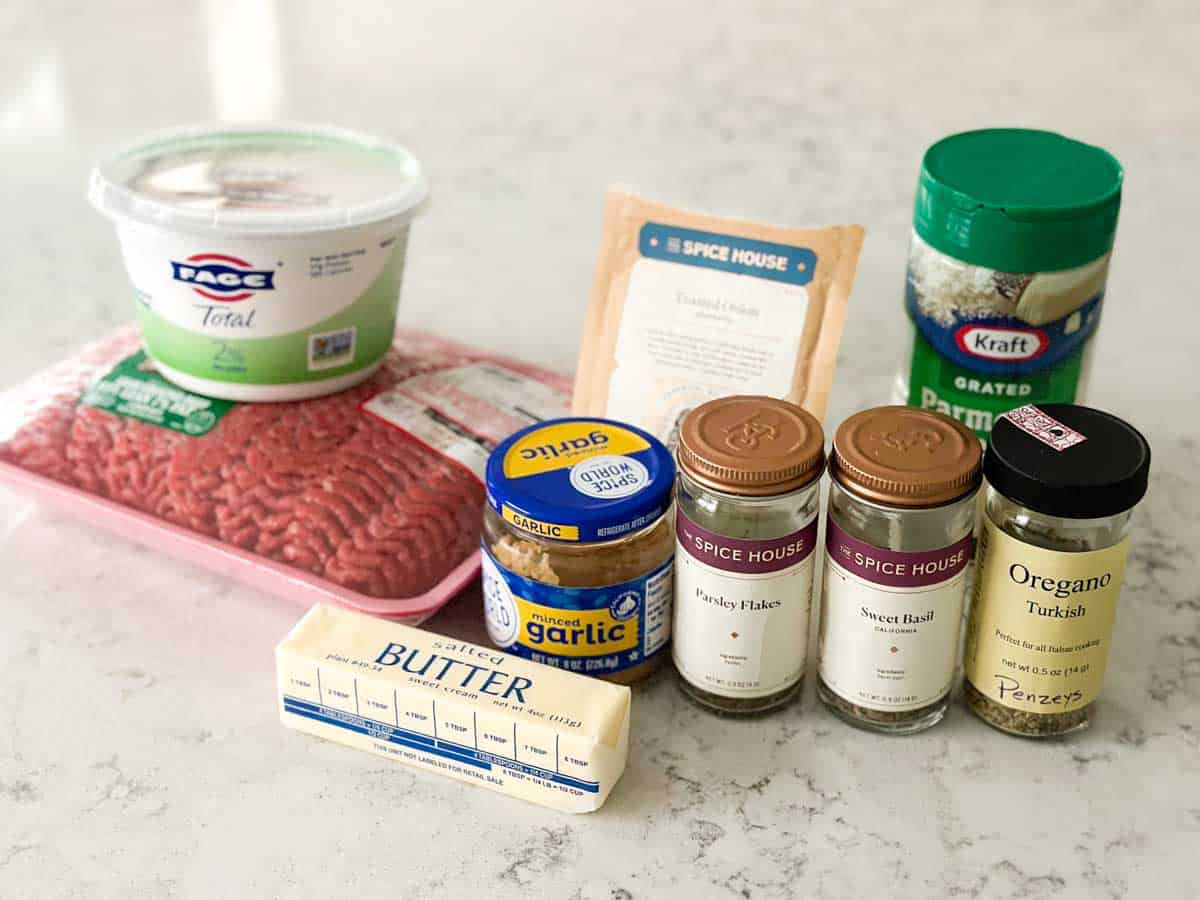 I love that when I want to make these meatballs, I only need to pick up two fresh ingredients from the store and the rest of the items come from my pantry:
Ground Beef
Greek Yogurt
Grated Parmesan
Minced Garlic
Dried Parsley
Dried Basil
Dried Oregano
Onion Powder
The butter in the photo above was there because it is used when browning the meatballs, it isn't an ingredient in the meatball mix itself.
However, if you want to try a variation using venison instead of ground beef, you could also try this venison meatballs recipe.
Prep the Meatball Mixture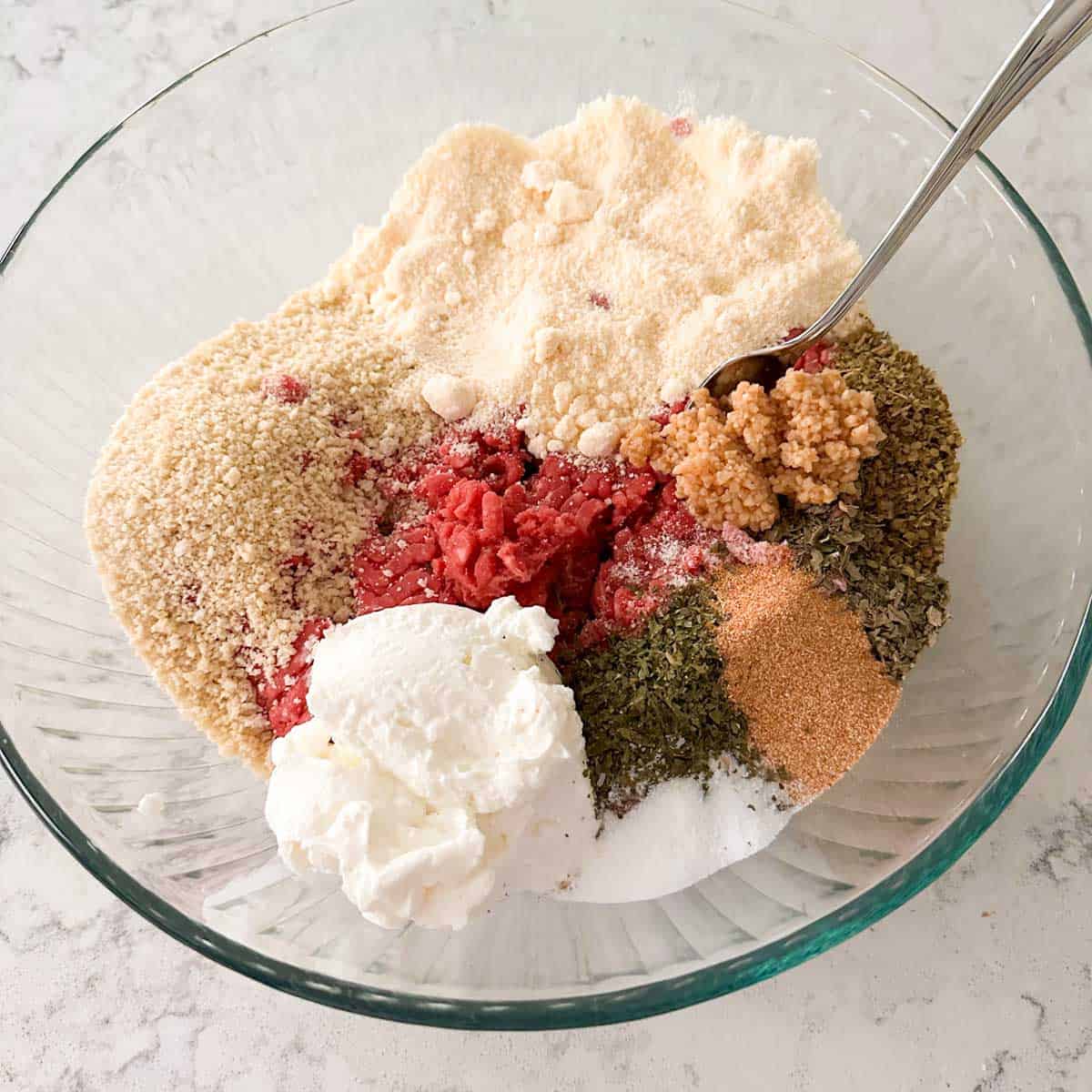 Place all the meatball ingredients in a large mixing bowl.
Use a fork to fluff the meat and incorporate all the ingredients.
To help avoid overworking the beef and making it tough, I usually use my hands to finish the mixing.
The fork helps break things up a bit, but it is much easier to work the seasonings all through the meat with your hands.
Once everything is evenly mixed, pat the meat into a solid portion so it is easier to pinch off the meatball pieces.
Roll the Meatballs
Roll the meatballs into a round ball shape that is just smaller than a ping pong ball.
Line them up in a clean baking pan or baking sheet as you work.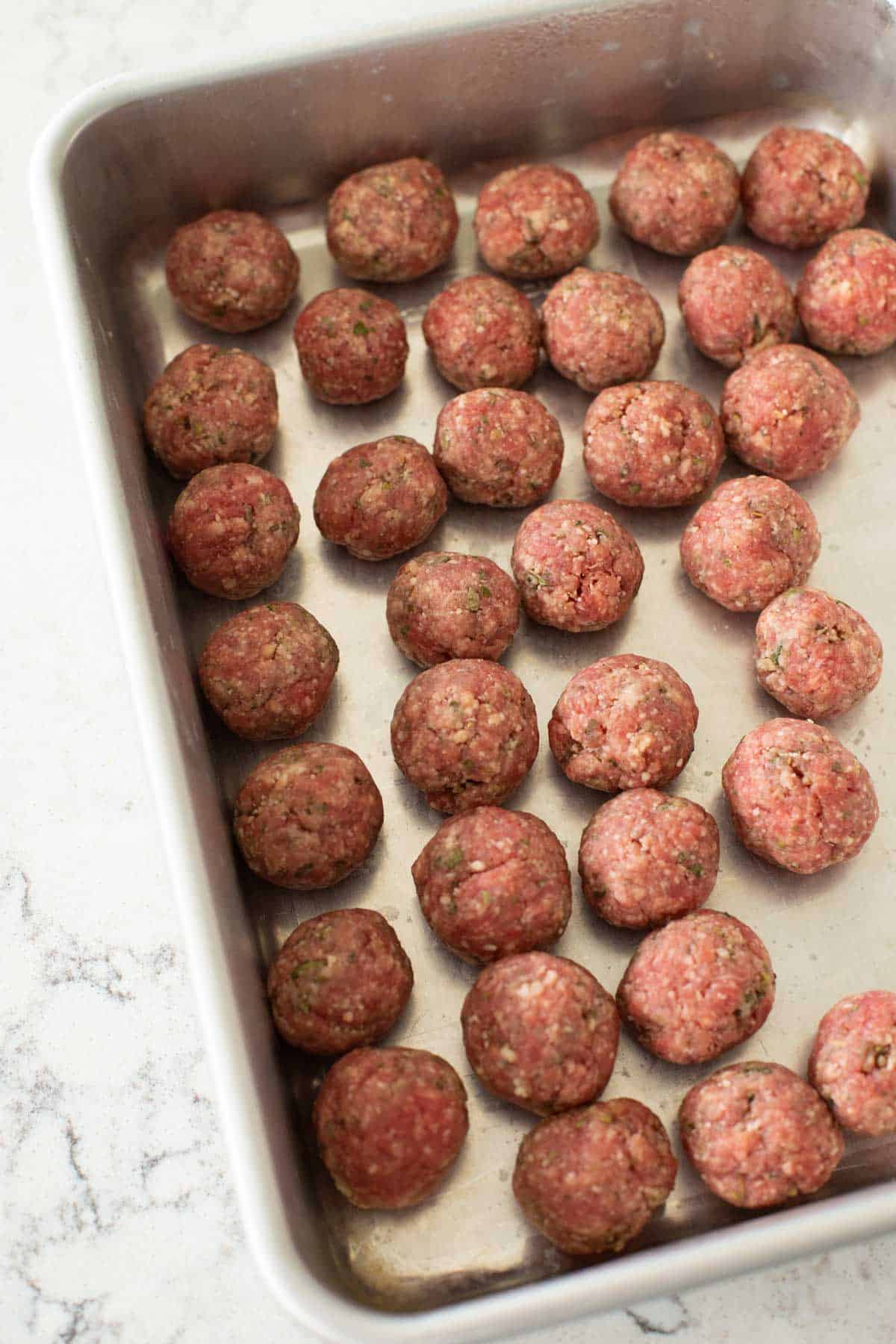 Place the pan in the fridge for 30 minutes before you cook with the meatballs.
This gives the meat a chance to rest and firm up a little so they don't fall apart in the skillet.
Make Ahead and Freezing Tips
You could cover the meatballs in the fridge and keep them there for up to 3 days before you cook with them.
You can also place them on parchment paper on a baking sheet and place them in the freezer for 1 hour.
Once they are frozen, you can transfer them to a zip top plastic freezer bag for longer term storage if desired.
To use frozen meatballs, place them in a single layer in a container and thaw in the fridge overnight.
How to Brown the Meatballs
This Italian meatball recipe makes about 60 meatballs. I only use 30 meatballs or so at a time for dinner for my family of 4.
If you want to cook all 60 meatballs at once, you may have to work in batches so you don't overcrowd the skillet.
You need room to be able to turn the meatballs as they cook.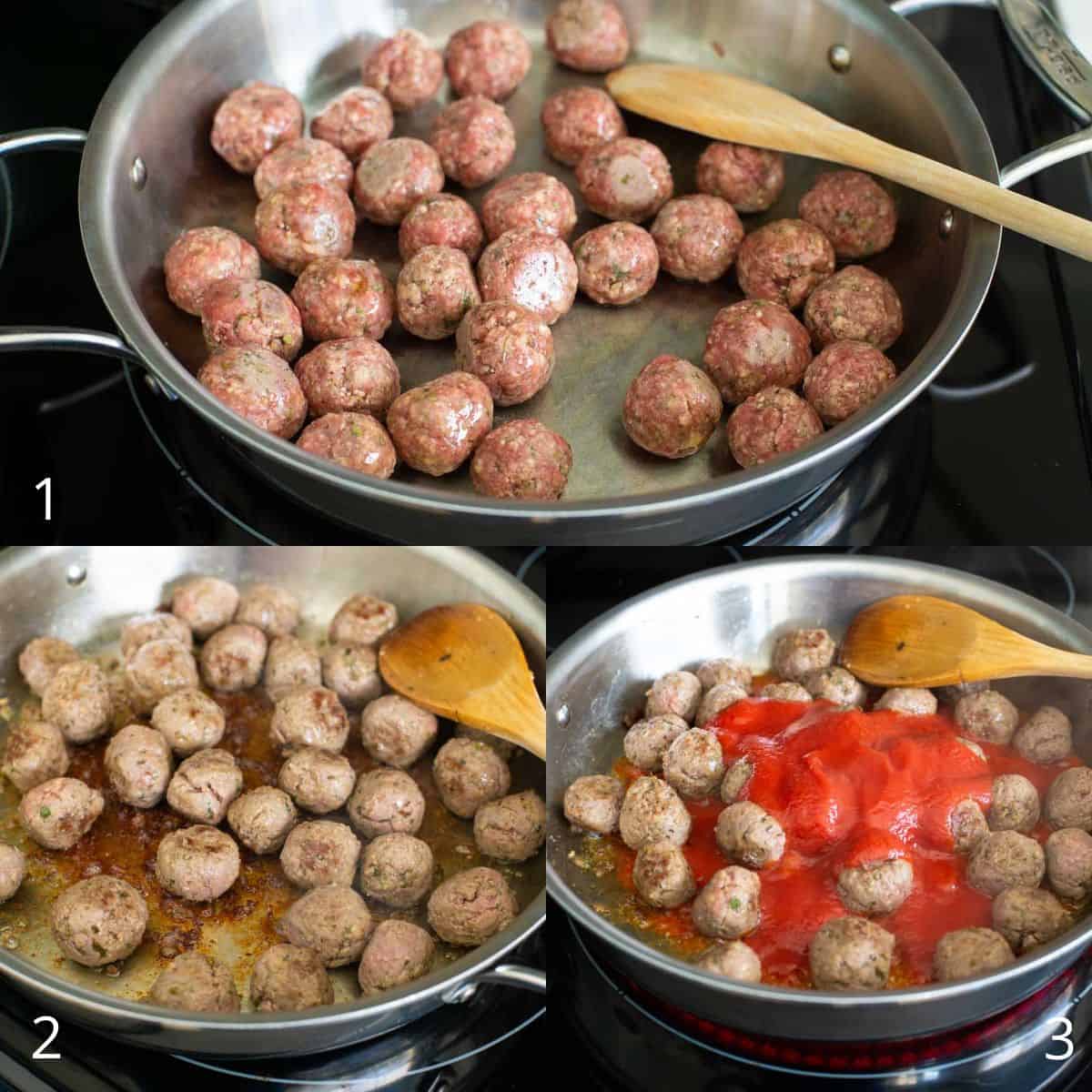 To cook the meatballs, heat 2 tablespoons of butter or olive oil in a large skillet over medium-high heat.
Add the meatballs to the pan and gently roll them around with the back of a spoon so they brown evenly on all sides.
Keep the meatballs moving or they will stick to the bottom of the pan.
If they do begin to stick, you may wish to use a spatula to gently scrape them up before flipping them over.
This helps prevent your meatballs from breaking.
At this point, the meatballs are browned but not fully cooked.
You'll want to simmer them in tomato sauce until they are cooked through or use them in a soup or other recipe to finish the cooking process.
Make the Tomato Sauce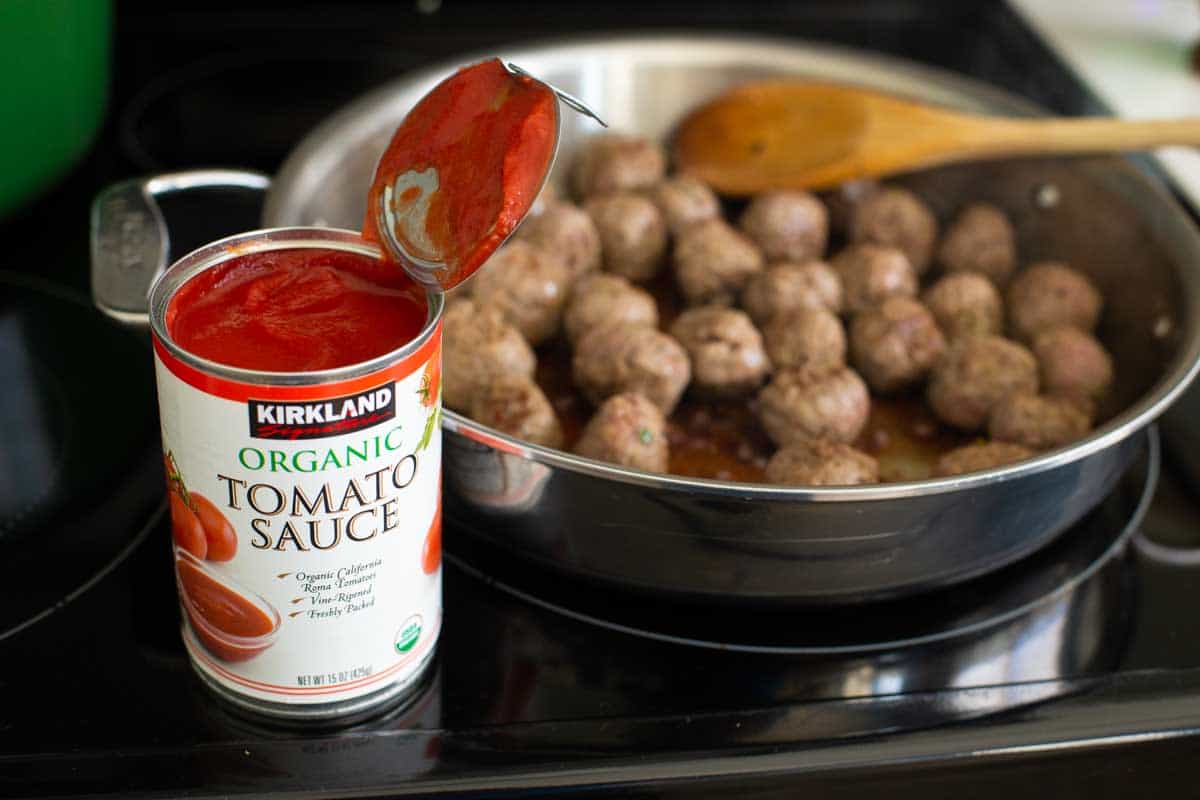 One of the most delicious and easiest ways to finish the meatballs is to simmer them in a tomato sauce.
You could use any prepared jar of spaghetti sauce that you love or make your own homemade tomato sauce using simple pantry ingredients.
Add canned tomato sauce to the hot skillet. As it bubbles, use your cooking spoon to scrape up all the browned bits clinging to the bottom of the pan.
Add 1 cup water to the pan to loosen the sauce a bit and help steam the meatballs.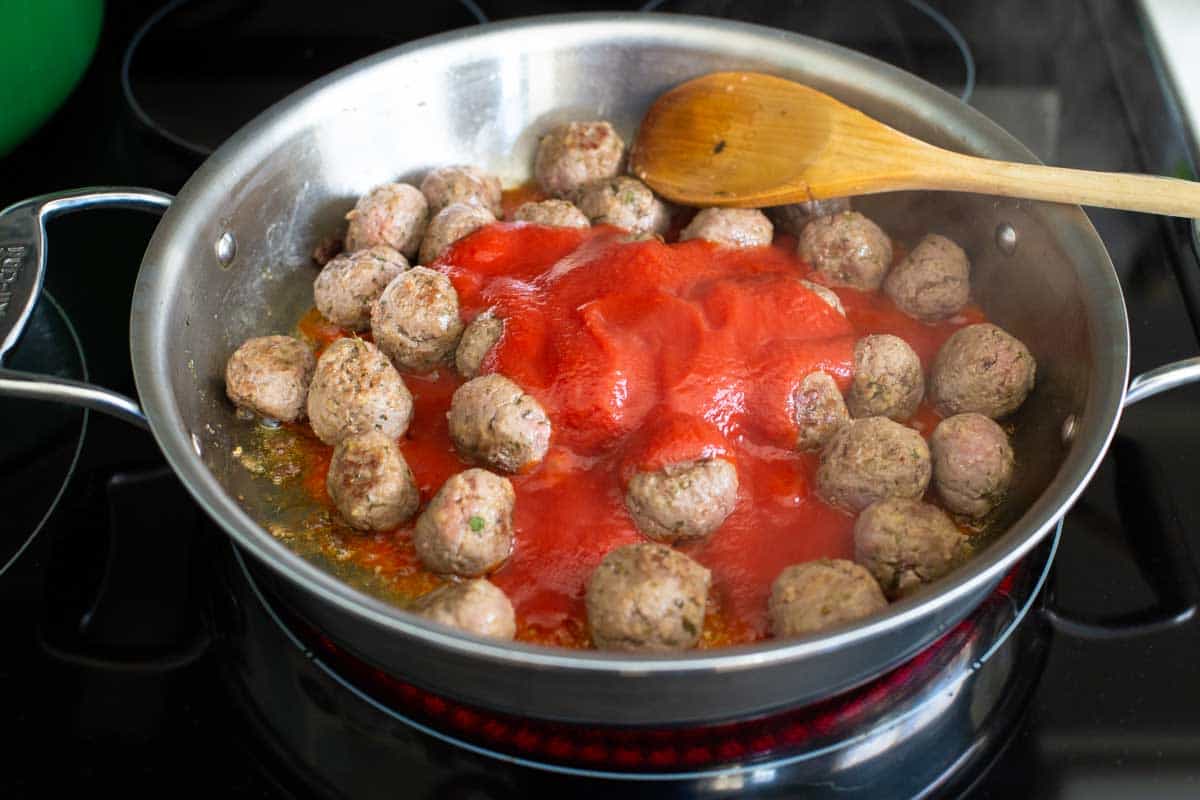 Sprinkle in dried Italian seasoning and garlic salt and stir.
Reduce the heat to medium-low and cover the skillet. Cook the meatballs for 5 - 10 minutes or until cooked through.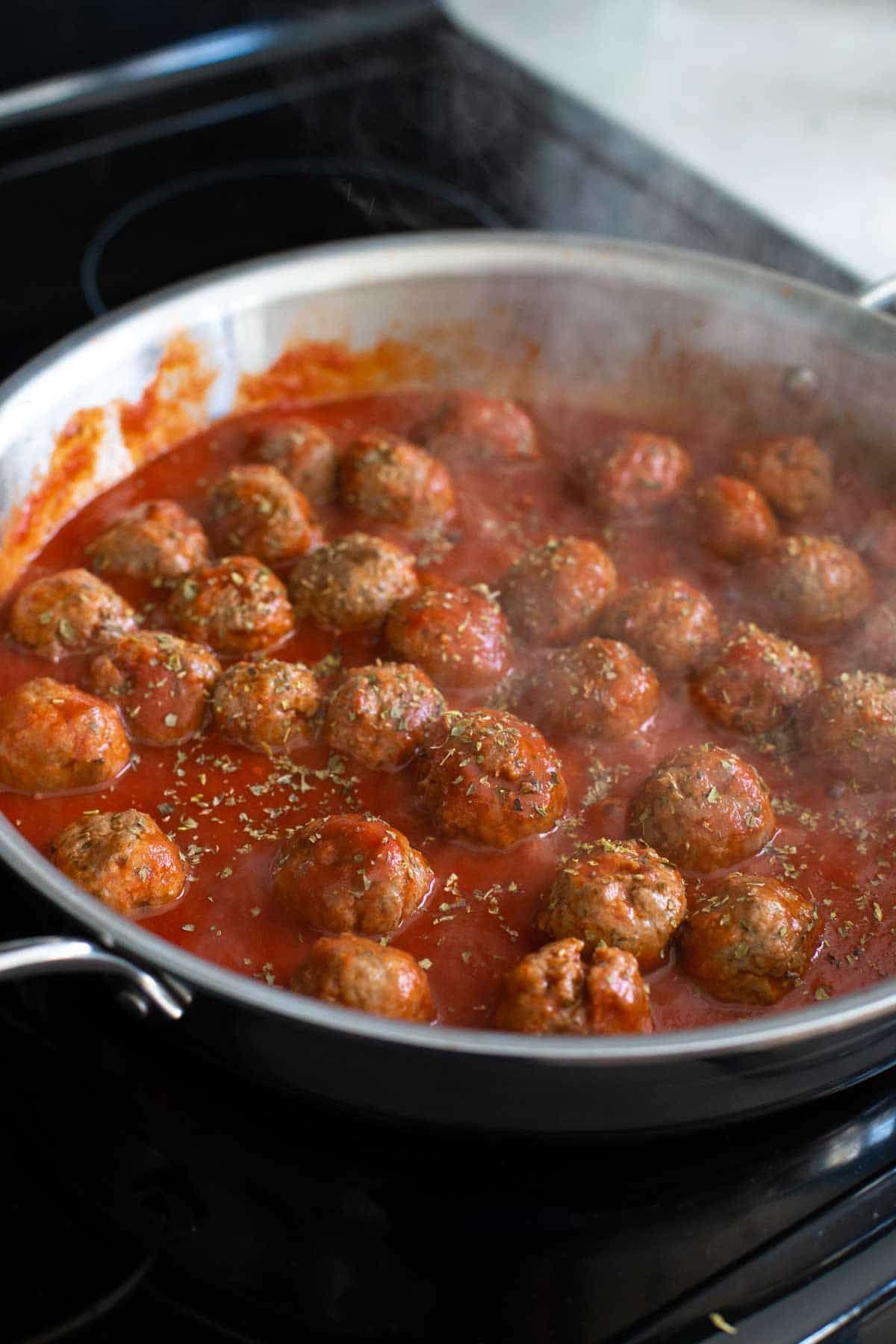 Serving Suggestions
This savory Italian meatballs in tomato sauce are the perfect thing to make homemade spaghetti and meatballs.
Or, if your kids are like mine -- substitute a short pasta like penne, farfalle, or rigatoni to go with this meatball recipe.
You could also use this meatball recipe to make my easy baked meatballs subs.
Keep the meatballs warm in a crock pot as an easy way to serve them buffet style. This is just one of my favorite easy crock pot sandwich ideas!
You could also serve bowls of Italian meatballs in tomato sauce alongside a basket of warm, fresh bread for dunking. My bread machine focaccia would be a perfect option.
Leftover Meatballs for Soup
If you don't want to cook these Italian meatballs in tomato sauce, they actually taste wonderful in my favorite Instant Pot Italian wedding soup recipe.
You can freeze the meatballs for making soup later or use them right away the day you roll them.
📖 Recipe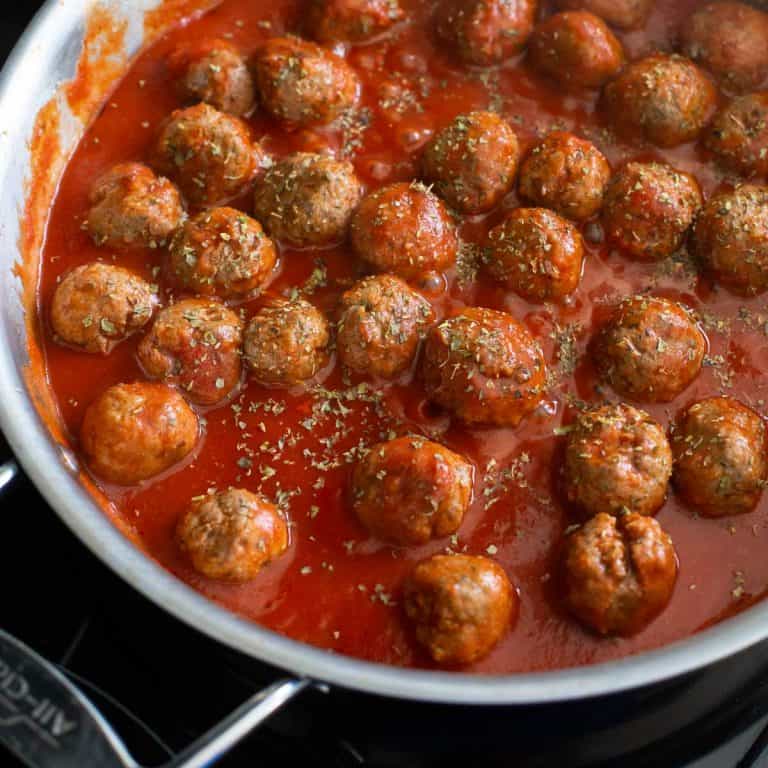 Italian Meatballs
Make a batch of these easy Italian meatballs and you'll have enough to serve over pasta with tomato sauce one night and make a batch of Italian wedding soup on another night. The meatballs can be prepped and stored in the fridge for 3 days or frozen for later.
Ingredients
For the Italian Meatballs
2.2

lbs

ground beef

usually sold as the family/budget package

½

cup

panko breadcrumbs

½

cup

plain Green yogurt

¾

cup

grated parmesan cheese

3

tablespoons

minced garlic

2

tablespoons

dried parsley

2

tablespoons

dried basil

2

tablespoons

dried oregano

1

tablespoon

onion powder

2

teaspoons

kosher salt
For the Tomato Sauce (Pick One!)
1

(24 oz) jar of your favorite prepared tomato sauce

marinara, ragu, roasted garlic, etc.

1

(15 oz) can of plain tomato sauce

1 - 2 teaspoon of Italian herb blend, ½ teaspoon of garlic salt
Instructions
In a large mixing bowl, combine all the ingredients with a fork to fluff the meat as you go. You may need to switch to using your hands to work all the seasonings into the meat.

Pinch off slightly smaller than golf ball sized portions of meat and roll them between your hands to form the meatballs.

Set aside rolled meatballs in a clean baking pan or baking sheet. You should get approximately 60 - 65 meatballs from 2.2 pounds of beef.

Place the meatballs in the fridge to chill for 30 minutes before using.

After that time you can brown them in a skillet with a bit of olive oil or butter to use in a recipe

For freezing instructions, see the notes below.

Basic Cooking Instructions

To cook the meatballs, add 1 - 2 tablespoon olive oil to a large skillet over medium-high heat.

Add the meatballs to the pan and brown them on all sides for 5 - 8 minutes.

Add the prepared tomato sauce or the canned tomato sauce with seasonings to the skillet and stir.

Let the meatballs simmer in tomato sauce for 10 minutes or until cooked through.
Recipe Notes
Freezing Instructions
If you plan to freeze the meatballs, you can skip the tomato sauce and freeze them right after they have been rolled.
Flash freeze them on parchment paper for 1 hour and then transfer them to an airtight container for freezing longer term, up to 6 months.
Thaw frozen meatballs in a single layer in the fridge overnight before using in your final recipe or use directly from frozen if the recipe calls for it.
Save This Recipe to Your Recipe Box
Find this delicious recipe next time you visit by saving it to your very own recipe box on my site. All your favorites stored in one easy place!