This fresh tomato pasta recipe uses the best summer fresh tomatoes at the peak of the season for an easy weeknight dinner.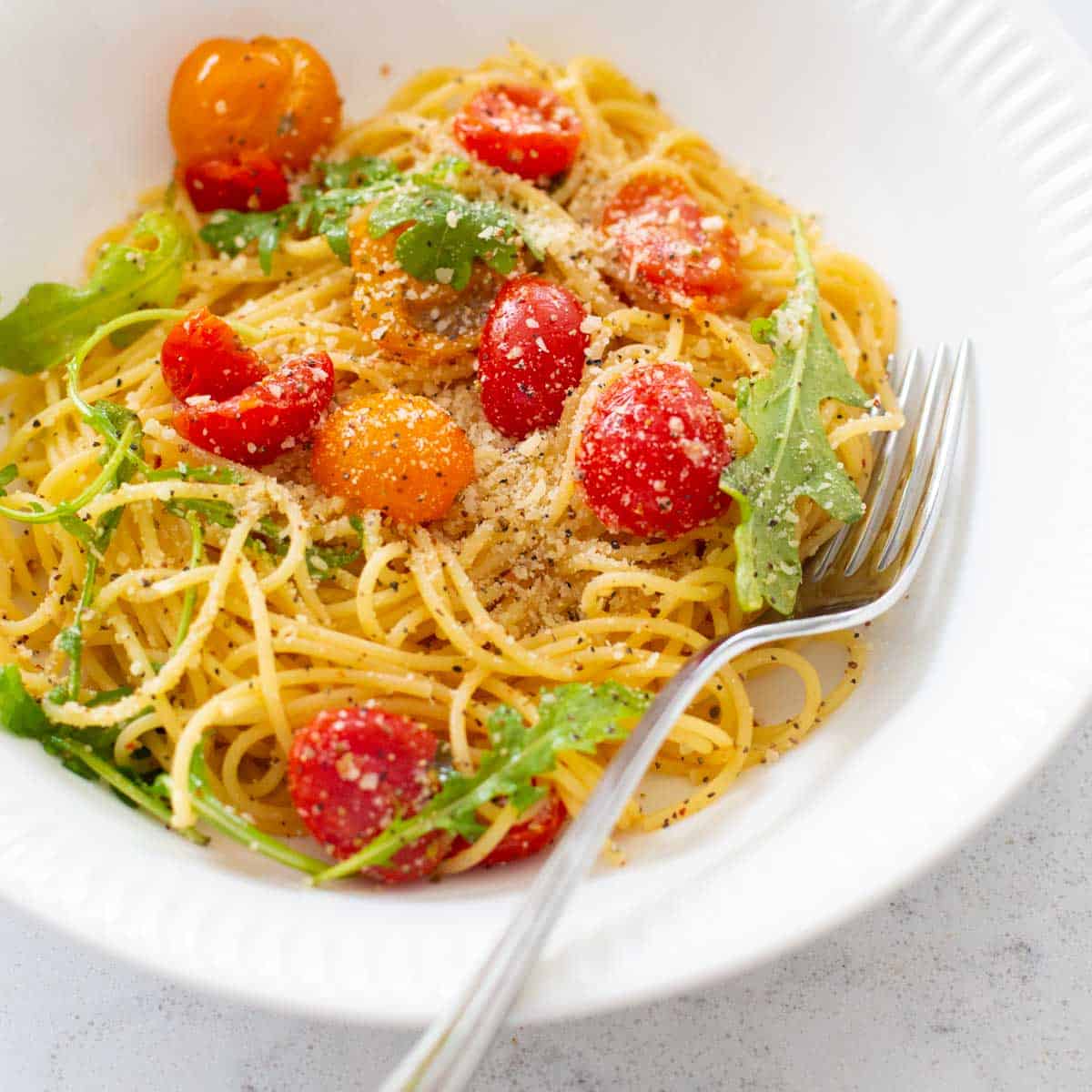 Kids love pasta all year long, they don't care that it is summer and you don't want to get all hot and steamy next to your stove.
A deliciously easy way to serve pasta with a little less cooking takes advantage of the fresh tomatoes you'll find at your local farmer's market.
Simply choose your favorites tomatoes: heirloom tomatoes, cherry tomatoes, grape tomatoes, any kind will do!
Chop them up into bite-sized pieces and top them with a very simple vinaigrette dressing. There's really not much more to this dish than that!
Fun Fact: We're going to be cooking an entire week of meals LIVE from the rental kitchen at our beach condo in North Myrtle Beach next month.
This fresh tomato pasta recipe is just one of 6 easy dinners I'll be demonstrating to inspire you to do a little cooking of your own this summer.
Get all the details on the week of beach house recipes here.
Jump to:
Ingredients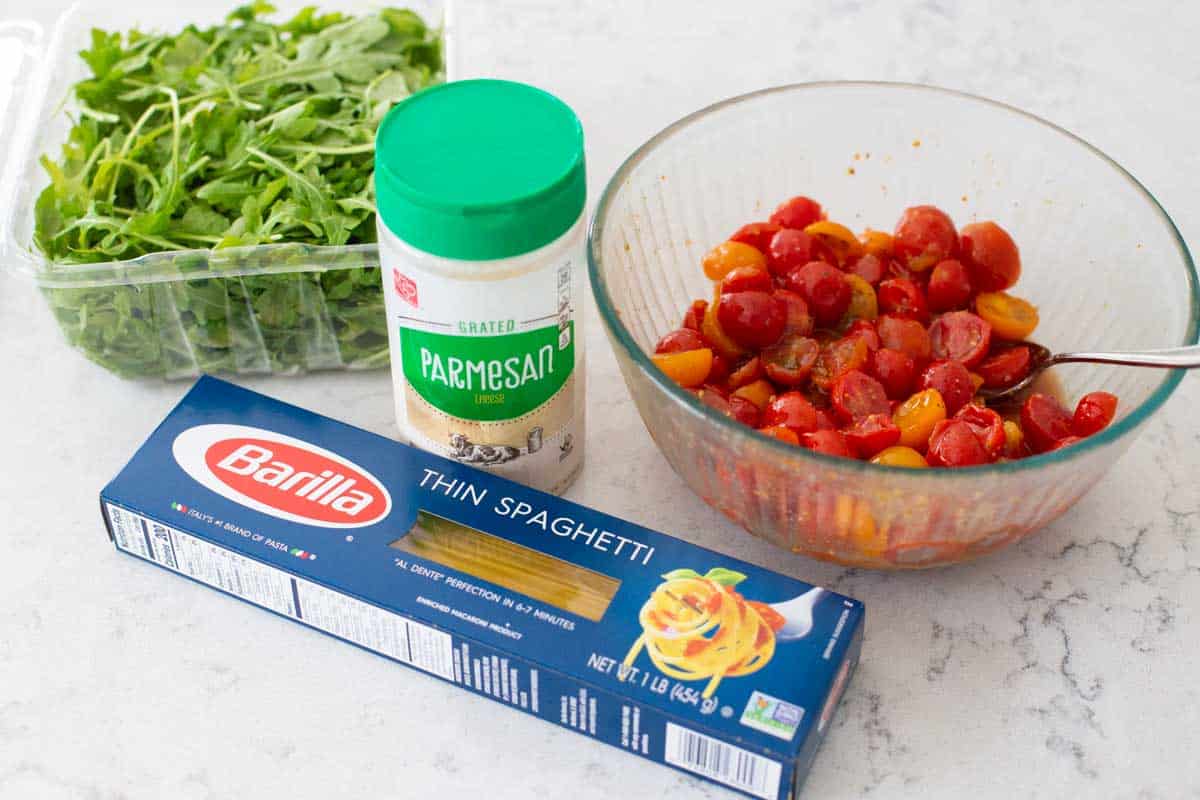 Long-shaped pasta, like spaghetti or linguine: A short pasta like penne would work well too.
Fresh tomatoes: The best from the season, any kind will do. We love fresh cherry tomatoes.
Olive oil
Red wine vinegar
Red onion
Baby arugula
Parmesan
The tomatoes part of this recipe is so delicious and could also be used in over a dozen other ways. You can get more ideas for how to use marinated tomatoes here.
How to Make It
Start by adding the fresh cherry tomatoes to a large mixing bowl. You'll want plenty of room for tossing the pasta together.
Slice each of the tomatoes in half and then drizzle the Italian dressing over the top and stir.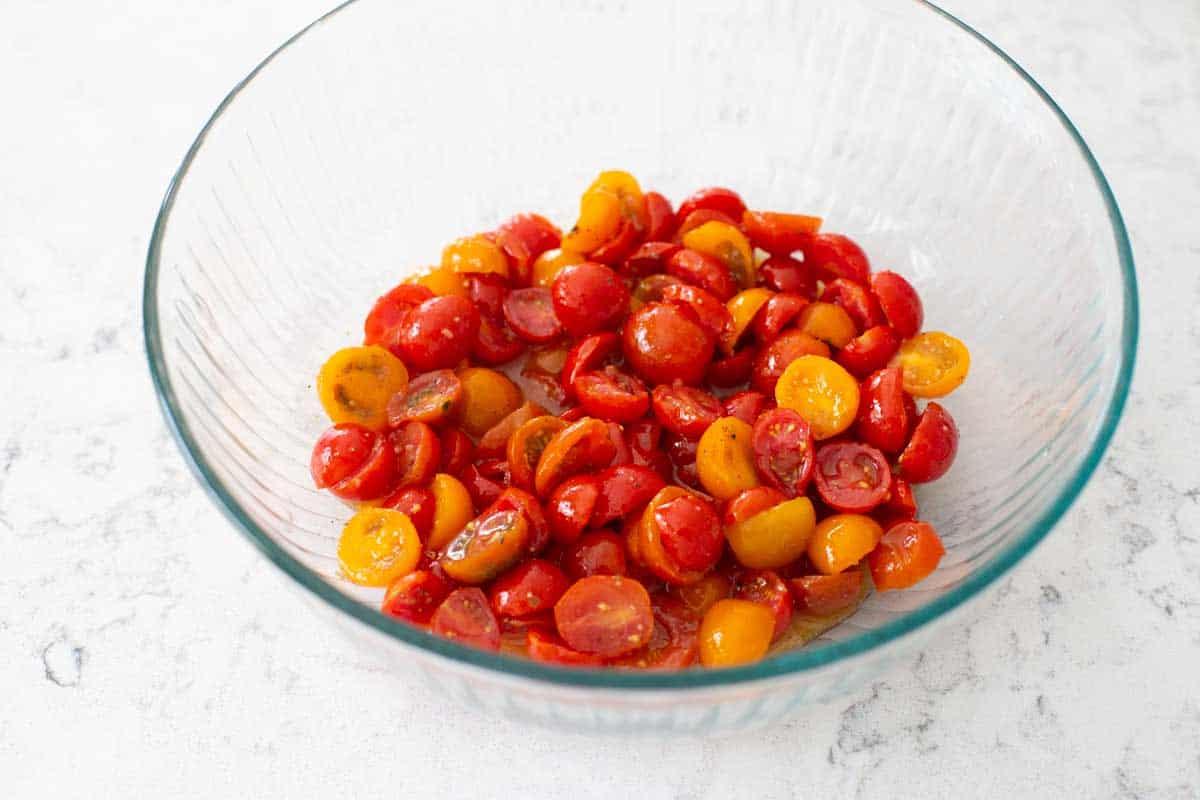 Drain the boiled pasta and add it immediately to the bowl of tomatoes. The cooked pasta will begin to absorb all the flavors of the dressing.
Add the fresh arugula on top and stir it in. If you prefer your arugula more wilted, add it to the tomatoes before you add the hot pasta.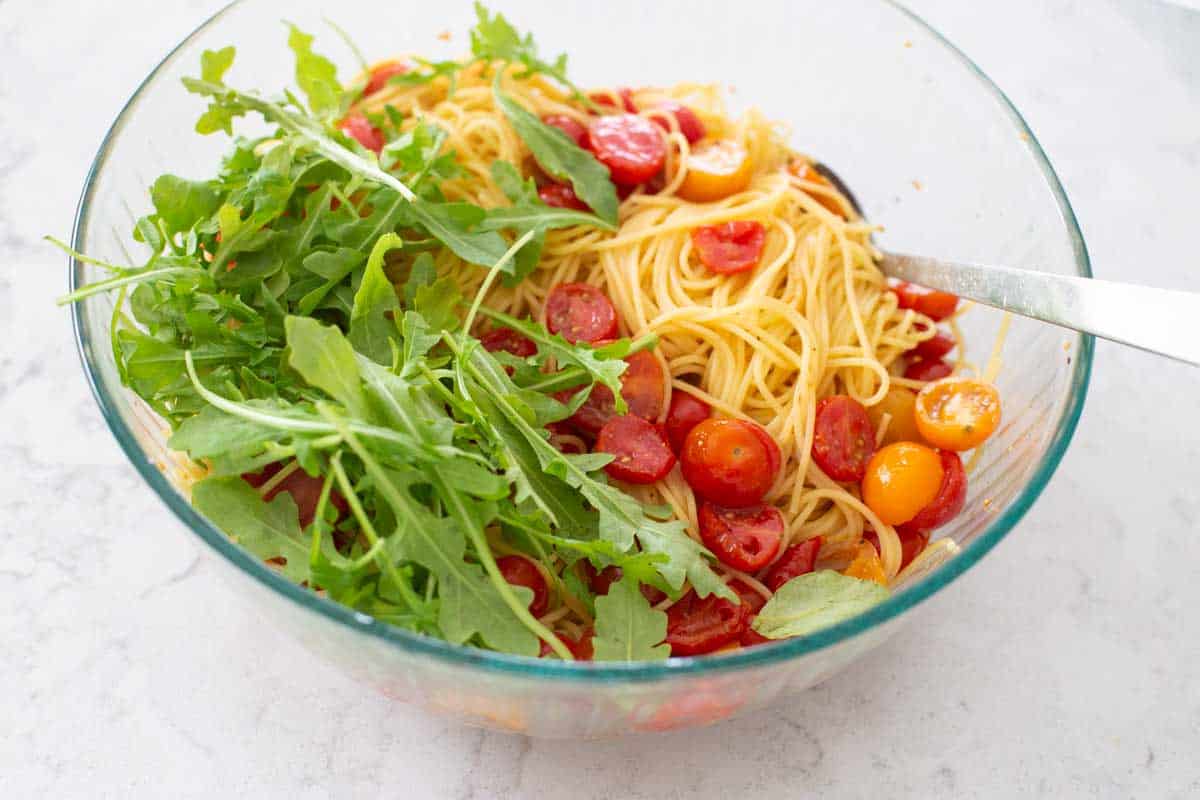 Sprinkle the dish with parmesan and pepper and serve!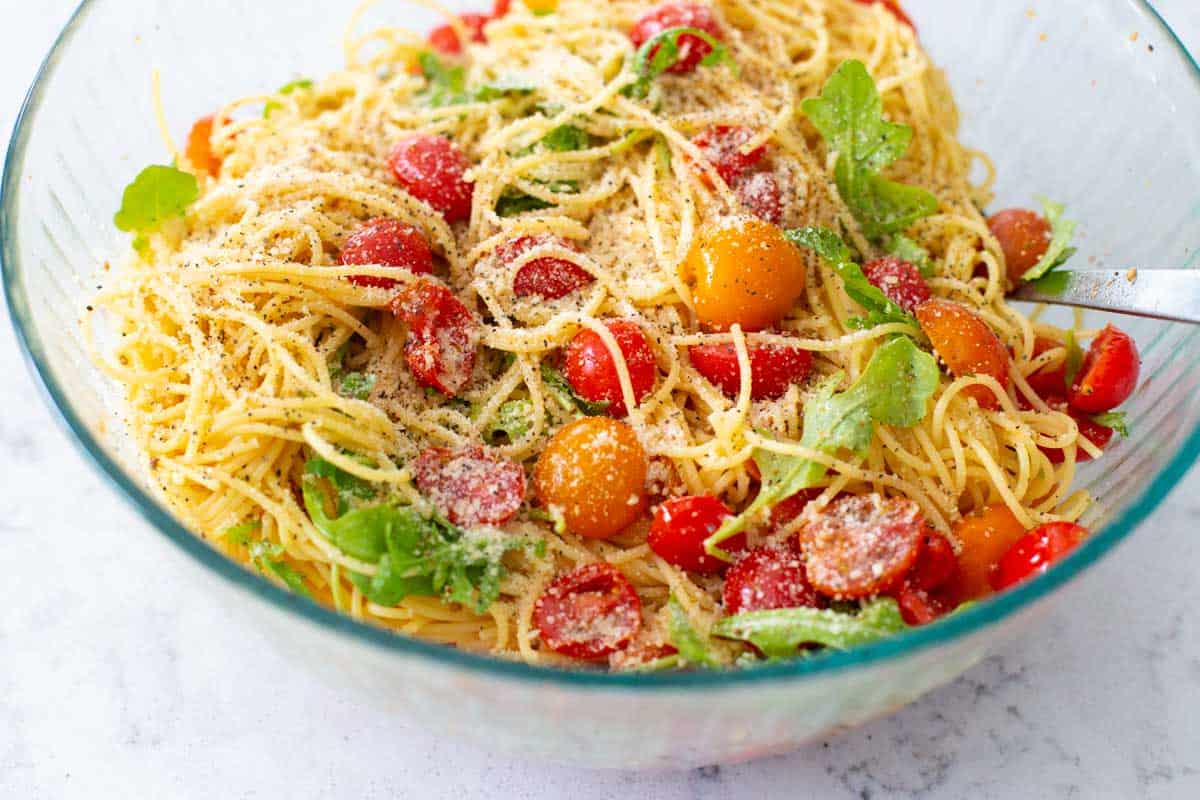 Variations
Since we'll be cooking this dish at the beach, I kept it as super-basic as I possibly could. You can easily add things to the bowl if you're cooking it at home.
Here are some fun suggestions that would work great:
Add some fresh basil leaves to the mix.
Add just a ½ teaspoon minced garlic to the tomato mixture.
Add a splash of white wine to the dressing.
Add a squeeze of lemon juice instead of the red wine vinegar and add chopped fresh chives.
Use feta cheese instead of parmesan.
Add little balls of fresh mozzarella with the arugula.
Once you've got your fresh tomato mix in the bowl, you top it with the freshly boiled pasta. The heat from the pasta will soften the veggies slightly.
If you want to add crunchier veggies, you may wish to steam them or grill them separately.
Serving Suggestions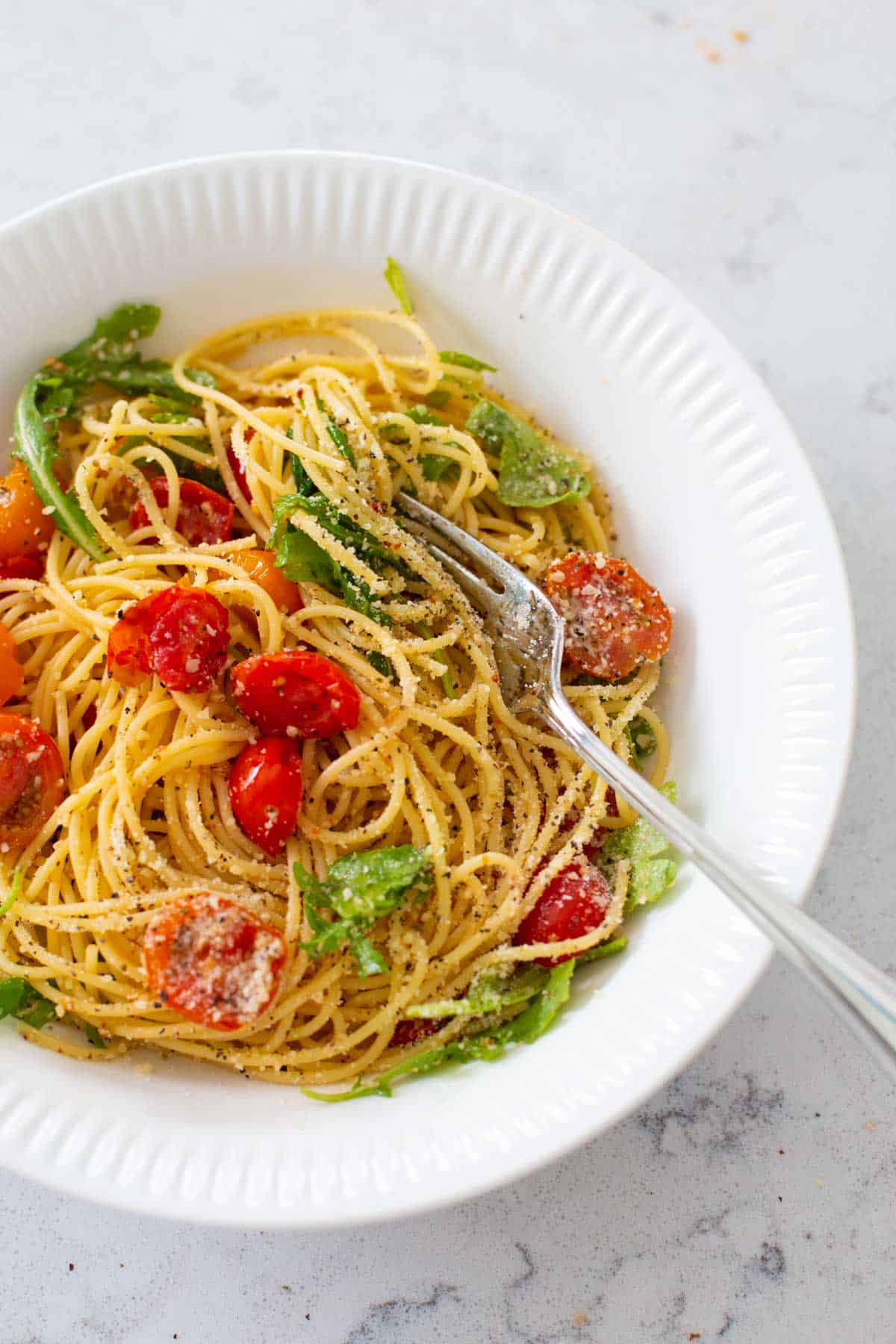 Then serve the pasta with a fresh batch of this homemade garlic bread recipe.
For a heartier dish, you could also add roasted shrimp or seasoned chicken tenderloins for extra protein.