Easy marinated tomatoes in Italian dressing are the fastest dinner side dish or salad topping. Serve them with crostini for an easy appetizer or enjoy them as part of a snack board or charcuterie platter.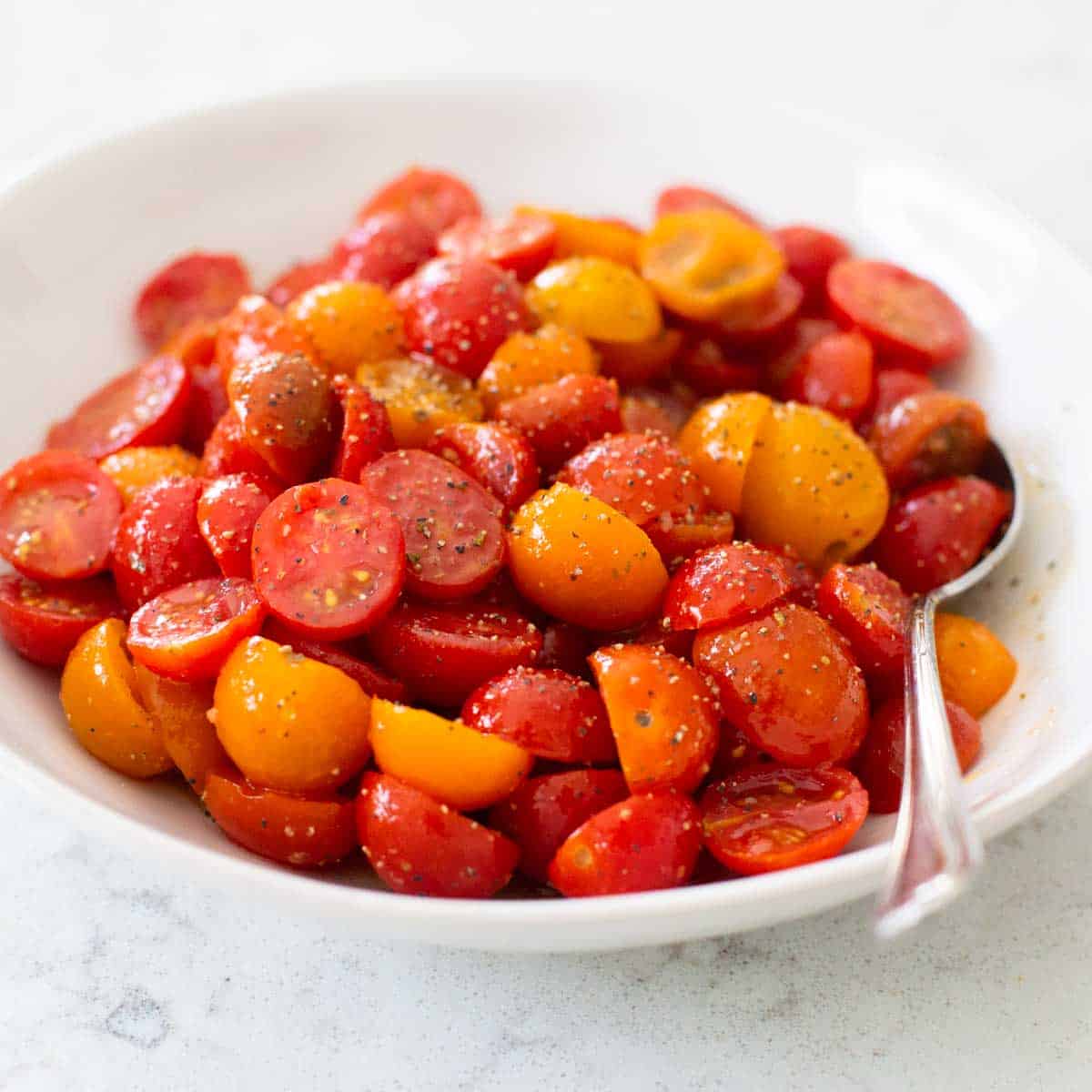 The fastest, easiest recipe I made this summer ended up being one of my all time favorites.
These amazingly delicious marinated tomatoes can be used in countless ways and are the perfect thing for using up the sweet, juicy tomatoes at the market right now.
I made a giant bowl of them to keep in my fridge and ate tomatoes like they were going out of style for a couple weeks.
If you need a new cherry tomato recipe for your family, I can't wait to show you all the ways to use this one!
Jump to:
Why This is the Best Recipe
There are so many ways to use fresh tomatoes when they are in season but I think this is the best marinated tomatoes recipe because:
Quick and Easy: Slice the cherry tomatoes and toss with the dressing. So fast and easy!
Room Temperature Side Dish: This no cook recipe is perfect for when the temps outside are high and you don't feel like heating up the oven. Serve the dish at room temperature in so many ways.
Flexible Use: Don't miss all my suggested ways to use marinated tomatoes as part of an easy dinner below.
Ingredients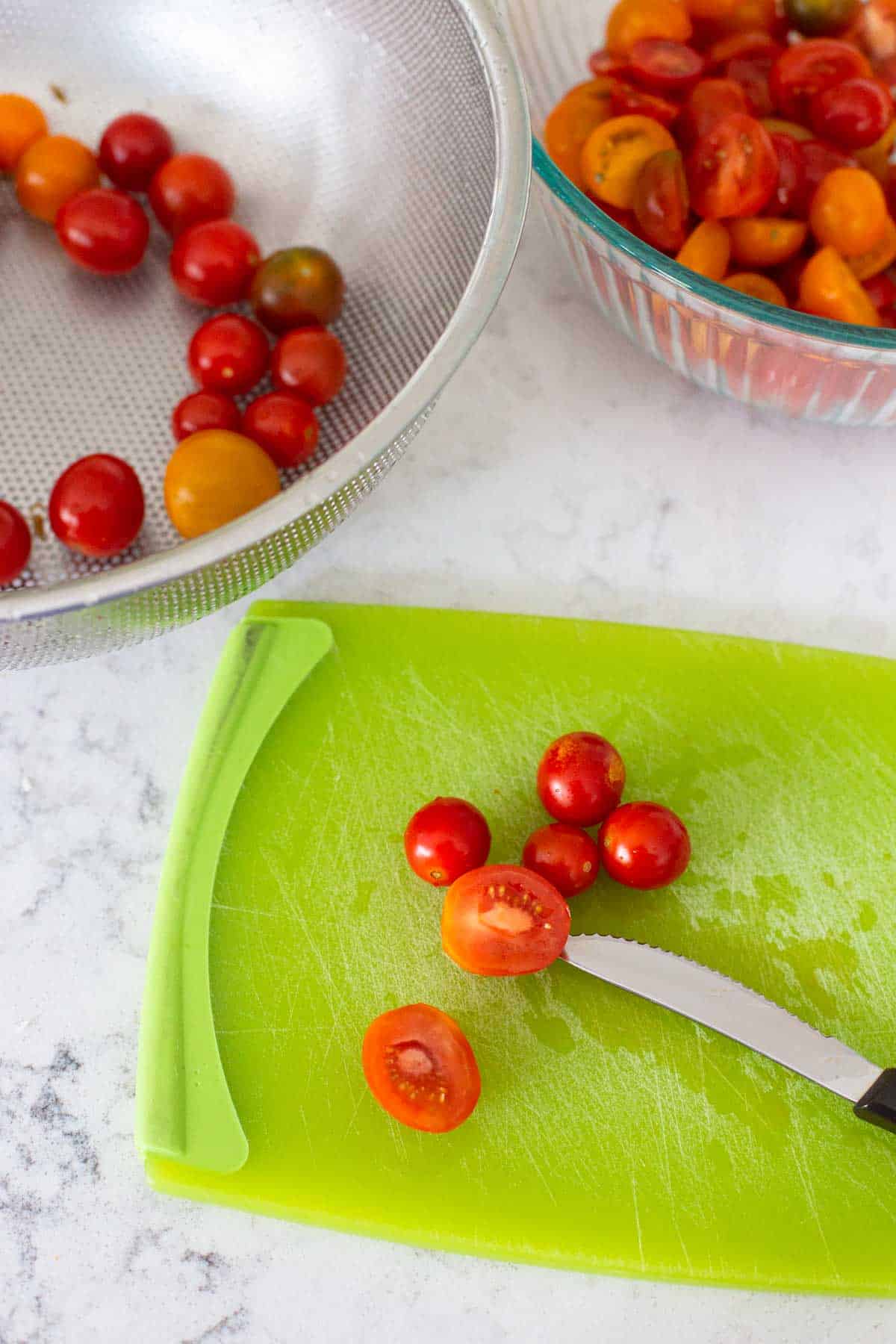 When you're cooking with the freshest in-season produce, you hardly need anything to make the flavors shine.
To make the marinated tomatoes, all you need is:
Fresh Tomatoes: I used red, yellow, and orange cherry tomatoes that I picked up at the market. You could use all red tomatoes, grape tomatoes, heirloom tomatoes, or a classic full-sized tomato and simply cut it into smaller chunks.
Italian Dressing: You could use your favorite prepared Italian dressing, but making it from scratch is super easy and tastes even better.
NOTE: If you prefer another flavor profile, try using a homemade infused olive oil with lemons or hot chili peppers.
Homemade Italian Dressing
If you want to make a super quick Italian dressing at home instead of using a bottle of prepared dressing, you'll also need:
Olive Oil
Red Wine Vinegar
Italian Herb Blend: Any Italian herb mix will work, but I strongly encourage you to try this Tuscan Olive Oil Seasoning. A flatpack of it ships for free and it is one of my very favorite spice blends in my pantry.
Garlic Salt
Prep the Tomatoes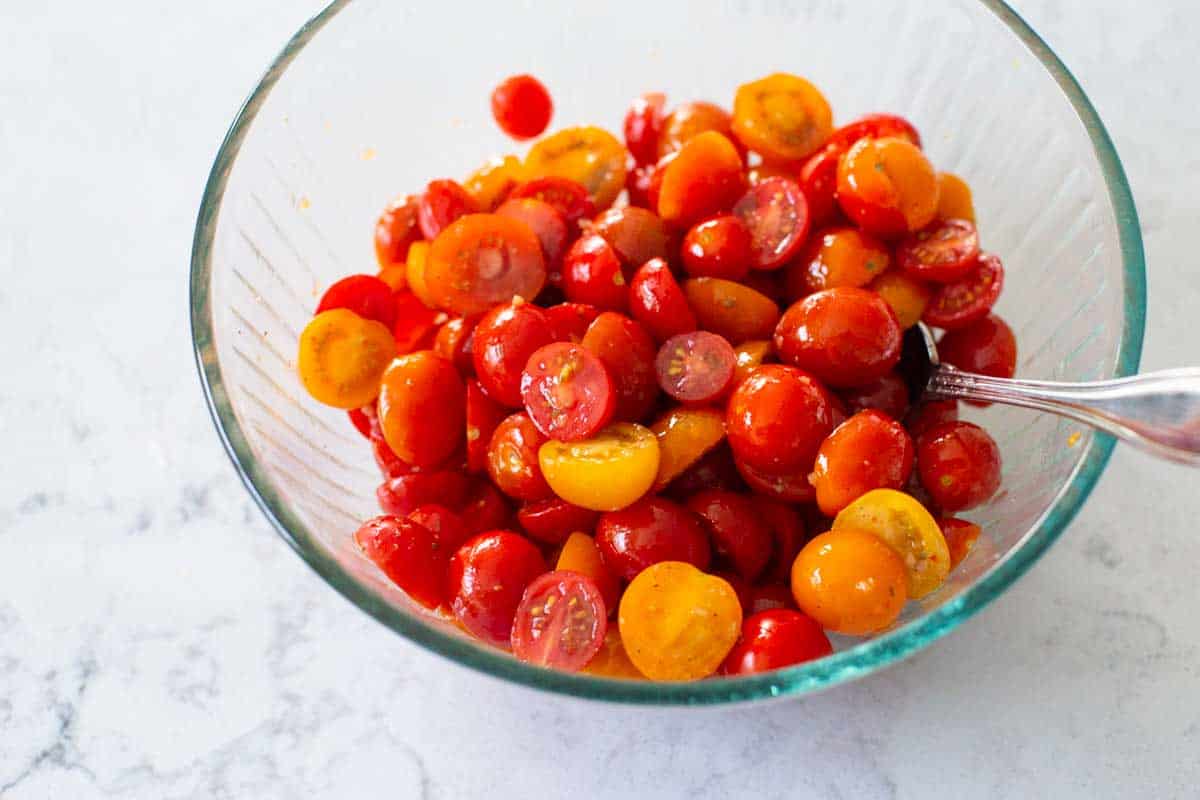 Wash the fresh tomatoes and then slice them in half.
If you're working with larger tomatoes, simply cut them into bite-sized chunks.
Pour the Italian dressing over the top and gently toss to coat.
If you're making the homemade Italian dressing, simply add the ingredients to a mason jar with a lid and shake it together. Then pour over the tomatoes and stir.
Add a sprinkle of salt and pepper over the top. Cover the tomatoes and let them marinate for several hours before serving so they can absorb all the flavors from the dressing.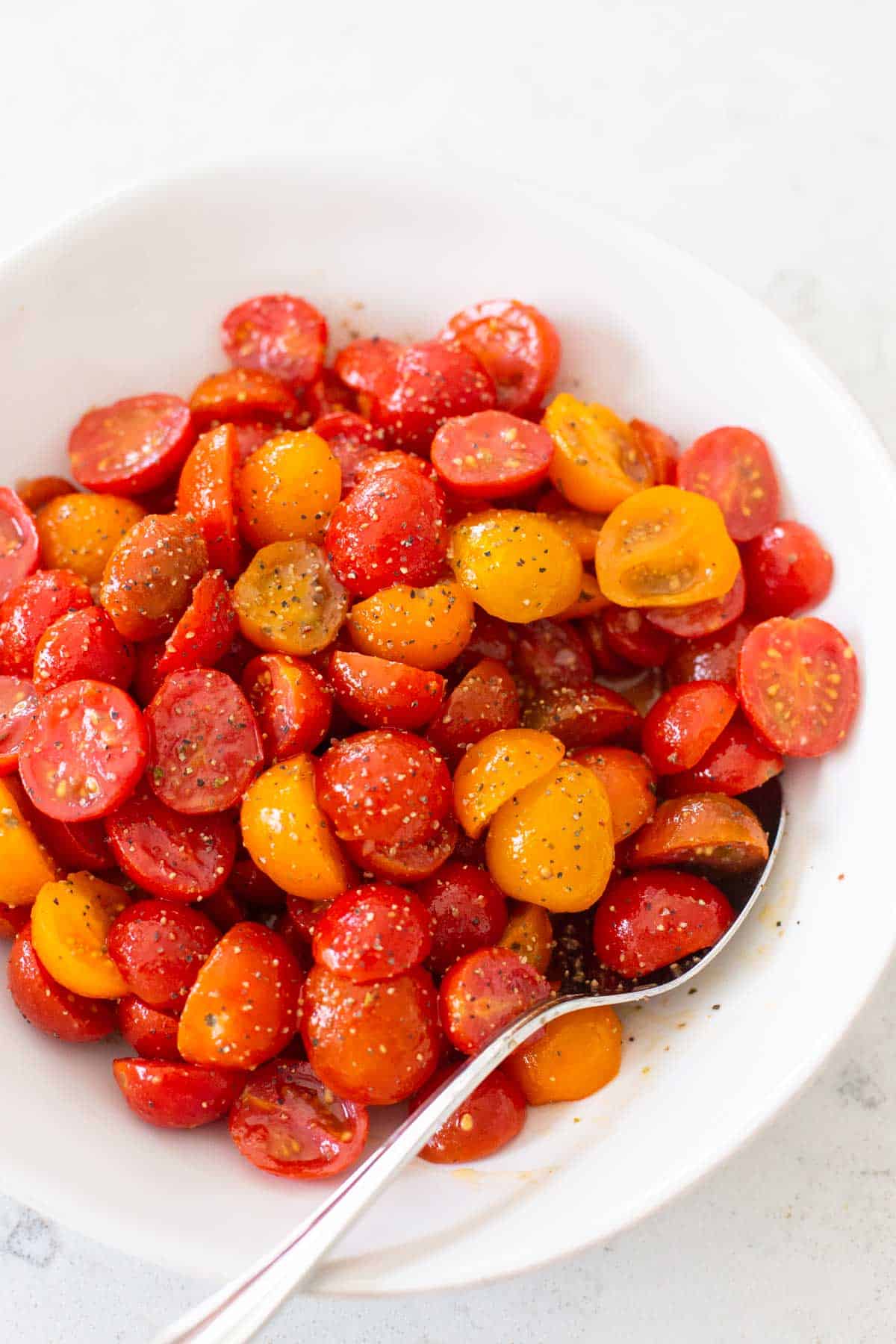 How to Use Marinated Tomatoes
I loved these sweet and savory tomatoes so much, I made 3 separate batches of them over the course of a couple weeks.
In that time, I used them in so many different ways:
2. Easy Lunch
One afternoon I got too busy to make lunch so I made a snack plate with a scoop of cottage cheese and a huge serving of tomatoes.
You could also use them as a topping to a big plate of salad greens. Just add some rotisserie chicken or chunks of feta cheese.
You could also wrap them up in a pita with crispy peppered bacon for a BLT sandwich wrap.
3. Easy Dinner
Add a little more Italian dressing to the bowl and use this recipe to make my amazing fresh tomato pasta for dinner.
You could also top a bowl of my favorite lemon butter pasta with these tomatoes, they'd taste so amazing with a sprinkle of fresh chives.
Want a little more meat? Use them on top of my roast beef crostini and serve the nibbles along with your favorite salad.
Use the marinated tomatoes instead of bruschetta topping on my easy bruschetta pizza with fresh basil.
4. Easy Breakfast
If you love savory breakfasts like I do, these tomatoes taste amazing with several egg dishes.
Scramble up some eggs and use the marinated tomatoes in my easy egg benedict variation. With or without the parmesan cream sauce.
For a much faster breakfast, you could enjoy a hardboiled egg and these fresh tomatoes.
While I wouldn't put the tomatoes inside my easy quiche, they would make a perfect quiche side dish with some salad greens.
Storage Tips
I keep my marinated tomatoes covered and in the fridge for storage for up to 4 days.
You may find that your fridge solidifies the dressing.
The tomatoes are best served at room temperature so I set them on the counter for 30 minutes or so before using them. This will thaw the dressing and you can simply stir them together.
However, if you don't want to wait for the tomatoes to come to room temperature, you can just pop the bowl of tomatoes into the microwave and heat for 10 - 20 seconds. Then stir them together.
This should loosen the dressing without cooking the tomatoes.
The recipe will not freeze well, the fresh tomatoes will loose their texture in the thawing process and become very mushy.
Hopefully there are enough suggestions for how to use them for tasty meals you won't have a single tomato bite go to waste!
📖 Recipe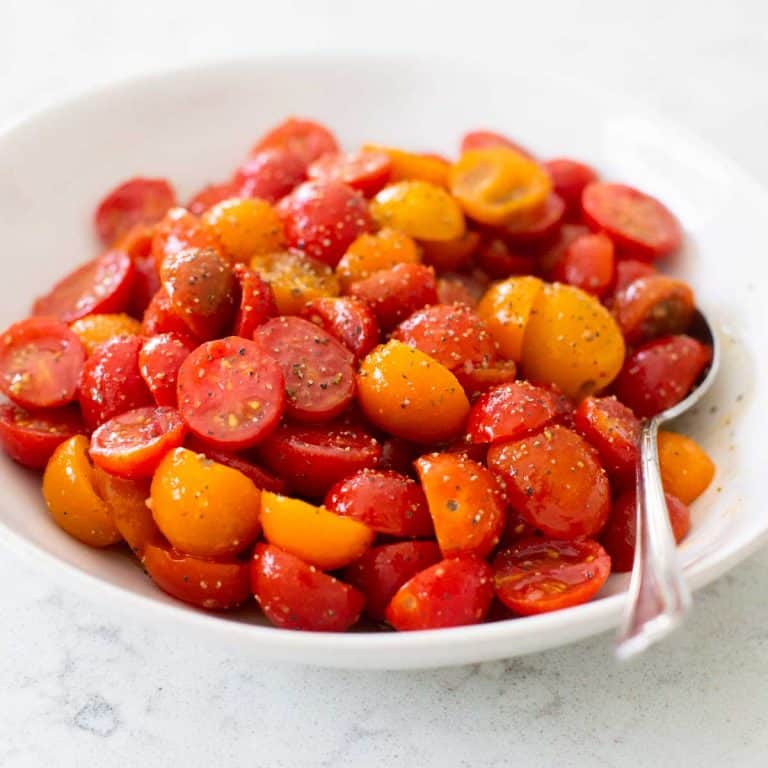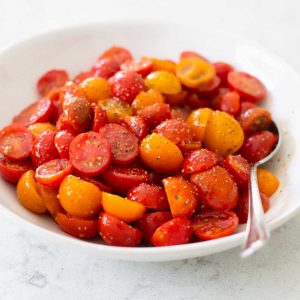 Marinated Tomatoes
These easy marinated tomatoes are a simple dinner side dish, salad topping, or perfect pasta salad base. Serve them with crostini for an appetizer or with cottage cheese for a healthy lunch.
Ingredients
2

cups

cherry tomatoes

3

tablespoons

of prepared Italian dressing OR the homemade dressing below
Instructions
Slice the tomatoes in half and place them in a mixing bowl.

Pour the Italian dressing over the top and gently toss with a fork.

Cover and chill for 4 hours before serving.
Recipe Notes
How to Make Homemade Dressing:
To make the homemade Italian dressing, place all the dressing ingredients in a mason jar with a tight fitting lid and shake them together. Then use in place of prepared dressing.
Save This Recipe to Your Recipe Box
Find this delicious recipe next time you visit by saving it to your very own recipe box on my site. All your favorites stored in one easy place!