This easy quiche recipe works with any filling from leftover ham or turkey to any mix of veggies you have. Use the best cheese for quiche.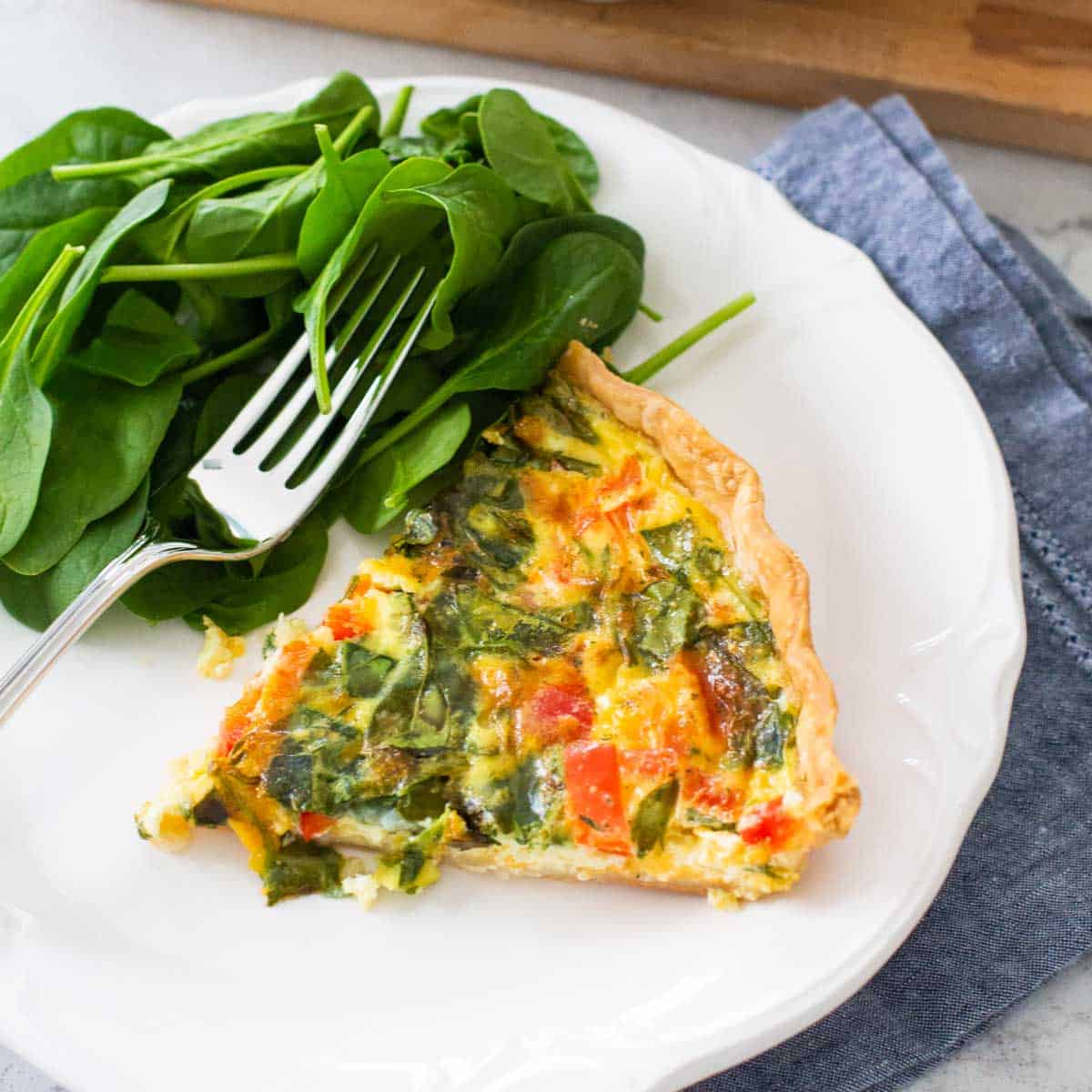 It was always a fun surprise when my mom would serve quiche for dinner. It is the perfect way to use up bits of leftover meat and veggies in a dish that feels new and special.
As a kid, it just felt fun to have breakfast for dinner, but as an adult, I love how easy quiche is to prepare and serve for an elegant brunch any time of year.
During spring, I often make a vegetarian quiche for a Friday meal for Lent. In the fall, I might toss in leftover Thanksgiving turkey for a Thanksgiving leftovers quiche.
This basic quiche recipe is meant to be mixed and matched with whatever fillings you and your family love most. Don't miss my list of flavor variations and ideas for using the best cheeses for the tastiest quiche ever!
Jump to:
Why This is the Best Recipe
I have always thought that a homemade quiche made a wedding shower or baby shower extra fancy but now that I know how easy they are, I think a family weekend breakfast is absolutely worthy!
This is the best easy quiche recipe because:
Simple Ingredients: You can mix and match the leftovers already in your fridge for new flavors every time.
Warm or Room Temperature: Talk about lazy weekend baking! You can enjoy eating this dish fresh and warm or let it sit for a bit and it still tastes great at room temperature.
Protein-Heavy: Trying to find new ways to get your kids to like eggs for breakfast? Fill this quiche with cheese and their favorite breakfast meat!
Store Bought Pie Crust: If we're going to keep it easy, why not use a store bought pie crust??
Ingredients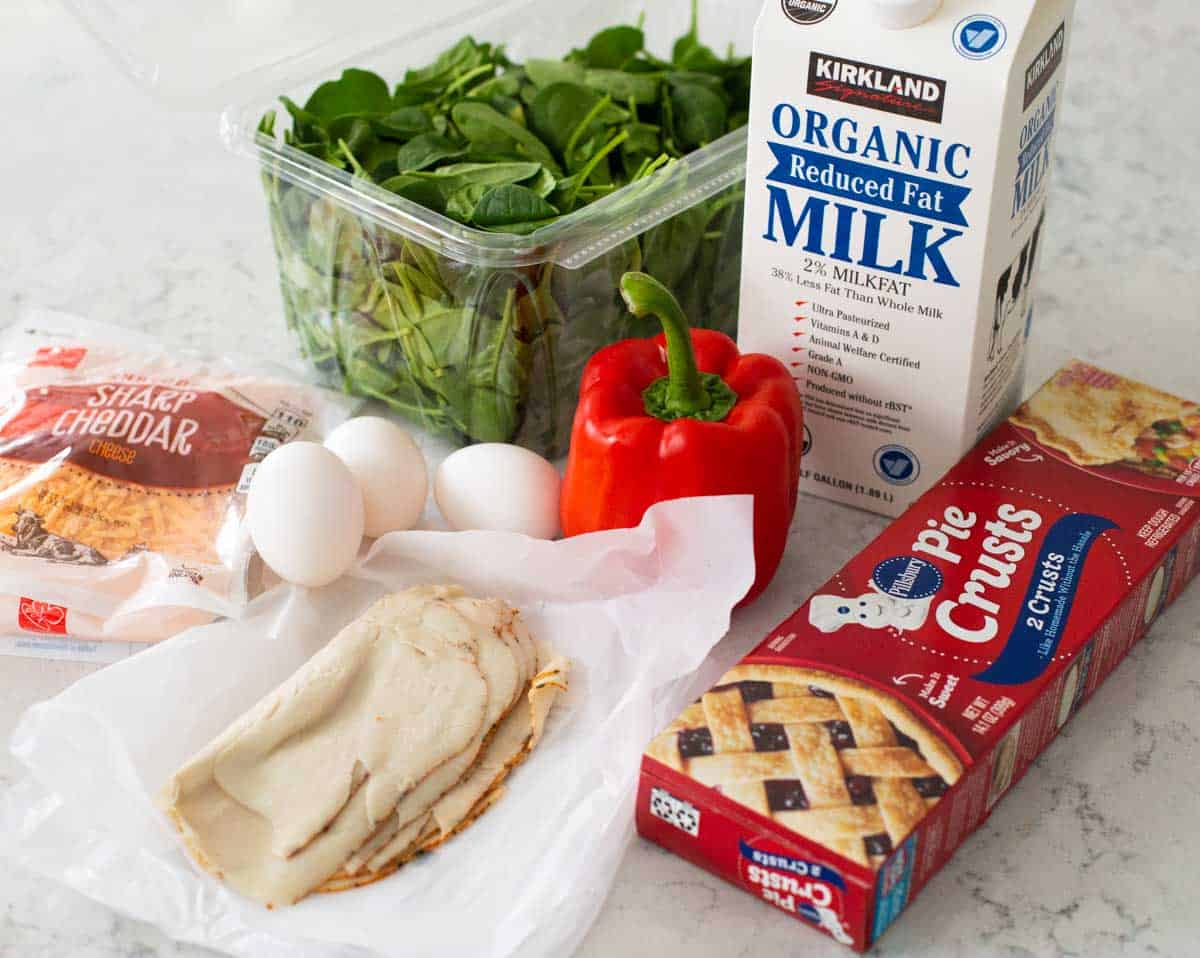 When I baked this quiche recipe for this post, I chose a turkey, spinach, and peppers quiche but just know that you can swap those ingredients to make a custom dish for your family.
All you need to have is:
1 refrigerated pie crust (just 1 from the box of 2 crusts): You could swap a homemade pie crust if you're feeling fancy.
Eggs
Milk: Lots of quiche recipes call for heavy cream, but I have found that milk helps lighten it up just a bit. Use what you love.
Shredded or Crumbled cheese: See my notes on cheese selection below
Chopped cooked meat: Any leftover meat or diced deli meat will work, see my flavor variations notes below
Chopped vegetables: I often use roasted veggies in my quiche but chopped fresh spinach is great too. Don't miss the flavor variations below
Fresh herbs: In a pinch, you could swap with dried herbs
Pie Plate or Quiche Pan?
You can bake this easy recipe in either a traditional pie dish or a specialized quiche pan.
I personally prefer the quiche pan because it is easy to get an elegant ruffled edge to the pie crust and the quiche bakes up a little thinner since the dish is more shallow than a pie pan.
You can find a similar white ceramic quiche dish like mine here.
Prepare the Filling
In a large mixing bowl, whisk the eggs and milk together until smooth.
Then add the meat, veggies, and cheese to the bowl and stir them together until evenly combined.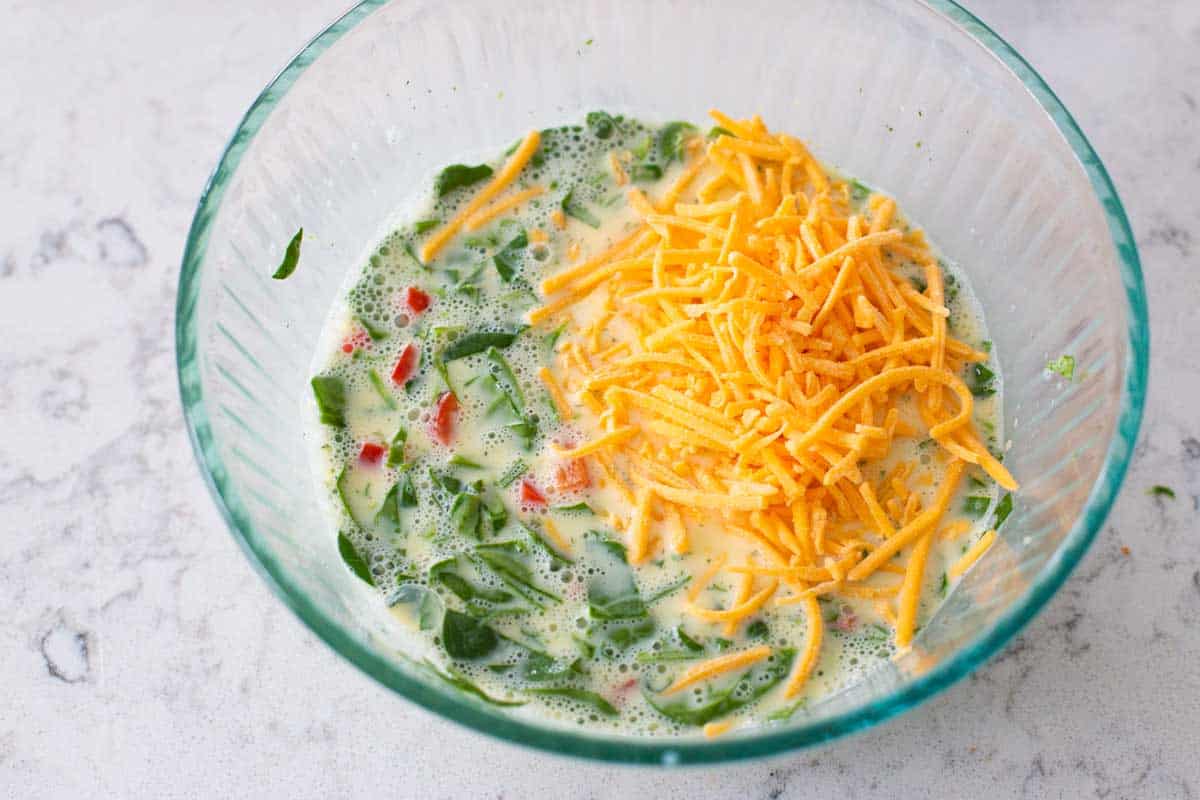 Season the filling with herbs, salt, and pepper and stir once more. Set the filling aside.
Best Quiche Variations
There are so many fun twists on this basic recipe you could try but some of the most popular quiche flavors include:
Quiche Lorraine: This classic flavor uses bacon and white cheeses like Swiss and parmesan.
Caramelized Onion Quiche: Add 1 cup caramelized onions.
Ham and Cheese Quiche: Use diced deli ham or leftover baked ham and Swiss or cheddar cheese.
Vegetarian Quiche: Skip the meat and just add an additional ½ cup of cheese and ½ cup veggies.
Broccoli Quiche: Chop the broccoli small so it cooks easily and mix with cheddar cheese.
Asparagus Quiche: Roasted asparagus works best for this recipe. Chop it up smaller and mix with your favorite cheese.
Spinach and Feta Quiche: Mix baby spinach with feta for a Mediterranean quiche.
Sausage Quiche: Brown bulk sausage and mix with cheddar and diced tomatoes and/or bell peppers.
Crab Quiche: Tender crab meat with Swiss cheese and parmesan would be delicious with fresh green onions.
Tomato Quiche: Slice ripe fresh tomatoes and place them on the bottom of the pie crust, pour the egg filling mixed with cheese over the top.
Bacon and Leek Quiche: Add crumbled bacon and minced fresh leeks to the filling. This peppered bacon recipe would be perfect and you can learn how to cut leeks here.
Salmon Quiche: If you have leftover cooked salmon, you could mix it with baby spinach. Consider adding a small dollop of mustard to the egg filling.
If you wanted to skip the crust and have a more bite-sized version of quiche, you might also enjoy this Starbucks egg bites recipe with your favorite quiche fillings.
Best Cheese for Quiche
The most traditional cheeses for a homemade quiche include:
Swiss cheese
Gruyere cheese
Parmesan cheese
The white cheeses add tons of flavor but don't affect the appearance of the quiche in any way.
That said, you could easily use any of these delicious cheese varieties:
Cheddar
Colby Jack
Monterey Jack
Feta
Goat cheese
Prepare the Crust
Let the refrigerated pie crust dough sit on the counter while you prepare the filling so it can warm slightly. This makes it easier to roll out into your dish.
Gently roll open the pie crust and lay it in the pie plate or quiche pan. Use your fingers to gently smooth it into the ruffled nooks and crannies of the dish.
If you're using a traditional pie plate, you'll want to crimp the edges of the crust like you would for a regular pie.
Use a fork to prick little holes over the bottom of the crust. This helps prevent bubbles from forming.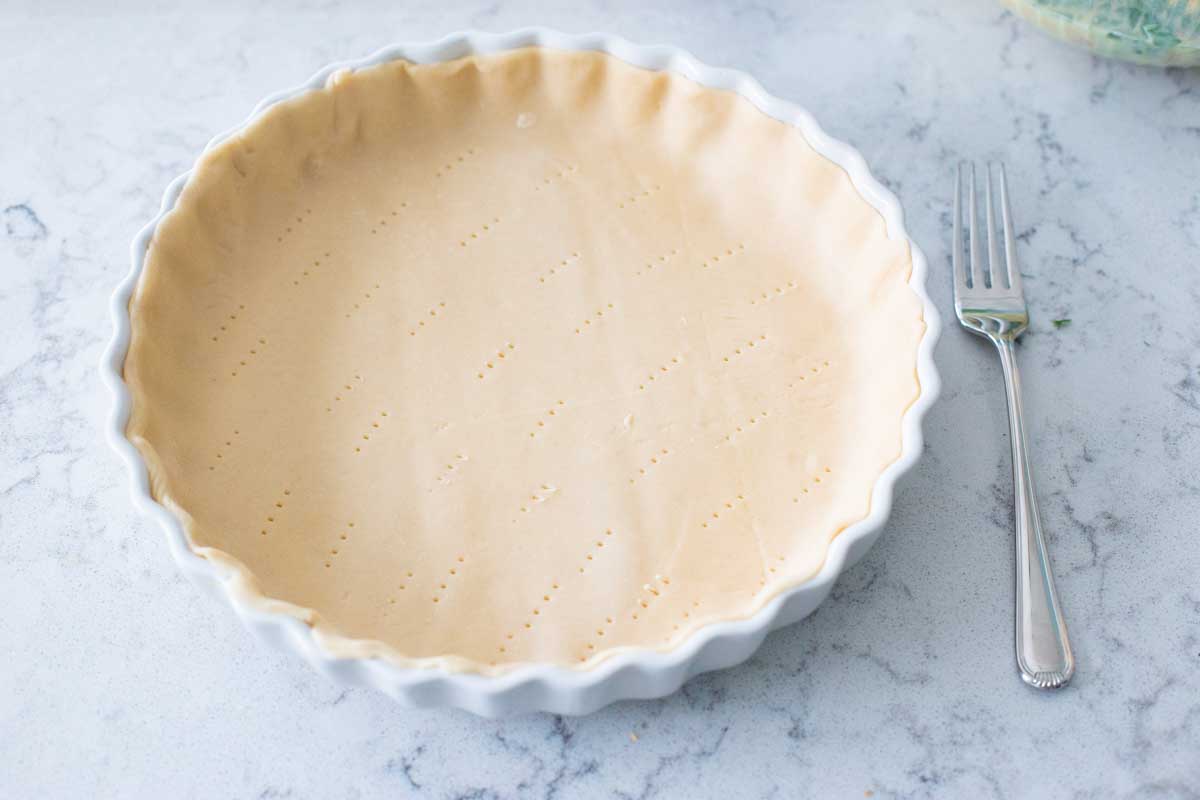 Pour the reserved filling mixture into the dish. All the veggies and meats will likely pile up in the center, simply smooth them out so that the dish is filled evenly.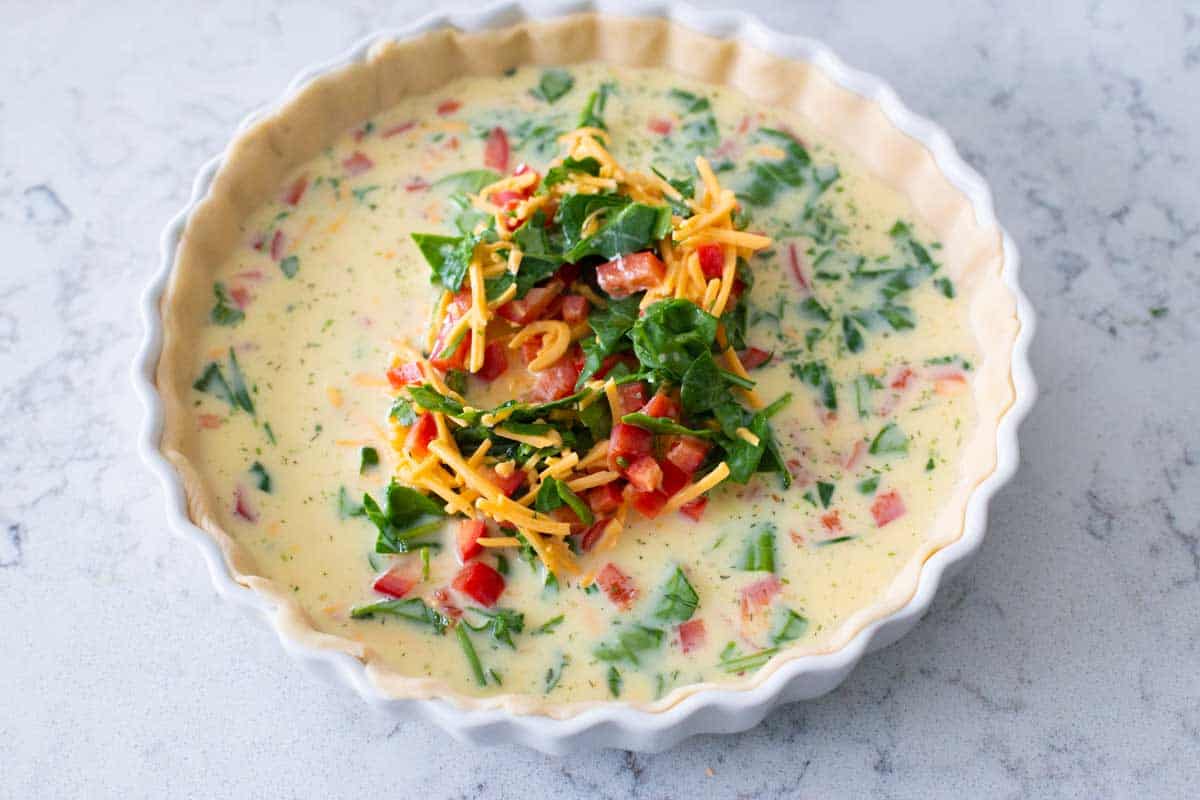 Bake the Quiche
Preheat the oven to 350°F and bake the quiche for 60 minutes or until the eggs are firm when you gently wiggle the dish.
The crust should be golden brown. If it is darkening too quickly, you can cover the edges with aluminum foil so the center can continue to bake.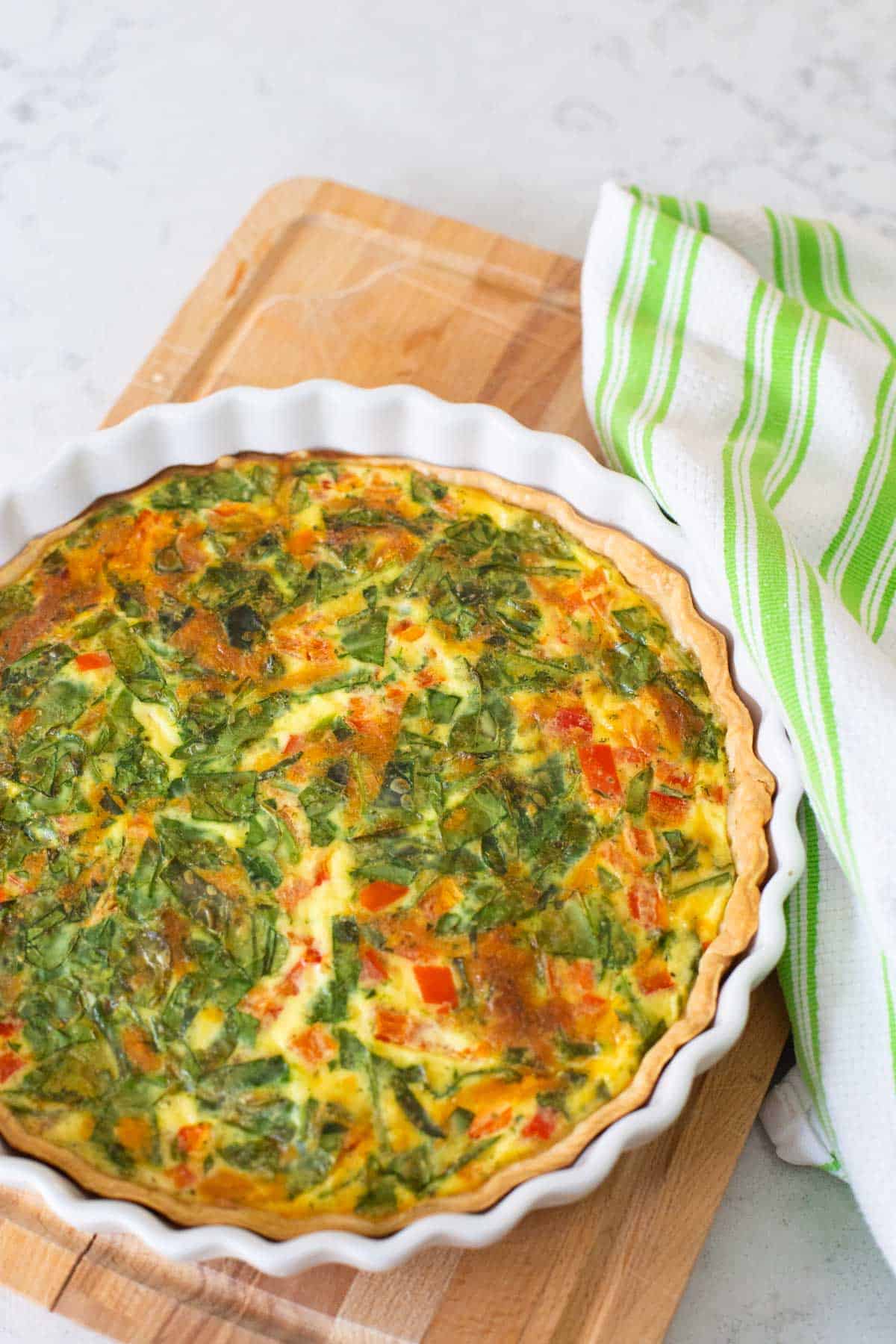 Serving Suggestions
This easy quiche makes an excellent light entree for a brunch, lunch, or simple dinner.
What you choose to serve with the quiche will depend on how hearty you want your meal to be.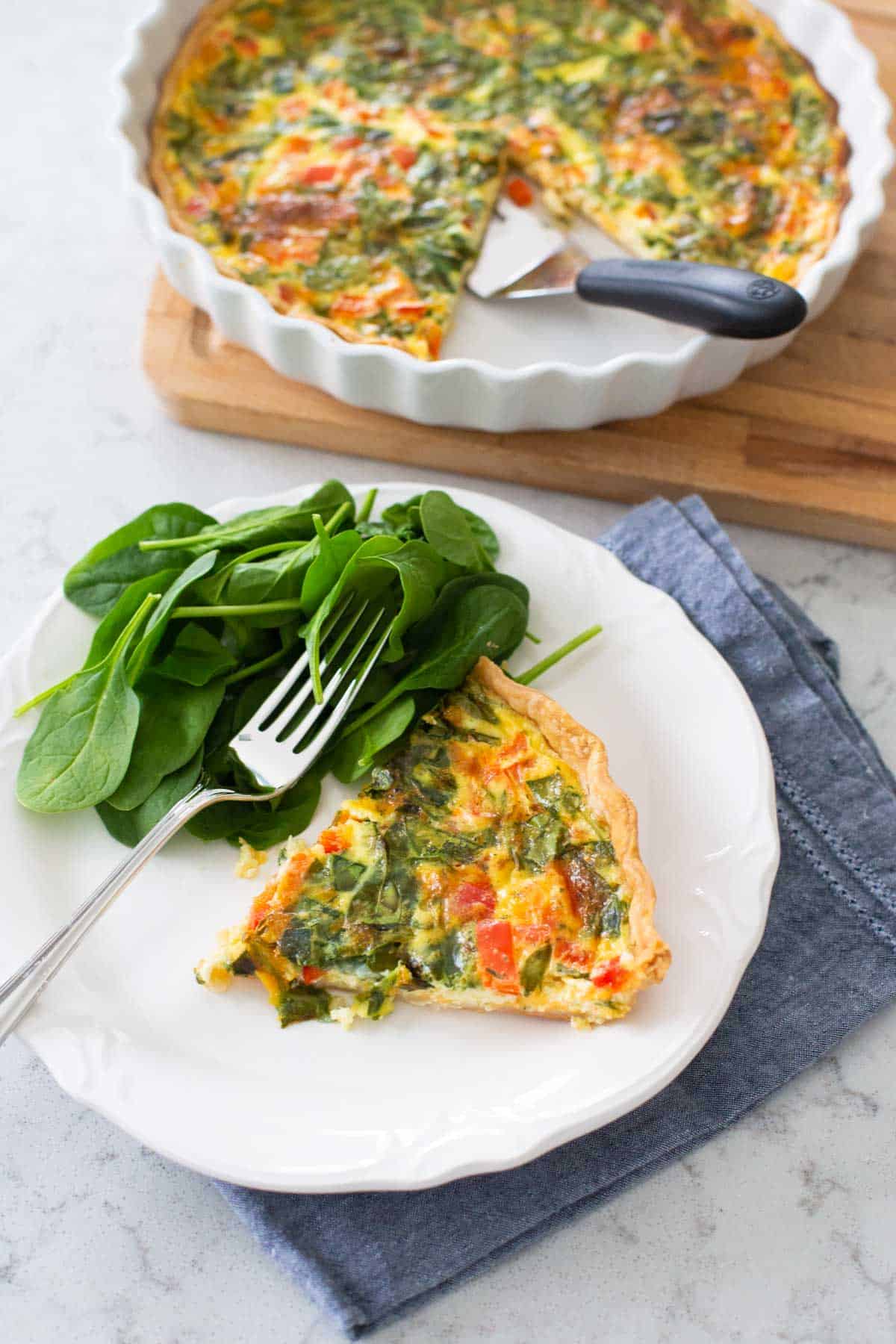 Make Ahead Tips
The best part about serving quiche at a party is that it is delicious served warm from the oven or at room temperature. It is the perfect addition to any buffet table.
You can bake the quiche up to 24 hours in advance and either reheat it in the oven or let it come to room temperature on the counter before serving.
Freezing your quiche will depend on the fillings you chose to use. Watery vegetables like tomatoes and zucchini might not hold up as well in the freezer and could affect the texture as it thaws.
However, if you stick to just a meat and cheese quiche, you'll likely have better success with freezing it for another time.
📖 Recipe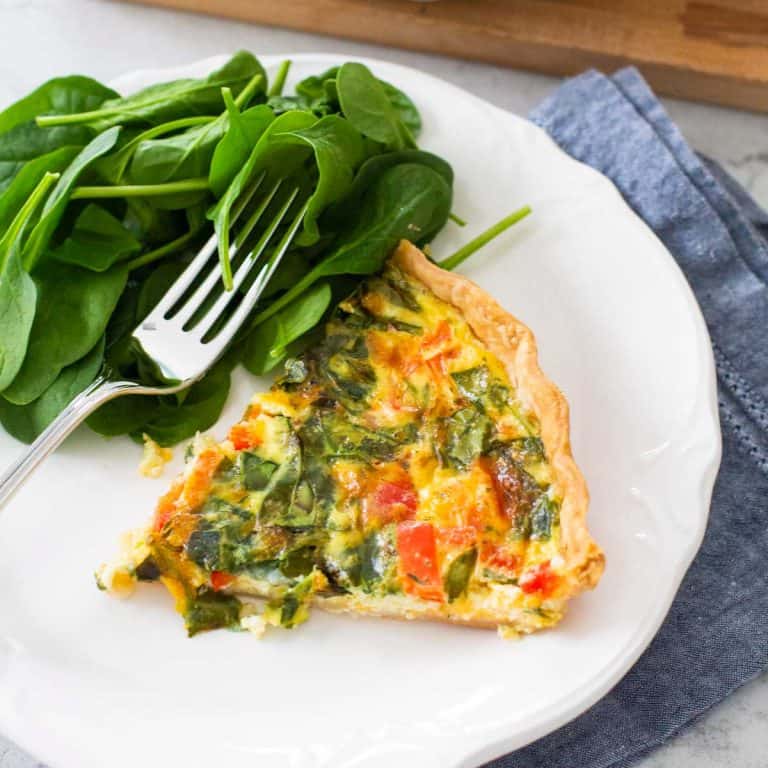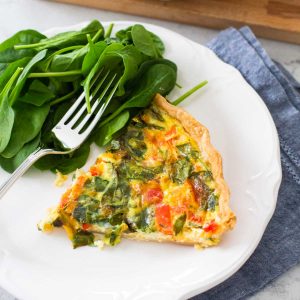 Easy Quiche
This classic quiche recipe can be mixed and matched with your favorite fillings to make a delicious egg dish for your brunch menu.
Ingredients
1

refrigerated pie crust

Like Pillsbury

3

eggs

1

cup

milk

1

cup

shredded or crumbled cheese: cheddar

parmesan, mozzarella, Monterey Jack, Colby, gruyere, Swiss, feta, or goat cheese

1

cup

diced meat or fish: leftover ham

turkey, chicken, shrimp, or salmon

1

cup

chopped fresh or roasted vegetables: baby spinach

asparagus, bell peppers, onions, broccoli, tomatoes, zucchini

1

tablespoon

fresh herbs: basil

cilantro, chives, thyme, rosemary, oregano

Sprinkle of salt and pepper
Instructions
Preheat the oven to 350°F.

Roll open the pie crust dough and carefully lay it in the bottom of a pie plate or quiche pan. Use a fork to prick the bottom surface.

In a large mixing bowl, whisk the eggs and milk together until frothy.

Add 1 cup of your favorite cheese, 1 cup of any diced meat, 1 cup prepared vegetables, and 1 tablespoon of your favorite fresh herbs and fold the filling together. (For a vegetarian quiche, omit the meat and add additional ½ cup cheese and ½ cup vegetables.)

Pour the filling into the prepared pie dish and smooth out the ingredients so they fill the quiche evenly.

Bake for 60 minutes or until the eggs remain firm when the plate is gently wiggle. A toothpick inserted in the center should come out clean.

Serve warm or at room temperature.
Recipe Notes
Make Ahead Tips:
The quiche can be made up to 24 hours in advance and reheated or served at room temperature.
Freezing will depend on the types of vegetables you mixed into the filling. Vegetables with more watery texture (like tomatoes and zucchini) may affect the texture once frozen.
Save This Recipe to Your Recipe Box
Find this delicious recipe next time you visit by saving it to your very own recipe box on my site. All your favorites stored in one easy place!