Leftover turkey quiche made with pepper jack cheese and peppers is a perfect way to use up your Thanksgiving leftovers!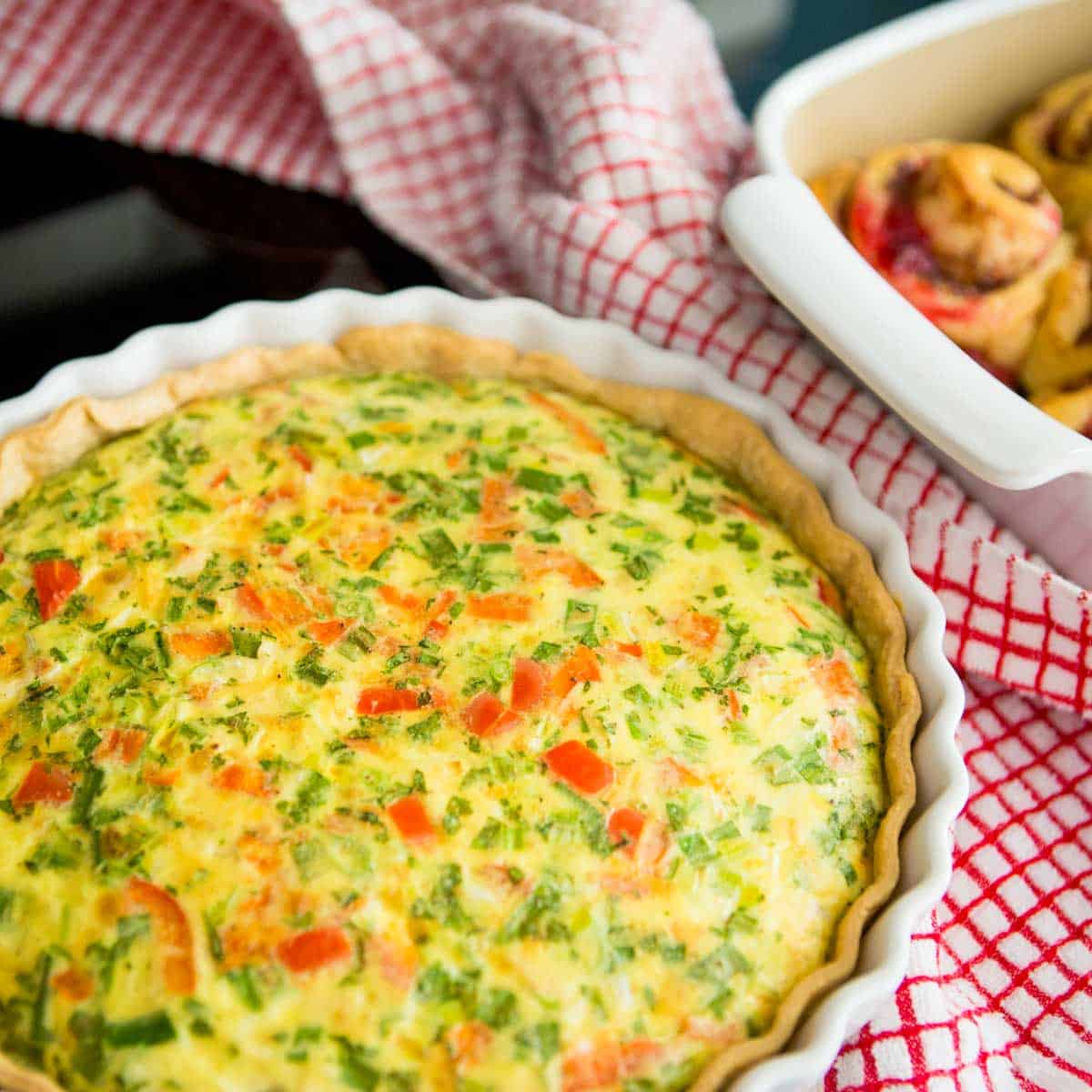 As much as I love Thanksgiving leftovers, by Day 3 I'm ready for something other than a turkey sandwich with a side of green bean casserole!
Our slowcooker turkey turned out so magnificently this year I wondered why I don't make turkey more often.
When the fridge is full of leftover turkey, this spicy pepper jack turkey quiche is the perfect solution!
Pair it with these sweet cranberry cinnamon rolls because they balance each other perfectly.
Add some fresh-squeezed orange juice for the kids and mimosas for the adults and you're ready for a festive weekend brunch!
Jump to:
Why This is the Best Recipe
An easy homemade quiche is the perfect answer to a fridge full of all kinds of leftovers but this turkey quiche is the best because:
Simple Pie Crust: We keep things easy with a refrigerated pie crust. You could make it from scratch, but the thin dough works perfectly here.
Lots of Fresh Veggies: I love the texture and flavor the red pepper and green onions give this quiche.
Big Chunks of Turkey Meat: When you start with a home cooked turkey, you can slice the meat thickly and break it up into nice hearty chunks.
Tons of Flavor: The spicy pepper jack cheese really kicks things up. If your family prefers things milder, a Monterey jack would be a great swap.
Ingredients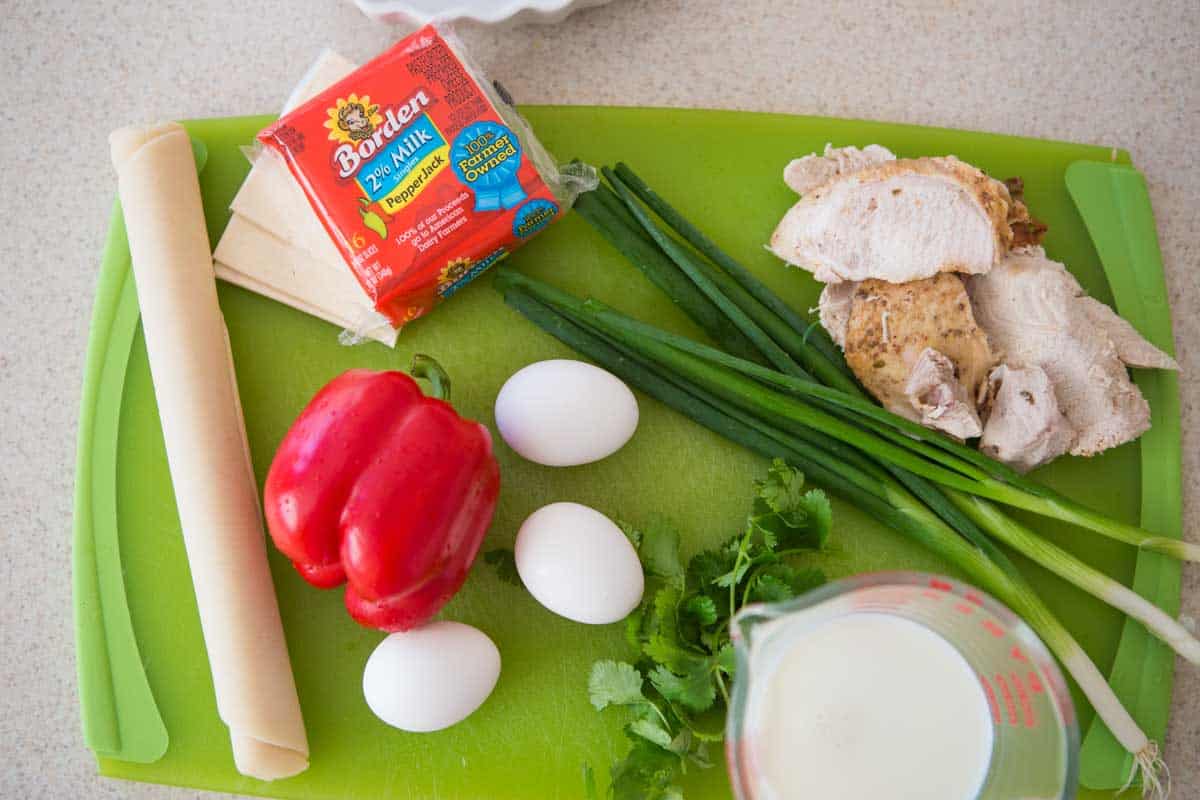 You can whip up a turkey quiche in no time because the ingredients list is just so simple:
Pie Crust: I just use a refrigerated pie crust like Pillsbury or Trader Joe's.
Pepper Jack Cheese: In a pinch I used cheese slices, but shredded cheese works great too!
Turkey Meat: I love using leftover turkey meat after Thanksgiving, but you could actually swap thick cut turkey slices from the deli if you're in the mood.
Eggs
Milk
Green Onions
Red Pepper
Fresh Cilantro (optional)
Salt and pepper to taste
Need a good turkey recipe to start? My slowcooker boneless turkey breast is a frugal way to make fresh turkey for a variety of budget-friendly dinner ideas for your family.
Tools You Need
The most important tool is your baking dish.
I bake my quiches in a quiche pan like this one because it forms a thinner quiche that cooks more evenly.
If you don't have a quiche pan, you can a regular pie pan works but you may need additional cooking time for the quiche to set properly in the center.
Prepare the Pie Crust
When working with a refrigerated pie crust, let it thaw on your counter for 10 minutes before you try to unroll it.
If the dough sticks or is still too stiff, let it sit another couple minutes and try again.
Roll the dough out and gently lay it in your quiche pan or pie plate.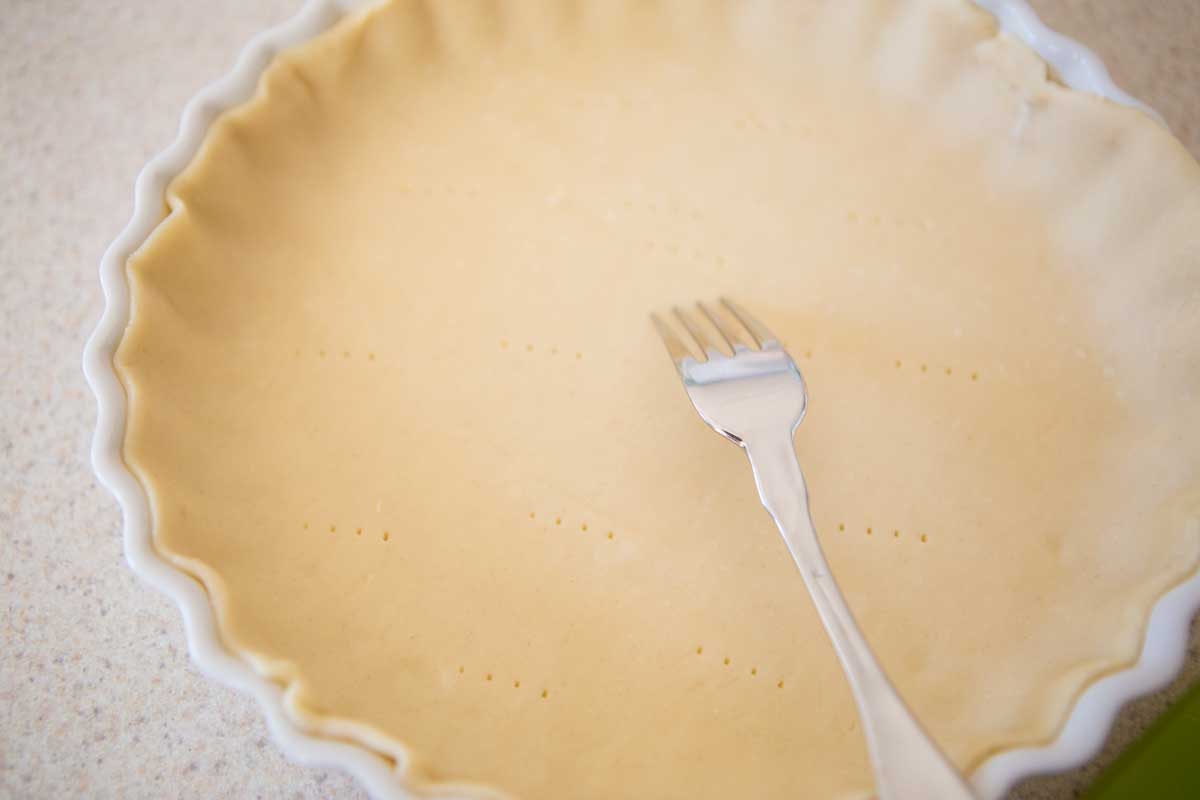 Gently press the crust into all the nooks and crannies of your fluted pie dish.
Use a fork to prick a few holes on the bottom of the crust to help it cook flatly.
Prepare the Quiche Filling
In a large mixing bowl, whisk together the eggs and milk.
Season with a sprinkle of salt and pepper and fold in the chopped green onions.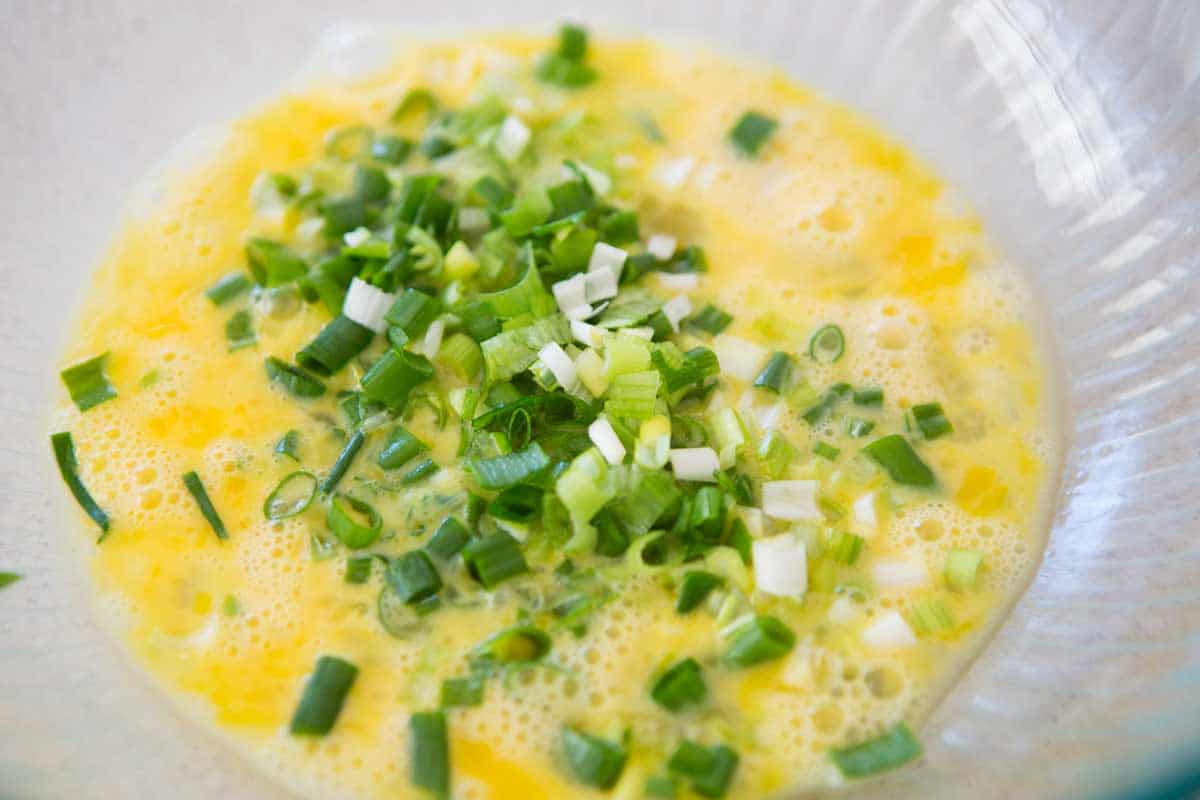 Next, chop the turkey meat into bite-sized chunks.
Chop the red pepper into chunks and stir both into the whisked eggs.
If you're using fresh cilantro, chop and sprinkle it in, too.
A Note on Cheese
The whole point of baking a quiche is that you're using up things from your fridge.
If you have a few cheese slices, use them!
If you prefer shredded cheese, go for it!
If you use cheese slices like I did, you'll want to layer them along the bottom of the pie crust like this:
But if you use shredded cheese, you can stir it into the quiche filling instead.
Baking Instructions
Pour the prepared quiche filling into the prepared quiche dish.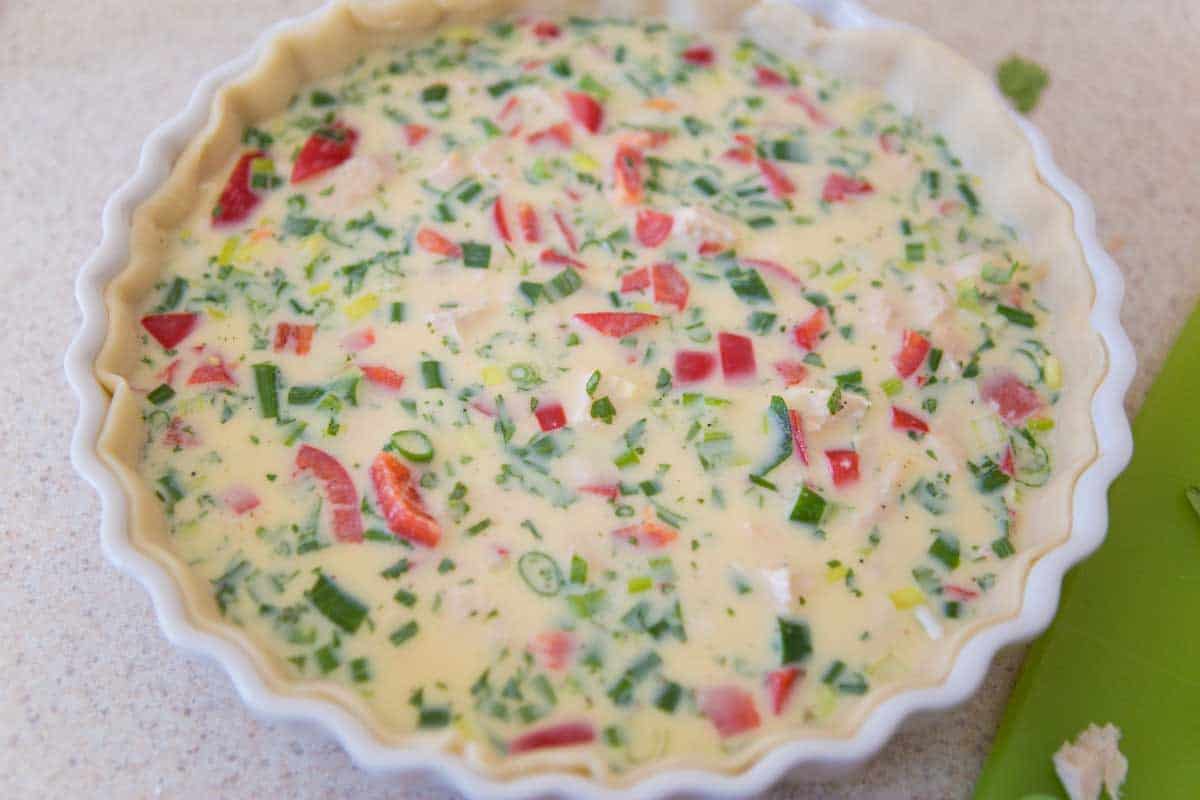 Bake the turkey quiche for 60 minutes at 350°F.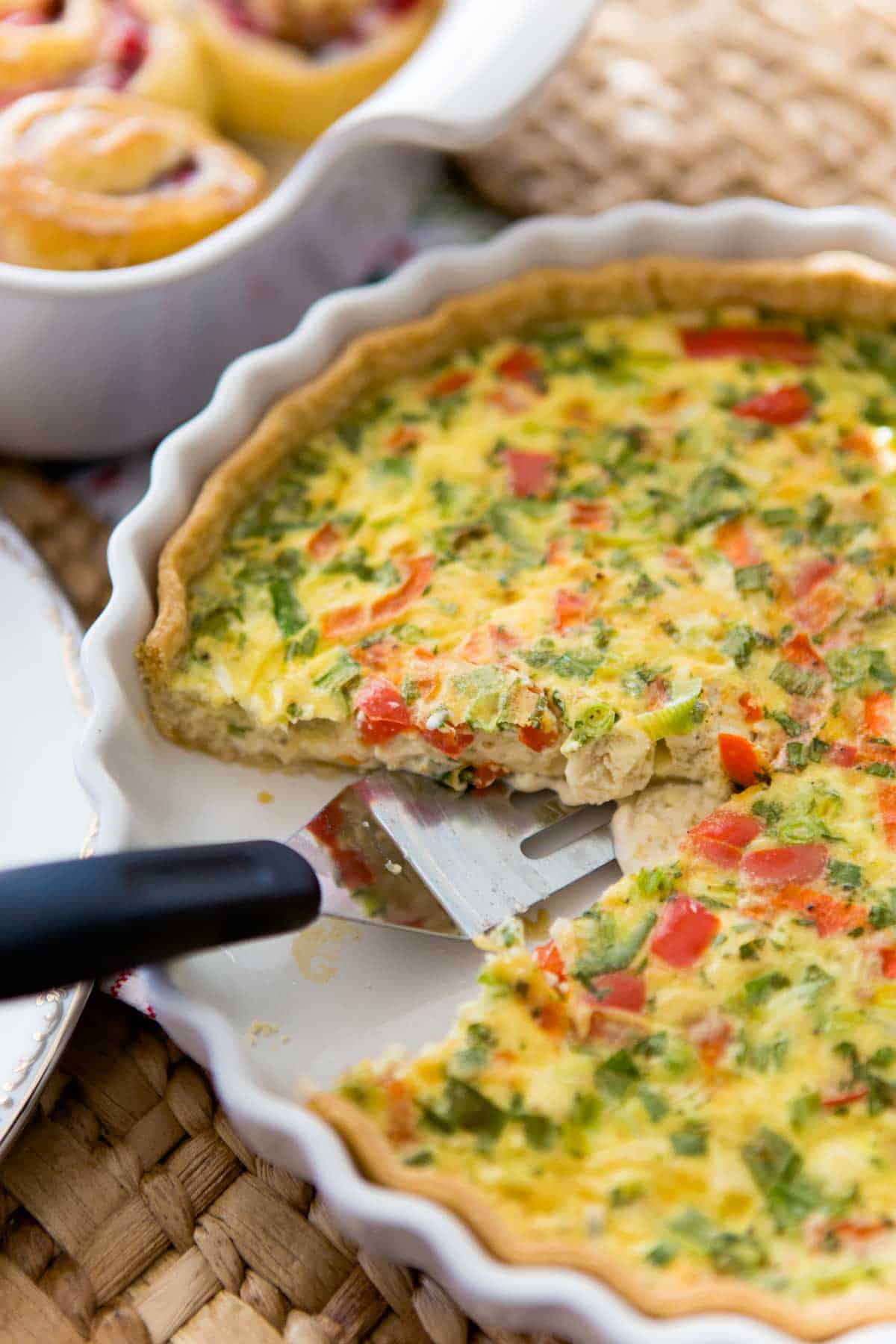 If the edges of the pie crust start to brown too quickly, you can cover them in aluminum foil, just be sure the foil doesn't touch the egg filling or it will bake in.
Tear the foil into strips and just carefully wrap it around the edge of the pie crust.
Serving Suggestions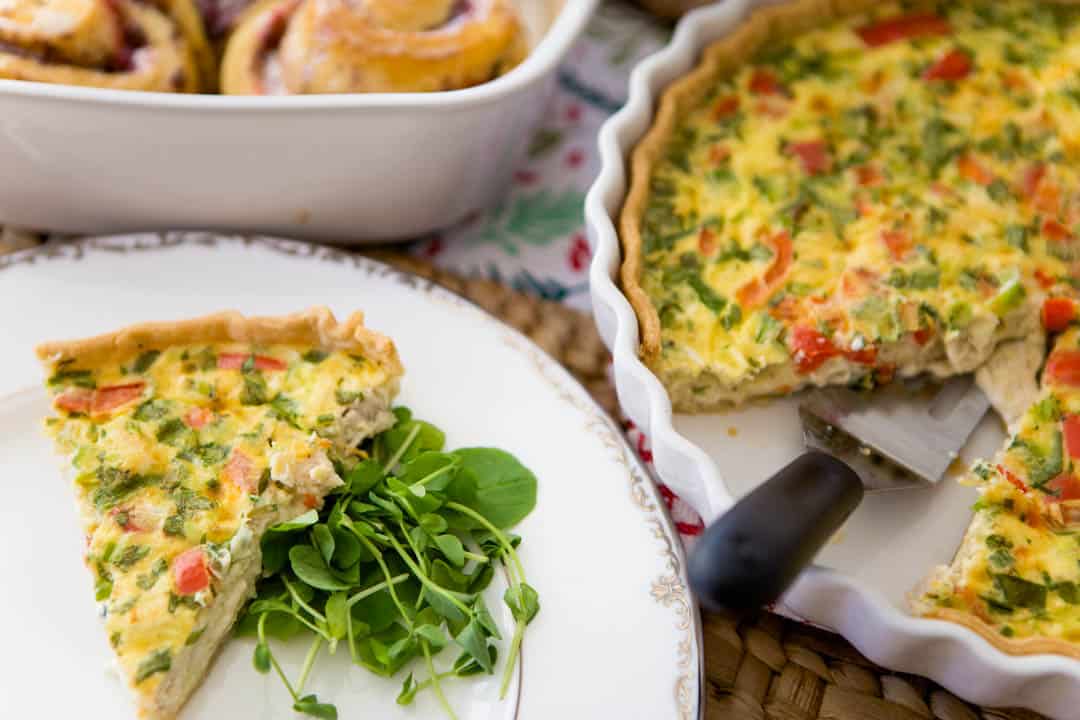 Turkey quiche can be served warm from the oven or room temperature. This is partly why it makes such a wonderful buffet recipe.
I believe that the cranberry cinnamon rolls are the perfect pairing. The tart cranberries offset the savory turkey so well.
📖 Recipe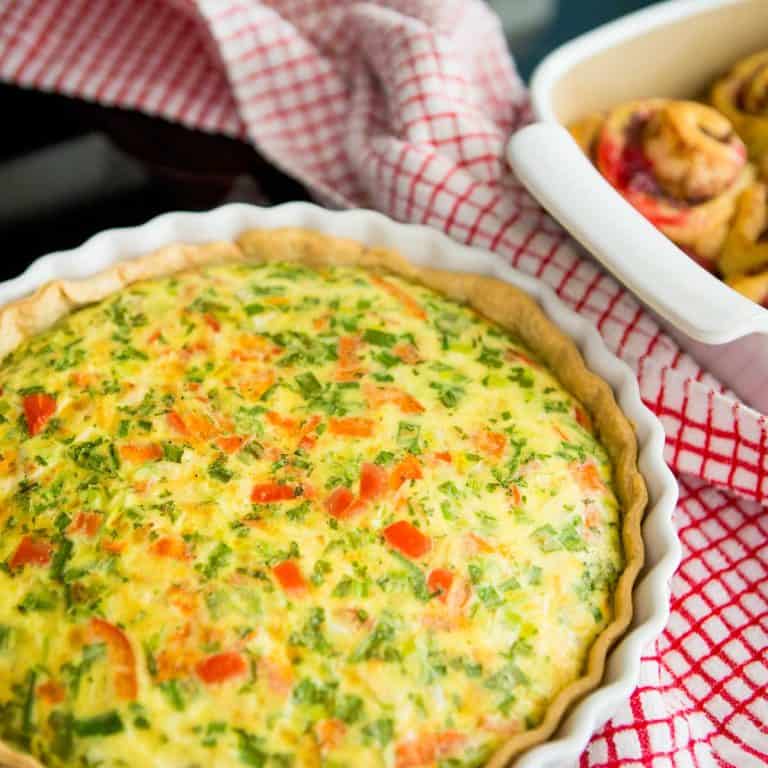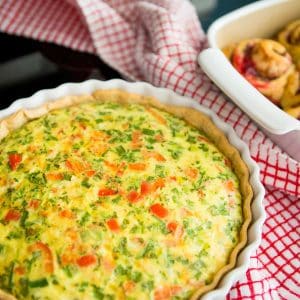 Pepper Jack Turkey Quiche
This spicy pepper jack turkey quiche is a festive addition to your holiday brunch menu. The pretty red and green peppers are the perfect palette for Christmas morning.
Ingredients
1

refrigerated pie crust

5-6

slices

or 1 cup shredded pepper jack cheese

3

eggs

1

cup

milk

1

cup

diced turkey breast

3

green onions

minced

½

red pepper

diced

1

tablespoon

cilantro

minced

salt & pepper to taste
Instructions
Preheat the oven to 350°F.

Lay the pie crust dough in the bottom of a quiche pan or pie plate. Prick the bottom of the pie crust with a fork several times to prevent bubbles.

In a large bowl, whisk the eggs and milk till smooth. Stir in the turkey, onions, peppers, and cilantro. Season with salt and pepper. Pour into prepared pie dish.

Bake for 60 minutes. If the pie crust browns too quickly, you can cover it with aluminum foil, but don't let the foil touch the egg filling or it will bake in. Tear the foil into strips and wrap them around the edges of the dish.

The turkey quiche is done when the eggs remain firm when the plate is gently wiggled. Prick with a toothpick and if it comes out clean, it is set. (Just be careful to not mistake melted cheese for the eggs!)
Recipe Notes
You can use leftover turkey meat from Thanksgiving or any roast turkey. You could also request thick cut turkey from the deli at your grocery department and cut that into chunks at home.
Save This Recipe to Your Recipe Box
Find this delicious recipe next time you visit by saving it to your very own recipe box on my site. All your favorites stored in one easy place!