Learn how to host a brunch that is both easy and elegant for your family and friends with these easy tips for planning the brunch menu and setting up your buffet table.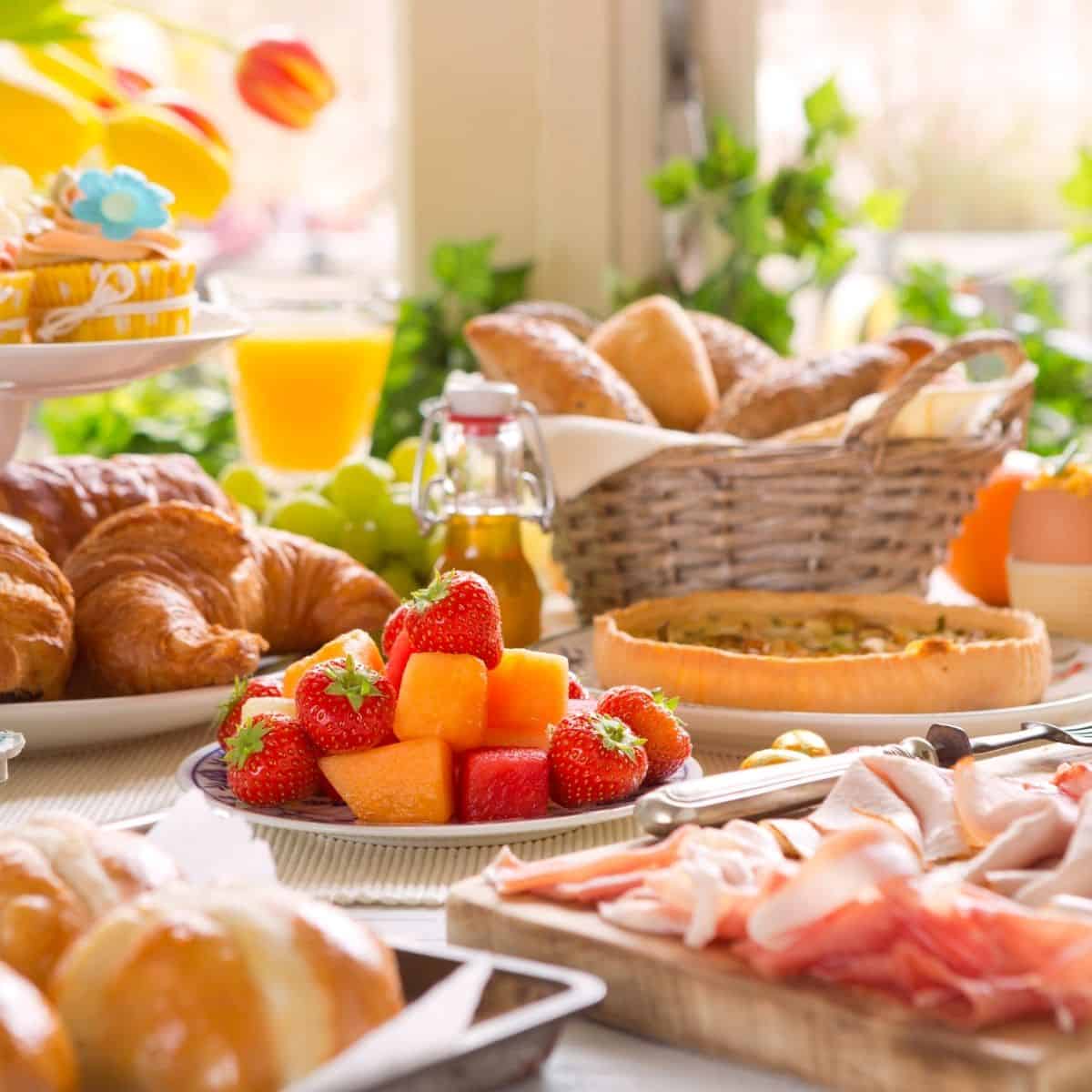 If you have a special occasion you want to celebrate with your family or friends, I can't think of a better way to plan a party than by hosting a brunch at home.
While many people love to head out for a "bottomless brunch" with limitless mimosas at a restaurant, hosting a brunch in your own home is so much easier than a dinner party and is a cozy way to enjoy your loved ones.
Mix and match sweet or savory recipes for simple brunch party menus and learn how to plan a buffet spread your guests will be thrilled to help themselves at.
Jump to:
When to Host a Brunch
I can think of so many amazing reasons to host a festive brunch for family and friends:
Holidays: Easter and Christmas work especially well for holiday brunches.
Family Gatherings: Whether it is a family reunion, visiting guests, or "just because" and you need breakfast ideas for a crowdm jki8
Mother's Day: Whether it is a small family Mother's Day brunch with just your immediate family or you expand the guest list to include grandmas, aunts, friends and neighbors, and more.
Graduation Weekend: What a fun way to celebrate with visiting family for the big event.
Bridal and Baby Showers: The lighter menus often found for brunch make it a perfect party style.
Church Groups: Celebrate Feast days, your small group or prayer group, or volunteer community with a special brunch.
Galentine's Day: Get your lady friends together for a waffles-themed breakfast/brunch.
What Time is Brunch?
Brunch is often the meal served on the weekends up until 2 pm in the afternoon.
If your event will be later than that, you'll want to move it to a dinner style menu instead.
What is Typically Served at Brunch
The beautiful thing about hosting a brunch is that the menu can include a wide variety of items to give your guests choices!
From sweet to savory, breakfast-y or lunch-y, almost anything is open to inclusion.
A traditional brunch includes one or two hearty main entrees that can be something sweet like French toast or savory like an egg casserole but could also include more lunch-y type items like fish or pasta.
There is also a few side dishes that can run the spectrum between light and easy like fresh fruit or a green salad to heartier options like a potato casserole or hashbrowns.
For more involved brunches, you'll often find a bread basket with a variety of breakfast pastries like sweet rolls or quick breads and usually something sweet to end the meal like a simple dessert.
How to Plan a Good Menu for Brunch
The key to planning a good brunch is all in providing delicious options for your guests.
1. Main Entrees
Depending on the size of your gathering, you'll want to pick at least one but perhaps two main entrees. This will set the tone for your brunch menu.
You could plan to serve one sweet dish and one savory dish.
Or you could plan one breakfast item and one lunch item.
The key is just to make sure the items complement one another. For example, you wouldn't want to serve baked French toast alongside a tomato-based spaghetti dish.
Instead, plan two dishes:
From similar cuisines like French toast and eggs benedict
Have overlapping ingredients like a light lemony pasta and grilled shrimp with lemon
Could be eaten together like buttermilk waffles and savory fried chicken
If pairing multiple main dishes intimidates you, it is much easier to plan a large quantity of one single main dish, like this delicious chicken pasta salad with grapes, and then put all your effort into offering plenty of options for sides.
2. Side Dishes
Your brunch side dishes should complement the main dishes.
The best sides will work with either of your main entrees so your guests can mix and match what is on their plate.
Popular brunch sides include:
Potato Dishes: cheesy potato casseroles, potato hash, hashbrowns, oven fries, etc.
Pasta Dishes: hot or cold pasta salads, pasta casseroles, etc.
Salads: fruit or vegetable based salads, creamy Jello salads, etc.
Breakfast Meats: bacon, sausage links or patties, etc.
3. Bread Basket
This is the easiest way to spoil your brunch guests. You can stock up on delicious items from a local bakery or plan to bake a few simple breads yourself.
Consider offering at least one or two:
Croissants
Bagels with cream cheese
Fruity Scones
Muffins
Quick breads: like almond poppyseed, peach bread, or banana bread
Sliced loaves of complementary breads: I adore my bread machine for this reason.
Biscuits
It is easy to make a homemade flavored herb butter or cinnamon honey butter to add to the bread basket.
Flavored cream cheese or homemade jams are also a nice touch.
4. Something Sweet / Dessert
Formal brunches for a holiday or special celebration will usually feature a dessert to end the meal.
If you planned your menu around a sweet main entree like baked French toast, consider a lighter fruit-based dessert.
If you planned a more savory main entree, you have more flexibility to choose a chocolate dessert or elaborate cake or pie.
For a smaller, more informal brunch, you can still cap the meal with something small and sweet like a tray of tea cookies or strawberries and whipped cream.
5. Drinks
One Word: Mimosas.
If that isn't the most classic brunch beverage, I don't know what is!
But, if you prefer to go non-alcoholic or want more variety to your menu, there are still plenty of fun options:
Non-Alcoholic Drinks for Brunch
Coffee Bar: set out flavored creamers and let guests mix their own lattes
Tea Bar: set out a variety of tea packets
Juice Bar: set out orange, apple, and cranberry juices (with or without sparkling wine to top it off)
Hot Cocoa Bar: perfect for a winter holiday brunch
Alcoholic Drinks for Brunch
Many of these beverages could be made into virgin drinks or mocktails if you prefer:
Bloody Marys
Bellinis
Cosmopolitans
Mint Juleps
How to Set Up the Buffet
The best brunches allow guests to serve themselves at a buffet table. After all the effort to give them options, let them mix and match what goes on their plate themselves.
Smart hosts separate the food from the beverages to help reduce wait time in line.
Set Up a Beverage Station
Place all your drink options in one station for guests to help themselves.
Keeping it separate from the food allows the line to flow more easily as people refill their drinks.
Don't forget to include:
Cups, Mugs, or Stemware as needed for your drink options
Cocktail napkins (the small square ones for placing under a glass)
Mix-ins: coffee creamers or flavored syrups, sugar, milk, etc.
A Pitcher of Ice Water
Spoons or Disposable stirring sticks as needed
Set Up the Buffet Line
Think like a guest walking through the line and arrange the items in order:
Plates or Bowls
Utensils
Napkins
Main Entrees: Keep all sauces, syrups, or dressings needed for the dish right next to the container of the main dish.
Side Dishes: Keep all seasonings, sprinkles, sauces, or toppings needed to complete the sides together.
Bread Basket: Keep all the breads and rolls together with any flavored butters, cream cheese, or jams right next to it.
Set Up a Dessert Station
If your brunch has a dessert option (or several options), you may wish to add a third station to keep it separate from the busy main dish area.
On your dessert table, be sure to also offer:
smaller dessert plates
additional fresh napkins
fresh forks or spoons for eating
serving utensils and slicing knives
Sample Holiday Brunch Menus
Now comes the fun part! Planning your party menu.
Here are some great menu lists to help you get started: