This easy sausage breakfast casserole with an english muffins base is the perfect overnight recipe to serve for Christmas morning or Easter brunch. Easy to prep and bake for a delicious, savory entree for the holiday.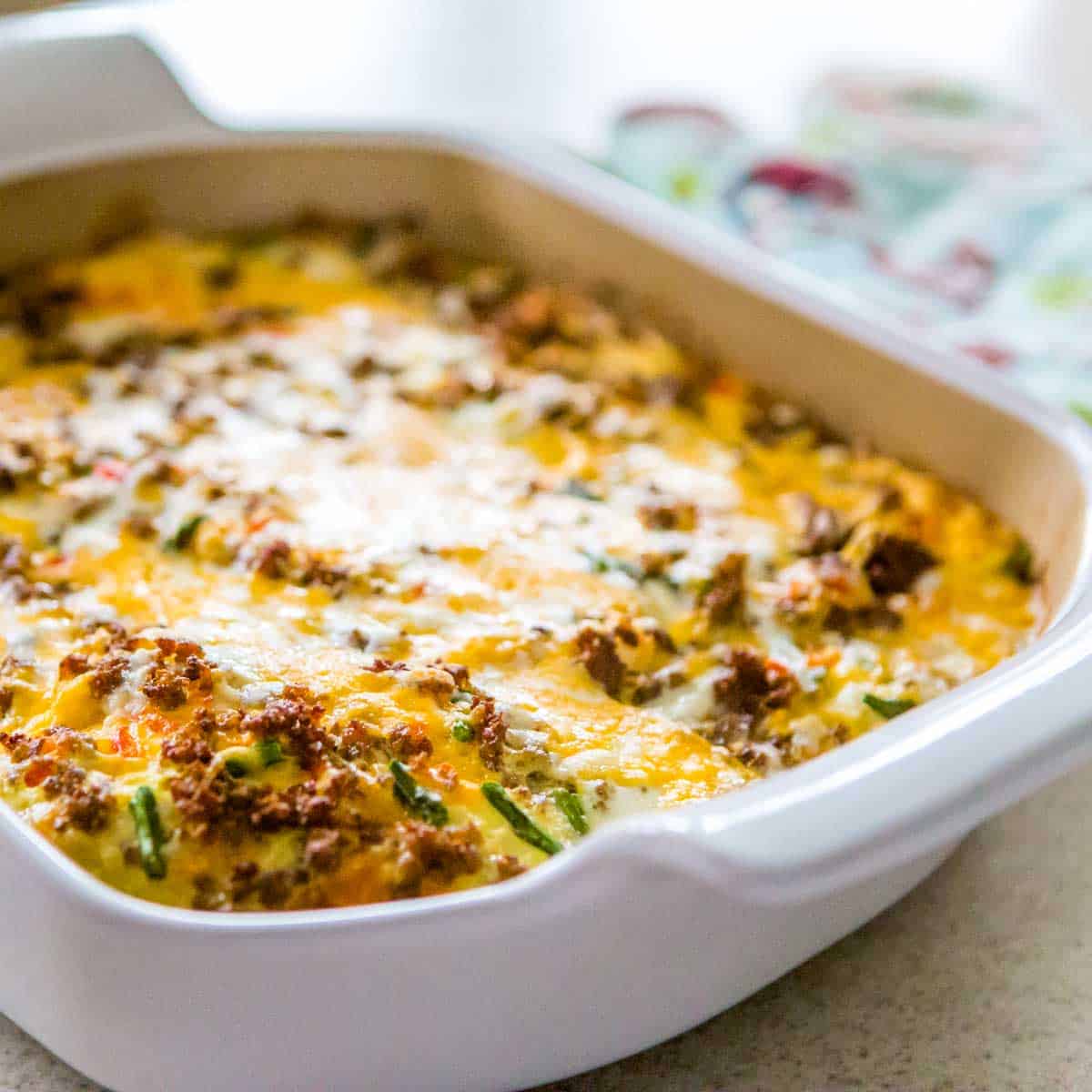 The trick to a great holiday breakfast is a recipe that is quick and easy to pull together, doesn't bake too long, but has a festive presentation and is worth the wait.
This easy overnight sausage breakfast casserole checks off all those boxes!
You can easily prep the ingredients the day before so that on Easter or Christmas morning you simply layer it all together and pop it in the oven.
35 minutes of baking time and you're ready to go!
Serve it with a sweet pastry on the side and a platter of fresh fruit for the easiest holiday brunch ever.
Jump to:
Why This is the Best Recipe
There are a lot of breakfast casserole recipes out there, but I'm pretty sure this is the very best one because:
Easy to Find Ingredients: The ingredients are so common and easy to find, you'll have no trouble finding everything you need in one trip to the store.
Easy to Prep Ahead: You can prep all the elements of this recipe the night before and then just assemble and bake in minutes before breakfast.
Light and Fluffy: The english muffins base is the perfect complement to the light and fluffy eggs and the savory sausage filling. This hearty breakfast has a wonderful texture and is filled with protein to satisfy your family.
Easy Variations: You can tweak a number of elements to make this recipe all your very own. Be sure to see my suggestions at the bottom of the post!
Ingredients
The ingredients to the sausage breakfast casserole are so simple and festive. They have the bright red and green colors for Christmas but the fresh asparagus is perfectly in season at Easter, too!
All you need to make it is:
English Muffins: If you aren't a fan of English muffins or can't find them, you could always turn this recipe into a simple easy quiche with a pie crust.
Shredded Cheddar Jack Cheese: I love the flavor of sharp cheddar, but honestly any shredded cheese your family loves will work here.
Eggs
Dijon mustard
Milk
Bulk Italian Sausage: I used a mild Italian sausage, but sweet or hot sausage would be perfect, too.
Red Pepper
Asparagus
Prep Ahead Tips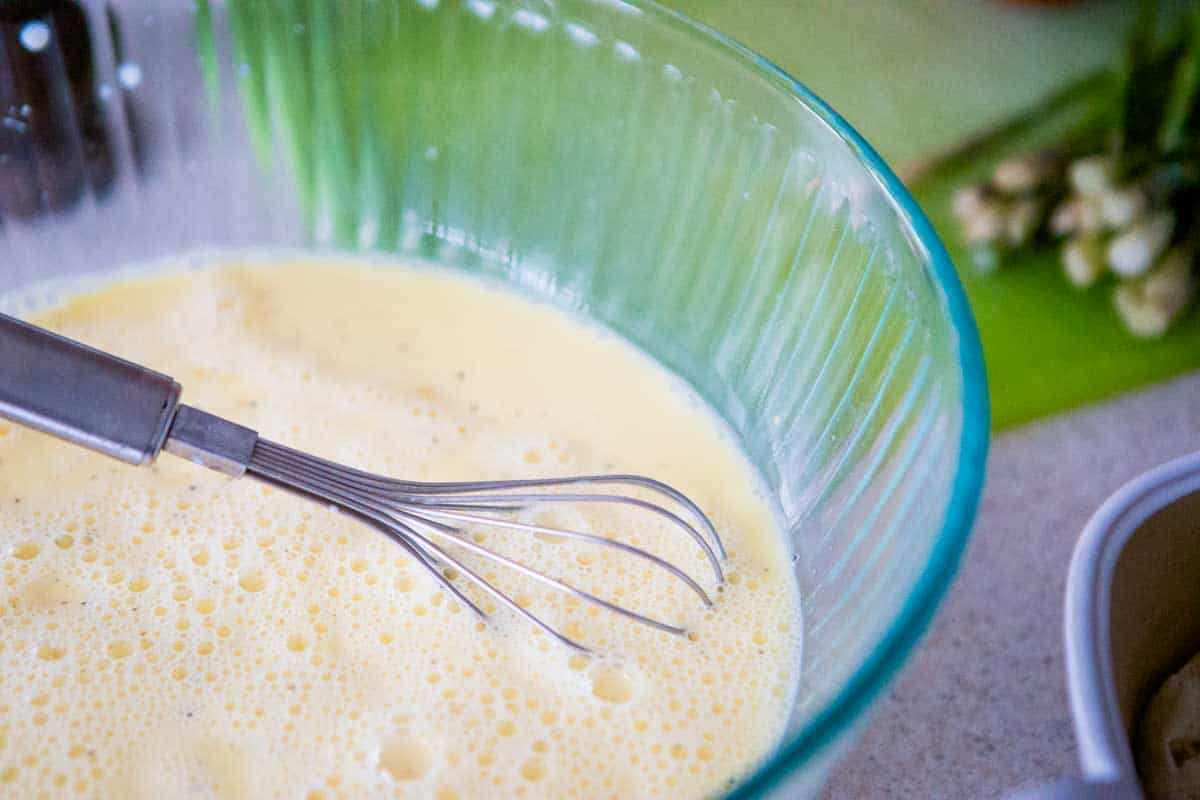 If you're planning this recipe for a holiday breakfast, save yourself time (and dirty dishes!) by prepping the elements of the recipe in advance.
You can do this work 24 hours ahead of time and store each element separately in an airtight container in the fridge.
Then you just need to assemble and bake before breakfast in the morning.
1. Brown the Sausage
Brown and crumble the sausage. Drain the fat. Store it in an airtight container.
2. Prep the Vegetables
Wash the asparagus and red pepper. Then dice/chop them as needed and store them in a plastic bag in the fridge.
3. Prepare the Egg Filling
Crack all the eggs and whisk in the milk. Just be sure to store it in an airtight container. Give it a fresh whipping with your whisk before you pour it into your casserole dish.
Assemble the Breakfast Casserole
In the morning, while your oven preheats you can assemble the casserole.
First, split the english muffins in half and place them cut side up in a single layer in your baking dish.
You can use a 9x13-inch baking dish or the equivalent capacity pan.
Since english muffins are round, they will leave lots of open spaces in your rectangular dish.
I ripped a few english muffins into pieces and sprinkled them into the bigger gaps so I had a more even layer for the base of the casserole: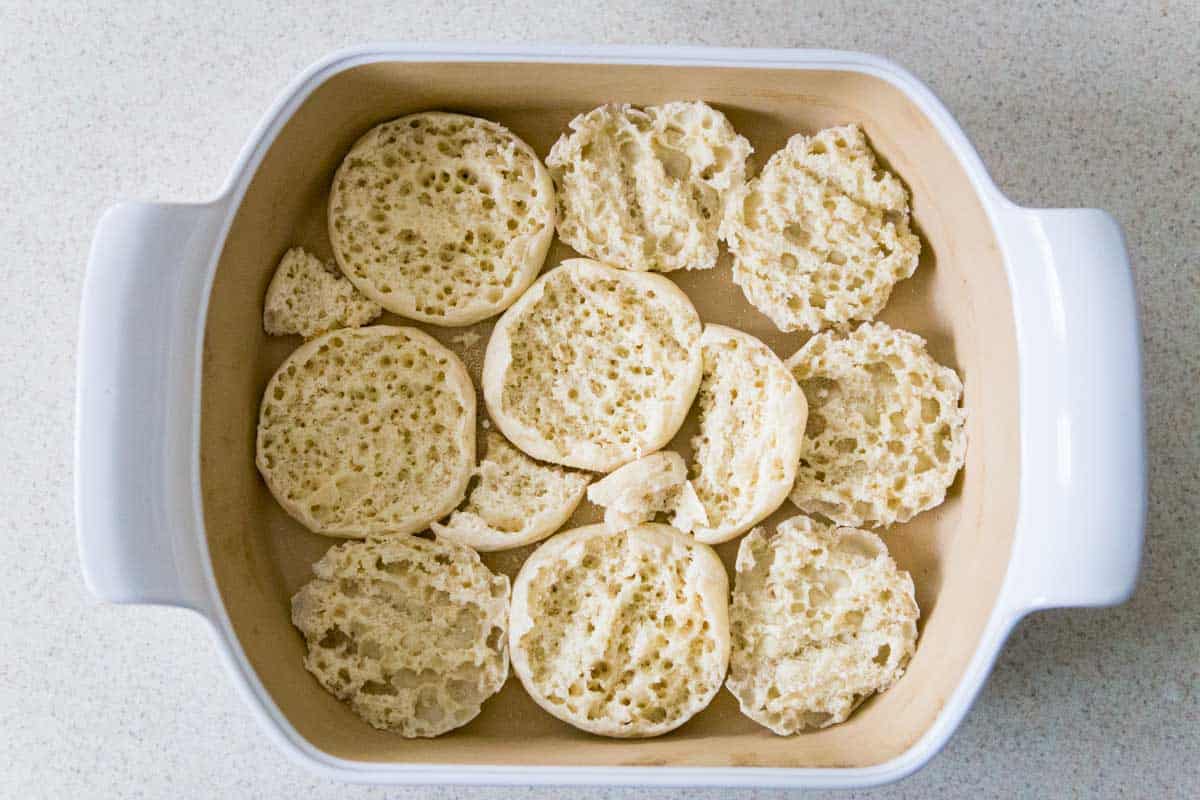 Next, sprinkle half of the shredded cheese in an even layer over the english muffins.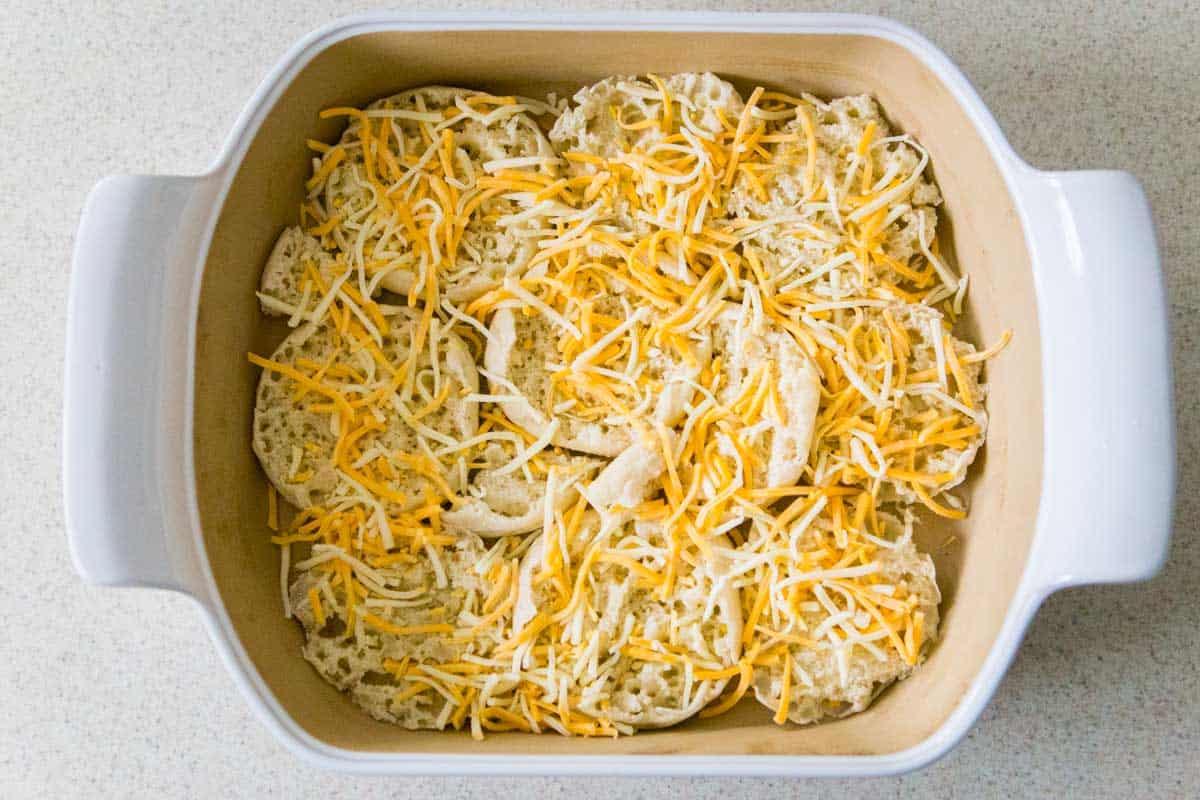 Sprinkle the chopped vegetables evenly over the cheese: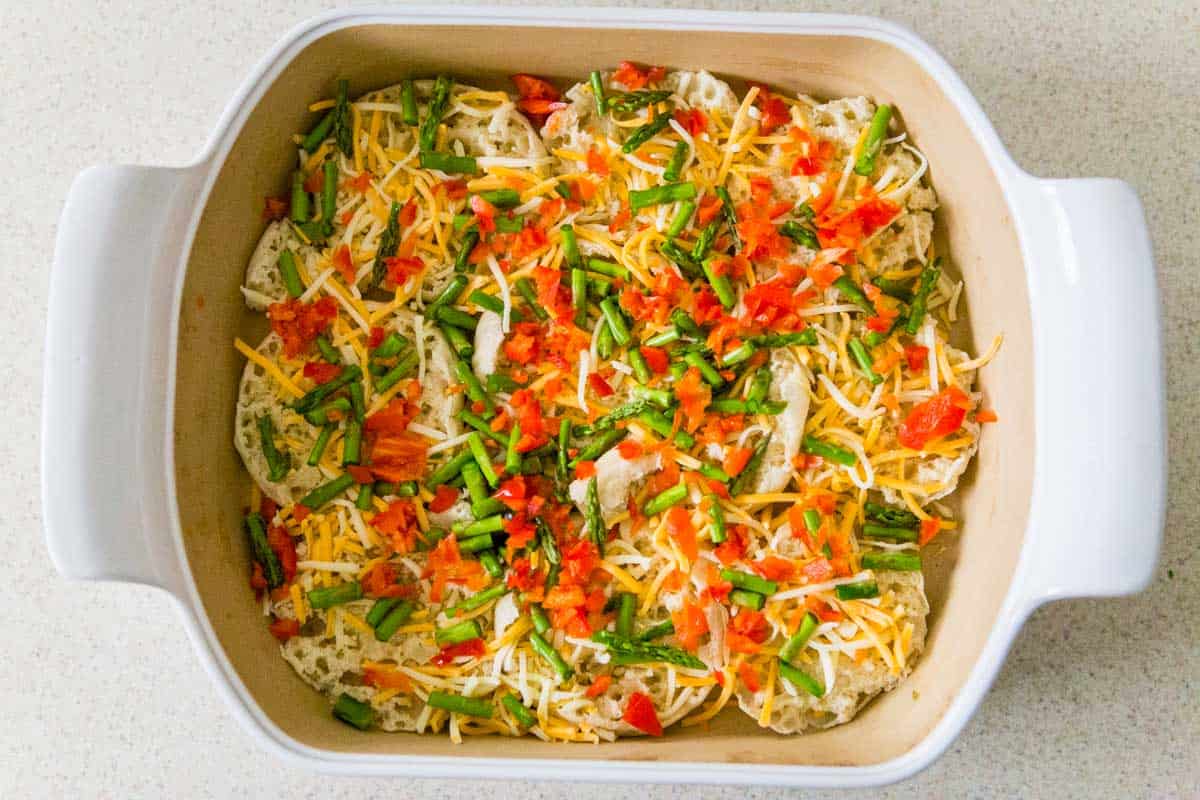 Spoon the browned sausage over the vegetables and then simply pour the beaten eggs mixture over the top.
You may want to jiggle the baking dish gently back and forth so that the egg mixture has a chance to settle into all the nooks and crannies evenly throughout the pan.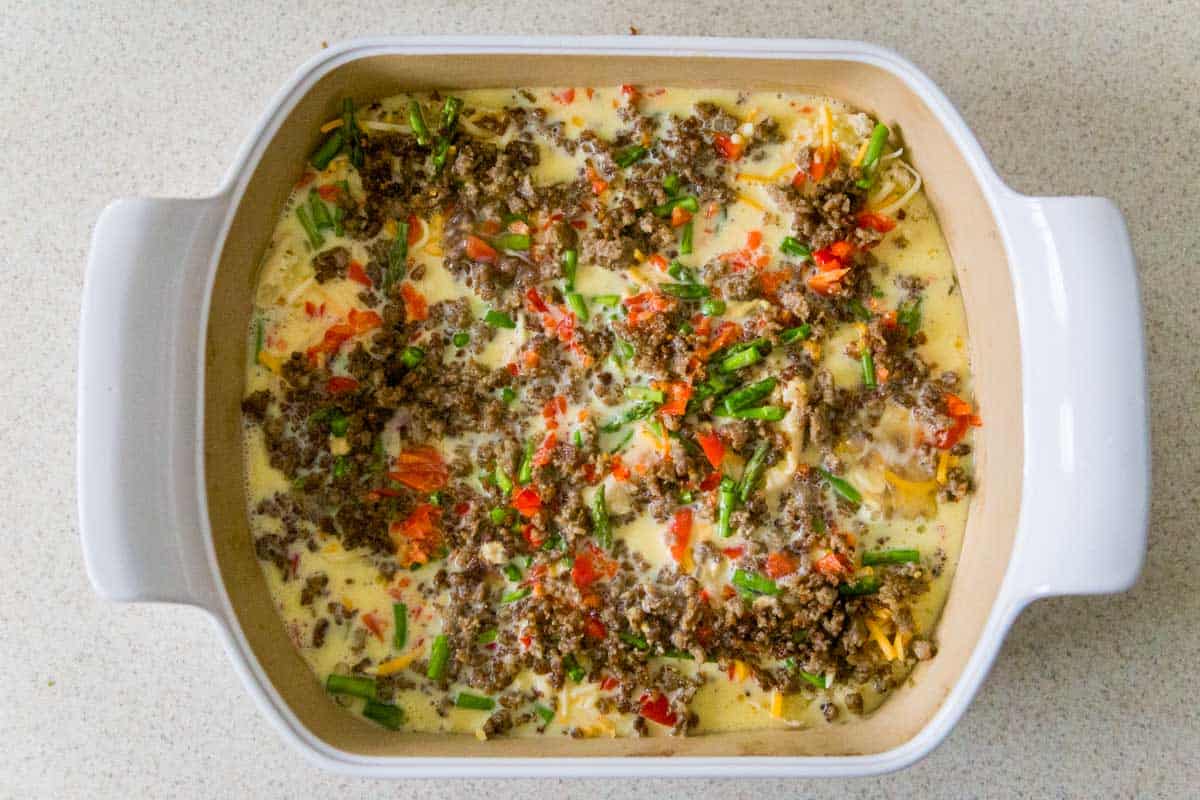 Baking Instructions
Simply preheat the oven to 375°F.
Bake the breakfast casserole for 35 minutes and then top with another cup of shredded cheese.
Bake for 5 more minutes to get the cheese all melty and gooey and you're ready to serve.
Flavor Variations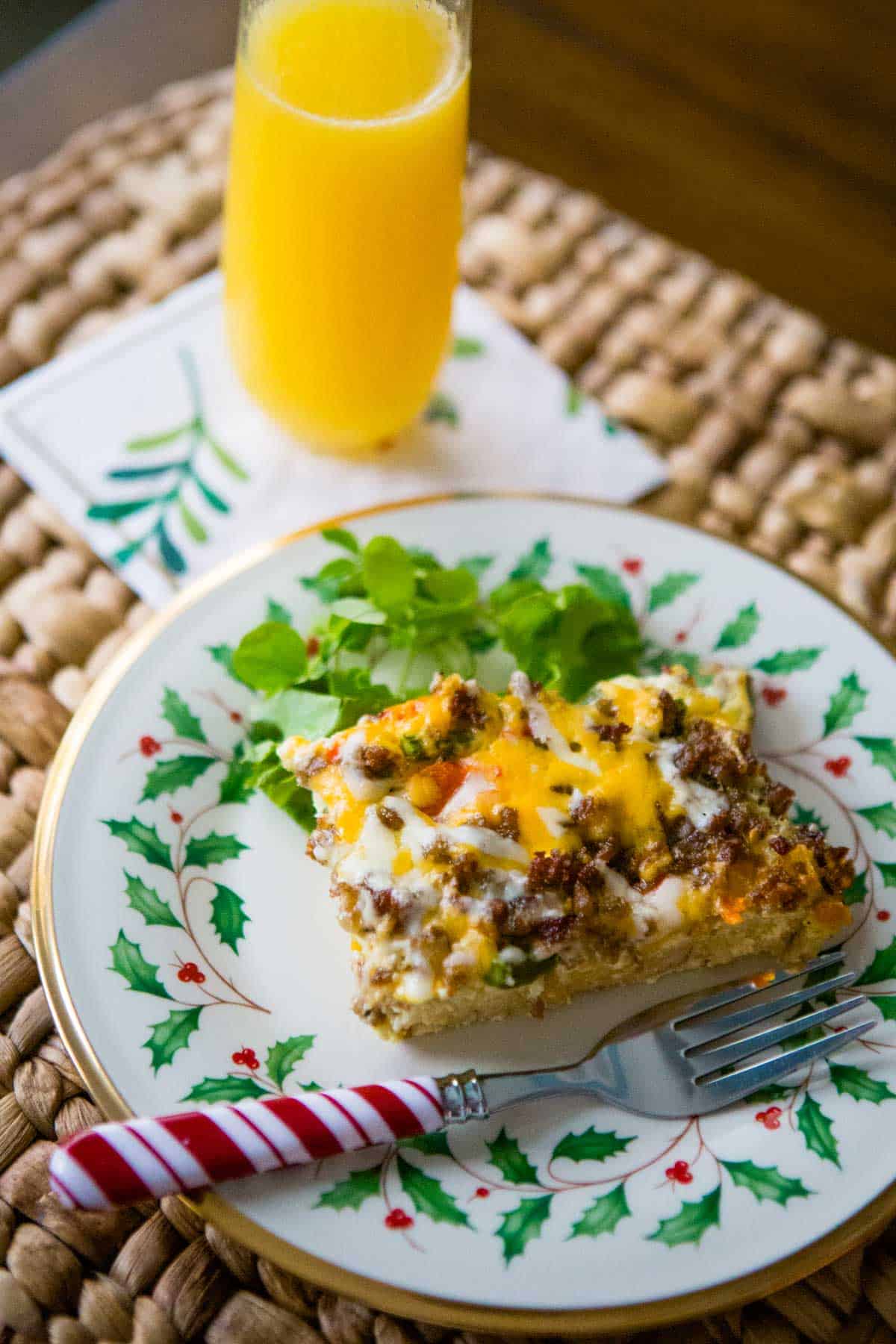 There are so many different ways you could tweak this breakfast casserole for your family:
Ham and Cheese Breakfast Casserole: Use leftover holiday ham instead of the bulk sausage. This would be a great choice for Easter.
Turkey and Cheese Breakfast Casserole: Use leftover turkey breast after Thanksgiving for a fun leftovers breakfast the next day.
Bacon and Cheese Breakfast Casserole: Crumble up a pound of my peppered bacon and use in place of the breakfast sausage.
Vegetarian Breakfast Casserole: Double up on the veggies or add a few more you love. Spinach, chopped broccoli, diced tomatoes, and fresh leeks would all work perfectly.
Spicy Breakfast Casserole: Choose a hot bulk sausage and add a chopped jalapeño to the egg mixture. Or you could add crushed red pepper flakes and a few dashes of Texas Pete hot sauce to the egg mixture.
Individual Egg Bites: If you prefer to have single-serving style for your buffet instead of a casserole pan, you could make these Air Fryer egg bites.
Serving Suggestions
Now that you have your savory entree for the brunch, you can fill out your festive breakfast with a few other simple side dishes.
Add something a little sweet on the side. You could bake a loaf of my almond poppy seed bread the day before and it will keep perfectly.
My fresh grape salad recipe has a sweet cream cheese dressing and crispy pecans that would be a refreshing side dish.
Or you could pair a fruit-based salad like my festive apple pear salad or the sunny citrus salad as a juicy and crisp side dish for the creamy breakfast casserole.
More Holiday Breakfast Ideas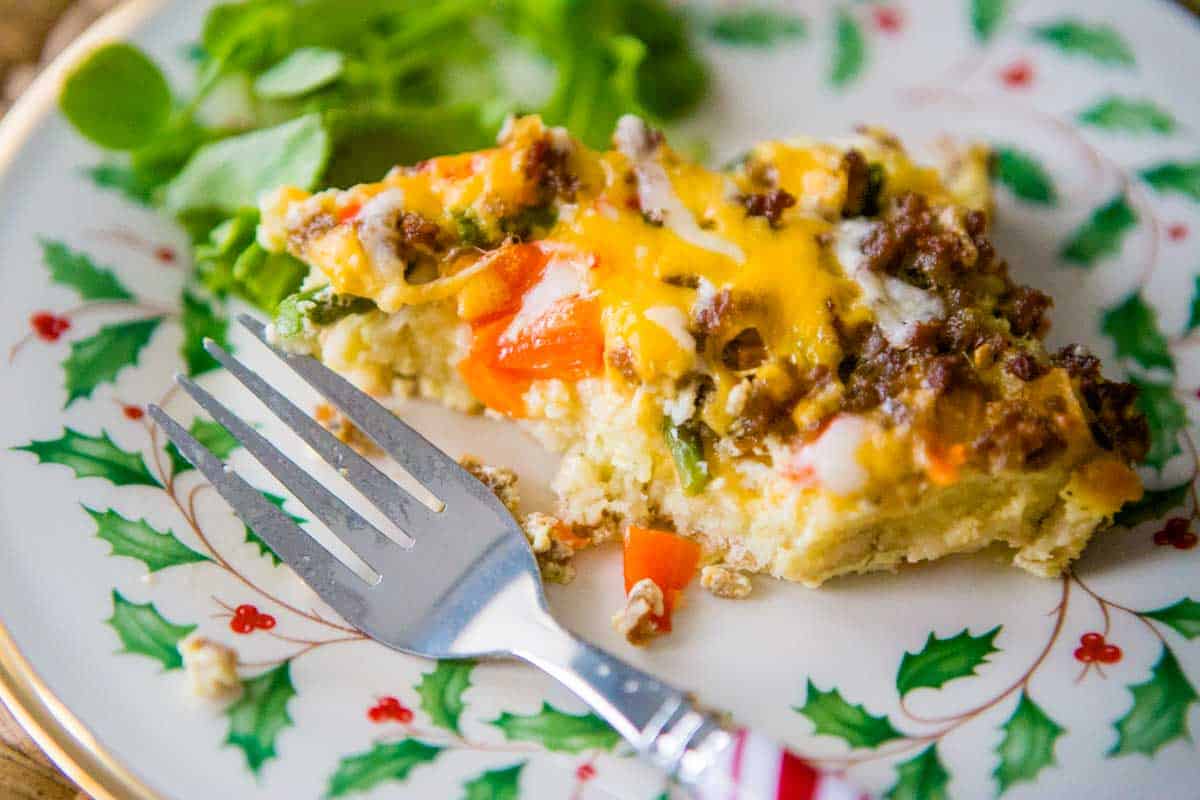 Christmas and Easter breakfasts are some of my favorites all year long.
This festive breakfast casserole would also work for:
Baby Shower Brunch
Wedding Shower Brunch
Birthday Brunches
Mother's Day
New Year's Day
Or any weekend you just want to make a little more special
Some of my other festive brunch recipes include:
📖 Recipe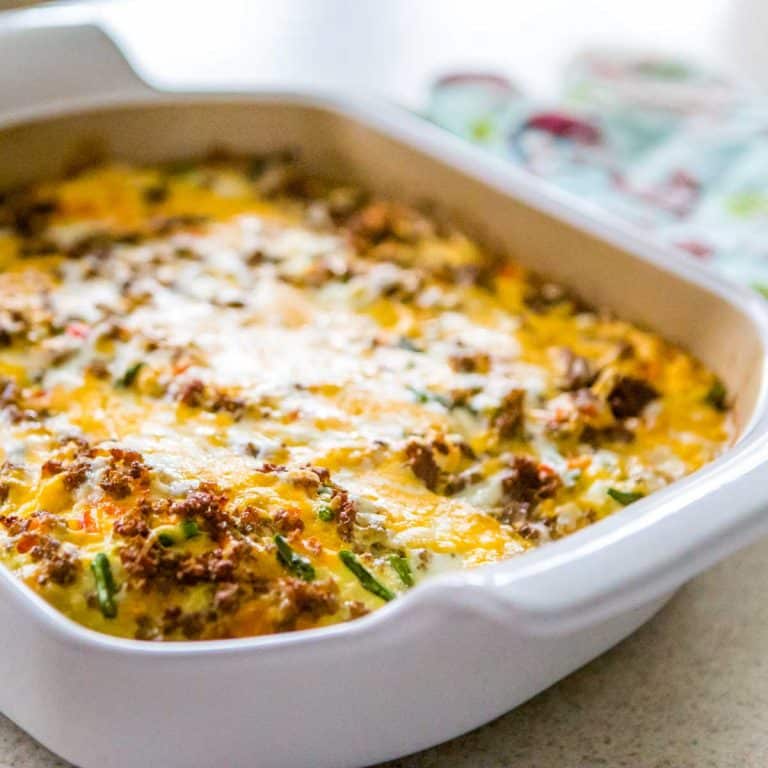 Sausage Breakfast Casserole with English Muffins
This deliciously easy overnight sausage breakfast casserole has an english muffin base topped with asparagus, red peppers, and cheddar cheese. It is the perfect easy breakfast recipe for Christmas morning or Easter brunch.
Ingredients
4-5

English Muffins

split open in half

2

cups

cheddar jack shredded cheese

½

red bell pepper

diced

½

bunch asparagus

chopped into 1-inch pieces

½

pound

bulk sausage

browned and crumbled

8

eggs

2

cups

milk

1

tablespoon

Dijon mustard

Salt & pepper to taste
Instructions
Prep the Breakfast Casserole
In a large skillet, brown the sausage over medium high heat. Crumble it as it cooks with your spoon. Be sure to cook it until it has slightly toasted in appearance or it will be chewy. Drain the fat and set aside.

In a large mixing bowl, crack the eggs and whisk in the milk, mustard, and seasonings until well blended. Set aside.

Chop the red pepper and asparagus, set aside.
Assemble and Bake
Preheat the oven to 375°F.

Split the english muffins in half and arrange them along the bottom of a 9x13-inch or large baking dish, cut side up. Tear one english muffin into smaller pieces to fill in the nooks and crannies so most bites will have part of the english muffin crust.

Top the muffins with half of the shredded cheese and then layer the reserved vegetables and browned sausage.

Pour the egg mixture evenly over the english muffins in the baking dish.

Bake uncovered for 35 minutes or until the eggs are set.

Sprinkle the top with the remaining cheese and bake for another 5 minutes so the cheese melts. Serve immediately.
Recipe Notes
Overnight Make Ahead Tips:
If you want to make this dish easier to bake in the morning, you can prep the elements of this recipe up to 24 hours in advance.
Whisk the egg mixture together and store it in an airtight container overnight in the fridge. 
Chop the veggies and store them separately.
Brown the sausage and store it separately in an airtight container in the fridge.
In the morning, you can just split the english muffins, add the cheese and veggies, top with sausage and eggs and bake!
Save This Recipe to Your Recipe Box
Find this delicious recipe next time you visit by saving it to your very own recipe box on my site. All your favorites stored in one easy place!