Simple Easter brunch ideas for planning a festive meal at home your whole family will love. Choose from make ahead recipes, Easter egg dishes, and delicious breakfast casseroles to help fill out your menu.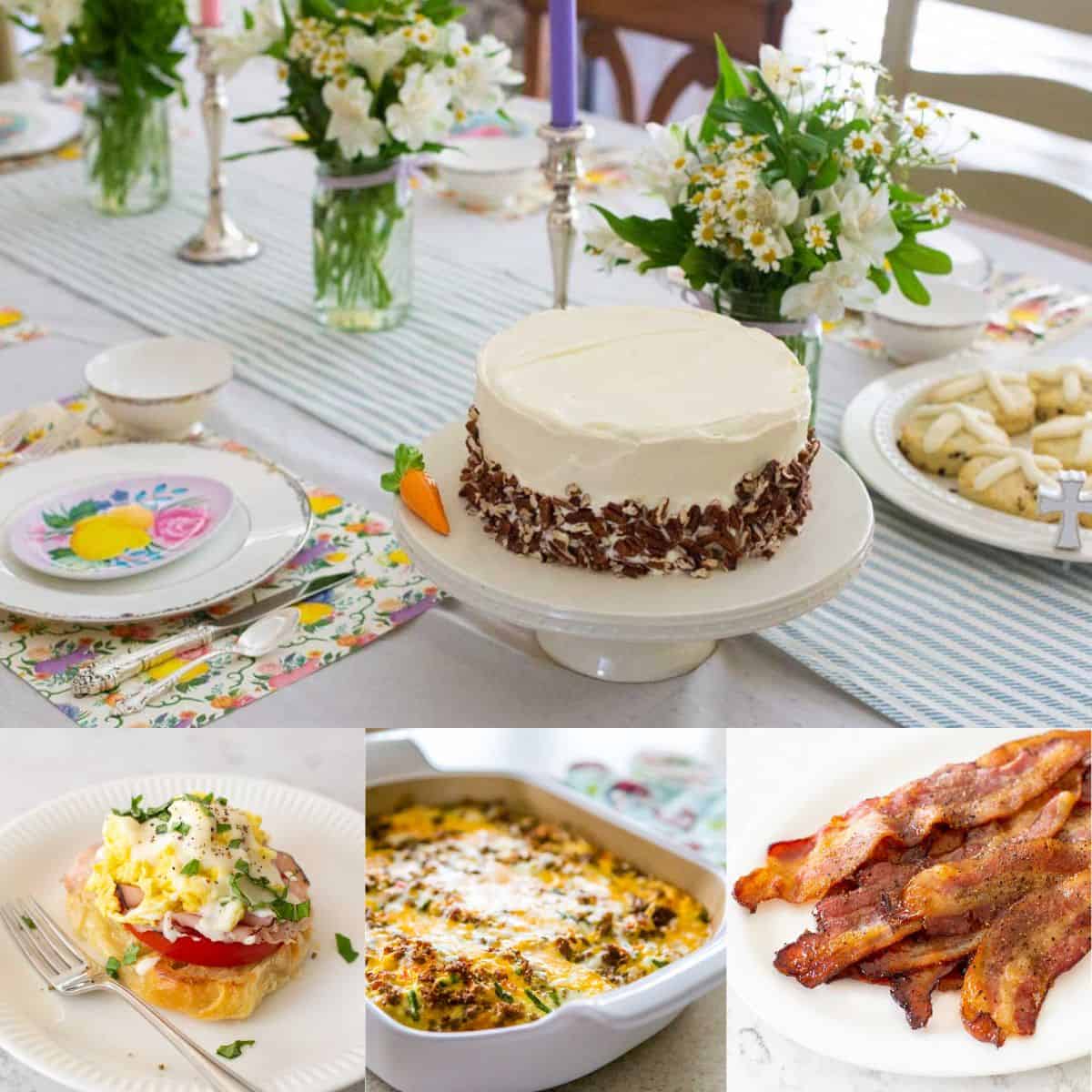 Easter brunch is notoriously crowded and pricey if you try to head out to a restaurant to eat on the holiday.
This year, get all the Easter brunch ideas you need for at home and celebrate with your family in a more relaxing and joyful setting.
You could keep things extra easy by planning an Easter potluck and have your loved ones contribute to the meal, but if you want to host the brunch all by yourself, I've got the easiest recipes to make it special.
Is this your first time hosting? You can start with my best tips for how to host a brunch and plan the menu, but for Easter at home, everything you need to know is right here.
Jump to:
Menu for Easter Brunch
When planning your Easter feast at home, the first step is to start with a main dish and center your Easter brunch menu around that item.
The most traditional Easter recipe is a glazed ham which is super popular because it works for either a brunch or dinner centerpiece.
My mustard glazed ham with pineapples is a Norman Rockwell picture-perfect main dish that is surprisingly easy to make.
However, for an easier take on the recipe with a lot less hands-on work, don't miss my Crockpot spiral ham with brown sugar glaze.
Not loving the idea of a ham? The beauty of planning an Easter brunch at home is that you can choose your favorites!
I strongly recommend trying my easy eggs benedict (or one of the 20 simple variations included in the recipe.) An easy quiche would be another great pick with plenty of flavor variations to match your mood.
Once you've chosen your main dish, fill out the rest of your Easter menu with the simple side dishes, salads, and desserts listed below.
Easter Egg Recipes
Every Easter menu should feature eggs in some way or another. You could make an egg breakfast casserole or use them in a french toast bake.
Display colorful hard boiled eggs on a platter on your table for a special decoration.
A classic Southern Easter appetizer is the required platter of deviled eggs but the same flavors are included in my favorite deviled egg salad which could be served with mini croissants or crackers as a side.
Easy Recipes to Fill Out the Menu
The thing that makes a festive brunch special is having lots of easy recipes to add to the table that make the meal look like a feast.
Choose a couple of these easy recipes to fill your bread basket or add to a pretty platter for sharing at the table.
Make Ahead Easter Brunch Recipes
Save yourself a ton of work on Easter Sunday morning by picking one of these easy make ahead Easter brunch recipes.
My chicken pasta salad with grapes is filled with crispy springtime veggies and tastes even better the next day.
I always prep a batch of my make ahead hot cross biscuits the night before and bake them fresh in the morning. Let them cool completely before you add the cream cheese frosting crosses.
You could bake my cherry almond streusel coffee cake the night before and just warm it up in the oven before serving.
If you've got a bread maker, my bread machine orange rolls can be completely prepped the night before and baked fresh in the morning.
Potato Recipes for Easter
Potatoes make a savory and filling side dish for any holiday menu.
For Easter, I would definitely choose my cheesy cornflake potatoes made with hashbrowns, they're the perfect brunch side dish!
But if you're looking to try something a little different, the make-ahead potato latkes would be absolutely delicious with an egg or ham main dish.
My make ahead sweet potato casserole has a brown sugar and pecan topping that is just a little sweet and savory all in one. This would be a great choice if you're making ham.
Side Dishes for Easter Brunch
For the remaining side dishes, try to add a pop of color and nutrition to the menu by selection a few items filled with fresh fruit and vegetables.
It could be just as easy as a fresh fruit platter with a creamy piña colada fruit dip for dunking seasonal berries or setting out a big bowl of strawberry bruschetta topping with crispy crostini.
For a savory option, my wild rice pilaf can be made in the Instant Pot or on the stovetop and features fresh carrots that would make the Easter bunny proud. For a lighter variation, try my crispy wild rice salad which is made with roasted carrots on a bed of salad greens and a fresh and zippy lemon parmesan vinaigrette.
Creamy Salads for Easter Brunch
Whether your Grandma is coming to Easter or not, make her proud by serving one of these vintage creamy salads at your Easter table.
My creamy grape salad is a current favorite but the pretty pastel green pisatchio fluff would be perfect for spring.
Want something with a little more fruit? The pineapple marshmallow salad is one part side dish, one part no-bake dessert! I mean, it is a holiday afterall.
Easter Dessert Ideas
Yes, you're serving a breakfast-y brunch. YES, you still should serve dessert!
As the wise Julia Child once said: "A party without cake is just a meeting."
The difference between a regular Sunday breakfast and an Easter brunch is all in how you finish it!
More Easy Easter Recipes
These Easter brunch recipes are a great place to start, but maybe you've changed your mind and want to plan an Easter dinner instead? Don't miss all my best tips for planning the perfect holiday menu for your family: