This easy eggs benedict recipe variation is perfect for making just one serving or scaling it for a brunch for 4 - 8 people. A toasted croissant is topped with fresh tomato, savory ham, scrambled eggs, and a rich parmesan cream sauce with fresh basil that takes just minutes to make!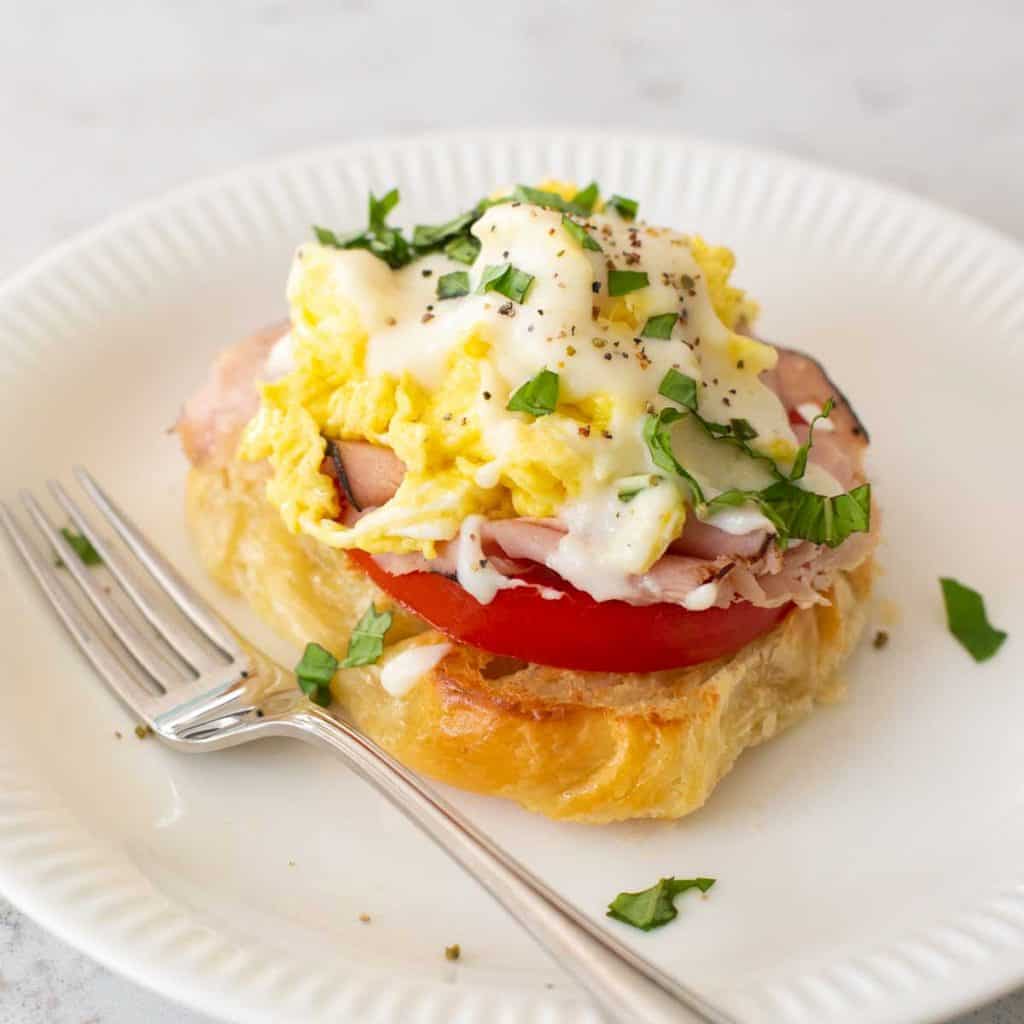 As the primary cook in our family, it is such a special treat to get served an elegant brunch that I didn't have to make myself.
When my husband and I took a quick getaway to Greenville, SC, we stayed at the lovely Pettigru Place Bed & Breakfast.
We were served this elegant eggs benedict variation on our first morning and it was so delicious I nearly swooned.
It was just the two of us in the breakfast room that morning but the bed & breakfast sometimes hosts meals up to 8 people at a time.
I thought this recipe was a brilliant way to serve just a couple or a whole room full of people. It is so easy to assemble and scale as needed.
As soon as we got home, I had to try to make a copycat version of the recipe before I forgot about it. For sure it is something I will keep in my recipe queue for the holiday season when we have family visiting.
Planning a special brunch for a wedding shower or baby shower? Don't miss my extra tips on how to host a brunch.
Jump to:
Why This is the Best Recipe
Of all the eggs benedict variations you could make, this one is the very best because:
Buttery, Crispy Croissant: The flaky, crispy croissant at the base of this recipe is absolutely amazing! You could buy just 1 at a bakery for yourself or a whole package of them at Costco for a larger brunch.
Deli Ham: Easy to buy just what you need to fit your guest list. There's no need to cook or even warm it up!
Fresh Tomatoes: There's a lot of rich, salty deliciousness in here. The fresh tomato adds wonderful contrast in the flavor and the little bit of acid helps cut through the richness.
Scrambled Eggs: Poached eggs are delicious, but scrambled eggs are SO much easier. Especially when feeding a larger crowd.
Parmesan Cream Sauce: I love hollandaise so very much, but it is tricky to make. This fresh made cream sauce is a delightful topping over the eggs, especially with fresh basil mixed in.
Ingredients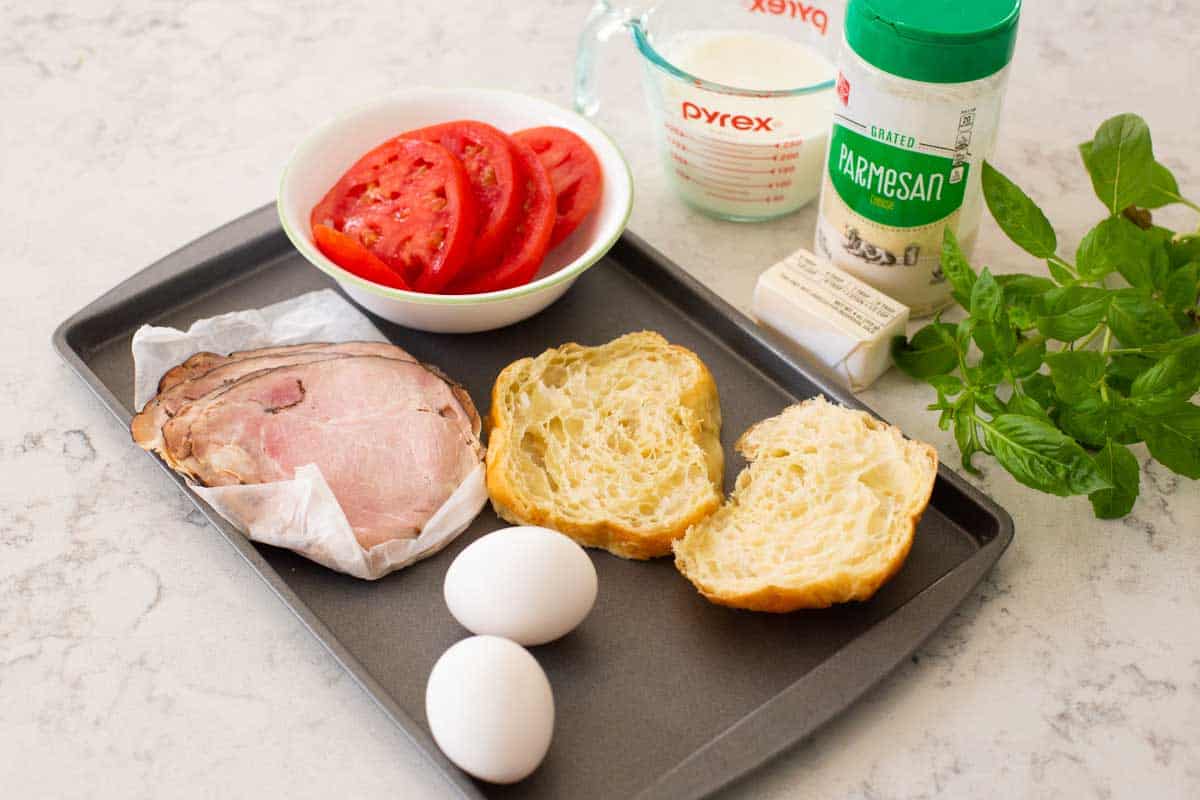 My eggs benedict variation has a few specific things you'll need, but you can easily substitute any of them with something different. Be sure to check out the entire section of variations below!
To make this version, you will need:
Croissants: I love the large-sized ones from Fresh Market or Costco.
Deli Ham: I bought Black Forest ham from the deli section. Maple ham or honey ham would also be fantastic.
Fresh Tomato
Fresh Basil
Eggs
Butter
Milk
Flour
Grated Parmesan
Prep the Toppings
You will want all the breakfast sandwich toppings ready to go when the eggs are finished cooking so that you can serve the dish hot.
Before you do anything else, be sure to:
Slice the tomato and set aside.
Set out the sliced ham.
Mince the fresh basil.
Slice the croissants in half and lay them cut side up on a large baking sheet.
Set out the serving plates.
Preheat your broiler.
Prep the Sauce
Once everything is prepped, make the parmesan cream sauce.
The directions for the sauce are in the recipe card below for your convenience. If you want to see step by step photos and more instructions, you can see the original post for the parmesan cream sauce recipe here.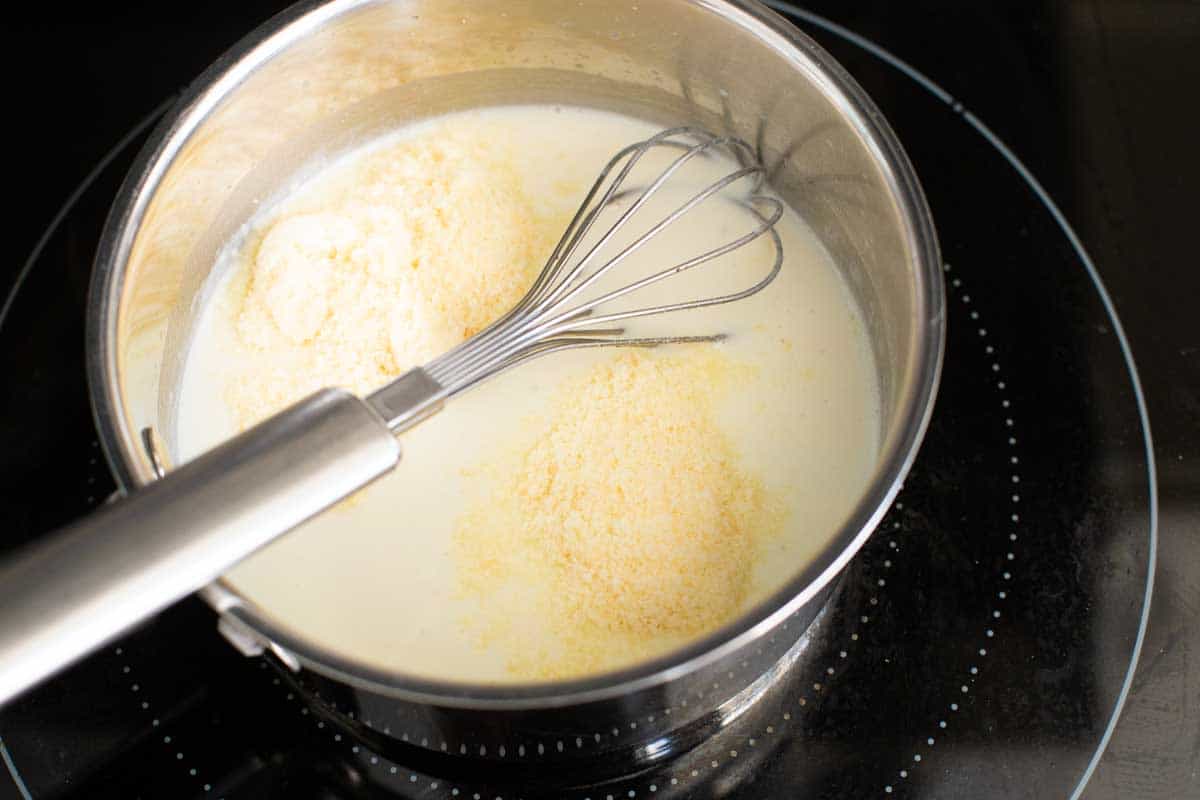 Once the sauce is finished, keep it warm over low heat while you finish the other elements of the eggs benedict.
Toast the Croissants
I like to toast my croissants before I scramble the eggs so they have my full attention.
When toasting bread under the broiler, it can burn quickly so I don't take my eyes off it.
However, if you want your croissant hot when you serve it, you may wish to toast the bread after the eggs are done.
Scramble the Eggs
The last step is to cook the scrambled eggs.
In a medium skillet, melt the butter over medium-high heat until it is foamy.
Whisk the eggs with a fork in a small bowl and then pour them into the hot butter.
Immediately stir with a wooden spoon.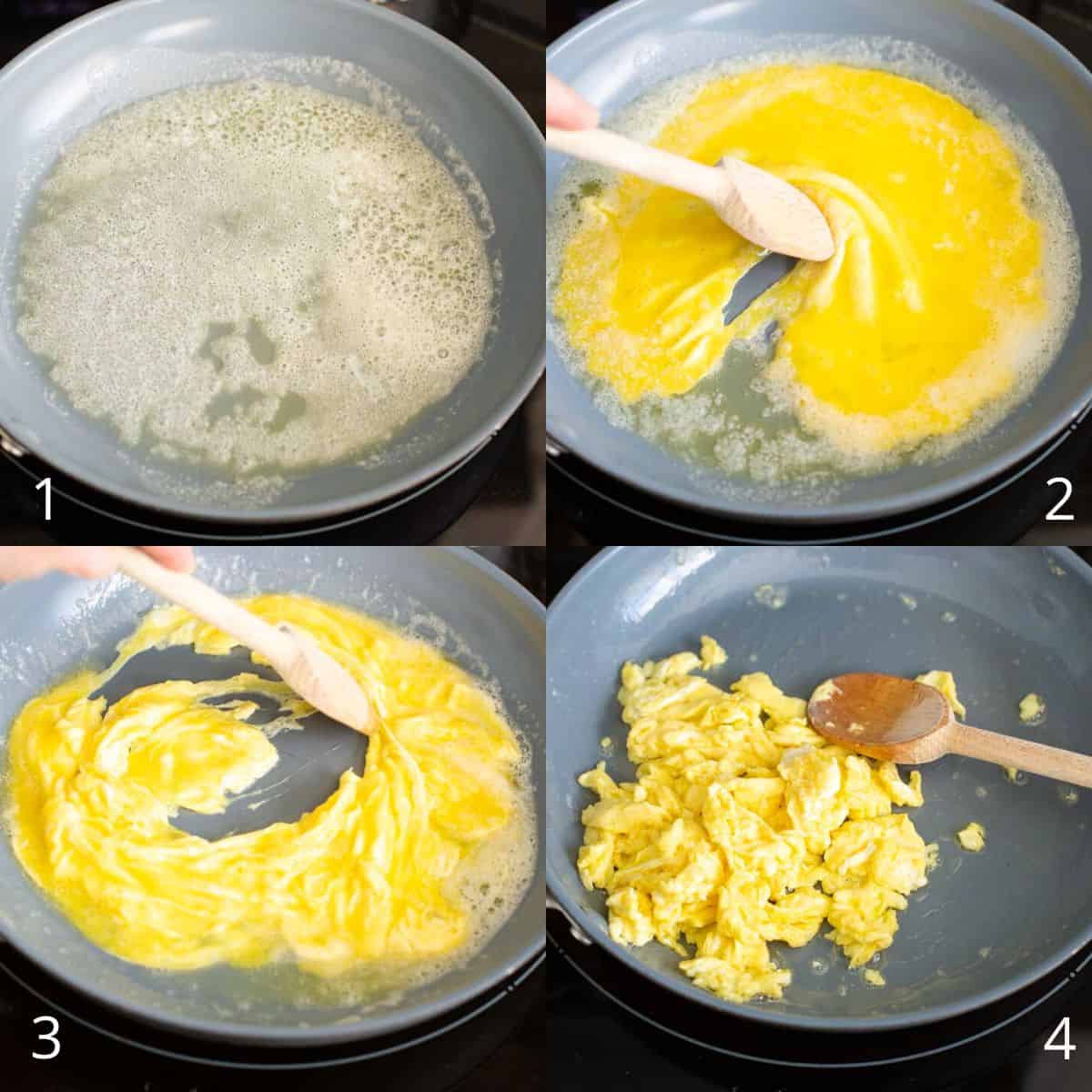 Move the spoon around slowly until the eggs are scrambled and cooked through.
Assemble the Eggs Benedict
To build the eggs benedict, place one half of a toasted croissant on a plate, cut side up.
Layer 1 - 2 tomato slices.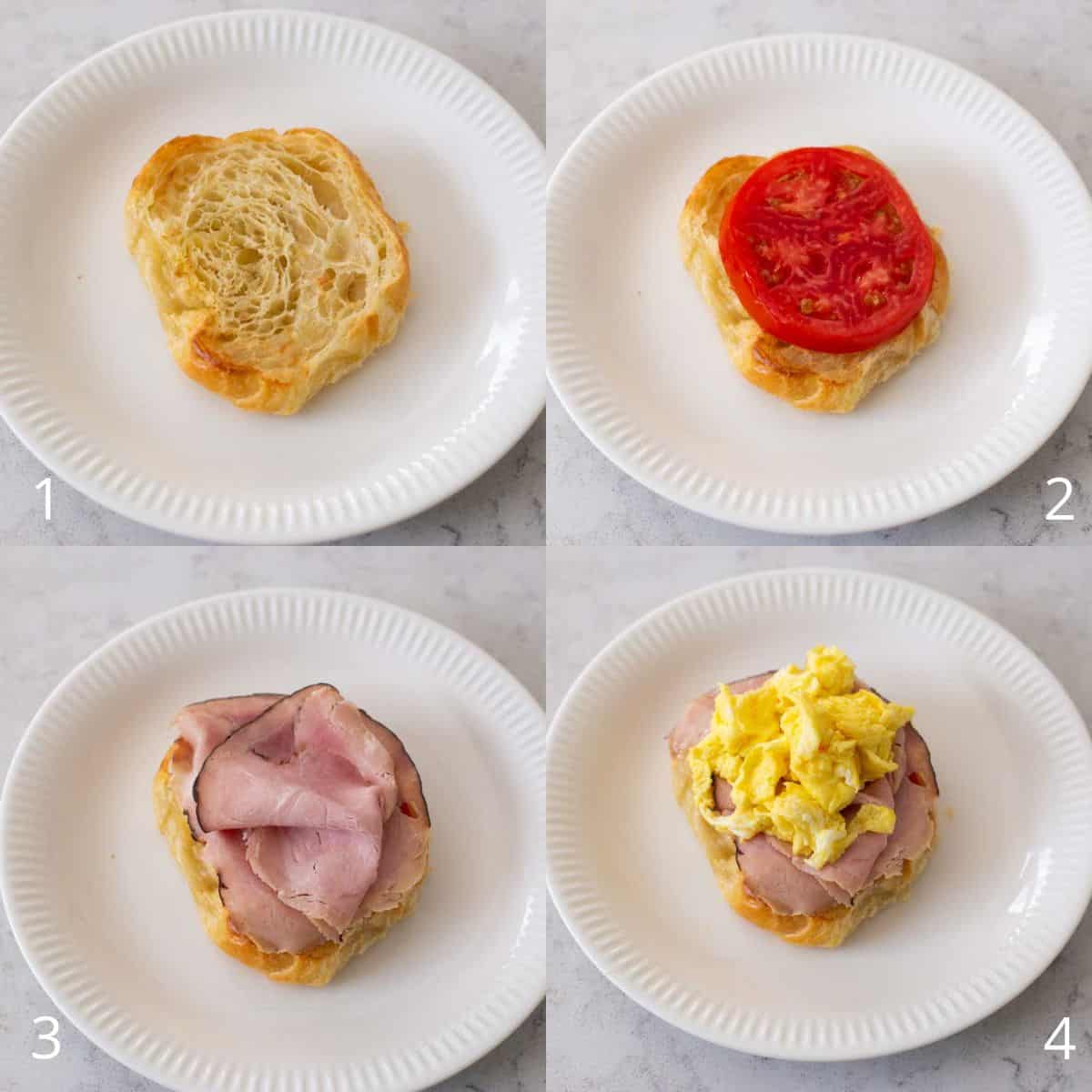 Add 2 slices of ham. Top with half of the scrambled eggs.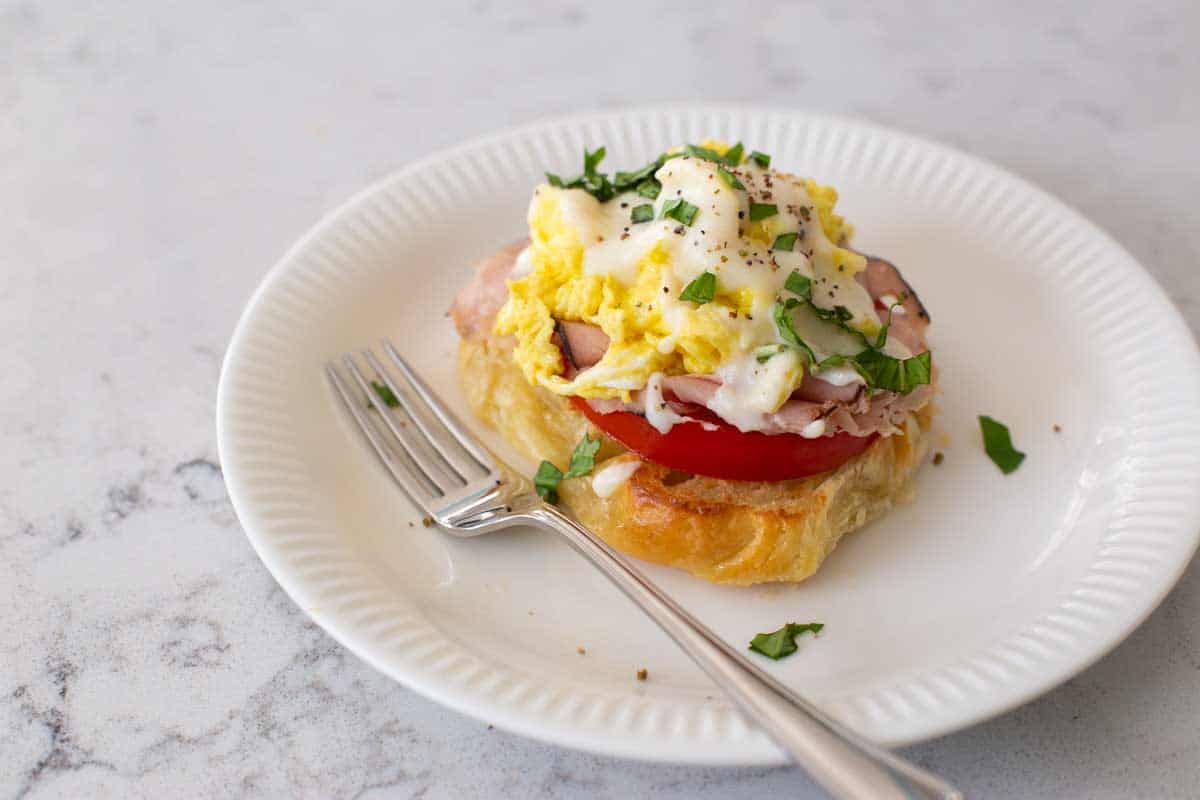 Finally, drizzle over the parmesan cream sauce and sprinkle fresh basil over the top.
How to Make 1 - 2 Servings
This recipe is so easy to scale for just a small single serving or a larger brunch.
1 croissant is perfect for 2 people, each of you gets half. The delicious toppings will make it filling.
How to Serve 4 - 8 Portions for Brunch
For a larger crowd, I would recommend letting everyone build their own sandwiches buffet style in the kitchen or serving all the elements passed family-style at the table.
You can toast multiple croissants at one time on a large baking sheet under your broiler. Then just add them to a platter for passing.
Use a large skillet if you need to make lots of scrambled eggs. Serve them in a covered dish to keep them warm.
Add the parmesan cream sauce to a gravy boat or dressing pitcher for easy drizzling at the table.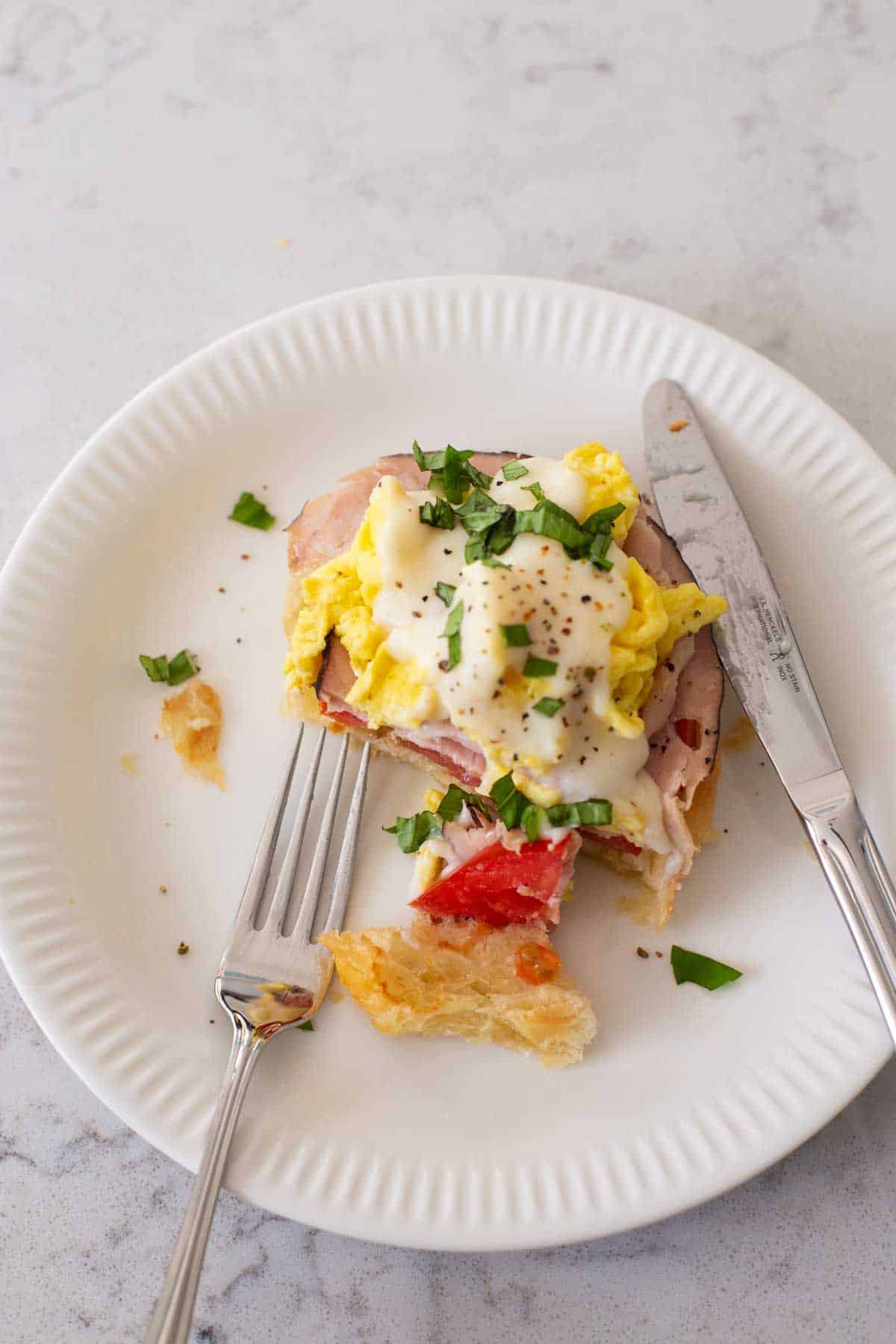 Make Ahead Tips
The majority of this recipe really does taste best when served fresh. But if you're prepping for a special brunch, you'll want to prep things to make it easier.
You could pre-toast the croissants the day before and then just warm them in the oven for a few minutes at a low temperature like 300°F.
Slice the tomato and keep it covered in plastic wrap for up to 24 hours in the fridge.
The parmesan cream sauce is best served immediately after making it, but in a pinch you could make it the day before and reheat it in a saucepan over medium-low heat. You may need to add a teaspoon of milk at a time to get proper consistency if it thickened too much overnight.
20 Easy Eggs Benedict Variations
This easy eggs benedict variation is by far my favorite twist on the classic brunch item.
But, if you're looking to play around with other easy variations for your holiday brunch, I've got tons of ideas for you to mix and match.
Variations for the Bread Base
The toasted croissant is perfect if you're making 1 - 2 servings or scaling it for a large crowd but you could easily switch things up and use:
Toasted English Muffins
Toasted Bagel Halves
Toasted Challah Slices: This delicate egg-based challah bread will have a wonderful light texture once toasted.
Toasted Ciabatta Slices: This hearty ciabatta bread has a lovely texture once it is toasted and would hold up perfectly to the rich sauce.
Toast 1 or 2 slices in your toaster. For a larger number of portions, toast them open face under the broiler in your oven.
Variations for the Vegetable Layer
I absolutely adore a thick slice of fresh tomato with my eggs and ham but depending on the season, you may prefer using something else.
Why not try:
Baby Spinach: For an eggs florentine benedict, you could also add a little garlic to the parmesan cream sauce.
Roasted Peppers: You could roast large slices of bell peppers in olive oil and keep them prepped for a sweet veggie layer.
Roasted Zucchini: Cut the zucchini into lasagna-like thin layers and saute or roast them.
Caramelized Onions: These sweet onions would taste delicious with the ham and eggs. Consider adding a slice of gruyere cheese to the benedict.
Variations for the Ham
While Canadian bacon ham is the most traditional choice for eggs benedict, I loved the ease of use for the sliced deli ham.
I chose a Black Forest ham but honey roasted or maple ham would also be amazing.
You could skip the ham altogether and use one of these swaps:
Seasoned Sausage Patty: You could brown up one or multiple turkey breakfast sausage patties.
Peppered Bacon: A few strips of my favorite peppered bacon (candied or not!) would be delicious.
Shredded Crab: Warm up lump crab meat for just a moment in the parmesan cream sauce and drizzle it over the eggs instead of traditional breakfast meats.
Leftover Ham: Just had a holiday feast with glazed ham? Leftover slices would be perfect.
Vegetarian Benny: Skip the meat all together and maybe consider adding a second veggie for more flavor.
Variations for the Eggs
Traditionally an eggs benedict features a poached egg on top but those can be tricky to make in a big batch for a brunch.
I loved how easy the scrambled eggs are to scale for just one serving or for several servings.
You could also try fried eggs or sunny side up if you prefer.
But the easiest option of all would be my baked egg patties. You could do more than one baking pan at a time if you really had a lot of people to feed at once.
Variations for the Sauce
Traditionally eggs benedict is made with a lemony hollandaise sauce but that can be a little difficult for beginner cooks to make well.
My parmesan cream sauce is so easy to make in just a few minutes and tastes amazing either with or without the fresh basil sprinkled in.
For a spicy alternative, you could try a spread of my spicy sauce for sandwiches over the toasted bread layer, it won't drizzle over the top well but would be a tasty surprise hiding under the meat and veggies.
More Brunch Recipes
📖 Recipe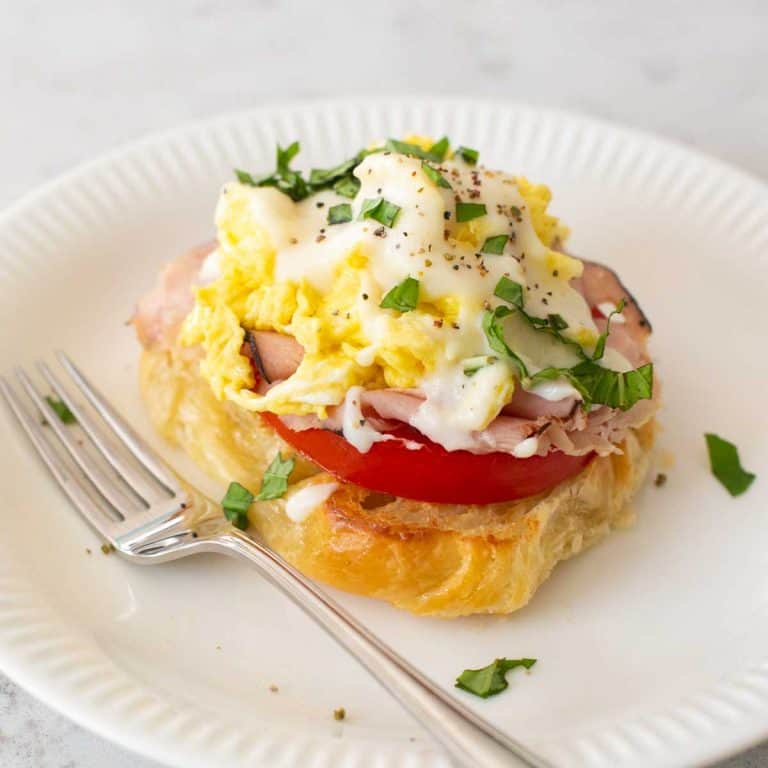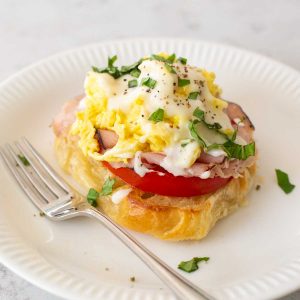 Easy Eggs Benedict
This delicious eggs benedict variation is so much easier to make than the original! Perfect for making a single serving or scaling for a large crowd for a special brunch menu. You can plate the assembled sandwiches or serve the elements family-style at the table.
Ingredients
For the Parmesan Cream Sauce
1

tablespoon

butter

1

tablespoon

flour

1

cup

milk

2

tablespoons

grated parmesan

¼

teaspoon

salt

2

tablespoons

minced fresh basil
For the Eggs Benedict
1

large croissant

1

beefsteak tomato

4

slices

deli ham

2

tablespoons

butter

4

eggs
Instructions
Prepare the Parmesan Cream Sauce
Melt the butter in a small saucepan over medium-high heat. Add the flour and whisk it together. Cook for 2 - 3 minutes or until toasted in color and bubbly all over.

Drizzle in the milk and whisk until smooth. Cook for 5 minutes or until it has thickened. Whisk in the salt and parmesan until smooth.

Reduce heat to LOW and keep warm while you prepare the rest of the dish. Save the fresh basil for adding just before serving.
Prepare the Eggs Benedict
Slice the croissant in half and place it cut side up on a broiler-safe baking sheet. Preheat the broiler while you prepare the eggs.

Slice the tomato in thick ¼-inch slices and set next to the slices of deli ham.

In a medium skillet, melt the butter over medium-high heat until it is foamy. Whisk the eggs in small bowl and pour them into the hot skillet. Stir the eggs slowly with a wooden spoon until they are scrambled and cooked through. Remove from heat.

Toast the croissant under the broiler for 1 minute or until golden brown. Watch carefully, it can burn quickly.

Place one croissant half on each plate. Top with 1 - 2 slices of tomato, 2 slices of ham, half the scrambled eggs, and a drizzle of the parmesan cream sauce. Sprinkle with fresh basil and serve immediately.
Recipe Notes
Make Ahead Tips
This is the kind of brunch recipe that is best served immediately. However, to keep things easy you could slice the tomato and keep it covered with plastic wrap.
You could also pre-toast the croissants and simply reheat them in the oven at 300°F.
How to Scale the Recipe for Larger Crowds
If you want to serve 3 - 10 people, plan to adjust the ingredients.
For each set of 2 additional people, plan to add:
Add an additional tomato for every 4 additional people.
You can toast large batches of croissants at one time on a baking sheet.
Scramble the eggs in a large skillet.
Let your guests build their sandwiches buffet-style or serve all the elements family-style at the table.
Save This Recipe to Your Recipe Box
Find this delicious recipe next time you visit by saving it to your very own recipe box on my site. All your favorites stored in one easy place!