Turkey breakfast sausage can be cooked in sausage patties for healthy breakfast sandwiches or sausage crumbles for an egg scramble or omelette. Made with regular ground turkey, this recipe tastes just like pork sausage thanks to the delicious seasoning.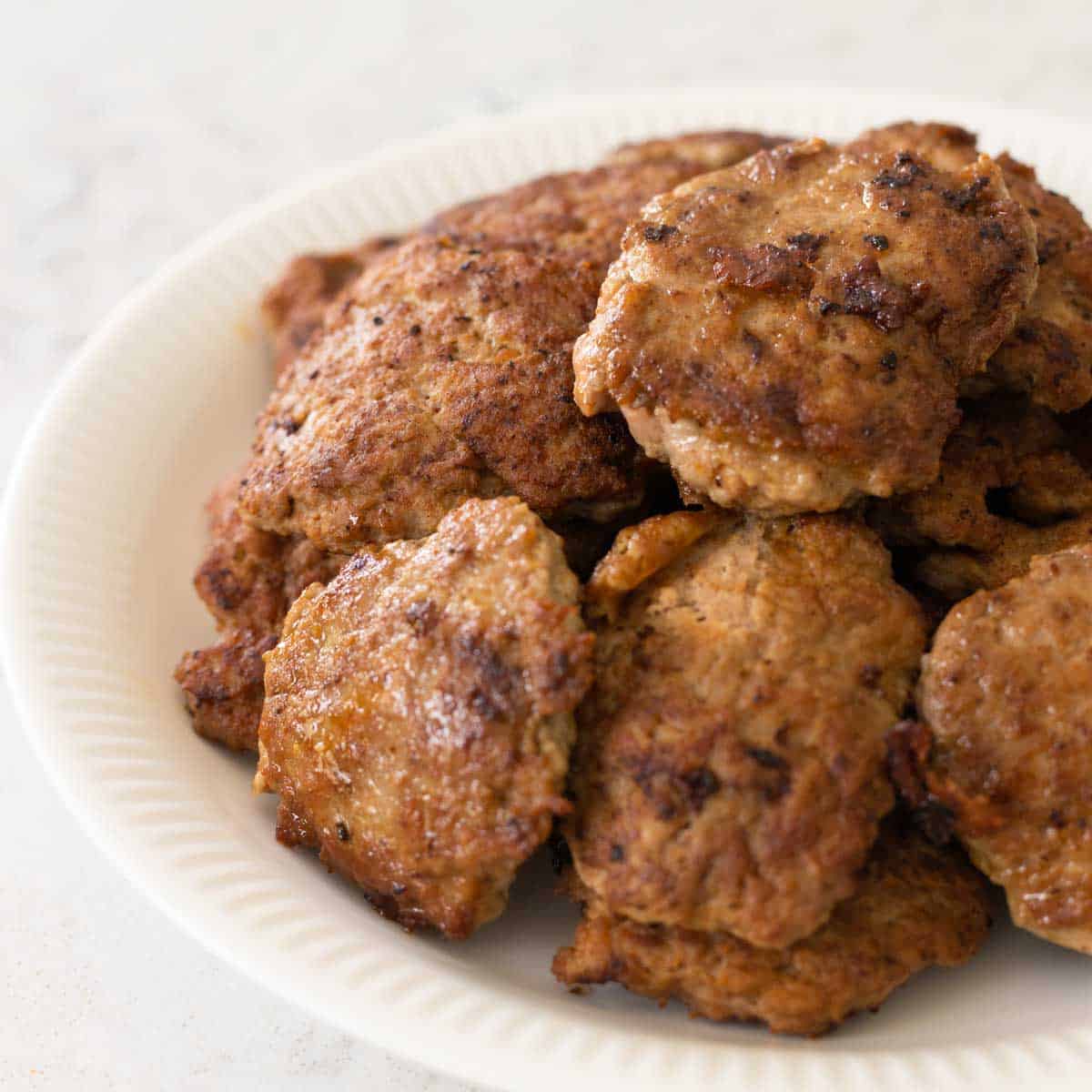 Poke around and you'll find a lot of sausage recipes on this site. Growing up in the midwest, pork sausage is one of my favorite proteins for delicious recipes but I know it isn't the best choice when it comes to our health.
I finally decided to make a lighter, healthier ground turkey breakfast sausage for tucking into a batch of frozen breakfast sandwiches before the school year started.
Every last member of my family was surprised to discover just how much we loved this easy recipe and how much it tastes like regular sausage thanks to the seasoning mix.
If you need a sausage alternative for healthier dishes, this turkey breakfast sausage is an excellent option.
Jump to:
Why This is the Best Recipe
For as long as I can remember, I've loved McDonald's sausage McMuffin sandwich. I can honestly say that this healthy alternative is sooooo much more delicious.
This is the best ground turkey breakfast sausage recipe because:
Tastes JUST Like Sausage: With the right seasonings, this tastes just like a regular sausage to me but less greasy and more delicious.
Easy to Prep: Just stir with a fork and cook. The recipe couldn't be easier.
Patties or Crumbled Sausage: You can use the ground turkey to form sausage patties or cook it like crumbled sausage for stirring into an egg scramble or omelette.
Make Ahead Friendly: You can cook the turkey sausage on Sunday and it will last all week in the fridge.
Freezer-Friendly: You can freeze the patties in breakfast sandwiches for a quick breakfast on a busy morning.
Ingredients
Ok, I'm going to be honest here . . . To make this easy turkey sausage recipe you really only need 3 things:
Ground Turkey
Olive Oil
But I know you might not want to buy a specific sausage seasoning blend.
So if you prefer to mix your own breakfast sausage seasoning from spices in your cabinet, you'll also need:
Kosher Salt
Sugar
Pepper
Paprika
Fennel Seeds
Sage
Thyme
Ground Nutmeg
Cayenne Pepper
Prep the Sausage Mix
First, add the ground turkey to a mixing bowl and add the breakfast sausage seasoning.
Stir it together with a fork.
When I shot the photos for this post, I was using 3 pounds of ground turkey meat so I could make a big batch of breakfast sausage patties for the freezer. So if this looks like a lot of ground turkey, it's because it is.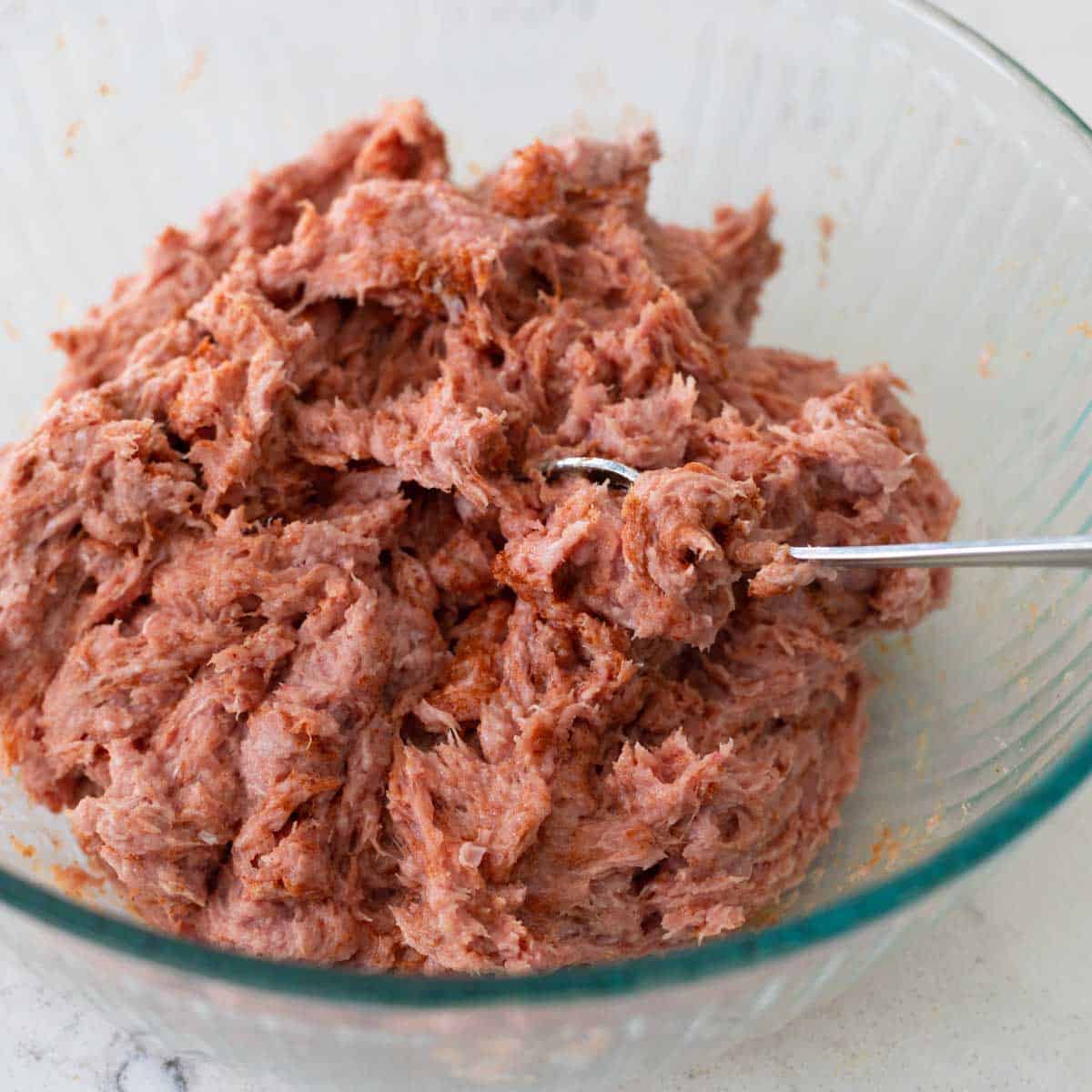 Turkey Breakfast Sausage Patties
If you want to make the turkey sausage into breakfast patties, you'll want to griddle the meat in olive oil in a skillet or on an electric griddle.
For the skillet, heat the olive oil over medium-high heat.
Form the turkey patties like you would with hamburger patties. You'll find that turkey meat is a little harder to shape than ground beef, so my patties look a little "rustic."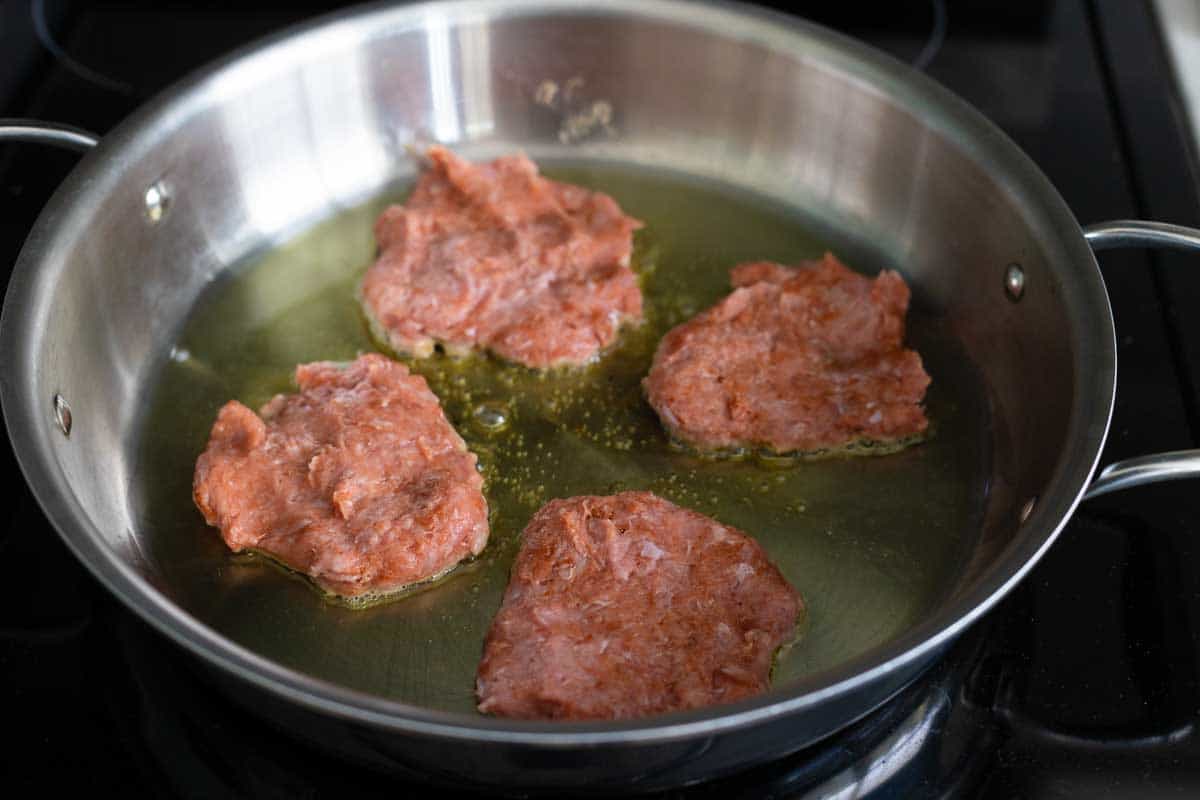 Cook the patties on the first side for 2 - 3 minutes or until you can see the bottom edges are cooked.
Flip the turkey sausages over with a spatula and cook them on the other side for another 2- 3 minutes.
You'll know they are done when they are golden brown and read 165°F with an instant read thermometer probe.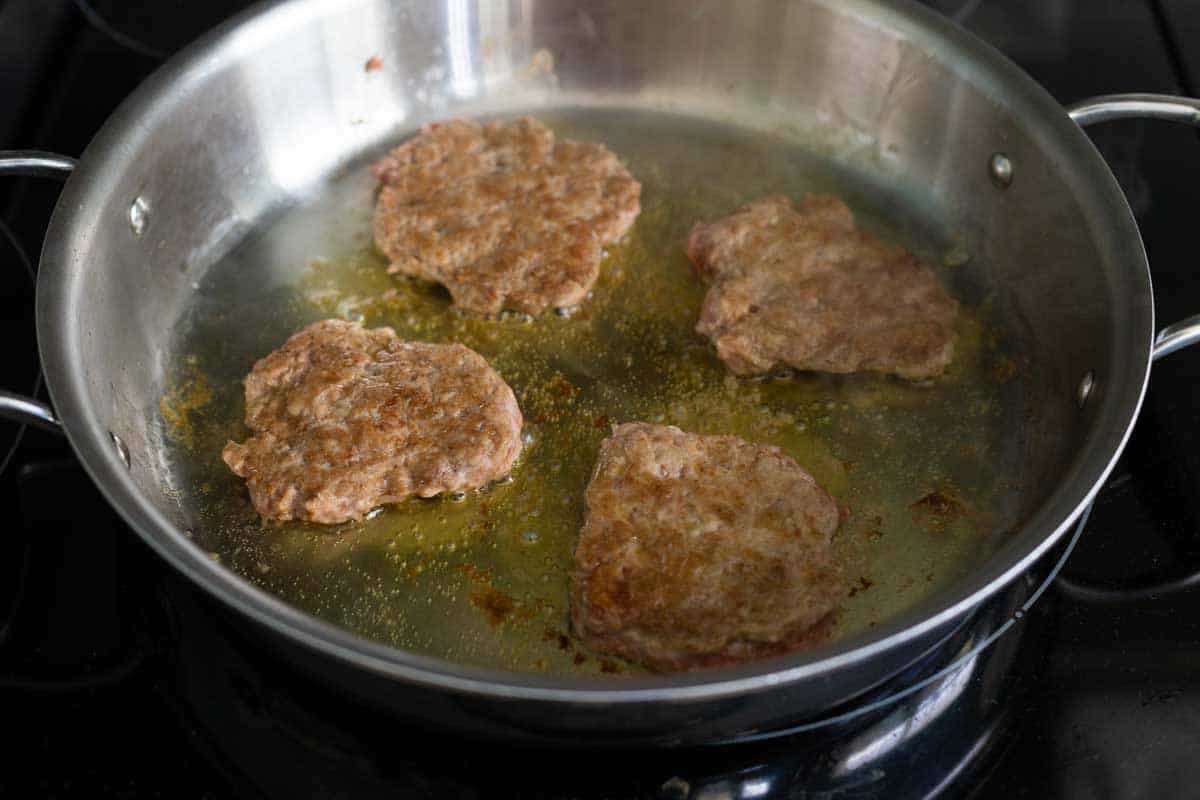 Ground Turkey Breakfast Sausage
It is even easier to cook your turkey sausage into breakfast sausage crumbles for an egg scramble, skillet breakfast, or omelette.
Simply heat the olive oil in a skillet over medium-high heat.
Add the turkey and cook it, breaking it up with a spoon as it browns.
You could leave it in larger pieces of sausage crumble or break it up more finely like taco meat, that's up to you.
This method is very fast and forgiving. Just cook the turkey until it is no longer pink.
IMPORTANT NOTE: It works best if you only brown 1 pound of turkey at a time or the turkey sausage won't get the crispy edges, it will steam.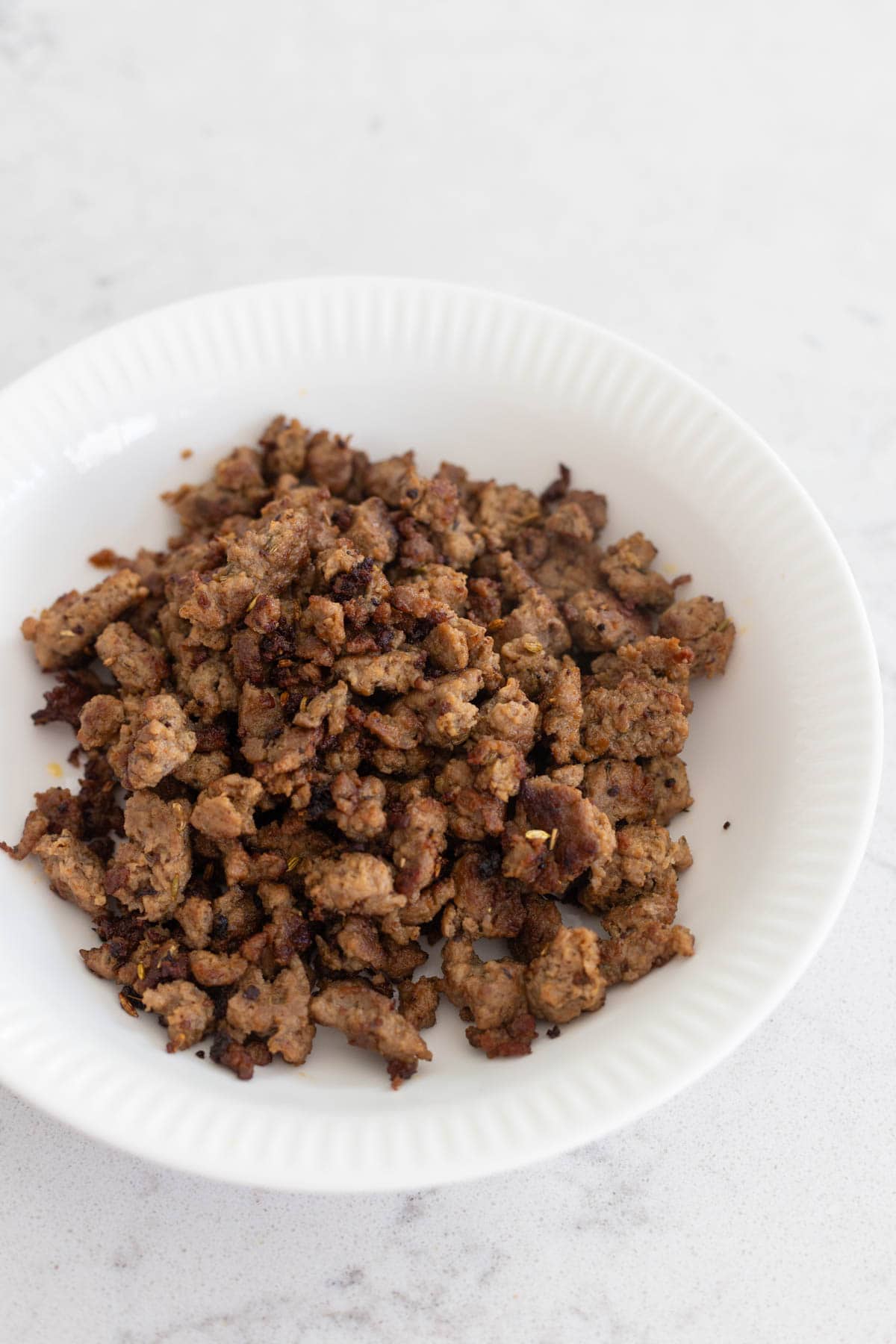 Ground turkey breakfast sausage would be the perfect substitution for pork sausage in these easy breakfast recipes:
And if you crumble up the sausage, you could stir it into a breakfast skillet with these crispy breakfast potatoes.
Make Ahead Tips
Ground turkey sausage will keep in the fridge for up to 5 days.
You could make a batch on Sunday for quick weekday breakfasts all week long.
Simply store the ground turkey breakfast sausage patties or crumbles in an airtight container.
Reheat them in the microwave.
Freezer Instructions
You can also freeze these easy ground turkey breakfast sausages.
I put the patties into freezer friendly breakfast sandwiches but you could also freeze them by themselves.
Just be sure to separate the sausages with waxed paper so they don't stick together in the freezer.
Thaw the sausages in the fridge overnight and just reheat them in the microwave.
Alternatively, you could freeze the ground turkey sausage crumbles in smaller portions.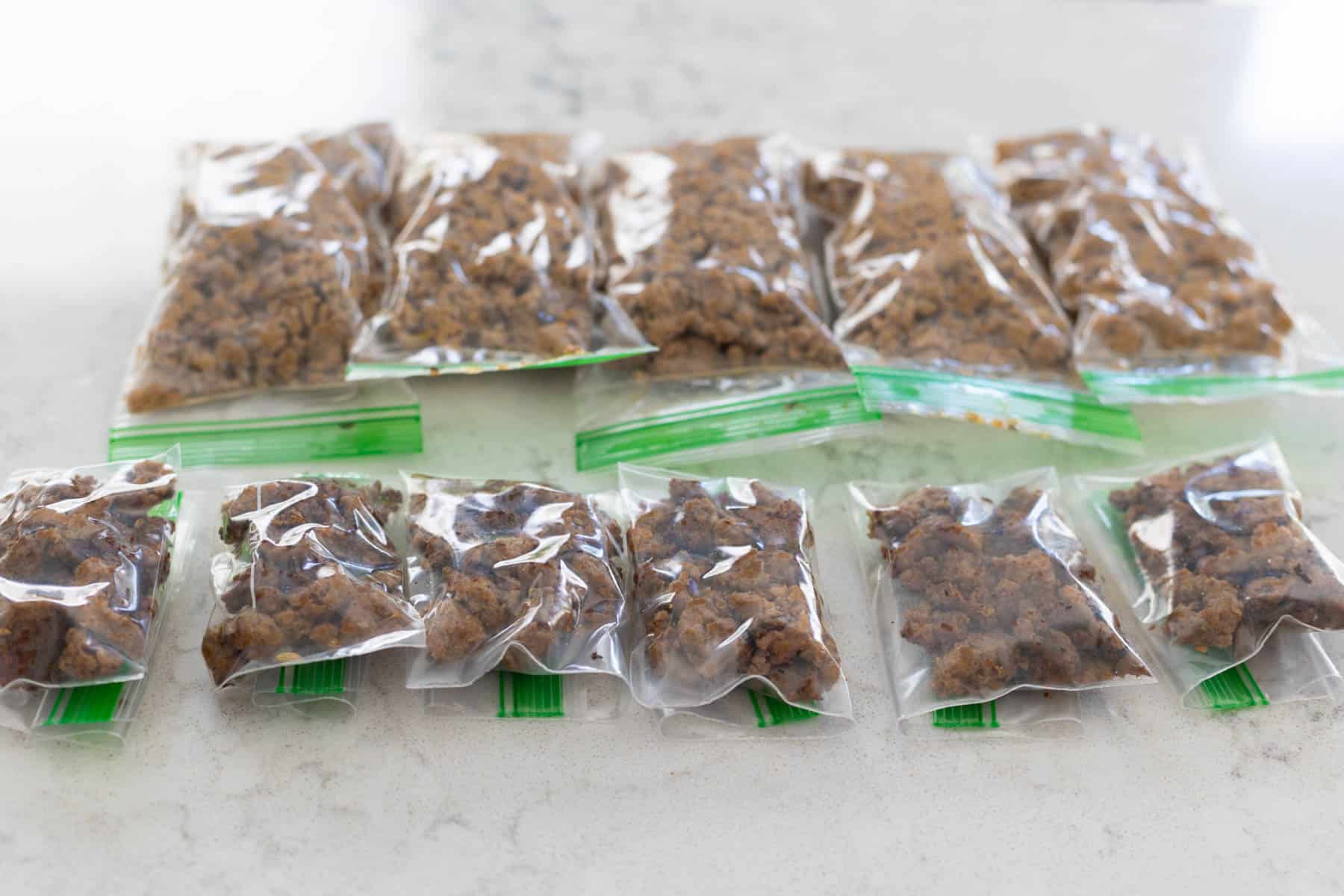 These 1-cup bags are perfect for adding to scrambled eggs or casseroles.
Serving Suggestions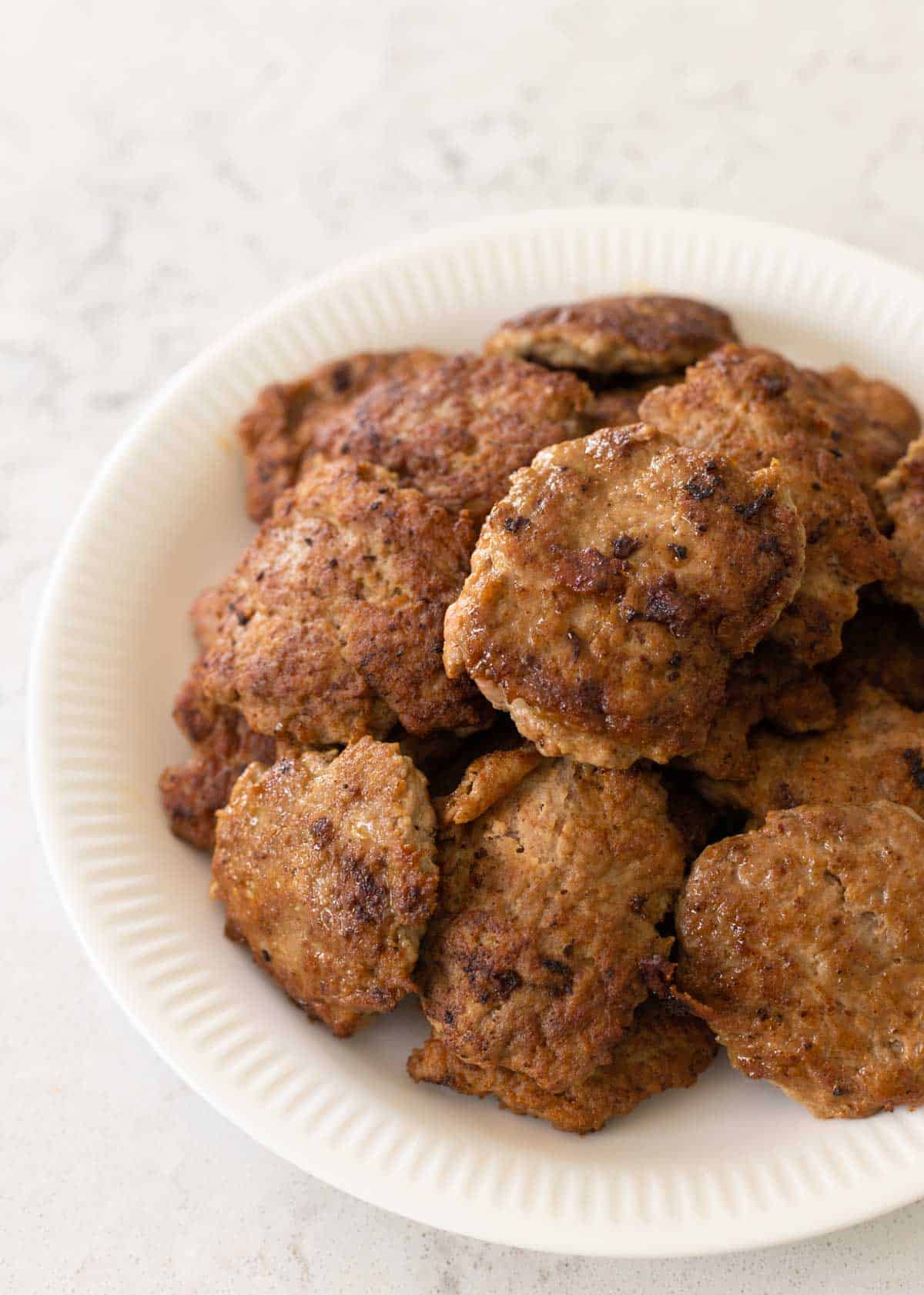 There are so many ways to use the ground turkey breakfast sausages. My favorite way is to make a healthy alternative to a sausage McMuffin breakfast sandwich with an english muffin, egg, and cheese like these delicious frozen breakfast sandwiches.
You could also enjoy the patties by themselves as a side dish with a batch of my favorite fluffy french toast or to add a little more protein to my lemon blueberry baked oatmeal.
If you have a batch of hard boiled eggs on hand, one egg and a sausage patty would make an excellent low-carb, high protein breakfast for a grab-and-go type morning.
More Make Ahead Breakfast Ideas
Need more quick and easy make ahead breakfast ideas? Here are some of our other favorite recipes:
📖 Recipe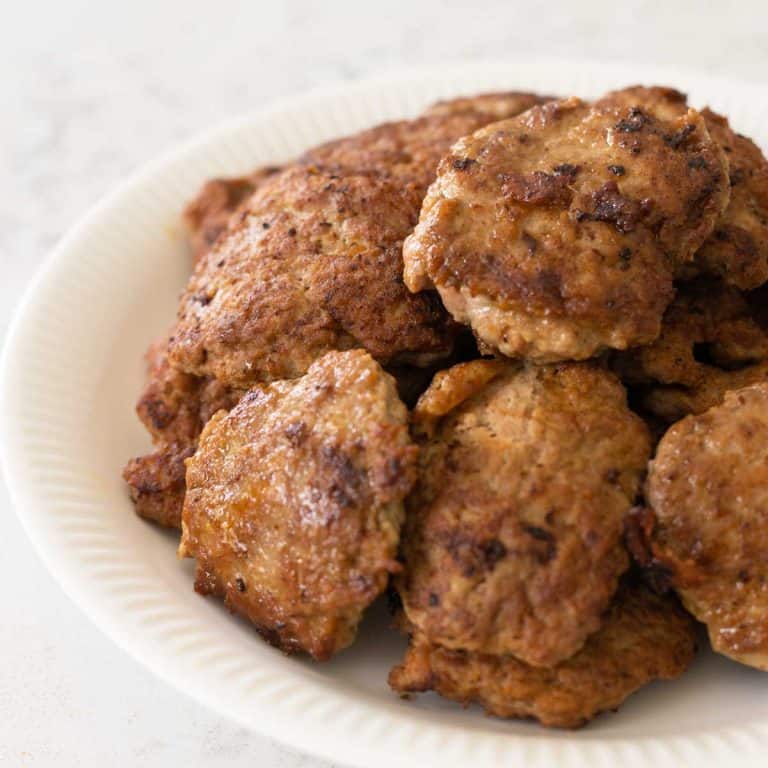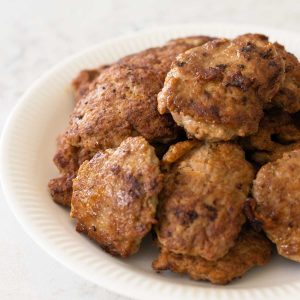 Turkey Breakfast Sausage
This easy turkey breakfast sausage recipe can be made into breakfast sausage patties for breakfast sandwiches or sausage crumbles for adding to an egg scramble or omelette. Lighter and healthier than traditional sausage but this recipe has ALL the same flavor thanks to the seasoning mix.
Ingredients
2

pounds

ground turkey

2

tablespoon

olive oil
Breakfast Sausage Seasoning Mix
1

tbsp

kosher salt

2

teaspoon

sugar

1

tablespoon

paprika

2

teaspoon

pepper

2

teaspoon

fennel seeds

crushed

2

teaspoon

sage

1

teaspoon

thyme

¾

teaspoon

cayenne pepper

add ¼ teaspoon more if you like spicy sausage

¾

teaspoon

ground nutmeg
Instructions
Prep the Turkey Breakfast Sausage Mix
In a large mixing bowl, combine the ground turkey and all the dried seasonings. It works best to fluff the mix with a fork until well combined. Chill for at least 10 minutes to let the meat rest and the seasonings to flavor the meat.
To Make Turkey Breakfast Sausage Patties
2 pounds of turkey meat will make 12 breakfast sandwich-sized sausage patties that you can store in the fridge for up to 5 days or freeze up to 3 months.

Heat a large skillet or griddle on medium-high heat with one tablespoon of olive oil.

Divide the ground turkey into 12 portions and form each patty between your palms. They should be about ½-inch thick each.

Cook the sausage patties for 2 - 3 minutes on one side or until the bottom outer edges have cooked through.

Cook the patties on the second side for an additional 2 - 3 minutes or until the center tests 165°F with a probe thermometer and the patties are golden brown. It helps to press down gently once or twice with your spatula as the patties cook to ensure the patties are thin.
To Make Ground Turkey Breakfast Sausage
If you prefer, you can use the ground turkey to make ground turkey sausage for an egg scramble, omelette, or skillet breakfast.

Place the 2 tablespoons of olive oil in a large skillet over medium-high heat. Brown the ground turkey, breaking it up with a spoon as it cooks, until no longer pink.
Save This Recipe to Your Recipe Box
Find this delicious recipe next time you visit by saving it to your very own recipe box on my site. All your favorites stored in one easy place!