Make crispy breakfast potatoes in a stovetop skillet for an easy weekend brunch with scrambled eggs or an omelette. This delicious potato side dish can be seasoned several ways but we love this onion, garlic, and seasoned salt combo the best!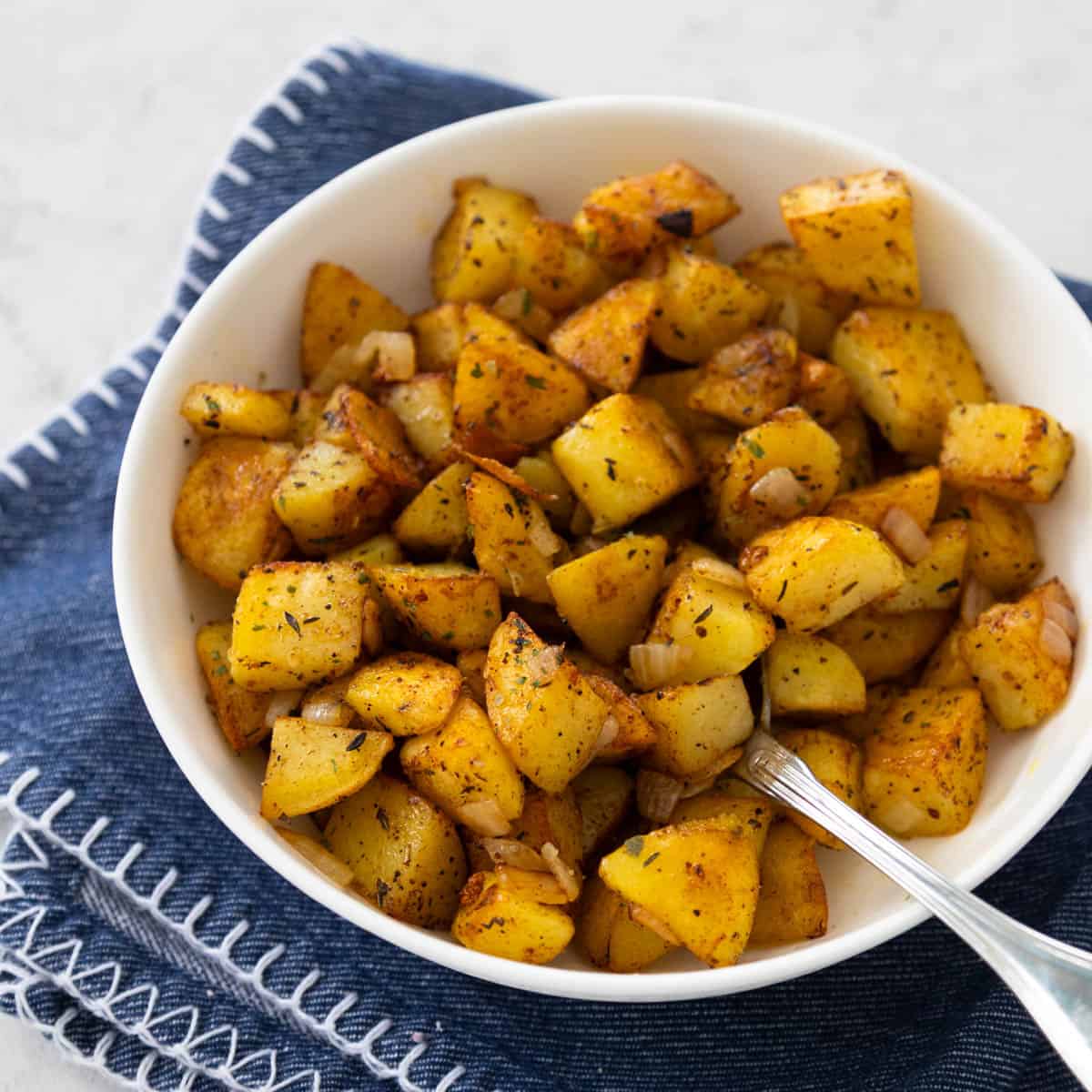 One of my favorite local breakfast restaurants serves the tastiest crispy breakfast potatoes as a side dish when we order anything with eggs from the menu.
Once I learned how easy it is to make our own home fries in a skillet, we can now have a restaurant quality weekend brunch right at home!
These delicious crispy potatoes are perfect with a plate of your favorite eggs but honestly? They'd be an awesome side dish with a grilled steak, too.
Breakfast for dinner anyone?
Jump to:
Why This is the Best Recipe
Potatoes make such an excellent side dish for a weekend brunch but I think this is the best crispy breakfast potatoes recipe because:
Golden Brown and Crispy: The skillet method of cooking the potatoes gives them the perfect crispy edges you're looking for.
Fun Variations: Learn how to make my basic recipe with onion and seasonings but don't miss the fun ways you could jazz this dish up for other meals.
Make Ahead Friendly: Save time by prepping the potatoes the night before with my easy tips.
Perfect Shapes: Be sure to use the Yukon Gold potatoes for that perfect home fries cubed shape.
Ingredients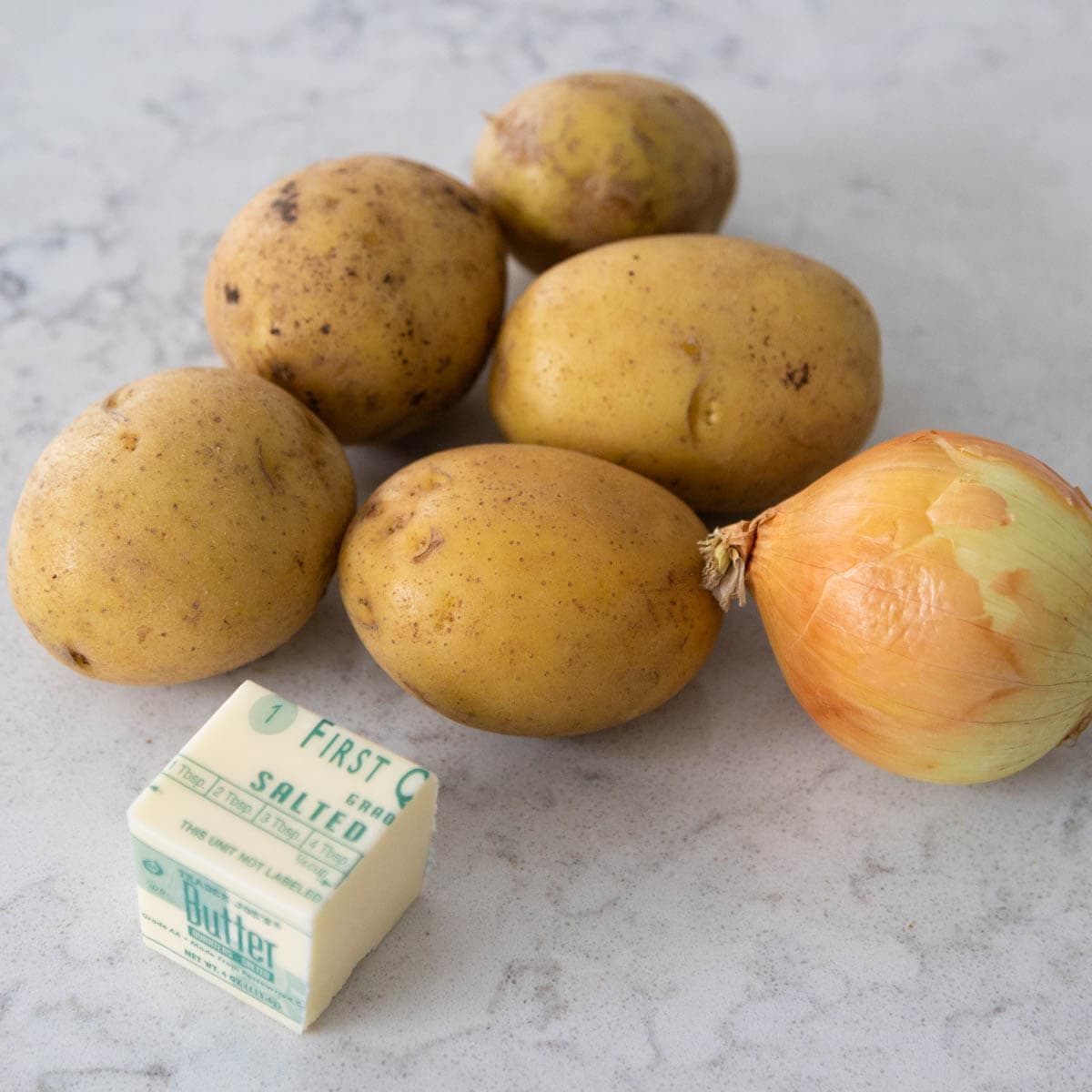 This popular breakfast side dish only needs a couple easy ingredients:
Yukon Gold Potatoes: These waxy potatoes hold their shape when cooked and are the perfect choice for cubed home fries.
Onion: A fresh onion is optional but adds a ton of flavor.
Butter
Garlic Salt
Seasoned Salt: You can use any seasoned salt you love, or grab my seasoned salt recipe here.
Dried Thyme
Cayenne Pepper: There's only a pinch, I promise it does not make the potatoes spicy. Unless you want spicy, then you'll have to at least double what I call for in the recipe card.
Fresh Cracked Pepper
Prep the Potatoes
First, wash and peel the potatoes.
I roughly peeled them, leaving just tiny random bits of skin on the outside because I feel this adds visual appeal. You can peel them completely clean if you prefer.
Chop the potatoes into cubes about ¾-inch big.
If you prefer your breakfast potatoes smaller, you'll reduce some of the cooking times below.
Microwave the Potato Cubes
To make the perfect breakfast potatoes with a crispy outside and fluffy inside, you have to get the potatoes started cooking before you add them to the skillet.
Add your prepped potato cubes to a microwave safe bowl.
Add 1 tablespoon of butter on top and cover the dish in plastic wrap.
Cook on HIGH for 5 - 7 minutes or until the potatoes have just begun to soften.
You'll want to stir them about half way through the cooking time to coat all the potato chunks in the melted butter.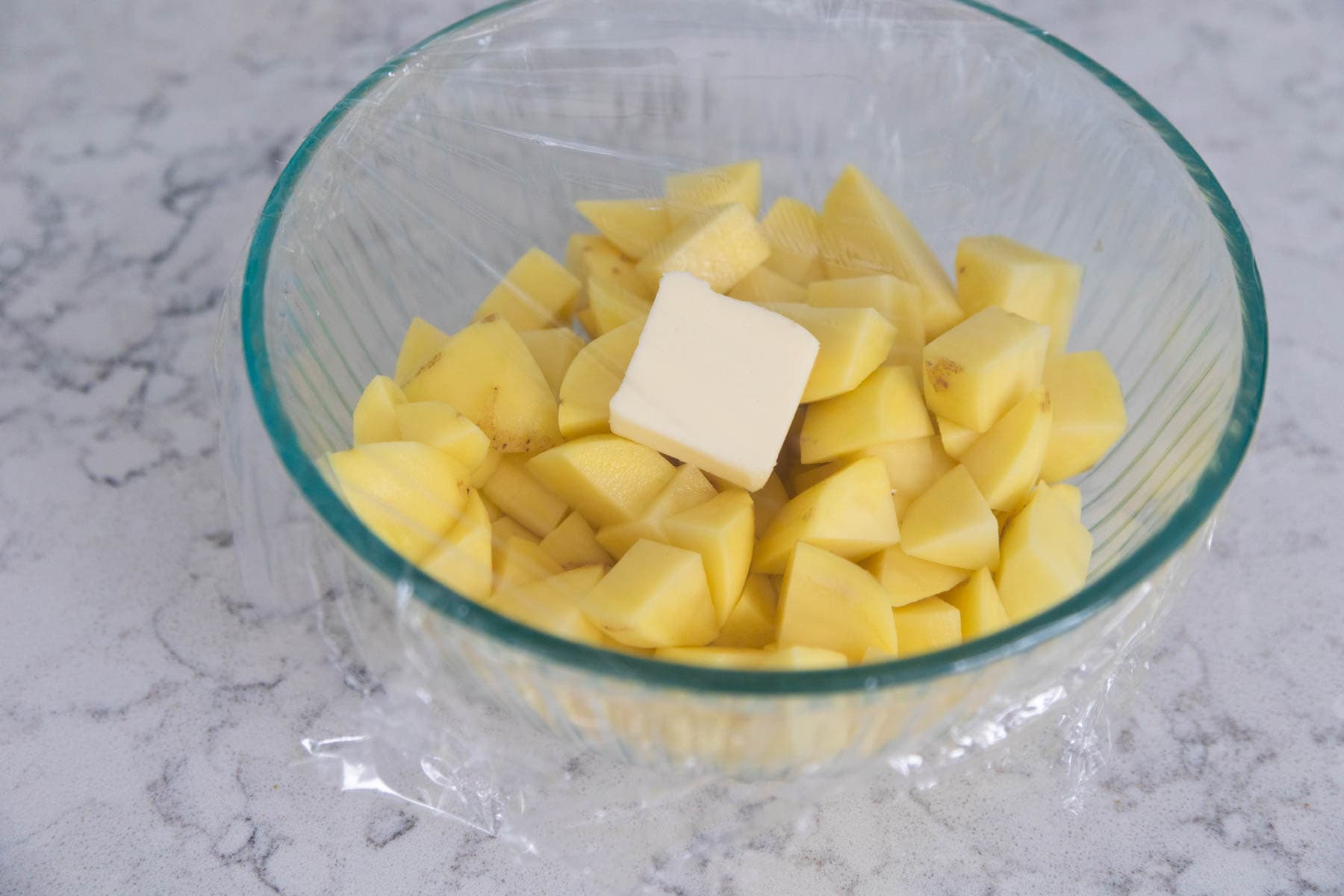 Cook the Onion
Meanwhile, add some butter to a large skillet and melt it over medium heat.
Add the chopped onion to the skillet and cook until the onion have softened.
The onions will burn if you cook them with the potatoes, so it is best to do this step first.
Scoop the cooked onions out of the skillet with a large cooking spoon and transfer them to a clean bowl. Save them, we'll be adding them back in later.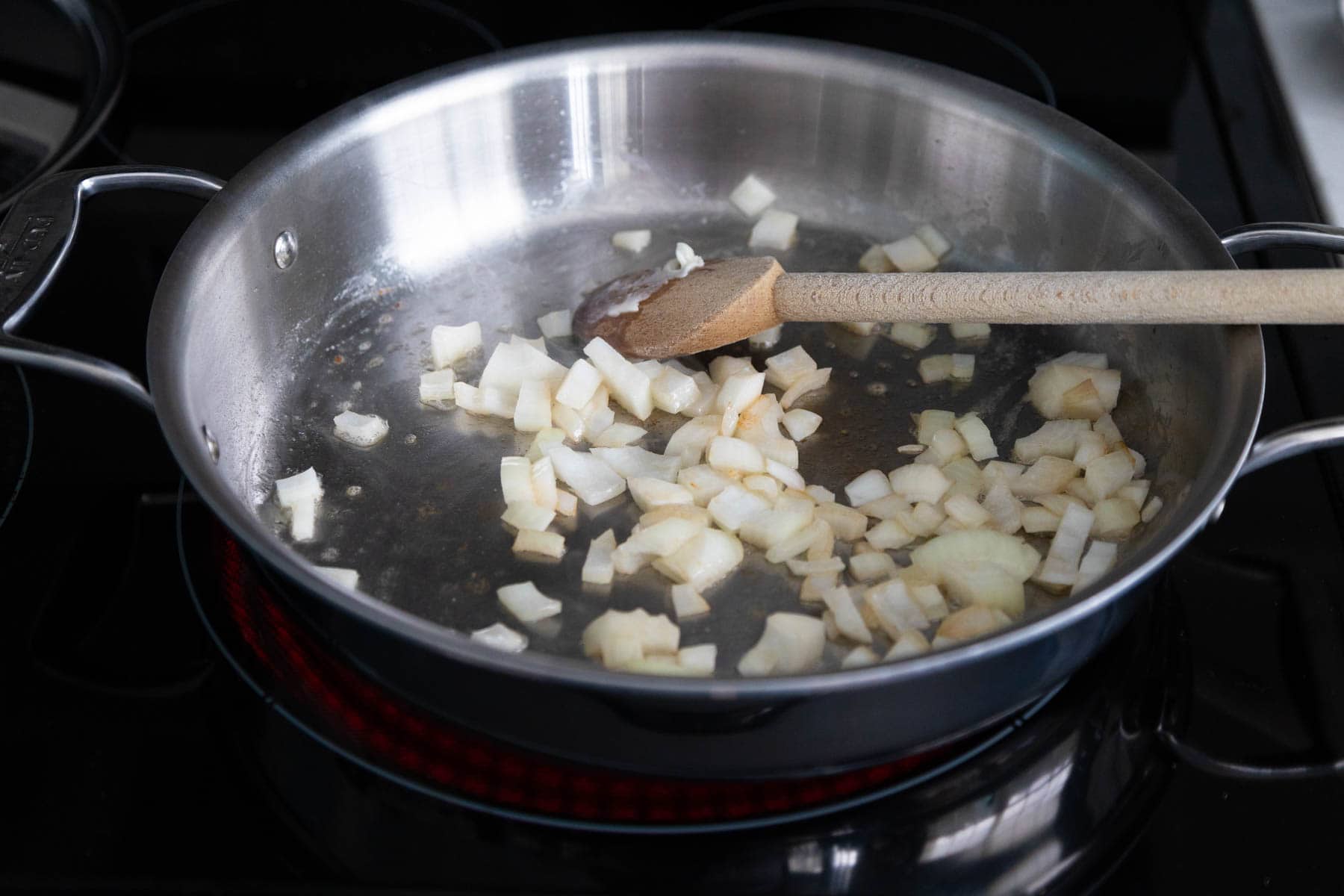 Brown the Potatoes
Add more butter to the skillet. Once it has melted and become bubbly, add the potato chunks and smooth them out into an even layer.
Cook the potatoes on the first side for 5 - 7 minutes without turning or moving them.
They will brown the best if they are left undisturbed.
Sprinkle the seasonings evenly over the potatoes while they are browning on the first side.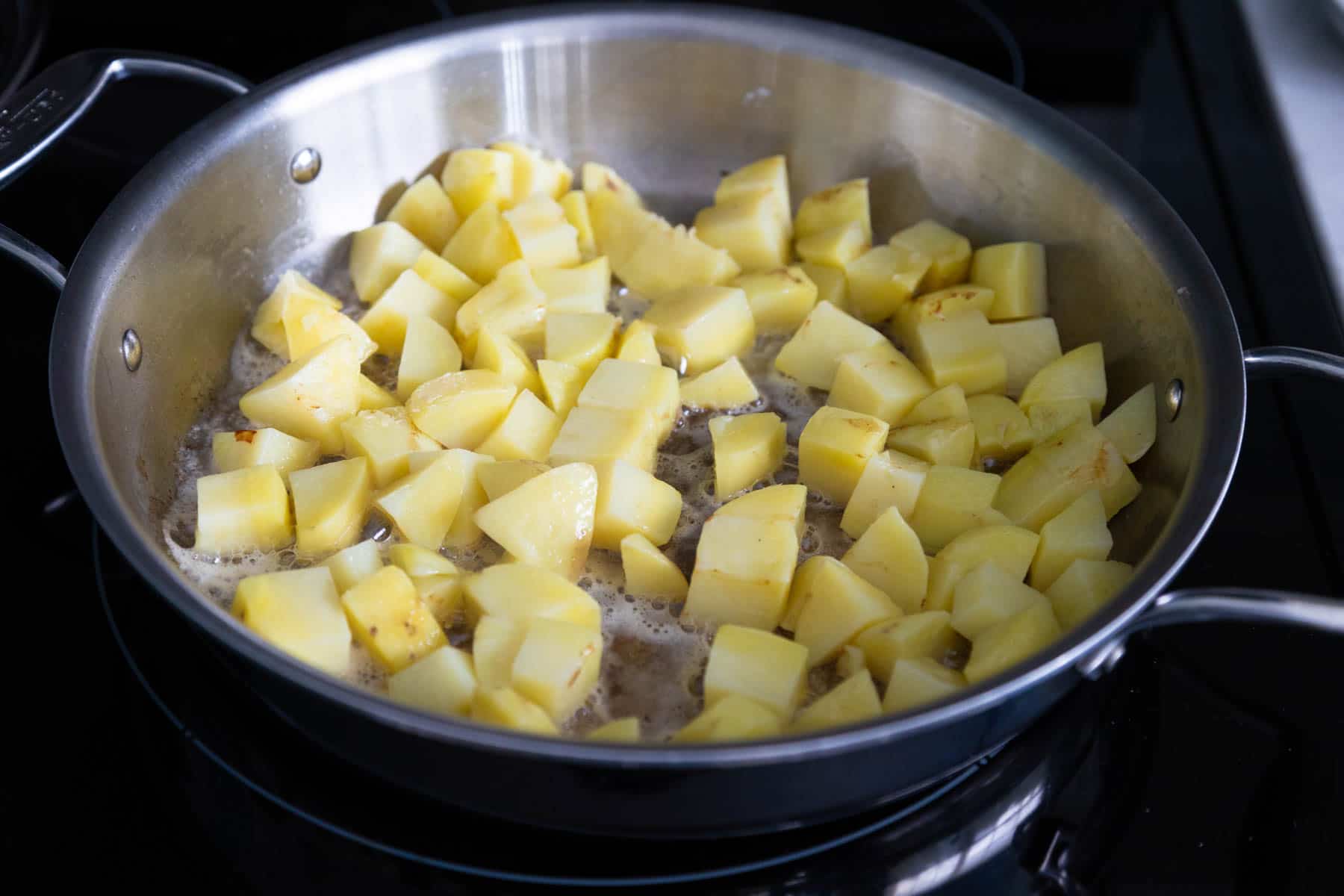 Flip the potatoes over and brown them on the other side for another 5 - 7 minutes without moving.
Finally, add the onions back to the skillet. Reduce the heat to medium-low.
Continue to cook the potatoes till they are browned and crispy on all sides, about 10 more minutes.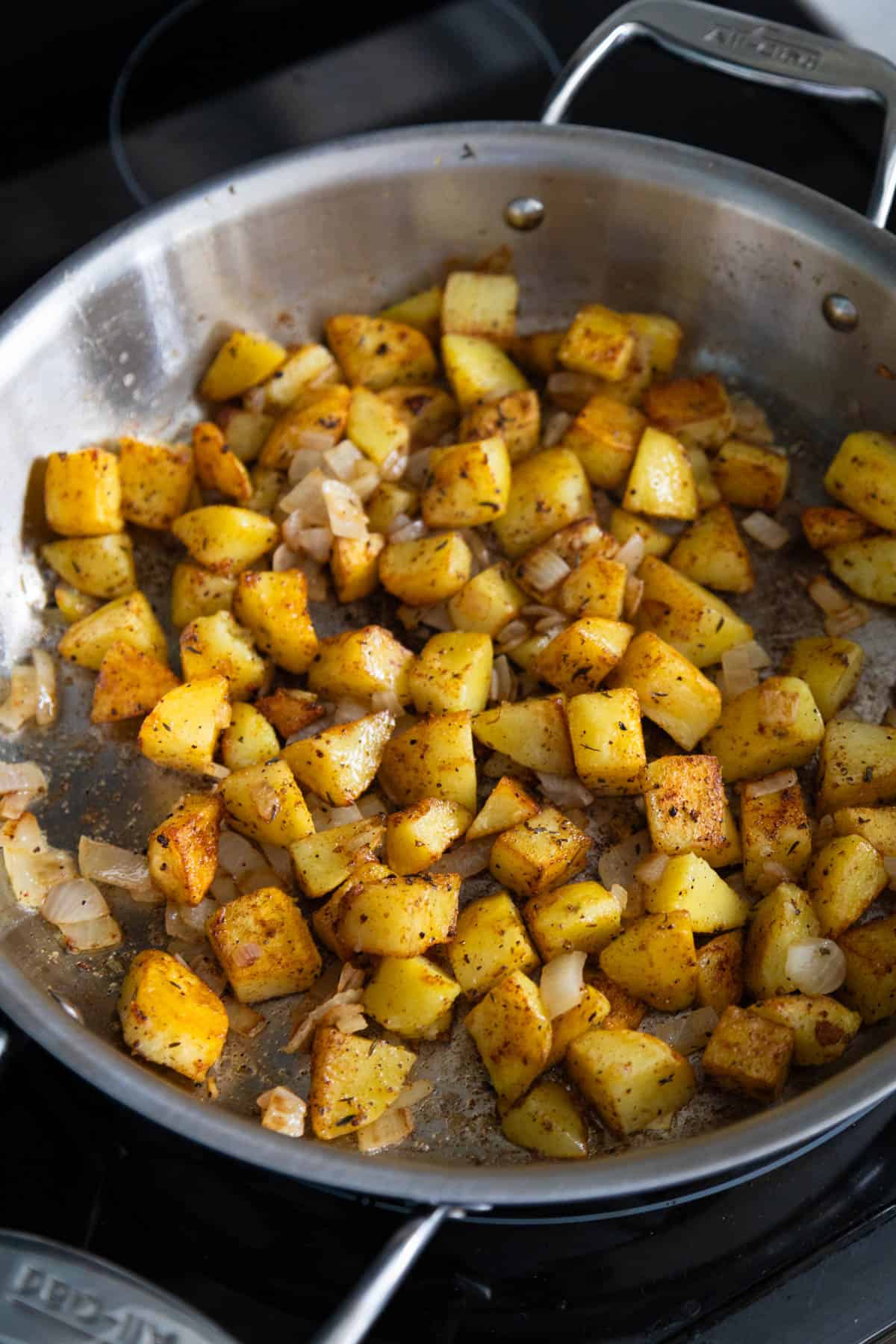 Make Ahead Tips
If you want to save time with your brunch prep, you could peel and chop the potatoes the day before.
Cook them in the butter in the microwave to get them started.
Then store them in an airtight container in the fridge.
Let the potatoes come to room temperature before you proceed to the browning stage.
How to Reheat Crispy Potatoes
Leftover potatoes will still taste great if you heat up the leftovers in the microwave but they will definitely lose that awesome crispy texture.
I've tried to reheat them in a skillet but find that they tend to darken too much before they get crispy enough.
The best way to reheat an already browned crispy potato is in the oven on a baking sheet or in an air fryer.
As the dry air circulates the potatoes, they regain their crispy texture. They won't be as good as they were fresh when you first made them, but this is a great way to reheat potatoes so nothing goes to waste.
Heat them at 350°F in the oven or air fryer until warmed through. The time will depend on how many potatoes you're trying to reheat so just keep an eye on them.
Variations
This particular breakfast potatoes recipe is a classic potato side dish but there are several fun ways you could mix things up with new variations:
Denver Potatoes: Add a chopped green bell pepper to the onions and saute them at the same time. Mix in diced ham to warm through when you add the onions and peppers back to the skillet with the potatoes. This would be an excellent choice if you leftover glazed ham after a holiday.
Cheesy Breakfast Potatoes: Assemble the crispy breakfast potatoes as called for but sprinkle your favorite shredded cheese over the top and let it melt for a minute or two before serving. This would be perfect with sharp cheddar cheese, Monterey Jack, pepperjack, or Swiss cheeses in particular.
Spicy Breakfast Potatoes: Double the amount of cayenne seasoning called for in the recipe card. Add a couple dashes of hot sauce to the skillet just before serving.
Serving Suggestions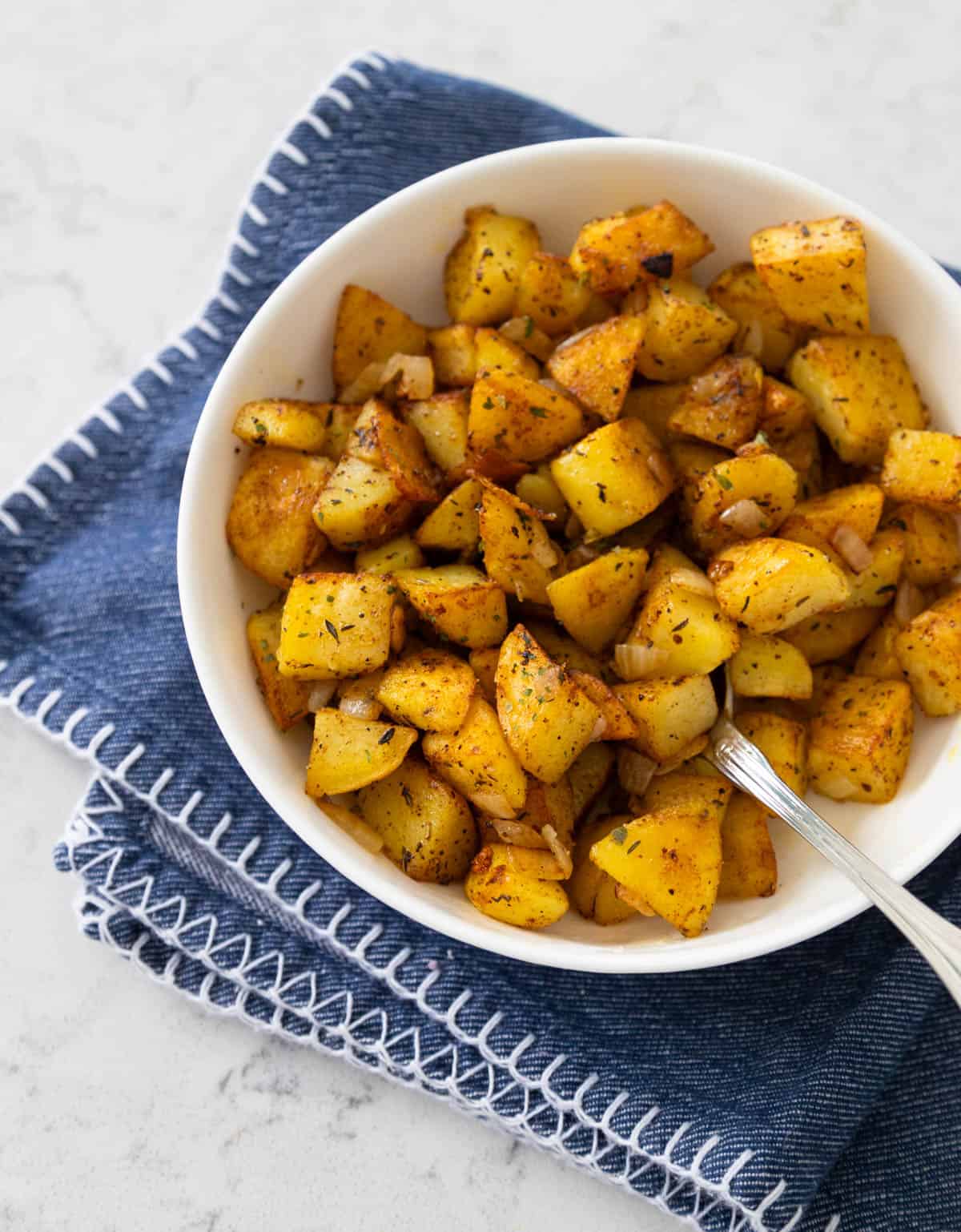 I served these home fries for breakfast alongside scrambled eggs for a simple weekend breakfast but there are several other ways you could enjoy it.
Prep ahead my easy eggs benedict, the parmesan cream sauce that goes with it would taste great with the potatoes.
The cubed potatoes also make a great side for a simple easy quiche with a light green salad for a hearty brunch.
You could crumble my turkey breakfast sausage or peppered bacon and mix them right into the skillet with the potatoes for a full breakfast skillet with eggs.
More Potato Recipes
Looking for more delicious potatoes to serve for a holiday brunch? You won't want to miss these popular recipes:
More Brunch Recipes
Planning a special brunch for a holiday or family gathering? Get all my best brunch tips and recipes:
📖 Recipe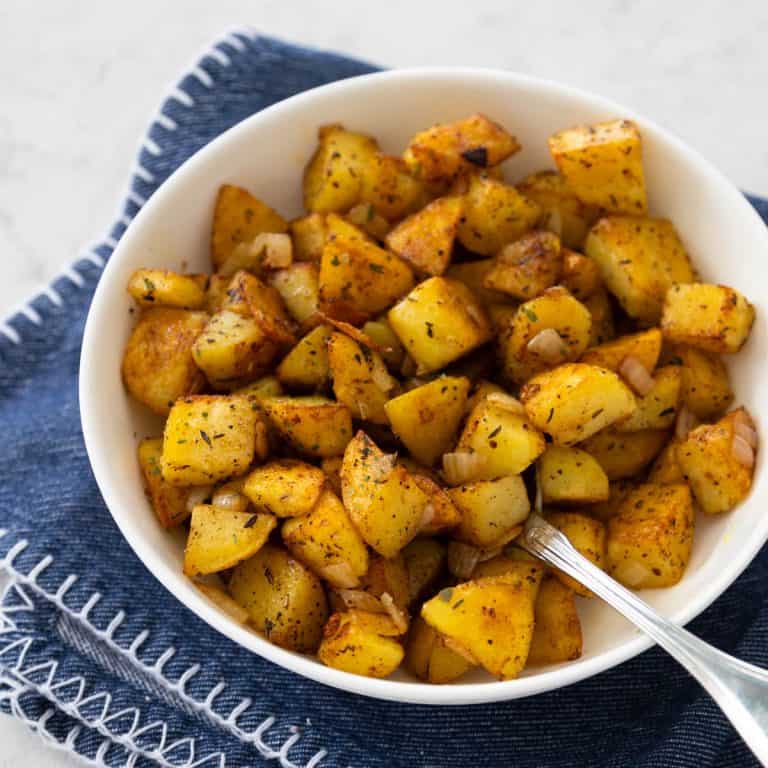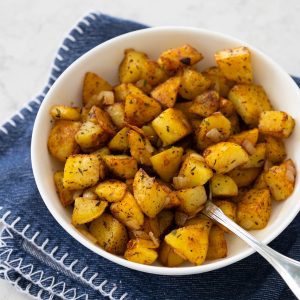 Crispy Breakfast Potatoes
These delicious seasoned home fries are perfect for serving with scrambled eggs or omelettes for an easy weekend brunch. The crispy breakfast potatoes brown up perfectly in a skillet on the stovetop.
Ingredients
1 ½

pounds

Yukon Gold potatoes

roughly peeled, a little skin left on the potato is ok

4

tablespoon

butter

divided

1

onion

chopped

½

teaspoon

garlic salt

½

teaspoon

seasoned salt

¼

teaspoon

dried thyme

¼

teaspoon

cayenne pepper

Fresh cracked black pepper
Instructions
Chop the potatoes into ¾-inch cubes. Place them in a large microwave-safe bowl with just 1 tablespoon of the butter. Cover the dish with plastic wrap and cook on HIGH for 5 - 7 minutes in the microwave. Stir the potatoes half way through cooking. The edges should just begin to soften.

In a large skillet, add another tablespoon of butter over medium heat. Add the chopped onion and cook until softened and golden brown. Scrape the onion to a clean bowl and set aside.

When the potatoes are finished in the microwave, add the remaining 2 tablespoons to the now empty skillet and melt it over medium heat. Add the potatoes to the skillet and pack them down into place with the back of a spatula. Season them with the garlic salt, seasoned salt, dried thyme, cayenne, and pepper. Cook them without moving for 5 - 7 minutes or until the bottoms have turned golden brown.

Flip the potatoes and pack them into place again. Cook without disturbing until they have browned and crisped, another 5 - 7 minutes.

Reduce the heat to medium-low. Stir the reserved onion back into the potatoes. Continue to cook until everything is golden brown and crispy, another 10 minutes. Serve immediately.
Save This Recipe to Your Recipe Box
Find this delicious recipe next time you visit by saving it to your very own recipe box on my site. All your favorites stored in one easy place!