Quick and easy parmesan cream sauce is the perfect thing to drizzle over a savory egg casserole, pasta dish, or grilled chicken or fish. Takes less than 10 minutes to make and is so rich and creamy.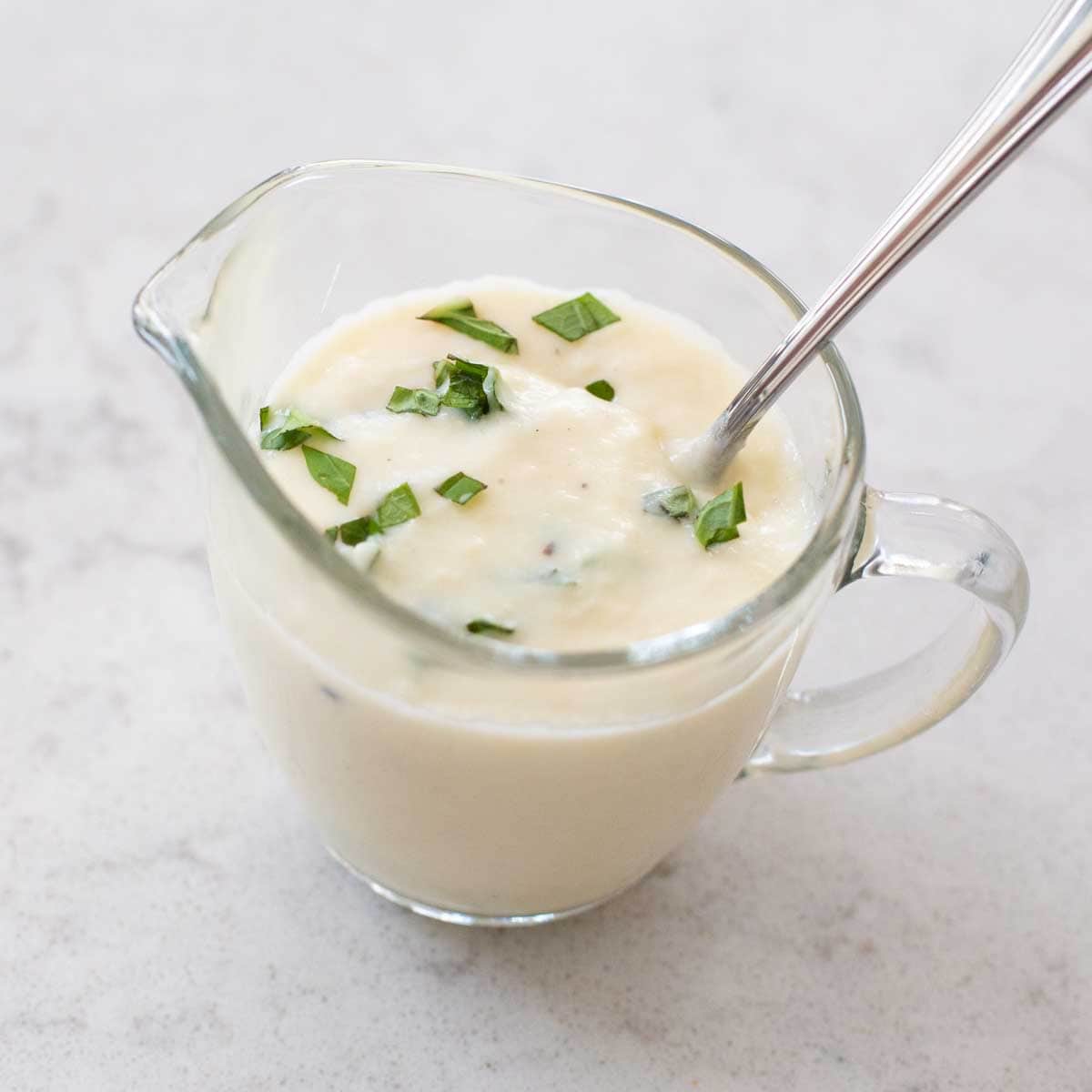 This rich parmesan cream sauce is the elegant topping for your dish that is deceptively easy to make.
With just 10 minutes and a little whisking, you'll have the perfect cream sauce for drizzling over scrambled eggs, tossing with pasta, or drizzling over chicken or fish.
A sprinkle of fresh basil adds even more flavor to the sauce and makes for an easy way to make several fun flavor variations.
Be sure to check out all my notes on how to use the sauce and different flavor twists below!
Ingredients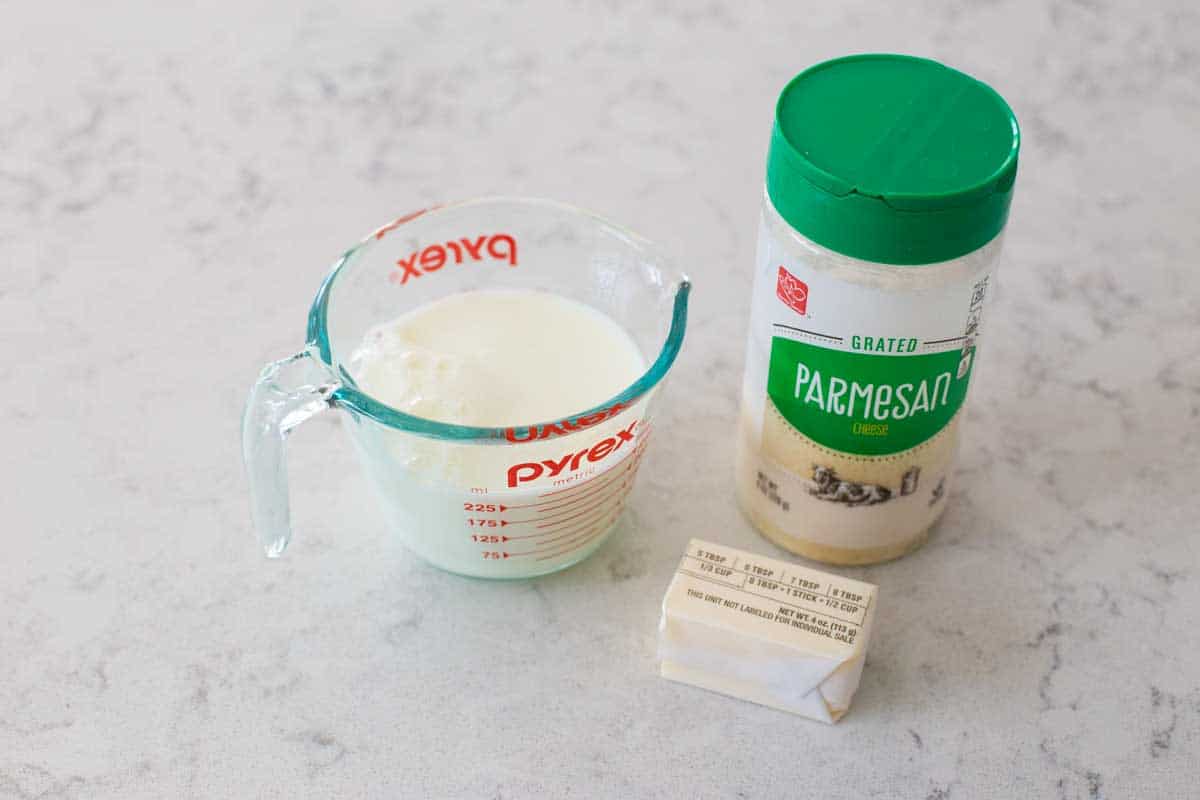 A simple cream sauce like this shouldn't take a ton of ingredients. The whole point is that it is something super easy to add that little extra to a special dish.
All you need to make it is:
Milk*
Butter
Flour
Grated Parmesan
I absolutely love that this "cream" sauce uses milk instead of heavy cream. I always have milk in my fridge, but usually need to make a special trip to the grocery store for cream.
The final dish is so rich, your family will think you used heavy cream for sure!
How to Make It
Start by making a roux of butter and flour.
That's a fancy way of saying: melt the butter over medium-high heat and whisk in the flour.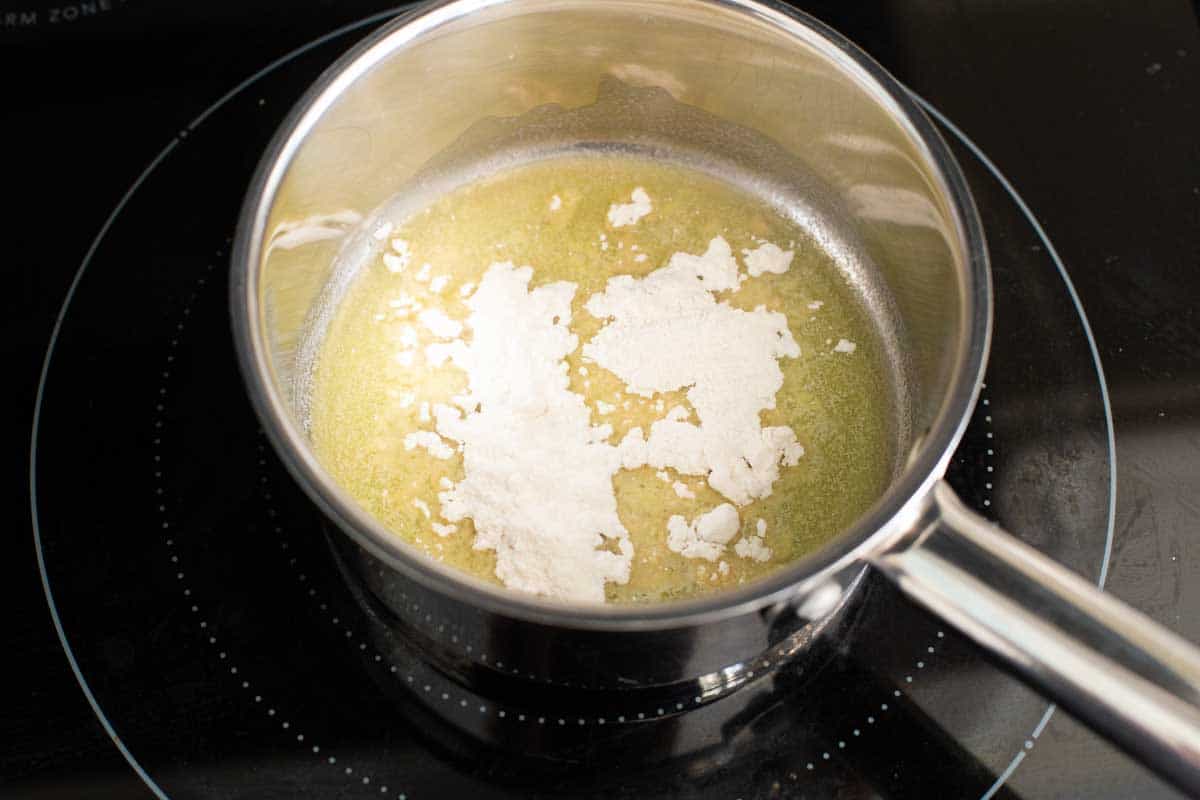 Cook the butter and flour for 2 - 3 minutes or until it looks slightly toasted in color and is hot and bubbly all around: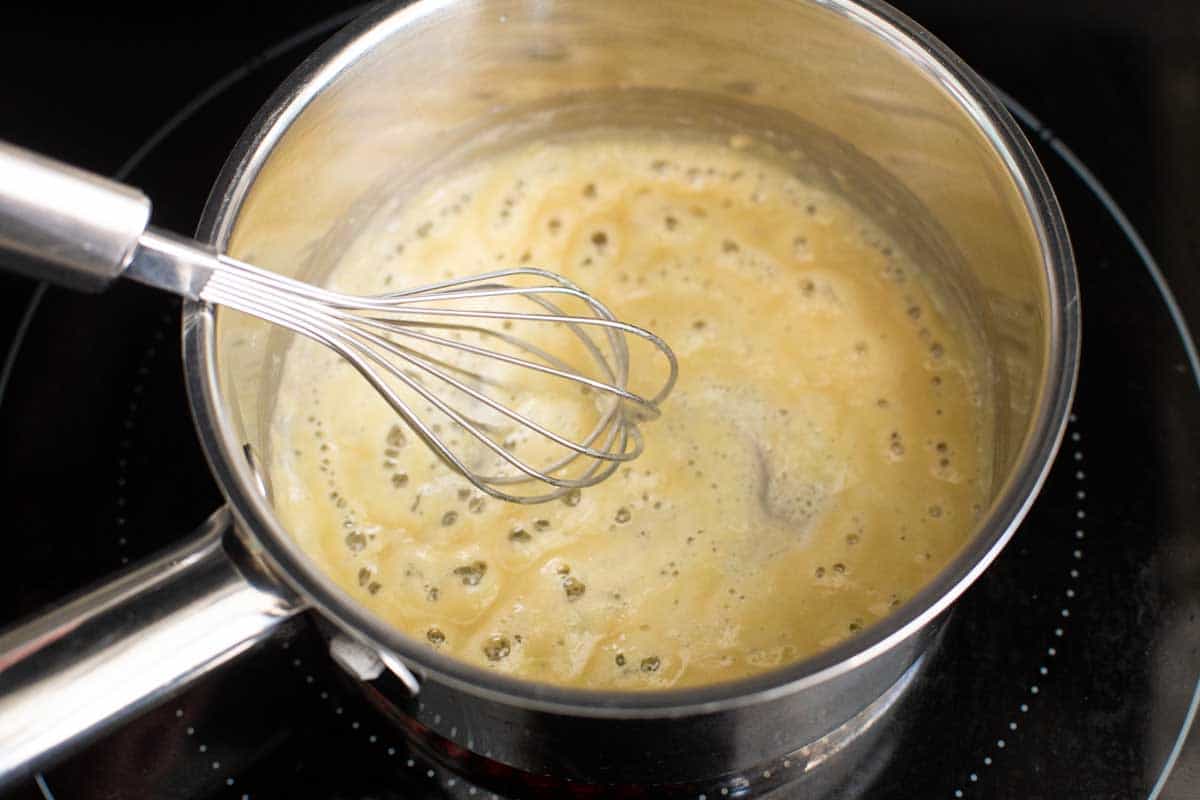 Drizzle in the milk while whisking the entire time.
The sauce will initially look quite clumpy but as you cook and whisk, it will definitely smooth out.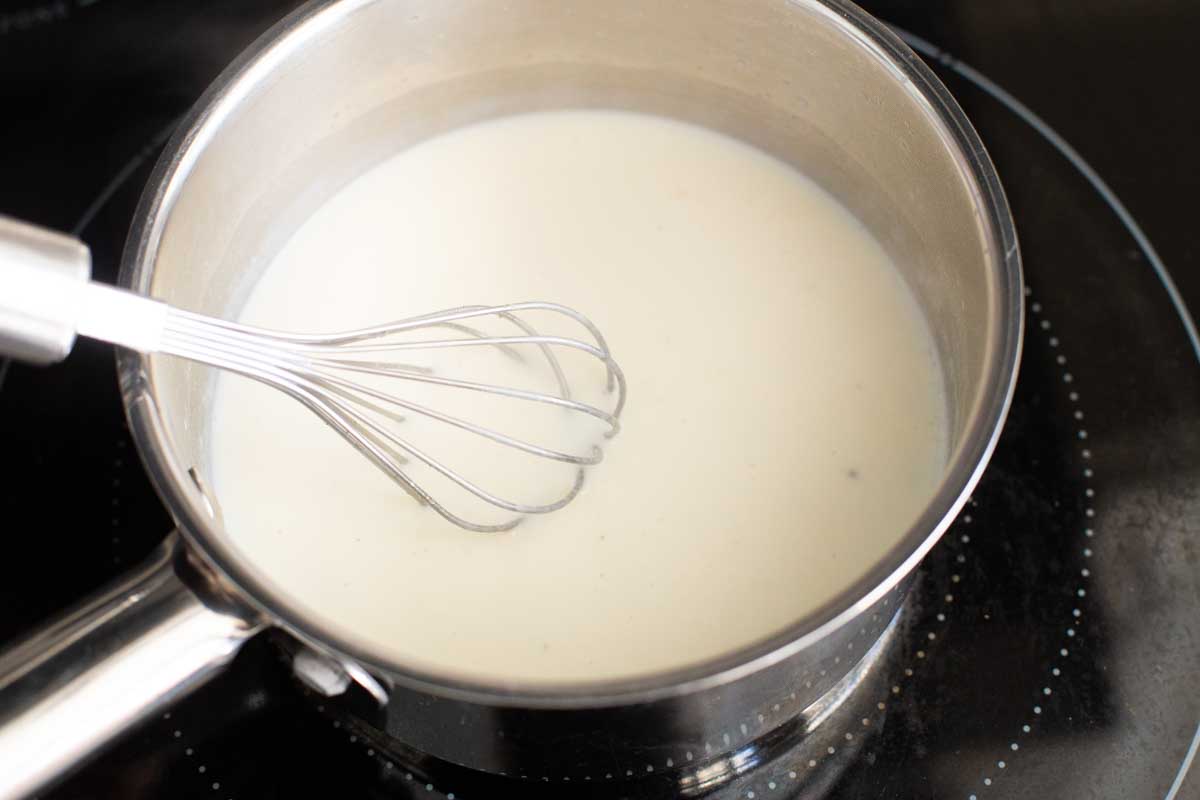 Cook the cream sauce for 5 minutes or until the milk has thickened.
Add the salt and parmesan and whisk them into the sauce.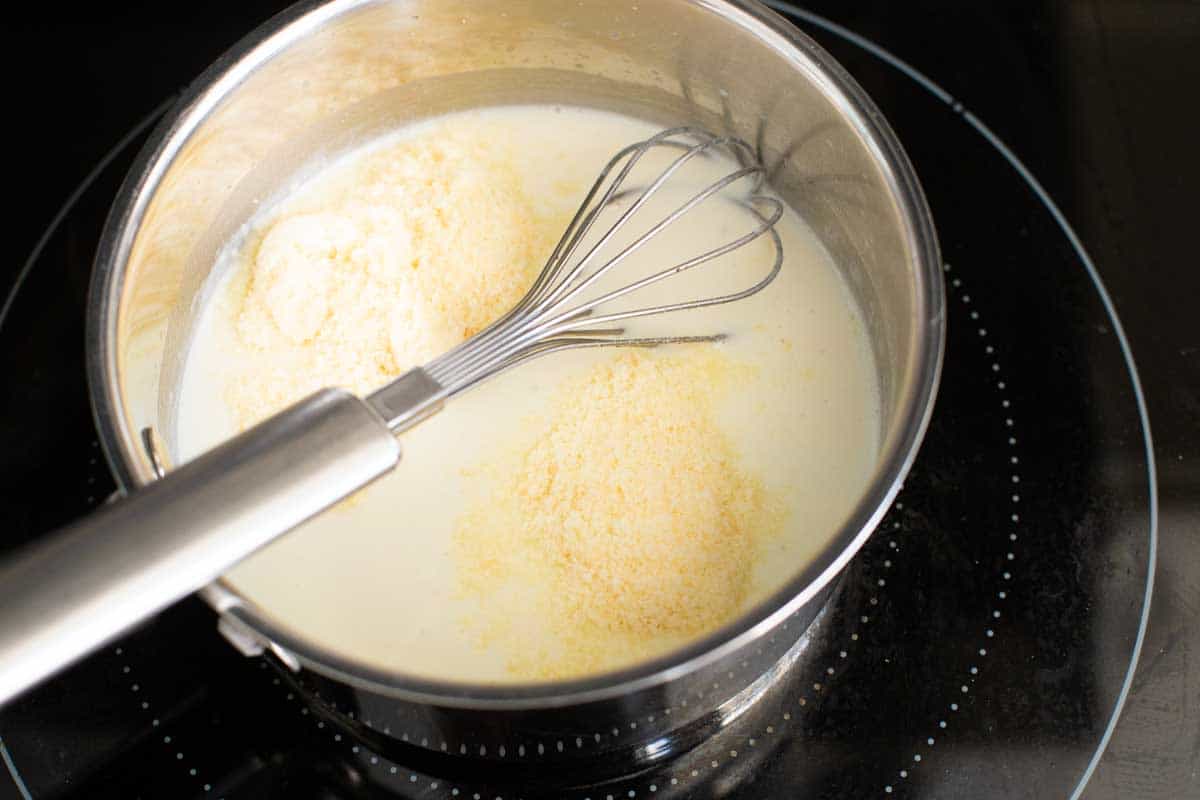 At this point, you can keep the parmesan cream sauce warm on your stove top over LOW heat.
Just be sure to whisk it occasionally to prevent a skin on the surface while you finish the rest of your meal.
Then just before serving, stir in the fresh basil. Doing it at the last minute keeps the basil a beautiful bright green.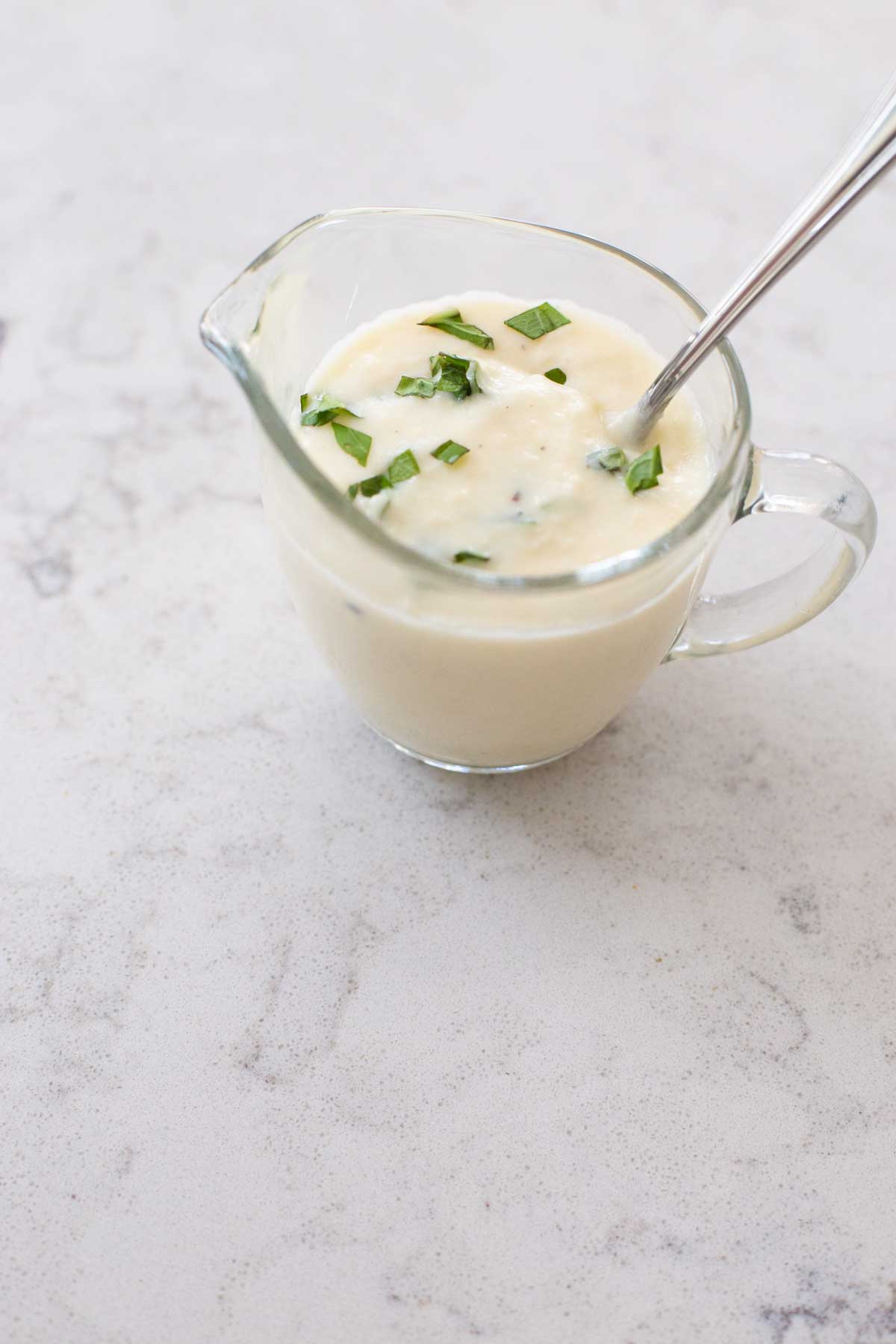 Variations
This version of the recipe is the one I used to drizzle over my easy eggs benedict variation that I discovered when we stayed at the Pettigru Place Bed & Breakfast on an anniversary getaway.
However, if you plan to use the sauce over pasta or with a plain chicken or fish, you may want to add 1 teaspoon minced garlic to the butter before adding the flour.
Cook the garlic for 30 seconds before whisking in the flour.
Another way to add more flavor is to sprinkle in a pinch of cayenne pepper. This won't be enough to make it "spicy" but will give it just a little bit of heat.
If you have other fresh herbs handy, you can substitute rosemary, thyme, oregano, or sage for the basil.
Serving Suggestions
In my opinion, this parmesan cream sauce is best served over my favorite easy eggs benedict. It pairs so well with the tomato, ham, and croissant and is easier to make than traditional hollandaise sauce.
But once you see how easy it is to make, you'll be tempted to use it on other dishes, too.
It would pair nicely with my macadamia crusted halibut or a spiced oven baked salmon with roasted asparagus.
You could also use it in place of the pesto in this 3-ingredient tortelloni recipe. The roasted tomatoes would be absolutely delicious in the parmesan cream sauce!
Make Ahead Tips
This homemade cream sauce is really best served right after you've made it.
If you're pressed for time and really want to make it ahead, you can store it in an airtight container in the fridge.
Reheat it in the sauce pan over medium-low heat while whisking the entire time.
If the sauce has thickened too much, add a teaspoon of milk at a time until desired consistency is reached.
Definitely do not freeze this recipe. The dairy will separate in the freezer and the consistency will not be fixable.