This EASY cheese tortelloni with pesto features roasted cherry tomatoes and is a budget-friendly, 3-ingredient dinner you can pick up right at Costco, Aldi, or your grocery store to make at home in under 10 minutes.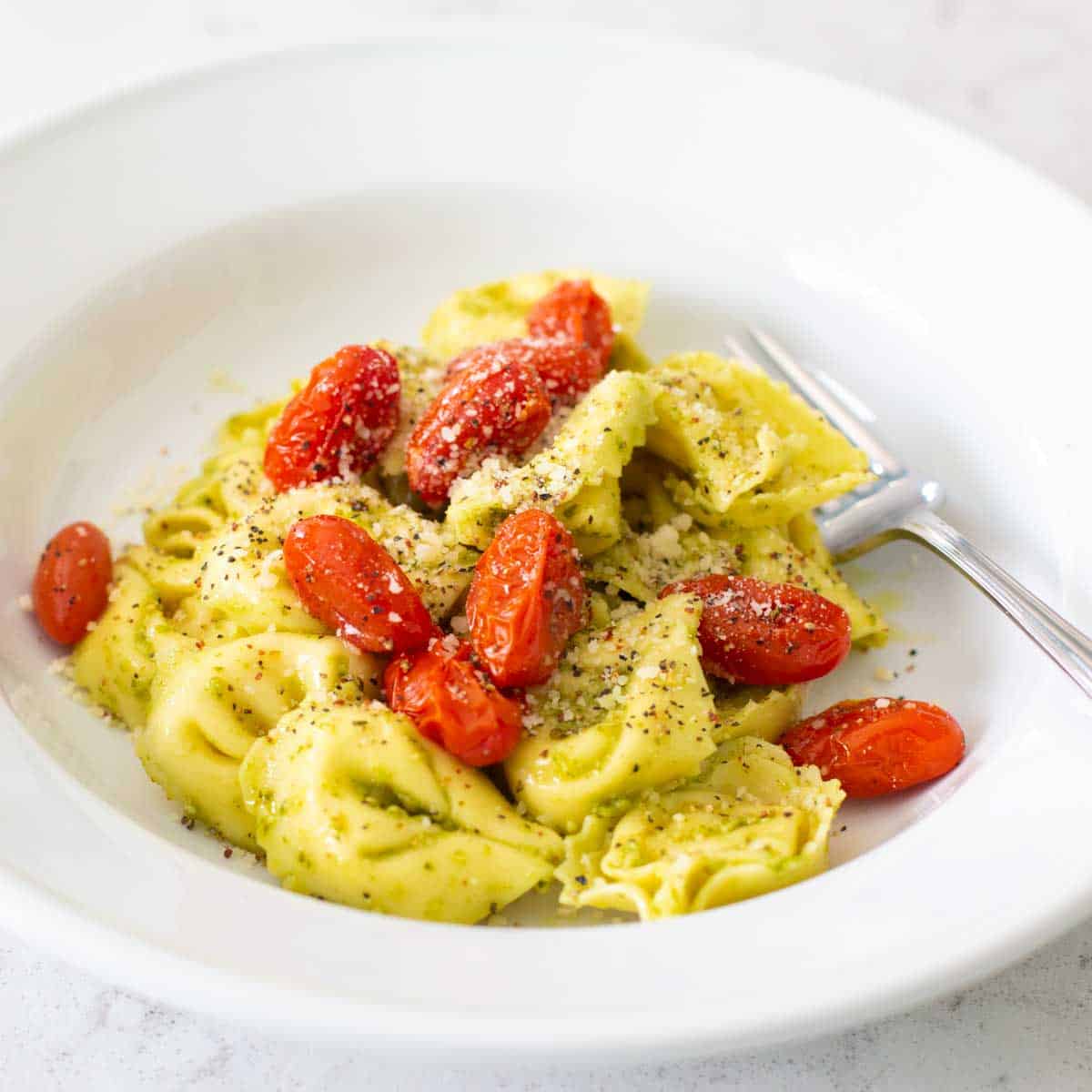 Busy weeknights often require the kind of easy dinner recipe you could make in your sleep.
This absolutely delicious cheese tortelloni with pesto and roasted tomatoes is one of the easiest things I can think of to make for dinner!
I grab everything I need to make it every time I do a Costco run because after hauling in everything from our trunk, it is nice to have a dinner that is made in under 10 minutes.
Need a simple recipe to hand over to your kids to cook for dinner? This would be a great dish to teach them to make.
The best part is how flexible the recipe can be if you want to mix and match some of the ingredients or add a few more things to the dish. Be sure to check out my variations below!
Jump to:
Ingredients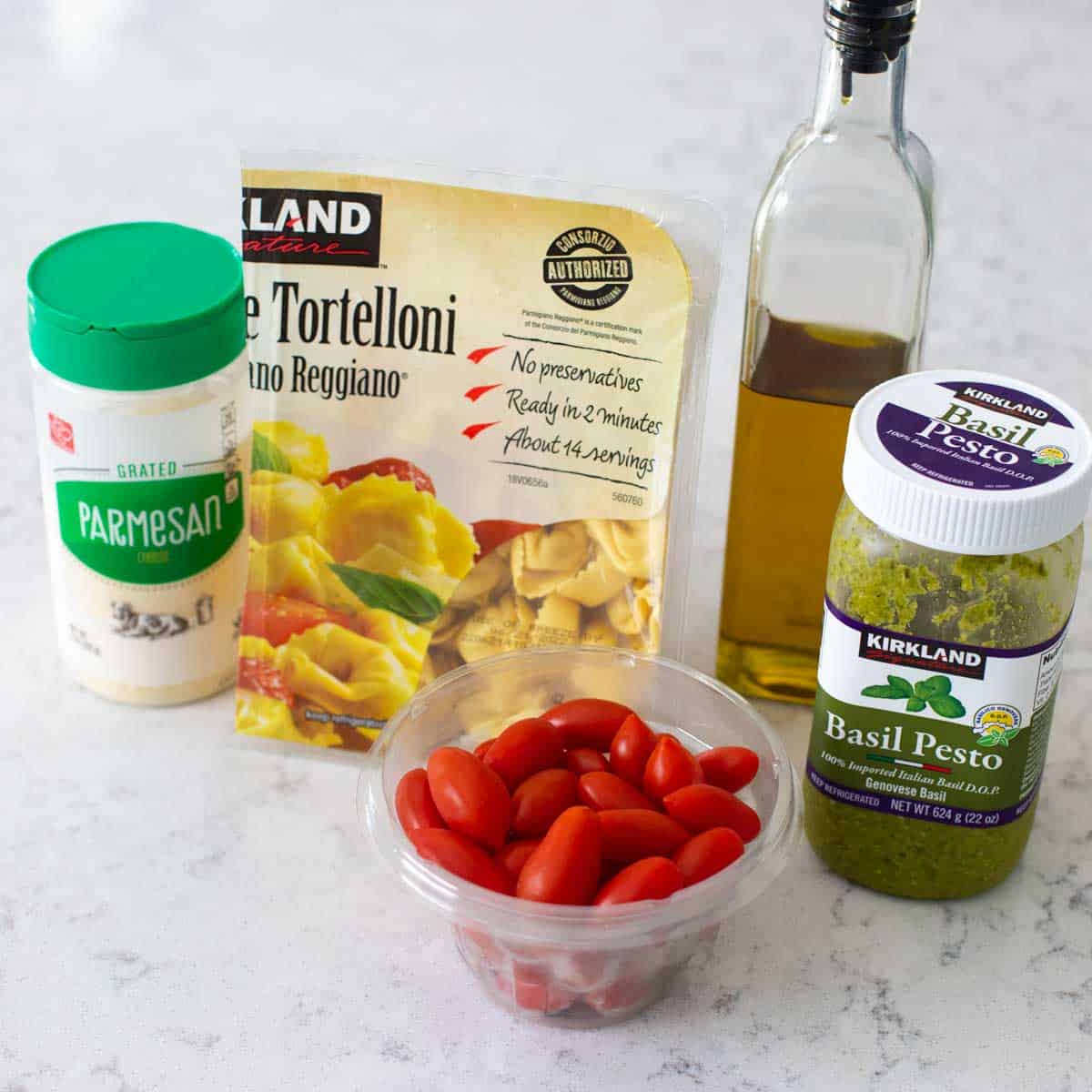 The three ingredients you need to pick up from the grocery store or add to your Costco shopping list. You can likely find everything at your grocery store or even Aldi, too:
Prepared Cheese Tortelloni: I buy the 2-pack at Costco, but any cheese tortellini will work.
Prepared Jar of Pesto: The Kirkland pesto is absolutely delicious and is a staple in our fridge. One jar lasts us a long time. You can use any prepared pesto from your grocery or make homemade pesto if you prefer.
Cherry Tomatoes: You can also use grape tomatoes. Any bite-sized tomato is perfect.
From your pantry, you'll add a little olive oil and if you desire, a little grated parmesan sprinkled over the top.
Prep the Tomatoes
We are obsessed with roasted tomatoes as a side dish in our family. I add them to so many meals because they take almost no time to prepare.
Once roasted, the tomatoes get extra sweet. I swear they're tastier than candy.
Line a baking sheet with foil. Add the tomatoes and drizzle olive oil over the top.
Gently toss the tomatoes in oil, sprinkle with salt and pepper, and pop in the oven at 425°F for 10 minutes.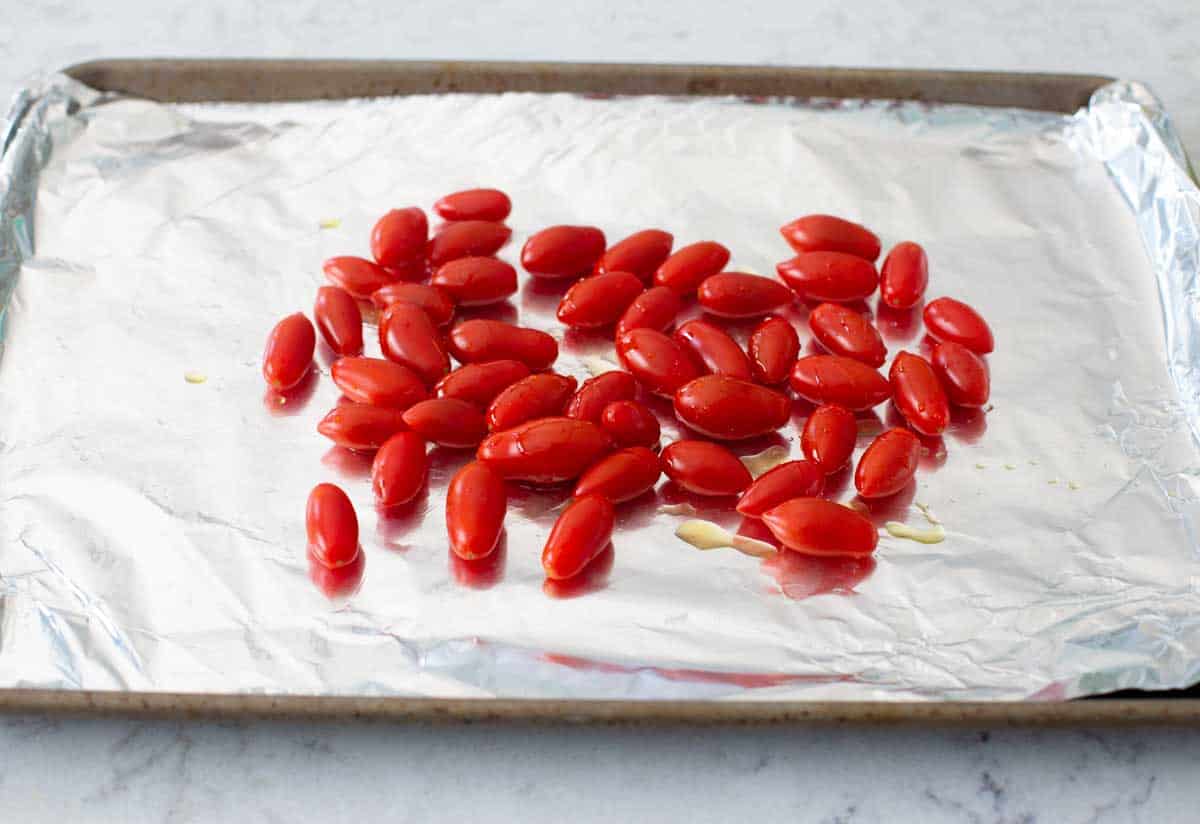 And just in case you want to use them for a side dish or toss them into another recipe, I've shared the individual roasted cherry tomatoes recipe here.
Prep the Cheese Tortelloni
Meanwhile, bring a large pot of water to boil and add the cheese tortelloni.
Tortelloni cook very quickly, in just 2 minutes, but you want to be sure that the water is a vigorous boil like this: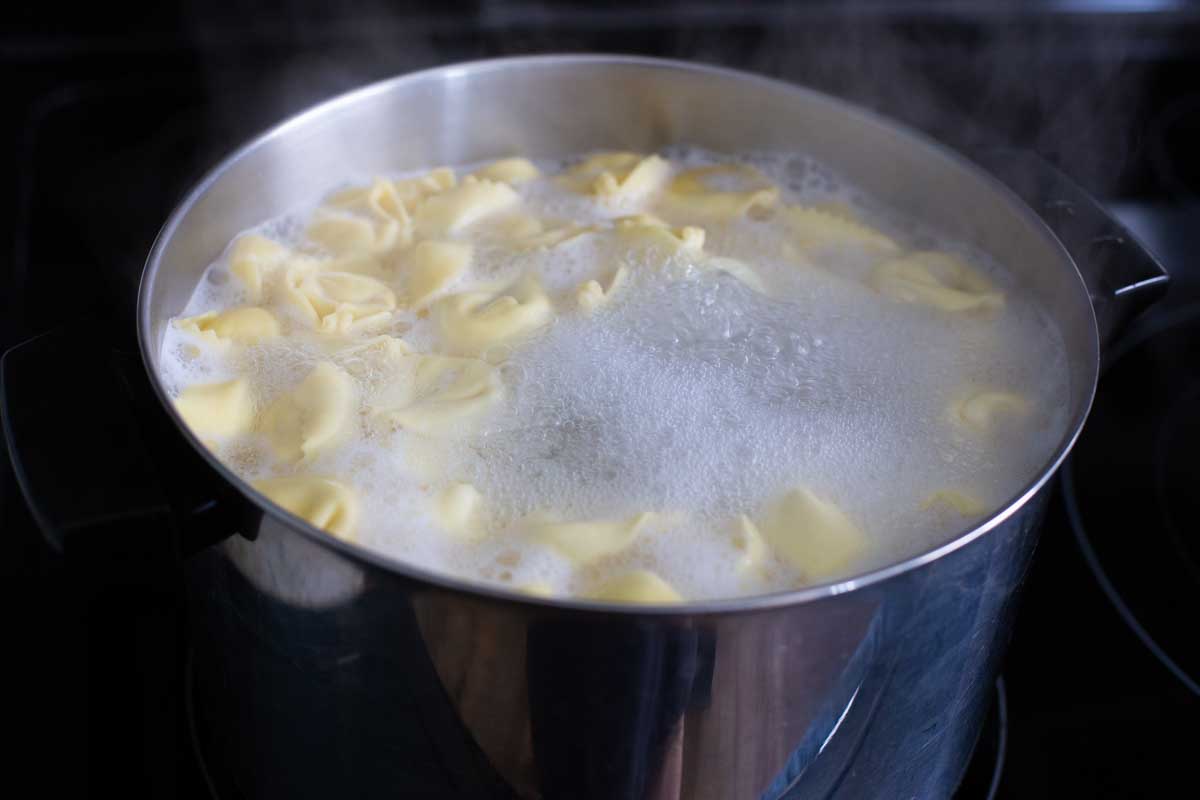 The pasta will float to the top. I use my cooking spoon to gently stir them and make sure the tortelloni at the top get a chance to be submerged in the hot water.
Drain the pasta after just 2 minutes, don't let it overcook or it will get mush. Set aside.
Prep the Pesto
You would think that a prepared pesto could just be added to the pasta but if you're not careful and the pot is too hot, the pesto turns an unsightly brown color.
I have found that if I add a tablespoon of olive oil to the pasta pot while it is off the burner and away from direct heat and then stir in the pesto, it stays a beautiful green color.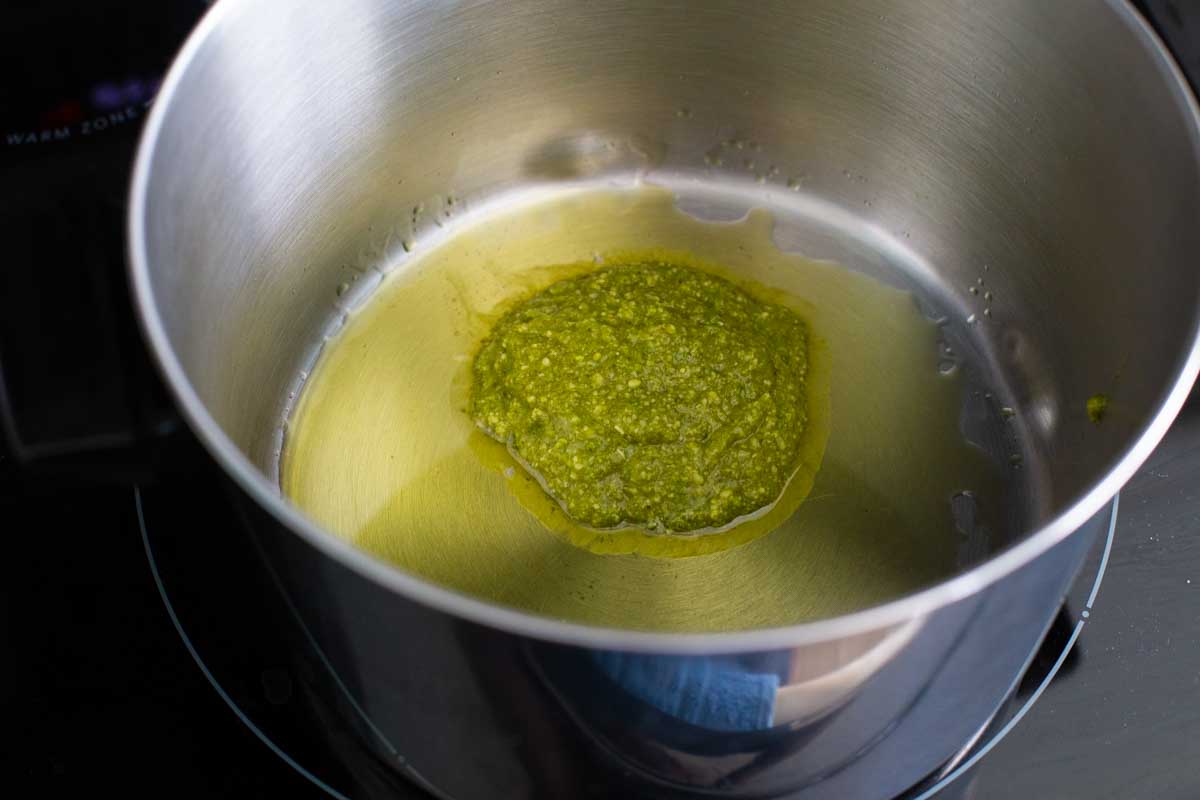 Stir the pesto into the oil and then add the drained tortelloni to the pot.
Gently stir them together so you don't break apart the tortelloni.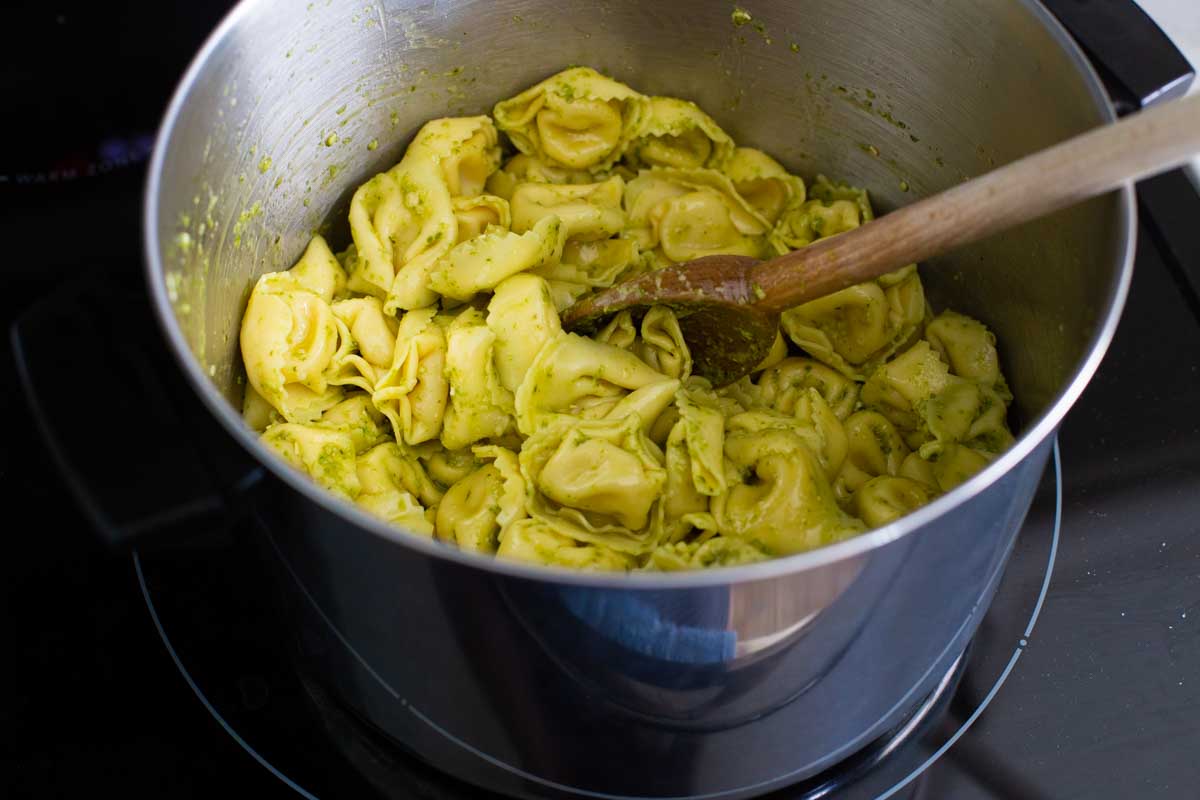 Assemble the Dish
By now the tomatoes are likely done roasting. You know the tomatoes are perfect when they have a slightly wrinkled appearance and have just burst like this:
Scoop a serving of cheese tortelloni into a bowl and then top with a serving of the roasted tomatoes.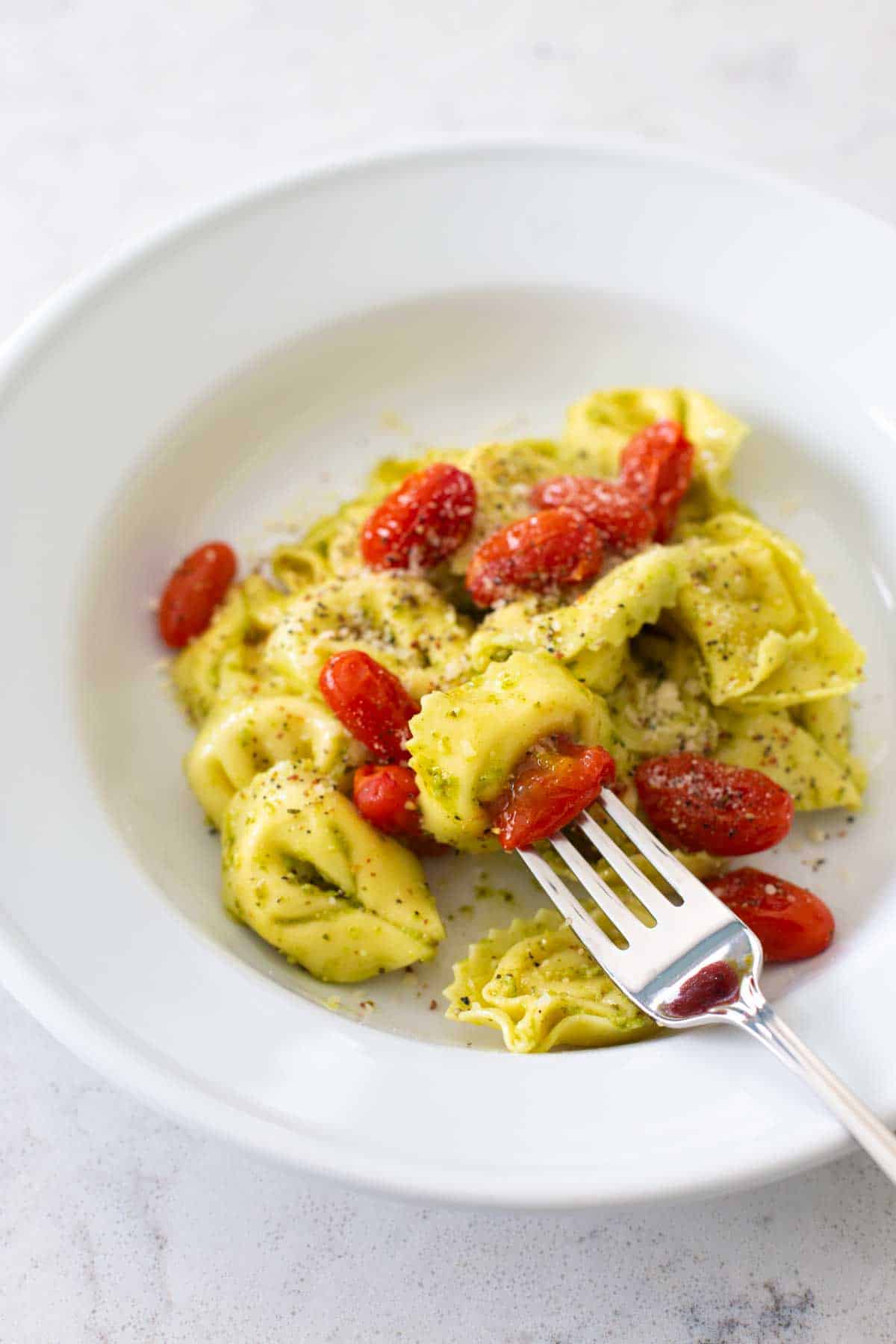 Variations
This ridiculously easy dinner gives you so much room to play and make the dish your own.
Easy variations you could make to switch things up include:
Sausage Tortellini or Other Flavors: Any flavor of tortellini you love will work in this dish. Chicken, prosciutto, sausage, spinach, would all be delicious.
Roasted Vegetables: Roasted some veggies this week and have some leftovers in the fridge? Leftover roasted peppers and onions or broccoli would be amazing.
Baby Spinach: Add a handful or two of baby spinach to the tortellini when you stir it into the pesto. The spinach will wilt down.
Leftover Chicken or Other Meat: Have some leftover chicken, sausage, pork, or shrimp? You can add a little protein to the dish. Warm it up in the microwave before stirring it in or add it to the pesto to warm through before you add the pasta.
And if you really love the flavor of chicken and pesto together, don't miss my easy chicken pesto sandwich recipe.
📖 Recipe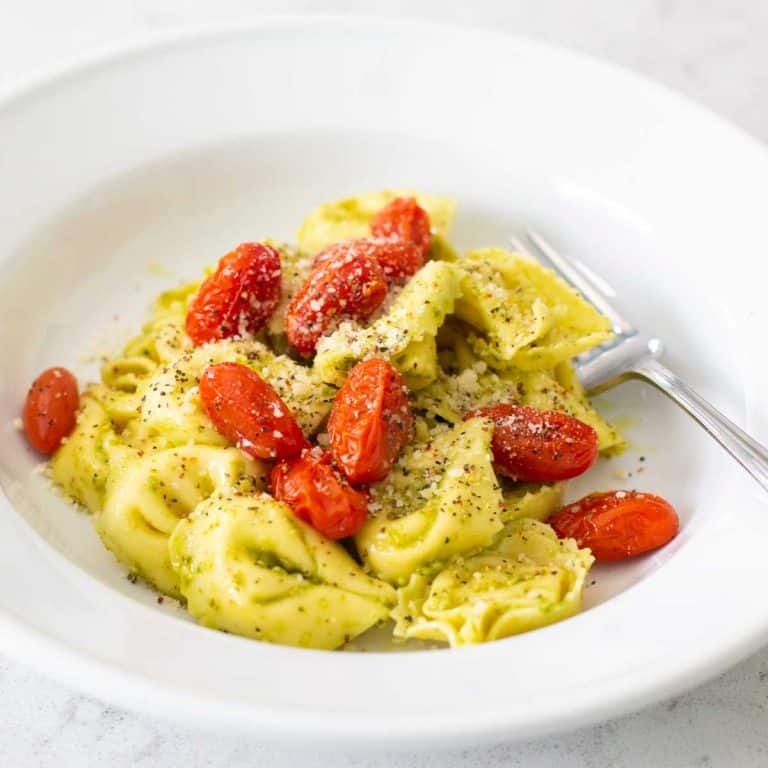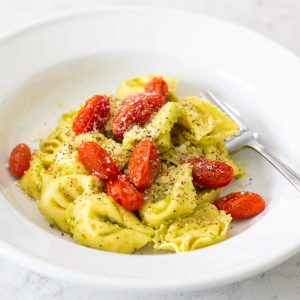 Cheese Tortelloni with Pesto
This super easy 3-ingredient dinner is perfect for making the night after a Costco run. Easy cheese tortelloni tossed with pesto and served with roasted tomatoes is a delicious and satisfying dinner in a pinch.
Ingredients
2

tablespoon

olive oil

divided

1

pint

cherry tomatoes

1

(20 oz) package prepared cheese tortelloni

¼

cup

prepared pesto
Instructions
Preheat the oven to 425°F. Line a baking sheet with aluminum foil. Bring a large pot of water to boil over HIGH heat.

Toss the cherry tomatoes in 1 tablespoon olive oil on the prepared baking sheet. Bake for 10 minutes.

Add the cheese tortelloni to the boiling water for just 2 minutes. Drain.

Place the empty pasta pot on the stove top away from the hot burner. Add the remaining 1 tablespoon of olive oil to the pot along with the pesto. Stir them together. Add the drained tortelloni to the pesto and gently toss.

Serve the pesto tortelloni with a serving of the roasted tomatoes over the top. Best served warm.
Recipe Notes
Leftovers will keep for 1 - 2 days, simply reheat in the microwave. Do not freeze, the texture of the tomatoes will not hold up to thawing.
Save This Recipe to Your Recipe Box
Find this delicious recipe next time you visit by saving it to your very own recipe box on my site. All your favorites stored in one easy place!