Easy baked cheese tortellini is started on the stovetop and then transferred to the oven to get that deliciously crispy bread crumb topping all browned up. Light ground turkey and a seasoned tomato sauce make this a quick dinner in just 20 minutes but it works perfectly for a vegetarian dinner without the turkey, too.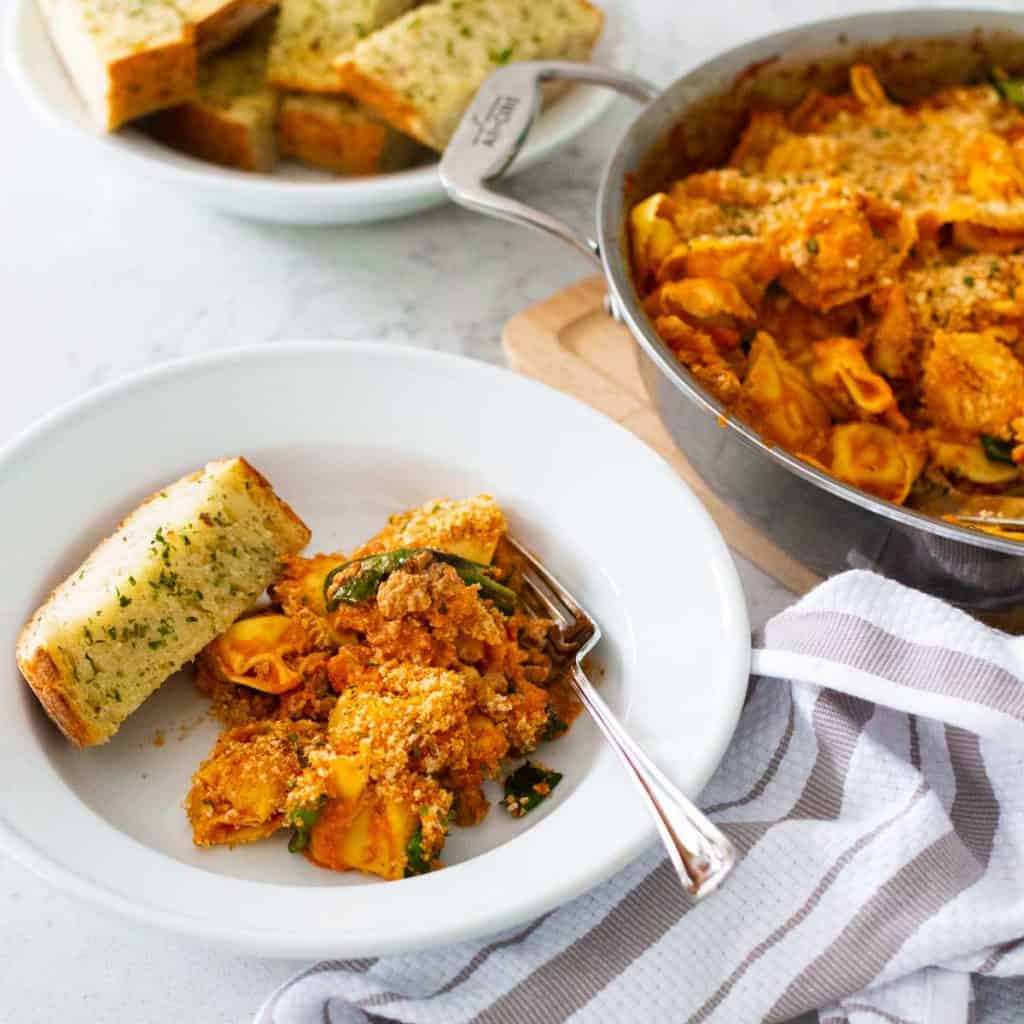 Refrigerated cheese tortellini is such a fantastic dinner shortcut if you're trying to get an easy dinner to the table quickly.
I always grab a two-pack of cheese tortellini during our stock-up trips to Costco and I try to use them in a variety of recipes so we don't get tired of them.
This easy baked tortellini skillet is one of my absolute favorites because you prep the sauce on the stove top but it finishes in the same pan in the oven to give it a crispy bread crumb topping.
My youngest daughter swooned when I first served it and since it is so easy to make, it has made our meal rotation after every Costco trip we've done this year.
Jump to:
Why This is the Best Recipe
I'm fussy over baked pasta casseroles. Getting the pasta texture just right and making sure it isn't overdone is always my biggest concern.
This recipe is the best because:
Perfect Texture: The tortellini hold up perfectly to this cooking method and stay. nice and firm.
Crispy Topping: The crispy bread crumb topping is my favorite.
Light and Healthy: Light ground turkey tastes amazing in this sauce. It stays moist and flavorful. The generous amount of baby spinach adds a nice dose of dark leafy greens to your dinner and the kids won't even fuss.
Easy Vegetarian-Friendly Variation: The touch of cream cheese in the sauce and the cheese in the tortellini pack plenty of protein if you want to make this a vegetarian dinner without the ground turkey.
Quick Prep, Quick Bake: The whole recipe is so easy and fast, I can whip it together even on a busy weeknight.
Ingredients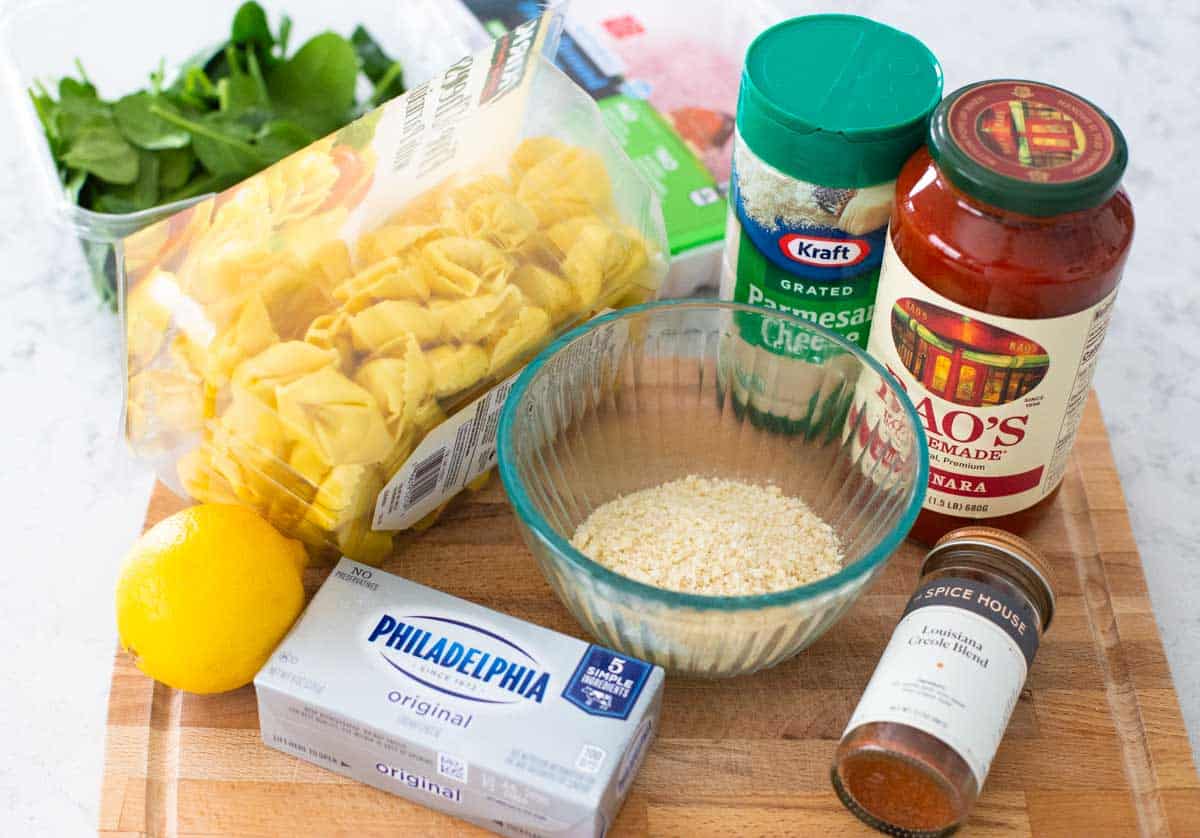 Most of the ingredients for this recipe are pantry-stable. I keep them on hand and then just add the fresh ingredients to my shopping list when I want to finish the dish.
All you need to make it is:
Cheese Tortellini: I buy the two-pack at Costco. The recipe only uses one half and I save the other side for a different dinner.
Jarred Tomato Sauce: Any flavor you love. We use marinara but a spicy arrabbiata would be delicious, too.
Ground Turkey: You can skip this if you want to make a vegetarian dinner. It won't affect the recipe to leave it out. You could also swap ground chicken or ground pork if those are on sale.
Baby Spinach
Grated Parmesan
Cream Cheese
Panko Breadcrumbs: These have a better crunch than regular breadcrumbs but you can use whatever you have on hand.
Season Blend: I used a creole seasoning in this recipe but you could also use a cajun blend or a mix of garlic salt, pepper, and oregano. See the notes below.
Lemon: You'll be tempted to skip this but the touch of lemon zest in the breadcrumb mixture is AMAZING. Strongly recommend.
Olive Oil
Choose Your Seasoning
I love using prepared spice blends from my favorite spice shop. It makes cooking a lot easier when I don't have to measure each spicy individually.
Some blends are better than others, so there are a few I stick to most.
To make this dish, you could choose one of the following:
Creole Seasoning: This is my favorite pick for this recipe because it is flavorful without being spicy. It is an herbal blend that features thyme, basil, parsley, and oregano. All ingredients that pair perfectly with tomato sauce.
Cajun Seasoning: If you don't mind a little more heat, a cajun blend would be amazing in this dish. Cajun blends feature paprika, cayenne pepper, thyme, and garlic powder. I use cajun seasoning in tons of recipes and wouldn't hesitate to use it in this dish, too.
Mix-Your-Own: If you don't like storing spice blends, measure the garlic salt, pepper, and oregano by hand. See the recipe card for quantities. The nice thing about mixing your own is you could also add a dash of thyme or basil for an herby sauce or a dash of cayenne to make it spicy. It's up to you.
Prepare the Bread Crumb Topping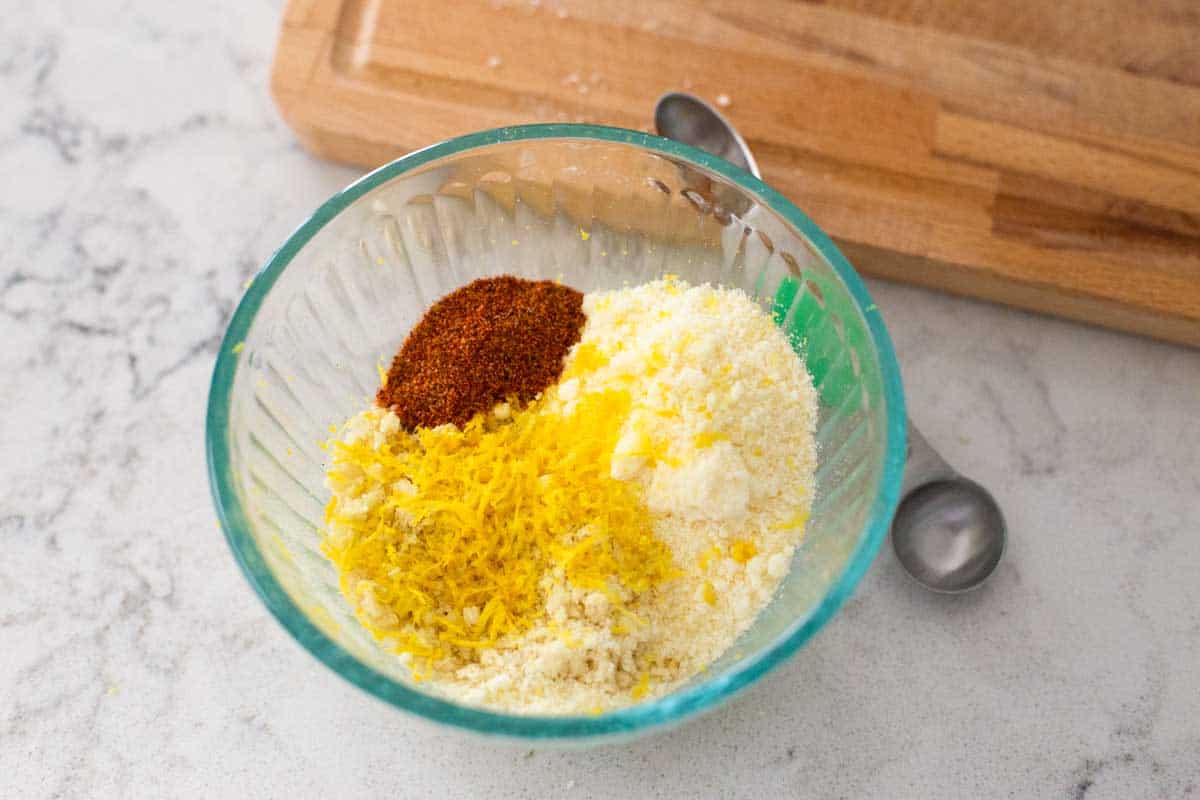 While you're waiting for the water to boil for the tortellini, prepare the bread crumbs.
Stir together the panko, grated parmesan, lemon zest, HALF of the seasoning you plan to use, and 1 tablespoon of olive oil.
NOTE: I accidentally put all the seasoning in my bread crumb mixture when taking the photos for this recipe.
It still tasted wonderful but the topping is more orange in color because of all the spice. Don't be surprised if your breadcrumbs are paler in color than shown in the photos below.
Prepare the Sauce
The tortellini should only be boiled for two minutes and then drained and set aside. While they sit, you can prepare the sauce in your skillet.
Brown the ground turkey in the remaining two tablespoons of olive oil. Be sure to leave it just a little bit pink because it will continue to cook in the sauce and oven.
Add the tomato sauce and stir. Bring it to a bubble.
Add the cream cheese and stir until it has melted into the sauce.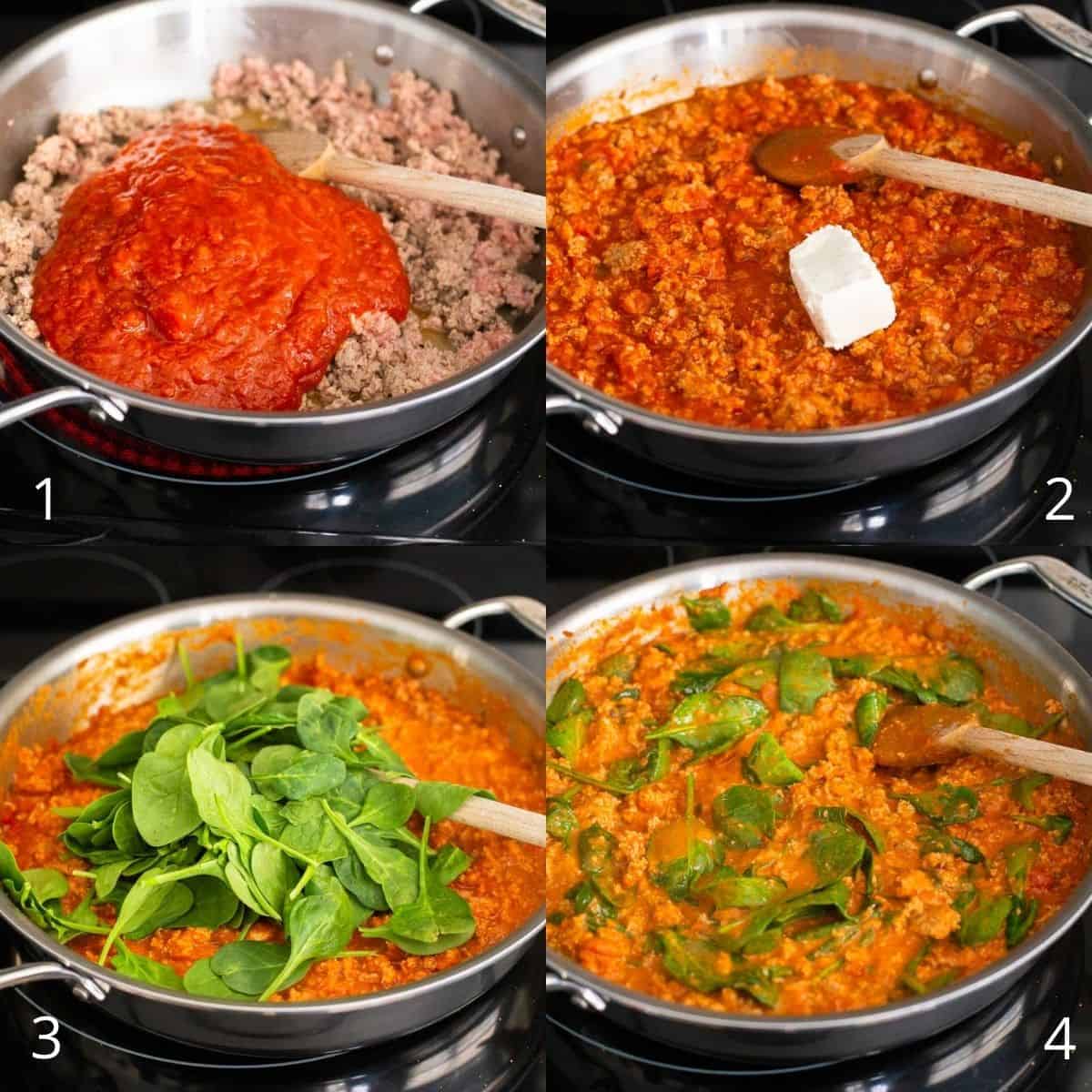 Add the baby spinach and stir. Let it cook in the simmering sauce until it just begins to wilt.
Add the Tortellini and Bake
Preheat the oven to 450°F.
Handle the tortellini gently so they don't break. Use a spoon to carefully fold them into the sauce. Make sure they are all covered and coated in tomato sauce.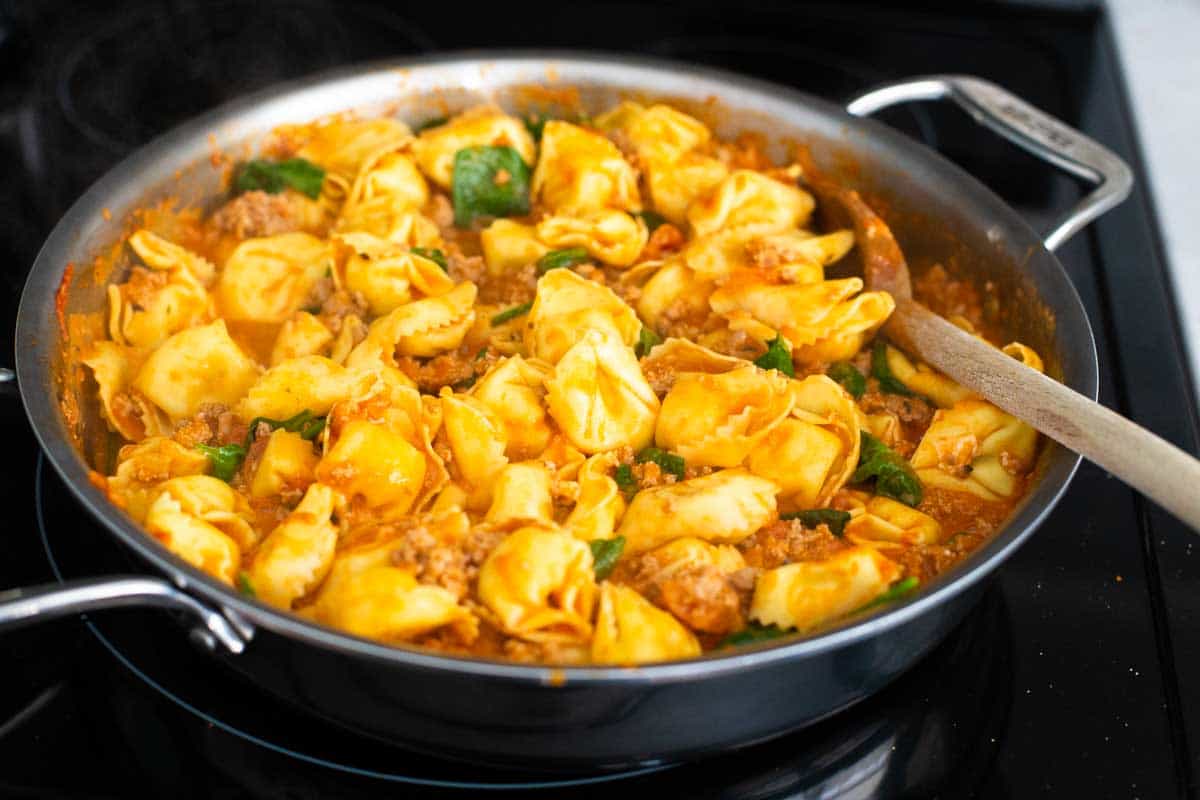 Sprinkle the reserved bread crumb mixture evenly over the top and transfer the skillet to the oven.
Bake for 8 minutes or until the dish is bubbly and the bread crumbs are toasted.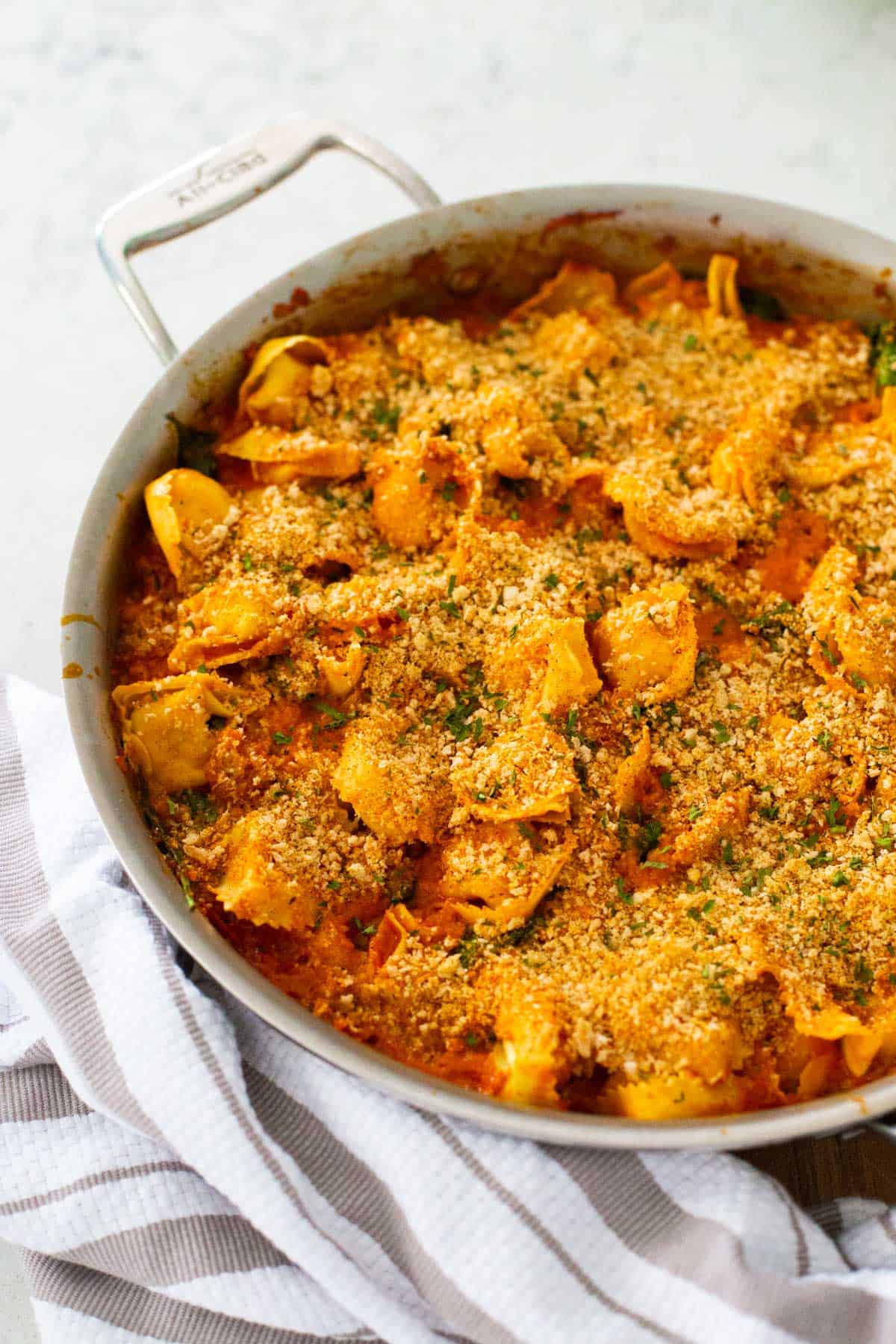 Make Ahead Tips
If you know you're going to have a CRAZY busy night and you want to make this dish even easier to prepare, you could prep the elements of the dish and store them separately:
Boil and drain the tortellini. Toss them in a little bit of olive oil to prevent them from sticking and store in an airtight container.
Brown the turkey and prepare the tomato sauce. Store it separately.
Prepare the bread crumb mixture and store in an airtight container.
Then you could just grab the ingredients and assemble them in a skillet or baking dish and heat it up in the oven. You may need to add a few minutes to the cooking time to make sure everything is heated through.
This would be a great way to deliver the dinner to a friend in need because the pasta won't get mushy as it sits in the sauce in storage. Rather, it can be baked fresh when ready to be enjoyed.
Serving Suggestions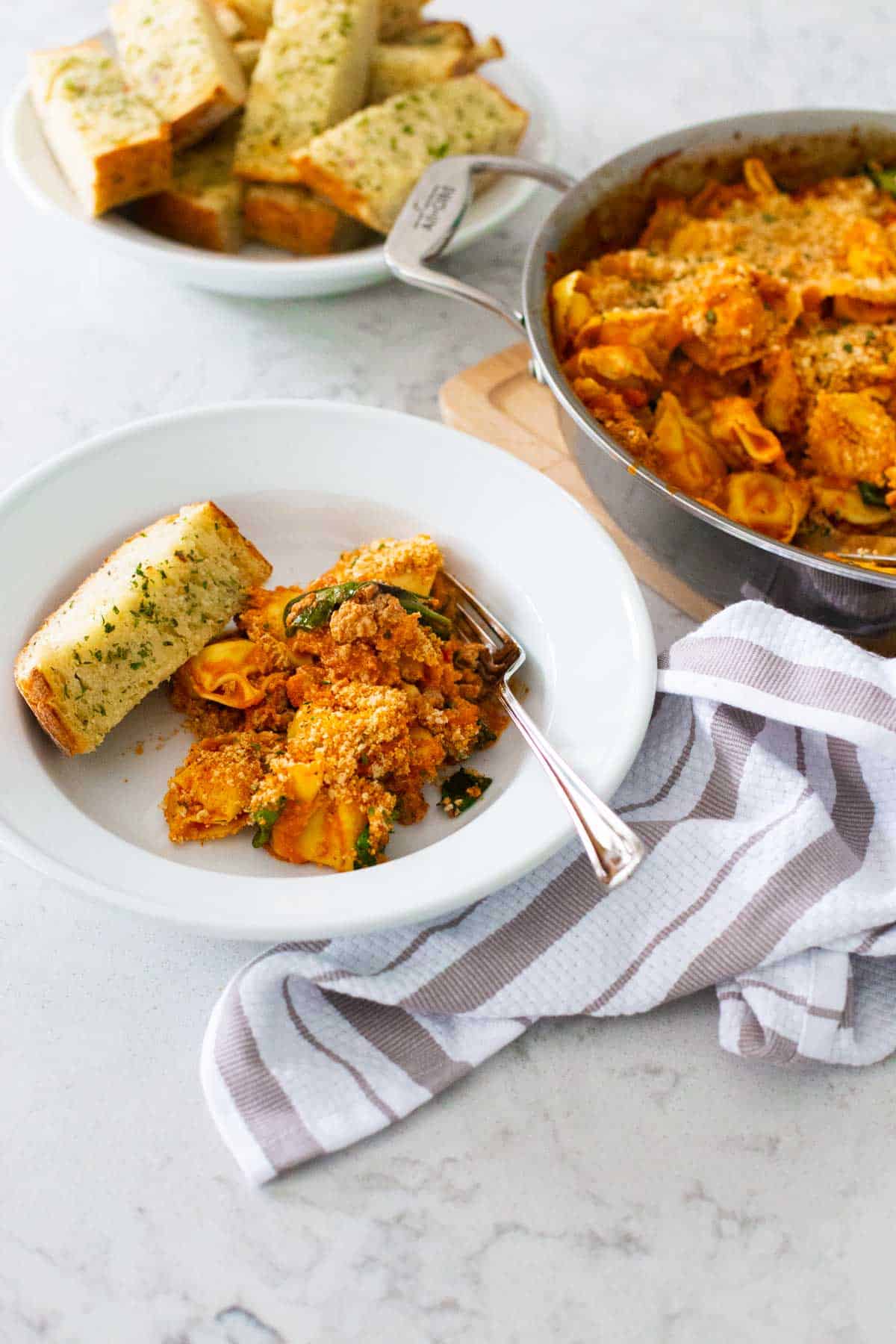 This one skillet dinner is usually plenty of food to satisfy my family on a busy night.
If we're slowing things down on the weekend, I love to add my favorite easy homemade garlic bread and a Caesar salad.
Variations
There are so many ways you could make this dish your own:
Vegetarian Baked Tortellini: Skip the meat and add more veggies. A bag of frozen corn adds crunch, just stir it into the sauce. Or you could saute bell peppers and onions with the olive oil before adding the jarred tomato sauce.
Spicy Baked Tortellini: Use a spicy jarred sauce or add crushed red pepper flakes or cayenne to the sauce.
Baked Sausage Tortellini: Any flavor tortellini would work in this recipe as long as you don't overcook it. Sausage, spinach, or even chicken flavored tortellini would be delicious.
📖 Recipe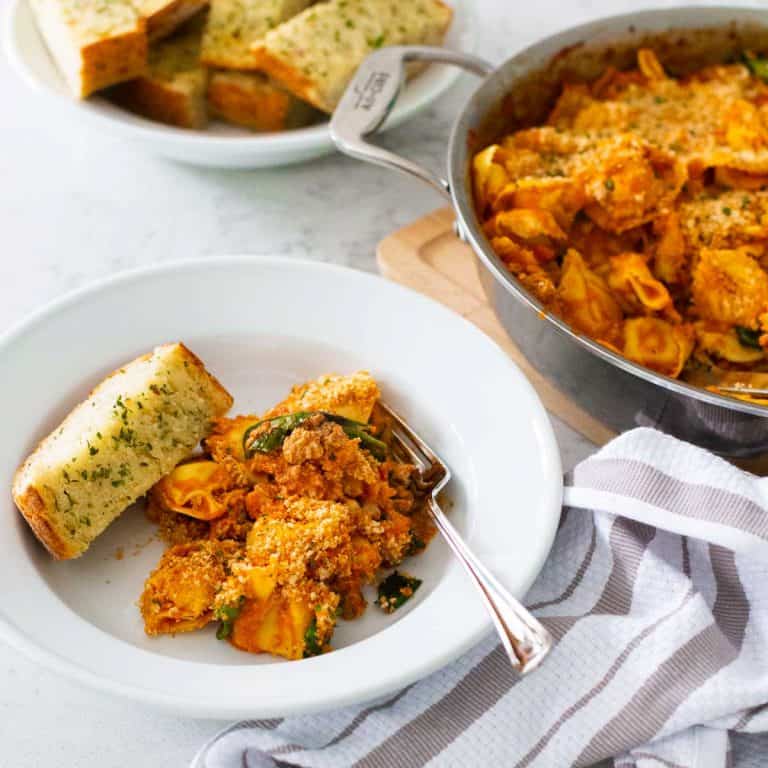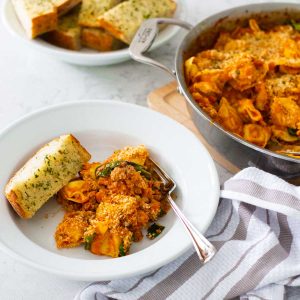 Baked Cheese Tortellini
This easy skillet pasta recipe combines refrigerated cheese tortellini with light ground turkey and a seasoned tomato sauce. Top it with crispy panko bread crumbs and bake it in the oven for a quick take on lasagna.
Ingredients
½

cup

panko breadcrumbs

⅓

cup

grated parmesan

2

teaspoons

Creole seasoning blend

divided *See Notes Below

1

teaspoons

lemon zest

3

tablespoons

olive oil

divided

1.5

pound

(24 oz) cheese tortellini

1

pound

ground turkey

2 ½

cups

(24 oz) marinara sauce

2

oz

cream cheese

3

cups

baby spinach
Instructions
Preheat the oven to 450°F.

Bring a large pot of water to boil and cook the cheese tortellini for 2 minutes. Drain and set aside.

In a small mixing bowl, stir together the panko bread crumbs, grated parmesan, lemon zest, salt, and just 1 teaspoon seasonings, set aside.

Heat 2 tablespoon oil in ovenproof skillet over medium-high. Brown turkey and remaining seasonings for about 4 minutes or until mostly browned but not completely cooked through. It will finish cooking in the sauce and oven.

Stir in the jarred tomato sauce and bring the mixture to a boil. Stir in the cream cheese until melted, about 2 minutes. Stir in the spinach until wilted.

Fold in the tortellini. Sprinkle the prepared bread crumb mixture over the top and bake until bubbly, about 8 minutes.
Recipe Notes
Seasoning Blend Options
Creole seasoning is my preferred choice for this dish but you could substitute a cajun blend for a spicier alternative or hand mix a blend with individual spices.
To hand mix your own:
½ teaspoon garlic salt, 1 teaspoon oregano, ½ teaspoon pepper
Stir your seasonings together and then divide them in half--1 teaspoon for the bread crumbs, 1 for the turkey mixture.
Save This Recipe to Your Recipe Box
Find this delicious recipe next time you visit by saving it to your very own recipe box on my site. All your favorites stored in one easy place!