This delicious pasta with sausage and peppers is a quick and easy dinner idea for busy weeknights.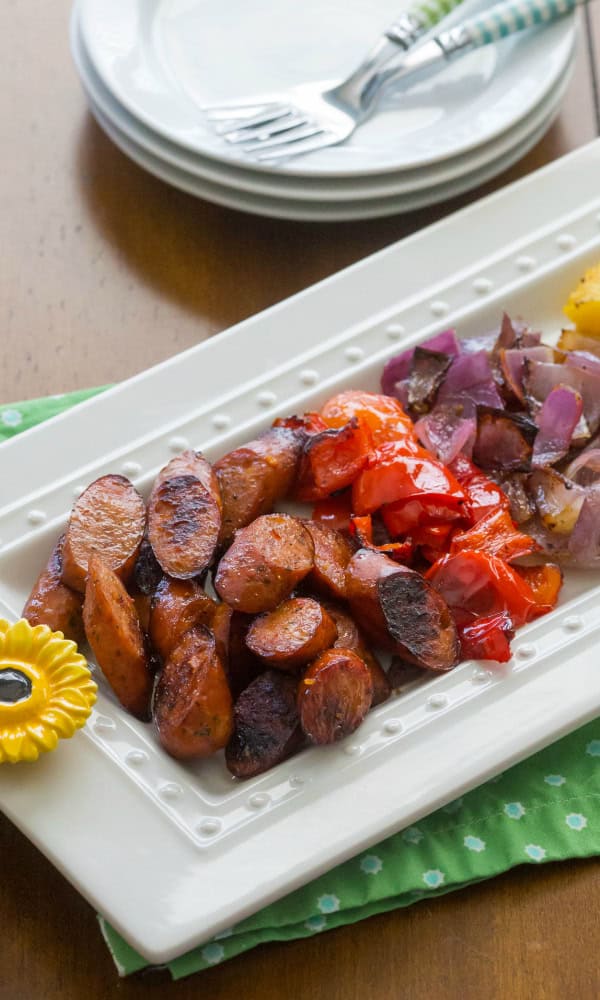 When we need a quick and easy dinner idea, I love to use simple flavored chicken sausages from the refrigerator section of our grocery store.
The sausages usually come in packs of four. Rather than cook and serve them in their whole form, I slice them on an angle and then toss them into various rice and pasta dishes.
Fun Fact: We're going to be cooking an entire week of meals LIVE from the rental kitchen at our beach condo in North Myrtle Beach next month. This easy pasta recipe is just one of 6 easy dinners I'll be demonstrating to inspire you to do a little cooking of your own this summer.
Get all the details on the week of beach house recipes here.
How to use prepared chicken sausages to make an easy pasta dinner:
We've tried several different flavors of chicken sausages over the years, these are our favorites:
tomato and basil
garlic
pineapple terriyaki
pineapple and bacon
buffalo
mozarella
Absolutely any one of those would pair perfectly with the butter and peppers in this dish!
For more color, you can add a sliced red bell pepper to the skillet. Sugar snap peas are also a fun addition.