This easy taco skillet recipe is the perfect way to get your kids to eat more veggies on a busy weeknight.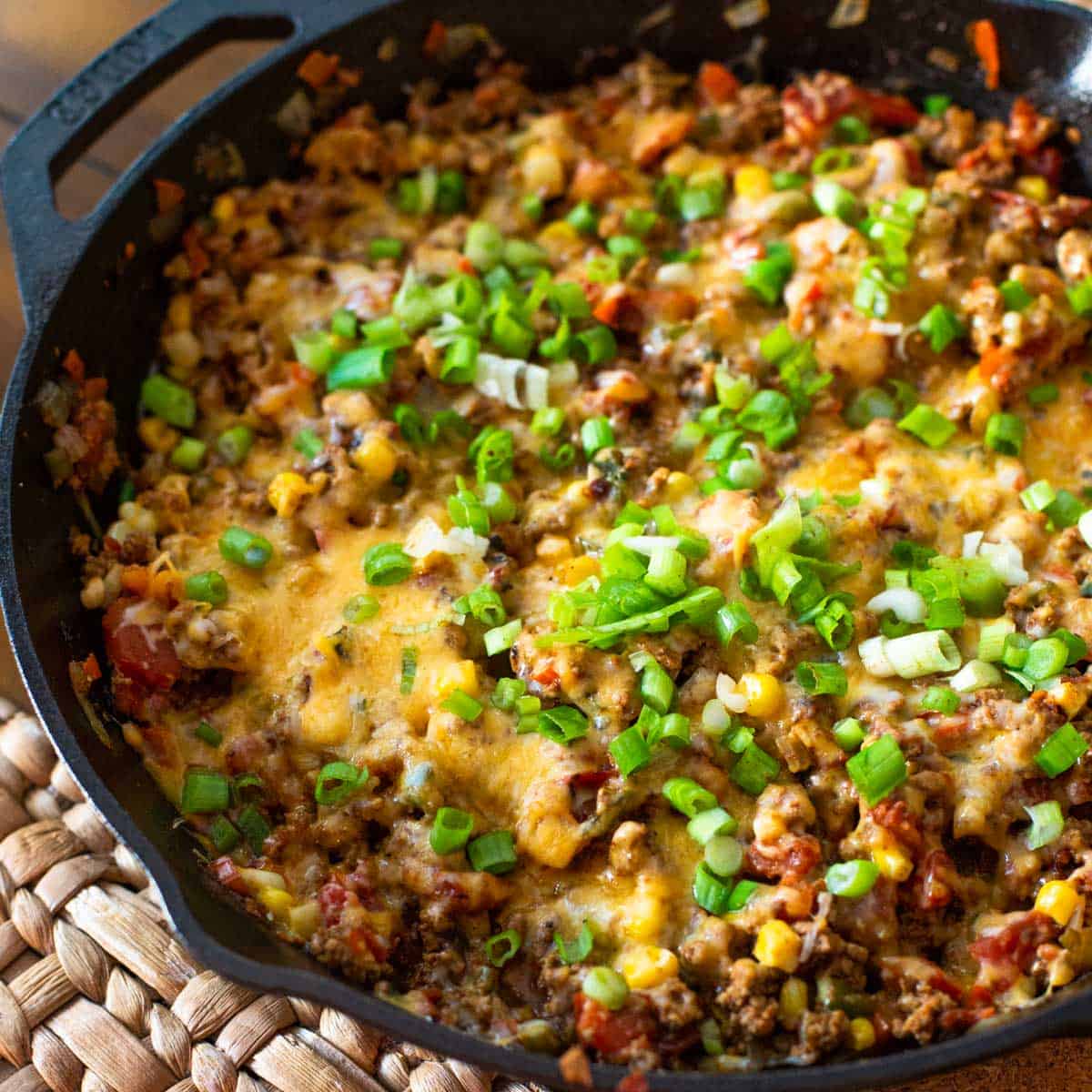 My kids love tacos. I mean, they love, love, LOVE tacos.
Tacos are absolutely the most frequent request in our house when I ask them, "What would you like for dinner?"
That's great, but there's just one problem. When my kids ask for "tacos," what they are really asking for is:
seasoned ground beef
a flour tortilla
a sprinkle of cheddar cheese
maybe a dollop of sour cream
Notice anything missing from that description? Yep. Nary a veggie to be found.
Tacos, as my kids request them, are not the healthiest of dinner options. Even when I try to serve up a buffet of interesting taco toppings, my kids straight-up refuse to willingly add anything else to their tortilla.
It finally occurred to me that if I put the vegetables INSIDE the ground beef mixture, it would be downright impossible for the kids to pick them out. 
I was extremely nervous to try this taco skillet recipe on them the first time, but their reaction was downright INCREDIBLE!!
My older daughter practically begs for this dinner while the younger, pickier of the two, will willingly eat it because I provide nearly limitless tortilla chips for dunking into the mixture.
Jump to:
Ingredients
The ingredients for this taco skillet are very easy and there is a heavy focus on adding lots of canned or fresh vegetables to the mix.
Be sure to check out the section on variations for easy substitutions you can make to any of the following ingredients:
Ground turkey
Onion
Red bell pepper
Poblano pepper
Can of fire roasted tomatoes
Frozen corn
Taco seasoning
Shredded Mexican blend cheese
Sour cream, for serving
Fresh cilantro and green onions, for serving
Tortilla chips
Variations
Adjust the Spice Level:
To me, this dish is the best of both worlds between tacos and nachos. I love that you can make it as hot and spicy or mild as you wish. Just use the taco seasonings that you love most.
Add Different Toppings:
You can add in any taco toppings your family enjoys:
beans: refried or whole
jalapeños: fresh or pickled
chopped avocado on top
wedges of limes
Switch the Protein:
You can swap the ground turkey for ground pork or ground chicken to keep things light.
Ground beef would also be an obvious classic combo.
Serving Suggestions
No matter how you enjoy your taco skillet, just be sure to serve it with a big bowl of tortilla chips for dunking!
SAFETY NOTE: If you serve the skillet hot at the table, be sure to warn your kids not to touch! You can serve up their portions with a big spoon into a bowl so they can dip more safely at their own personal table place.
To round out the meal, you could serve a batch of my favorite Mexican rice, homemade salsa, or a yummy 5-minute Mexican street corn casserole.