This easy Mexican street corn casserole is a fun side dish for taco night. Creamy and filled with queso fresco and a hint of lime, it's the refreshing veggie you need for your spicy meal.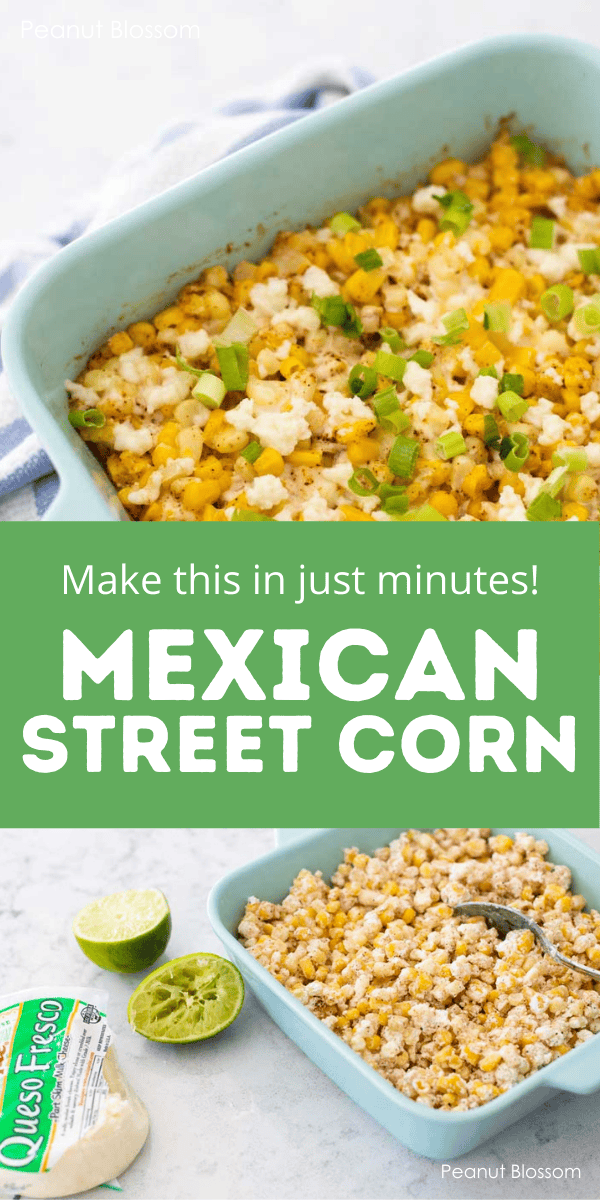 I'm always looking for fun new side dishes to add to our taco dinners. If I don't have anything else on the table, my family will just plow through a mountain of tacos without a second glance!
But, the whole point of Taco Tuesday is to have a guaranteed family-pleasing easy dinner in the rotation. Side dishes for tacos need to be simple to prep so I don't forget to make them.
This creamy Mexican street corn casserole is practically perfect for a side dish. It only requires 5 minutes of prep time, a short list of easy ingredients, and it bakes in the same amount of time it would take me to prep the remainder of the meal.
My version of this popular recipe is sized for a 9-inch square baking dish. It makes the perfect amount for our family of 4 as a side dish with some leftovers. If you are feeding a bigger crowd, go ahead and double it for a 9 x 13-inch dish.

How to make the best creamy Mexican street corn casserole for your taco night: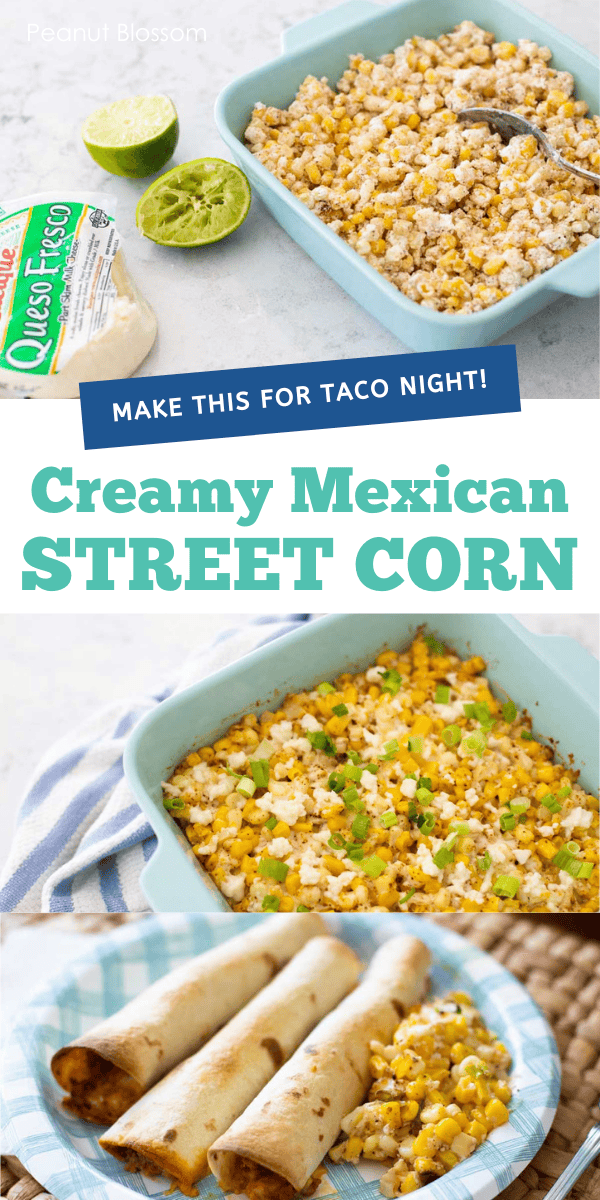 The key ingredient for the Mexican street corn is the cheese. This recipe calls for queso fresco, also known as Mexican parmesan. It is a fresh cheese that is sold in a solid block but crumbles easily when you pinch it.
I put off trying this recipe for the longest time because I couldn't find queso fresco at our local grocery store. Now that I have finally tried it, I love how it crumbles and the flavor it gives to the dish.
However, I wish I wouldn't have waited so long because there are a couple of perfect substitutes.
Substitutes for queso fresco in this Mexican street corn casserole:
Feta cheese: If you like the look of that freshly crumbled cheese on top of the dish, feta is the right cheese for you.
Grated parmesan cheese: If your family doesn't enjoy the flavor of feta, a grated parmesan would be a perfect substitute for the cheese in this casserole. Mix some inside the corn itself but save some for sprinkling on the top as well.
What makes Mexican street corn different than a regular corn casserole?
This isn't anything like the creamed corn casseroles you may have tried. Yes, there is a creamy base for the corn, but it is seasoned with fresh lime juice, chili powder, and a pinch of cayenne to give it a nice kick. Fresh green onions are scattered over the top but you could use chopped cilantro for a more Mexican flavor if you prefer.
More ideas for Taco Tuesday:
This Mexican street corn casserole is the perfect side dish for our other favorite taco recipes: