Easy roasted cherry tomatoes are seasoned with just olive oil, salt & pepper so that you can add them into a wide variety of easy dinners. They make an amazing side dish but are perfect for adding to a pasta dish or stir fry.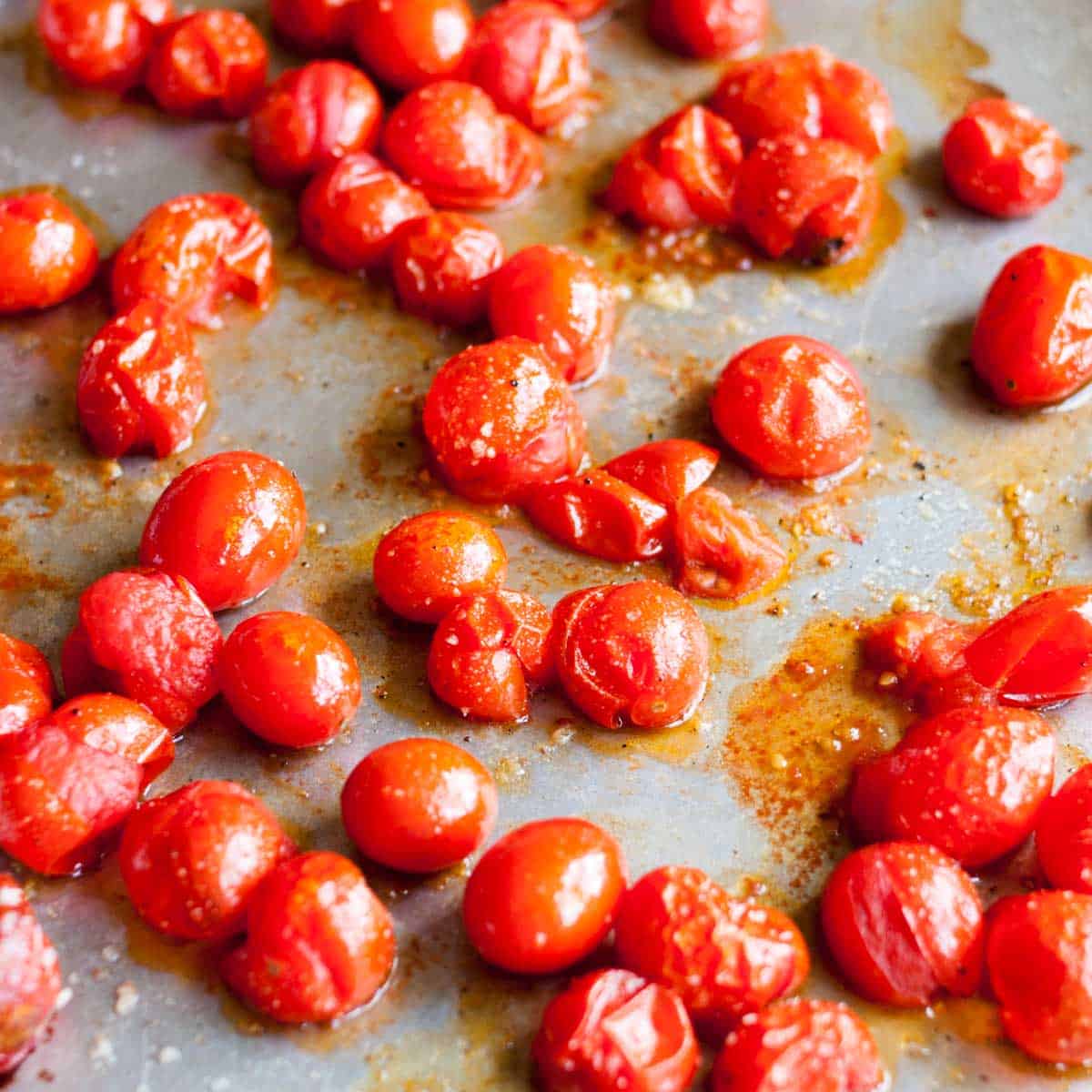 With just 1 minute or so to prepare and 15 minutes to bake, these easy roasted cherry tomatoes are featured in our dinner menu at least once a week.
I always keep a pint of cherry tomatoes or grape tomatoes in the fridge so I can grab them and turn them into this easy vegetable side dish.
However, I also love to add them right into many of my favorite pasta recipes or stir frys. They are an essential element to our favorite pesto tortellini and weeknight pasta toss.
Jump to:
Why This is the Best Recipe
This recipe is so easy I almost didn't think to share it with you. But I know how busy families are during the school year, and wanted you to have this essential family recipe to help make life easier!
It is the best recipe because:
15 Minutes and DONE: I pop a pan of tomatoes into the oven while I'm working on other parts of our dinner. I don't even have to think about it.
Flexible: This base recipe is only seasoned with salt and pepper so that you can add it to any dish where tomatoes will taste good. You could always season them with one of the fun variations I list at the bottom if you prefer.
Super Sweet: When you roast the cherry tomatoes, they get even sweeter in the oven. It works like magic.
Picky Eater Friendly: My kids don't love raw tomatoes but they will tolerate a roasted one. It's all about the texture!
Hot or Cold: These soft roasted tomatoes are perfection served hot from the oven but we even enjoy them cold with a pasta salad.
Ingredients
All you need to make them is just 3 ingredients!!
Cherry Tomatoes: You can use grape tomatoes or any small tomato you love. If they are larger than a regular cherry tomato, you may just need to bake them a little longer.
Olive Oil
Salt & Pepper
That's it! Those three ingredients are all you need for an amazing tomato side dish any night of the year.
But don't miss the fun seasoning variations you could play with at the bottom of the post.
How to Roast Cherry Tomatoes
Preheat the oven to 425°F.
I toss the cherry tomatoes in olive oil right on a large baking sheet to save myself another dirty dish.
For even easier clean-up, you could line the pan in aluminum foil.
Sprinkle the salt & pepper over the top.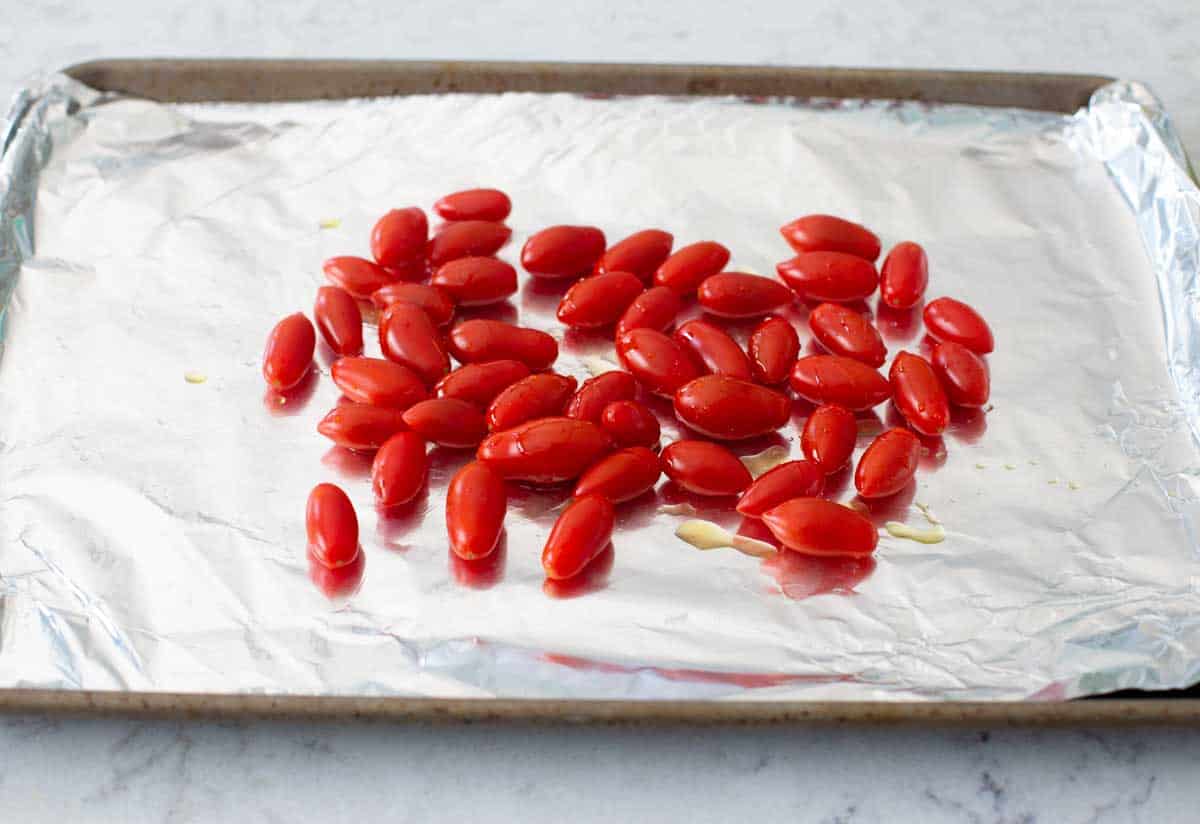 Bake the tomatoes for 15 minutes or until the tomatoes just begin to burst and the skins are slightly wrinkled, like this:
That's all there is to it! So easy, even your kids could be in charge of this part of the dinner with no problems.
Serving Suggestions
You can serve the roasted cherry tomatoes in almost any pasta dish you love. They are a wonderful compliment to olive oil or butter-based pasta sauces like my easy 3-ingredient pesto tortelloni.
You can serve them hot or they also work great cold. Try them in my favorite lemon orzo salad or use roasted tomatoes instead of raw fresh ones with my beef crostini appetizer.
Variations
I purposely kept the seasoning simple for this basic recipe so you can mix and match it with almost any dinner you want to serve.
However, if you want to serve the tomatoes as a side dish, you may want to add a little more seasoning. (Though, our family eats them this way and think they taste great as is!)
Garlic Tomatoes: Add 1 teaspoon minced garlic or a sprinkle of garlic salt when you toss them with olive oil.
Italian Herbs: Add a teaspoon of dried Italian herb blend or basil and oregano.
Greek Herbs: Add a teaspoon of Greek herb blend or a mix of oregano and thyme.
Peppered Tomatoes: Add extra fresh cracked peppercorns over the top before roasting.
Balsamic Tomatoes: Drizzle a little balsamic vinegar glaze over the top after they are done roasting.
📖 Recipe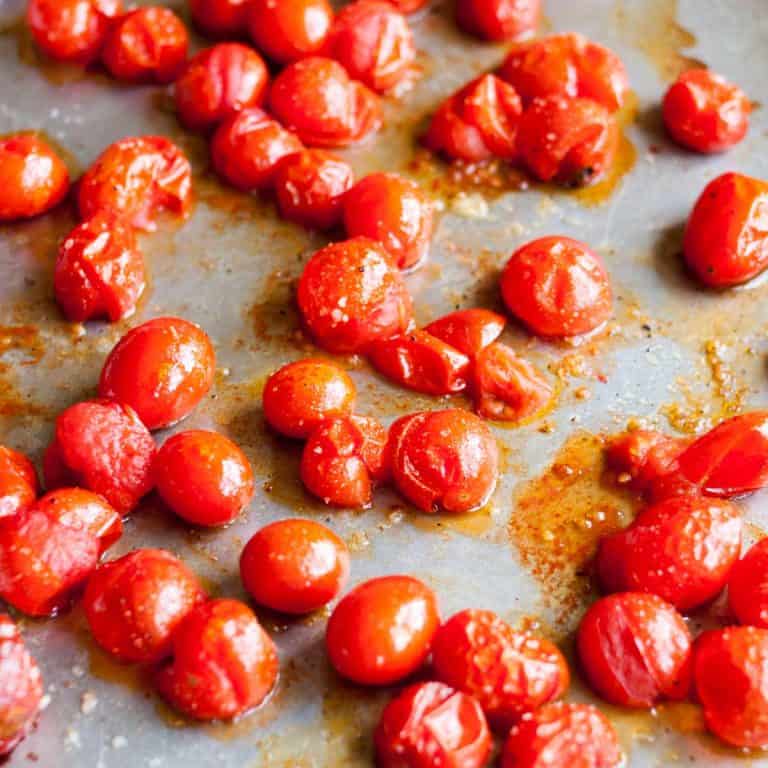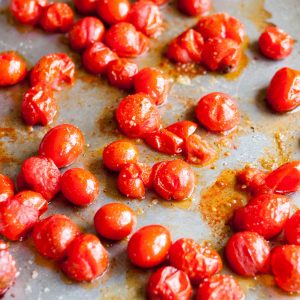 Roasted Cherry Tomatoes
One of the easiest vegetable side dishes ever, toss these roasted cherry tomatoes into pasta dishes, stir-frys, or serve them alongside your main entree as a side dish. The roasting makes them extra sweet and delicious.
Ingredients
1

pint

cherry tomatoes

Drizzle of olive oil

about 1 - 2 tsps

Sprinkle of kosher salt and pepper
Instructions
Preheat the oven to 425°F. Set out a large baking sheet. You can line it with aluminum foil for easy clean up if you prefer.

Toss the cherry tomatoes in olive oil right on the baking sheet. Sprinkle the salt and pepper over the top.

Bake for 15 minutes or until the tomatoes have slightly burst.

Excellent served hot or cold.
Save This Recipe to Your Recipe Box
Find this delicious recipe next time you visit by saving it to your very own recipe box on my site. All your favorites stored in one easy place!