Pasta with roasted broccolini and cherry tomatoes is a great way to include more fresh vegetables in your pasta dinner.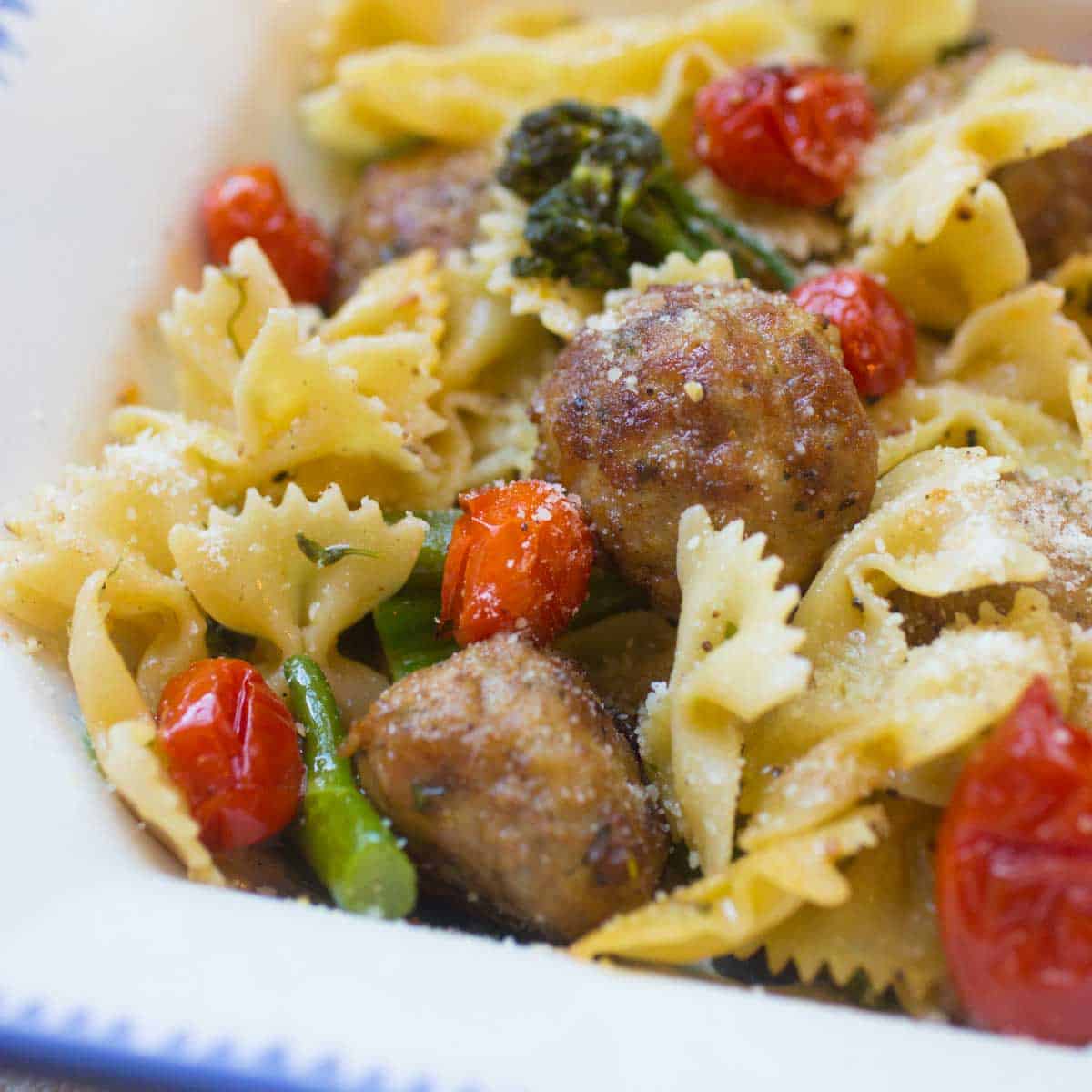 When I first married my husband, the list of vegetables he loved was very short. I made it my mission to change his mind and after many tries, I finally discovered the greatest trick to serving fresh veggies!
When you roast fresh broccolini and cherry tomatoes together, the vegetables become sweeter and have an amazing texture.
Roasted broccolini develops awesome crispy edges and roasted cherry tomatoes tend to burst in your mouth like delicious candy.
Toss them in a simple pasta dish with healthy chicken meatballs for a quick and easy weeknight dinner.
Jump to:
Ingredients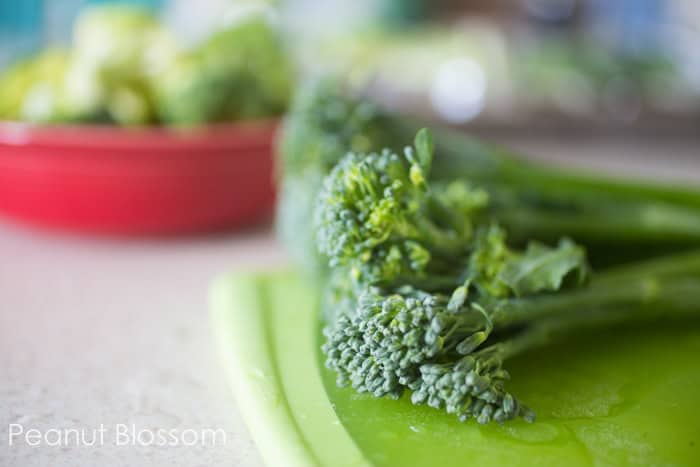 This pasta recipe couldn't be more simple. All you need on hand is:
1 box of pasta: We prefer penne or farfalle for this dish
1 package of prepared meatballs: We prefer a caramelized onion flavor but you can use your favorite variety or even make your own homemade chicken meatballs.
Olive oil
Minced garlic
Fresh broccolini
Cherry tomatoes
Roasted red pepper flakes
Parmesan cheese
What Does Broccolini Taste Like?
I cannot believe that as a grown woman I had never ever tasted this veggie until our most recent trip to Disney World.
It came as my side dish during dinner one night and the waitress had to explain to me that it is a cross between broccoli and asparagus.
I'm not kidding when I say I sought it out at every restaurant we ate at for the rest of the trip and special ordered it for my Mother's Day dinner.
Disney is on a mission to get kids to try new healthy foods, I'm not sure they expected a mom to be one of their biggest beneficiaries!!
I vowed to try this veggie back at home.
Cook the Pasta
First, preheat your oven to 425°F and set a large pot of water to boil on your stovetop.
This whole recipe should take no longer than 15 minutes once your water is boiling and the oven is ready to go.
Boil the pasta according to package directions while the veggies are in the oven roasting.
Roast the Vegetables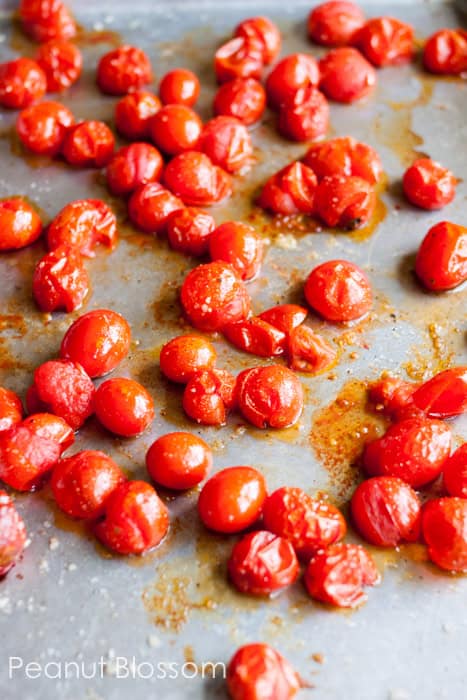 Toss the broccolini and tomatoes in olive oil, sprinkle with salt and pepper, and roast them on a large baking sheet in the oven at 425°F for 10 - 12 minutes.
The broccolini should develop slightly charred crispy edges and the tomatoes should just begin to burst.
The veggies will likely be done at the same time as the pasta if you put them in the oven at the same time as you pour the pasta into the boiling water.
Brown the Meatballs
Add olive oil, minced garlic, and roasted red pepper flakes to a saute pan over medium heat. Add the prepared meatballs and brown them on all sides and warm them through.
Turn the heat down to low to keep the meatballs warm until the dish is ready to toss together.
For a lemony spin to this dish, you could also brown up our favorite Romano chicken meatballs. They are freezer-friendly and can be prepped ahead.
Assemble the Pasta Dish
Add the drained pasta to the saute pan with meatballs and toss gently to coat the noodles in olive oil.
Add the roasted veggies and their juices to the pan and stir to combine.
Serve with a sprinkle of parmesan over the top.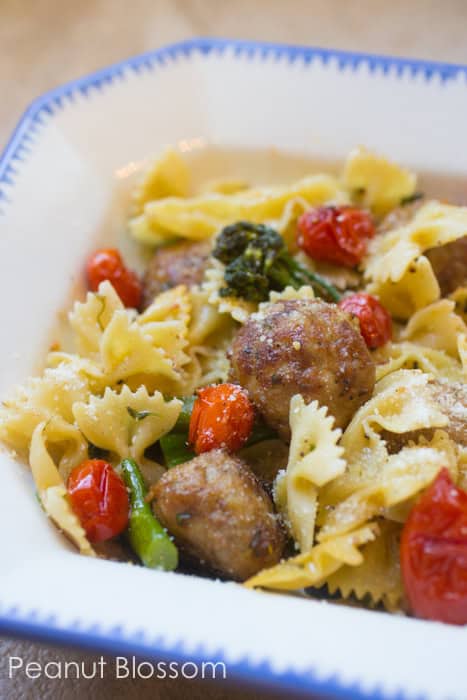 Variations
This recipe is simply perfect for using up any fresh vegetables at the market during the peak of summer.
You could also try roasting:
Asparagus
Bell peppers
Onions
Green beans
Sugar snap peas
Cauliflower
Zucchini
Any combination of the vegetables above would be absolutely delicious in the garlic sauce on this pasta.
More Easy Pasta Recipes
You could easily add roasted broccolini and tomatoes to any of the following pasta recipes: