Delicious Romano chicken meatballs in lemon wine sauce are made with Italian herbs and grated cheese and sautéed with fresh asparagus for an easy skillet dinner you can serve over pasta or enjoy on it's own.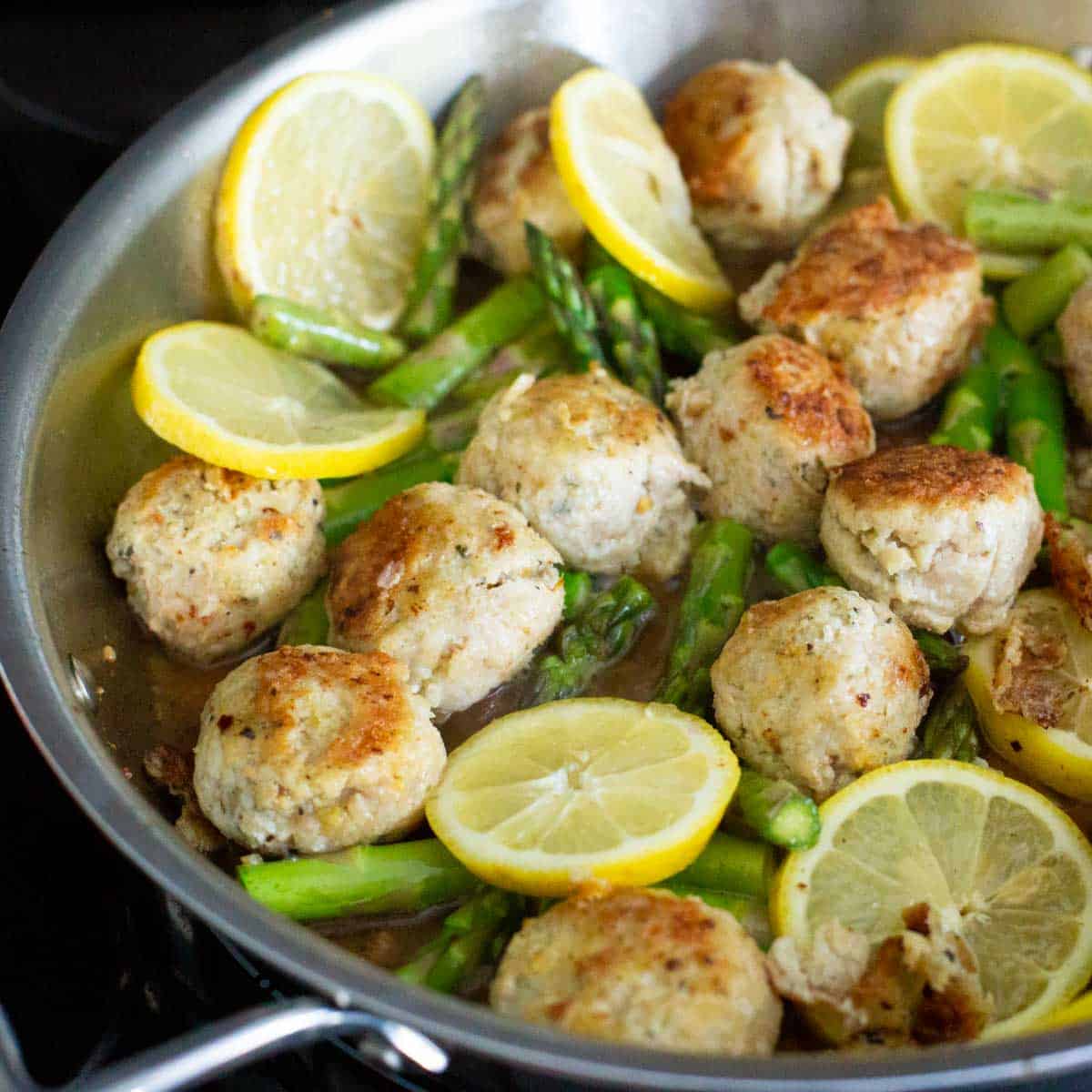 These easy chicken meatballs with sauce feature some of my favorite flavors: Italian herbs, garlic, lemon, and white wine.
I tossed some fresh asparagus into the skillet just before finishing everything off in the oven and we had the perfect one skillet meal for an easy weeknight dinner.
The whole family went crazy for these meatballs because they are simply filled with flavor but I loved that they used an inexpensive cut of meat that is healthier for us than traditional beef meatballs.
Get all the tips you need to make them for your family here.
Jump to:
Why This is the Best
My youngest daughter went absolutely crazy for these chicken meatballs with lemon sauce, she is my little lemon buddy.
We loved this recipe so much because:
Easy to Prep: I assembled and rolled the meatballs during my lunch break in just 15 minutes and kept them in the fridge till dinnertime.
Freezer Friendly: You could even prep the meatballs ahead and freeze them uncooked for a future dinner.
Budget Friendly: Ground chicken is easy on the family budget but you could also substitute ground turkey or even pork which are also inexpensive.
Light and Healthy: With just a drizzle of olive oil, lighter chicken, and just a bit of bread crumbs and grated cheese, these meatballs are a much lighter option than traditional beef meatballs.
Flavor Packed: Italian herbs, garlic, lemon, grated cheese, and white wine make a deliciously zesty dinner that is simply filled with flavor.
Ingredients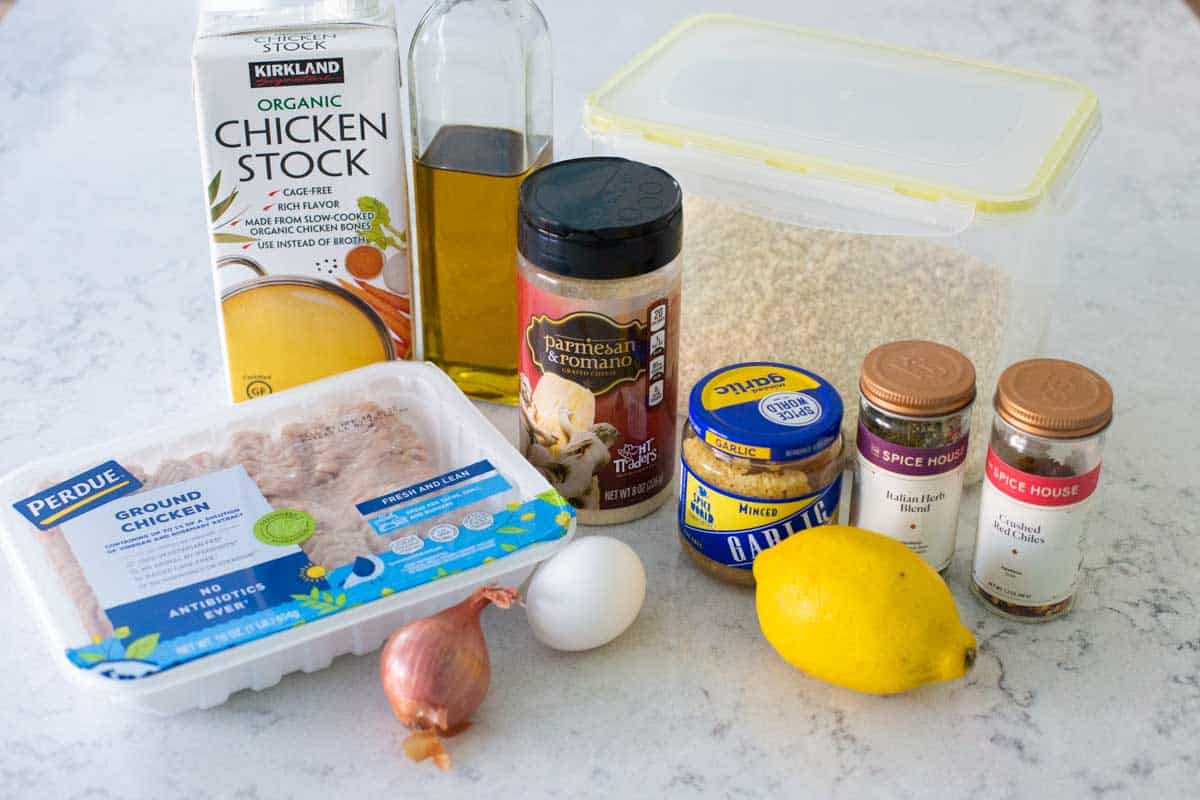 With only 4 fresh ingredients and a handful of pantry items, this recipe is so easy on the family grocery budget!
All you need to make it is:
Ground Chicken: Or you could substitute ground turkey or ground pork
Fresh Asparagus: You could omit it but this is an easy way to add a green veggie to the dish
Lemon
Shallot
Egg
Panko Breadcrumbs
Minced Garlic
Italian Herb Blend: See the recipe card for a substitute with individual herbs
Crushed Red Pepper Flakes
Grated Romano Cheese: You could substitute grated parmesan if that is what you have on hand
Olive Oil
How to Form the Meatballs
If you've never made homemade meatballs before, you're going to be pleasantly surprised to discover just how easy it is.
First, add the ground chicken to a large mixing bowl. Be sure to use a big one because combining the ingredients can be messy if the bowl isn't big enough.
Add the breadcrumbs, grated cheese, egg, garlic, and seasonings to the bowl and combine everything GENTLY with a fork.
Don't overwork the meat or the chicken will get tough. Just continue to mix it until everything is just combined.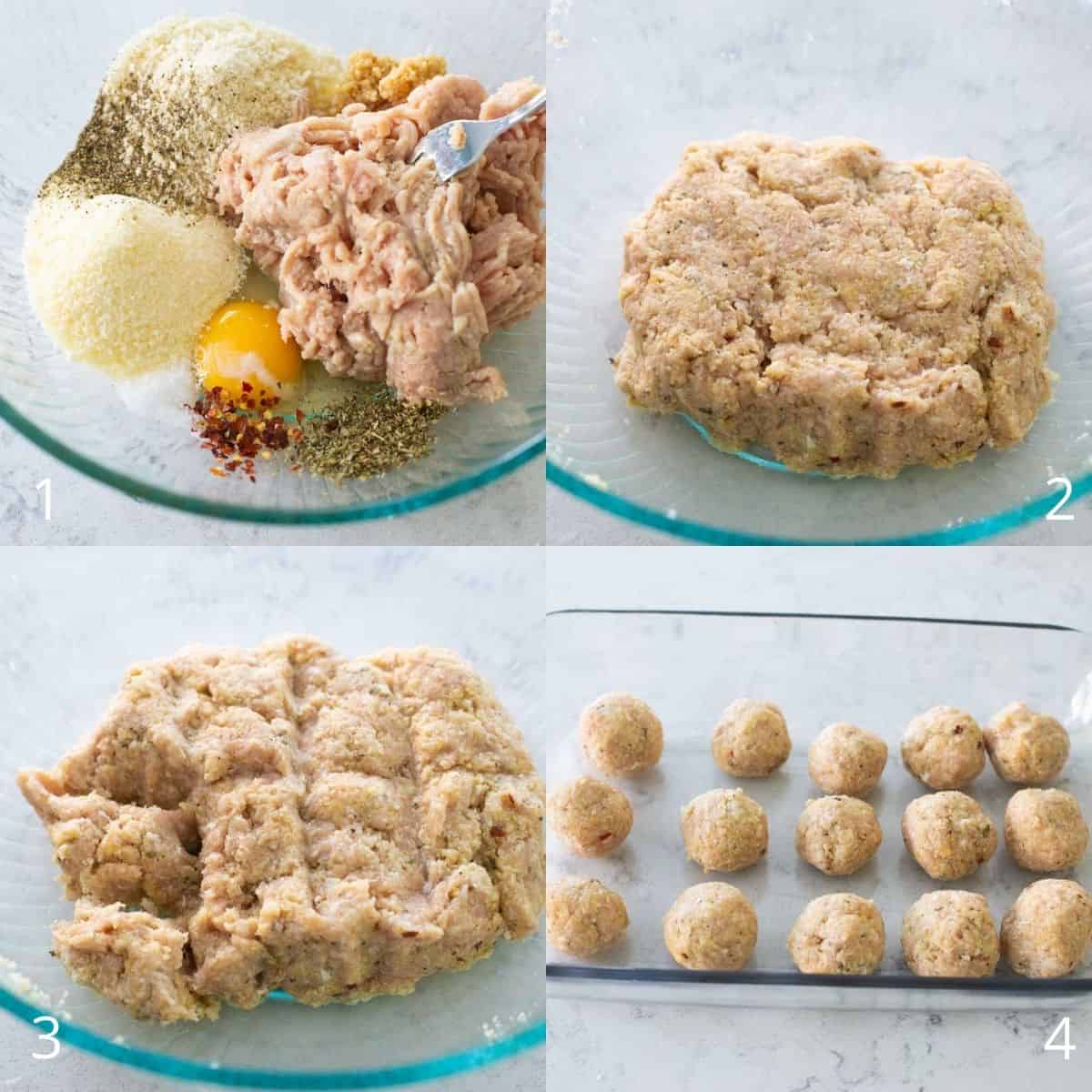 Then, pat the chicken into a rectangular shape. It is easier to divide the meat into equal portions if you start with a square-ish sort of shape.
I use a fork or knife to score the meat into 3 rows of 5.
Then I pinch off one portion at a time and roll it into a meatball.
Line the meatballs up in a clean dish and keep them covered in the fridge until you're ready to cook.
How to Cook the Meatballs
The meatballs get browned on the stovetop and then finished in the oven, all in the same pan. So be sure to start with an ovenproof skillet.
Place the skillet with olive oil over medium heat on the stovetop and preheat the oven to 350°F.
Brown the meatballs for 2 minutes or so per side before turning.
You only need to cook them for 6 minutes or so total, they'll finish baking in the oven.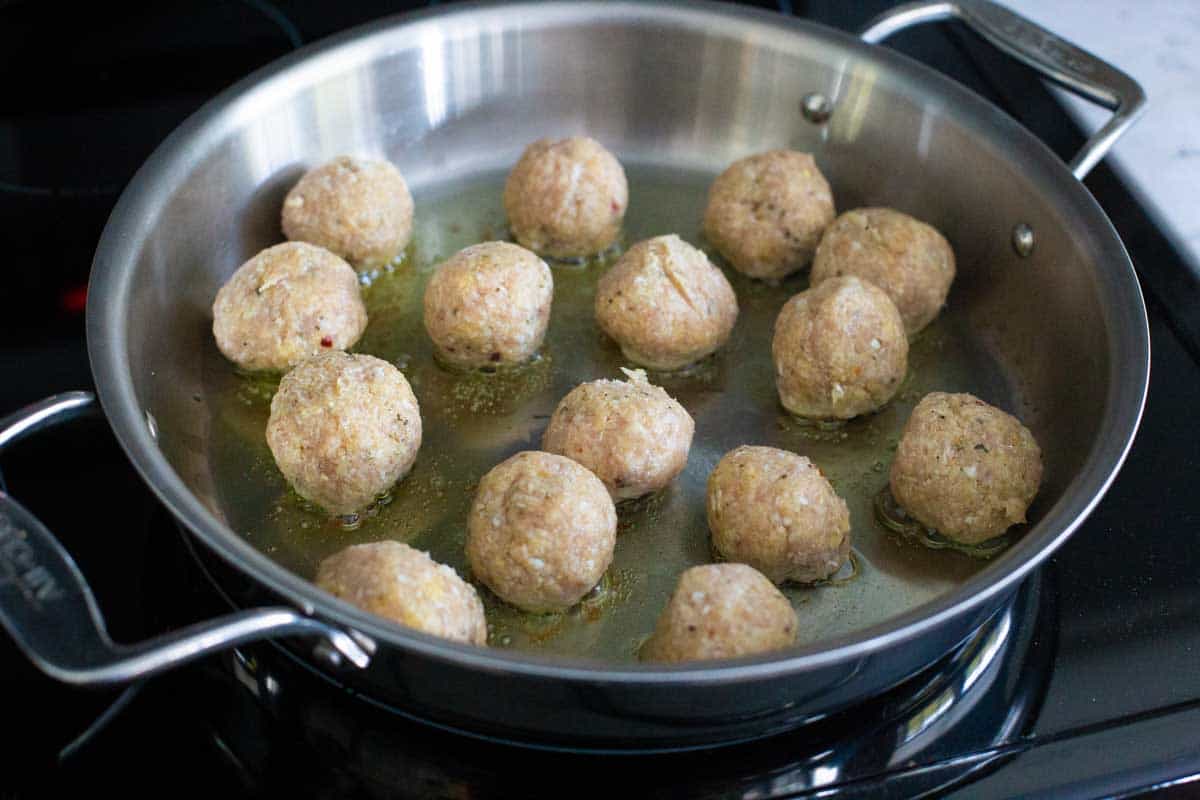 Transfer the browned chicken meatballs to a clean plate or dish while you prepare the sauce.
Prep the Lemon Wine Sauce
Now your skillet likely is covered in brown bits of chicken meatball meat. Some of the best flavor is trapped on the skillet itself.
First, add the chopped shallot and stir it in the drippings for 4 - 5 minutes or until softened.
Then, drizzle in the white wine and use a spoon to scrape up the browned bits on the pan as the wine simmers.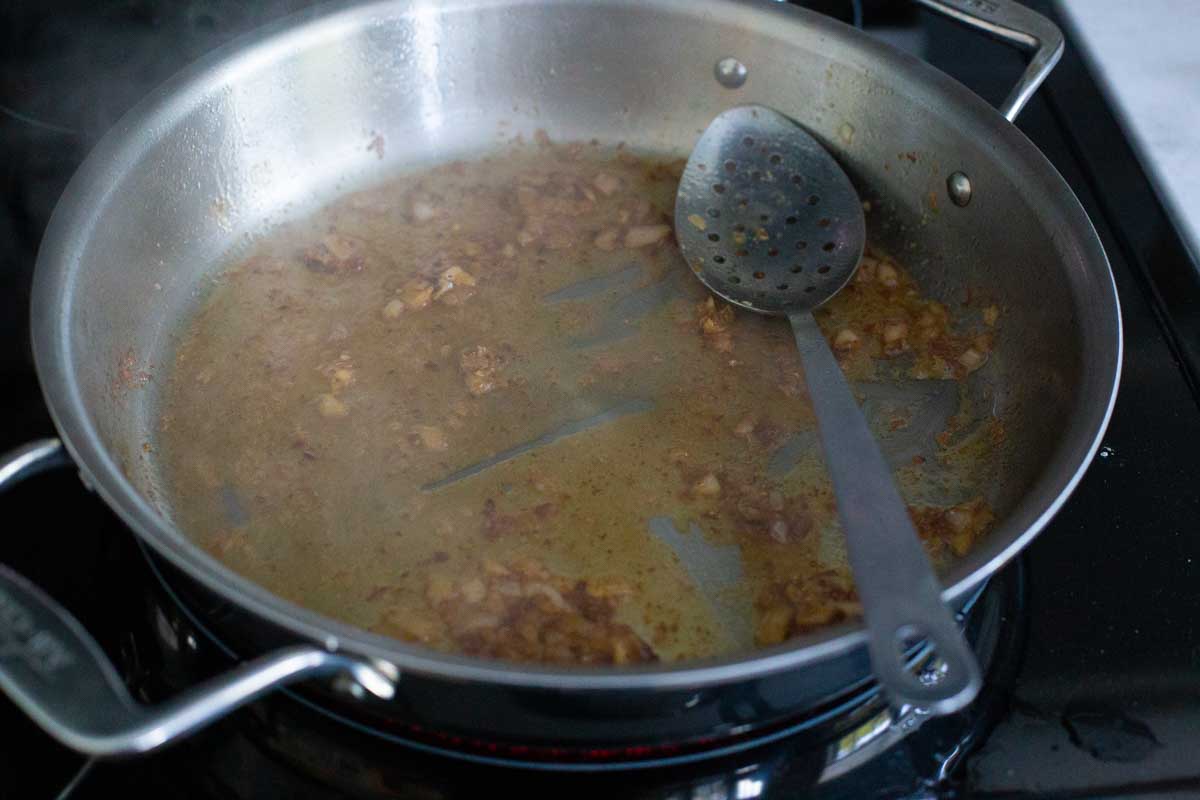 Add the chicken stock and stir to combine.
Add the chopped asparagus and let it simmer in the sauce for 3 - 4 minutes before finishing the dish.
Bake the Skillet
Return the browned meatballs to the skillet.
Add the sliced lemon to the pan and nestle them into the sauce as best you can.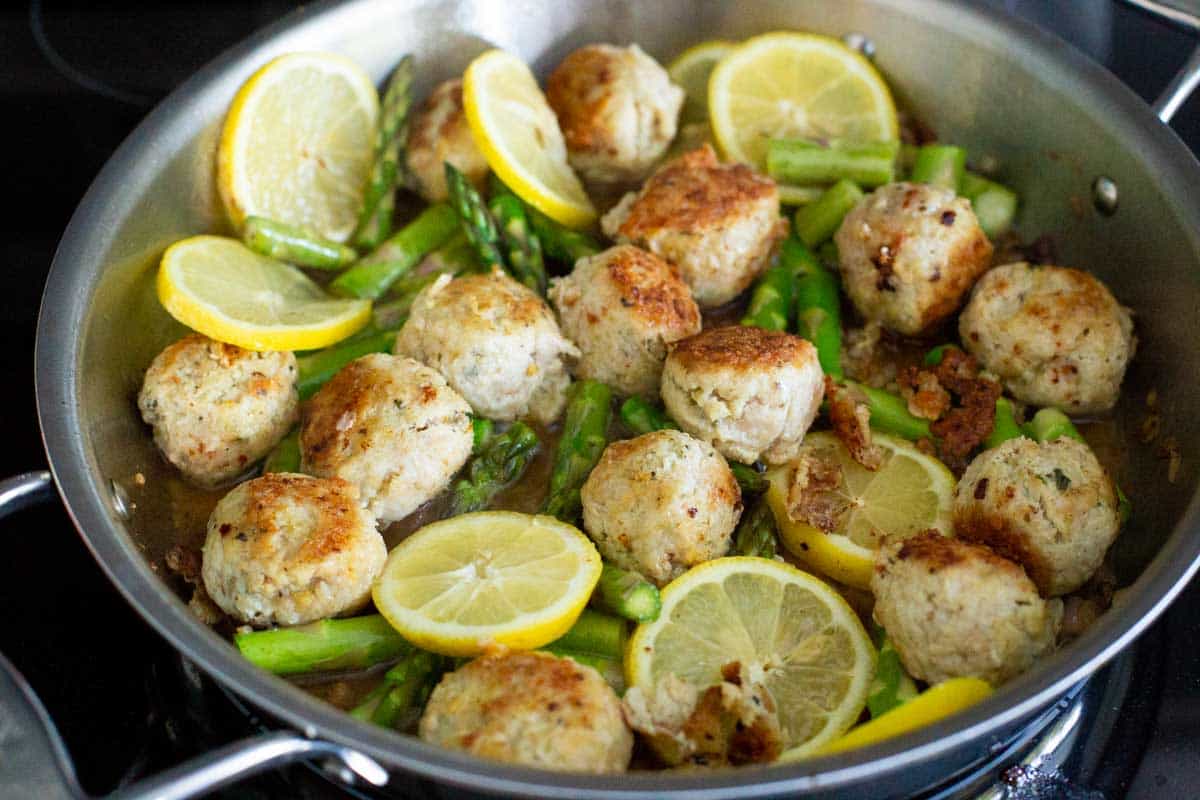 Bake the chicken meatball skillet for 15 minutes or until the asparagus is tender and the meatballs register 165°F on a thermometer.
Serving Suggestions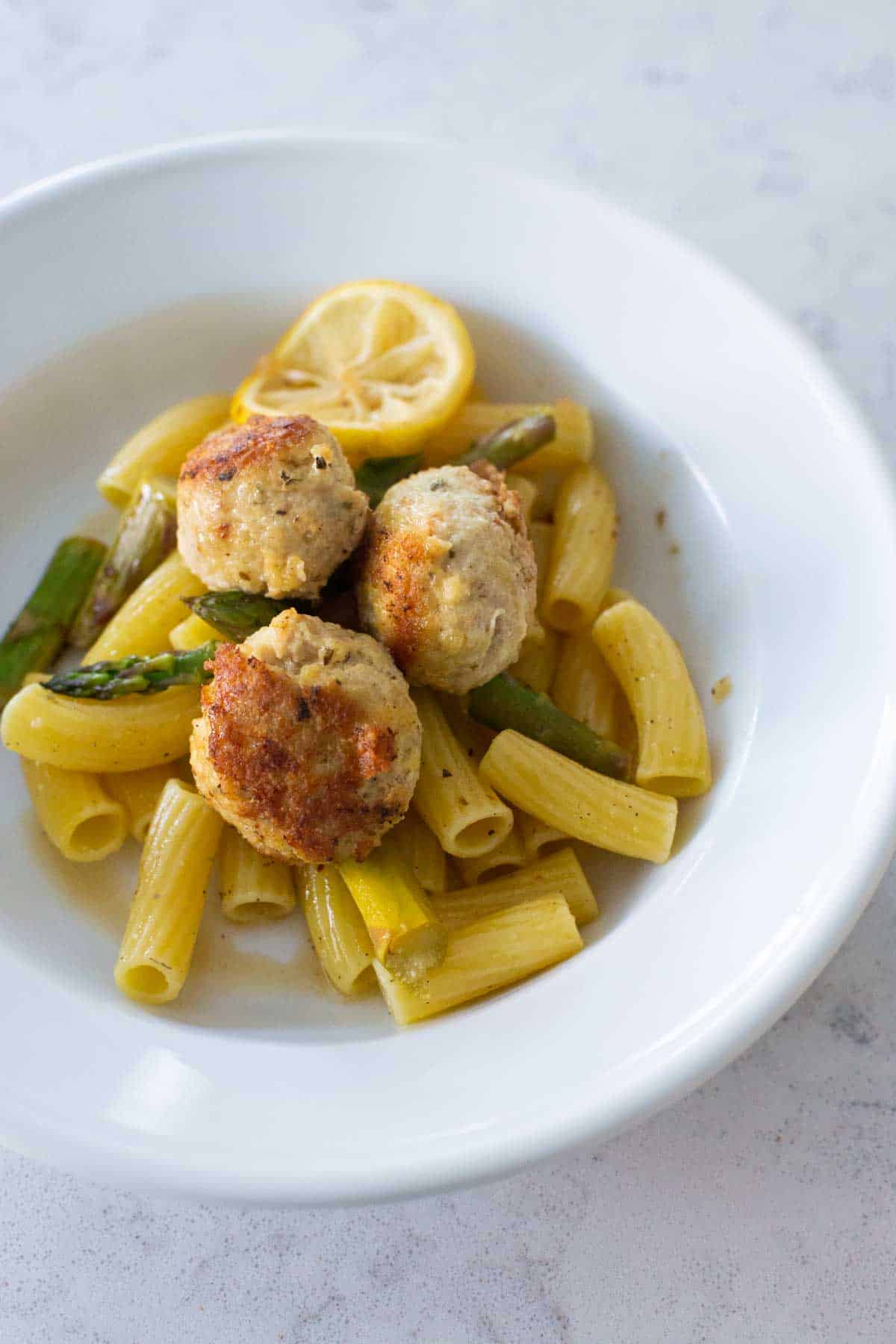 I love to serve these delicious Romano chicken meatballs with the lemon sauce drizzled over the top of rigatoni pasta but there are several ways you could use this recipe.
You could add additional roasted veggies like this roasted broccolini pasta toss, serve them with my favorite lemon butter pasta with fresh chives.
Skip the pasta altogether and just enjoy the meatballs in sauce with a side of homemade garlic bread, or add the cooked meatballs to this light and healthy gnocchi soup for extra protein.
Make Ahead Freezer Tips
I absolutely love prepping the meatballs earlier in the day so I can just quickly brown and bake them at dinnertime.
You can prep them up to 1 - 2 days in advance and keep them covered in the fridge.
If you want to freeze them for later, place the raw but formed meatballs on a baking sheet lined with parchment.
Freeze them for 30 minutes to 1 hour and then transfer them to a plastic ziptop bag for storage.
To use the frozen meatballs, transfer them to a single-layer dish and let them thaw in the fridge overnight. Then cook them as directed.
Variations
While we love the lemon wine sauce with the light and zesty chicken meatballs, you could use the base meatball recipe in several other recipes our family loves.
Toss the chicken meatballs with tomato sauce for easy baked meatball subs.
Brown them up in a skillet and then let them finish cooking in our favorite Instant Pot turkey soup instead of the ground turkey.
You could also add them to this tomato-based Tuscan chicken soup instead of the rotisserie chicken.