This amazing Tuscan soup recipe is so easy when you have a shredded rotisserie chicken on hand! Kids will love the sweet Italian vegetable soup made with tiny chopped up fresh carrots, celery, and zucchini. Since it is tomato based, this healthy vegetable soup is one you can feel great about feeding your family.

During a recent trip to visit family in the Twin Cities area, we stopped in at a cafe called D'Amico & Sons for a quick lunch. Too much heavy food and greasy fast food on our trip had left me with an upset stomach so all I wanted was a light and healthy vegetable soup. When the server brought my bowl, I immediately knew I had picked a winner.
Italian soup recipes
Healthy vegetable soup recipe
Chicken veggie soup
Italian vegetable soup
tuscan soup recipe
This Tuscan soup has a tomato-based broth with just a hint of creaminess without being a full-fledged cream soup. It is thick with Italian vegetables and teeny tiny pasta but still brothy enough to be a soup but not a stew. It might possibly be the most perfect chicken veggie soup I have ever had. The little bits of chicken gives it that nice savory taste but it is truly the sweet carrots and zucchini that are the heroes of this dish.
I could NOT stop thinking about what went into this Tuscan soup recipe for days. I'm not exactly a soup fanatic but it hit the spot and kept me wanting more even after I returned home. In total desperation, I hunted the internet for a similar recipe. I found nothing that came close until I finally decided to just search for the restaurant's name and the name of the soup. Sure enough, I was able to find the original recipes from an employee's grandmother that is used for the basis of the soup they serve at D'Amico & Sons! Score! I literally yelped with excitement.
My version of the soup is not a dead-on match, I tweaked it a little to fit our family. The key to making this the very best Italian soup is to take the time and cut the veggies as small as you can.
I would also consider adding a little more tomato and broth (or reducing the pasta) since the pasta does tend to soak up the broth overnight and make it closer to a thick stew. I added a note to the recipe to help fix this if it happens to you!
Serve this Tuscan soup with some fresh warm bread and butter and it is total cold winter day heaven. Even the Peanut gave it two thumbs up. She practically licked her bowl clean and I couldn't feel better about the ingredients in it.
_________________________________________________________
Tuscan Chicken Soup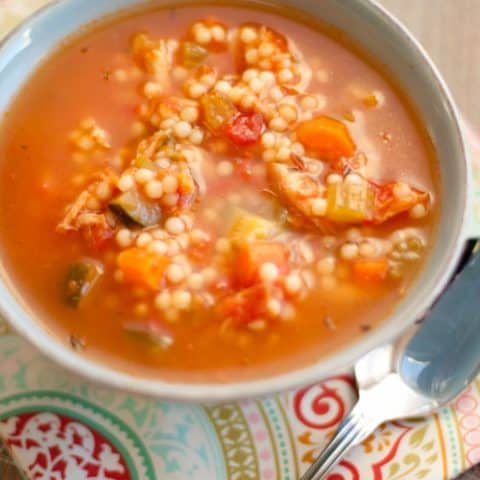 tuscan chicken soup
Ingredients
2 tbsp extra virgin olive oil
1 medium yellow onion, diced
4 carrots, peeled and diced
4 stalks celery, diced
2 zucchini, diced
1 tbsp minced garlic
1 tsp dried oregano
1 tsp dried basil
6 cups chicken stock
28 oz can crushed tomatoes
2 cups rotisserie chicken, shredded
1/2 cup heavy cream (optional)
Salt & pepper to taste 
1/2 cup Acini de Pepe pasta
Instructions
In a large pot add 2 tbsp olive oil and sauté the onions, celery, and carrots over medium-high heat for 8-10 minutes. Add the zucchini, garlic, basil, and oregano. Sauté until the veggies are tender about 4-6 minutes.
Pour the chicken stock and tomatoes into the pot and stir. Add the chicken and stir. Simmer the soup for 20 minutes.
Add the pasta and cook it right in the soup for another 10 minutes. Taste and season the soup with salt and pepper. Add the heavy cream at this time if you choose and allow it to simmer for 6-8 minutes.
Top with grated Parmigiano Reggiano or pecorino romano cheese and serve!
Notes
I let my soup set in the fridge overnight and the pasta absorbed far too much of the liquid. I just added a few more cups of chicken stock when I reheated it to make it more brothy and soup-like.