This creamy pesto chicken casserole is the perfect comfort food for a busy night because it can be prepped in just 20 minutes. Al dente penne pasta is tossed with Alfredo sauce, pesto, tomatoes, and spinach and baked with a crispy breadcrumb topping.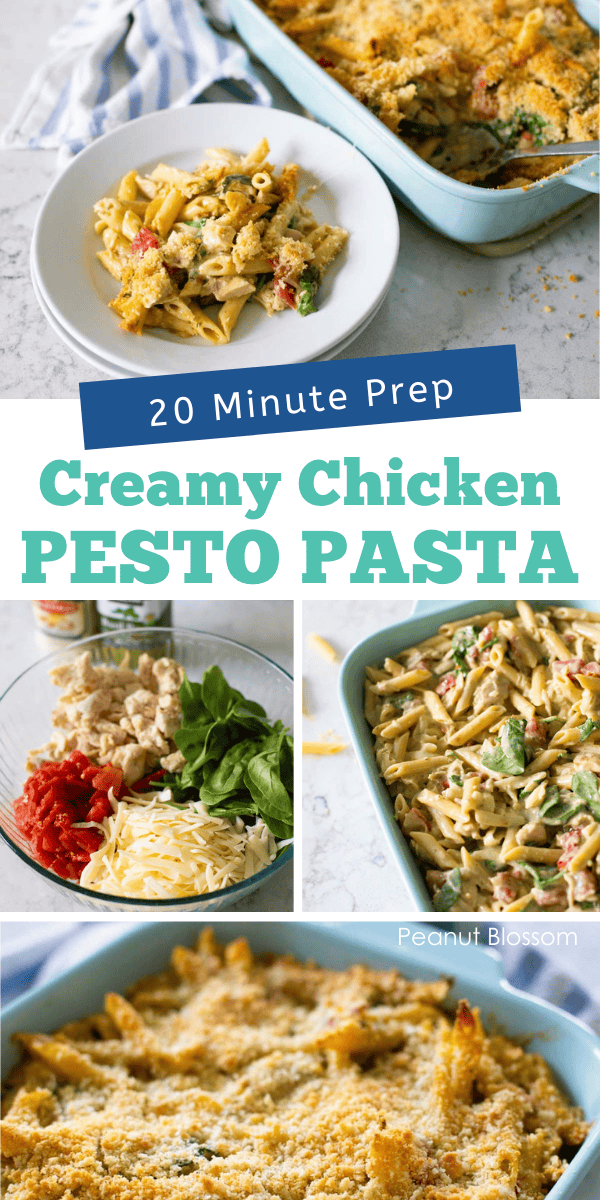 Does your family like pesto sauce? We have mixed reviews over here with both kids who love it and a husband who thinks it is only so-so.
Despite their mixed feelings about pesto, this creamy pesto chicken casserole was a huge hit across the board.
My family all loved how deliciously cheesy the pasta dish is, I loved that it mixes in both tomatoes and fresh baby spinach so that the rich sauce doesn't completely overpower the recipe.
But the best part?? It only takes 20 minutes to prep this dinner (some of that is just boiling the noodles!) and I can have the kitchen all cleaned up by the time the baking dish comes out of the oven.
I made this on a lazy Sunday afternoon but it could just as easily fit a busy weeknight.
The red and green veggies mixed in would also make this a super-easy Christmas recipe to serve during the holidays.

How to make an easy pesto chicken casserole in 20 minutes: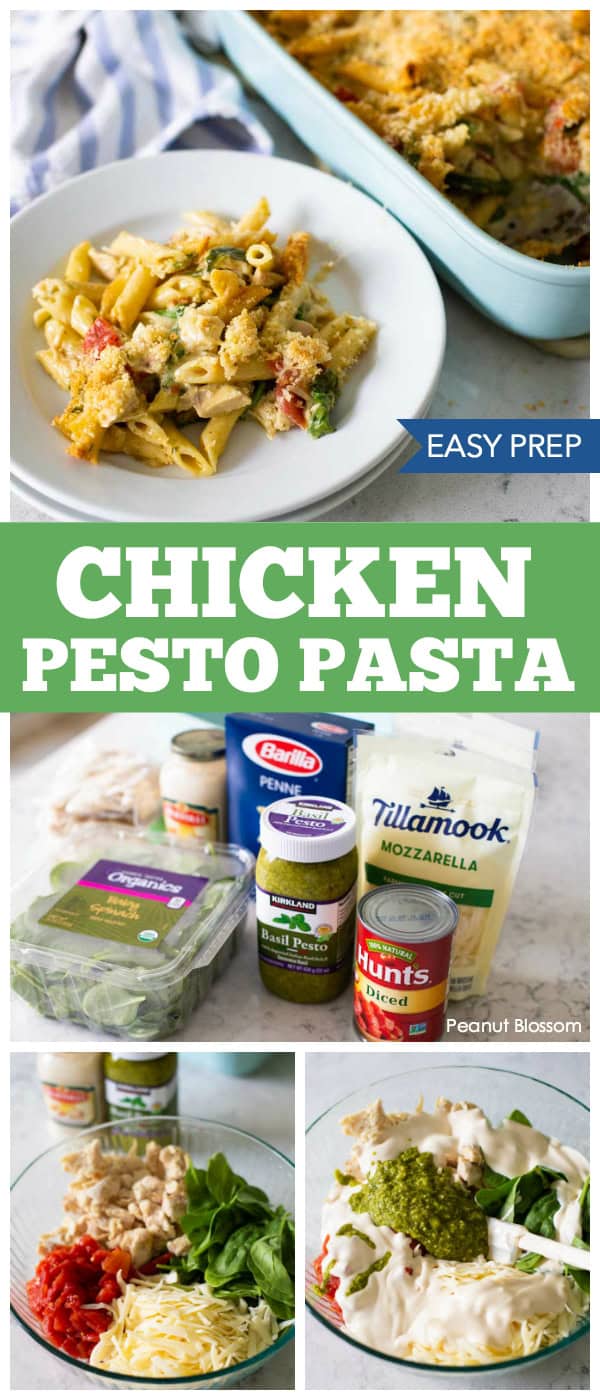 Step 1: Don't overcook the pasta
The biggest mistake with most pasta-based casserole recipes is that the instructions lead to overdone, mushy noodles. The key to a totally delicious pasta bake your family will love is to boil the pasta for LESS time than is required on the package instructions.
This recipe has a very moist sauce that the pasta will continue to absorb while baking. To avoid the mushy noodles, be sure to boil the pasta for 2 minutes less than the lowest time recommended on the box.
If you plan to toss the pasta in the sauce ahead of time and bake later, cook for 3 minutes less since the pasta will continue to absorb the liquid as it sits.
Step 2: Use prepared pesto and alfredo sauce for speedy shortcuts
I love making both pesto and alfredo sauce from scratch, but that would be a lot of work for what is supposed to be a very easy weeknight dinner.
My family loves the prepared pesto from Costco but any packaged pesto will work perfectly in this recipe. If that vibrant green sauce makes your kids nervous, I assure you it just gives the final recipe a pleasant fresh basil flavor, it doesn't turn the final pasta dish green.
I picked up a jar of prepared alfredo sauce from the store near the jarred tomato sauces. You could also use the refrigerated alfredo sauces if you prefer.
Step 3: Mix it up faster with shredded rotisserie chicken, canned tomatoes, and pre-washed baby spinach
There is zero chopping required for this recipe. The remaining ingredients are all easy to toss into the mixing bowl.
Shred a pre-cooked rotisserie chicken for the protein. Drain a can of diced tomatoes and add a few handfuls of pre-washed baby spinach.
Stir everything together in a big mixing bowl and transfer to a baking dish. Top with breadcrumbs and bake!
This would be a perfect recipe to hand to your kids for making, too!
What to serve with creamy pesto chicken casserole:
This is a very rich, hearty dish. You won't need a lot more to go with it.
Here are some easy side dish ideas to round out your dinner:
Add some fresh baked garlic bread (from your freezer or the bakery)
Toss together a simple green salad.
Slice some fresh tomatoes and drizzle with a little balsamic vinegar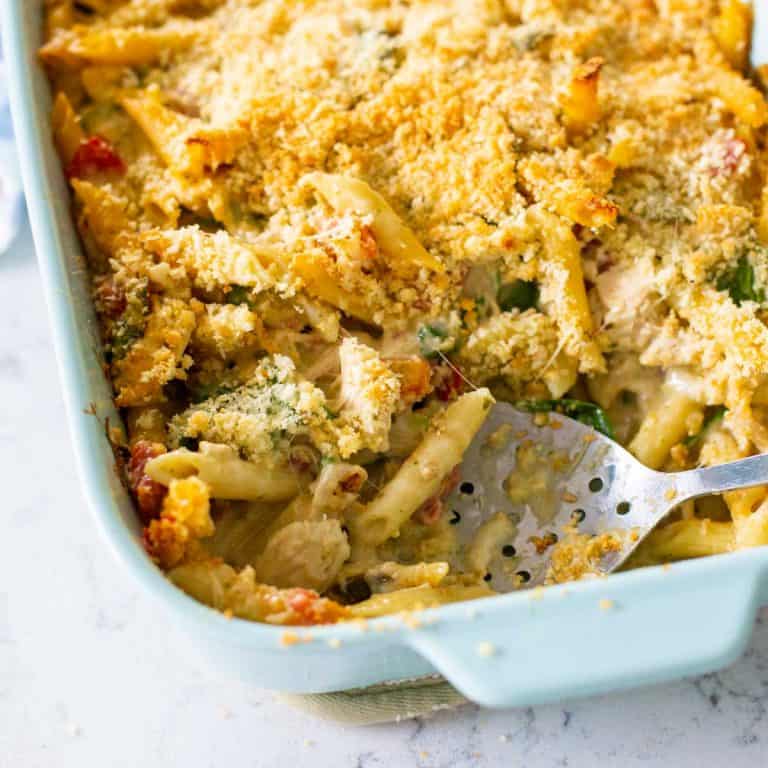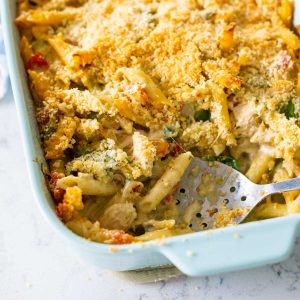 Pesto Chicken Casserole
This rich and creamy pesto chicken casserole can be prepared in just 20 minutes for an easy weeknight dinner. Simple enough for a weeknight, but festive enough to serve for the holidays.
Ingredients
1

(16 oz) box of penne pasta

4

cups

shredded rotisserie chicken

3

cups

baby spinach leaves

1

(15 oz) can diced tomatoes, drained

2

cups

shredded mozzarella cheese

1

(15 oz) jar Alfredo sauce

½

cup

prepared pesto

½

cup

milk

½

cup

panko bread crumbs

½

cup

grated parmesan cheese

1

tablespoon

olive oil
Instructions
Preheat the oven to 350°F. Spray a 9 x 13-inch baking dish with cooking spray and set aside.

Set a large pot of water over high heat and bring to a boil. Cook the penne pasta for 2 minutes less than the shortest time listed on the package. Drain and set aside.

Meanwhile, add the chicken, spinach, drained tomatoes, and mozzarella cheese to a very large mixing bowl. Pour the Alfredo sauce, pesto, and milk over the top and stir gently to combine.

In a small mixing bowl, add the bread crumbs, parmesan cheese, and olive oil. Stir together with a fork until everything is evenly combined and the bread crumbs are coated in oil. Set aside.

Add the drained pasta to the mixing bowl and gently stir together with the chicken mixture until everything is evenly coated in sauce.

Pour the chicken mixture into the prepared baking dish and smooth out to an even layer. Sprinkle the reserved bread crumb mixture evenly over the top.

Bake for 30 - 35 minutes, or until everything is bubbly hot and the bread crumbs are toasted.
Save This Recipe to Your Recipe Box
Find this delicious recipe next time you visit by saving it to your very own recipe box on my site. All your favorites stored in one easy place!
Looking for more easy pasta dinner ideas?