This flaky crusted breakfast pie is filled with ham and cheese and simply perfect for feeding a crowd at your holiday brunch.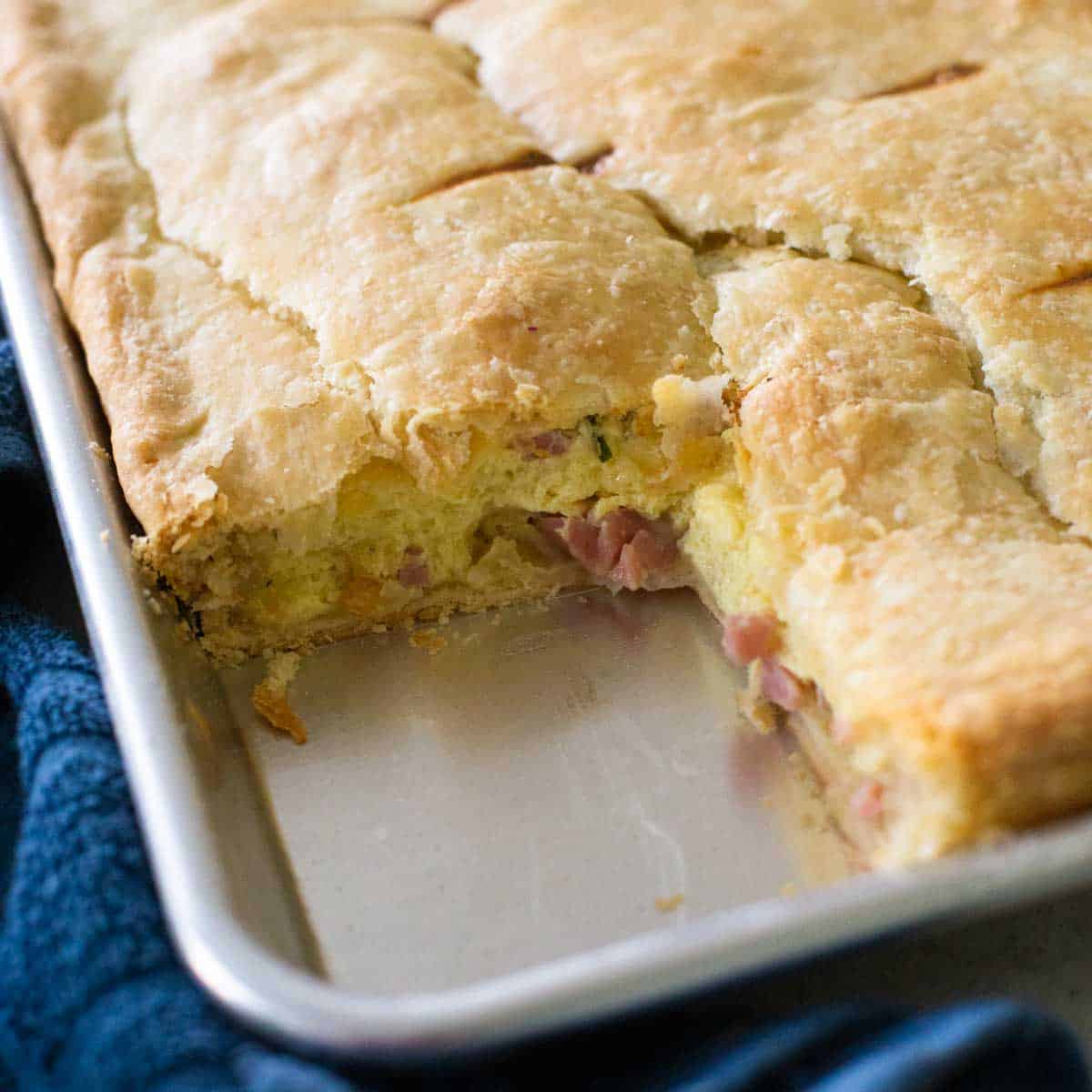 Staring at the giant container of ham leftovers in our fridge, I vowed to not let a single bite of our amazingly delicious pineapple and mustard glazed Easter ham go to waste.
Now that I'm the Pie Crust Queen, I thought it would be fun to try a fluffy egg-filled ham slab pie as a breakfast-for-dinner option.
The buttery, flaky crust makes pie slices that pop right out of the pan, neat and clean. You can practically eat it by picking it up, the crust is just that crispy.
I loved every single last bite of this pie and Tim and I reheated leftovers for the next several days for lunch. They reheated nearly as well as when we ate it on Day 1!
This recipe would be absolutely perfect for a brunch or holiday gathering. Serve it with a simple salad or fruit platter to round out the menu.
Jump to:
Ingredients
The pie crust is definitely the star of this show. I strongly encourage you to start with a batch of this homemade all-butter pie crust dough.
You'll have plenty of dough to make a full 2-crust slab pie in a rectangular pan.
However, if you prefer to keep things extra-easy, you could be a regular box of refrigerated pie crust (like Pillsbury) but you will want to adjust the recipe and assemble it in a traditional round pie plat instead of the rectangular pan.
In addition to the pie crust you'll need:
Eggs
Cooked ham: This recipe is perfect for using up leftovers. You could also buy thick-cut deli ham or a ham steak if you don't plan to have leftovers you want to use up.
Shredded Swiss cheese: You could substitute shredded cheddar if you prefer.
Half and half
Dijon mustard
Honey
Hot sauce or cayenne pepper
Dried or fresh thyme
Fresh chives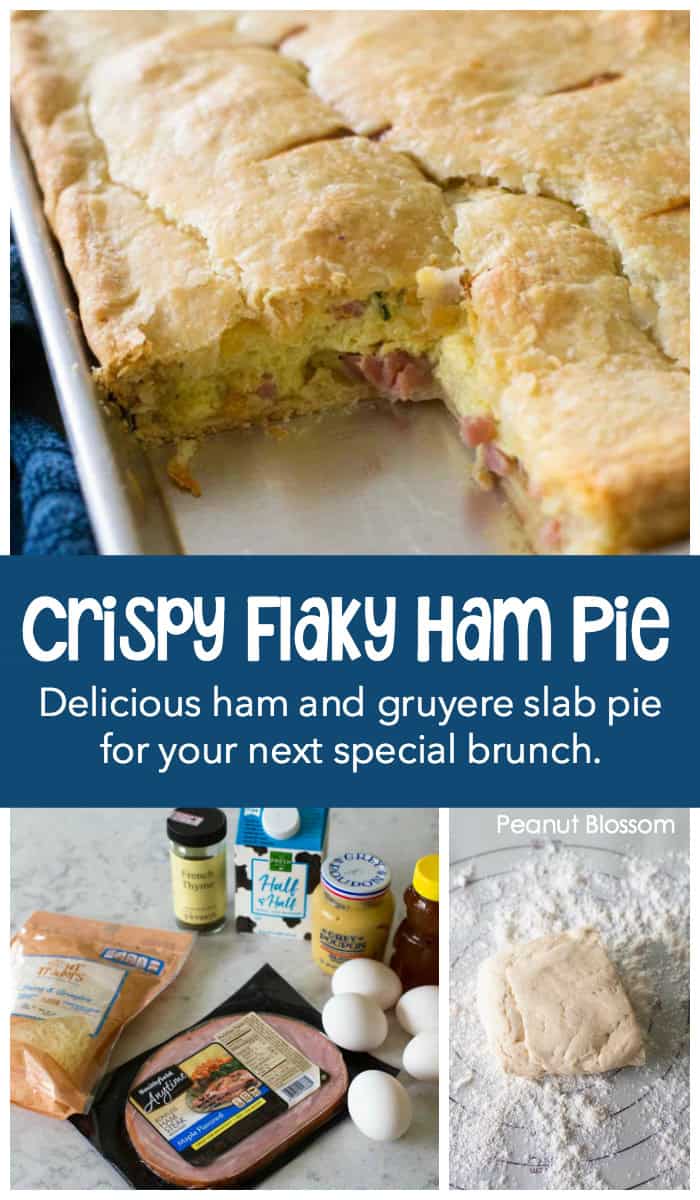 Step 1: Prepare Pie Crust Dough
You can use whichever pie crust recipe you prefer, but honestly, our all-butter pie crust recipe is the BEST. The dough can be made ahead of time, even the day before if you prefer.
Just don't roll it out till the day you plan to bake it. You can get the recipe here.
If you're using prepared dough from the store, let the box rest on your kitchen counter for 10 minutes before you try to unroll the dough.
Step 2: Roll the Dough
The entire slab pie can be assembled a few hours in advance of baking if you want to make it ahead.
Roll out the pie crust dough just larger than the baking pan you plan to use. Transfer the dough to the pan using your rolling pin. Gently ease the dough into your baking pan to form the bottom crust.
Step 3: Prepare the Filling
Whisk together the eggs and half and half. Add the remaining ingredients and whisk them together.
Pour the cold filling into the prepared dough in your baking pan.
Top the pie with the second rolled crust, pinch the edges together and be sure to slice venting holes over the top.
Keep the pie COLD in the fridge until just before you put it in the oven.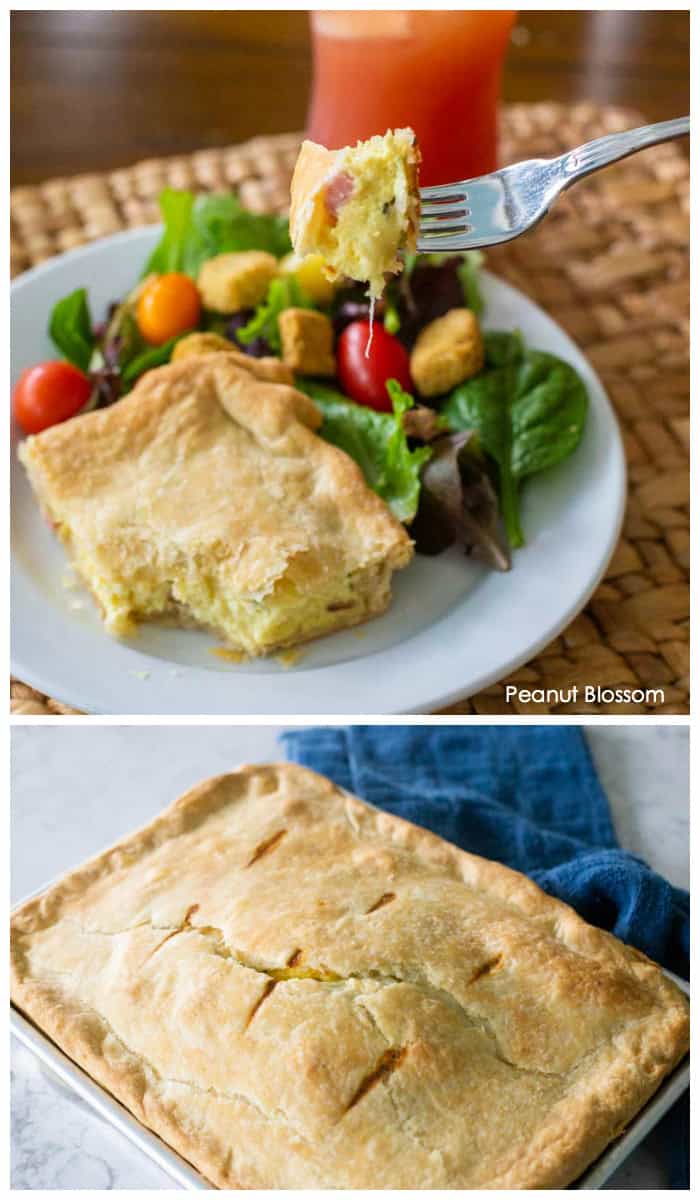 Step 4: Bake the Egg and Ham Pie
Place a cookie sheet upside down inside the oven on the same rack where you plan to bake the pie. Let it preheat with the oven.
This solid hot surface will help to give your slab pie a perfectly crispy bottom all the way through the middle.
Take your COLD prepared slab pie from the fridge and immediately place it directly on that hot cookie sheet in the oven.
Bake for just 45 minutes or until the eggs are set and the crust is golden brown.
Serve warm or at room temperature for a delicious brunch main dish.
Serving Suggestions
This breakfast pie would make the perfect main entree for a special brunch. To round out your menu, consider adding a light green salad and fresh fruit.
Make Ahead Tips
You can make the pie crust dough in advance, in fact it is even better when it has had a chance to sit overnight in the fridge before rolling.
Don't assemble the filling until you're ready to assemble the entire pie. This should only be done a few hours in advance of baking.
The finished pie itself will keep well in the fridge and reheats very well. You could bake it the day before your event and reheat it before serving if desired.