Make Monte Cristo sandwich pinwheels from refrigerated crescent roll dough, deli ham and turkey, and slices of Swiss cheese. A thin layer of jam and a sprinkle of powdered sugar mimics the delicious breakfast sandwich at your favorite brunch restaurant.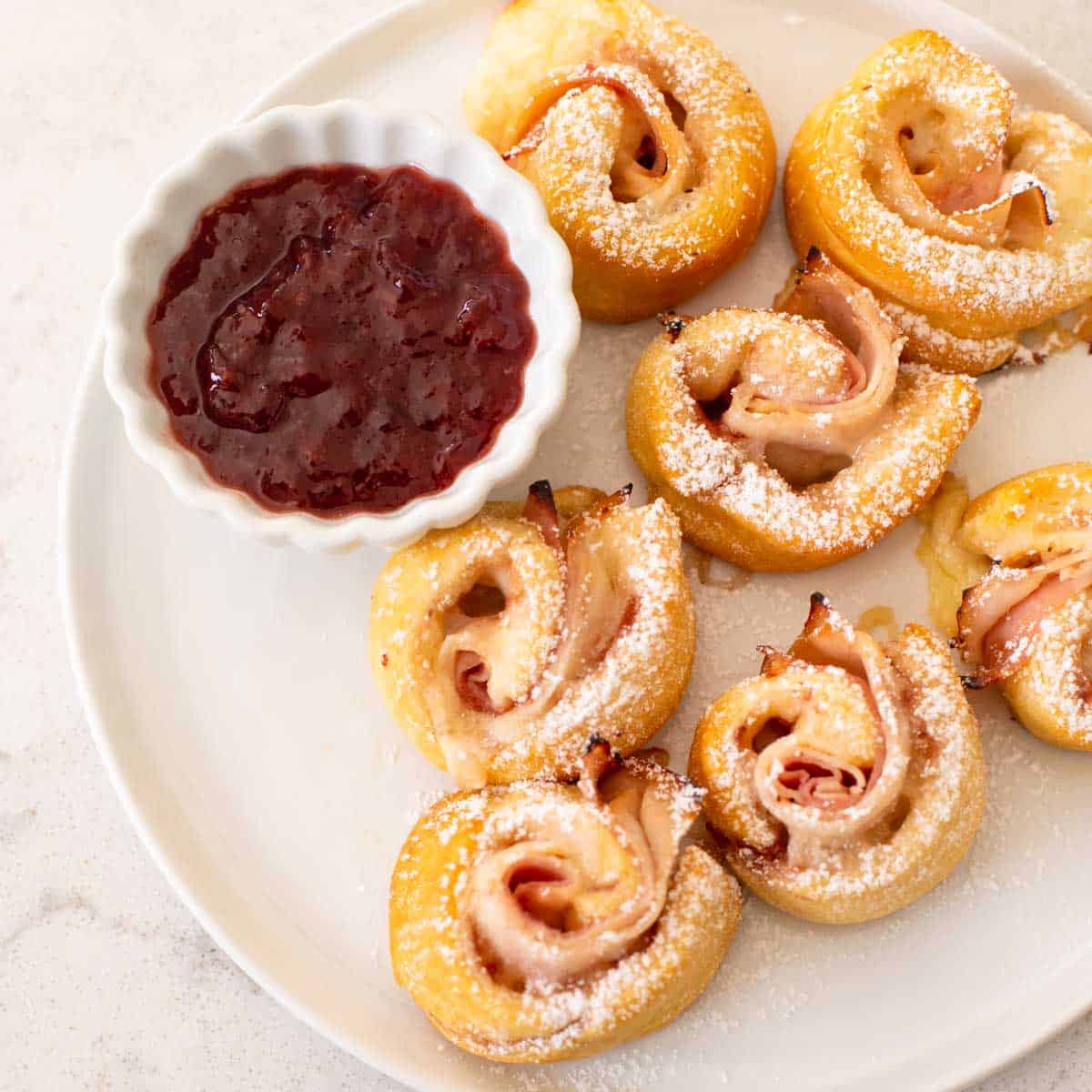 As much as I love brunch, I always struggle to choose between sweet and savory dishes!
A Monte Cristo sandwich is the best of both worlds.
Savory ham and turkey with melted cheese are balanced with a sweet berry jam. The griddled sandwich is dusted with powdered sugar before serving.
For an easier version of this classic brunch dish, I rolled all those fillings up into prepared crescent roll dough and baked them into pinwheels.
These bite-sized sandwiches are perfect for adding to a brunch buffet for a special meal or party.
Don't miss more tips on how to host a brunch here.
Jump to:
What is a Monte Cristo Sandwich?
There are several variations on this popular breakfast sandwich that you may have seen on menus at different restaurants.
The basic ingredients include sliced ham, sliced turkey, and Swiss cheese.
Some variations include mustard and mayo, others put jam inside the sandwich.
The assembled sandwich is then dipped in egg and griddled or deep fried for an extra crispy outside.
Just before serving, the sandwich has powdered sugar sprinkled over the top and there's usually a small cup of jam for dipping on the side.
Ingredients
My version of this brunch dish is simplified for a super-easy shopping list:
Crescent Roll Dough: It is easiest to use the refrigerated can from the store but if you want thicker, fluffier pinwheels, this easy bread machine crescent roll dough would work great, too.
Deli Ham
Deli Turkey
Slices of Swiss Cheese
Strawberry Jam: You could also use raspberry or a triple berry jam
How to Make the Pinwheels
Open the canister of crescent dough and separate it into four rectangles made of two triangles each, like this: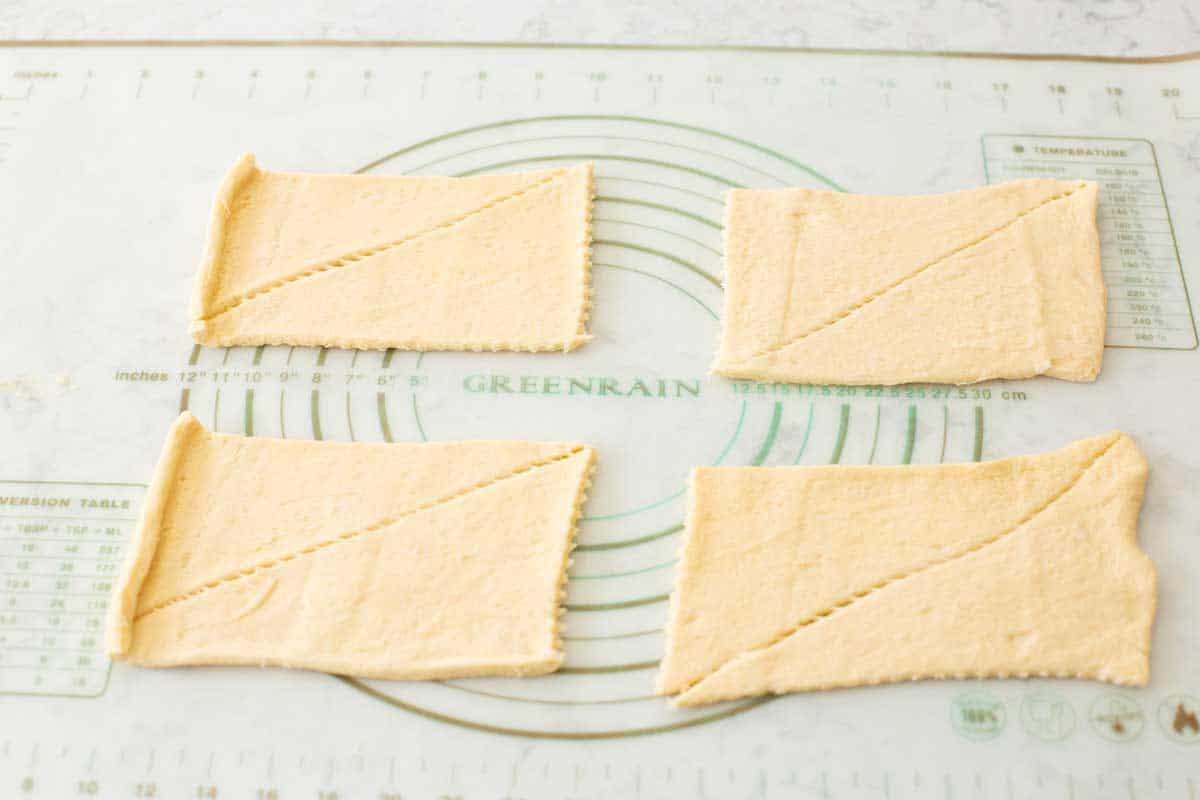 Spread a very thin layer of jam over the top of each rectangle.
Then top it with a single layer of cheese. I had to use 1 and ½ slices of cheese to top each rectangle, you can see how I ripped each slice here:
Then place one slice of turkey and one slice of ham on each rectangle.
Roll the dough into a long log, starting at the wide end of the dough as seen in figure 4 above.
Slice the logs into 5 pieces each and place them on a baking sheet lined with parchment paper CUT SIDE UP!
The slices will feel very thick, but they will bake into flatter pinwheels in the oven.
Bake at 375°F for 10 minutes or until golden brown.
Let cool for 2 minutes before dusting with powdered sugar.
Serving Suggestions
My favorite homemade strawberry freezer jam would be amazing in this recipe. You could add dollops to individual dipping cups or just place out a mason jar with a spreader knife for guests to help themselves.
If you're looking for other easy nibbles to serve for brunch, you could also offer blueberry scones, chocolate croissant puffs, or these savory sausage crescent swirls.
Platters of both sweet and savory options along with some fresh fruit or veggies make an easy brunch buffet.