Homemade banana zucchini bread is a deliciously simple quick bread that kids love. It's a fun way to use up the pile of fresh zucchini when it is in season.
I loathe bananas. The taste, the texture, the smell, pretty much everything about them turns me off. But I WANT to like them. I keep trying and trying to convince my palette that they are acceptable. There are exactly 2 instances in which I find bananas to be even remotely tolerable:
1. My mother in law's banana bread which is basically a solid chunk of melted chocolate chips coated by banana bread batter.
2. This banana zucchini bread. The zucchini balances out the banana flavor and the texture of it is perfect for toasting and adding a little pat of butter.
I've been making this recipe for years and it is one of the girls' all-time favorite breakfast treats. I first discovered it during a bout of tummy bug yuckiness for the Peanut when she was about 2. I went looking for inspiration for something that would be easy on her stomach but still have a mix of nutrients hidden inside. It was the only thing she could tolerate eating for several days and I loved knowing she was getting a fruit AND a vegetable into her with each serving. It has stayed in our rotation ever since.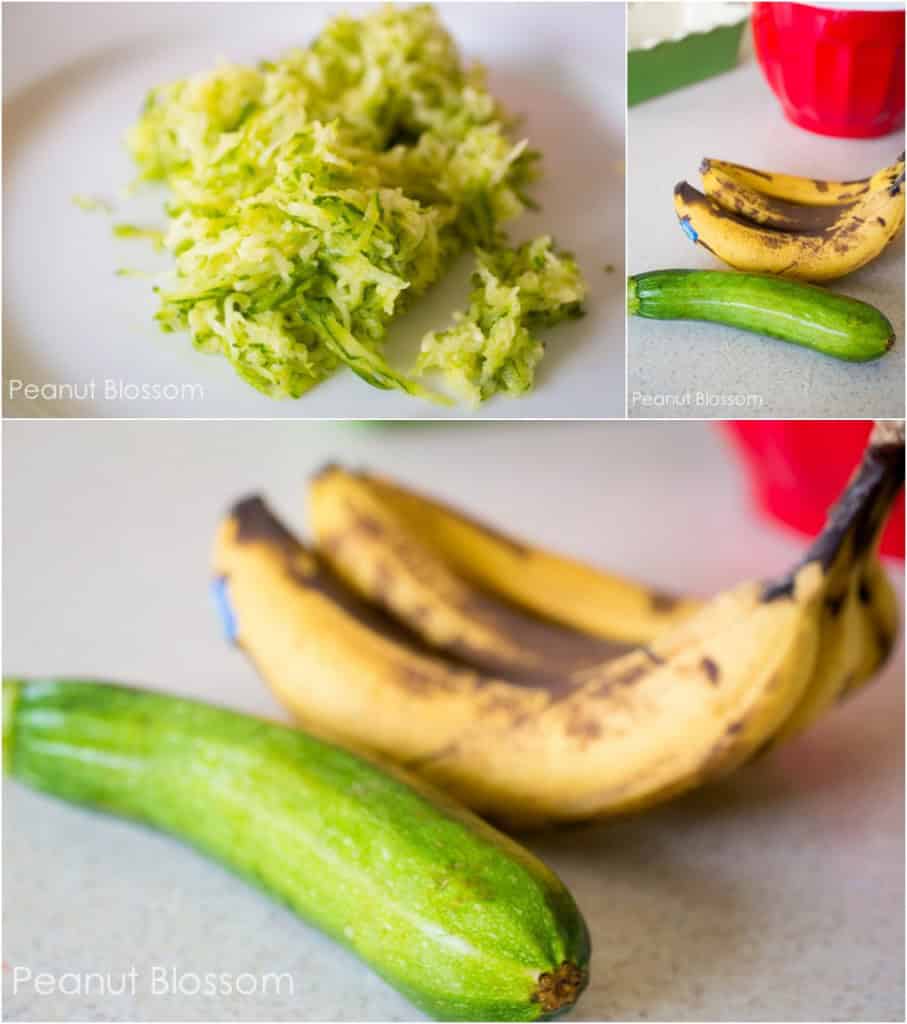 I buy our banana bunches in perfectly counted clusters so that I always have three left that will go brown just in time for making this. The girls love to eat it as is, but I can't do it unless I've toasted my slice just enough to warm it up again. I require that tiny pat of butter to help me with the banana, but it is moist and delicious on its own if you can stand that yellow fruit.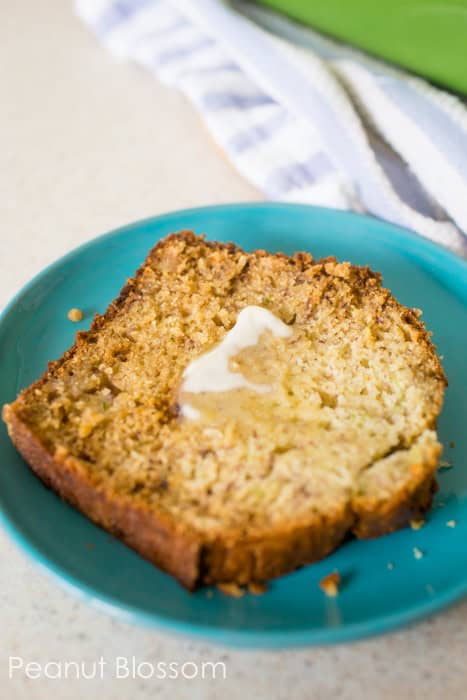 It is such a thick batter, it takes a long time to bake and will result in a fairly dark crust but is light and moist on the inside.
So if your garden is exploding with zucchini or you just want to take advantage of the summer produce, this is a perfect recipe to try!
If you've tried this banana zucchini bread or any other recipe on PeanutBlossom.com please don't forget to rate the recipe and let me know where you found it in the comments below. I love hearing from you!
FOLLOW along on Instagram @peanut.blossom as well as on  Pinterest and Facebook.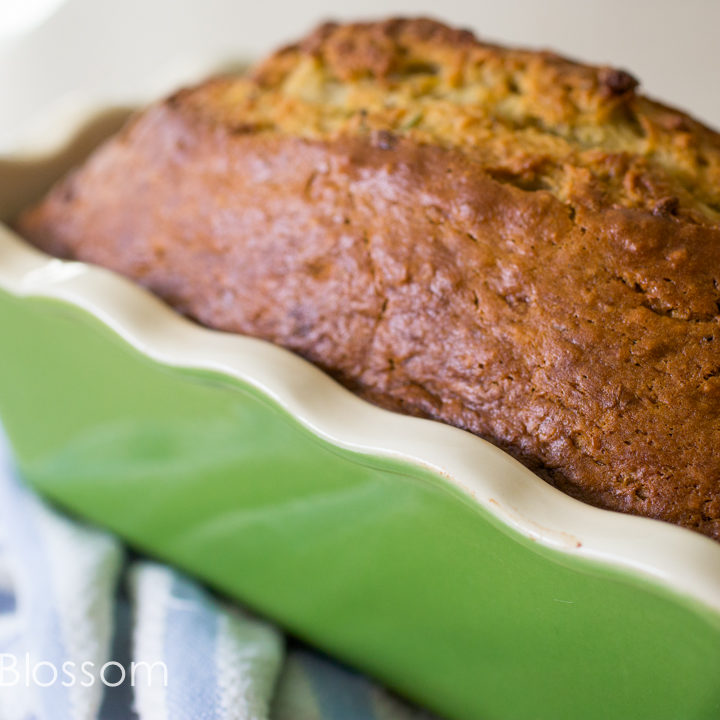 Banana Zucchini Bread
Total Time:
1 hour
10 minutes
This easy quick bread combines banana and zucchini for a moist and delicious breakfast treat.
Ingredients
3 tbsp melted butter, plus more for coating your pan
3 tbsp canola oil
2 ½ cups all purpose flour
1 cup sugar
½ tsp salt
1 tsp baking soda
3 very ripe bananas, mashed
½ cup grated zucchini
¼ cup buttermilk (or you can make your own by combining ¼ milk and ¾ tsp lemon juice, let sit for 5 min before using in the recipe)
2 large eggs
1 tsp vanilla extract
Instructions
Preheat oven to 350 degrees with rack in the center of the oven. Coat a 9x5 loaf pan with butter and set aside.
Mash the bananas in a large bowl. Add the zucchini, buttermilk, eggs, butter, oil, and vanilla and combine until well blended.
Add the flour, sugar, salt, and baking soda. Combine until just blended.
Pour the batter into your loaf pan and run a spatula down the center to pop any air bubbles. Bake for 60 minutes or until golden brown and a toothpick comes out clean with moist crumbs attached. It is a very thick bread and may require a little more time depending on your oven.