Homemade banana zucchini bread is a deliciously easy quick bread that kids love. It's a fun way to use up the pile of fresh zucchini when it is in season. This one bowl batter recipe takes less than 10 minutes to prep and has the most amazing crispy crust.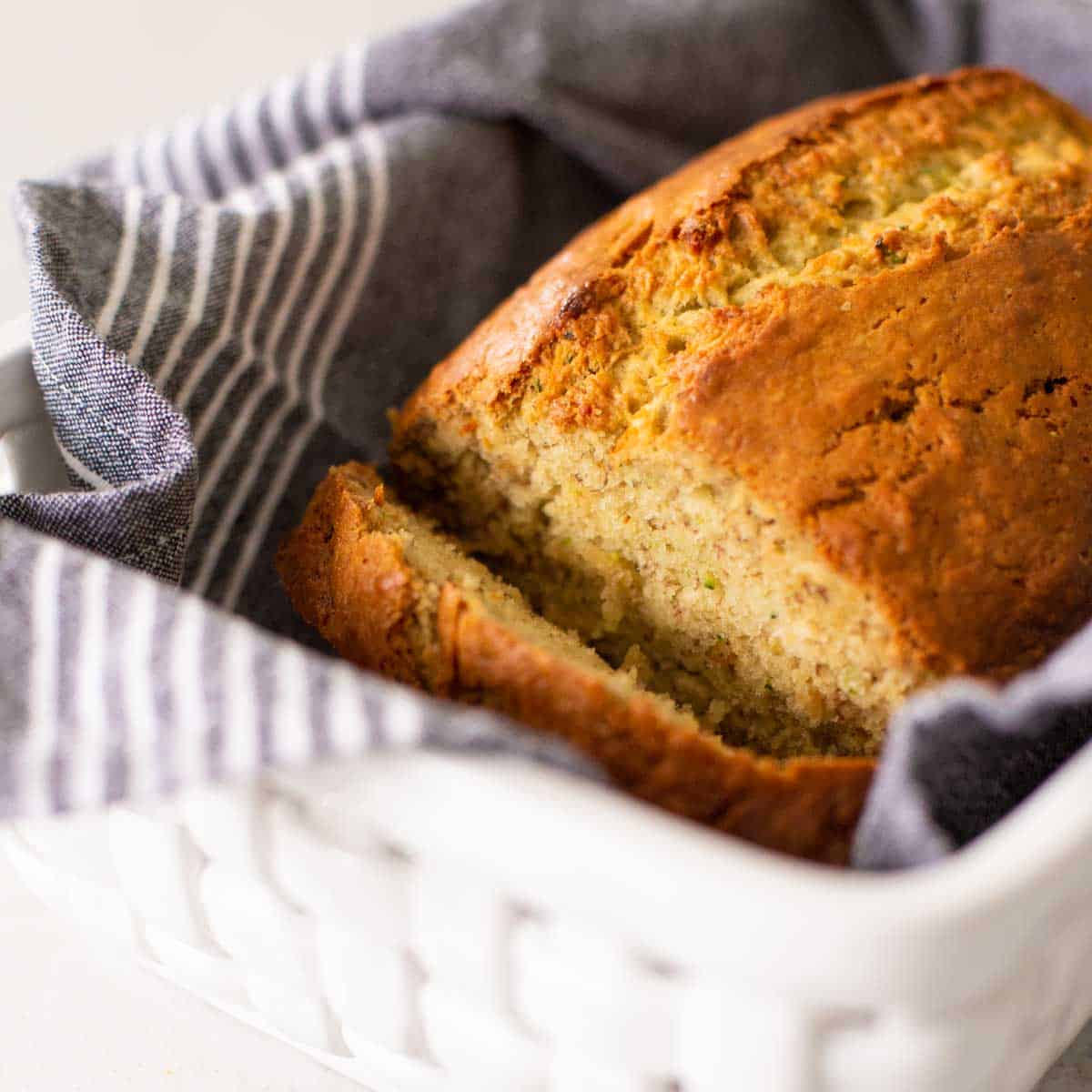 I've never been a huge fan of bananas, but this banana bread recipe has a very special place in my heart. It is one of the first recipes where I learned to enjoy their flavor, thanks to the generous dose of zucchini included in the batter.
I've been making this recipe for over a decade, it is one of my girls' all-time favorite breakfast treats. They get so excited when they smell it baking.
I first discovered it when the Peanut had a tummy bug when she was about 2. It was the only thing she could tolerate eating for several days and I loved knowing she was getting a fruit AND a vegetable into her with each serving.
It has stayed in our rotation ever since.
But if you don't want to use bananas, be sure to check out my classic zucchini bread recipe because it has lots of fun variation ideas included.
And if you're looking for more ways to use this prolific garden vegetable, don't miss my 30 zucchini recipe ideas here.
Why This Recipe Works
One Bowl: The entire recipe is mixed together in just one mixing bowl so there's almost no mess to clean up after.
Ten Minutes: Shredding the zucchini will be the most complicated step and the recipe can be prepped super quickly.
Crispy Crust: The crust is the BEST part. It has a fantastic sugary crispness. We all fight over the end pieces.
Moist Center: The bread is very thick and deliciously tender.
Looking for a lighter, fluffier banana bread recipe? You'll love our bread machine banana bread recipe with pecans for sure.
Jump to:
Ingredients
This easy banana quick bread recipe has a short list of ingredients, you likely have most of this in your pantry right now!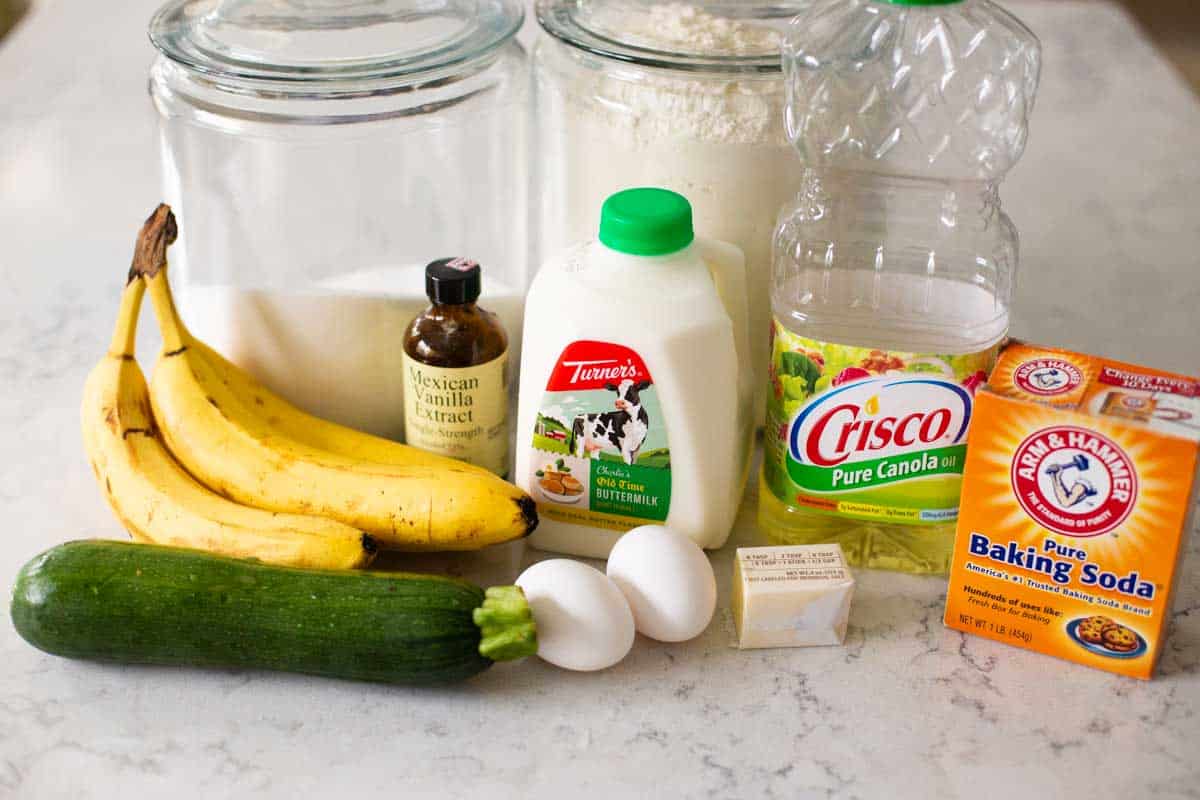 Flour
Sugar
Buttermilk *See recipe card for an easy substitution
Canola oil
Eggs
Butter
Baking soda
Vanilla
Ripe bananas
Fresh zucchini
See recipe card for quantities.
Instructions
Preheat the oven to 350°F and grease a 9x5-inch bread pan with softened butter.
Mash the bananas in a large mixing bowl.
Add the wet ingredients: shredded zucchini, eggs, canola oil, buttermilk, melted butter, and vanilla.
Stir the wet ingredients together until everything is completely combined.
HINT: If the melted butter is still hot, don't pour it directly onto the raw eggs or they'll begin to cook. I prefer to mix the melted butter into the batter and then add the eggs. This helps cool the butter down before it touches the raw egg.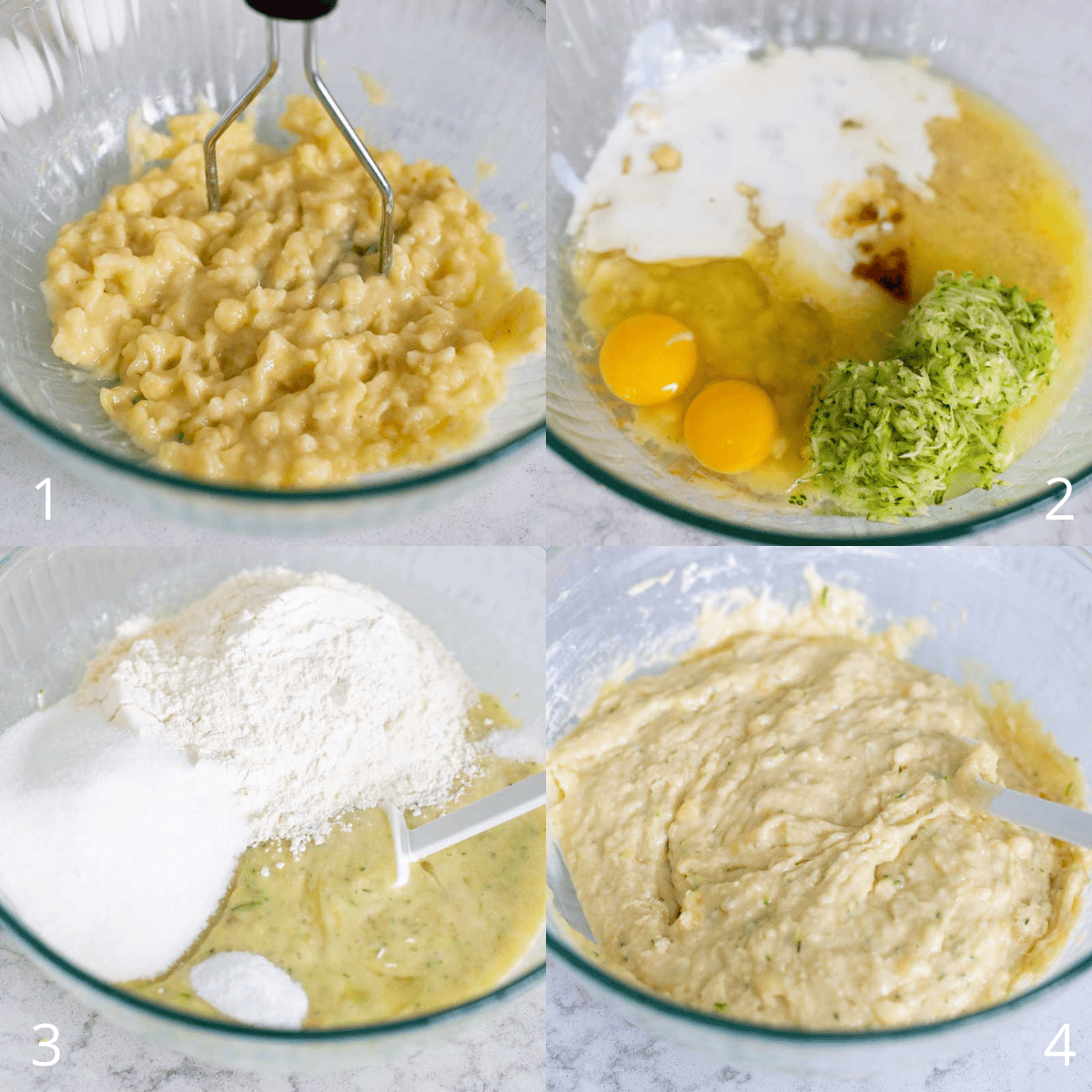 Add the dry ingredients: Once the batter has been stirred, add the flour, sugar, baking soda, and salt and stir it together.
Be sure to really scrape the bottom of the bowl, you don't want any hidden dry pockets of flour in your batter.
Pour the batter into your prepared baking pan. Smooth it out and nudge it into the corners.
Run your spatula down the center of the bread to help even it out.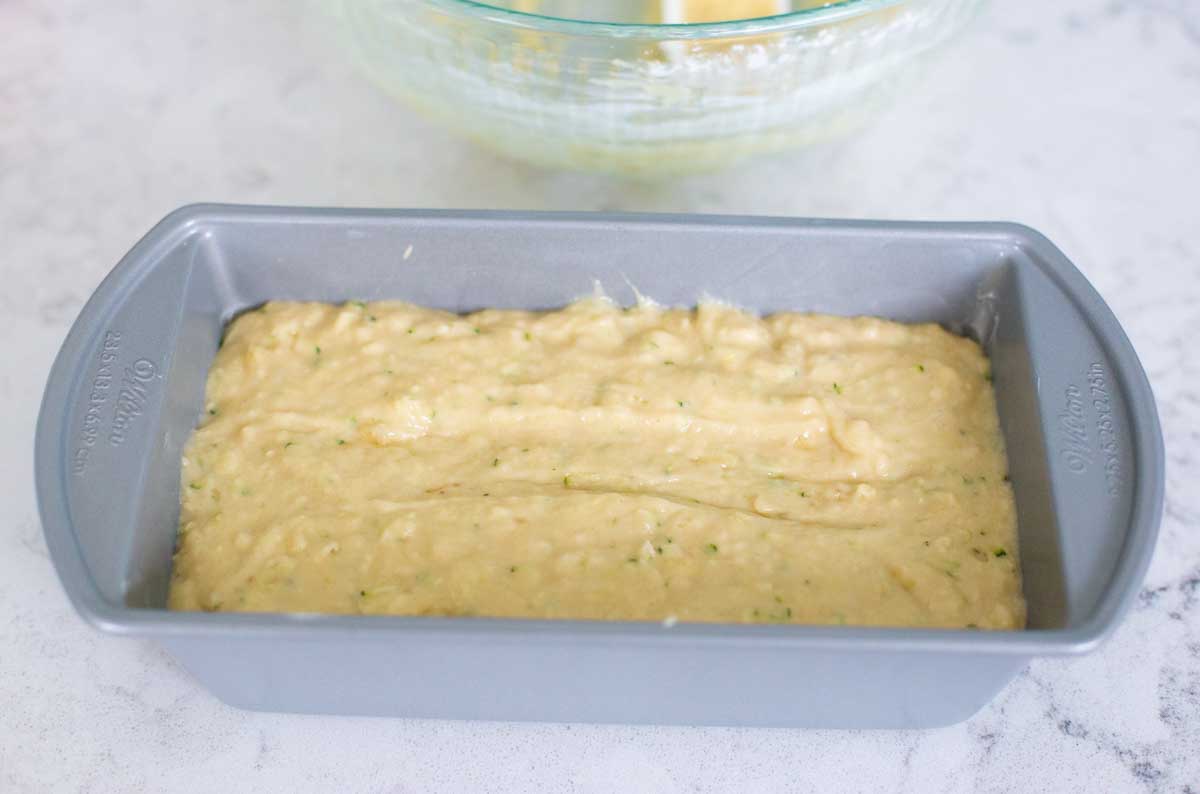 NOTE: I have found a basic metal bread pan to be the best tool for this recipe. I have a prettier ceramic baking dish with ruffled edges but it tends to burn the outer crust before the inside of the bread is finished baking.
Bake the bread for 60 - 70 minutes or until a toothpick inserted in the center comes out clean.
The outer crust will develop a deep golden brown color but the inside could still be very much underdone. You absolutely need to do the toothpick test to be safe.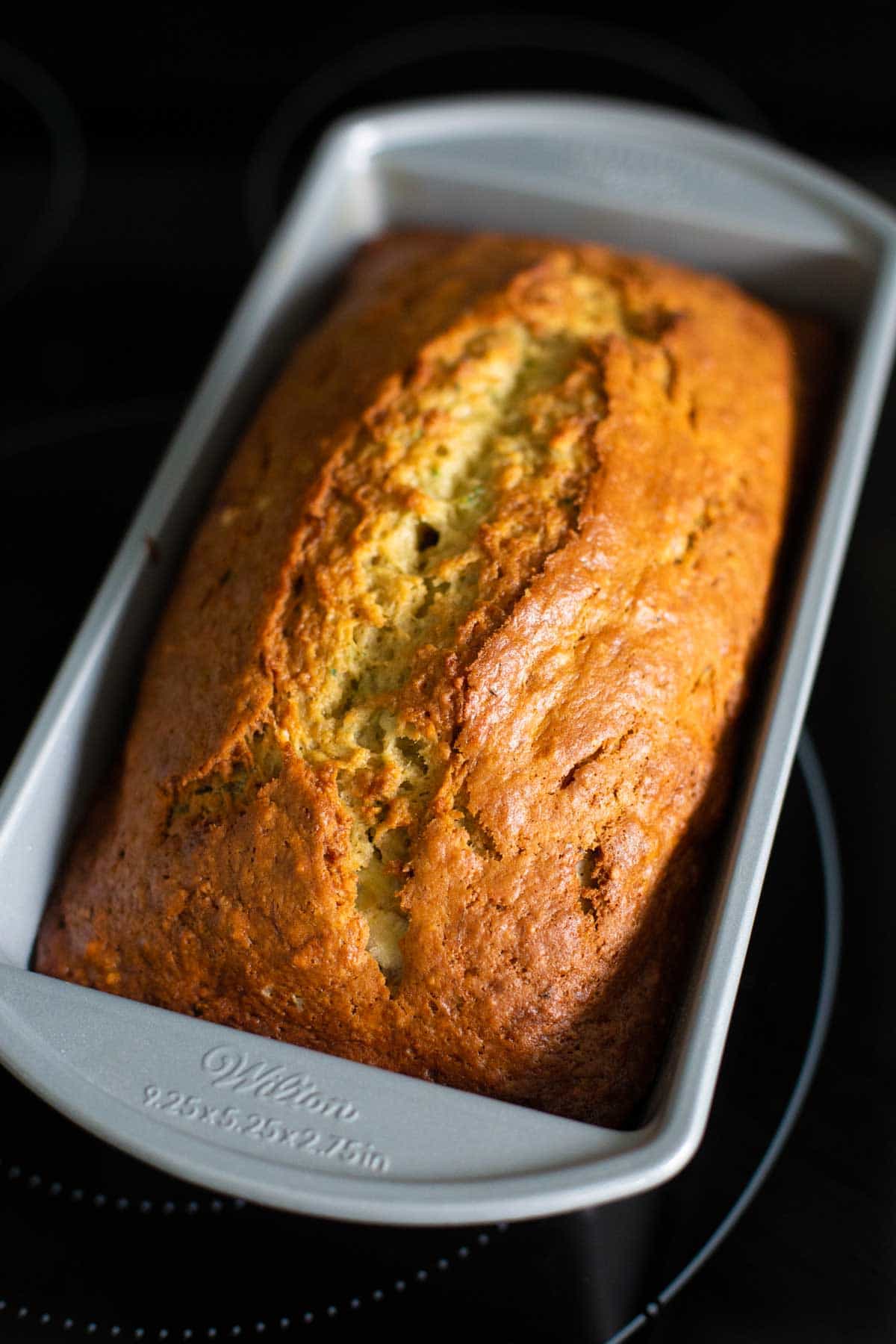 This is a very thick batter and the center takes a long time to cook properly. If your bread is getting too dark, you can cover it with aluminum foil to help prevent further browning.
If you've greased your baking pan with butter, your quick bread should pop right out easily for serving.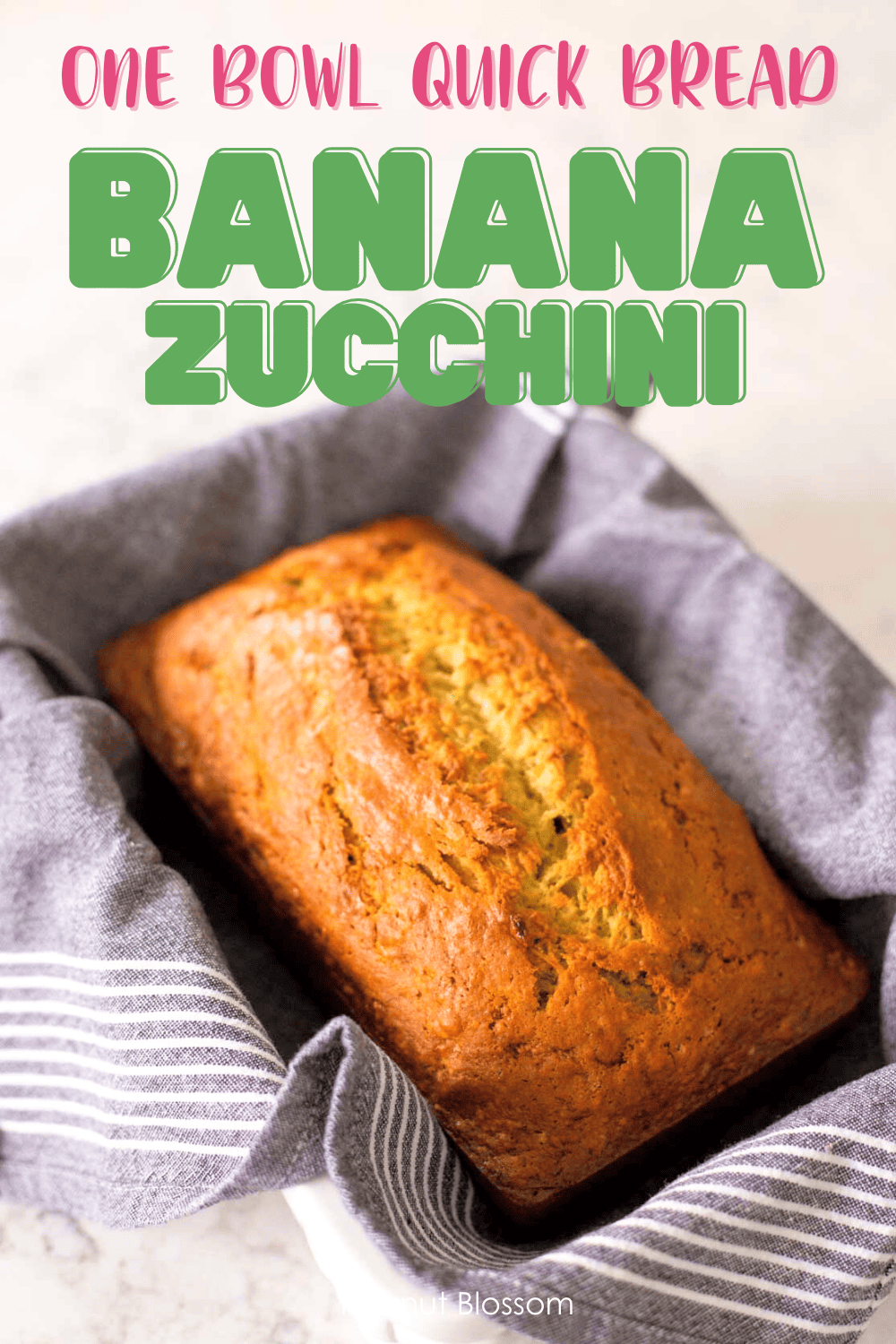 Variations
This is banana zucchini bread is simply perfect as is, but these would be some fun ways to mix things up a little:
Chocolate Chip Banana Zucchini Bread - Toss ½ cup chocolate chips in 1 tablespoon flour and stir them into the batter just before adding to the pan. (This helps prevent the chocolate from sinking to the bottom of the quick bread.)
Banana Nut Zucchini Bread - Add ½ cup of your favorite chopped nuts to the batter just before adding to the pan. Pecans or walnuts would be excellent.
Cinnamon Spice Banana Bread - Add 1 teaspoon cinnamon and ¼ teaspoon nutmeg to the batter along with the dry ingredients.
Banana Streusel Muffins: Spread the batter out into a muffin pan and top with this easy homemade streusel mix.
Storage
This quick bread rarely lasts more than a couple days at our house. It is best served warm the day it is baked but keeps well in an airtight container for 3 days.
To Freeze: Cool the banana bread completely, wrap in aluminum foil, and freeze for 3 - 6 months. Simply loosen the wrappings to prevent condensation on the bread and thaw in the fridge overnight.
Top tip
Remember, the batter will be very thick and it takes a long time to bake completely through. Be sure to prick the center with a toothpick to test for doneness.
Recipe FAQs
How do I know the bananas are ripe enough?
Usually the bananas I use in this recipe are 2 - 3 days from the grocery store purchase. They have a smattering of black or brown polka dots on the outer peel but haven't completely turned color yet.
Can I use frozen bananas in banana bread?
This is a great way to store bananas if you don't have time to bake them up right away. Just store the whole banana in an airtight container in the freezer. Thaw in the fridge overnight, remove the peels, and proceed through the recipe as directed.
What's the best way to shred the zucchini?
Rinse the zucchini well. Trim off one end with a knife. Then simply use the medium grate on a box grater placed over a plate to catch the shredded zucchini. You do not need to wring the moisture from the zucchini before using. Just measure what you need with a dry measuring cup and add it to the batter.
Easy Breakfast Treats
Looking for a few more ideas to add to your breakfast menu? These delicious baked treats are perfect for a special weekend breakfast or festive brunch:
If you've tried this banana zucchini bread or any other recipe on PeanutBlossom.com please don't forget to rate the recipe and let me know where you found it in the comments below. I love hearing from you!
FOLLOW along on Instagram @peanut.blossom as well as on Pinterest and Facebook.
📖 Recipe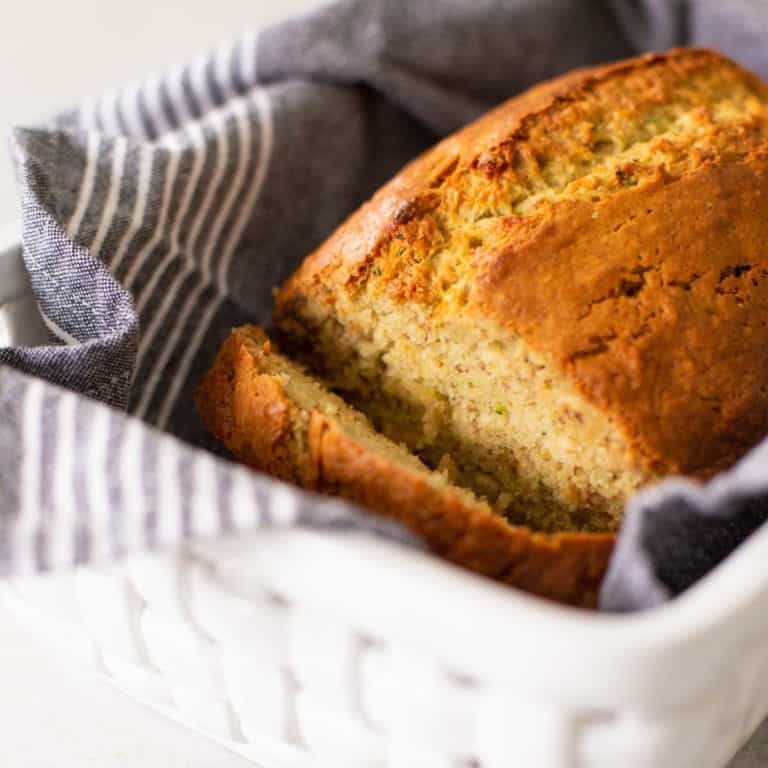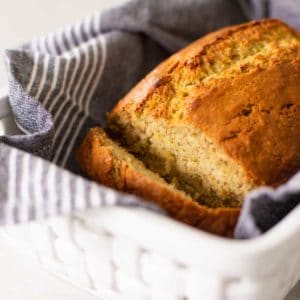 Banana Zucchini Bread
This easy quick bread combines banana and shredded zucchini for a moist and delicious breakfast treat.
Ingredients
3

very ripe bananas

mashed

½

cup

grated zucchini

3

tablespoon

melted butter

3

tablespoon

canola oil

¼

cup

buttermilk

*See Notes for substitution

2

large eggs

1

teaspoon

vanilla extract

2 ½

cups

all purpose flour

1

cup

sugar

1

teaspoon

baking soda

½

teaspoon

salt
Instructions
Preheat the oven to 350°F with the baking rack in the center of the oven. Coat a 9x5-inch loaf pan with 1 tablespoon softened butter and set aside.

Mash the bananas in a large mixing bowl. Add the shredded zucchini, melted butter, canola oil, buttermilk, eggs, and vanilla. Stir together with a spatula until well blended.

Mixing Note: If you stir the melted butter into the buttermilk first, it will help cool it down so it doesn't cook the raw eggs.

Add the flour, sugar, baking soda, and salt to the mixing bowl. Combine with the wet ingredients until just blended. Be sure to scrape the bottom of the bowl so you don't have any hidden dry pockets of flour.

Pour the batter into your greased loaf pan and run a spatula down the center to pop any air bubbles.

Bake for 60 - 70 minutes or until golden brown and a toothpick comes out clean with moist crumbs attached. It is a very thick bread and may require a little more time depending on your oven.

Cool the bread for at least 15 minutes before slicing.
Recipe Notes
Buttermilk Substitution:
You can make your own buttermilk substitution by combining ¼ cup milk and ¾ teaspoon lemon juice, let sit for 5 min before using in the recipe.
Save This Recipe to Your Recipe Box
Find this delicious recipe next time you visit by saving it to your very own recipe box on my site. All your favorites stored in one easy place!