This classic zucchini bread recipe is the perfect base for mixing in a wide variety of combinations of nuts and dried fruits. From chocolate chip zucchini bread to lemon blueberry zucchini bread, all the zucchini bread variations start right here: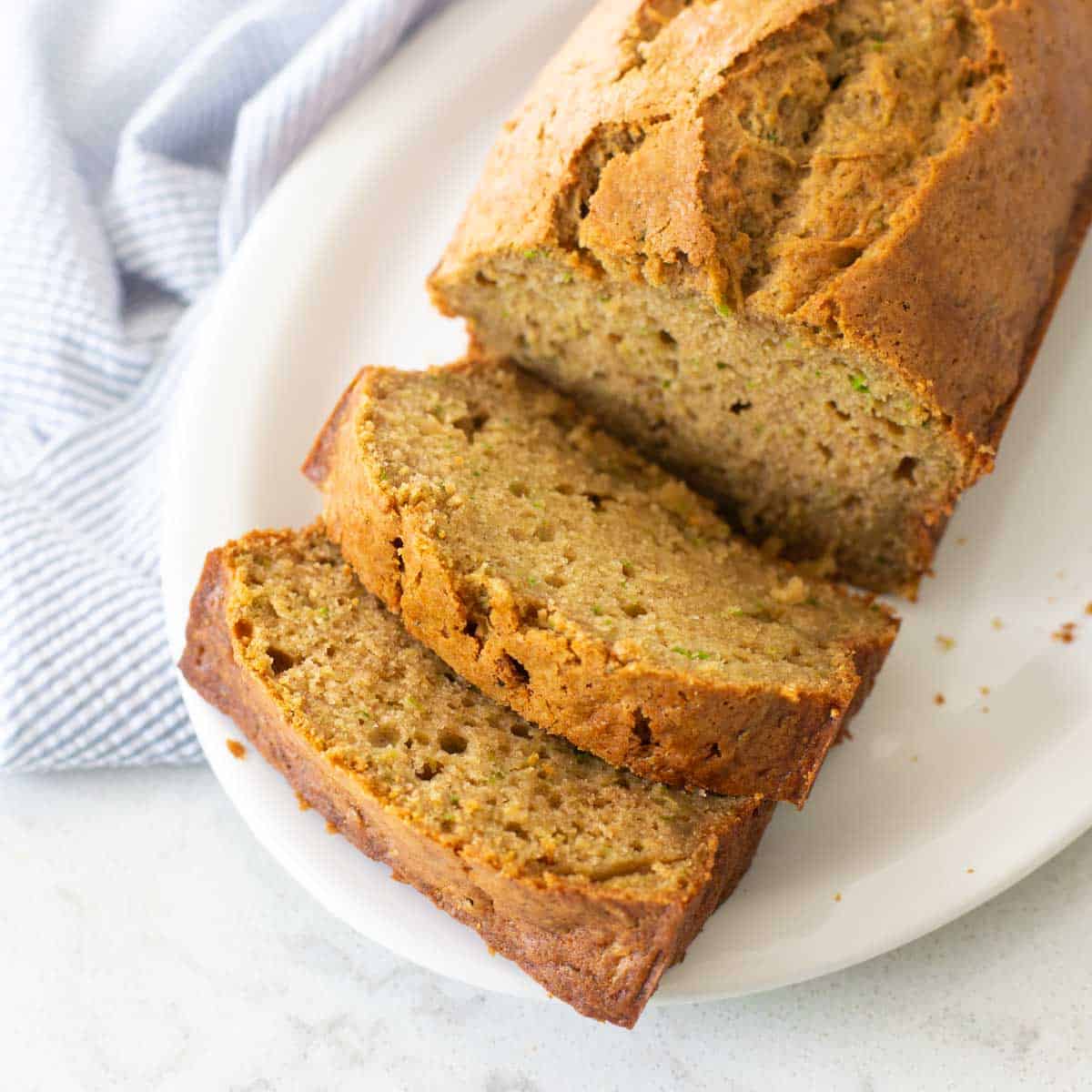 Zucchini bread is always the first recipe to look for when that classic summertime green veggie is popping up all over farmer's market stands or even in your own backyard garden.
This popular quick bread recipe is an annual tradition because the tender grated zucchini practically melts into the spiced bread batter.
This banana zucchini bread has been one of my favorite ways to sneak in a little veggie to my kids for years and years.
But my mother-in-law's version is loaded with chocolate chips and is so tasty it could easily pass as dessert!
Start with this classic zucchini bread recipe and then take your pick from the long list of easy mix-in's including dried fruits like raisins or dried blueberries and chopped nuts.
Mix together an easy quick bread recipe for a delicious breakfast treat this week or freeze one for later!
Or if you're swimming in zucchini from your garden, don't miss my favorite 30 zucchini recipes!!
Jump to:
Why This is the Best Recipe
This moist zucchini bread is the best recipe because:
Quick to Make: Measure a few easy ingredients and stir them together. The hardest part is grating the zucchini and it just happens to be one of the most easily grated veggies ever!
Moist but Easy to Slice: Quick breads can sometimes be a little tricky to slice neatly, but this zucchini bread cuts into beautiful slices while also being perfectly moist and delicious in every bite.
Not Too Sweet: Compared to so many breakfast bread recipes out there, this recipe is just delicately sweet. This leaves plenty of room for big flavor from the mix-ins you choose.
Blank Palette: With a mild vanilla flavor, the classic recipe is just a blank palette waiting for you to play. How about baking up a loaf with one of these awesome pairings:
- pecans and dried cherries
- chocolate chips and chopped walnuts
- dried blueberries and candied lemon
Ingredients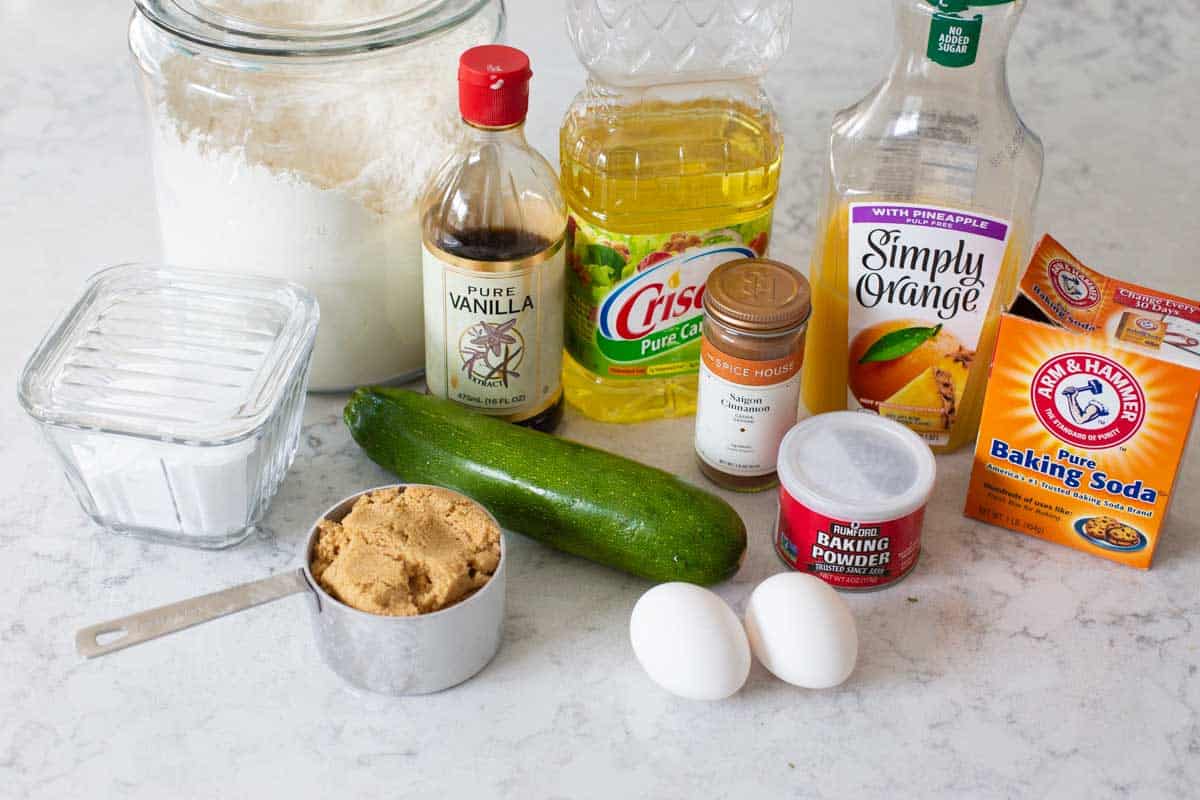 The entire recipe is made with mostly pantry ingredients plus fresh zucchini! All you need to bake it is:
Flour
Brown Sugar
Baking Powder and Baking Soda
Vegetable Oil
Eggs
Orange Juice: If you don't want to use orange juice or don't have any on hand, you can substitute milk.
Vanilla
Cinnamon
Fresh Zucchini
How to Prep the Zucchini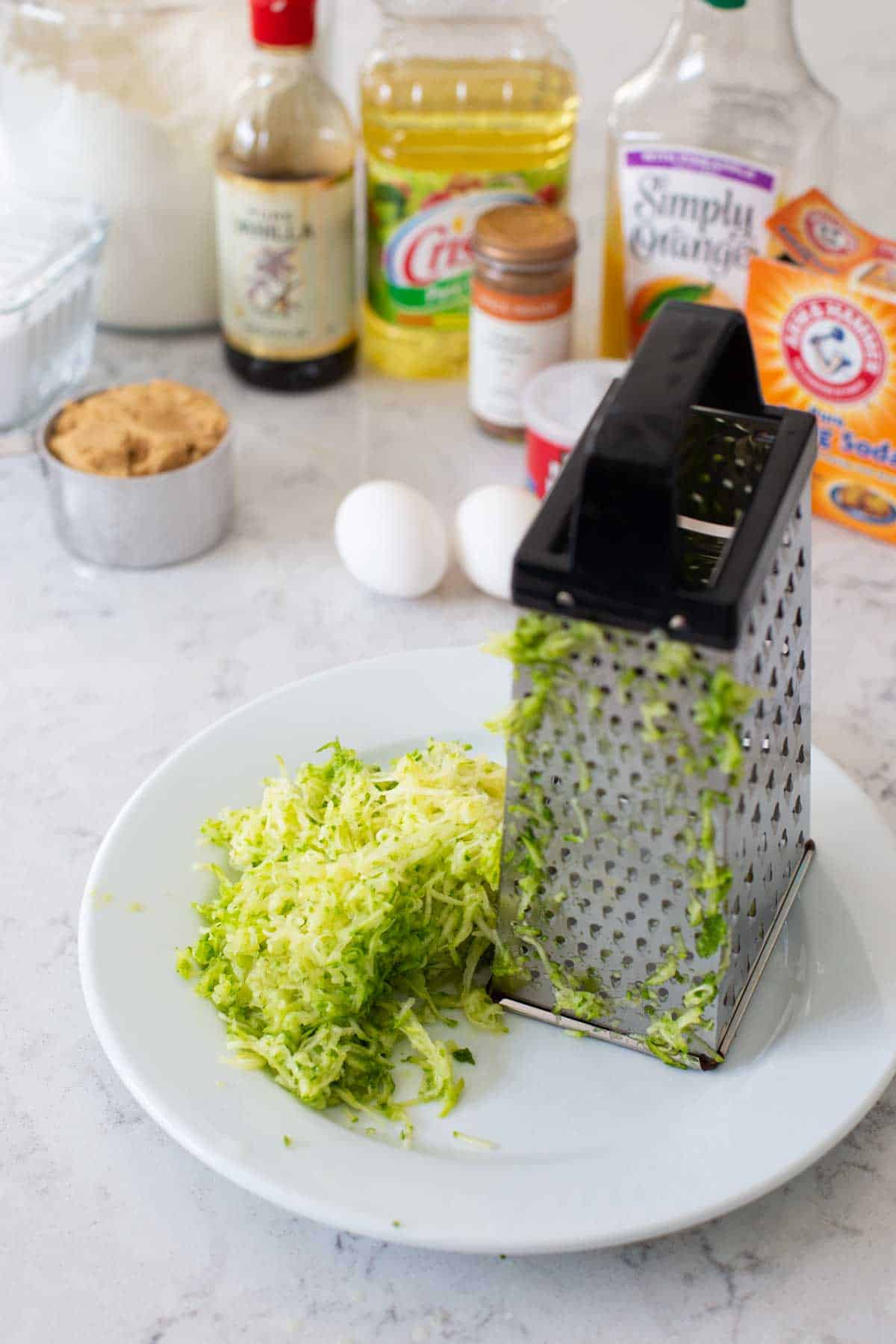 I love how easy it is to grate fresh zucchini. You don't even need to peel it!
Simply scrub the vegetable in cold water. Slice off one end and grate the zucchini on a box grater on the medium grate side.
I place the box grater over a clean plate to collect all the shredded zucchini and any liquids. This makes it easy to measure what I need and keep my workspace clean.
Make the Quick Bread Batter
Mix the wet ingredients together in a large mixing bowl and the dry ingredients in a separate mixing bowl. This helps to ensure that the cinnamon is well blended all throughout the batter.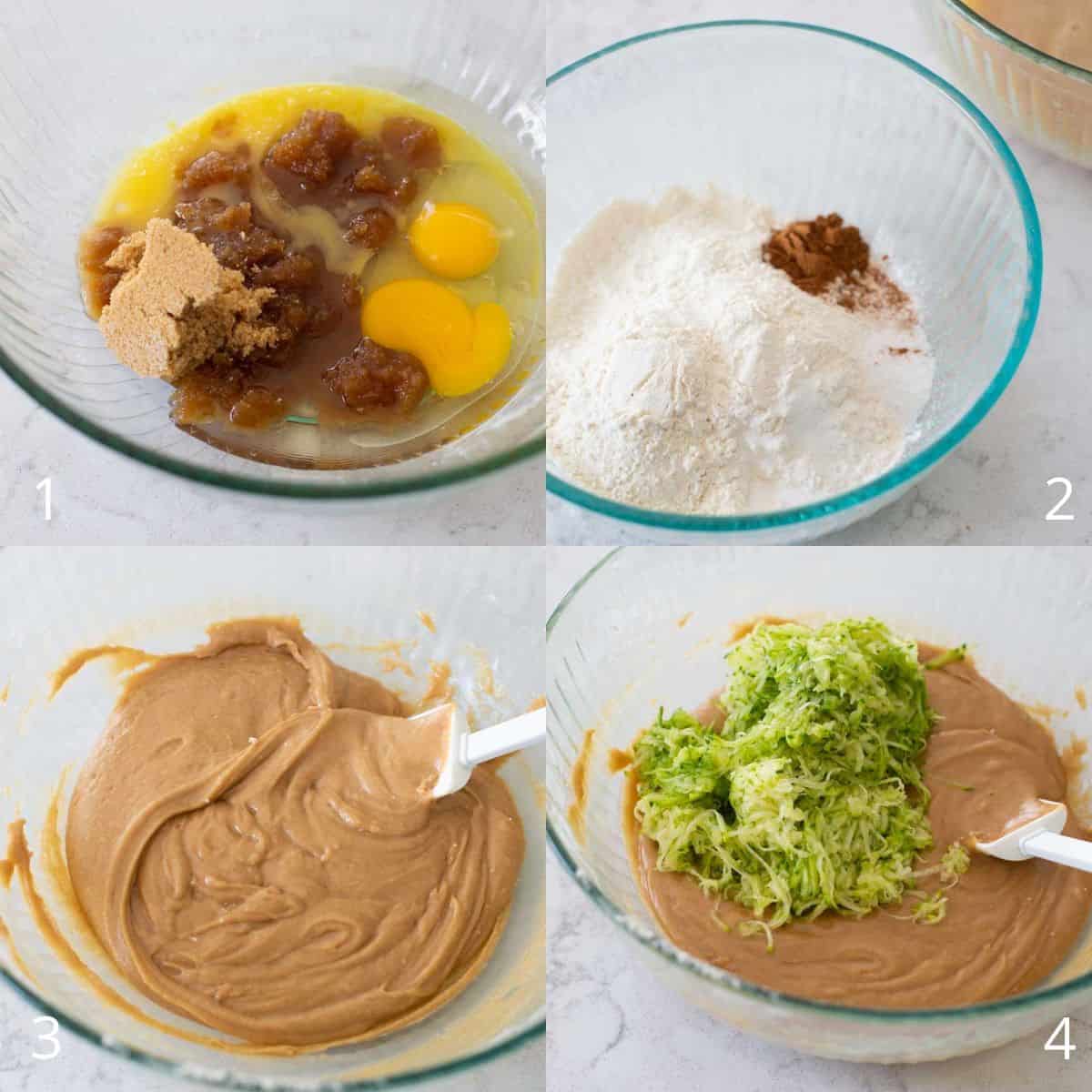 The quick bread batter is very thick before you add the shredded zucchini. The juices from the grated vegetable will help to loosen things up as you fold it in.
Baking Instructions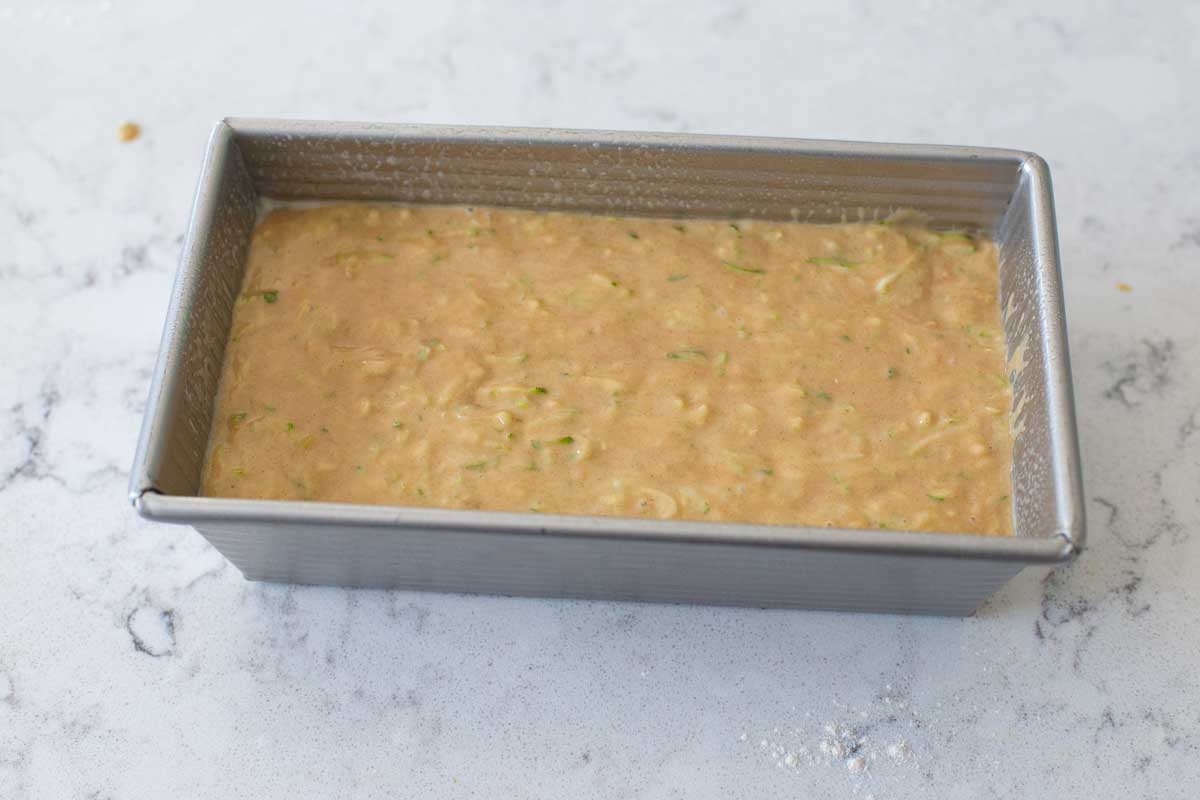 Spray an 8-inch bread pan with cooking spray. Preheat the oven to 350°F.
Spread the zucchini bread batter evenly in the pan. Bake for 60 - 70 minutes or until a wooden skewer or toothpick inserted in the center comes out clean.
NOTE: This quick bread batter is very thick and dense. It can easily be baked perfectly towards the top but still be underdone at the base.
I prefer to use a long wooden skewer, like for making kabobs to grill, to check the doneness all the way through to the bottom.
Let the bread cool for 10 minutes in the pan before turning it out. Let cool completely before slicing.
Best Mix-In Options
This classic zucchini bread is the perfect base for mixing in a wide variety of delicious ingredients.
Mix and match just 1 or 2 from the following list:
¾ cup chopped nuts: walnuts or pecans would work best
¾ cup dried fruit: golden or traditional raisins, currants, dried cranberries, chopped dried cherries, dried blueberries, etc.
¾ cup baking chips: chocolate chips, white chocolate chips, butterscotch chips
2 tablespoons candied fruit peel: lemon or orange zest
If you try to add more than a total of 1 ½ cups of mix-ins, you may need a larger bread pan and you might have trouble neatly slicing pieces so I recommend just one or two of the options from the list above.
Zucchini Bread Variations
One of the reasons moist zucchini bread is so popular is that it takes on the flavors of whatever you mix into the batter!
Want to play with a new variety altogether? Try one of these fun variations:
Applesauce Zucchini Bread
To make a lighter quick bread without all the oil, you can make an applesauce zucchini bread by substituting a 1:1 ratio of applesauce for the canola oil.
Double Chocolate Zucchini Bread
To make a double chocolate zucchini bread that has a chocolate bread crumb and chocolate chips, simply add ⅓ unsweetened cocoa powder to the dry ingredients and stir in ¾ cup chocolate chips before spreading the batter in the pan.
Chocolate Chip Zucchini Bread
This is the easiest variation! To make a chocolate chip zucchini bread, simply stir in ¾ cup chocolate chips to the prepared batter.
Lemon Zucchini Bread
To make a lemon zucchini bread, simply add the zest of one lemon and 2 teaspoon of fresh lemon juice to the batter. You could drizzle this vanilla glaze over the top or even add more lemon zest to the glaze.
Blueberry Lemon Zucchini Bread
Fresh blueberries can be a little tricky to bake with. If you're not careful, they'll turn your whole recipe purple.
It is much easier to bake with dried blueberries. Mix ¾ cup of dried blueberries with the zest of 1 lemon and 2 teaspoon of lemon juice for a delicious blueberry lemon zucchini bread.
Banana Zucchini Bread
This has been one of my favorite zucchini bread variations since my oldest was just an itty-bitty. I'm not usually a fan of banana bread, but I absolutely love this banana zucchini bread recipe:
Storage Tips
The baked zucchini bread will keep, covered in foil at room temperature, for several days.
You could also wrap it in foil and store in the fridge.
Slice it as you serve it, individual slices will dry out much more quickly than the covered loaf will.
Freezing Instructions
Let the zucchini bread cool completely before wrapping tightly in aluminum foil.
Label your quick bread with the date and freeze it for up to 6 months.
You can easily thaw the quick bread in the fridge overnight.
Reheating Instructions
Since the quick bread slices so neatly, it makes a great option for toasting in your toaster.
We love to gently toast a slice and then spread a little bit of butter over it. YUM.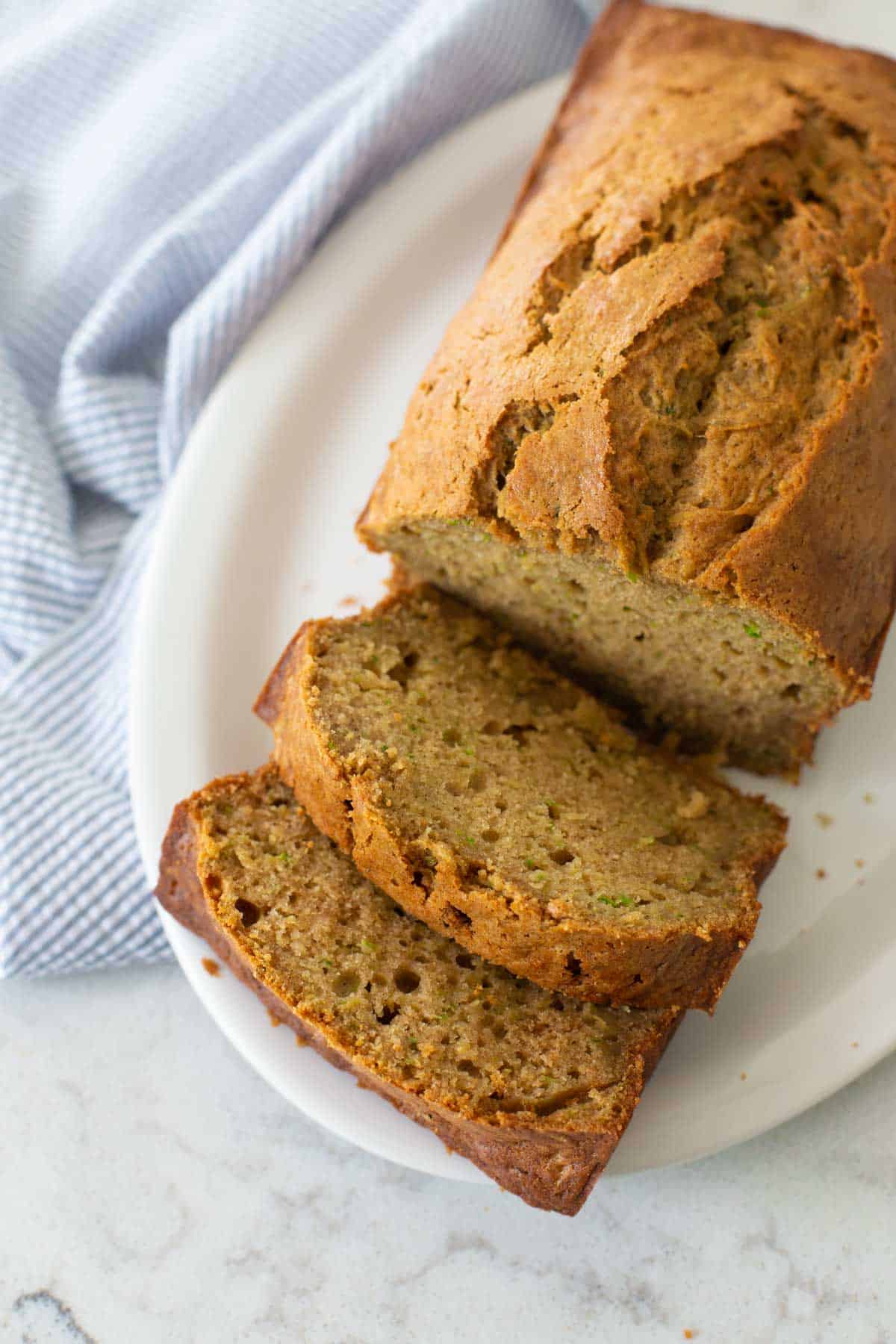 More Quick Bread Recipes
Love how easy quick breads are to bake? You won't want to miss some of my other favorite recipes: