This cheesy grated zucchini gratin is the perfect way to use up a little bit of leftover zucchini after making zucchini bread or other favorite zucchini recipes. Just 3 ingredients and 30 minutes to bake!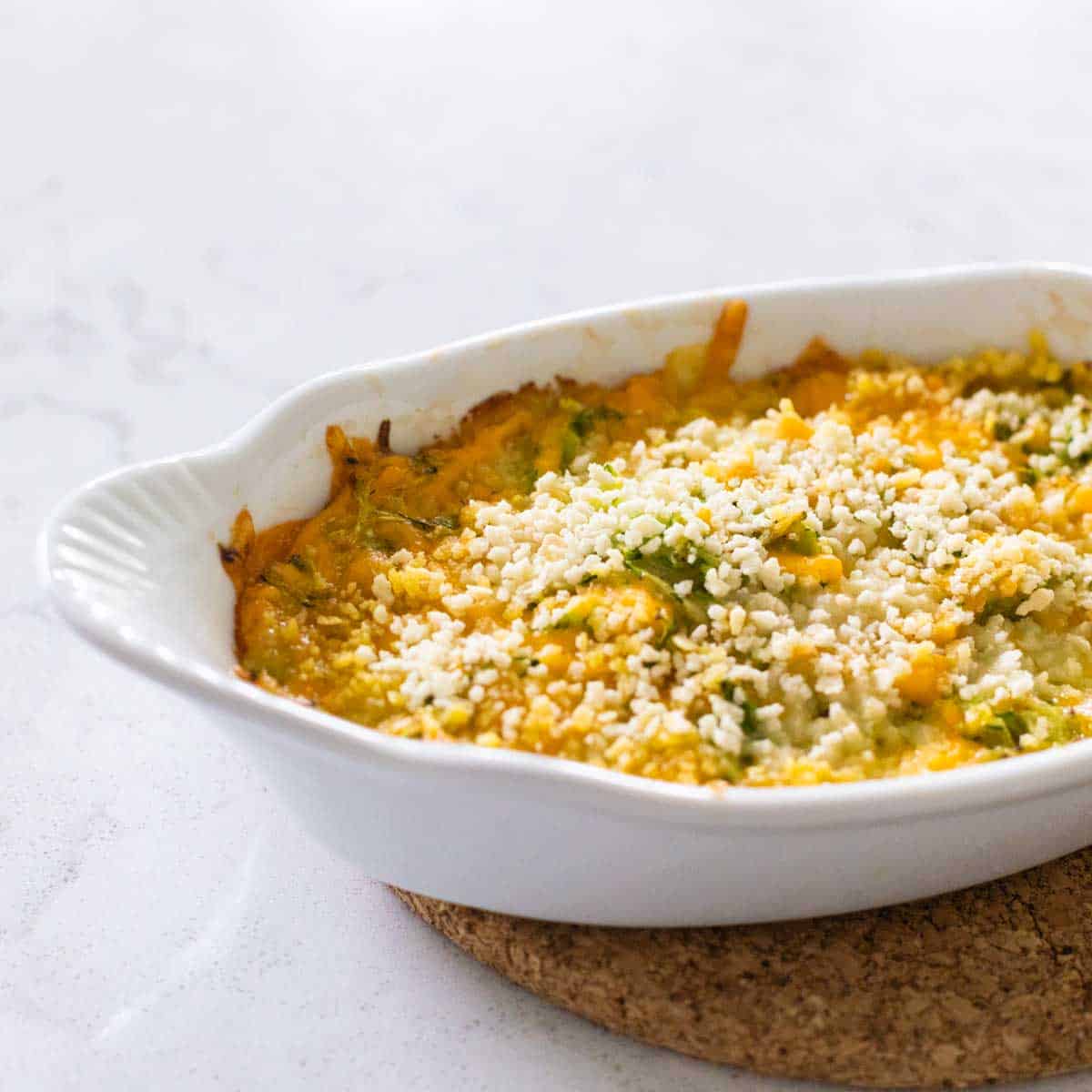 After I made my favorite banana zucchini bread, I realized I still had a lot of grated zucchini on my cutting board and I didn't want it to go to waste.
It turns out, grated zucchini makes the best cheesy gratin side dish for dinner with just a few ingredients!
I baked it with some breadcrumbs and served it to the kids at dinner alongside some baked chicken breasts and roasted mini potatoes. Everything was totally delicious and so easy, even on our busy school night.
Jump to:
Why This is the Best Recipe
If you've ever made a cheesy potatoes or cheesy vegetable side dish for dinner, you already know how cheese makes everything taste a little better.
However, this grated zucchini gratin is the best because:
Cooks FAST: The grated zucchini takes so little time to bake and practically melts into the gratin.
Just 3 Ingredients: Well, 4 if you count the zucchini itself. Play with those ingredients for so many variations, see my notes below for ideas!
Sneaky Veggies: This is a great way to entice "just a bite" of a new veggie for kids. The cheese and breadcrumbs help hide the zucchini in plain site. The grated texture makes it very palatable for picky eaters.
Ingredients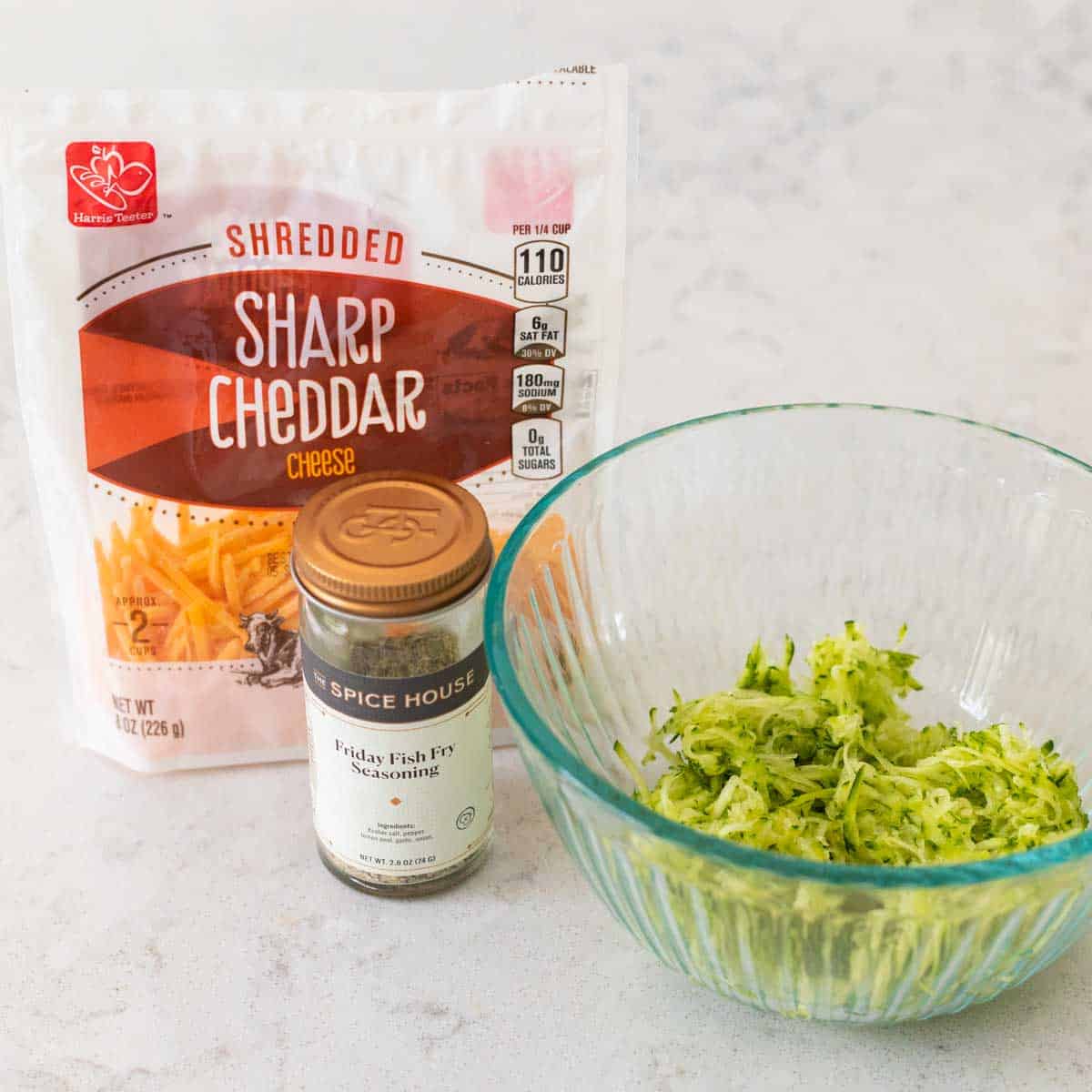 Here we go, are you ready?? The short list of things you need to make this dish includes:
Grated Zucchini: I just used what I had leftover after making zucchini bread but you could grate a whole zucchini if you have one.
Shredded Cheese: I used cheddar for this round but check out the fun variations I listed below.
Garlic Salt: This is another spot where you could play with the dish, be sure to see the variations.
Bread Crumbs: I used panko breadcrumbs because we love the texture of them but regular Italian style bread crumbs (seasoned or plain) would work, too.
How to Make It
Start by grating the zucchini, skin and all. I just used a box grater.
Trim the end off the zucchini and then grate until you reach the other end.
Add the grated zucchini to a mixing bowl and add the shredded cheese and seasonings. Toss it all together with a fork until evenly combined.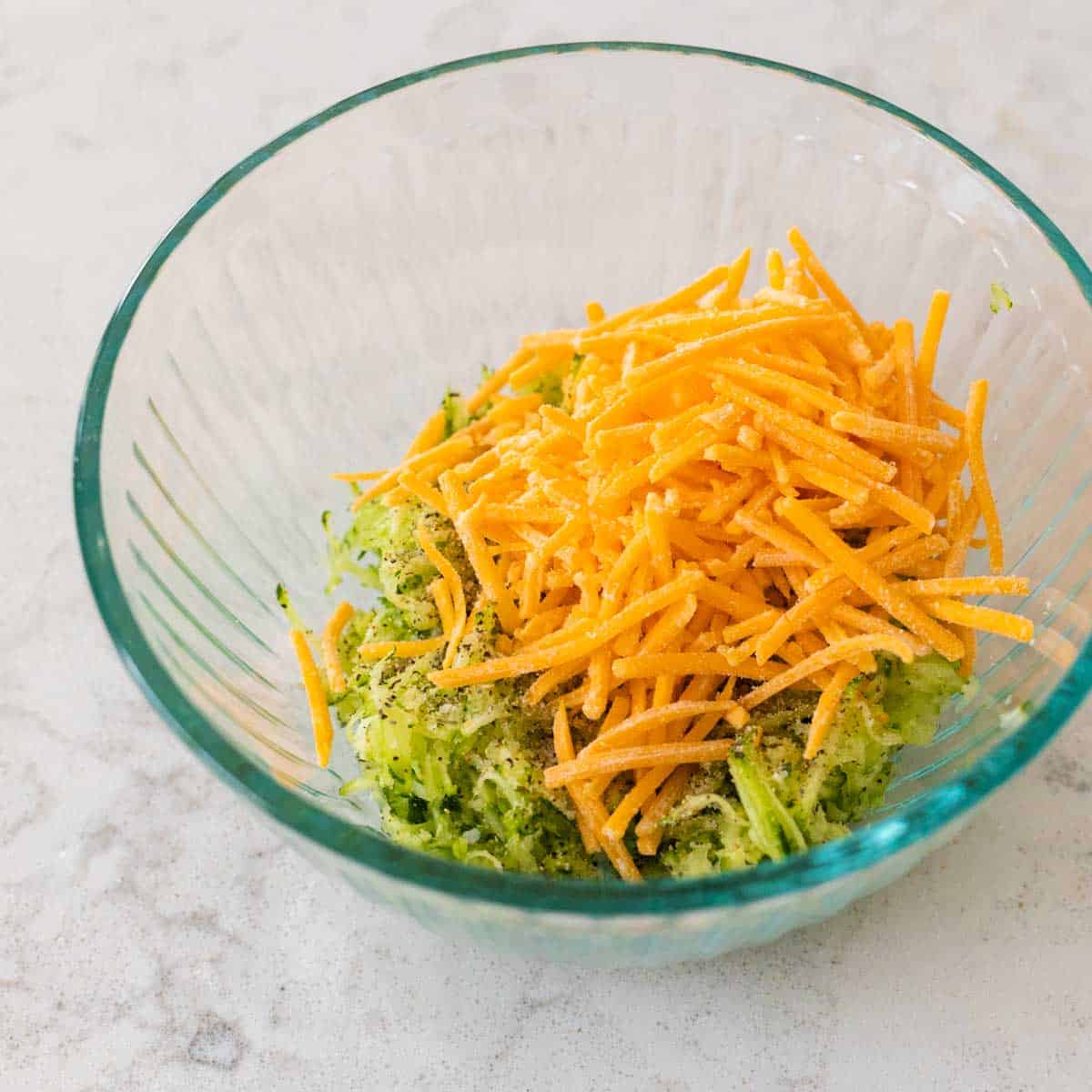 Baking Instructions
Preheat the oven to 350°F.
You'll need an oven safe baking dish. I used a small white gratin dish that I happened to have, but any small dish will do.
Spread the zucchini mixture into the dish and smooth it out into an even layer like this: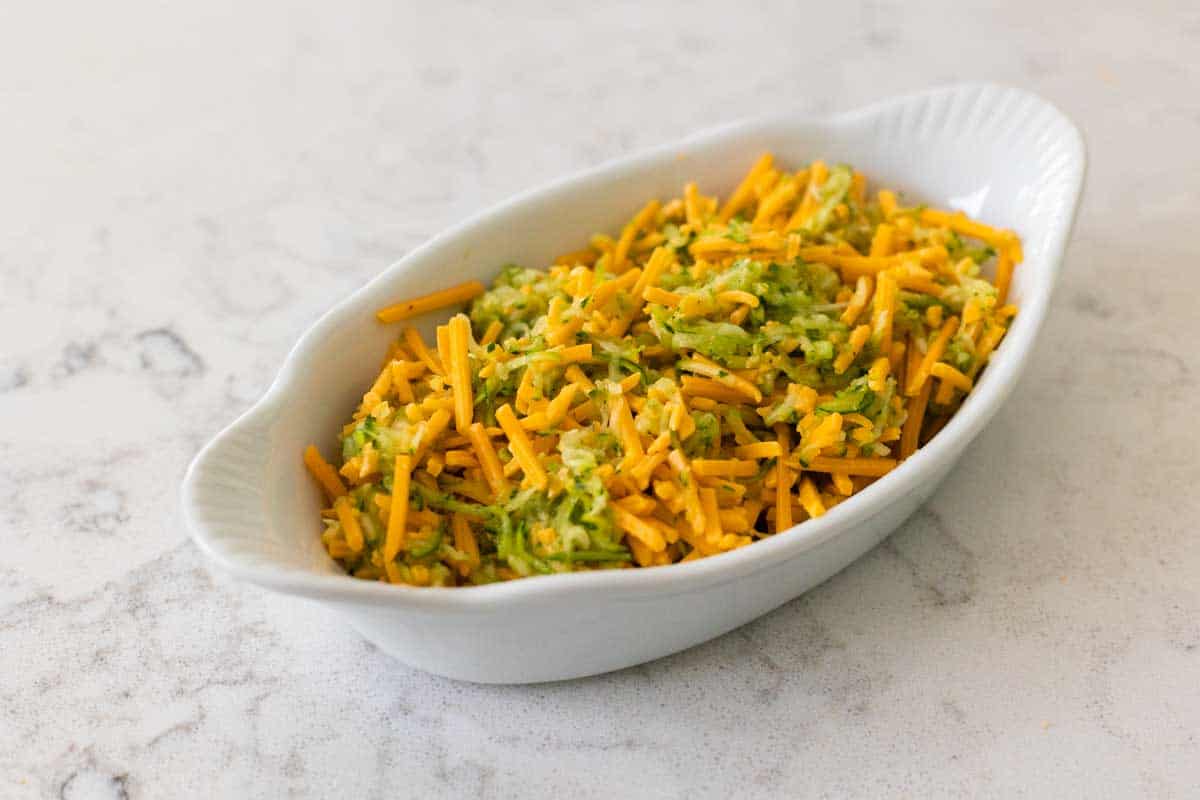 Sprinkle the breadcrumbs over the top of the gratin and bake the dish for 30 minutes or until the cheese is bubbling hot and the top has turned a golden brown.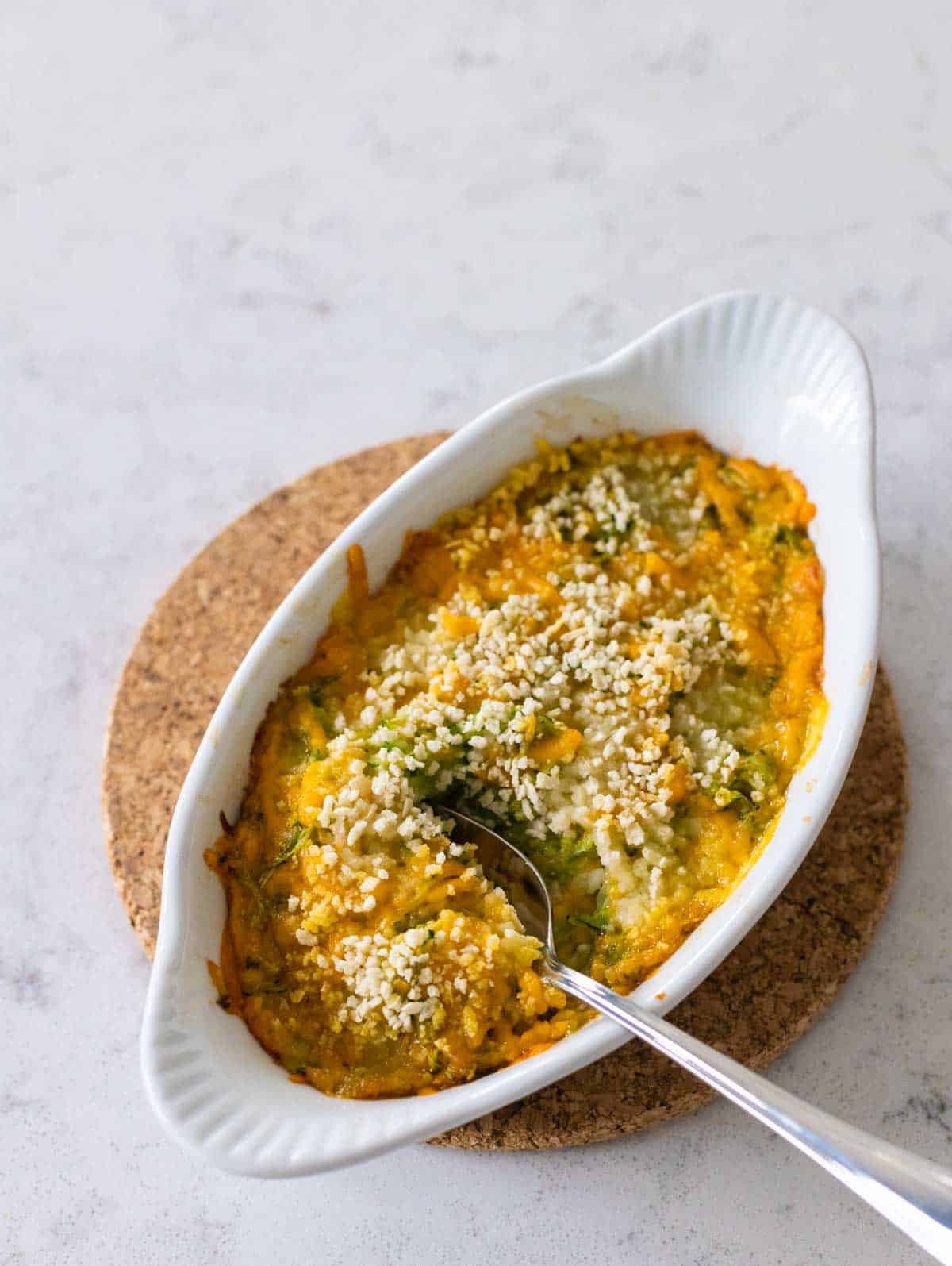 Serving Suggestions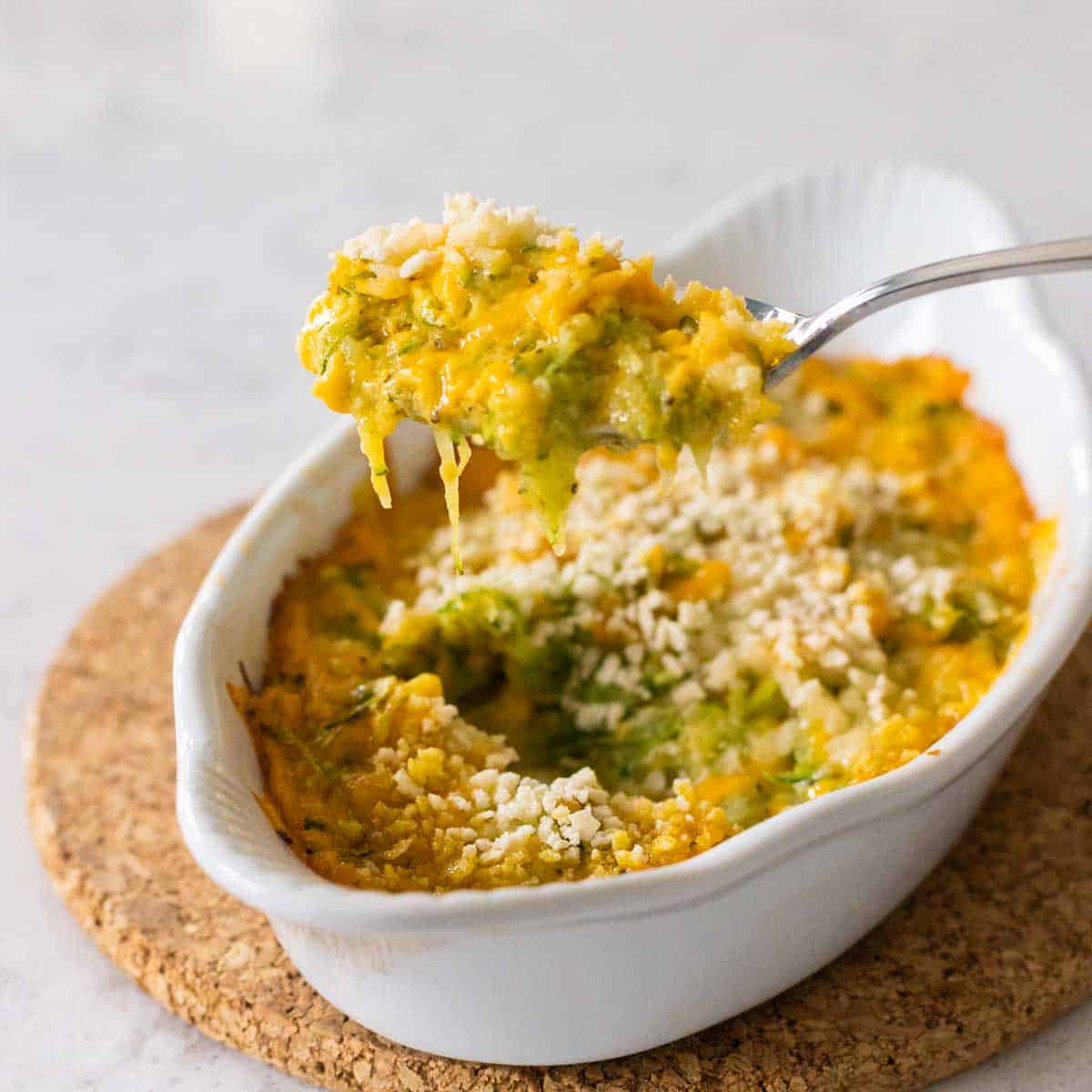 Let the dish rest on the oven for at least 5 minutes before serving.
This zucchini gratin tastes best when it is served warm or at room temperature. When it is too hot, you'll miss the flavor of the cheese.
This makes just a very small side dish, perfect for a hearty spoonful serving on each person's plate.
Variations
This super simple recipe is so easy to play with and match whatever dinner you're planning.
Here are a few fun ideas to try next:
Garlic Parmesan Zucchini: Use shredded parmesan cheese, garlic salt, and Italian seasoned breadcrumbs
Spicy Mozzarella Zucchini: Use shredded mozzarella, crushed red pepper flakes and garlic salt, and Italian seasoned bread crumbs
Swiss Thyme Zucchini: Use shredded Swiss cheese, dried thyme, and a pinch of salt and black pepper
Mexi-Ranch Zucchini: Use shredded Mexican style cheese, ranch seasoning and panko bread crumbs
Cacio e Pepe Zucchini Gratin: Use shredded parmesan, a pinch of kosher salt, and lots of fresh cracked pepper. You could drizzle just a bit of olive oil over Panko bread crumbs
Cheesy Squash Casserole: If you're looking for a larger side dish for your family, my old fashioned squash casserole has all the same flavors but uses the whole squash.
📖 Recipe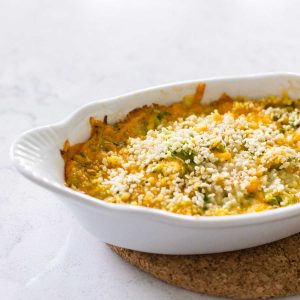 Grated Zucchini Gratin
Use up the leftover grated zucchini after making zucchini bread to make this quick and easy cheesy gratin side dish for dinner. Mix and match your favorite shredded cheese and seasonings, bake with a sprinkle of breadcrumbs until hot and bubbly, and serve warm. This makes 4 "just a taste" servings or 2 generous side dish servings.
Ingredients
1

cup

shredded zucchini

from about ½ a large zucchini

½

cup

shredded cheddar cheese

½

teaspoon

seasoned salt

see notes

¼

cup

breadcrumbs
Instructions
Preheat the oven to 350°F.

In a medium sized mixing bowl, combine the shredded zucchini, shredded cheese, and seasoned salt (or other herb blend) with a fork until well combined.

Transfer the zucchini mixture to a small 2-cup gratin baking dish and spread evenly. Sprinkle the top with the breadcrumbs.

Bake for 30 minutes or until the cheese is bubbling and slightly toasted around the edges. Serve warm or at room temperature.
Recipe Notes
Variations:
Instead of the seasoned salt and/or cheddar, you could use any of the following:
A big sprinkle of garlic salt and Italian herb seasoning blend
Greek herb blend
Regular kosher salt and black pepper with grated fresh lemon zest
Crushed red pepper flakes 
Shredded mozzarella cheese
Shredded Swiss cheese
½ shredded parmesan and ½ shredded mozzarella
Save This Recipe to Your Recipe Box
Find this delicious recipe next time you visit by saving it to your very own recipe box on my site. All your favorites stored in one easy place!