This bread machine banana bread is a yeasted version of the classic recipe and is easy to slice. Add a dot of savory pecans for a bit of crunch. Warm and comforting, the heavenly aroma of cinnamon-spiced bananas baking soothes the soul. You'll find the loaf to be lighter and fluffier than your regular quick bread. This easy bread machine recipe is featured in The Ultimate Bread Machine Cookbook.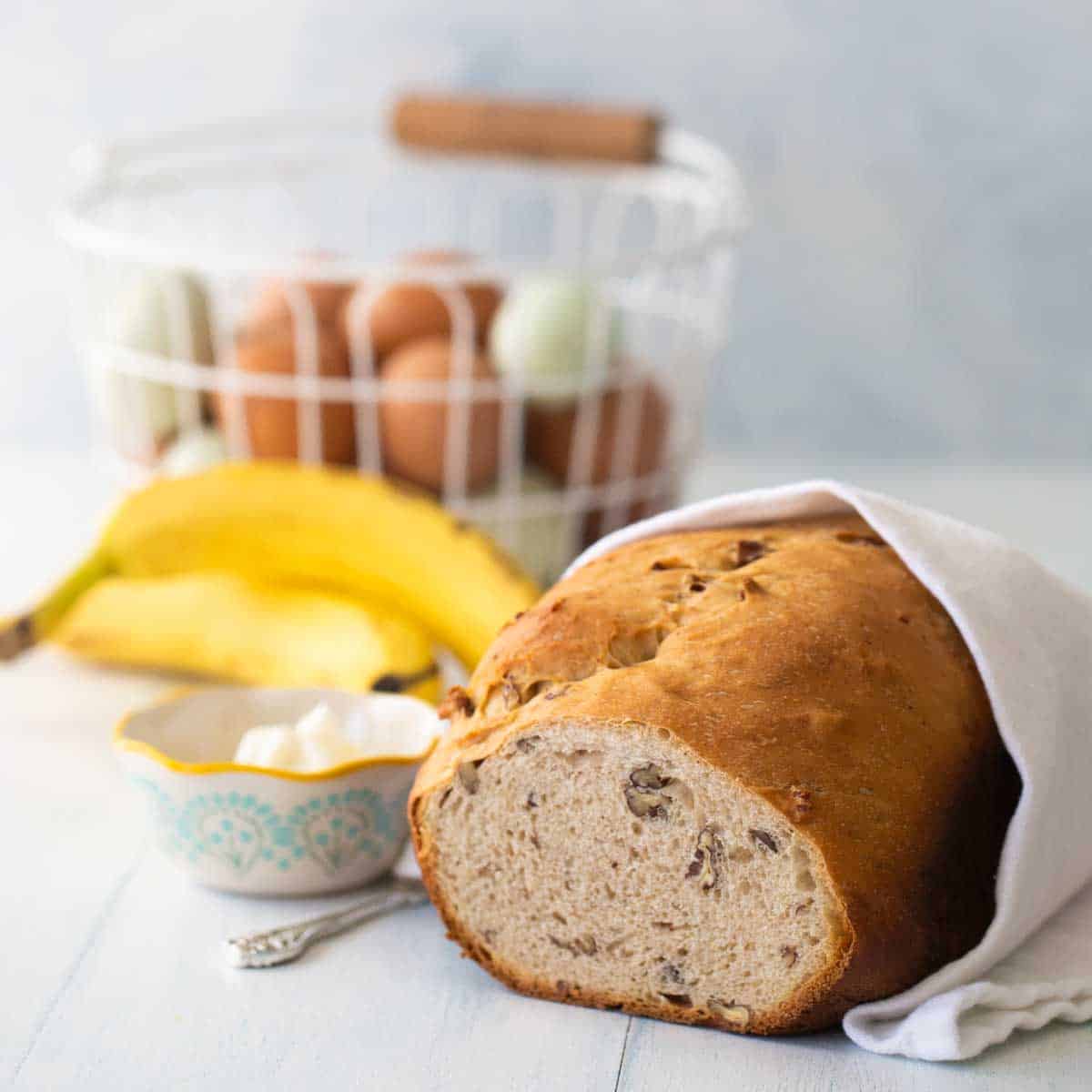 Traditional quick bread banana bread is filled with tons of sugar and butter, sometimes even cooking oil. It's delicious, but definitely a treat.
If you'd like to try a lighter, healthier version of everyone's favorite way to use ripe bananas, this is the best banana bread recipe you'll ever find!
With just 2 tablespoon of butter and only 3 tablespoon of sugar in the 1.5-pound loaf, this yeasted banana bread has a lighter and fluffier texture with a crispy outer crust.
It is easy to slice and works perfectly in your toaster. Try making amazing peanut butter toast or spreading cream cheese or Nutella on it for a special breakfast treat.
This is one of our family's favorite recipes from The Ultimate Bread Machine Cookbook and we're so excited to share it with you.
Jump to:
Ingredients
This simple bread machine recipe has just a few easy ingredients: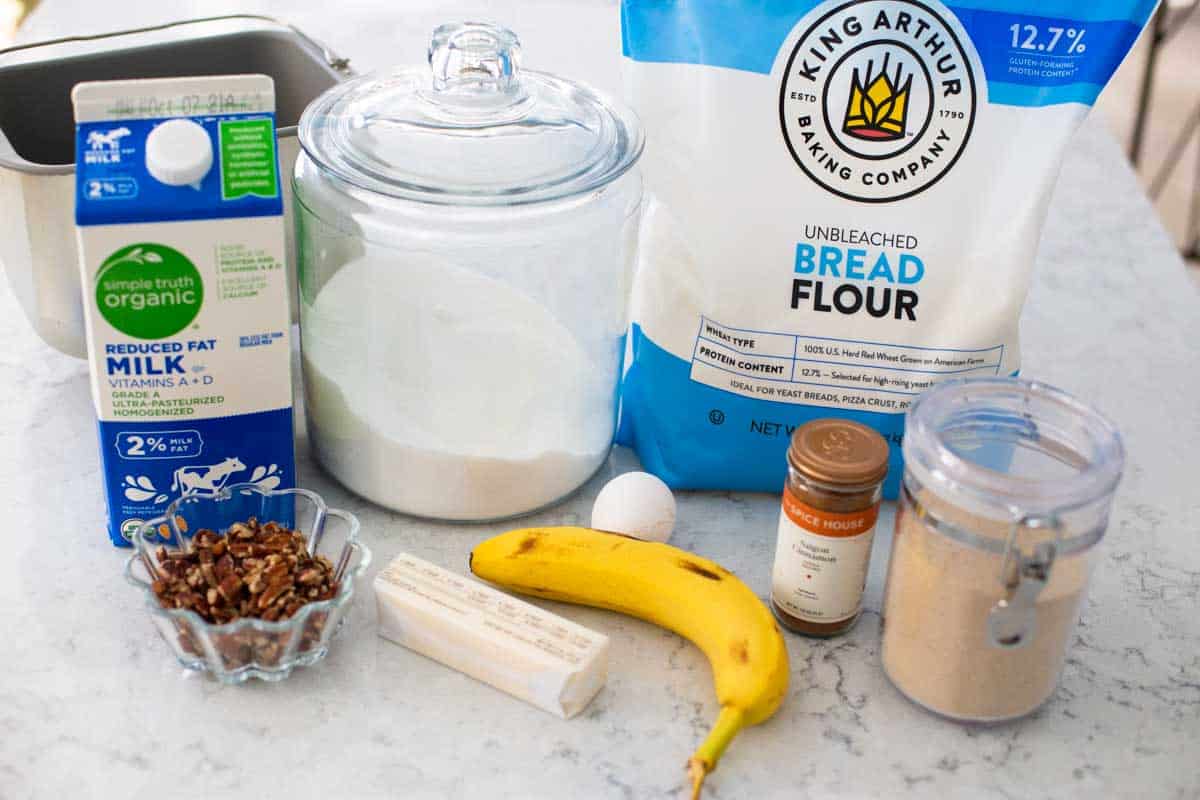 Fresh Bananas
Bread flour
Sugar
Milk
Egg
Butter
Cinnamon
Yeast: Instant or Bread Machine Yeast
Chopped pecans *Optional
See recipe card for quantities.
Instructions
The bread machine banana bread starts just like all other bread maker recipes:
First, decide which size bread loaf you want to make based on the size of your bread machine. I've included both a 1 ½-pound and a 2-pound version of this recipe.
Follow the ingredient quantities in the recipe card according to the loaf size you chose.
Then, add the liquid ingredients to your bread pan fitted with the paddle attachment.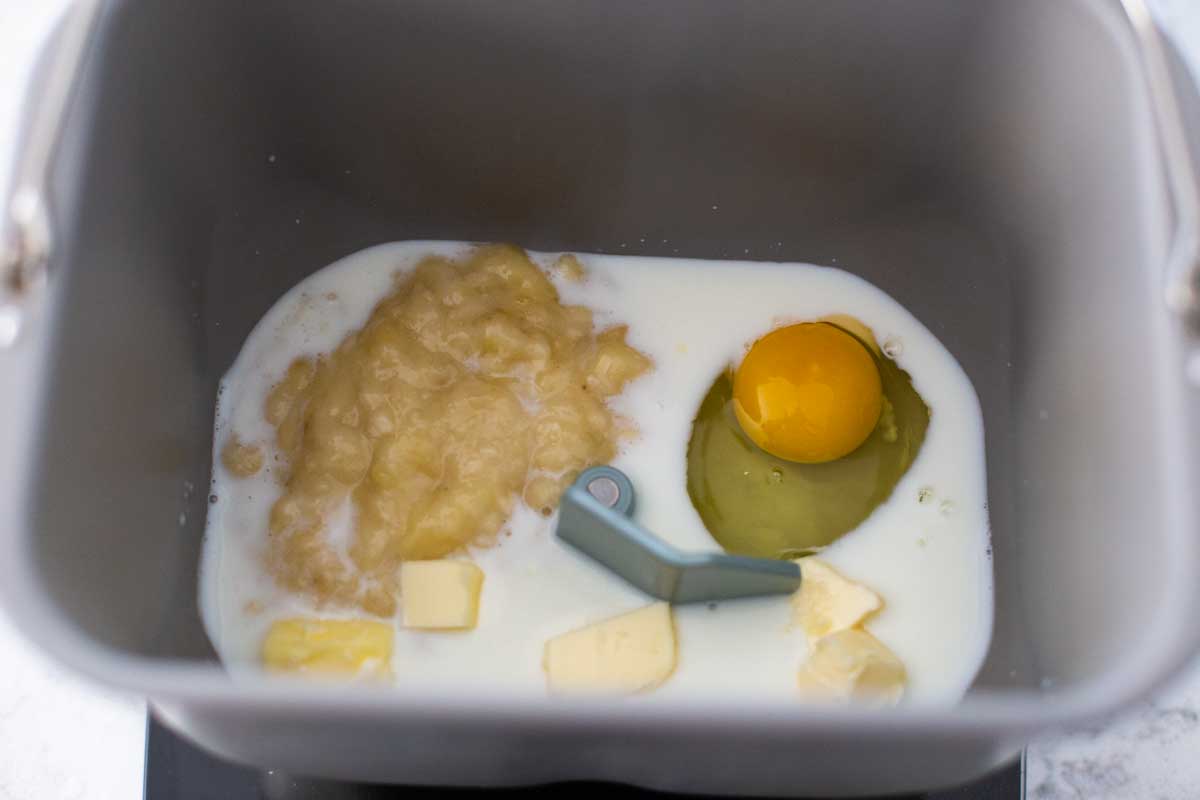 Pour in the milk, mashed bananas, egg, and softened butter.
HINT: Always cut your softened butter into smaller chunks, it is so much easier for that small bread machine paddle to properly knead the dough and work the butter into your bread.
Next, add the dry ingredients to your bread pan: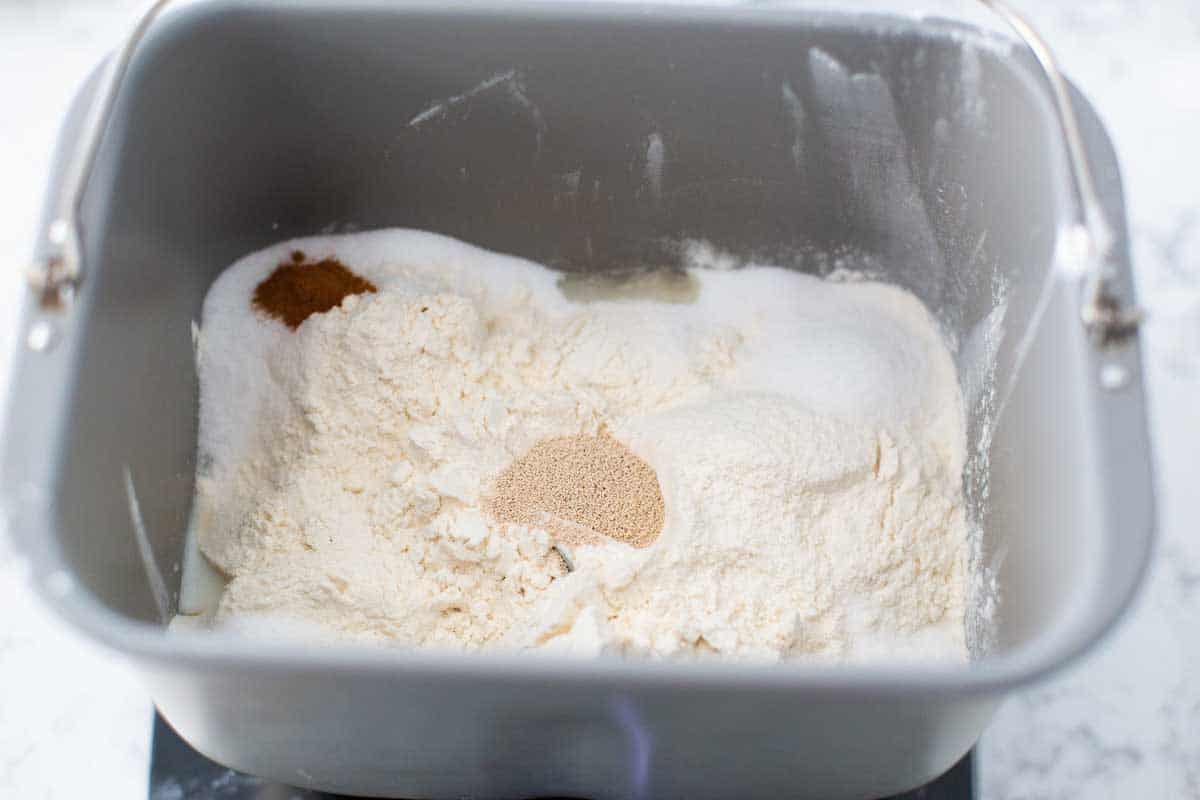 Add the bread flour, sugar, cinnamon, salt, and yeast right on top of the wet ingredients. Reserve the pecans for the mix-in stage later!
It is a best practice to sprinkle the salt around the perimeter of the bread pan so you can keep it away from the yeast until just the right time.
Use a spoon to make a well in the center of the flour, place the yeast in the well.
Place the bread pan back inside the bread machine and then:
Select the WHITE or BASIC program (depending on your machine's settings.)
Select the coordinating loaf size (1 ½-pound or 2-pound)
Press START
Note: Some machines also have a Crust Color setting, I usually use Light or Medium. You'll want to select this before hitting START.
Place the pecans next to your bread maker so you're ready to add them at the mix-in stage.
Most machines will beep when it is time for you to add them, check your bread maker manual to see how your machine handles nuts and raisins.
This is one of the big reasons I adore our Breville bread machine. The automatic dispenser on the top of the lid lets me load the pecans when I'm setting the program. The trap door opens automatically when it is time to add them to the dough: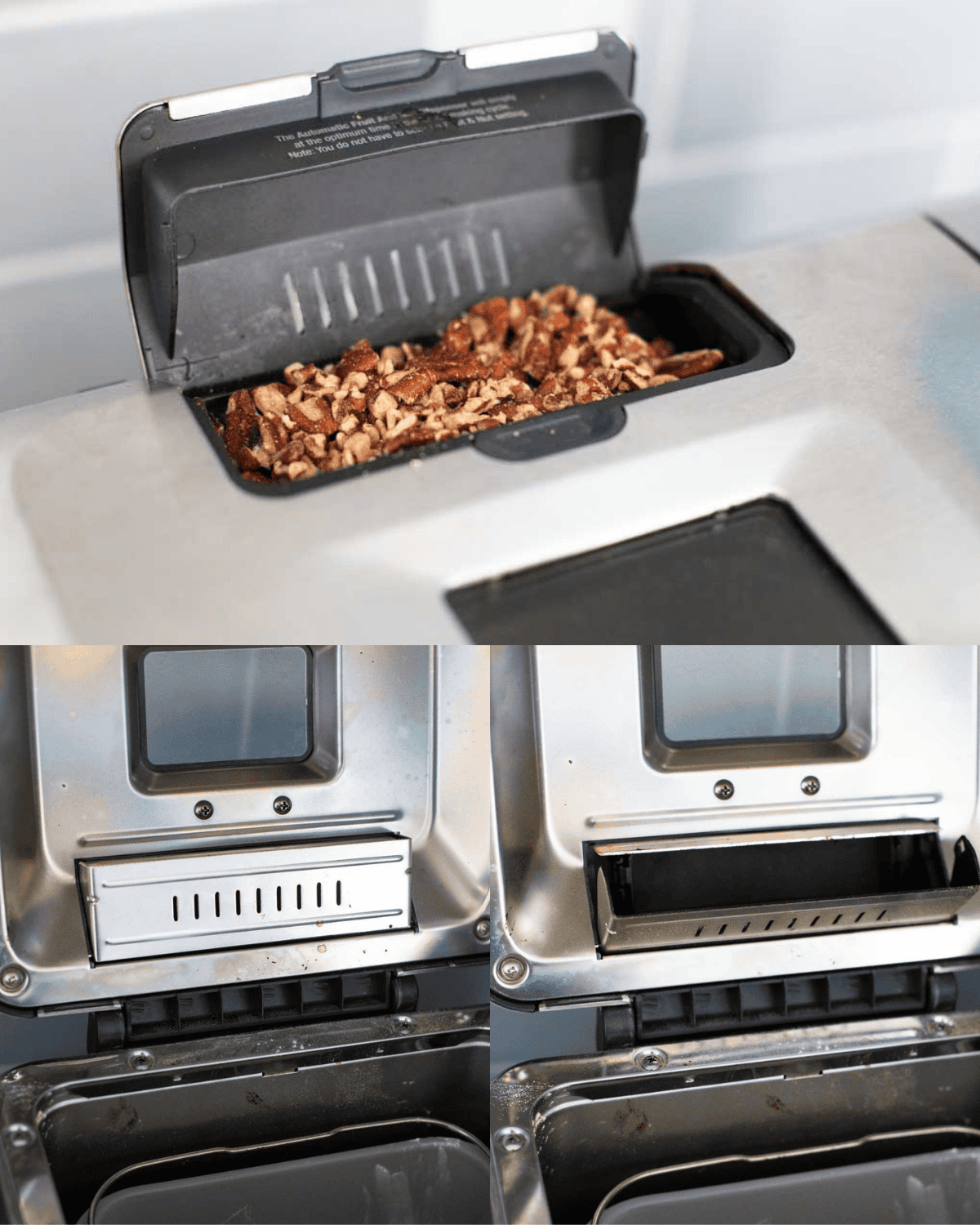 The machine will knead together the ingredients to form a firm ball of dough.
Let the machine progress through:
the kneading phase
the first rise
the brief second kneading
At this point, if you want you could remove the paddle from the bread pan so it doesn't bake into your loaf.
Simply nudge the dough ball back into place.
Most of the bread makers we tested will take about 3 ½ hours or so from start to finish to bake the bread.
Equipment
This is a bread machine recipe and will require a bread maker to make it. If you don't have one, read our thoughts on whether a bread maker is worth it here.
Want to get a bread machine? Here are the reviews we did of the bread machines we tested while writing the best bread machine cookbook:
Storage
This bread is best served the day it has been baked, warm out of the bread machine.
However, it will keep for 3 - 4 days in a bread box or plastic bag at room temperature.
You can also freeze the bread, just be sure to cool it completely before freezing and thaw it with the bag open to let moisture escape and prevent soggy bread.
Variations
While I love this version with the pecans for crunch, you could easily make these banana bread variations:
Chocolate chip banana bread - substitute the same quantity of chocolate chips as pecans called for in the loaf size you're baking. Be sure to add them during the mix-in cycle.
Brown sugar streusel banana bread - make a batch of this easy streusel recipe and sprinkle it over the banana bread just after the final rise but before the baking cycle begins.
Peanut butter banana bread - substitute the same quantity of peanut butter chips as pecans called for in the loaf size you're baking. Be sure to add them during the mix-in cycle.
No bread machine? You may enjoy this oven baked banana zucchini bread. It was my girls' favorite for so many years!
Serving Tips
This banana bread recipe is perfect served warm with whipped butter or toasted with a spread of cream cheese, peanut butter, or Nutella.
It would also be right at home on any festive breakfast table. Serve it alongside your favorite egg casserole or a make-your-own yogurt parfait bar.
Offer up strawberry or blackberry jams for a fun fruity topping, both would pair so well with the fresh bananas.
The Ultimate Bread Machine Cookbook Available Now:
If you've tried this bread machine banana bread or any other recipe on PeanutBlossom.com please don't forget to rate the recipe and let me know where you found it in the comments below. I love hearing from you!
FOLLOW along on Instagram @peanut.blossom as well as on Pinterest and Facebook.