Make ahead streusel topping is great for super-quick weekend baking. It's the easiest way to make boxed mix muffins taste like they were baked from scratch. Add it to coffee cakes, bundt cakes, and quick breads for a sweet crumbly topping.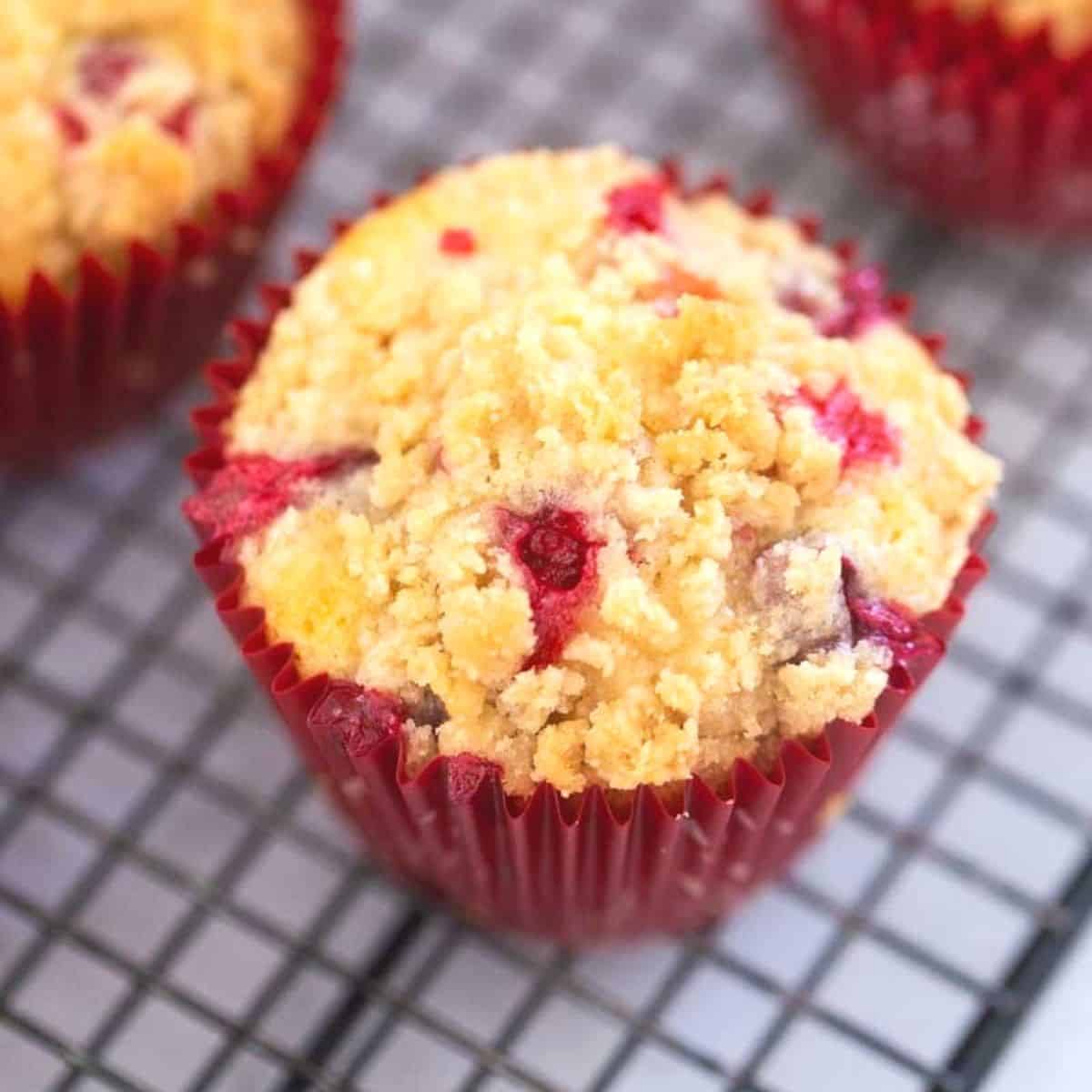 Whether you're just making a simple batch of boxed mix muffins or going completely from scratch, the fastest way to make the best tasting muffins is to add a homemade streusel topping before you bake them.
A classic streusel is simply a mix of flour, sugar, and cold butter.
When crumbled over a muffin or coffee cake, the streusel bakes up golden brown with a crispy, buttery crunch. 
You can add a pinch of baking spice or even chopped nuts for crunch, either way you'll be eager to find all the recipes for using streusel.
Jump to:
Why This is the Best Recipe
Homemade baked treats make any weekend breakfast extra special. I think this is the best streusel recipe because:
Make Ahead Friendly: You can prep the streusel and store it in the fridge or even freeze it to make holiday baking go easier.
Easy Flavor Variations: Add various baking spices or chopped nuts for crunch, there are lots of way to play with the base recipe.
Quick Baking, Less Dishes: With a batch of streusel ready to go, you'll shave off time and dishes when you do want to do your baking.
Ingredients
Homemade streusel topping is so awesome because all you really need are 3 ingredients and an optional extra:
Cold Butter: I always use salted butter. If you use unsalted butter you'll want to add just a pinch of kosher salt to the mix, too.
All-Purpose Flour
Brown Sugar
OPTIONAL: Cinnamon or your favorite Pie Spice like apple pie spice, pumpkin pie spice, or a general baking pie spice.
How to Make Streusel Topping By Hand
It is very easy to make streusel topping by hand.
First, whisk together the flour and sugar in a small bowl.
Cut the cold butter into small cubes and add them to the bowl of flour.
Then use a fork to cut in the cold butter as much as you can. Press the fork down into the butter, use the sides of the bowl to help hold the butter chunks into place.
Finish the streusel by pinching the crumb mixture with your fingers until it sticks together and forms little pebbles of streusel topping.
You'll want to work quickly so that the butter doesn't soften too much from the heat of your hands.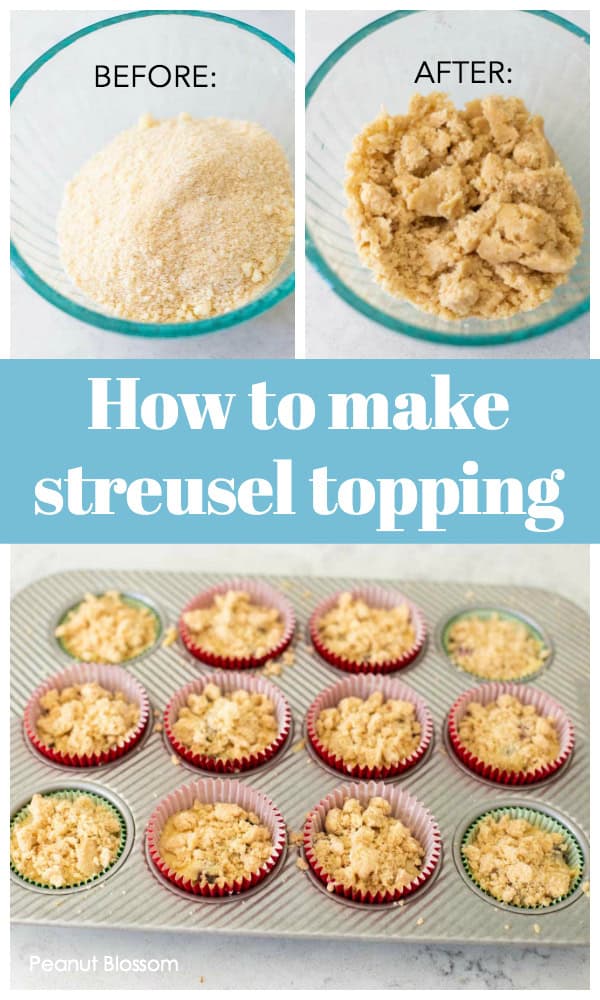 How to Make Streusel with a Food Processor
If you have a food processor (one of my favorite small kitchen appliances!), streusel is even easier to prep!
Add the flour and butter to the bowl of the food processor fitted with the blade attachment.
Pulse the processor a few times to combine the flour and sugar.
Cut the cold butter into cubes and add them to the food processor. Do not try to add the stick of butter by itself, it is too much for the machine to process well.
Pulse the food processor to cut the butter into the flour and sugar.
You may still have to do the final pinching with your fingers to get the streusel to resemble the small buttery pebbles. 
Even with the extra clean-up of the kitchen appliance, I think I prefer the food processor method. Pressing cold butter with a fork can be tiresome and the processor will have the job done in 20 pulses.
Make Ahead Storage Tips
Keep the prepared streusel in an air-tight container in the fridge for up to 2 weeks.
This means you can have it ready to go for easy baking in a pinch.
The recipe below is enough streusel to top 12 regular sized muffins and can be easily doubled if you need more.
The butter will get really firm and the streusel will set once refrigerated.
When you want to use it to bake, let the container sit on the counter while you prepare the muffin batter. Then, simply pinch and crumble the streusel topping over the muffins by hand.
Freezing Tips
You can even freeze the streusel in an airtight container for up to 6 months.
Just thaw it in the fridge overnight. Then let it soften on the counter until you can pinch it.
How to Add Flavor to Streusel
Classic buttery streusel topping is so delicious just by itself but this is an easy recipe to tweak with some tasty baking spices, just add them to the flour and sugar mix:
Cinnamon Streusel: Add a pinch of cinnamon up to ½ teaspoon or so
Pumpkin Spice Streusel: Add up to ½ teaspoon of pumpkin spice.
Apple Pie Streusel: Add up to ½ teaspoon of apple pie spice.
Maple Sugar Streusel: Add 1 teaspoon of maple sugar.
Brown Sugar Pecan Streusel: Stir finely chopped pecans into the streusel after you've cut the butter into the flour.
Easy Streusel Recipes
Streusel topping is absolutely delicious on coffee cakes, muffins, and even breakfast quick breads.
You could use this recipe to jazz up your favorite box mix of breakfast muffins.
Cranberry Orange Muffins: My cranberry orange muffins with streusel topping is my favorite recipe to use this streusel.
Cherry Almond Streusel Coffee Cake: I think streusel with sliced almonds makes my cherry almond coffee cake so much more delicious.
Apple Cake with Streusel: If you want to skip the frosting on top, you could bake my fresh apple cake with streusel on top instead.
Pumpkin Bread with Streusel: Want to add something extra special to my favorite pumpkin bread recipe? Sprinkle the streusel on top before baking it.
📖 Recipe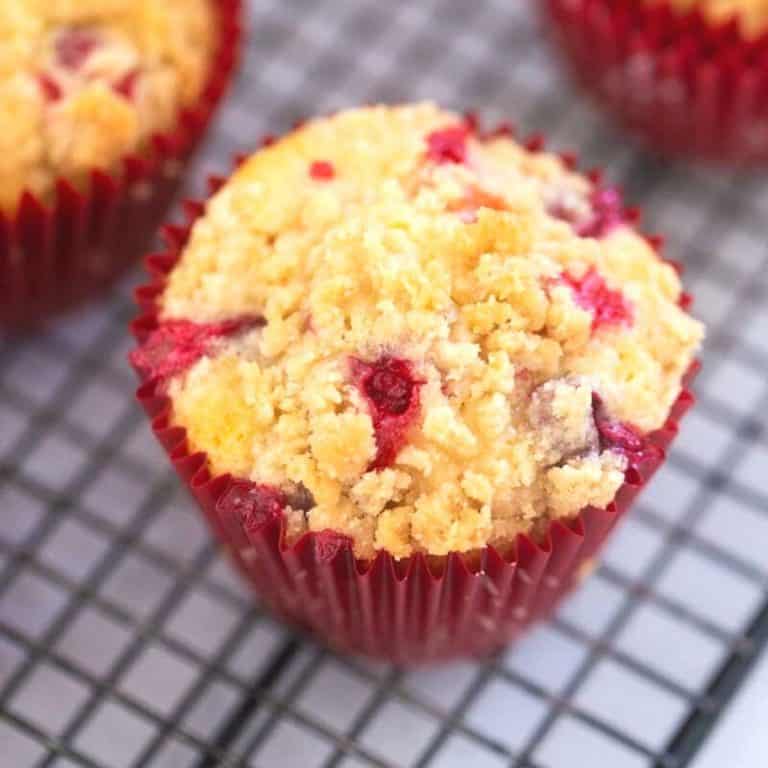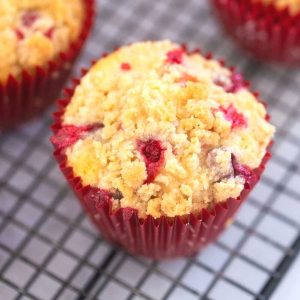 Make Ahead Streusel Topping
Keep a batch of make-ahead streusel topping in your fridge or freezer for easy weekend baking in a pinch. Add this to a batch of muffins, a coffee cake, or even your favorite quick bread for a delicious buttery crunch topping.
Ingredients
⅓

cup

all-purpose flour

¼

cup

firmly packed brown sugar

3

tablespoon

cold salted butter

cut into cubes

OPTIONAL: pinch of cinnamon or pie spice

up to ½ tsp
Instructions
How to Make Streusel By Hand
Add the flour and sugar to a small mixing bowl and stir them together with a fork. If using the optional baking spice, add it to the bowl now and stir it in.

Cut the cold butter into cubes and add them to the flour.

Use a fork to press the butter against the side of the bowl and cut it into the flour. Then finish the streusel by pinching it together with your fingers quickly until it sticks together and resembles small peas.
How to Make Streusel in a Food Processor
In the bowl of a food processor fitted with the blade attachment, pulse together the flour and sugar along with the baking spice if using.

Cut the butter into cubes and add it to the bowl of the food processor. Pulse the machine until the butter is smaller than the size of peas. Transfer the crumbs to a small bowl and pinch together with your fingers.
Store the Streusel
Store prepared streusel in an air-tight container in the fridge for up to 2 weeks or in the freezer for up to 6 months. Thaw in the fridge overnight and let rest on the counter until the streusel can be pinched again, about 30 minutes.
Bake with the Streusel
To use the streusel for muffins or other baked treats, simply pinch the streusel into pebbles over one dozen regular size muffins, a quick bread, or coffee cake before baking.
Save This Recipe to Your Recipe Box
Find this delicious recipe next time you visit by saving it to your very own recipe box on my site. All your favorites stored in one easy place!