Looking for a new bread machine recipe to try in your bread maker? This delicious Carrot Cake Bread, from The Ultimate Bread Machine Cookbook, tastes just like carrot cake but has a lighter, fluffier texture like bread you would slice and toast. You can serve it with the cream cheese drizzle over the top or on the side for spreading over each slice of bread.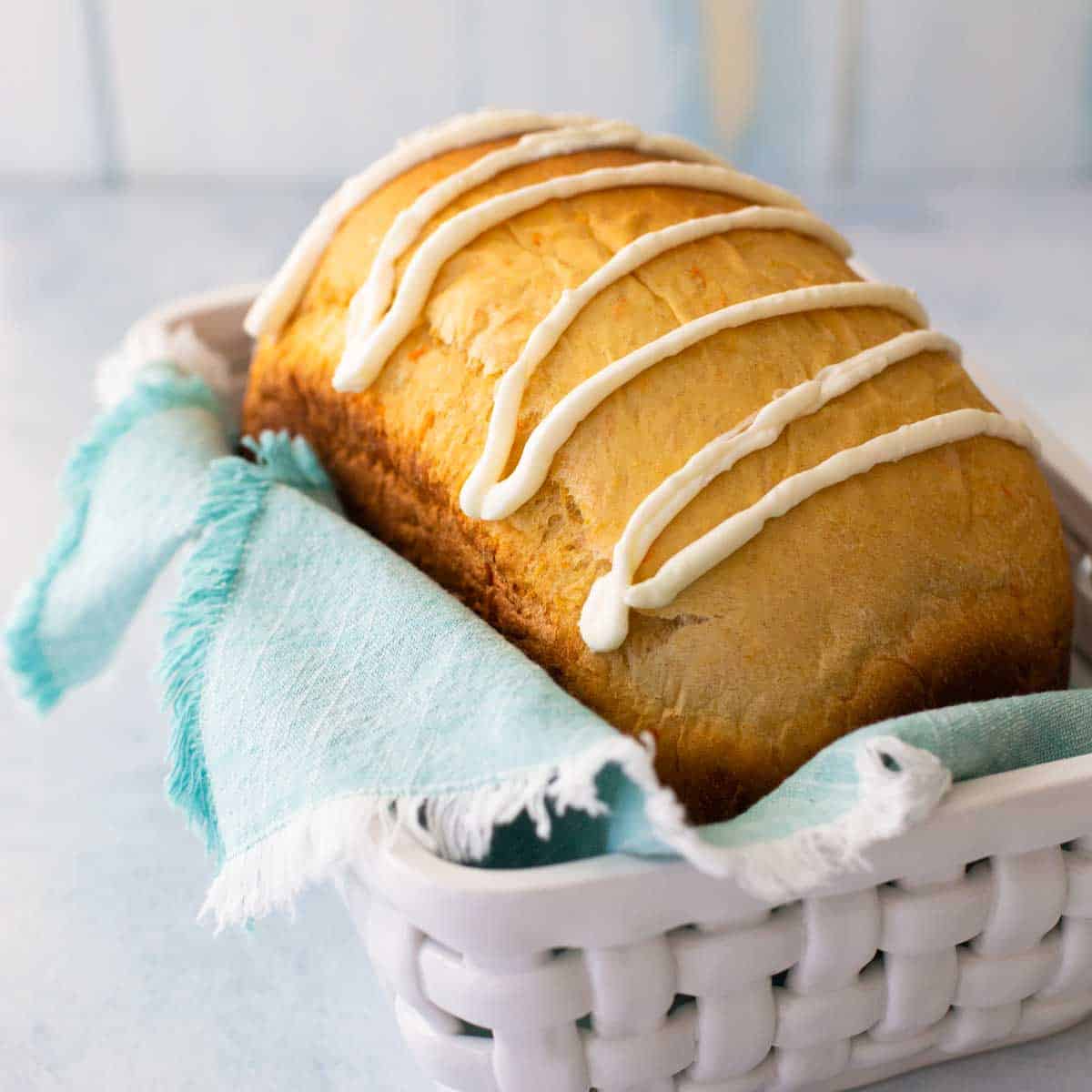 While quick breads and muffins make a great addition to your breakfast menu, this light and fluffy carrot cake bread with cream cheese glaze is a surprising way to use your bread maker.
For special festive occasions, a pretty drizzle of glaze over the top makes a gorgeous presentation.
For a cozy weekend with my family, we prefer to serve the glaze on the side for spreading over the surface of sliced pieces of carrot cake bread toast.
Whichever way you serve it, your family will love the sweet spiced flavor of this easy bread machine recipe from The Ultimate Bread Machine Cookbook.
Jump to:
Why This is the Best Recipe
I love each and every one of these delicious bread machine recipes but I think this is the best bread machine carrot bread because:
Quick and Easy Prep: With just a few pantry ingredients and a fresh carrot, you can have warm, homemade carrot bread with just minutes of hands on effort.
Sweet but Sliceable: Unlike a cake-like quick bread, this carrot bread can be sliced and toasted!
Glaze or No Glaze: Making this for a special event? Make the cream cheese drizzle for the top. Or you can leave it off if you plan to make more practical things with the recipe.
Ingredients
This simple bread maker recipe has just a few easy ingredients: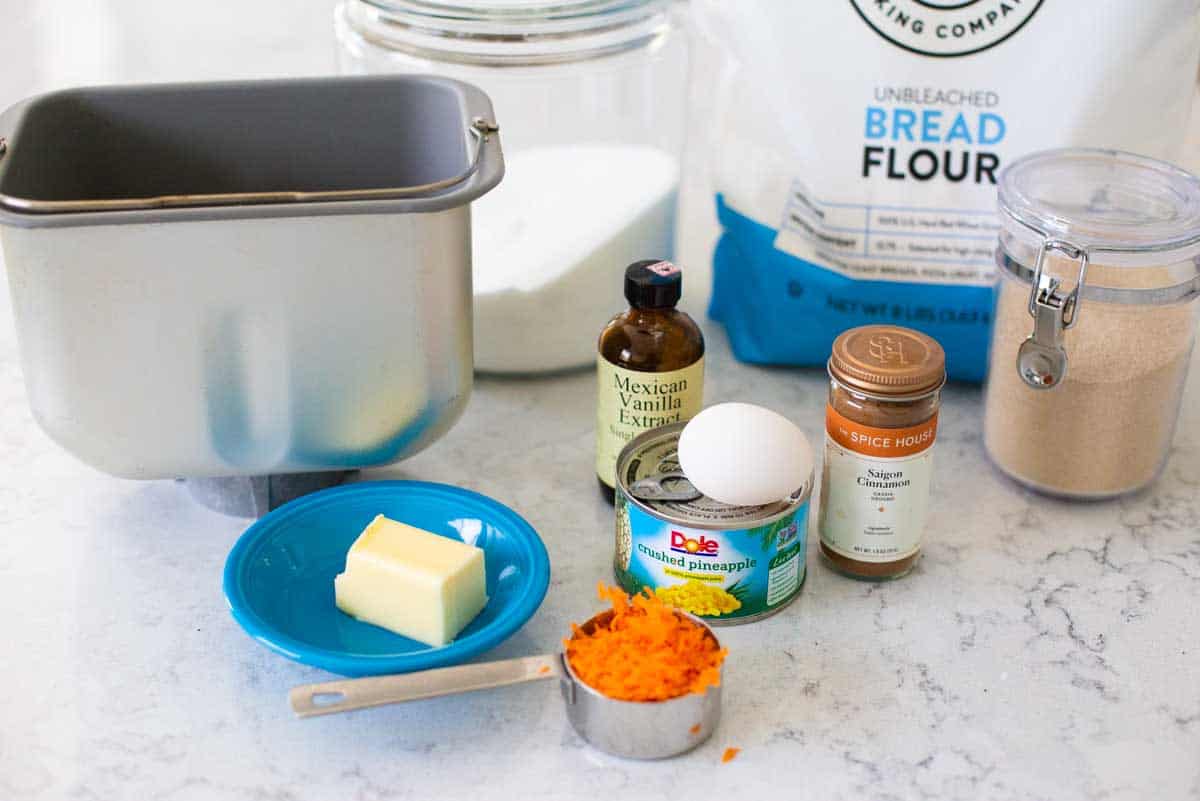 Bread flour
Sugar
Butter
Egg
Canned crushed pineapple: Don't drain the juices!
Shredded carrot: Freshly shredded from one large whole carrot. Skip the pre-shredded carrots bag at the store, their texture is too tough for this recipe.
Cinnamon
Vanilla
Yeast: Instant or Bread Machine Yeast
For the glaze:
Cream cheese
Powdered sugar
Milk
Vanilla
See recipe card for quantities.
Instructions
The carrot cake bread starts just like all other bread machine recipes:
First, decide which size bread loaf you want to make based on the size of your bread machine. I've included both a 1 ½-pound and a 2-pound version of this recipe.
Follow the ingredient quantities in the recipe card according to the loaf size you chose.
Then, add the liquid ingredients to your bread pan fitted with the paddle attachment.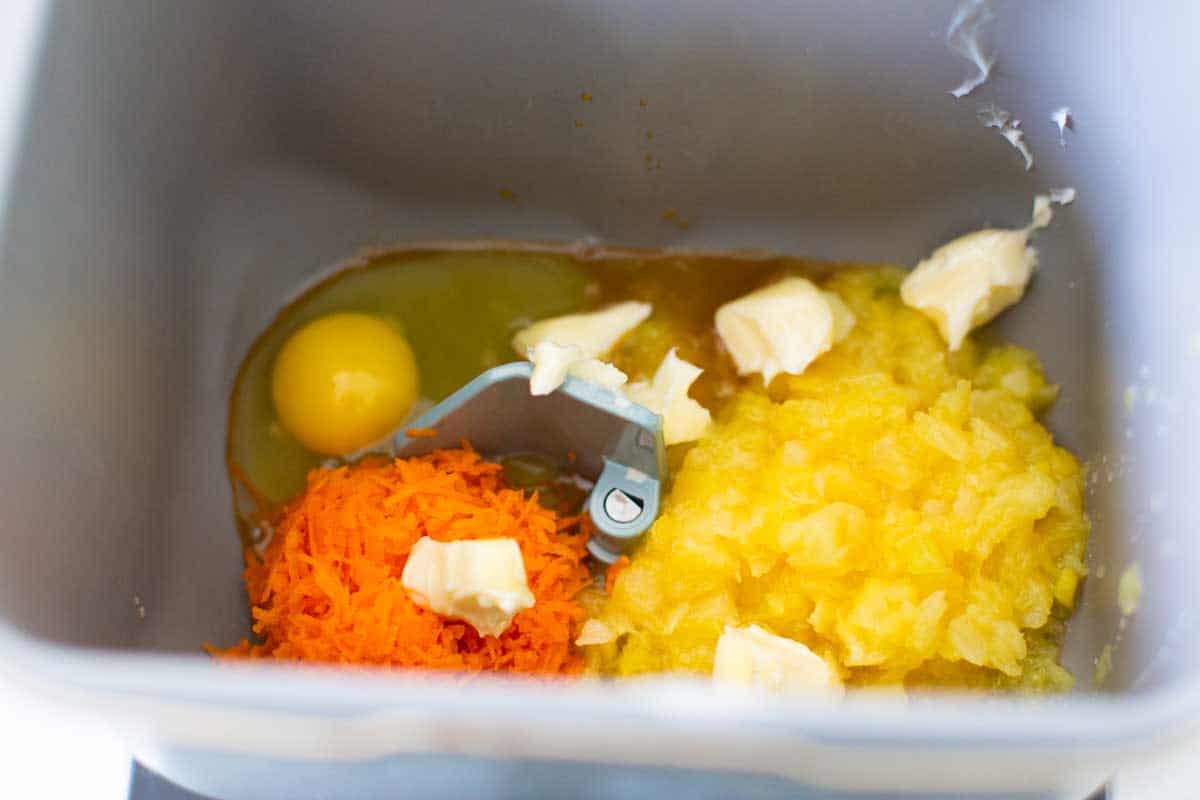 Pour in the entire can of crushed pineapple, including all the juices. Then add the freshly shredded carrot, egg, vanilla, and the softened butter.
HINT: Always cut your butter into smaller pieces so that small bread machine paddle can more easily work it into the bread dough.
Next, add the dry ingredients to your bread pan: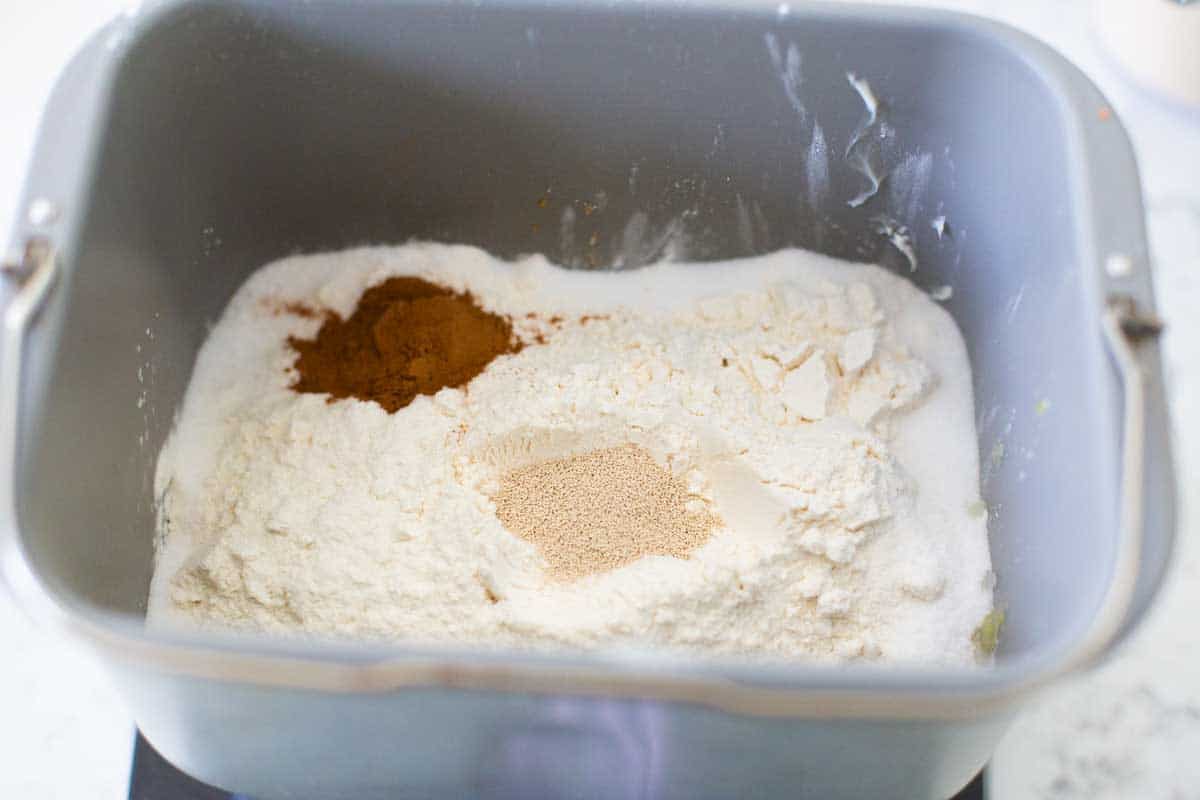 Add the bread flour, sugar, salt, cinnamon, and yeast right on top of the wet ingredients.
It is a best practice to sprinkle the salt around the perimeter of the bread pan so you can keep it away from the yeast until just the right time.
Use a spoon to make a well in the center of the flour, place the yeast in the well.
Place the bread pan back inside the bread machine and then:
Select the WHITE or BASIC program (depending on your machine's settings.)
Select the coordinating loaf size (1 ½-pound or 2-pound)
Press START
Note: Some machines also have a Crust Color setting, I usually use Light or Medium. You'll want to select this before hitting START.
The machine will knead together the ingredients to form a firm ball of dough.
Let the machine progress through:
the kneading phase
the first rise
the brief second kneading
At this point, if you want you could remove the paddle from the bread pan so it doesn't bake into your loaf.
Simply nudge the dough ball back into place. It will be a fairly sticky dough so don't attempt to take it fully out of the bread pan to get the paddle.
Most of the bread makers we tested will take about 3 ½ hours or so from start to finish to bake the bread.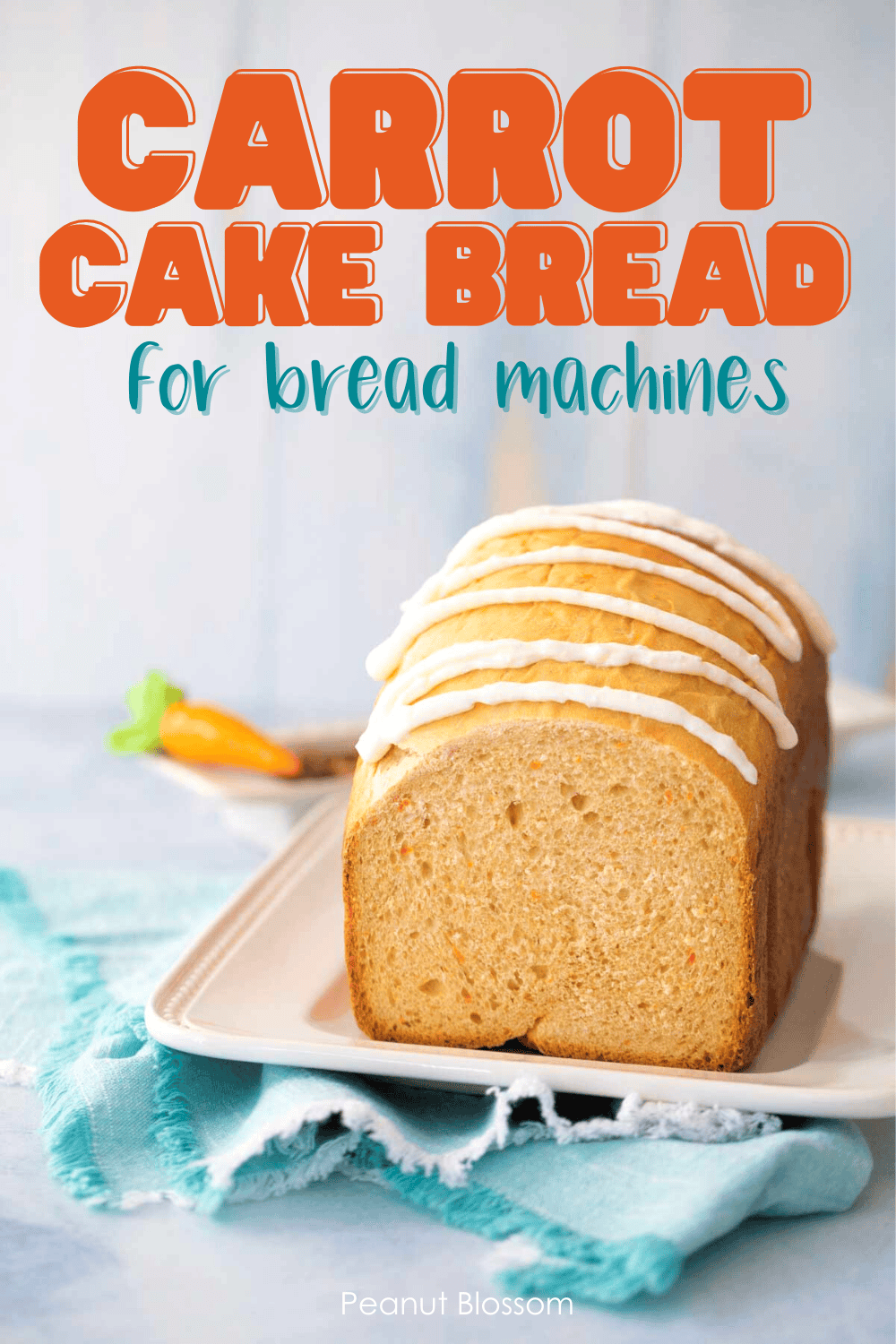 Once the bread is done baking, place it on a wire rack over parchment paper to cool while you prepare the glaze.
Beat together the softened cream cheese and powdered sugar. Add 1 teaspoon of milk.
Decide how you want to serve your carrot cake bread:
With a Fancy Drizzle Pattern: Leave the cream cheese glaze thick, add it to a ziptop baggie. Snip the corner of the bag and pipe a pattern on the completely cooled bread.
With a Solid Glaze: Add more milk, 1 teaspoon at a time, until a thinner texture is achieve. Spoon the glaze slowly over the top of a still warm loaf so the glaze will melt and spread evenly.
With Cream Cheese on the Side: Leave the glaze extra-thick and serve it in a small bowl next to slices of bread for guests to spread over the top like butter.
Storage
This bread is best served the day it has been baked.
However if you skip the glaze or leave the glaze on the side, it will keep for 2 - 3 days in a bread box or plastic bag at room temperature.
You can also freeze the unglazed bread, just be sure to cool it completely before freezing and thaw it with the bag open to let moisture escape and prevent soggy bread. Make the glaze fresh the day you plan to serve it.
Serving Tips
This bread machine recipe is perfect served for any weekend brunch but is an especially fun recipe to serve during a holiday gathering.
For breakfast: Add this carrot cake bread to a buffet table with a fresh fruit tray, big tubs of vanilla yogurt, and homemade granola.
For dinner: For a special treat, add the carrot cake bread to the dinner table bread basket. It would pair well with any ham, fish, or light lemony chicken dish you plan to serve. Here are a few of my easy but elegant favorites:
More Bread Machine Recipes
Looking for more delicious bread machine recipes? You can find all my favorites here:
📖 Recipe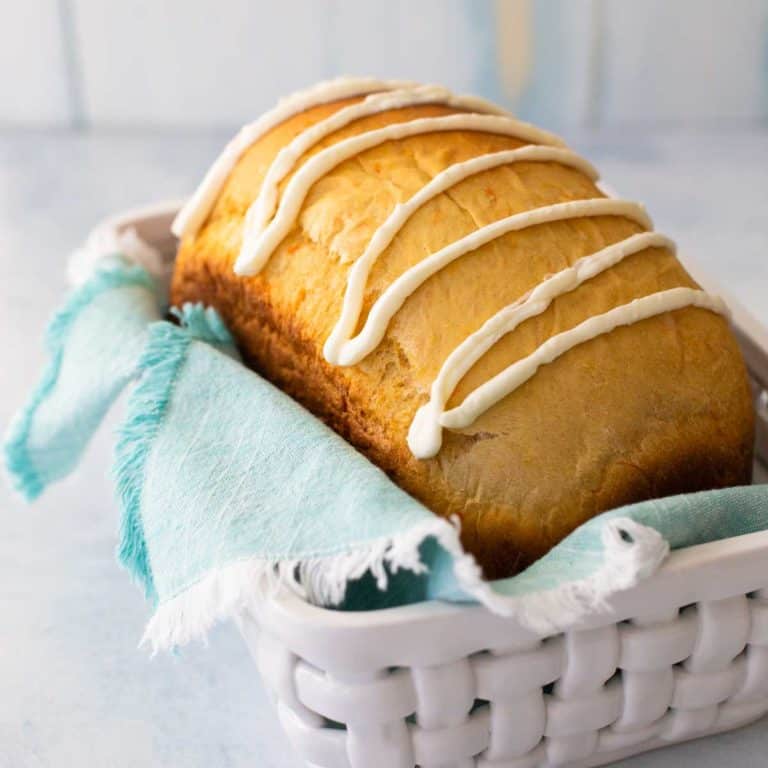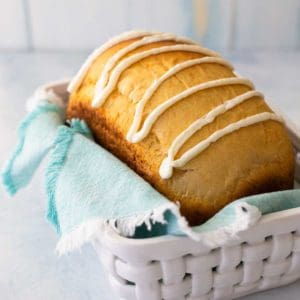 Sweet Carrot Cake Bread
Don't wait for Easter morning to enjoy this easy carrot cake bread, your family will enjoy this sweet treat all year long. Filled with sweet fresh carrots and crushed pineapple, don't skip the cream cheese glaze for the top!
Ingredients
For the 1.5-Pound Loaf
1

(8 oz) can crushed pineapple, undrained

⅓

cup

freshly shredded carrot

1

large egg

1

teaspoon

vanilla

2

tablespoon

butter

softened and cut into pieces

3

cups

(411 g) bread flour

2

tablespoon

sugar

¾

teaspoon

kosher salt

1

teaspoon

cinnamon

1

teaspoon

instant yeast
For the 2-pound Loaf
1

(8 oz) can crushed pineapple, undrained

½

cup

freshly shredded carrot

1

large egg

1 ½

teaspoon

vanilla

3

tablespoon

butter

softened and cut into pieces

4

cups

(548 g) bread flour

3

tablespoon

sugar

1

teaspoon

kosher salt

1 ½

teaspoon

cinnamon

1 ¼

teaspoon

instant yeast
Cream Cheese Glaze
¼

cup

(2 oz) cream cheese, softened

2

tablespoon

powdered sugar

1

teaspoon

vanilla

4 - 5

teaspoon

milk
Instructions
Add the ingredients to your bread machine's baking pan in the order they are listed, starting with the pineapple and ending with the yeast.

Select the BASIC/WHITE program based on your machine's options. Then select the coordinating setting for your loaf size and press Start.

When the bread is finished baking, remove it from the bread pan and transfer it to a wire rack over a piece of parchment paper. Let the bread cool slightly while you prepare the glaze.
To Prepare the Glaze:
Add the cream cheese and powdered sugar to a mixing bowl. Beat them together with a mixer until they are combined. Add the vanilla and 2 teaspoon of milk and beat them together until smooth and slightly runny. Add additional milk 1 teaspoon at a time until you achieve your desired consistency.

A thicker glaze will let you pipe on a decorative drizzle and a thinner glaze will spread more evenly.

Spread the glaze over the slightly warm bread if you want it to melt into an even coating. If you prefer to pipe a decorative pattern, you'll want to wait for the bread to cool completely first.

Alternatively: You could leave the glaze very thick and serve it in a small bowl for spreading over cut slices of bread if you prefer.
Recipe Notes
Shredded Carrots:
A peeled and freshly grated whole carrot has a much more tender texture than the pre-shredded carrots sold in bags at the grocery store. It is worth the extra effort to shred your own for this recipe.
Save This Recipe to Your Recipe Box
Find this delicious recipe next time you visit by saving it to your very own recipe box on my site. All your favorites stored in one easy place!